Sarasin Bridge was the first bridge that linked Phuket Island to Phang Nga Province on mainland Thailand. Named after a Thai-Chinese politician (the Sarasin family has been a wealthy clan involved in Thailand business and politics since the 19th century), this 700-metre bridge was built in 1967 to replace the ferry which was then the only connection to the mainland.
Tourism development and the increase of road traffic urged authorities to build a larger bridge right next to Sarasin Bridge. Thepkasattri Bridge was completed in 2011. Sarasin Bridge was then transformed into a tourist attraction – a pedestrian bridge where you can enjoy the sunset and sea breeze.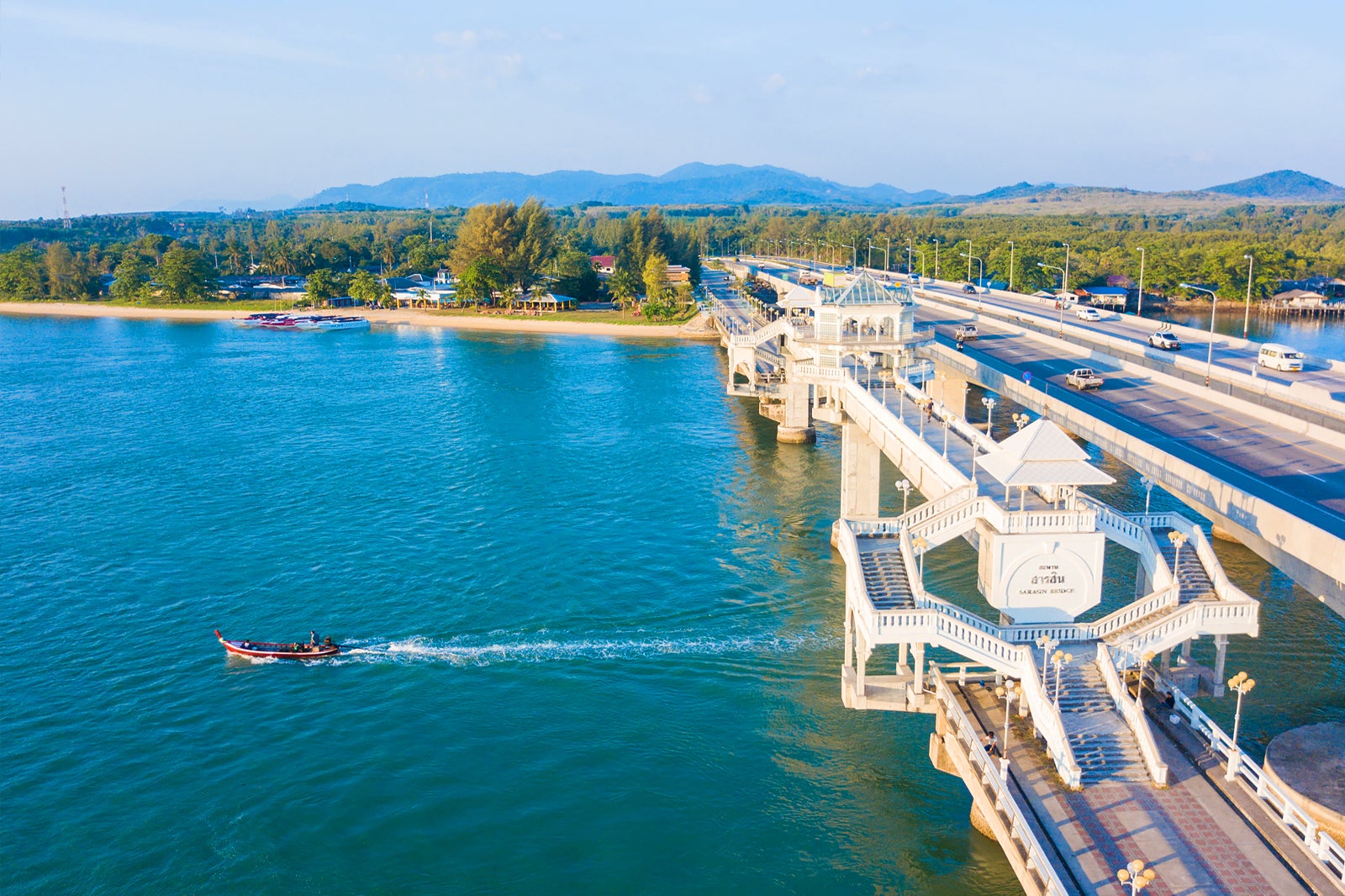 What to see at Sarasin Bridge
The idea of keeping the Sarasin Bridge as a tourist attraction may sound strange, but it's quite a popular destination for many locals in the evening. Saphan Sarasin (as it's known in Thai) is an interesting strolling destination. Its central part has 2 towers linked by a platform, offering a viewpoint over the Andaman Sea to the west and Phang Nga Bay to the east. Many ornate lamps line the walkway, making it especially beautiful at dusk.
After 6pm, anglers often set up their equipment (mostly a stool, a fishing rod and a powerful lamp) to catch fish and squid. On the Phuket side of the bridge, many vendors sell Thai snacks and drinks, such as barbecued squid, chicken satay, fruit, soft drinks and beer.
At the feet of Sarasin Bridge (on the Phang Nga side), you'll find Thanoon Seafood Restaurant right on the beach. This open-air eatery is about 50 metres from Sarasin Bridge on the left-hand side. On the right, you'll find a row of shops selling dried fish, crabs, souvenirs, T-shirts, beach toys, and drinks.
Sarasin Bridge in Phuket
Location: Thepkrasatree Rd, Mai Khao, Thalang, Phuket 83110, Thailand
Back to top