Discover Bangkok in 5 Days
Bangkok Mini Guides
Five days in Bangkok will allow you to tick off all the sights in your glossy guidebook, do an unholy amount of shopping, take a trip out of town and even find a little time to relax. Bangkok is a nuanced city, and you'll have time to see why and to experience the cultural subtleties that make it such an enjoyable destination.
Alternatively, you could just party hard and indulge yourself with the many sensory pleasures on offer, from wonderful food to luxurious spas. This 5-day mini-guide will give you plenty of ideas. We hope it provides many exciting and enriching suggestions.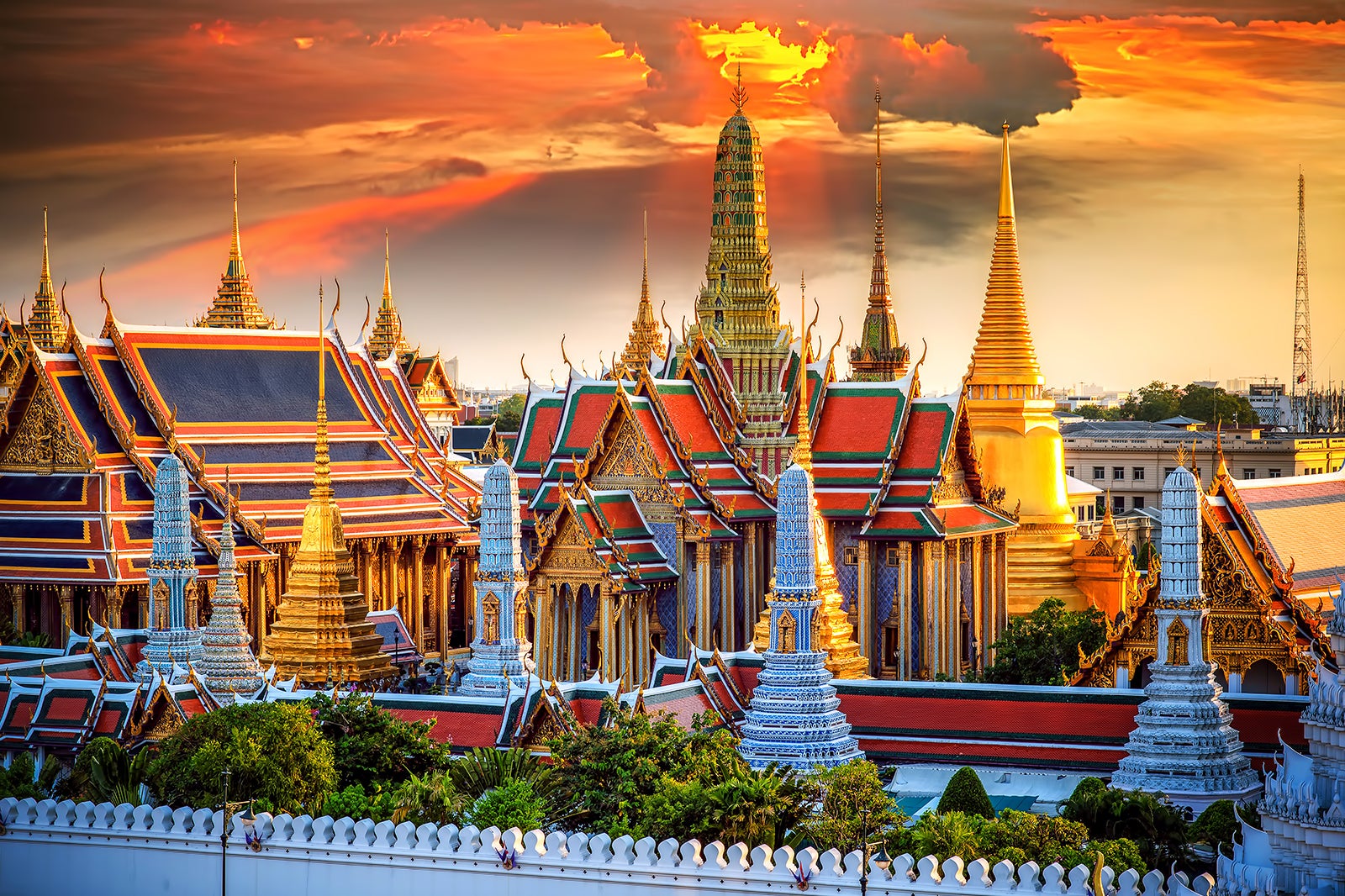 It makes sense to kick off with visits to the Grand Palace, Temple of the Emerald Buddha and Wat Pho – they're at the top of Bangkok's sights and attractions must-see list.
After getting meditative, go modern with an afternoon shopping spree at world-class shopping malls like MBK, Siam Paragon and CentralWorld, but only after you've paid a quick visit to the famous Erawan Shrine. Here you'll see how, in Bangkok, spiritual fervour and shopping fever coexist peacefully.
Begin your foray into Thai cuisine with a dinner derived from the city's wonderful streetfood – there's a different 3-course meal to be had on every block! End your first day by dipping your toe into the city's nightlife: take in a cultural show like Siam Niramit or Joe Louis Puppet Theatre, meet flamboyant boy-meets-girl creations at a ladyboy show, or check out just how brutal and bloody a Thai Boxing match can be.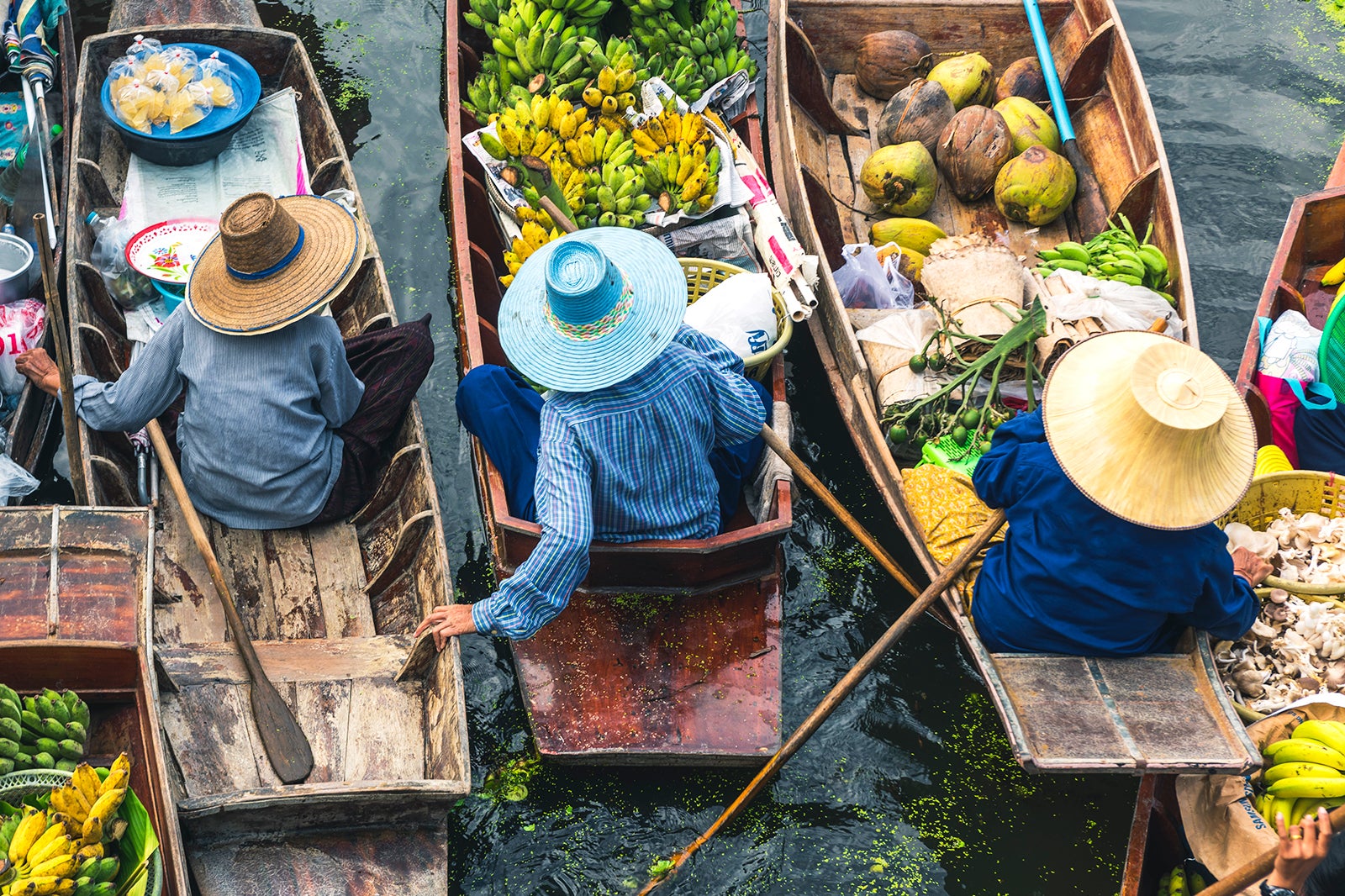 Take a trip to any of Bangkok's legendary floating markets. Combine it with a cycling tour and you'll get to explore the area's canals, fruit orchards and temples – all at your own pace! This is just one of many cycling adventures on offer in and around Bangkok.
Spend your afternoon having your knotted muscles unravelled with a traditional Thai massage at Wat Pho, home of the famous reclining Buddha. Alternatively, hit a heavenly city or hotel spa to get pampered, preened and pummeled in what resembles paradise.
End the day with a sunset dinner cruise past Wat Arun and other ravishing sights strewn along the 'River of Kings'. If that sounds too romantic or refined, head to 'backpacker ghetto' Khao San Road for offbeat shopping, pad Thai-sampling and cheap cocktail-sipping. Commandeer a tuk-tuk for a memorable journey home.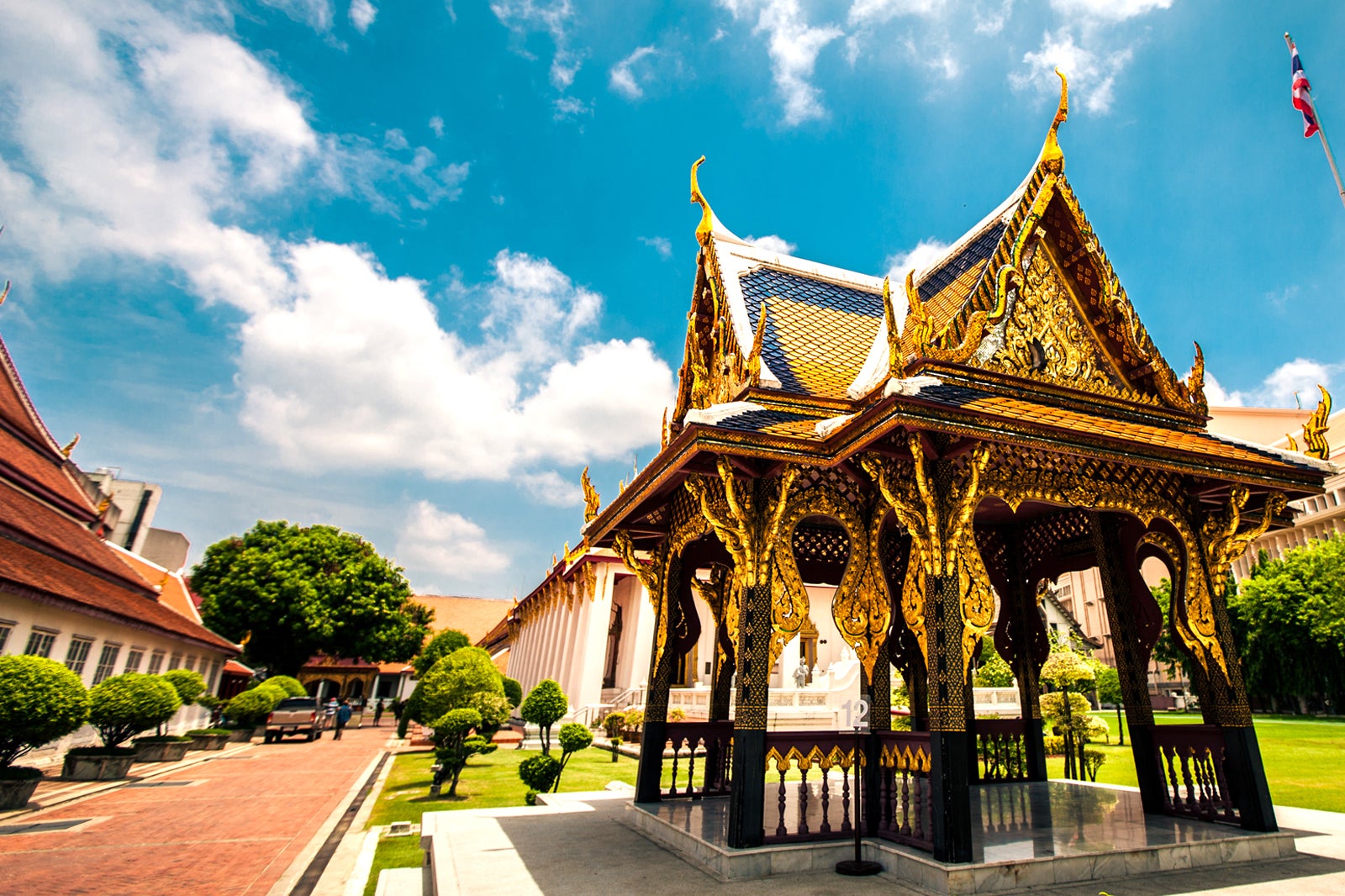 Time to discover the city's culture. Visit the National Museum or one of the many museums scattered about town, or check out the National Gallery. Explore teak houses filled with Asian antiquities, like Jim Thompson's House or Suan Pakkad Palace. Take a boat ride down the city's khlongs (canals) to learn why it was called the 'Venice of the East'.
Contrast your morning discovering Bangkok's old charms, with an afternoon spent indulging in modern comforts. Watch the latest Hollywood blockbuster, enjoy a game of bowling or sing out loud and proud at a karaoke. Alternatively, go for high-tea at one of the riverside's 5-star hotels.
Try dusk in the city's big green lung, otherwise known as Lumpini Park. Then go bargaining for counterfeit handbags, watches, T-shirts at Patpong Night Market.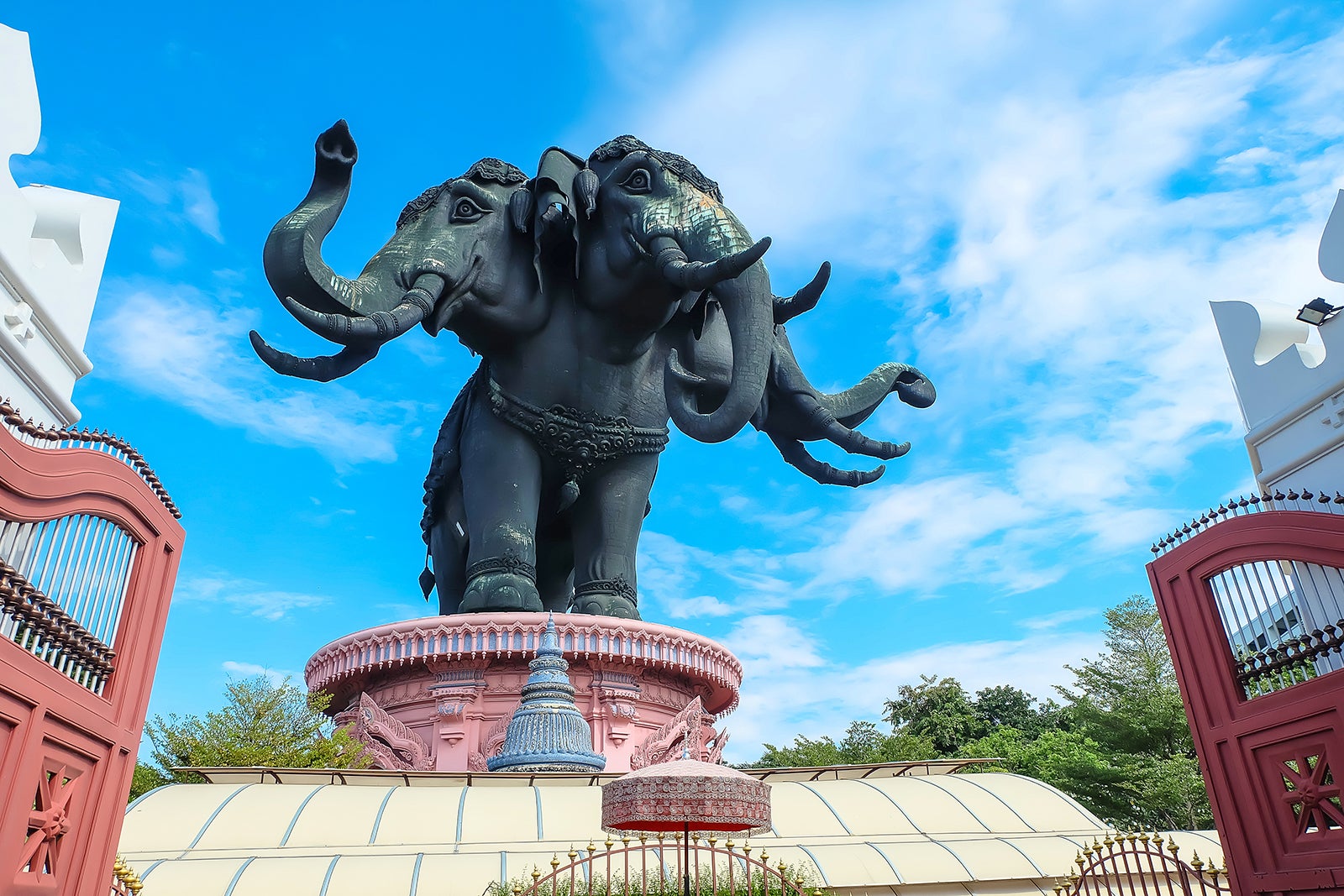 Head out of town on day 4 in Bangkok. Try the awe-inspiring Ancient City or the rarely seen Erawan Museum, with its huge 3-headed elephant sculpture packed full of Buddha statues and religious symbolism. Kids will love a family outing to Samphan Elephant Zoo, Safari World, or the world's biggest Crocodile Farm.
Highly recommended are day trips to the ruins of Ayutthaya (the capital of ancient Siam), Khao Yai National Park or the famous River Kwai in Kanchanaburi province.
At night, enjoy a suave dinner at one of Bangkok's debonair international restaurants. Try Breeze on the 52nd floor of State Tower for sublime alfresco dining and equally rousing views of the city, followed by martinis at a rooftop venue like Sky Bar, which juts dizzyingly over the edge of the building.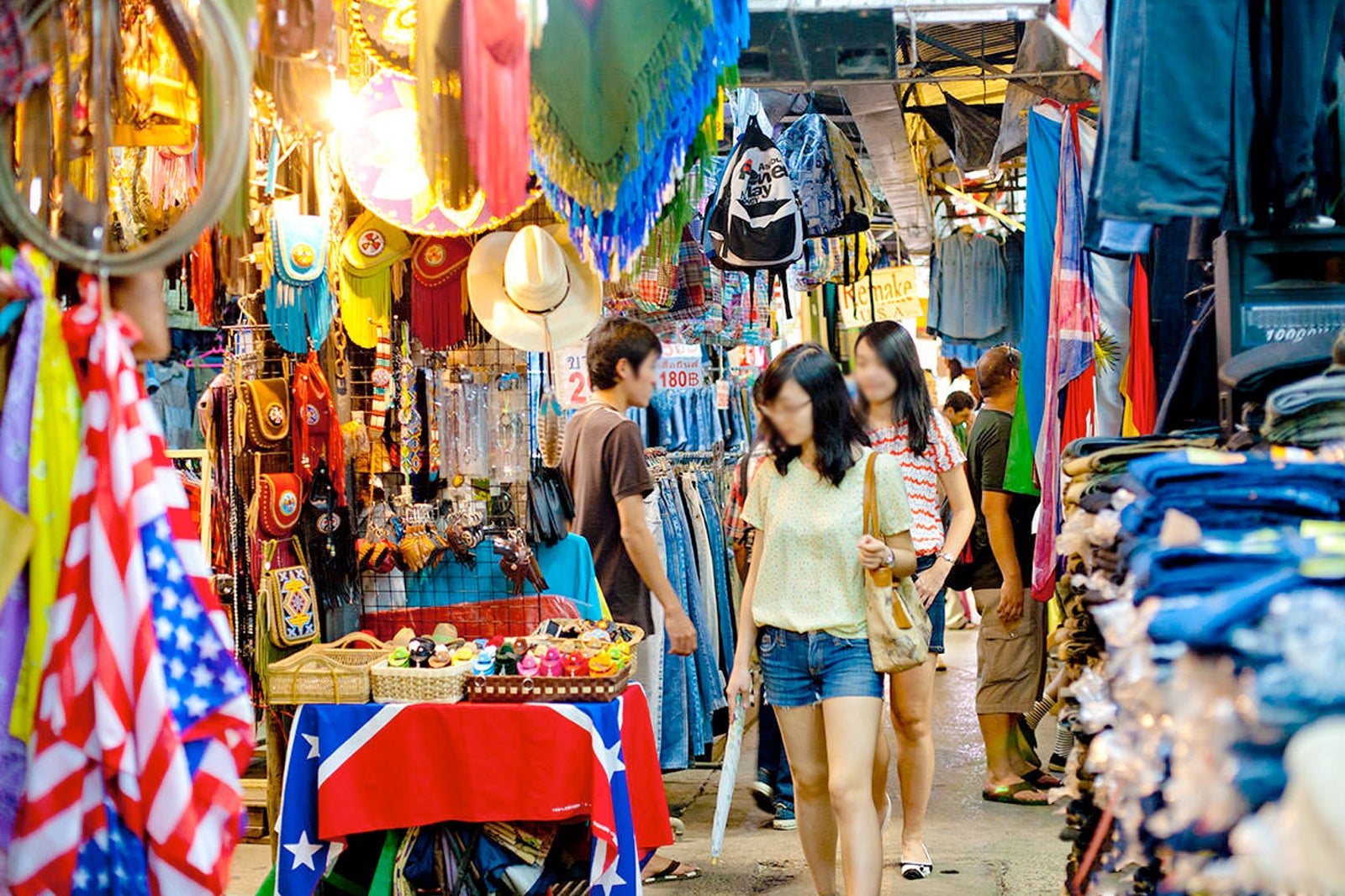 Shop for last-minute bargains, a new wardrobe or funky knick-knacks at the 'anything-goes' Chatuchak Weekend Market – a giant outdoor labyrinth of over 15,000 stalls. Kids probably won't appreciate how hot and heaving it is, so take them to make faces at the monkeys at Dusit Zoo or the manta-rays in Siam Ocean World.
Hit Chinatown in the evening. Explore winding back alleys, meet street hawkers selling everything from amulets to animal parts, and soak up the anarchic atmosphere. Try the wonderful seafood. Or dive into a bowl of bird's nest soup.
Last night? Make it one to remember. Go chic and cosmopolitan in the Silom, RCA or Sukhumvit area's hippest, dressiest, most happening nightclubs. Rub shoulders with the city's young wealthy elite in the Thonglor area of Sukhumvit.
Back to top