5 Best Muay Thai Camps in Phuket
Where to Learn Muay Thai Kickboxing in Phuket
Muay Thai is a physical and mental discipline that's also called 'the art of 8 limbs'. Combining the use of fists, elbows, knees, shins and feet, it's a tough sport that requires a lot of physical preparation. A full-on top-level match is a veritable cascade of feints, thrusts, manoeuvres and full-on head-bashing.
If you're looking to toughen up and get in the ring, or even if you're just looking for a fun way to shed a bit of weight and get in shape, check out our guide to the best Muay Thai camps in Phuket. Many of them are located in the south of the island. These camps often offer accommodation, meals, and a wide range of courses for beginners, intermediates and advanced Muay Thai enthusiasts.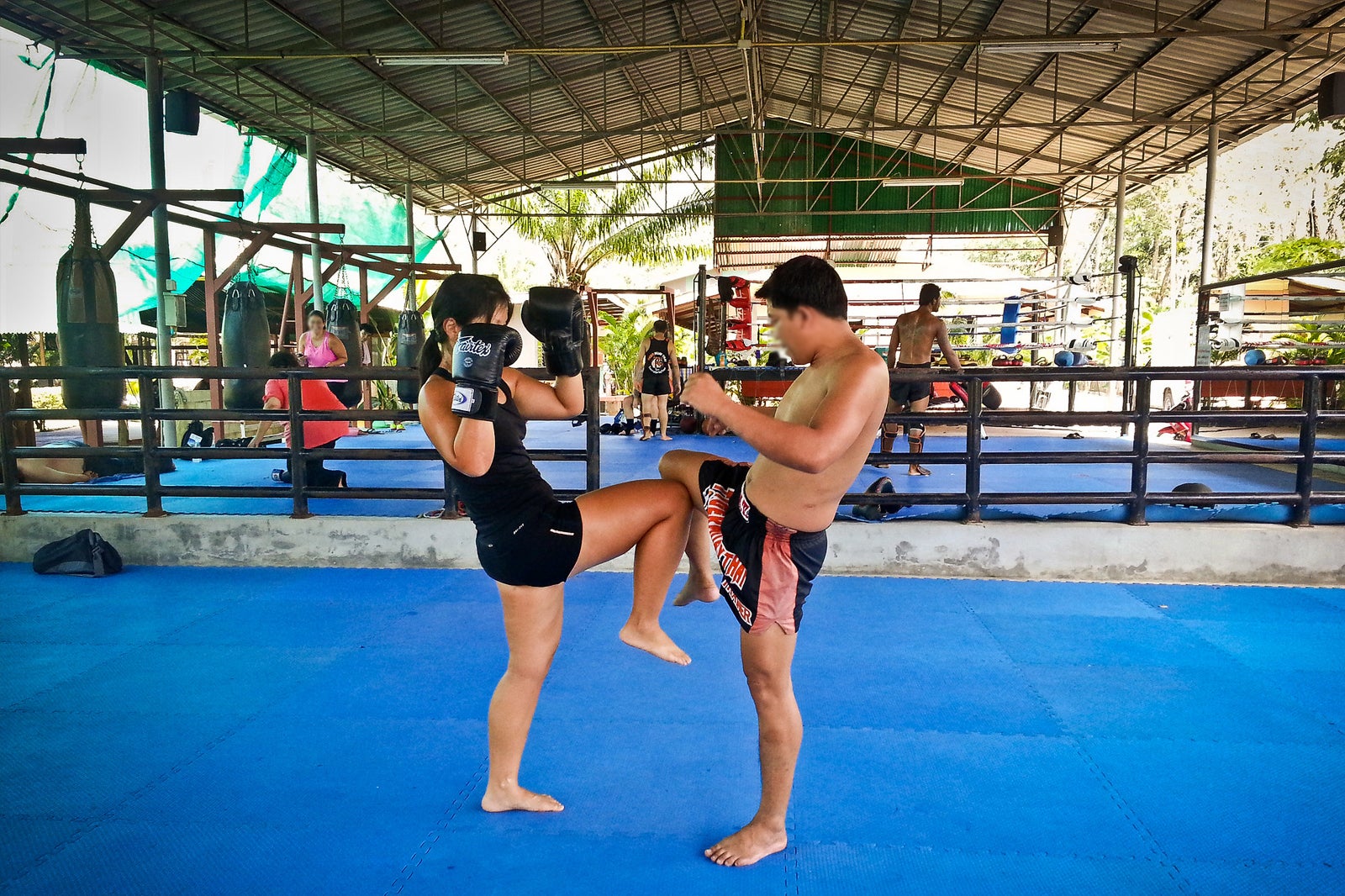 Tiger Muay Thai & MMA Training Camp occupies over 8,000 sq m of land in the central part of Phuket. It's divided into weight and fitness sections, along with areas dedicated to the various levels of fighting potential. One of Phuket's most popular Muay Thai camps, it receives between 250 and 400 trainees a month. There are about 34 local and foreign coaches from around the world who specialise in fitness, Brazilian jiu-jitsu, and MMA.
Read more
Location: 7/35 Soi Taled, Chalong, Muang, Phuket 83130, Thailand
Open: Monday–Saturday from 7 am to 7 pm (closed on Sundays)
Phone: +66 (0)76 367 071
2
Sumalee Boxing Gym
Phuket east coast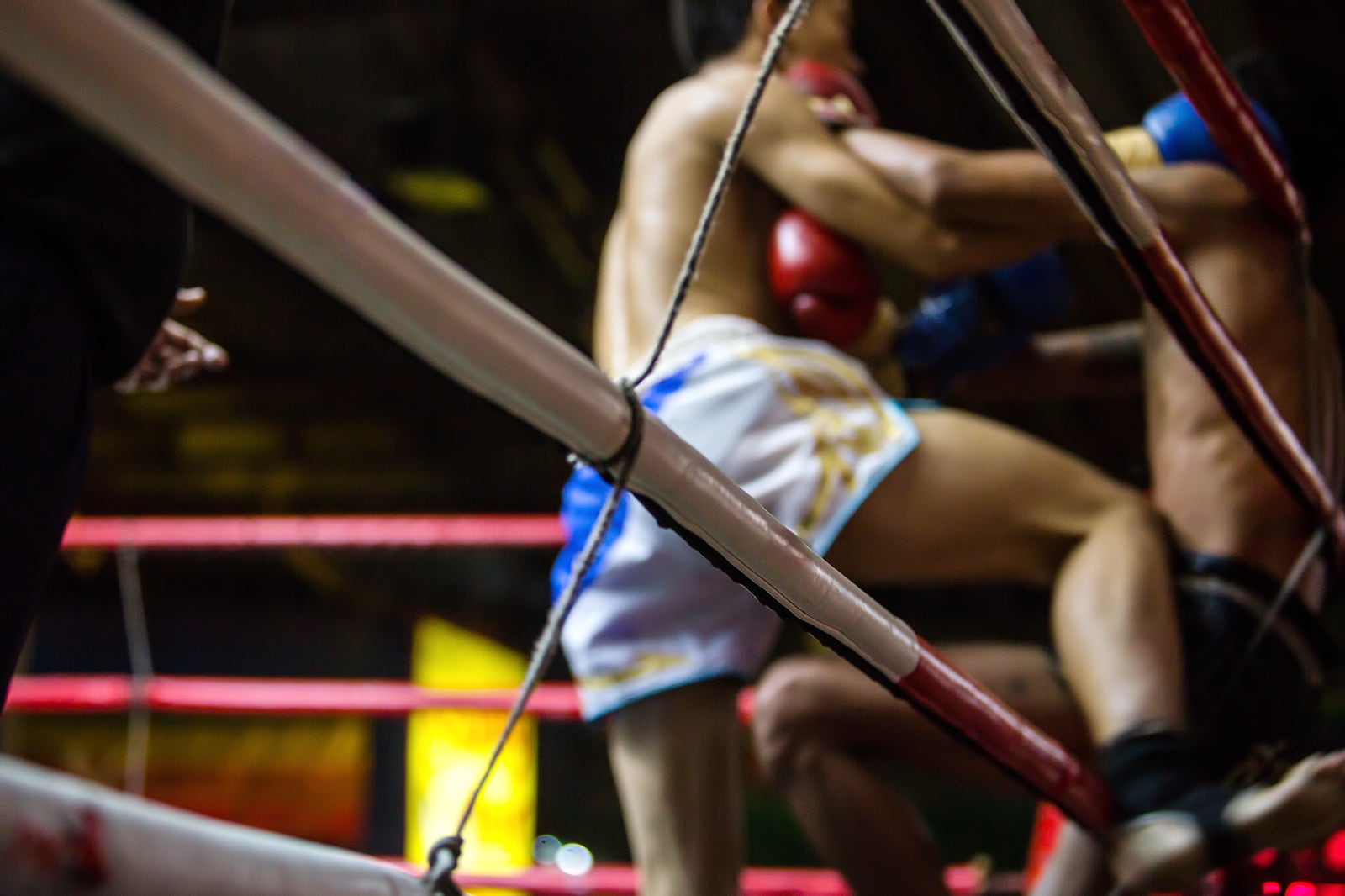 Sumalee Boxing Gym combines traditional Muay Thai training with western standards of service, accommodation, facilities and food. Located on the east coast, the gym affords easy access to other parts of Phuket and Phang Nga Bay. Onsite facilities include a weights room, restaurant, swimming pool, and yoga studio. Group classes take place twice a day, 6 days a week. Private lessons can be arranged on request. Sumalee Boxing Gym's team consists of decorated Thai fighters such as Ganchai Fairtex and Petchmai.
Location: 234 Moo 3, Soi Hua Tha, Srisoonthon Road, Thalang, Phuket 83110, Thailand
Open: Monday–Saturday from 7 am to 7 pm (closed on Sundays)
Phone: +66 (0)88 017 3018
3
Kingka Supa Muay Thai
Rawai
Kingka Supa Muay Thai in Rawai has around 15 bungalows with air-conditioning and 5 dorm-style rooms adjacent to its boxing rings. You'll have the opportunity to learn any level of Muay Thai, whether you're an absolute beginner or aspiring fighter. Kingka Supa Muay Thai also provides boxing gloves, hand wraps, shin guards, ankle guards, belly pads, and kick pads.
Location: 43/42 Moo 7, Wiset Rd, Rawai, Muang, Phuket 83130, Thailand
Open: Monday–Saturday from 7 am to 7 pm, Sundays from 9 am to 6 pm
Phone: +66 (0)76 226 495
4
Sinbi Muay Thai Training Camp
Rawai
Sinbi Muay Thai Training Camp has state-of-the-art facilities, lodging, a high turnover of Muay Thai students, and experienced teachers from professional Muay Thai backgrounds. All trainers have fought at the highest levels at Lumpinee and Ratchadamnoen stadiums in Bangkok – some have even fought in international matches. Sinbi Muay Thai also has the advantage of being just a few minutes away from one of Phuket's most beautiful beaches – Nai Harn.
Location: 100/15 Soi Saiyuan 9, Rawai, Muang, Phuket 83100, Thailand
Open: Monday–Saturday from 7.30 am to 7 pm (closed on Sundays)
Phone: +66 (0)83 391 5535
5
Suwit Muay Thai Camp
Chalong
Suwit Muay Thai is a Phuket establishment that's been around for over 20 years. It's located on Chalong's Chao Fa East Road, near Phuket Zoo. The Muay Thai camp has many air-conditioned rooms and a fair-sized swimming pool for you to unwind in after training. Twice-daily training classes for differing levels take place 6 days a week. On Fridays, Suwit organises a fight night that's open to the public.
Location: 15 Moo 1, Chao Fa Road, Chalong, Muang, Phuket 83130, Thailand
Open: Monday–Saturday from 8 am to 6 pm (closed on Sundays)
Phone: +66 (0)76 374 313