Business Travel in Zurich
How to Make the Most of Your Free Time on a Zurich Business Trip
Zurich is known as Switzerland's capital of commerce, where major Swiss banks and insurance companies have their headquarters in the city centre. Thanks to a stable economy and workforce, about 30% of passengers entering the city via Zurich Airport are business travellers from various parts of the world.
The Swiss are typically punctual and soft spoken (even during meetings), so it's a good idea to keep that in mind while you're doing business in Zurich. To help you make the most of your free time on a Zurich business trip, we've listed down some ideas on where to eat, what to do, and where to go at night.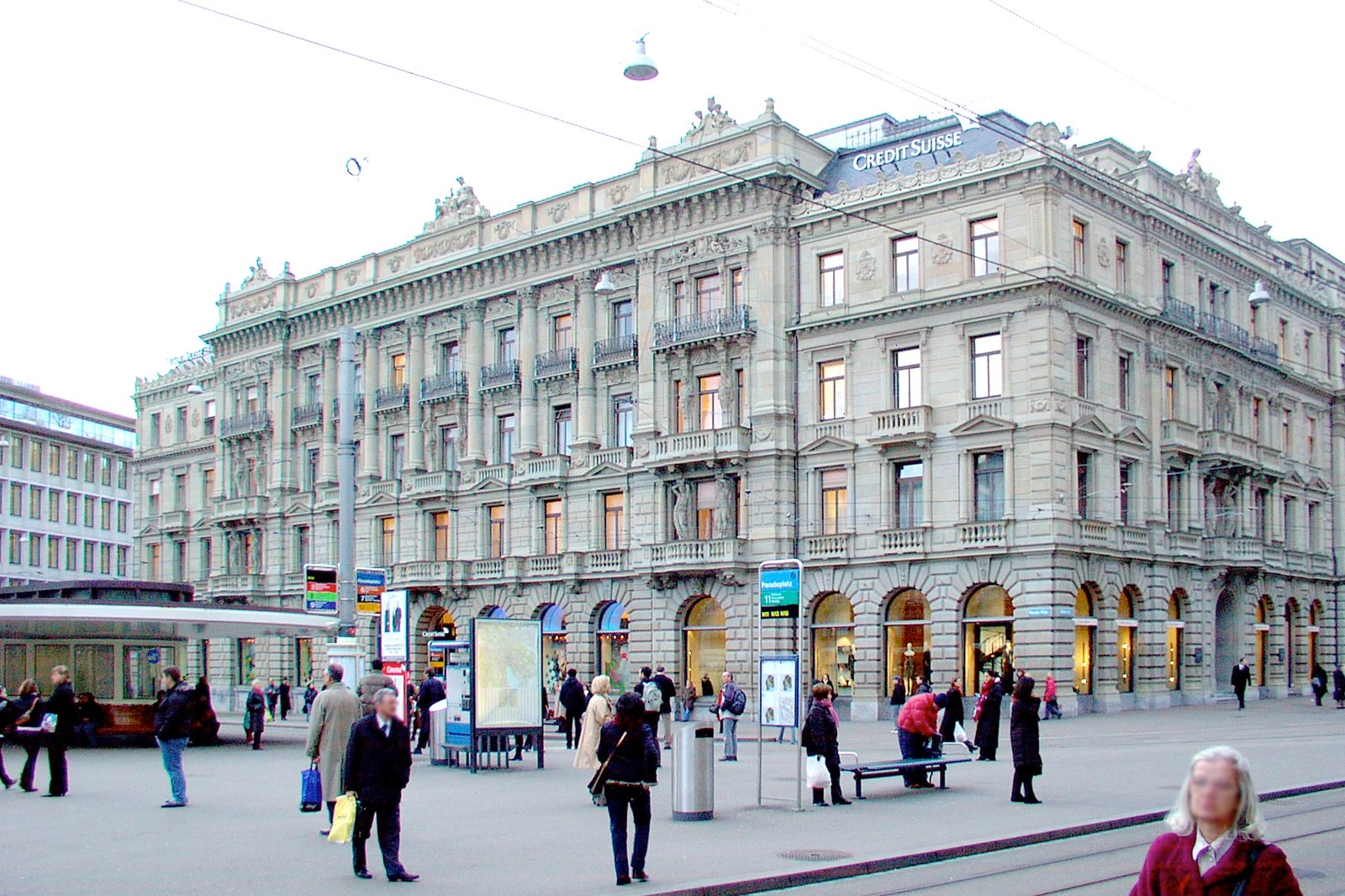 Paradeplatz
A popular meeting place
Paradeplatz is a public square connecting Zurich's Old Town, the upmarket Bahnhofstrasse, and Zurich Lake. It is known as the city's financial centre, and you can find many Swiss banks, offices, and high-end boutiques surrounding this meeting place.
There are 7 tramlines converging at Paradeplatz – you'll often see huge crowds of businessmen, office workers, and shoppers coming in and out from the tram stops, especially in the mornings and evenings.
Location: Paradeplatz, 8001 Zurich, Switzerland
Families
Shoppers
Photo
Budget
photo by Drahnreb (CC BY-SA 2.5) modified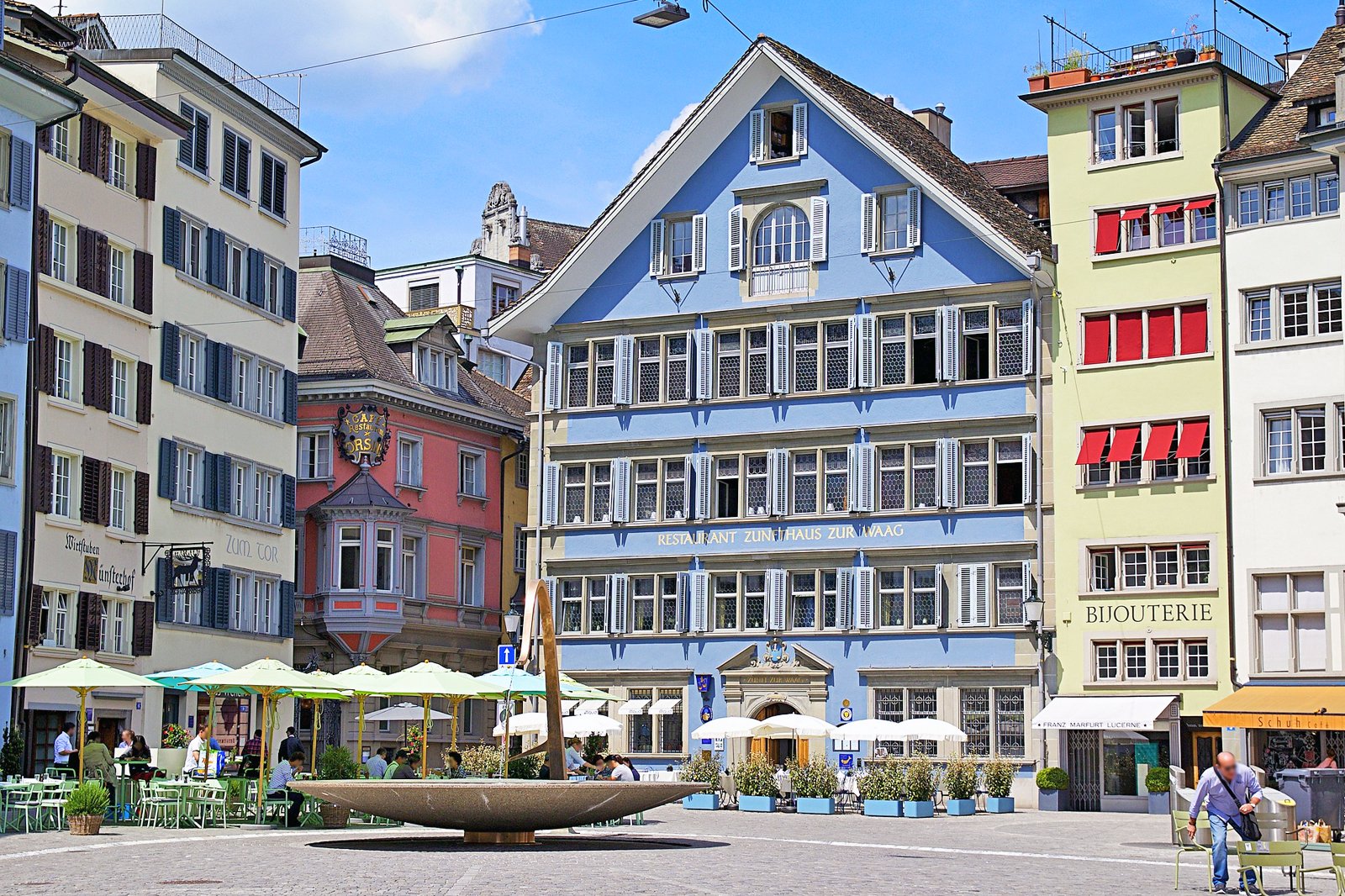 Münsterhof
A starting point to explore on your own
Münsterhof is the largest town square in Aldstalt, Zurich's Old Town. It's surrounded by many of the city's guild houses and historical structures, including Fraumünster Church and the Zunfthaus zur Meisen art museum.
Münsterhof is also a car-free zone in the Lindenhof district, making it easy for sightseeing on foot or bicycle. You can also dine at restaurants that were part of Zurich's Dadasim (anti-war artistic movements), such as Zunfthaus zur Waag, Zeughauskeller, and Sprüngli.
Location: Münsterhof, 8001, Zurich, Switzerland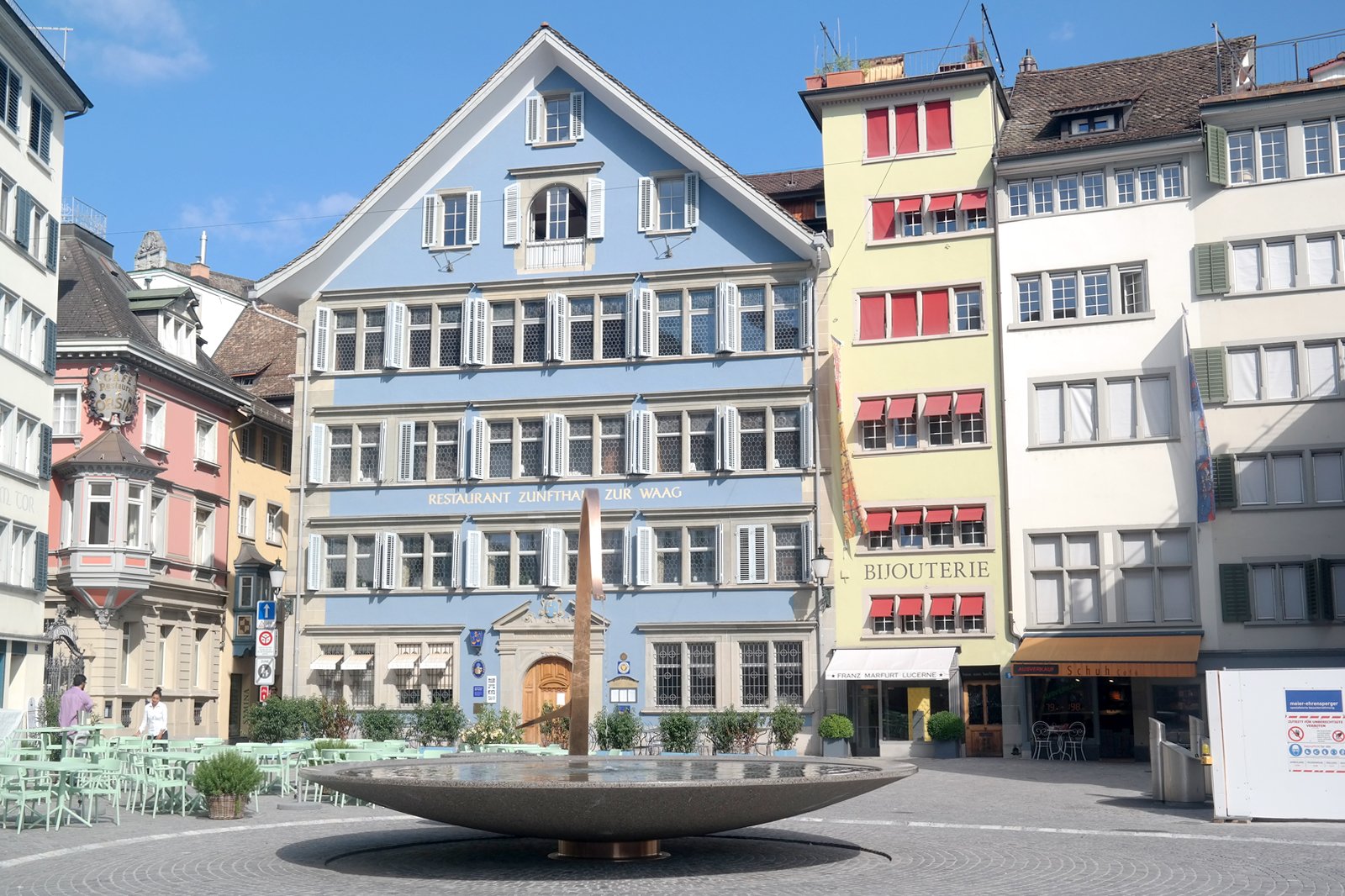 Zunfthaus zur Waag
Good for a business lunch
Enjoy traditional Swiss delicacies at Zunfthaus zur Waag, a well-loved dining venue occupying a 19th-century guild house in Alstadt (Old Town). You'll find Zurich's business crowd taking their lunches in the Biedermeier-style dining room, which has stained glass windows overlooking medieval structures and cobblestone streets.
During the summer, you can enjoy your meals paired with regional wines at the outdoor terrace with views of Fraumünster Church and Zunfthaus zur Meisen. Zunfthaus zur Waag's specialities include Zürcher geschnetzeltes (Zurich-style sliced veal in a creamy sauce) with rösti, Viennese schnitzel, and chocolate mousse by Marcel Chardon (a fine patisserie store owner who gave away his safeguarded recipe to the guild hall).
Location: Münsterhof 8, 8001 Zurich, Switzerland
Open: Daily from 11am to 2pm and from 6pm to 12.30am
Phone: +41 44 216 99 66
photo by Marco Zanoli (CC BY 4.0) modified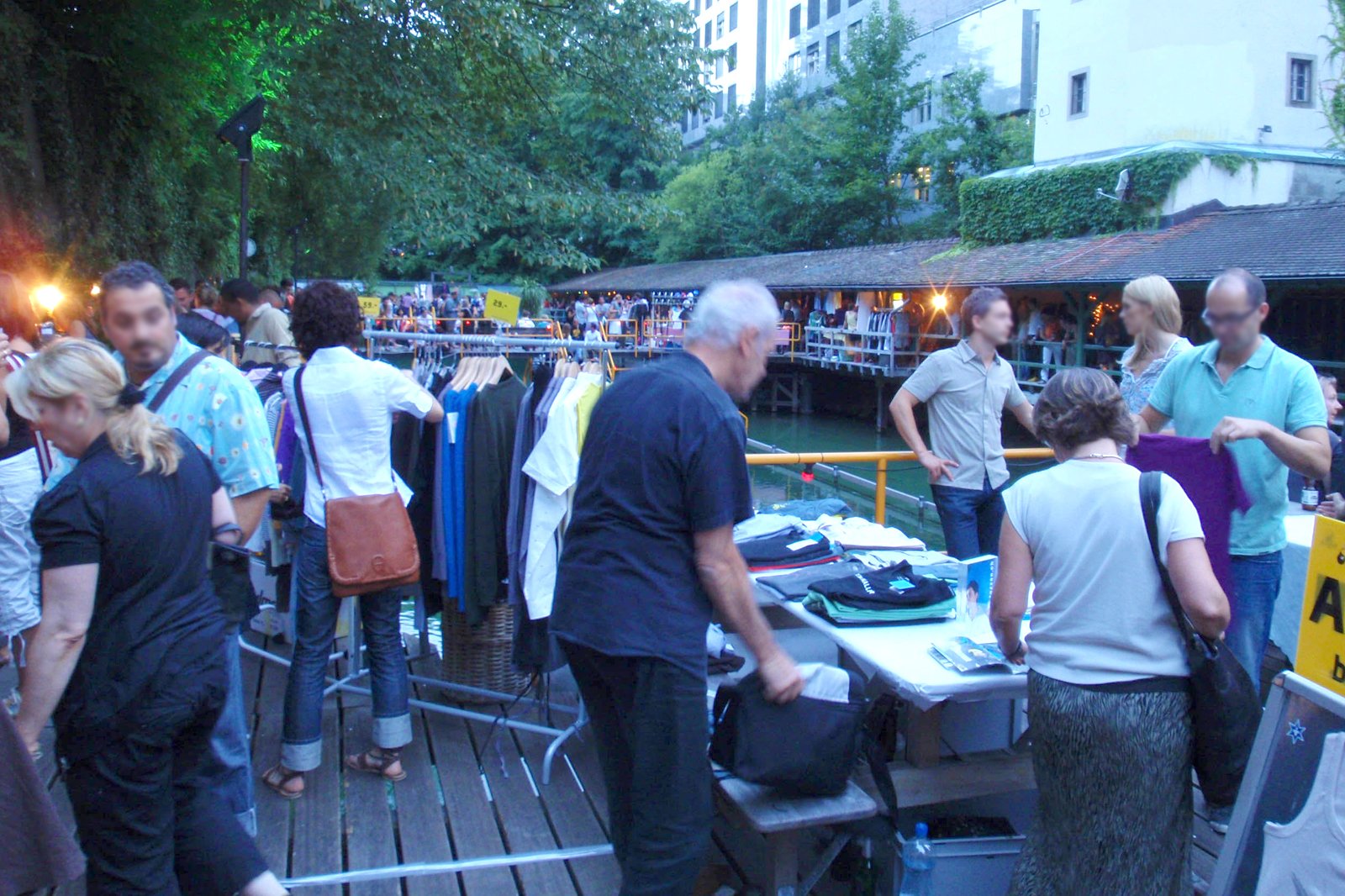 Rimini Bar
After-work drinks with colleagues
Rimini Bar's riverside space makes for a casual drinking spot with colleagues after a day of meetings. It serves as a men's swimming pool during the day, and becomes a lively bar decked out in cushions and canvas chairs at dusk.
You can enjoy a walk along the wooden deck overlooking Zurich's Sihl River and Botanical Garden. The menu has a selection of cocktails, beers and liquor, as well as finger foods such as sandwiches and pizzas.
Location: Badweg 10, 8001 Zurich, Switzerland
Open: Daily from 5pm to midnight
Phone: +41 78 956 98 36
photo by Daniel Lobo (CC BY 2.0) modified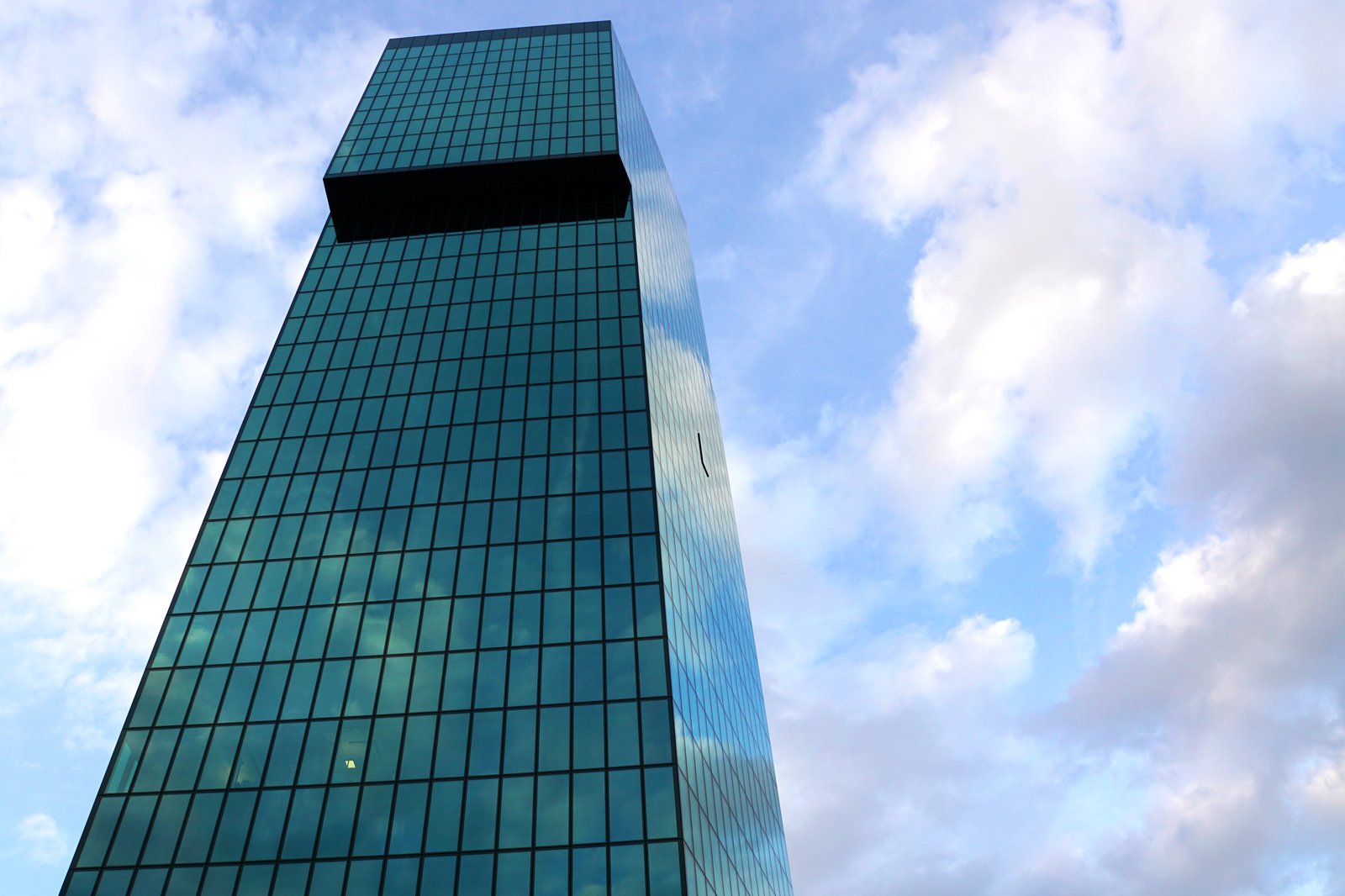 Clouds
A recommended rooftop bar
Clouds occupies the rooftop of Prime Tower, a 36-storey skyscraper in Zurich West. It has a restaurant, bar, and bistro that overlooks the Swiss capital, Lake Zurich, and the snow-capped Alps.
Cocktails are mixed with Clouds' in-house gin – signature concoctions include Perfume Number Four, Bloody C, and Clouds Cherroni. If you're a cigar person, head over to the onsite Kreis 5 lounge for a smoke and cognac with your fellow business colleagues.
Location: Maagpl. 5, 8005 Zurich, Switzerland
Open: Tuesday–Thursday from 4pm to midnight, Friday–Saturday from 4pm to 2am
Phone: +41 44 404 30 00
photo by Rosmarie Voegtli (CC BY 2.0) modified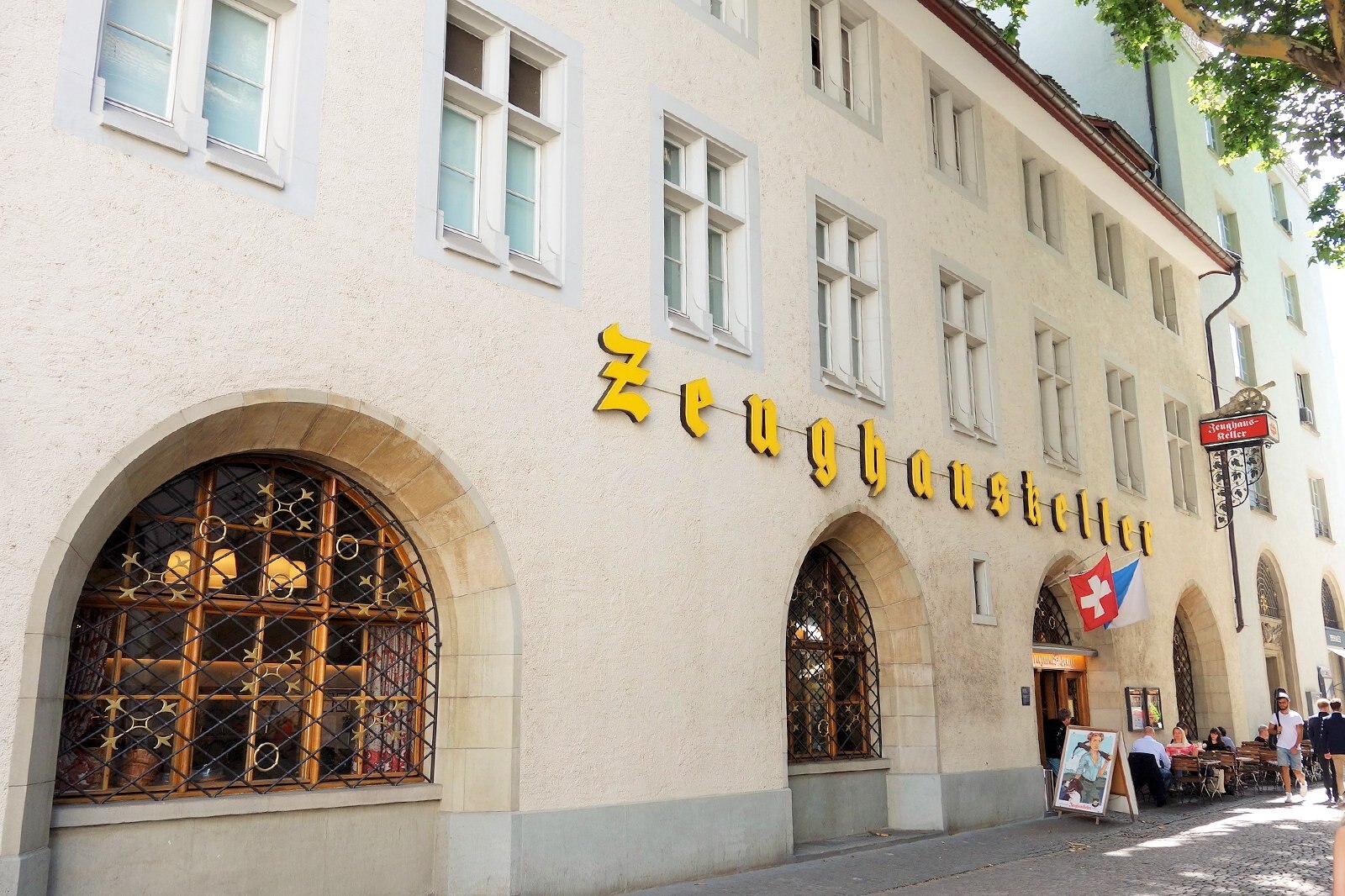 Zeughauskeller
A good Swiss restaurant on the casual end of the scale
Zeughauskeller is a Swiss beerhall that serves comfort food, wines, and beers – you can choose from over 5 types on tap. It occupies a 15th-century arsenal near Bahnhofstrasse, Zurich's upmarket shopping boulevard.
The casual joint attracts locals and tourists alike, thanks to its reasonably priced meals – a standout here is the Mayor's Sword, a dish of marinated baby-beef steaks wrapped around a sword blade. Pair your Swiss meal with a pint of Zeughauskeller's house beer, poured straight from the keg.
Location: Bahnhofstrasse 28A, 8001 Zurich, Switzerland
Open: Daily from 11.30am to 11pm
Phone: +41 44 220 15 15
photo by Paebi (CC BY-SA 4.0) modified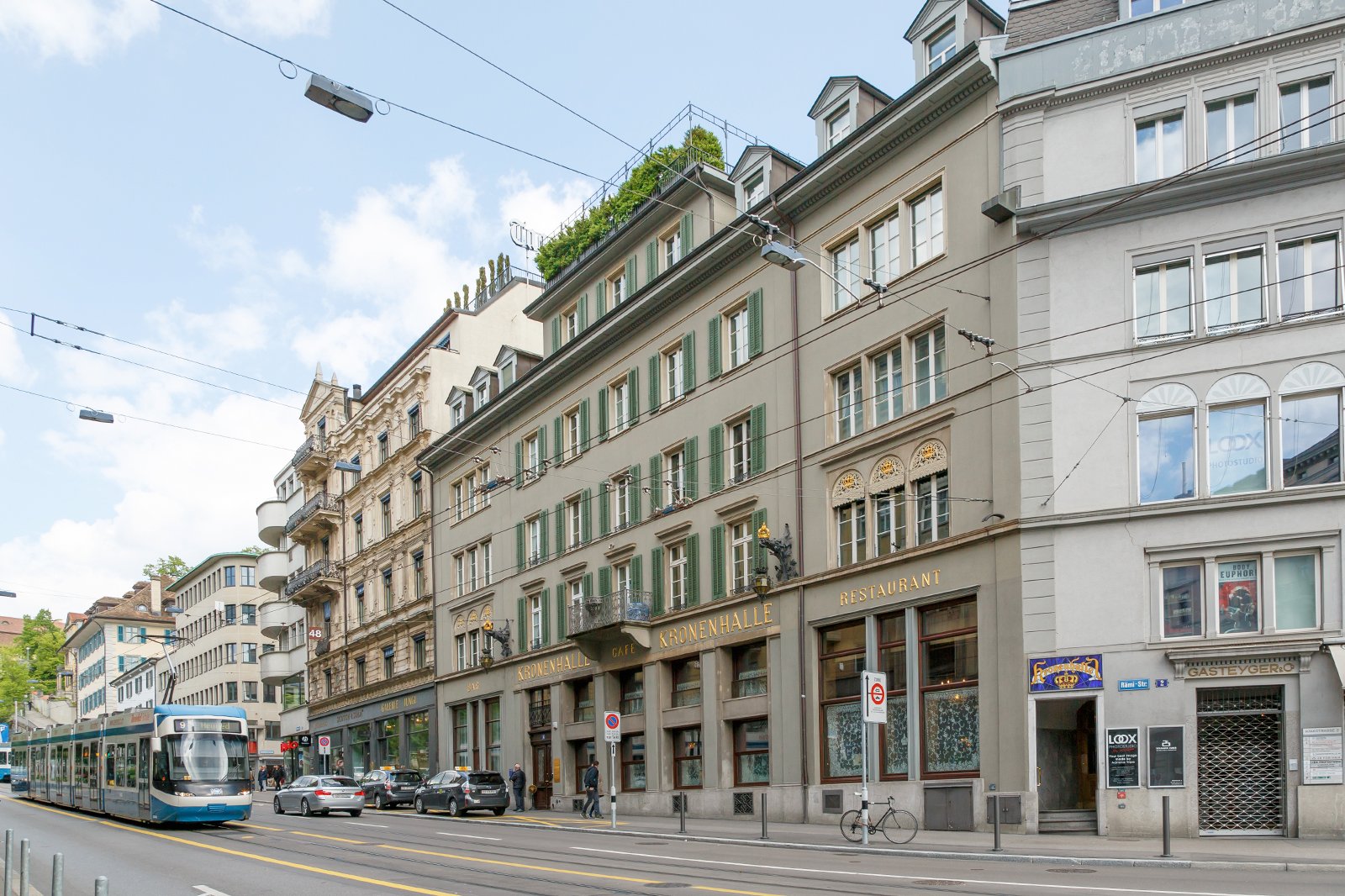 Kronenhalle
A good Swiss restaurant on the fancy end of the scale
Since 1924, Kronenhalle has been the go-to restaurant for local politicians, businessmen, artists, and prominent figures such as Sigmund Freud, James Joyce, and Albert Einstein. Its old-world dining room features chandeliers, elegant furniture by Giacometti, and decorated with paintings by Picasso and Matisse.
Tuck into Swiss cuisine such as sliced veal served with rösti, veal sausage salad, chateaubriand, before treating yourself to chocolate mousse with double cream for dessert. Do book a table in advance as seats tend to fill up quickly, especially in the evening.
Location: Rämistrasse 4, 8001 Zurich, Switzerland
Open: Daily from 12pm to midnight
Phone: +41 44 262 99 00
photo by CEphoto, Uwe Aranas (CC BY-SA 3.0) modified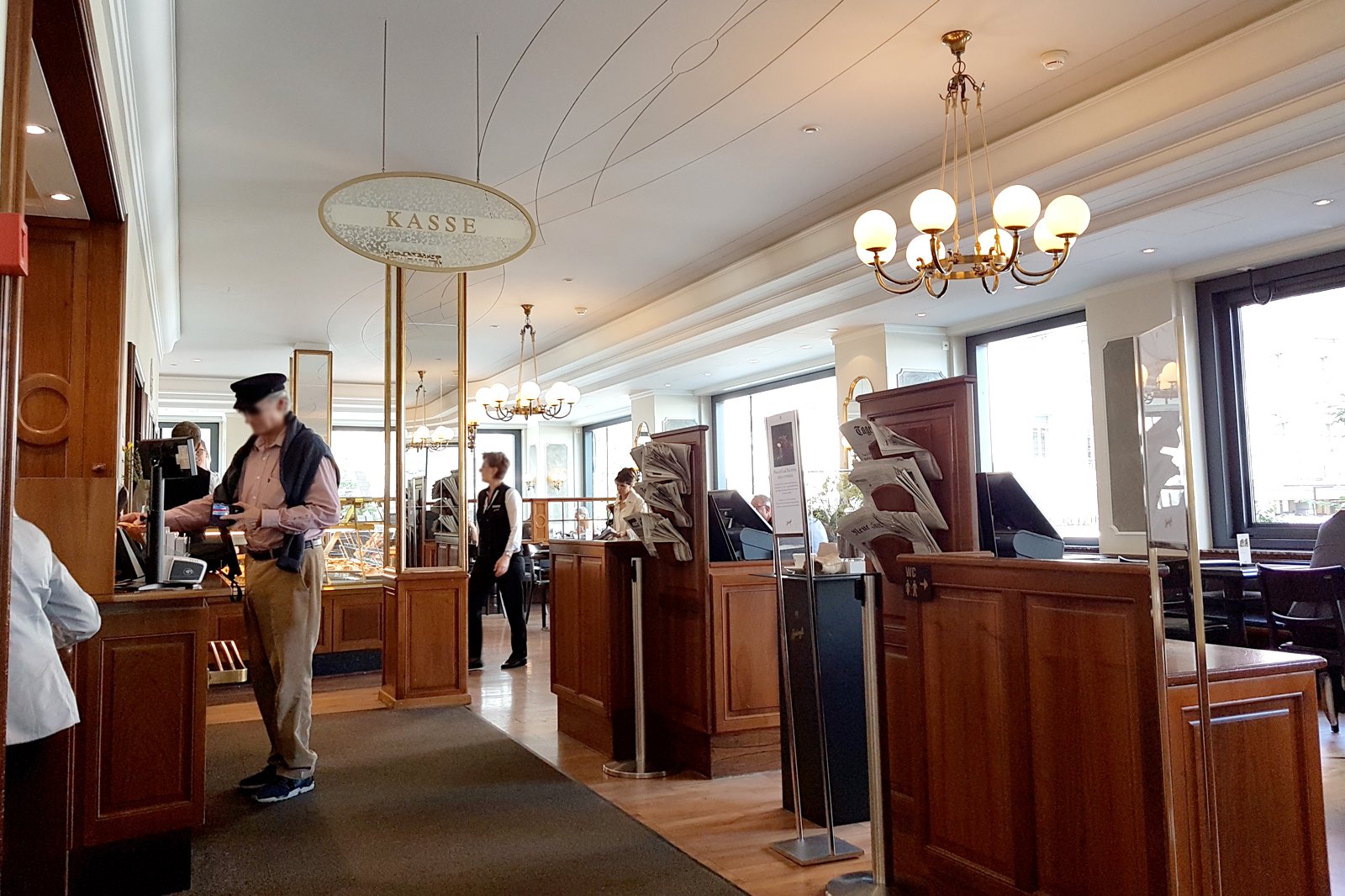 Confiserie Sprüngli
For Swiss chocolate and macaroons
Confiserie Sprüngli, located in Paradeplatz, is a luxury chocolatier dating back to 1836. It's also where the city's elites often meet up for coffee and desserts. The ground floor window entices many with its colourful display of chocolate truffles, cakes, pastries and bonbons.
The café is famous for its Luxemburgerli macarons, which come in flavours such as chocolate, raspberry, and bourbon vanilla. Pick up a tray of these treats and some Swiss chocolates to bring back home, and another to enjoy throughout your business trip in Zurich.
Location: Bahnhofstrasse 21, 8001 Zurich, Switzerland
Open: Monday–Friday from 7am to 6.30pm, Saturday from 8am to 6pm, Sunday from 9.30am to 5.30pm
Phone: +41 44 224 46 46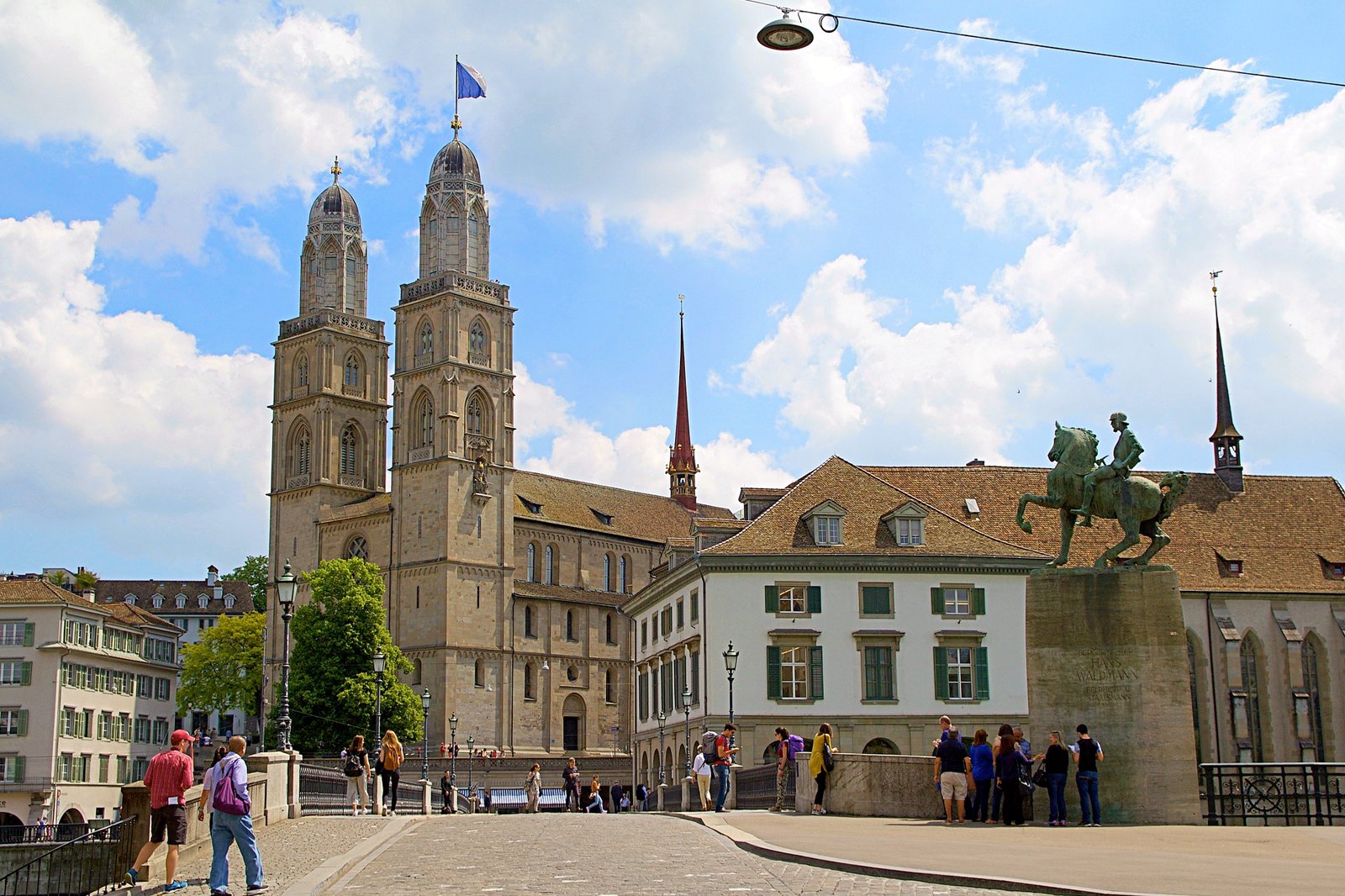 Grossmünster
A landmark worth seeing
Grossmünster is one of the city's most important churches, as it was the starting point of the Switzerland's Protestant Reformation in the 16th century. The Romanesque cathedral dates back to 1230, and was supposedly built on the graves of Zurich's patron saints, Felix and Regula.
The Reformation Museum occupies the church cloister, while the crypt hosts seasonal art exhibitions and literature events. For about 5 Fr, you can climb 187 steps to the top of Karlsturm tower, where you'll be greeted with panoramic views of Zurich and the Glarus Alps.
Location: Grossmünsterplatz, 8001 Zurich, Switzerland
Open: 1st March–31st October: daily from 10am to 6pm. 1st November–28th February: daily from 10am to 5pm
Phone: +41 44 252 59 49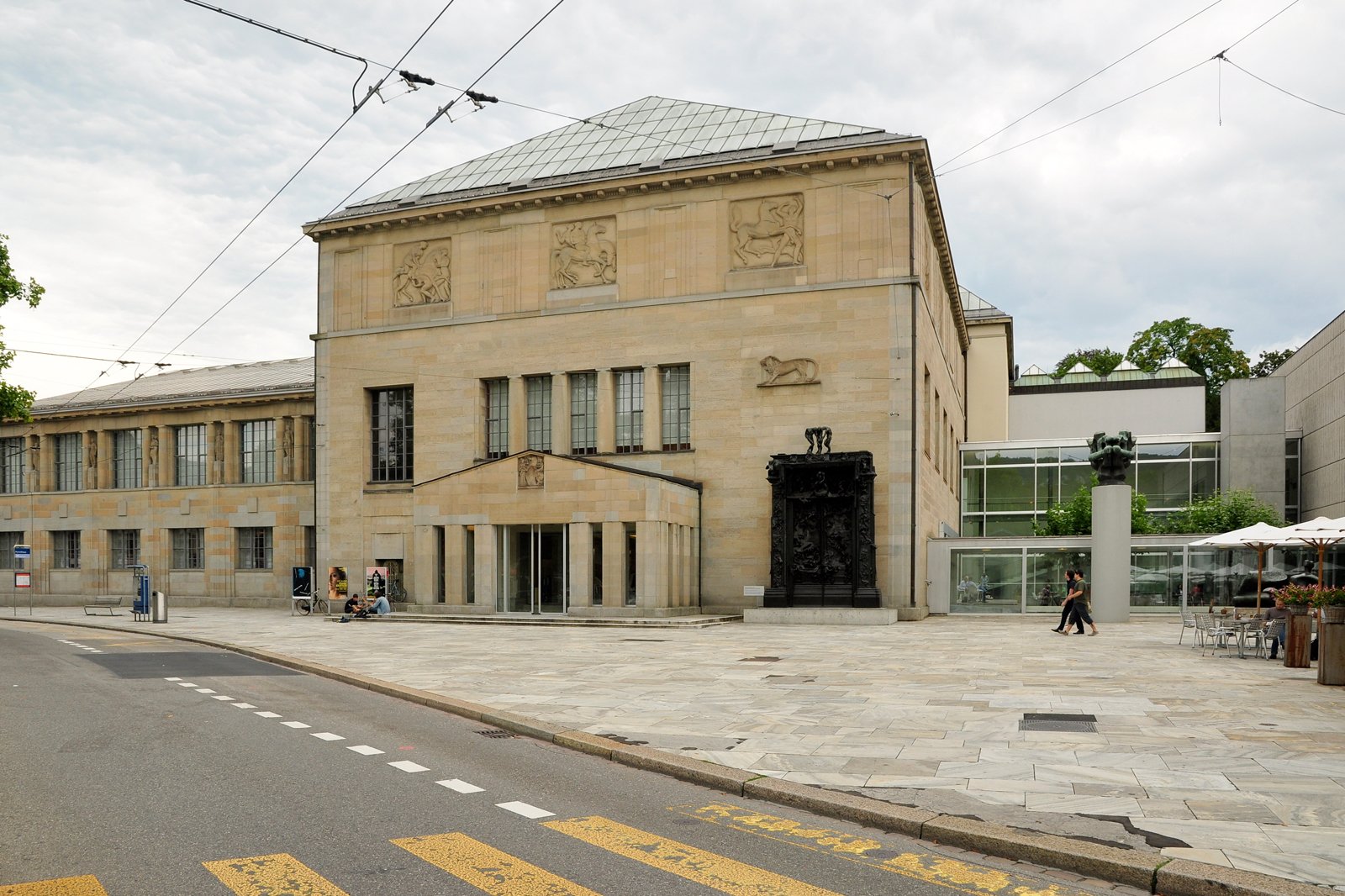 Kunsthaus Zürich
If you want to see something else
Kunsthaus Zürich is an art museum covering all the major genres, from Monet's impressionist landscapes to Munch's expressionist paintings. The museum has over 95,000 works, including sculptures, paintings, and sketches from the 15th century until present day.
Kunsthaus Zürich's biggest draw is the Alberto Giacometti collection, spotlighting the Swiss surrealist's thought-provoking masterpieces. The gallery showcases more than 150 sculptures and 20 paintings, most of which were created by Alberto and his brother, Bruno Giacometti.
Location: Heimplatz 1, 8001 Zurich, Switzerland
Open: Tuesday and Friday–Sunday from 10am to 6pm Wednesday–Thursday from 10am to 8pm (closed on Mondays)
Phone: +41 44 253 84 84
photo by Roland zh (CC BY-SA 3.0) modified