The picturesque neighbourhood of Haga is the oldest in Gothenburg and home to car-free cobblestone streets as well as some of city's best-loved shops and cafés. The popular pedestrian thoroughfare of Haga Nygata draws in shoppers with its original and exclusive boutiques selling everything from organic soaps to quirky toys. History buffs will find plenty of interest among the neighbourhood's many fascinating sights, such as the stately Crown Sconce (Skansen Kronan) defence redoubt.
Haga has undergone extensive renovations over the years but there are still plenty of beautiful and historical buildings to admire, including many buildings in the landshövdingehus style which is typical of historic Gothenburg. These multi-storey houses in timber and stone were originally built as dorms for workers, but today they are what give the area its unique charm, and many sprawl out into inviting terraces. Haga is quite simply a little oasis in the heart of the city. Especially considering that it is also home to the gorgeous Hagabadet Bath House which offers luxurious spa experiences and revitalisation in an elegant and glamorous environment.
Haga in Gothenburg - one of the highlights of 10 Things to Do Outdoors in Gothenburg and 10 Best Things to Do in Gothenburg (Read all about Gothenburg here)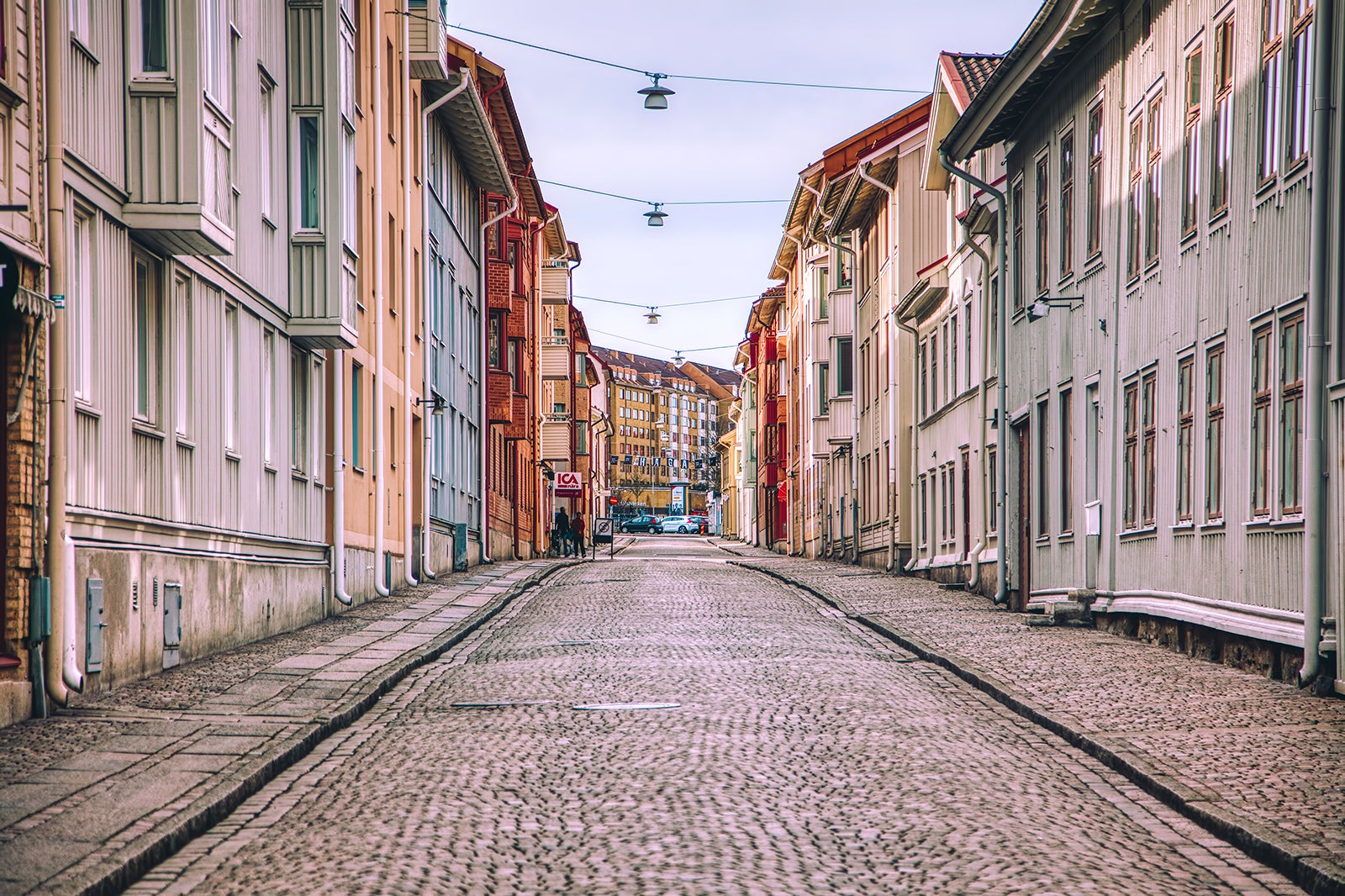 What are the highlights of Haga?
If you're looking for some unique shopping on your visit to Gothenburg then Haga is absolutely the place to go. The area is full of small-scale shops run by passionate owners each with their own unique and specialist interests. The majority of these shops are located on and around the street of Haga Nygata where you'll also find some pleasant terraces serving food and drink outdoors.
History buffs should be sure to check out the Crown Sconce (Skansen Kronan). This stylish redoubt towers over Haga and not only offers some fantastic insights into Sweden's former and often bloody rivalry with Denmark, but also makes for a great place to enjoy some views over this older neighbourhood. You'll need to join a guided tour to appreciate the view.
When your feet start to get weary after a busy day of shopping and tackling the stairs at the Crown Sconce, stop by the Hagabadet Bath House for an experience shower and a revitalising spa treatment, or simply to loosen up your muscles in a hot sauna. The gorgeous building boasts some striking ceiling and wall murals which transform even a simple swim into an experience to remember.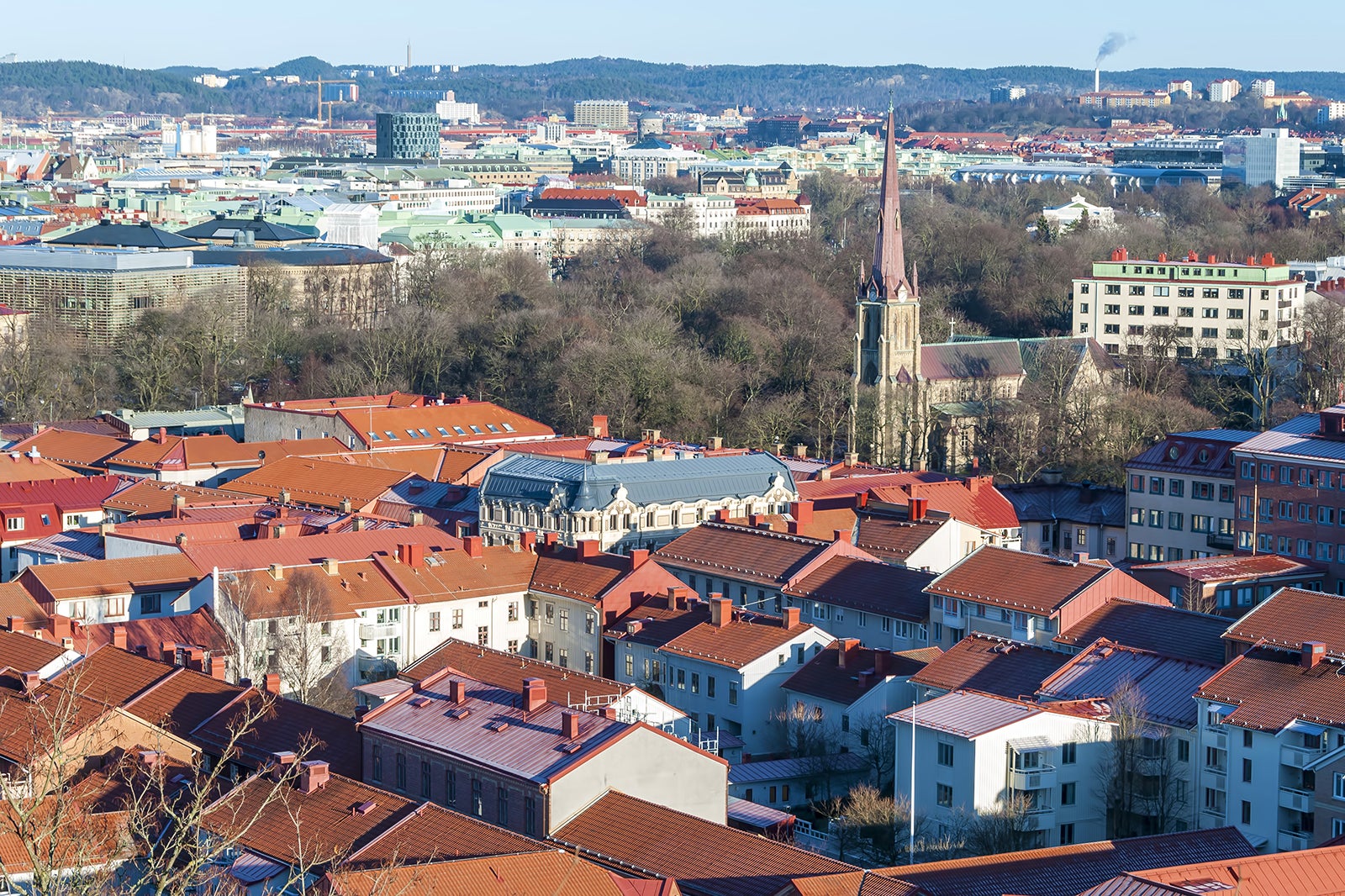 Where to shop and eat in Haga?
The unique shopping in Haga, especially along Haga Nygata, attracts tourists and Gothenburgers alike. The many small, independent stores offer both an alternative shopping experience and goods with a unique history. For example, check out Tvåla & Tvaga which sells their own soaps and handmade candles, or Filemon Kid where you'll find colourful childrenswear made from organic and natural materials.
Or was it more Nordic handicrafts you had in mind? In that case pay a visit to Haga of Sweden where you'll find local handicrafts and souvenirs to take home, or Sintra which is a veritable treasure trove for local arts and crafts. Alternatively, if quirky and international products are more your thing, check out Kawaii which sells super cute items from Japanese popular culture.
Cafés and restaurants abound in Haga, particularly around the street of Haga Nygata. Sample some organic delicacies at En Deli Haga or some local fish from Sjöbaren.
Good to know about Haga
Haga is located within walking distance from Gothenburg's inner city and just over a mile away from Gothenburg Central Station. If you'd rather take the tram than walk, get off at either Hagakyrkan or Järntorget. From Central Station, the tram ride takes just under 10 minutes with trams departing at intervals of every few minutes in the middle of the day. Haga is also easily reached by bicycle. One way to get there is to rent a bike from Styr & Ställ and to park your rental bike on Vasagatan, just 100 metres from Haga Nygata.
Haga hasn't always been the relaxed and artistic neighbourhood it is today. Many years ago, it was home to some of the poorest residents in the city and a hotbed for organised crime. To learn more about this darker history, sign up for a tour with Crime Walk and listen as your expert guide brings Haga's 19th century history of crime, overcrowding and smuggling to life.
Haga in Gothenburg
Back to top