The Delsjön Nature Reserve is an expansive beauty spot covering almost 1,400 ha to the east of Gothenburg. It's home to a plateau mountain with several ridges, mixed deciduous forest, boglands, moors and heathland, ponds and small tarns, not to mention the much larger Stora and Lilla Delsjön lakes. Its welcoming and varied landscapes attract more than one million happy visitors each year and offer ample opportunity to exercise, go birdwatching, canoe, swim, bathe, fish or simply switch off and reconnect with nature.
Delsjön Nature Reserve in Gothenburg - one of the highlights of 10 Free Things to Do in Gothenburg and 10 Best Beaches in Gothenburg (Read all about Gothenburg here)
Where to swim and relax at the Delsjön Nature Reserve?
The Delsjön Nature Reserve is home to many great spots for a swim, from grassy slopes by the water's edge to sandy beaches and sun-kissed rocks. Perhaps the most well-known bathing spot is Delsjöbadet on the shores of the Stora Delsjön Lake. This large grassy hill and sandy beach offer plenty of space for visitors while the nearby café makes for a great spot to load up on caffeine and snacks. If you'd rather avoid the crowds, never fear. The area is also home to a number of other pleasant and somewhat smaller bathing spots that don't tend to attract as many people.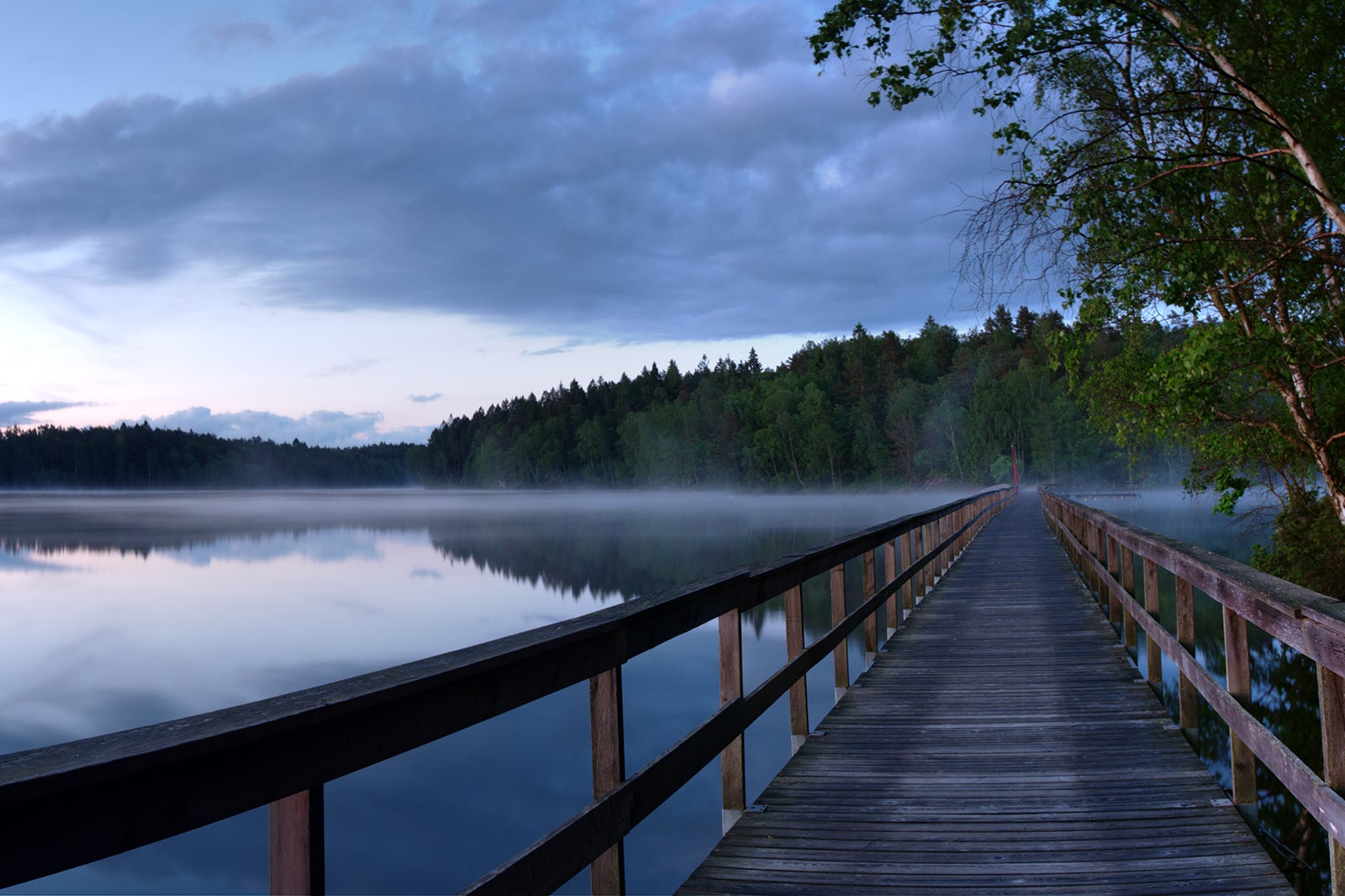 Exercise and activities around the Delsjön Nature Reserve
Fitness fans will find a wide range of running trails and a mountain biking trail at the Delsjön Nature Reserve to enjoy. There are also several hiking routes to choose from and the area is full of historic ruins from days gone by. Or if you'd rather get off dry ground for a bit, you can hire a canoe and row your way across the lake. The entire area is rich in both birdlife and different fish species which makes it a great spot for fishing aficionados and birdwatchers alike.
Good to know about Delsjön Nature Reserve
The Delsjön Nature Reserve is located about 4 miles to the east of Gothenburg and can be reached in 15 minutes from the city by car, or in just over half an hour by bike. The area is also easy to reach from other nearby areas such as Skatås and Öjersjö. To arrive by tram, get off at the Töpelsgatan Stop which is a 10-minute walk away from the leisure centre or a 20-minute walk to the Delsjöbadet beach and swimming area.
Delsjön Nature Reserve in Gothenburg
Location: Delsjön 412 76 Gothenburg, Sweden
Phone: +46 313 650000
Back to top