Marbella Travel Essentials
Useful Information to Help You Start Your Trip to Marbella
Our Marbella Travel Essentials lays out the essential information you need to help planning your trip to one of the most popular destinations in Spain. No matter how frequently you travel, some questions will always need answers: What's the weather like? How can I get from the airport to my hotel? What currency and type of plug do I need? We have all these answers plus other basic info about the best time to go, getting there, getting around, and a few useful travel tips.
It's all compiled in this Marbella Travel Essentials. After reading this short and easy-to-read guide, you will be a little more prepared to start your trip in Marbella.
1
When is the best time to travel to Marbella?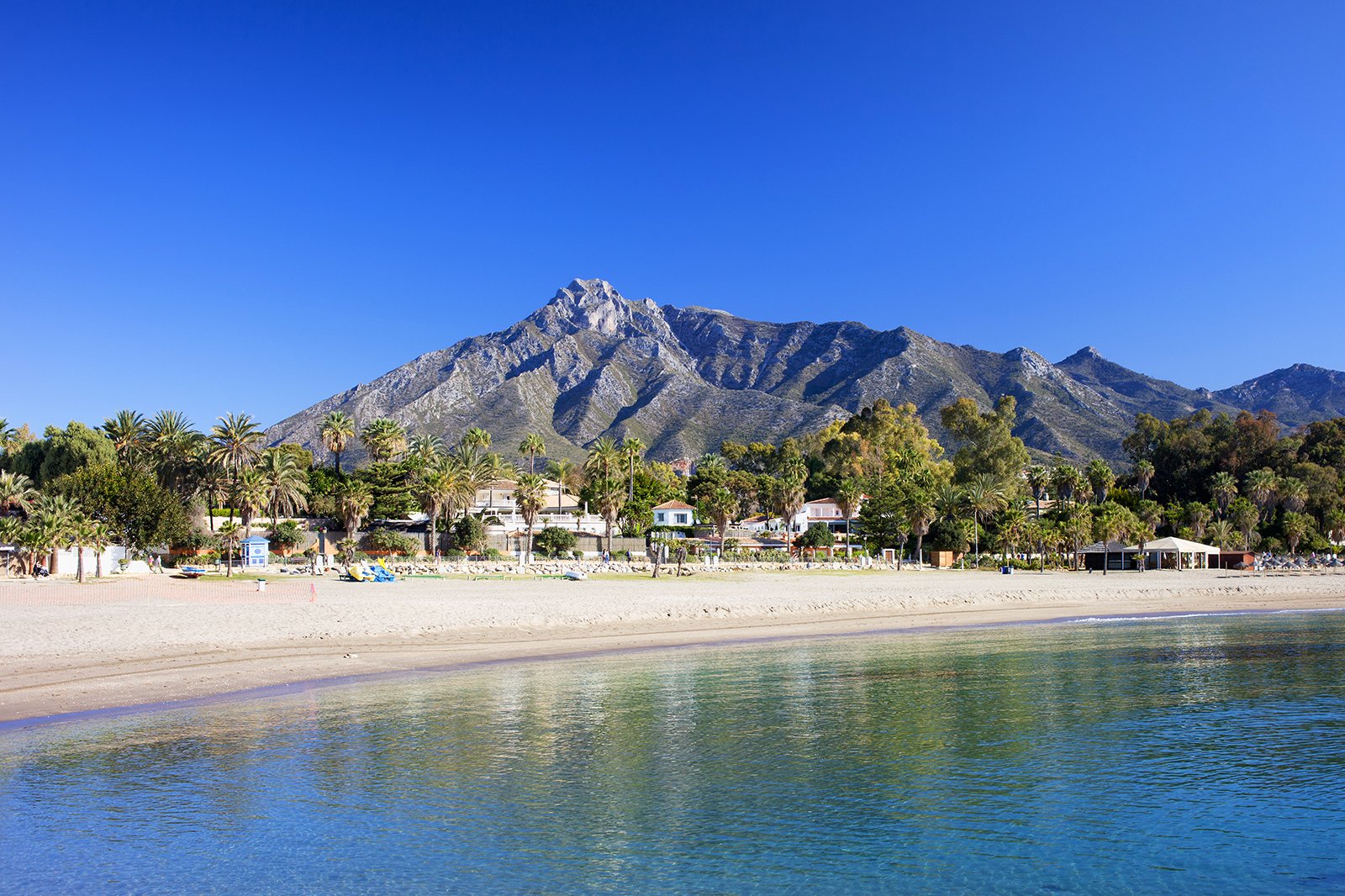 Protected on its northern side by a range of mountains, Marbella has a warm microclimate, with average temperatures ranging from 11°C in winter to 24°C in summer.
The rainiest time of the year is between October and March, with an average of 6 rainy days per month.
The warmest time of the year is between April and October.
June–August is the most popular time to visit Marbella, but it's peak season, so hotel and flight prices rise accordingly.
April–May and September–October are the best times to visit Marbella. The weather is sunny and warm, you'll avoid the summer crowds, and hotel and flight prices are lower.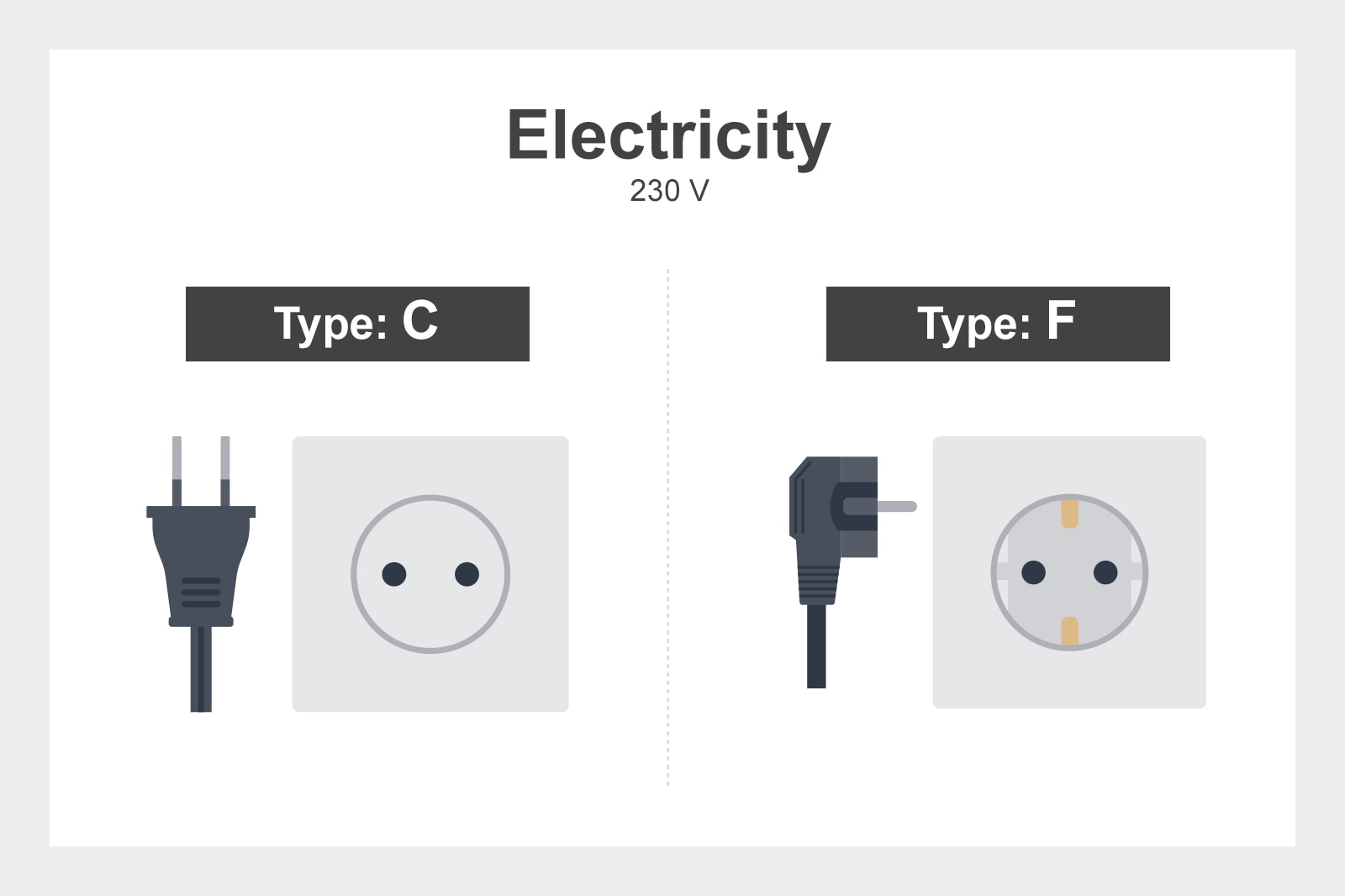 Languages: Primary: Spanish
Plug types: C and F
Electricity: 230 V
Currency: Euro (€)
International dialling codes: +34 95
Emergency telephone number: 112
3
How to get to my hotel in Marbella?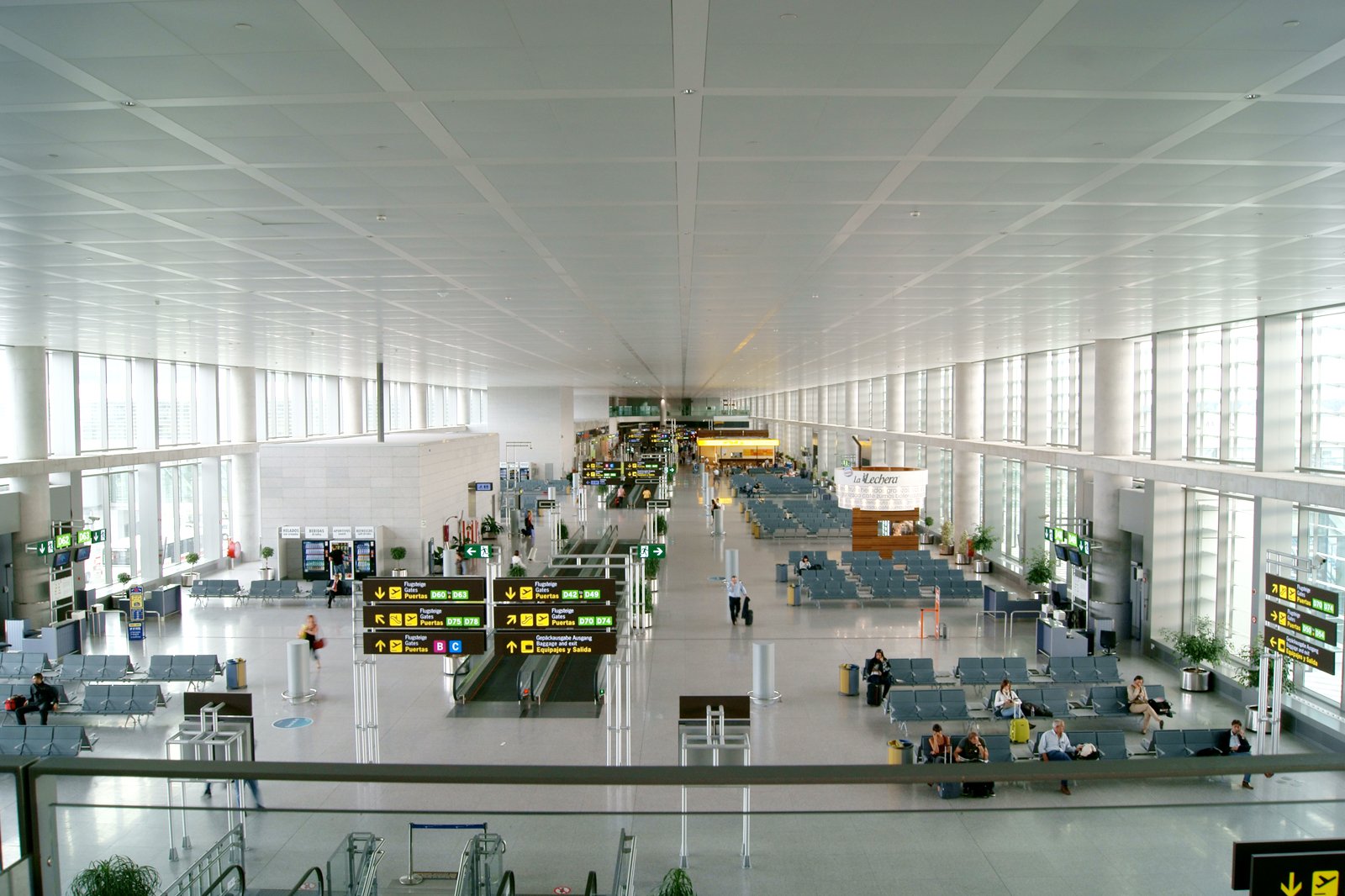 Malaga Airport
Malaga Airport is the closest airport to Marbella. It sits 40 km northeast of Marbella city centre. Malaga Airport operates 2 adjacent passenger terminals served by 2 runways. The terminals are home to a good choice of dining and shopping options as well as facilities like free Wi-Fi, banking and currency exchange services. There are several transfer options to help you reach Downtown Marbella:
A taxicab takes around 40–50 minutes. Taxi ranks can be found outside the arrivals area of Terminal 3.
You can also use Uber to get transferred from Malaga Airport. The fare is slightly cheaper than in a standard taxi.
An express bus takes 40–50 minutes. Tickets must be purchased at an office in the forecourt between the terminals. It's the cheapest and most convenient way to get to Marbella.
Car rental agencies can be found within and right outside the terminals.
photo by HrAd (CC BY-SA 4.0) modified
4
How to get around Marbella?
Travel tips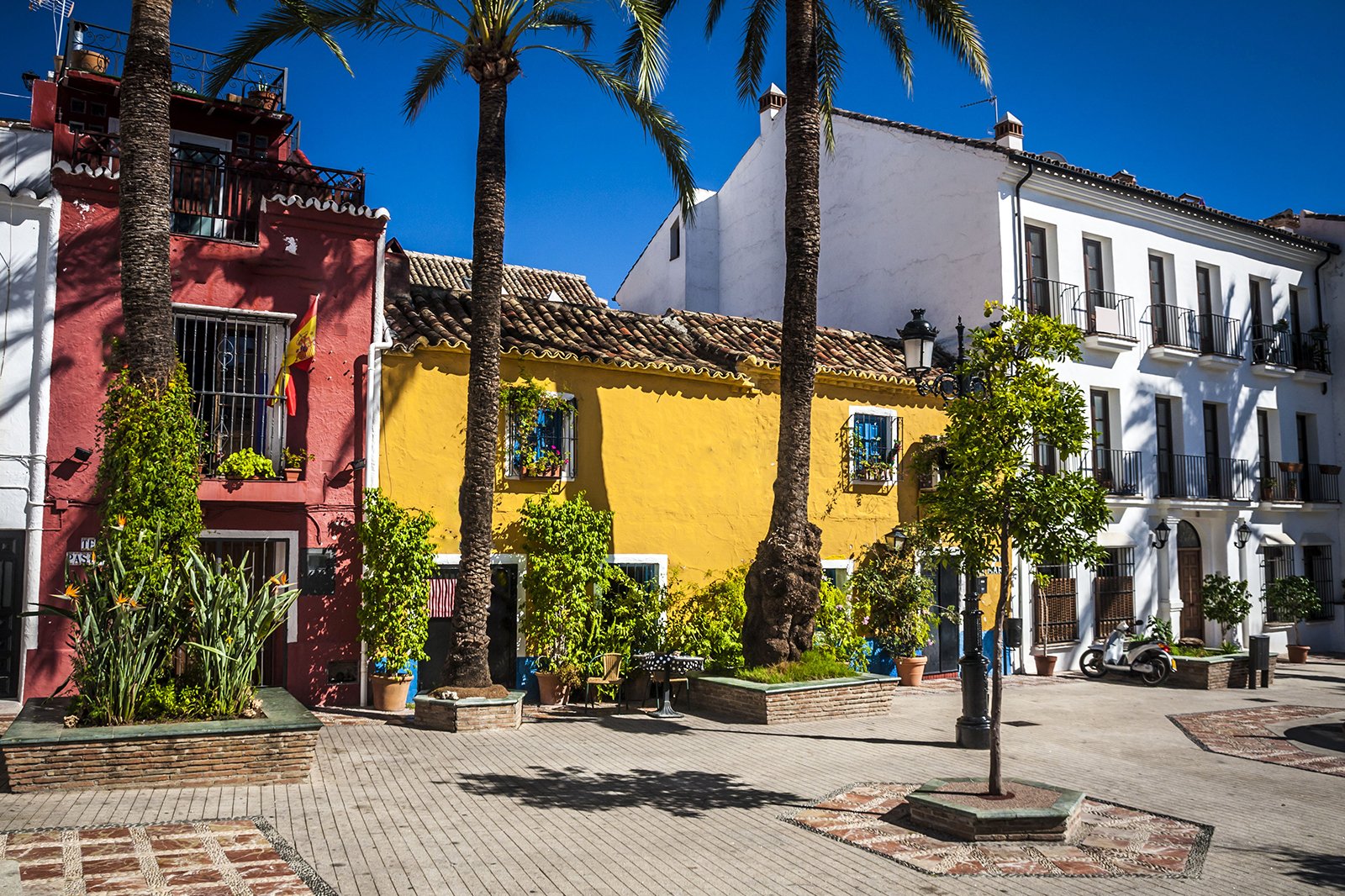 Covering less than 2 sq km, Marbella Old Town is compact enough to be explored on foot. You'll find many landmarks and attractions within walking distance of each other, like the Avenida del Mar, the Paseo Maritimo, and the Ermita de Santiago church, just to name a few. The city centre is also home to a great choice of dining, shopping and nightlife entertainment options. For longer journeys, Marbella has a good choice of public and private transport services.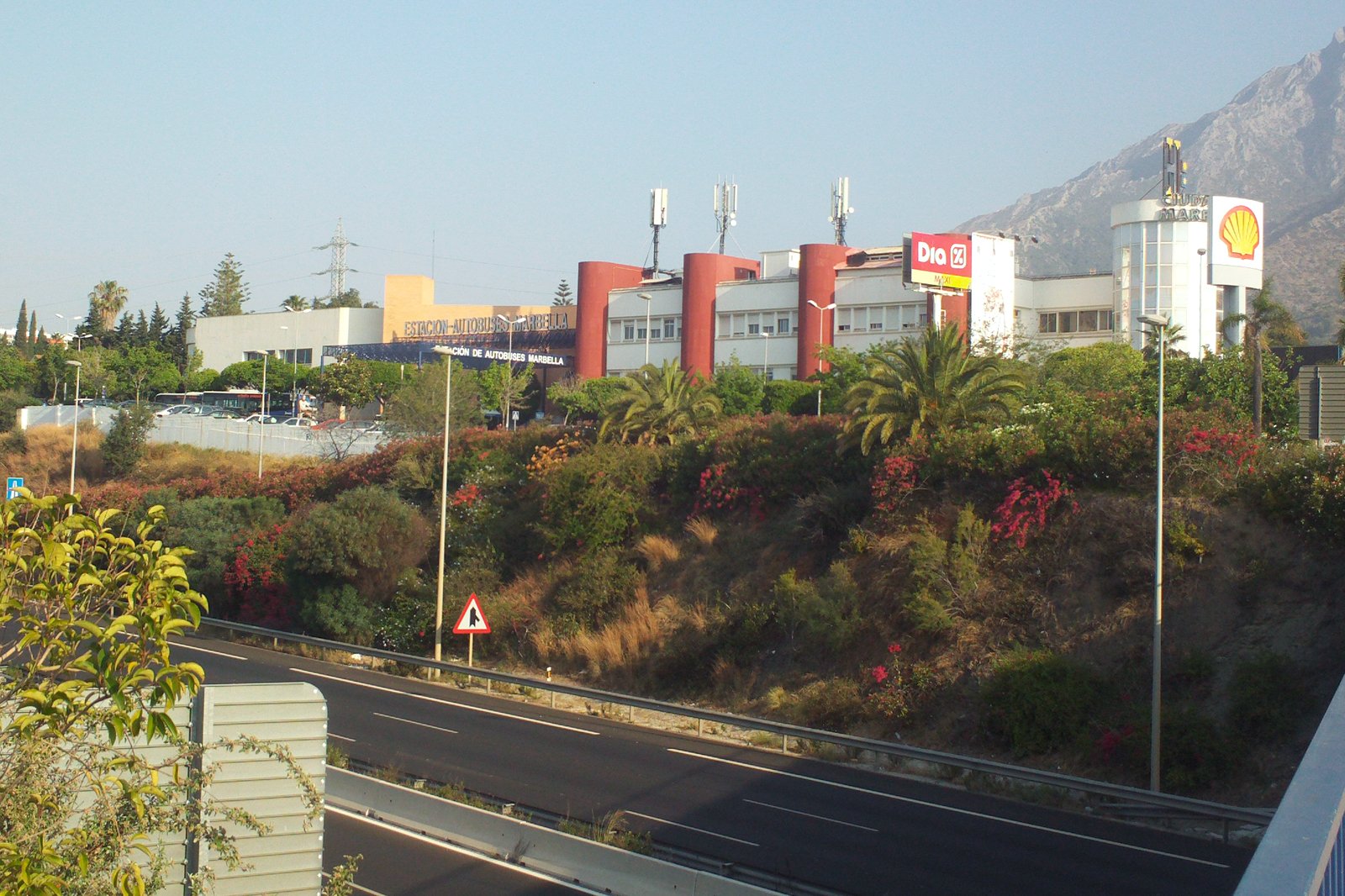 Marbella Bus Station sits on Camino del Trapiche, 1.5 km north of the city centre. It's served by many bus companies, including the Servicio Urbano de Transporte buses – Urban Bus Transport Service. The station is the arrival point from the airport. From here, you can get anywhere around Marbella, along the Costa del Sol, further into Andalucia and even to Madrid.
A rechargeable travel card is very convenient if you plan to use public transport services a lot during your holiday.
Marbella Bus Station hosts facilities such as a coffee shop, a newsstand, Wi-Fi and toilets.
When coming from the airport by bus, taxis are available here to get you to your hotel.
photo by Ypsilon from Finland (CC0 1.0) modified
6
Marbella horse-drawn carriages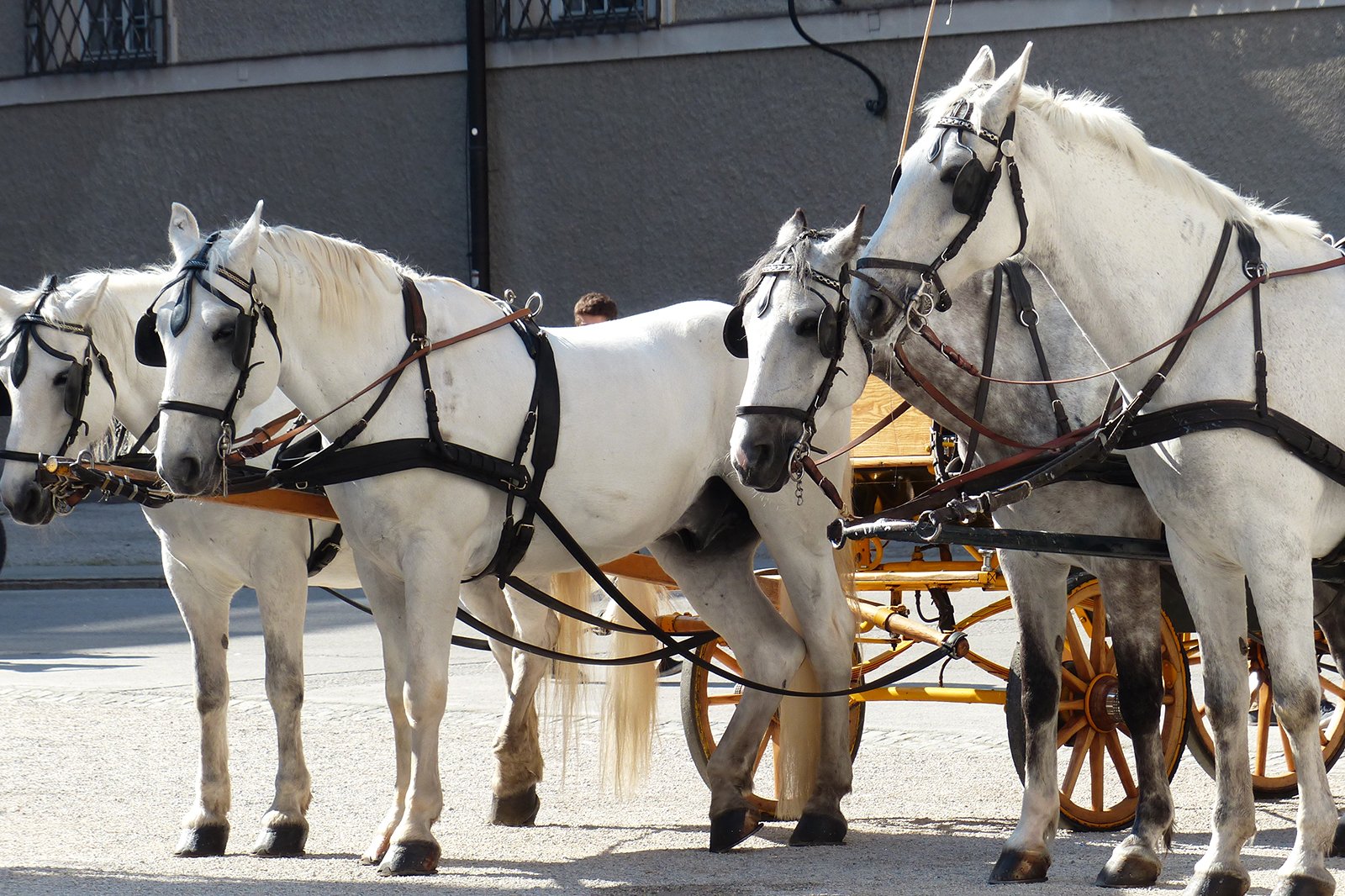 Horse-drawn carriages are a quaint way to discover Marbella. Found on Avenida Miguel Cano and on Avenida España, most tours around the Old Town and the beach last around 20 minutes.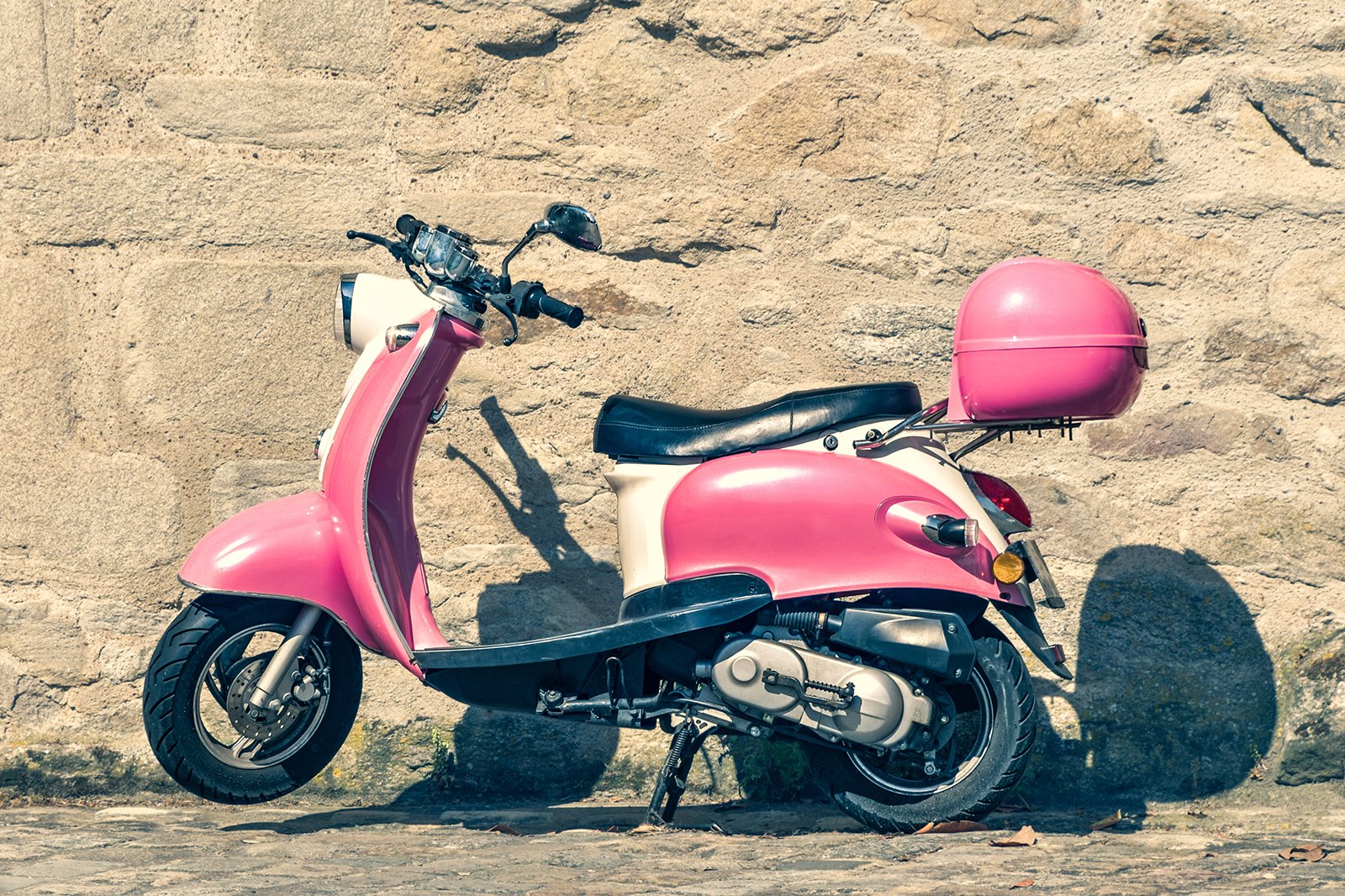 Scooters can be rented to allow you to independently explore Marbella and its surroundings. Note that driving a scooter can be hazardous, especially if you're not used to it.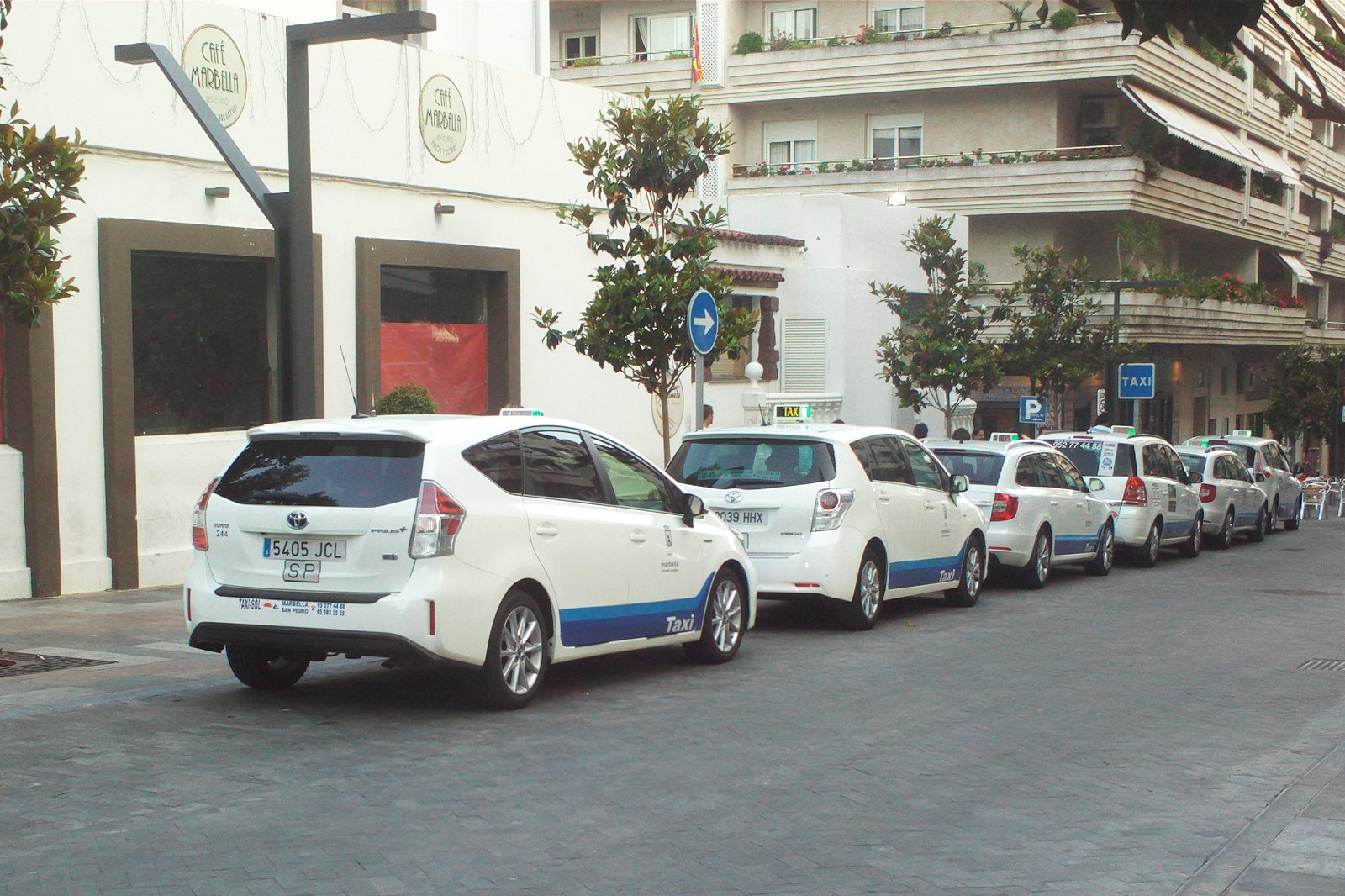 Taxis can be hailed on the street in Marbella and there are cab stands in the city centre, at the bus station and outside most hotels and major attractions.
You can directly call popular companies such as Taxi Marbella (618 34 89 24), Taxisol Marbella (952 82 35 35) or Marbella Taxi Transfers (951 24 71 49), just to name a few.
Rates are slightly higher at night (between 10pm and 6am) and on weekends.
Taxis usually accept payment of the fare by credit card, but it's better to ask the driver before you get in.
It's not common to give a tip to taxi drivers in Spain, but you can round up the bill if you're happy with the service.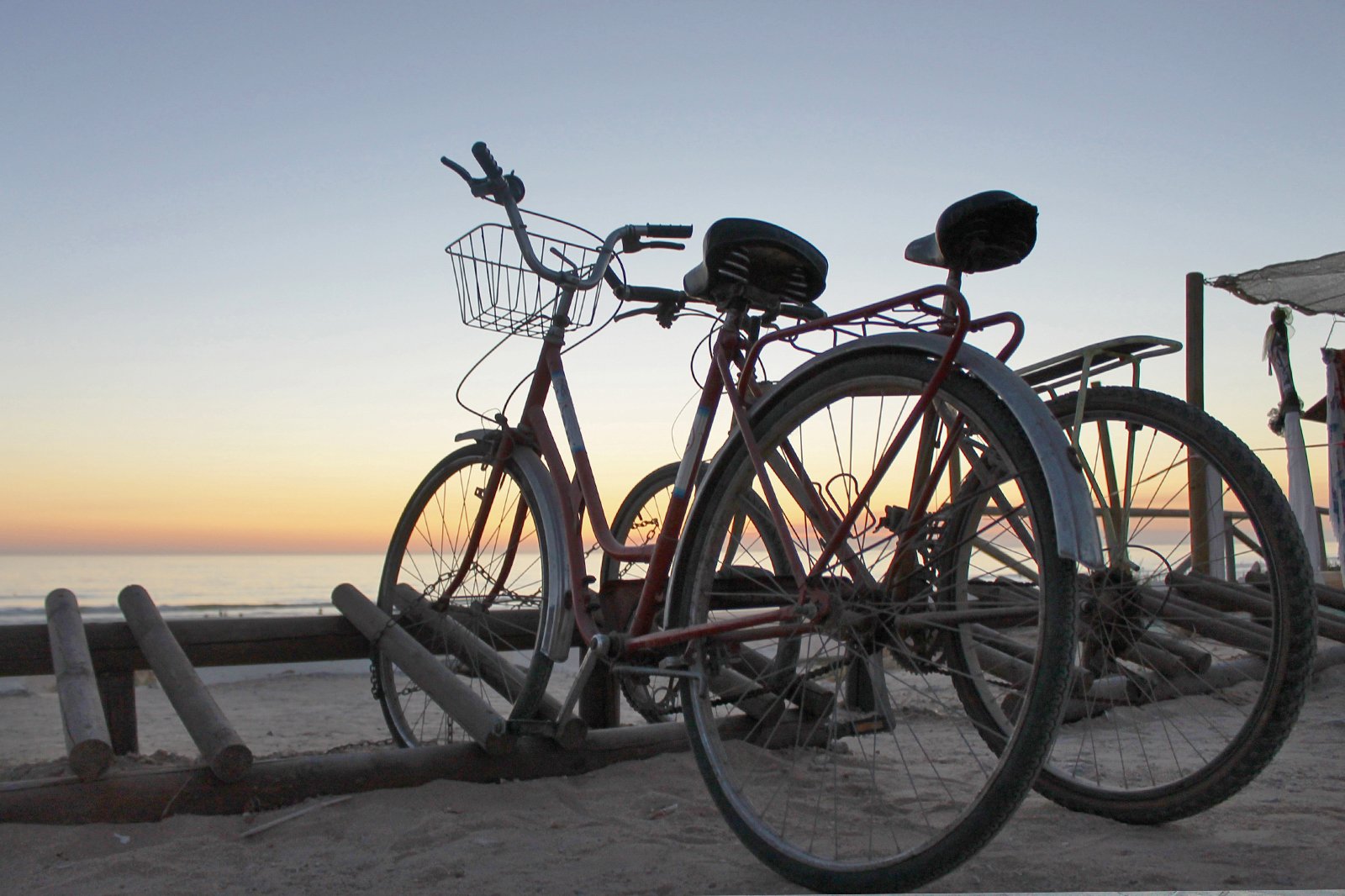 Marbella is a true bike-friendly city. The climate is just right most of the time and the city and immediate surroundings are flat enough to allow everyone to comfortably cycle around. If you're a hardcore cyclist, you can test your fitness on the nearby hills. You'll find many bike rental shops and companies across the city centre. Some of the most popular of them are Rent4Fun in Centro Comercial Plaza de Mar (951 33 12 69), Marbella Bike on Avenida de Ramón y Cajal (952 82 78 94), and Bike Philosophy on Avenida Arias de Velasco (952 86 18 07).
10
What are the main annual events in Marbella?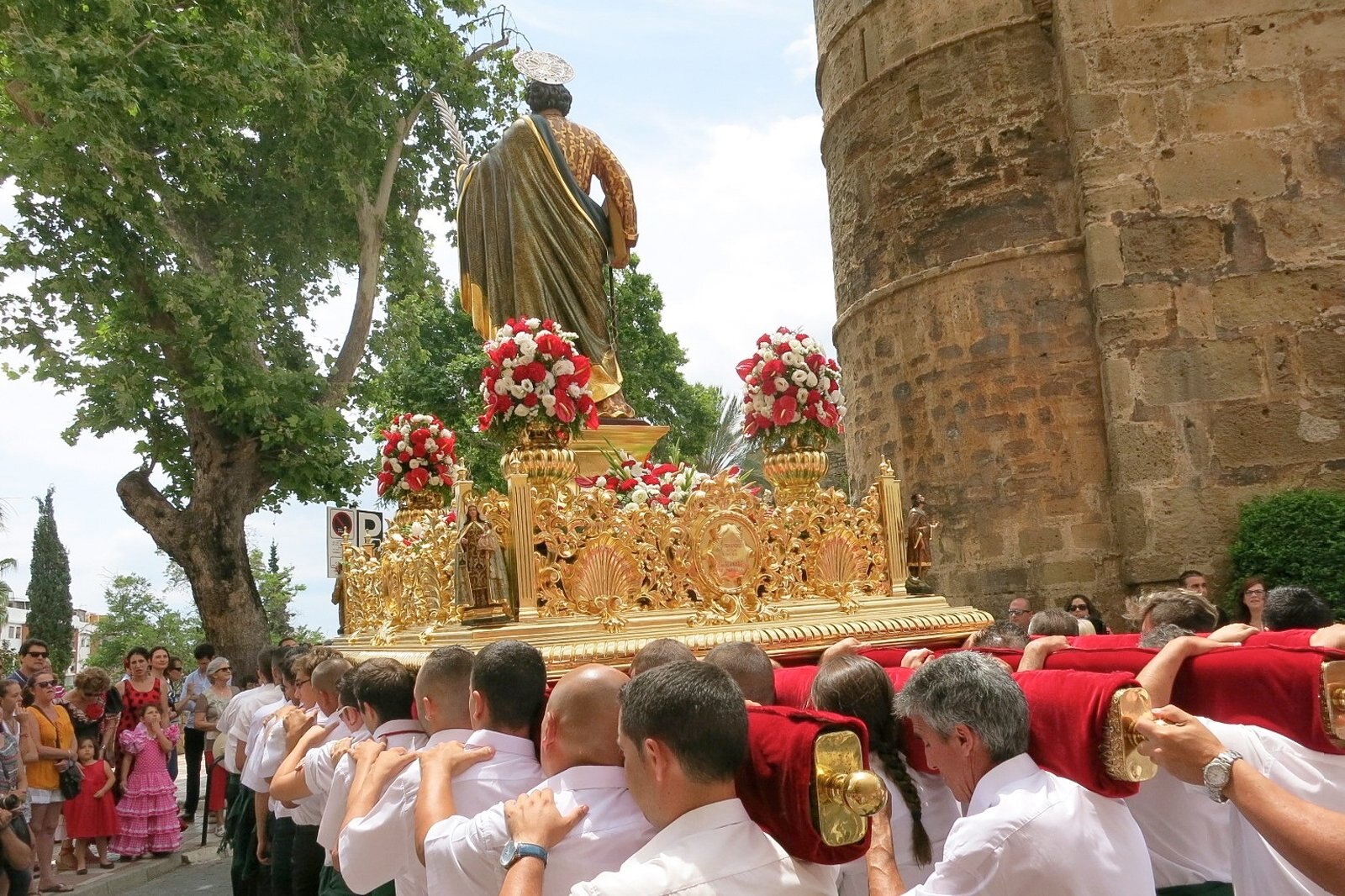 Marbella Carnival
What: Marbella Carnival may not be in the same league as Rio's, but its popularity increases year after year. This family-friendly festival showcases costumed and masked parades, contests and many activities organised by the municipality.
When: February–March
Where: Marbella centre, San Pedro de Alcantara, Nueva Andalucia and Las Chapas
Marbella Fair – Feria de San Bernabe
What: Held in honour of the city's patron saint, San Barnabé, the Marbella Fair features fireworks, pilgrimage processions, dance performances and many more festive events for the whole family. Local street food is a big part of the fair.
When: June
Where: All around the city
Noche de San Juan
What: Noche de San Juan (Saint John's Eve) marks the beginning of summer with the burning of large papier-mâché effigies illuminating Marbella's beaches. Expect food, drinks, and a friendly atmosphere. Don't forget to jump over a bonfire 3 times to be cleansed.
When: 23 June
Where: Marbella and Costa del Sol beaches
photo by Maasaak (CC BY-SA 4.0) modified
Back to top