Formentera Travel Essentials
Useful Information to Help You Start Your Trip to Formentera
Our Formentera Travel Essentials lays out the essential information you need to help planning your trip to this stunning Mediterranean island. No matter how frequently you travel, some questions will always need answers: What's the weather like? How can I get from the airport to my hotel? What currency and type of plug do I need? We have all these answers plus other basic info about the best time to go, getting there, getting around, and a few useful travel tips.
It's all compiled in this Formentera Travel Essentials. After reading this short and easy-to-read guide, you will be a little more prepared to start your trip to Formentera.
1
What are the main towns and villages in Formentera?
Part of the Balearic Islands, Formentera lies 100 km east of the Spanish mainland. It's a rather flat, rocky island home to stunning white-sand beaches. The island covers an area of about 83 sq km and it has a semi-arid climate. Formentera has been a popular destination since the 1960s after being "discovered" by the flower generation. Bob Dylan and Joni Mitchell, among others, are celebrities who spent time in Formentera during the height of the hippie era. The island has no airport and is served by boat from Ibiza, which is some 12 km north of Formentera.
Sant Francesc Xavier
Sant Francesc Xavier is the capital village of Formentera. Located near the centre of the island, it's home to the Island Council and main services, including a tourist information centre. The main attractions of Sant Francesc Xavier are the chapel of Sa Tanca Vella, the mills of Sa Mirada, and there are 3 museums. The centre of the village covers an area of 100 sq km and is home to good dining and shopping options.
Sant Ferran de ses Roques
Sant Ferran de ses Roques sits inland, 3 km east of Sant Francesc Xavier. It's home to a small historic centre featuring a church, a square and a quaint network of pedestrian streets. The village has decent shopping and dining scenes. Its location at the intersection of Formentera's 2 main roads makes Sant Ferran de ses Roques a good base for exploring the island.
El Pilar de la Mola
El Pilar de la Mola lies on La Mola peninsula – hence its name – in the southeastern part of the island. It's only about 10 km from Sant Ferran de ses Roques and 13 km from Sant Francesc Xavier. It's a quiet village famous for its craft market held from May to October. The 2 main landmarks of the village are an 18th-century church and a lighthouse. The latter offers stunning views of Formentera's cliff and is the source of inspiration for Jules Verne's novel Off on a Comet.
La Savina
La Savina in the northwestern part of the island is the main point of arrival/departure in Formentera. All supplies for the whole island also arrive here. You'll find car/motorbike rental companies, restaurants, bars, shops and accommodation options. The 2 main attractions of La Savina are the small hippie market held daily in the afternoon during the high season and the seafront hiking trail that departs at the southeastern side of the pier.
2
When is the best time to travel to Formentera?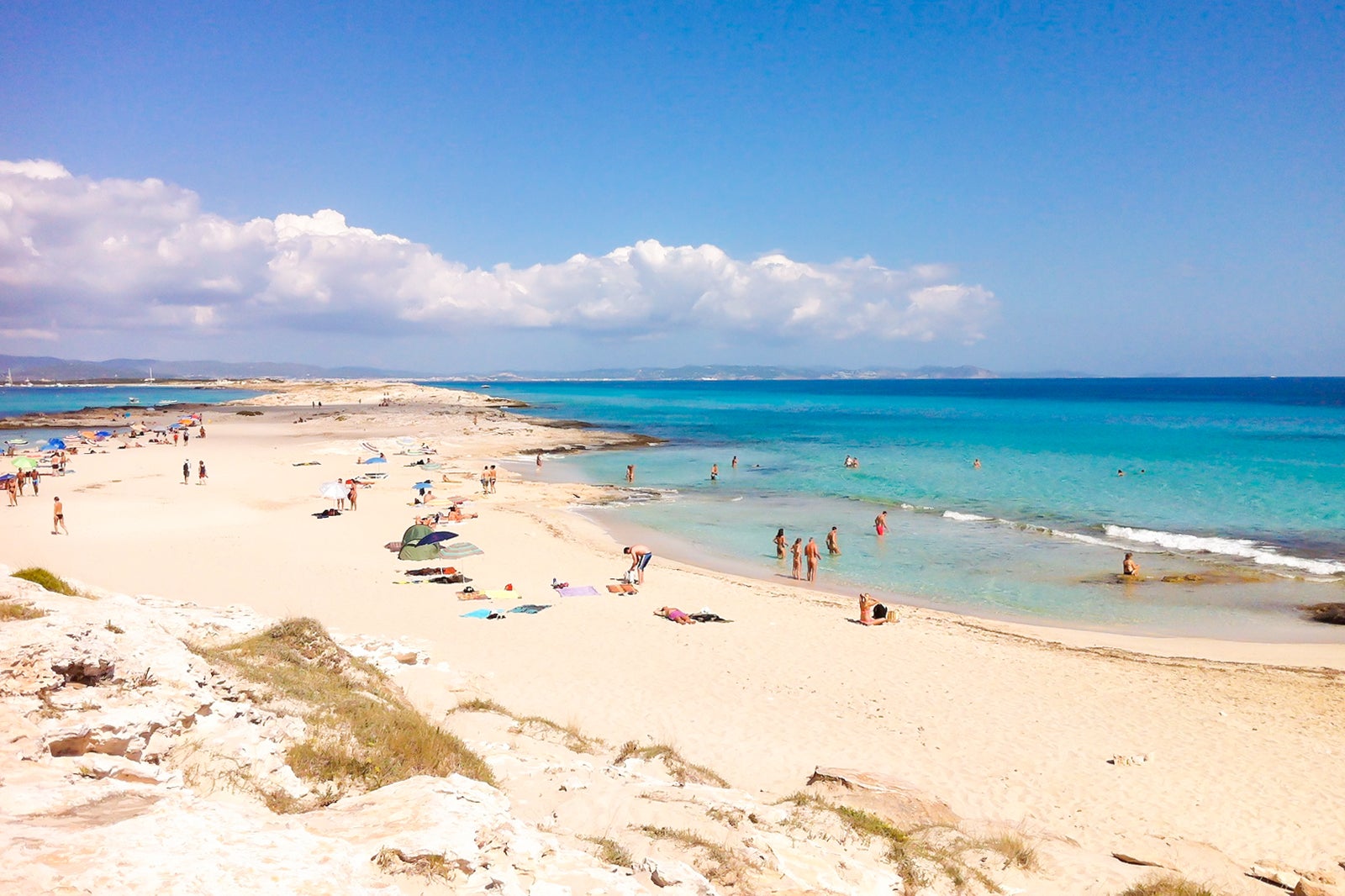 Formentera has a Mediterranean climate with mild winters and hot and dry summers.
Average temperatures range from 12ºC in winter to 27ºC in summer.
The rainiest months of the year are from October to February, with an average of 9 rainy days per month.
Formentera is warm year-round. The ideal times to visit are from May–June and September–October.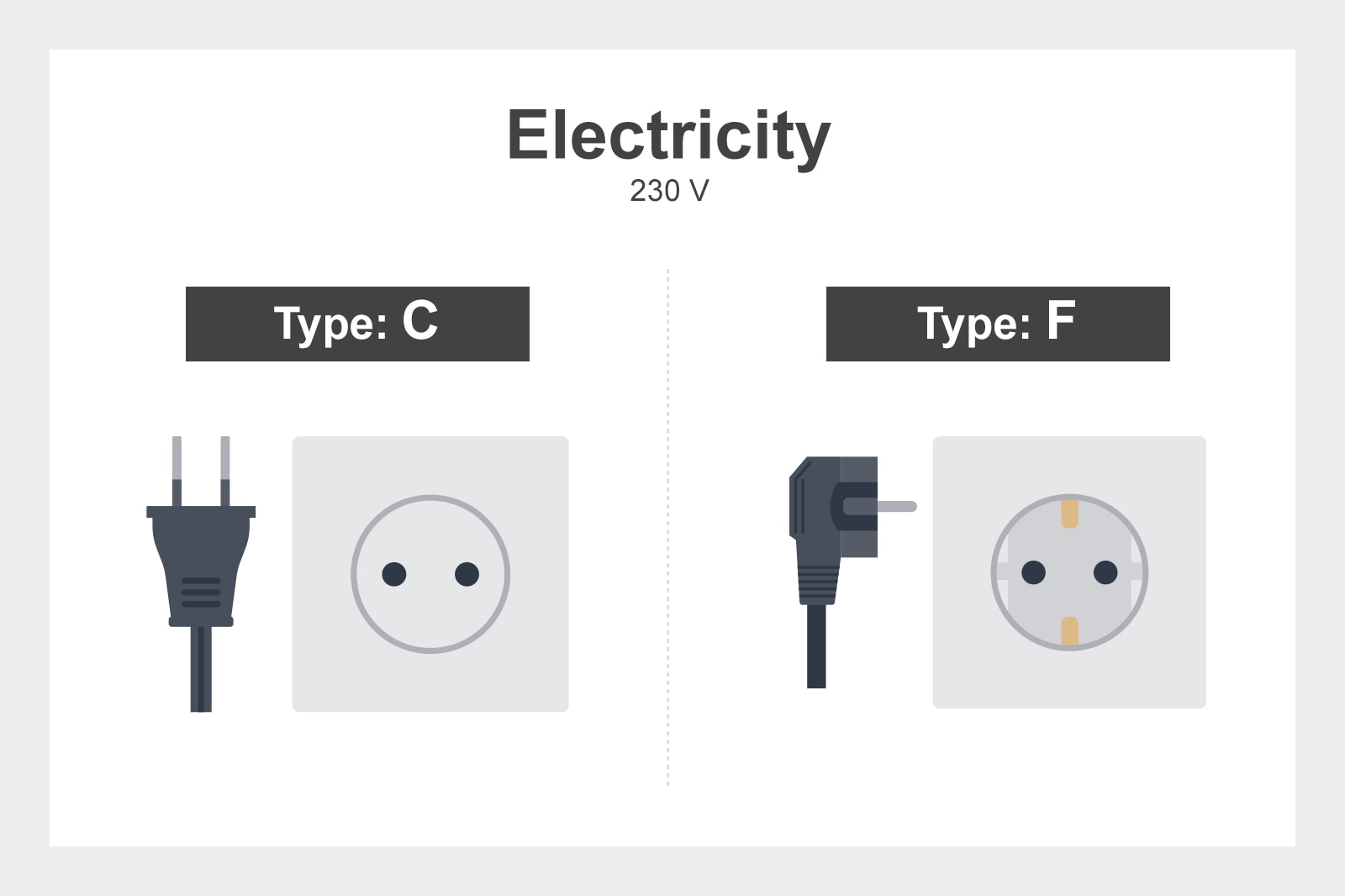 Primary language: Spanish
Plug types: C and F
Electricity: 230 V
Currency: Euro (€)
International dialling code: +34
Emergency telephone number: 112
4
How to get to my hotel in Formentera?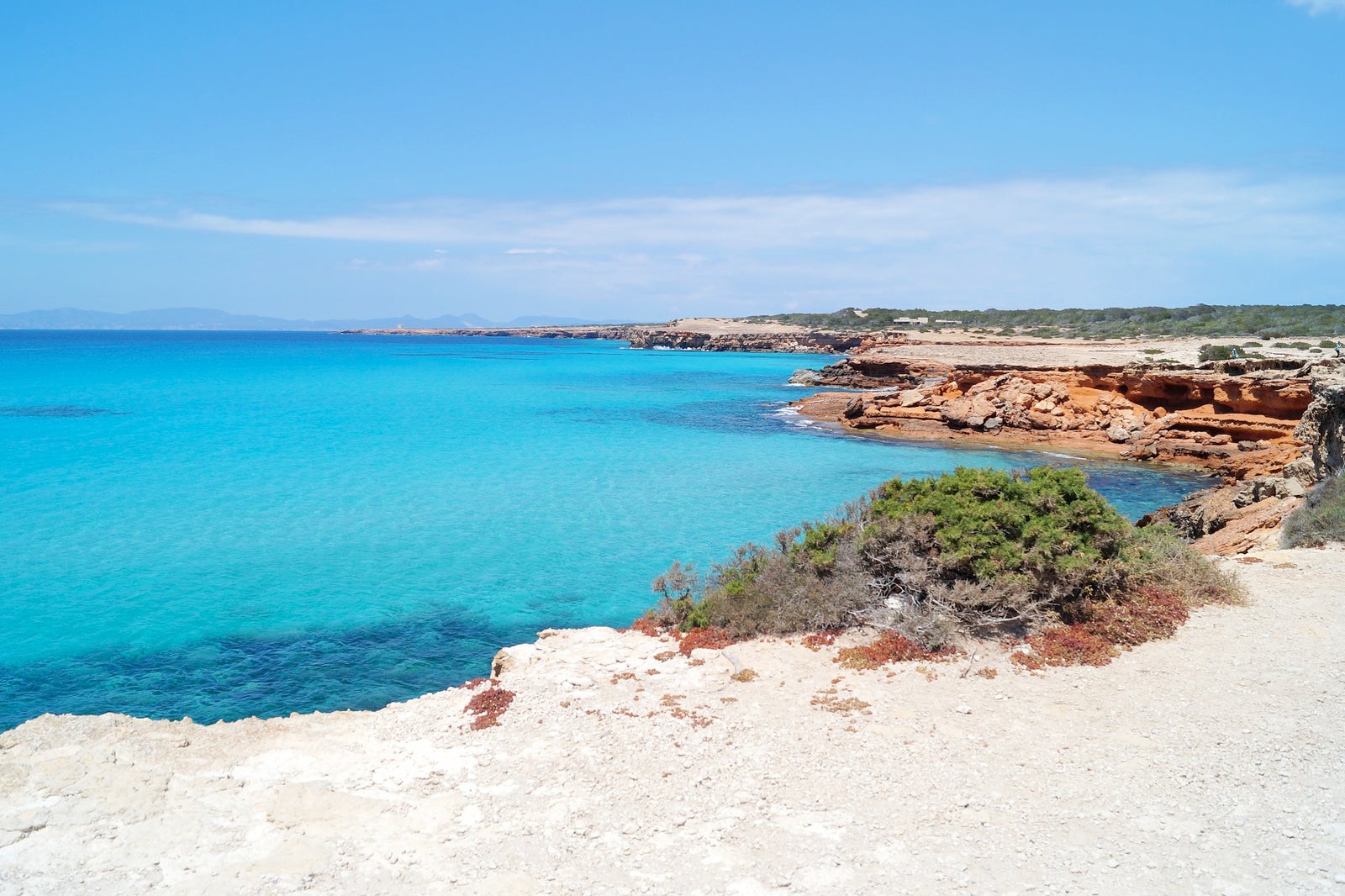 Formentera ferry port
The only way to get to Formentera is by boat from Ibiza. The ferry from Ibiza to Formentera takes about 30 minutes and leaves every half hour in the summer months. Reservations are not necessary for those who want to take a car, but it's a good idea to do so during the high season.
5
How to get around Formentera?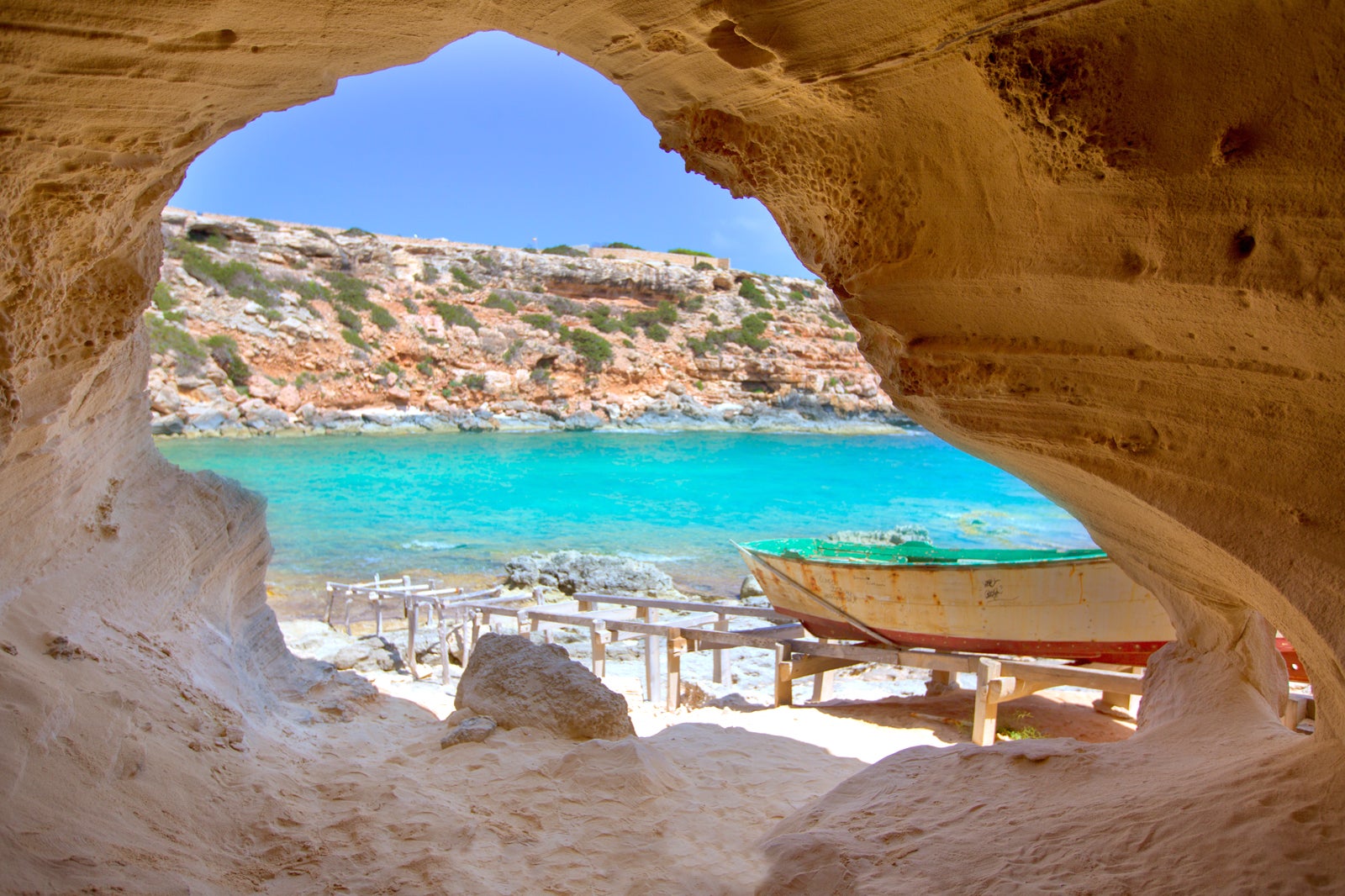 Travel tips
The best way to explore Formentera is by local bus or car. Cars will need to be brought over via ferry from Ibiza. Buses, on the other hand, are plentiful and leave the main port town of La Savina at regular intervals to beaches and sights of interest across the island.
Buses leave La Savina every half hour but they don't all take the same route, so check with the driver before boarding.
Buses are less frequent during the winter months.
Bicycle rental is extremely common on Formentera, which is almost completely flat and great for biking.
Taking a taxi
Taxi ranks can be found at the port in La Savina and will drive anywhere on the island
Formentera taxis are rather expensive. Expect to pay more during weekends.
If you do not speak Spanish, show the driver the address of your hotel or the name of the beach you are heading to.
6
What are the main annual events in Formentera?
Sant Jaume (St James)
What: Sant Jaume (St James) is the patron saint of Formentera. A festival in his honour is celebrated in the town capital of the island. Expect religious ceremonies as well as la cantada (group singing) performances.
When: 25 July
Where: Sant Francesc
Flower Power
What: Reviving the hippie era of Formentera, Flower Power is celebrated on 3 different days in 3 different places on the island.
When: July
Where: Main squares of La Mola and Sant Francesc and the Es Pujols beach
Formentera Jazz Festival
What: Formentera Jazz Festival is a 4-day event that features local and international artists. All types of jazz music, such as Latin, fusion and modern, are performed by notable musicians.
When: June
Where: Various places around the island
Back to top