8 Great Restaurants in Gangneung
Where to Eat in Gangneung
Gangneung is a popular coastal destination in South Korea with many great places for you to enjoy fresh seafood dishes. The ports and piers offer a wide range of seafood so fresh you can even enjoy it raw. Many restaurants in Gangneung specialise in traditional dishes of Gangwon-do, including soft tofu (sundubu), potato dough (ongsimyi), buckwheat noodles (mak-guksu), and sweet-and-sour chicken (dak gangjeong). Check out our guide to the best restaurants in Gangneung, each of which offers authentic Korean dishes at excellent prices.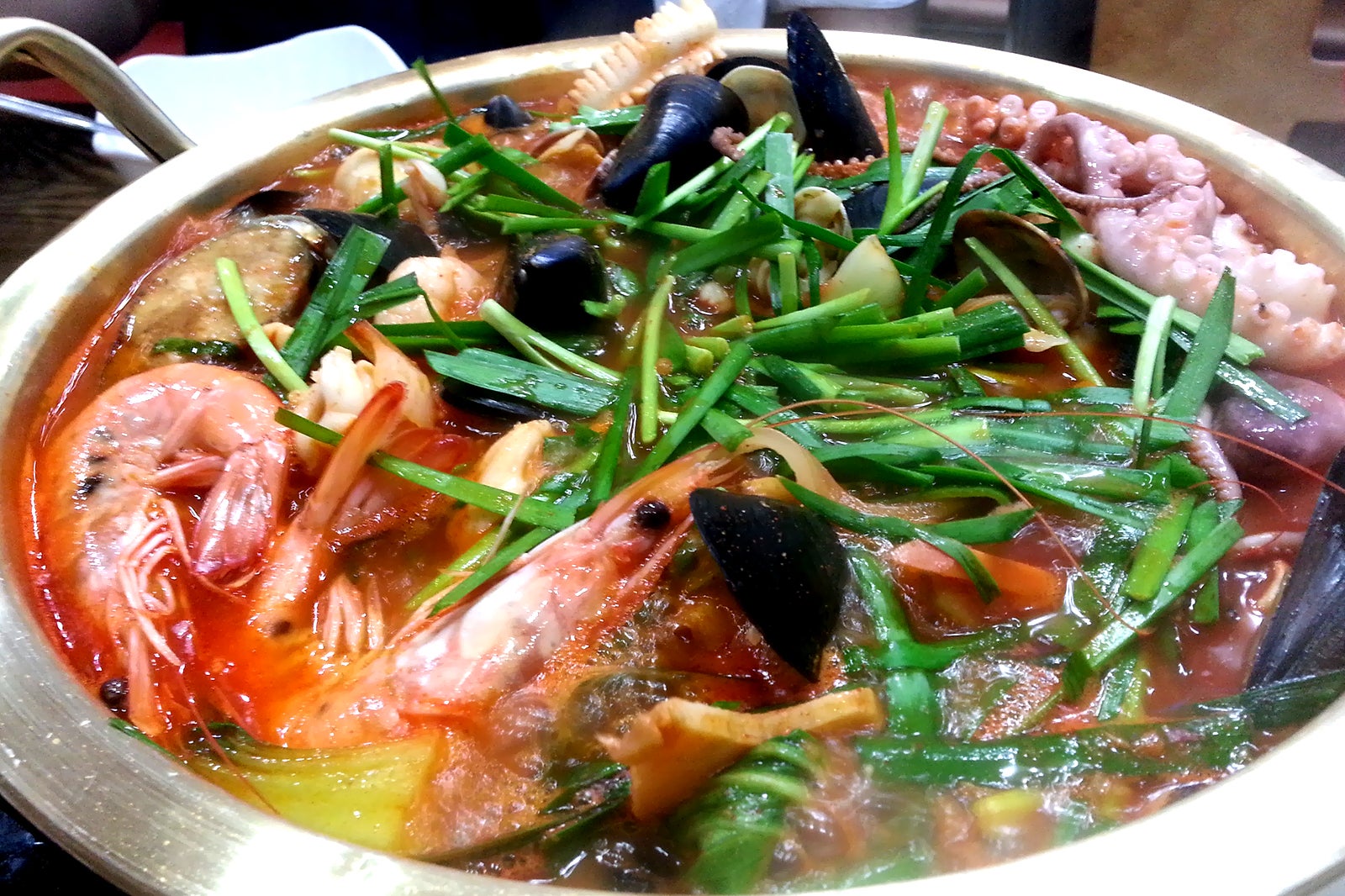 Jumunjin Seafood Street, located near Jumunjin Port, has many restaurants serving various seafood dishes such as sliced raw fish, spicy seafood stew (haemul-tang) and braised spicy seafood (haemul-jjim).
Sliced raw squid and cold raw fish soup (mulhoe) are popular during squid season in Gangneung, while moray soup (gomchi guk) is best enjoyed in winter. Steamed eelpout (jangchi-jjim), one of the specialities of Jumunjin, is also a dish you should try when visiting Jumunjin Seafood Street.
Location: Jungangsijang 1-gil, Gangneung, Gangwon-do 25413, South Korea
2
Gangneung Jungang Market Food Alley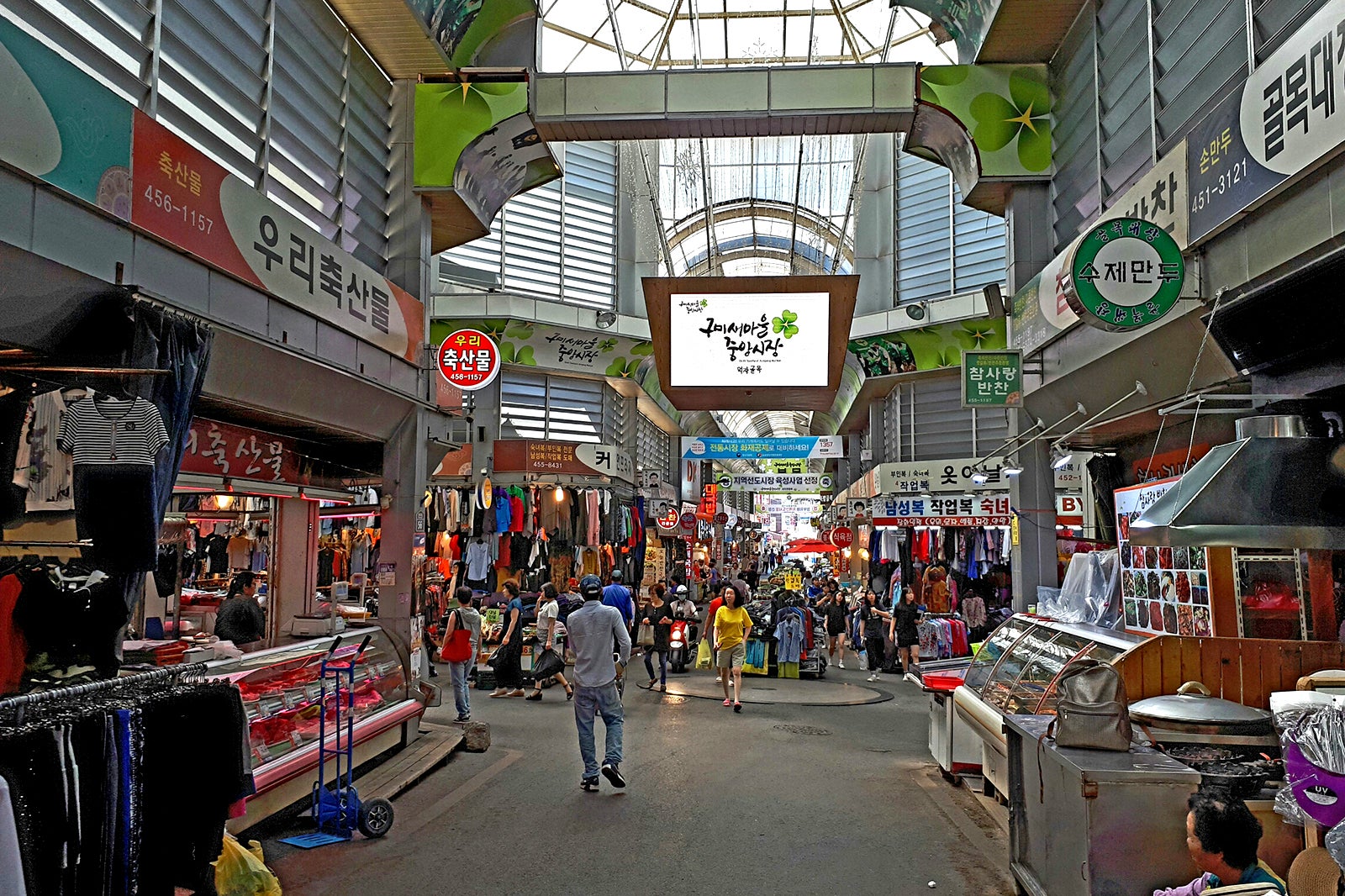 Jungang Market Food Alley has plenty of stalls selling Korean dishes and snacks. Located in Seongnam-dong, it's adjacent to Jungang Market, an iconic traditional market of Gangneung. While many people often visit the market for seafood shopping, this food alley is excellent for sampling a wide range of regional dishes.
Must-tries include sweet-and-sour chicken (dak gangjeong), sweet-and-sour squid (ojingeo gangjeong), chicken skewers (dak kkochi), twisted bread stick (kkwabaegi), sweet Korean pancake (hotteok), fish cake croquette (eomuk goroke), noodle soup (kalguksu), cornbread (oksusu-ppang), and sweet rice punch (sikhye).
Location: 21 Geumseong-ro, Gangneung-si, Gangwon-do, South Korea
Open: Daily from 10 am to 9 pm
photo by Kimhs5400(블루시티) (CC BY-SA 4.0) modified
Gyeongpodae Beach has more than 50 raw fish restaurants lining its promenade. You can enjoy fresh seafood dishes overlooking the sea and pine trees. Some restaurants specialise in grilled clams, snow crab, and cold raw fish soup (mulhoe). The street is also rather popular with local youths – you can find many trendy cafés and coffee shops with a refined atmosphere.
Location: 1 Anhyeon-dong, Gangneung-si, Gangwon-do, South Korea
4
Sacheon Port Mulhoe Street
Sacheon Port Mulhoe Street has many restaurants specialised in raw fish soup (mulhoe), a summer delicacy made with chopped fish and vegetables in a cold sweet-and-sour broth. The taste of broth is the key, with each restaurant offering its own variation. Cold raw squid soup (ojingeo mulhoe) is very popular among locals, but you can also find mulhoe containing sole, flatfish, and sea cucumber.
A special cold raw fish soup made with a combination of various seafoods is also available at some restaurants at the Sacheon Port Mulhoe Street. It's good to eat warm abalone and seaweed soup (jeonbok miyeok guk) or mussel soup (subguk) together with mulhoe.
Location: Sacheonjin-ri, Sacheon-myeon, Gangneung-si, Gangwon-do, South Korea
5
Yeongjin Jang Port Fish Street
Yeongjin Jang Port is a relatively small port located around 10 minutes south of Jumunjin Port. Along the street leading to the port, many restaurants serve fresh and raw seafood directly sourced from the East Sea. Most of them are small rustic restaurants that have been around for years, giving you a very local feel.
The formerly secluded Yeongjin Jang Port is known as the filming location of popular K-drama, Guardian: The Lonely and Great God. After your meal, you can walk around the area – check out a beautiful red lighthouse that was featured in the TV series.
Location: Gangneung, Gangwon-do, South Korea
Chodang Dubu Village is a long-standing village with dozens of soft tofu restaurants. Made with seawater, Chodang soft tofu (sundubu) has a very soft texture and light yet savoury taste. You can find different variations of sundubu at Chodang Dubu Village, including spicy seafood noodle soup with soft tofu (jjamppong sundubu). The name 'Chodang' came from the pen name of Heo Yeop, the father of famous writer/poet Heo Kyun. Locals also believe that he's the creator of this local dish.
Location: 99, Chodangsundubu-gil, Gangneung-si, Gangwon-do, South Korea
Byungsan Village is also called 'Ongsimi Village', after its famous local dish of potato dough (ongsimi). It originated during a tough period for the people of Gangwon-do – due to poor soil, they used to grow potatoes instead of rice. Potato starch – made by grinding potatoes – and various ingredients are mixed together to form ongsimi. It's then divided into bite-sized pieces and boiled in a clear soup made with anchovy and kelp.
Location: Byeongsan-ri, Pungcheon-myeon, Andong, Gyeongsangbuk-do, South Korea
8
Seongsan Restaurant Street
Seongsan Restaurant Street has a cluster of local eateries at the entrance of Daegwallyeong in Seongsan-myeon. It's most famous for serving braised cod head (daegu meori jjim), which contains bean sprouts, tofu, potatoes, and various vegetables and spices.
There are a variety of restaurants specialising in different Korean dishes, including blood sausage soup (sundaeguk), buckwheat noodles (mak-guksu), grilled dried pollack (hwangtae-gui), grilled beef (hanu-gui), duck dishes, and pork cutlets.
Location: Daegwalnyeong-myeon, Pyeongchang-gun, Gangwon-do, South Korea
Back to top