6 Best Places to Go Shopping in Busan
What to Buy and Where to Shop in Busan
When it comes to places to go shopping in Busan, the city has a number of open-air markets, high-profile stores, and duty-free outlets. You can find interesting items, shops, stores spread all over the city and can hit upon some cool stuff in areas such as Seomyeon, Gwanglalli Beach, the PNU area, Namp-dong, and the Gwangbok-dong.
If you are fond of shopping at malls, Seomyeon is the place to be. Numerous upscale stores and shops occupy the streets of Haeundae District in eastern Busan. Check out this guide on what to buy and where to shop in Busan.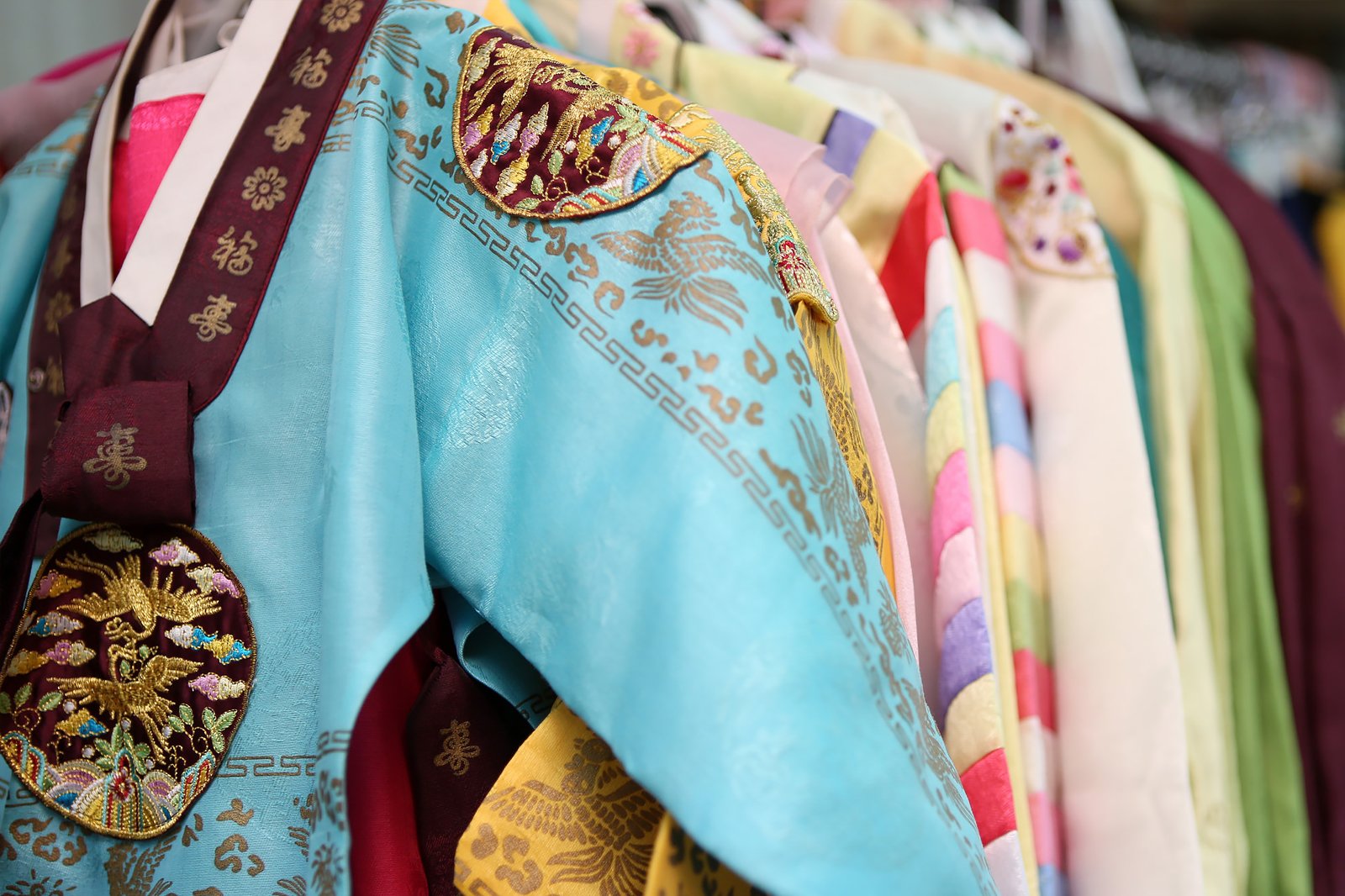 Busanjin Market is an indoor shopping mall with hundreds of small shops selling clothes, textiles, and souvenirs at reasonable prices. It's one of the best places in the city to shop for ready-made hanbok (traditional Korean costume). Many locals also visit the mall for clothes materials – silk, rayon, cotton, and satin cloths in various patterns are available here. The best way to get to Busanjin Market is by taking the Metro Line No.1 to Bumil-dong Station and take Exit 1.
Location: 290 Beomil-dong, Dong-gu, Busan, South Korea
Open: Daily from 7am to 7pm
Phone: +82-51-646-7041
photo by Republic of Korea (CC BY-SA 2.0) modified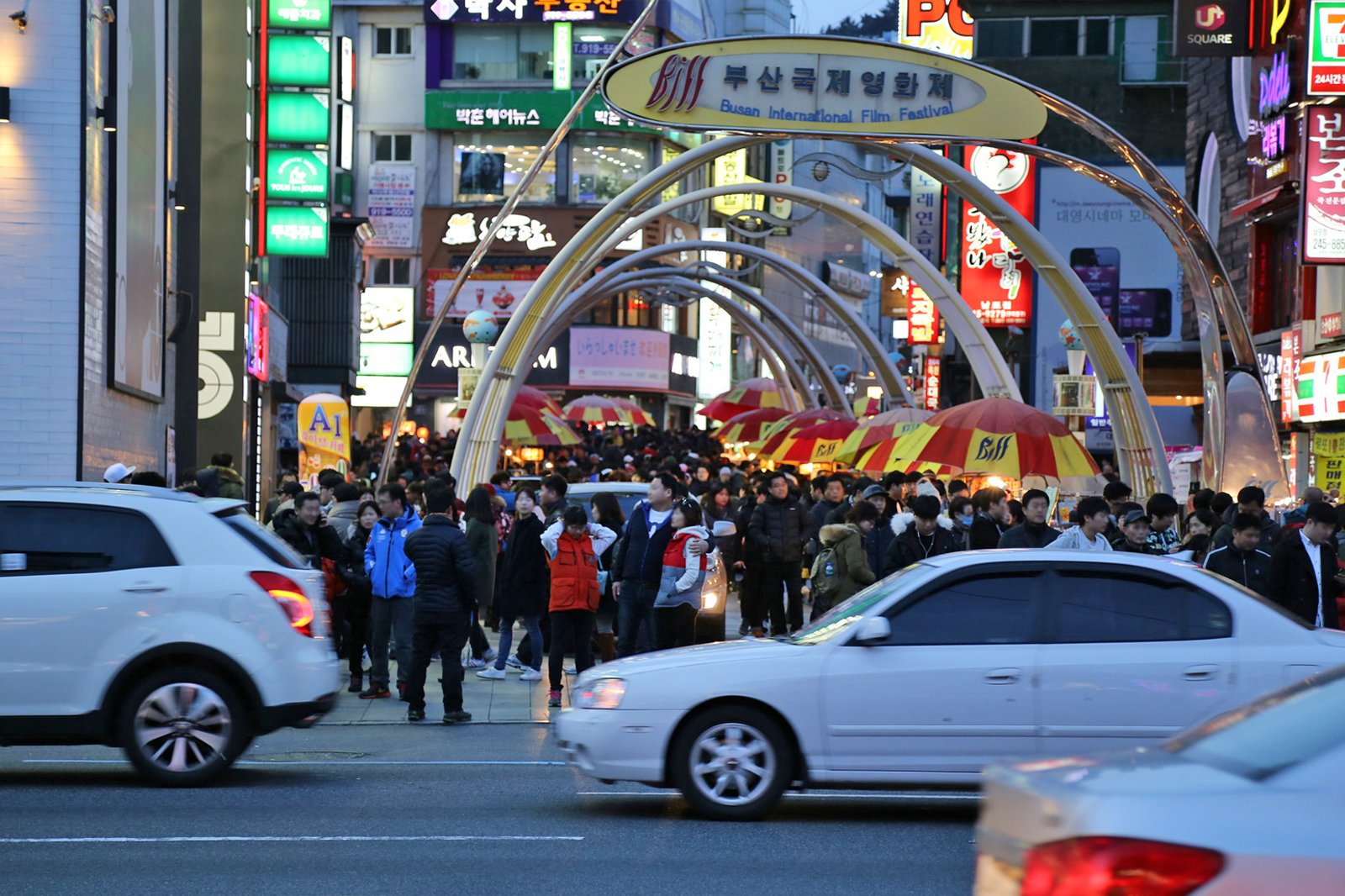 BIFF Square is a 428-metre-long street lined with movie theatres, fashion outlets, and Korean cosmetics shops. The boulevard is vibrant at night, with colourful lights decorating the trees and stalls. Prices are relatively affordable, but you may have to pay a little extra to buy stuff at the trendier stores. You'll find many local youths gathering and shopping at BIFF Square, especially during special occasions.
Location: 20, BIFF Gwangjang-ro, Jung-gu, Busan, South Korea
Open: Daily from 7am to midnight
Phone: +82-51-253-8523
photo by Ryan Bodenstein (CC BY 2.0) modified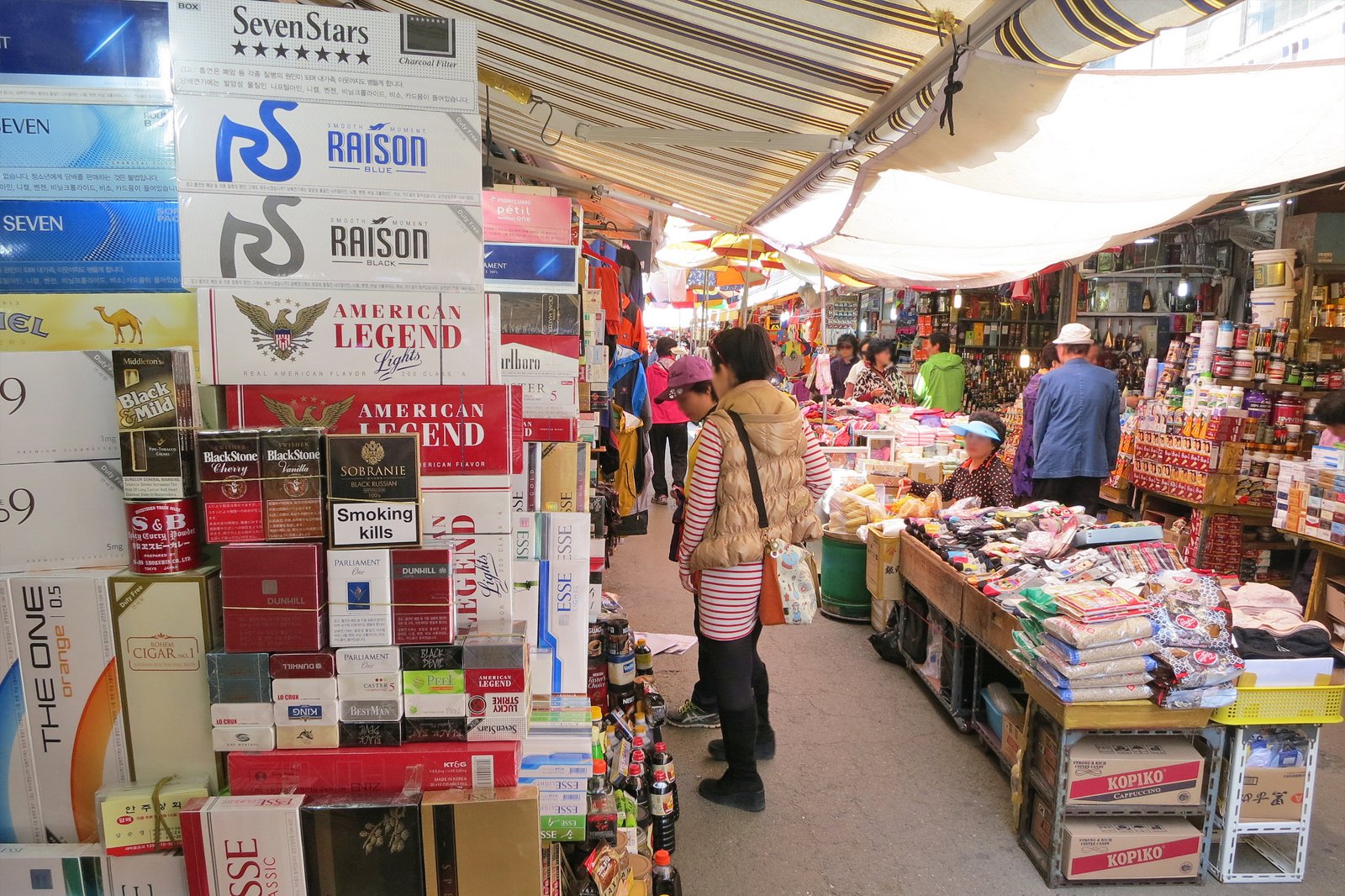 Gukje Market is one of the largest markets in Busan. Hundreds of vendors occupy this outdoor shopping venue, where you can buy clothes, food items, handicrafts, and even industrial goods. One of the best places to go shopping in Busan, the market is also connected to several smaller markets in the area, including Bupyeong Market and Kkangtong Market. Getting to Gukje Market is relatively easy – take Subway #1 to Jagalchi and get out at Exit 7.
Location: Sinchang-dong 4-ga, Jung-gu, Busan, South Korea
Open: Daily from 9am to 8pm (closed every 1st and 3rd Sunday of the month)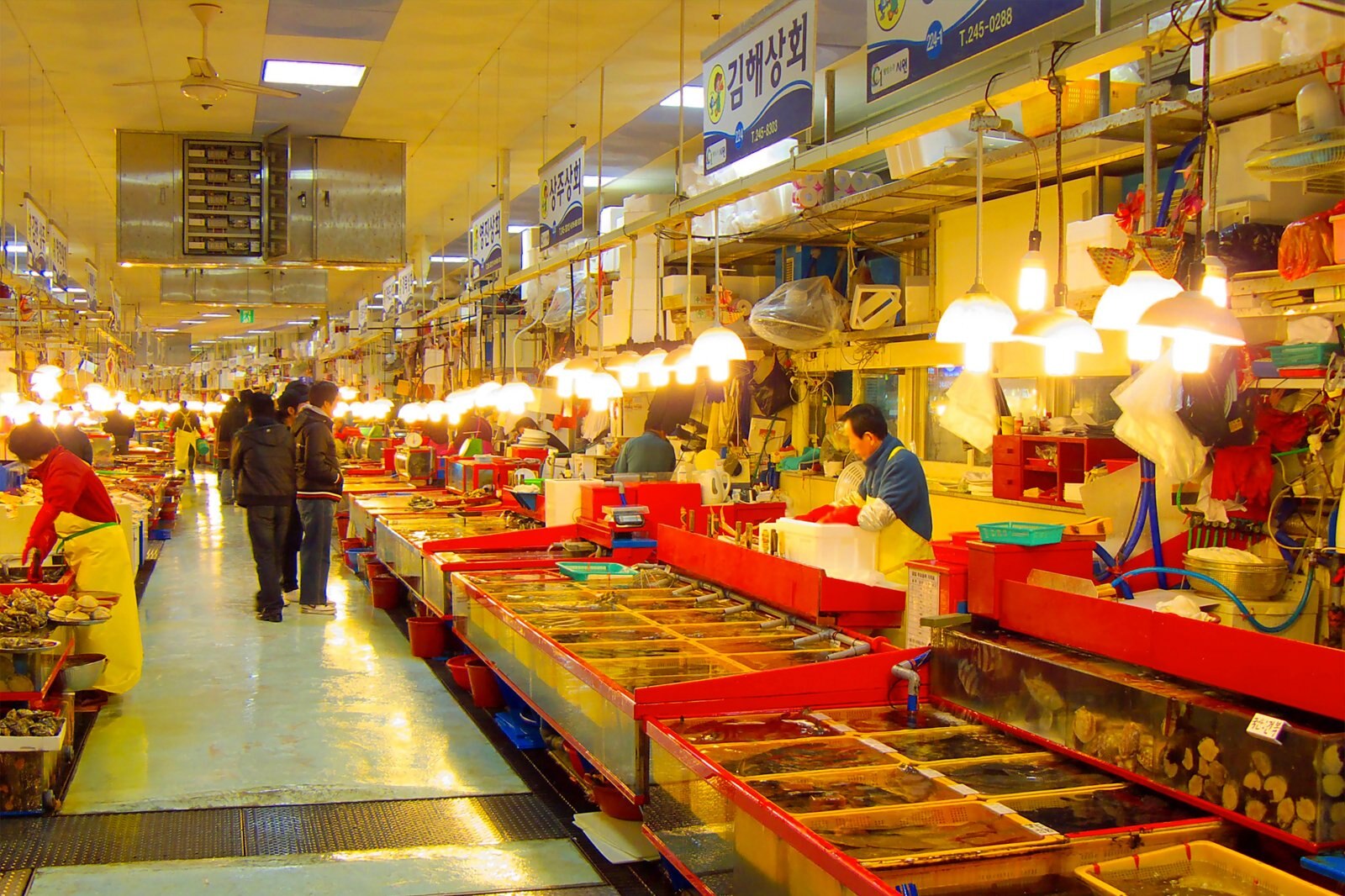 Jagalchi Market is a seafood market in Busan's Jung-gu district, where you get to shop for (and eat) fresh seafood. The 1st floor has stalls selling a number of live fish, eels, abalone, and crab, while the 2nd level is dedicated to dried fish products.
Restaurants occupy the upper levels of Jagalchi Market – the cuisine here is mostly local but eating raw fish is a must-do here. You can take the subway line No. 1 to Nampo-dong station, and the market is about a 5-minute walk away.
Location: 52 Jagalchihaean-ro, Nampo-dong, Jung-gu, Busan, South Korea
Open: Daily from 5am to 10pm (closed every 1st and 3rd Tuesday of the month)
photo by Kok Leng Yeo (CC BY 2.0) modified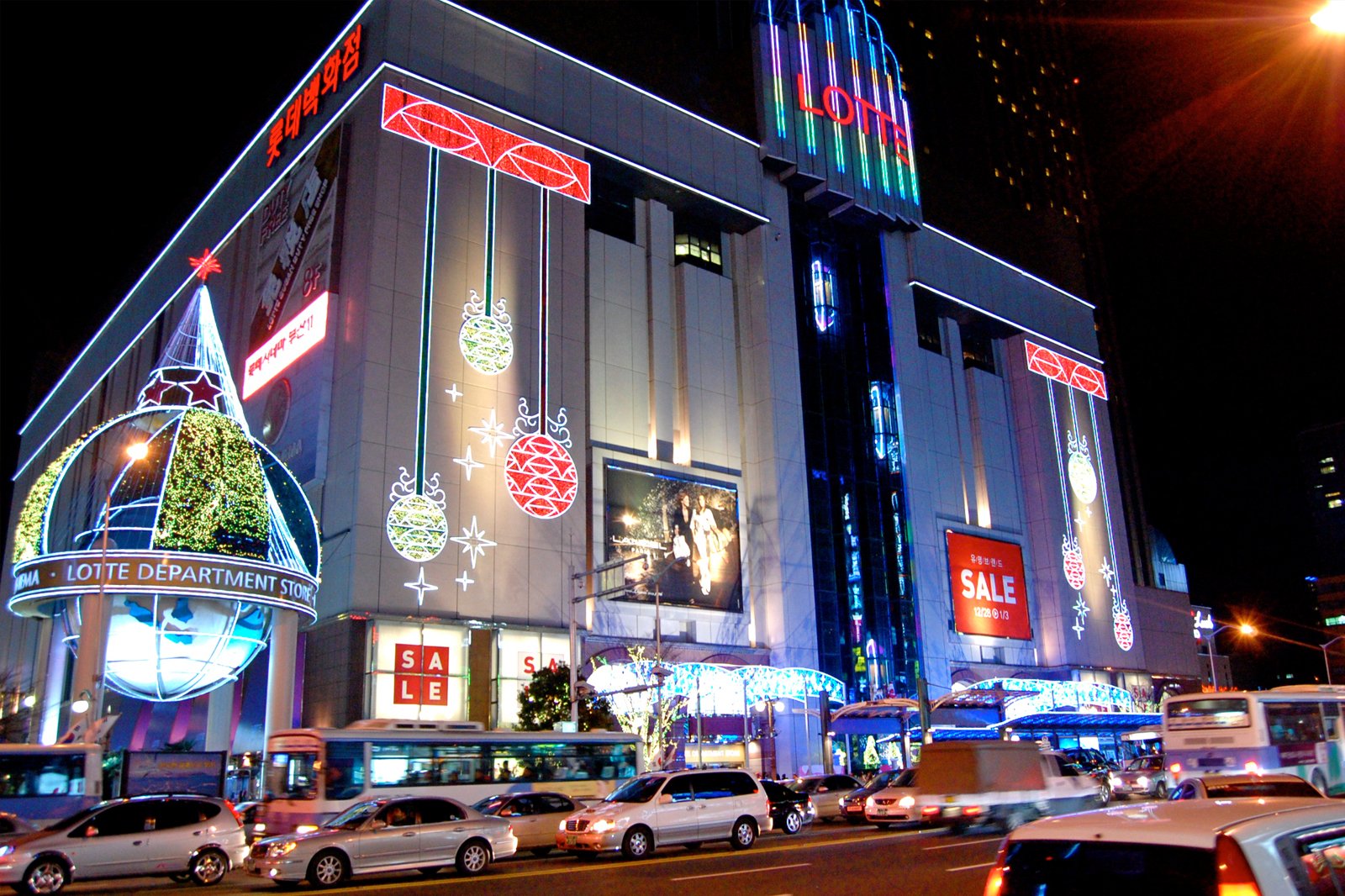 The Lotte Duty Free Shop is one of the major chain stores in South Korea. Located in downtown Busan, the shop occupies 2 floors within the Lotte Department Store. You get to shop for imported brands at reduced prices – items range from cigarettes and liquor to bags and cosmetics.
The Lotte Duty Free Shop is also close to a 5-star hotel of the same name, several restaurants, and a cinema.
Location: 7-8th Floor, LOTTE Department Store Busan, 503-15, Bujeon-dong, Busan, South Korea
Open: Monday–Thursday from 9.30am to 8pm, Friday–Sunday from 9.30am to 8.30pm
Phone: +82-51-810-3880
photo by Jrwooley6 (CC BY-SA 2.0) modified
Paradise Duty Free is where you can find upscale at reduced rates. This is a proper department store in downtown Busan, with dozens of stores selling clothes, perfumes, leather bags, jewellery and accessories.
Paradise Duty Free has 4 levels stocked with international brands such as Hugo Boss, Burberry, and Missoni. You can arrange for your purchases to be delivered to the airport departure terminal or to the plane.
Location: Haeundae-gu, Jung-dong 1128-78, Busan, South Korea
Open: Daily from 9.30am to 7pm
Phone: +82-51-743-0181