Chinatown Food Street is one of the best places to eat cheap, tasty and authentic local food in Singapore. The venue is roofed and even has an integrated cooling system, making it a perfect all-day dining spot in Chinatown in any weather. The selection of stalls and shop-house restaurants at the hawker centre have expanded over the years.
Now, you can find the array encompassing a wide range of flavours from across Singapore, China, and the rest of Asia. If it's you're first time to Chinatown Food Street – or if you're one of those who are picky when it comes to choosing what to eat – it might be a bit tricky to decide what to go for.
Chinatown Food Street in Singapore - one of the highlights of 8 Best Local Restaurants in Singapore and 13 Best Restaurants in Chinatown Singapore (Read all about Singapore here)
To make the most of the huge selection, it's always best to order multiple dishes and all share together. We've narrowed down the selection with these 5 must-try dishes at Chinatown Food Street:
Stingray at Boon Tat Street BBQ Seafood (stall No. 1 and 3) – simply a Singapore 'must-try', you can order a generous slab of the tender meat for around S$10 or double up for around S$15.
Satay Skewers at Old Airport Road Satay Bee Hoon & BBQ Steamboat (Stall No.2) – juicy sticks of pork chicken or beef grilled to perfection alongside that rich peanut sauce. You'll pay just over S$0.50 for a stick – but you'll probably want more like 10!
Kway Teow at Food Street Fried Kway Teow Mee (Stall No. 8) – a good option if you're coming alone or just want something quick and filling for lunch, a big plate of these thick fried noodles will set you back around S$5.
Roast Duck at Tiong Bahru Meng Kee (Stall No. 7) – perfect for large groups, the duck here comes tender, juicy and served with that traditional sweet and sticky sauce to make things even more interesting (S$10-20).
Indian Curry at Serangoon Raju Indian Cuisine (Stall No. 17) – testament to the fact that Chinatown Food Street is much further-reaching than Chinese influences, this tasty Indian stall serves up authentic south Indian curries, breads and biriyanis from around S$7.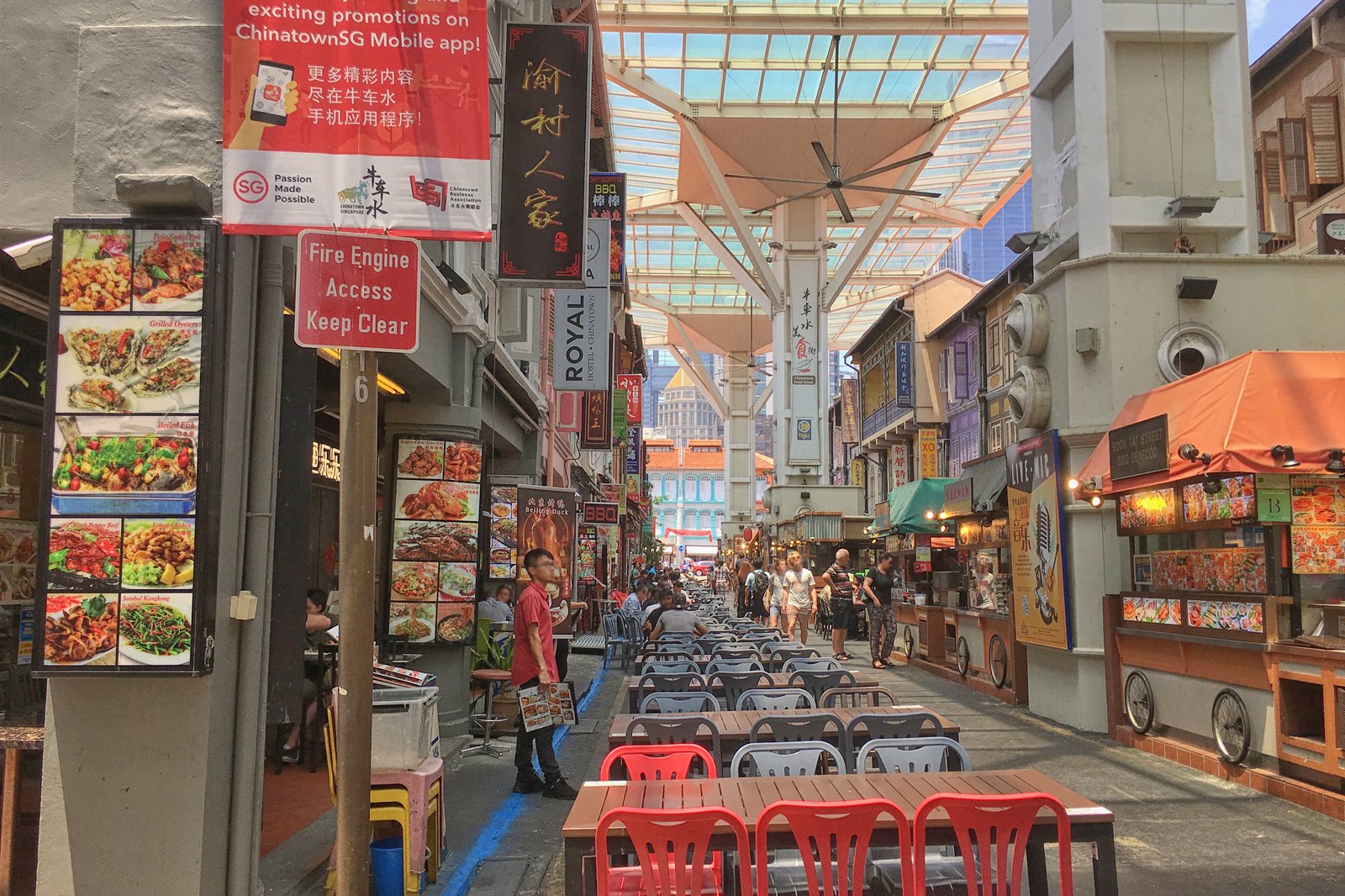 Chinatown Food Street has successfully retained the authentic flavours, as well as serving up generous portions all in some rather quaint surroundings (despite attracting mostly tourists). Expect to pay a few dollars more than at an average 'local' hawker centre in Singapore, although it's well worth it for the convenience of location – right in the heart of Chinatown – as well as the quality of the food and quick, friendly service.
You can find Chinatown Food Street within the famous Chinatown Street Market. This collection of shops, restaurants and galleries is spread over various roads but just head straight for Smith Street if you want to find the main food area.
Chinatown Food Street in Singapore
Location: 335 Smith Street, Chinatown, Singapore
Open: Daily from 11am to 11pm
Back to top