11 Romantic Ideas for a Honeymoon in Lagos
What to Do on a Couples' Trip to Lagos
Couples in Lagos can soak up the quaint whitewashed port town's rich maritime heritage and gorgeous natural treasures on their romantic visit. Also, the unique combination of fabulous beaches, historic landmarks, charming architecture and a buzzing, modern vibe make the town an ideal destination for couples searching for a bustling hot spot with lots to offer.
Most of Lagos' attractions and activities are close to the centre of town. When you want to escape the lively city, you can easily head to a secluded beach, a serene spa or the countryside for some wine-tasting adventures. Here are some great romantic ideas for a honeymoon in Lagos.
1
Explore the historical centre of Lagos
Discover an old town steeped in history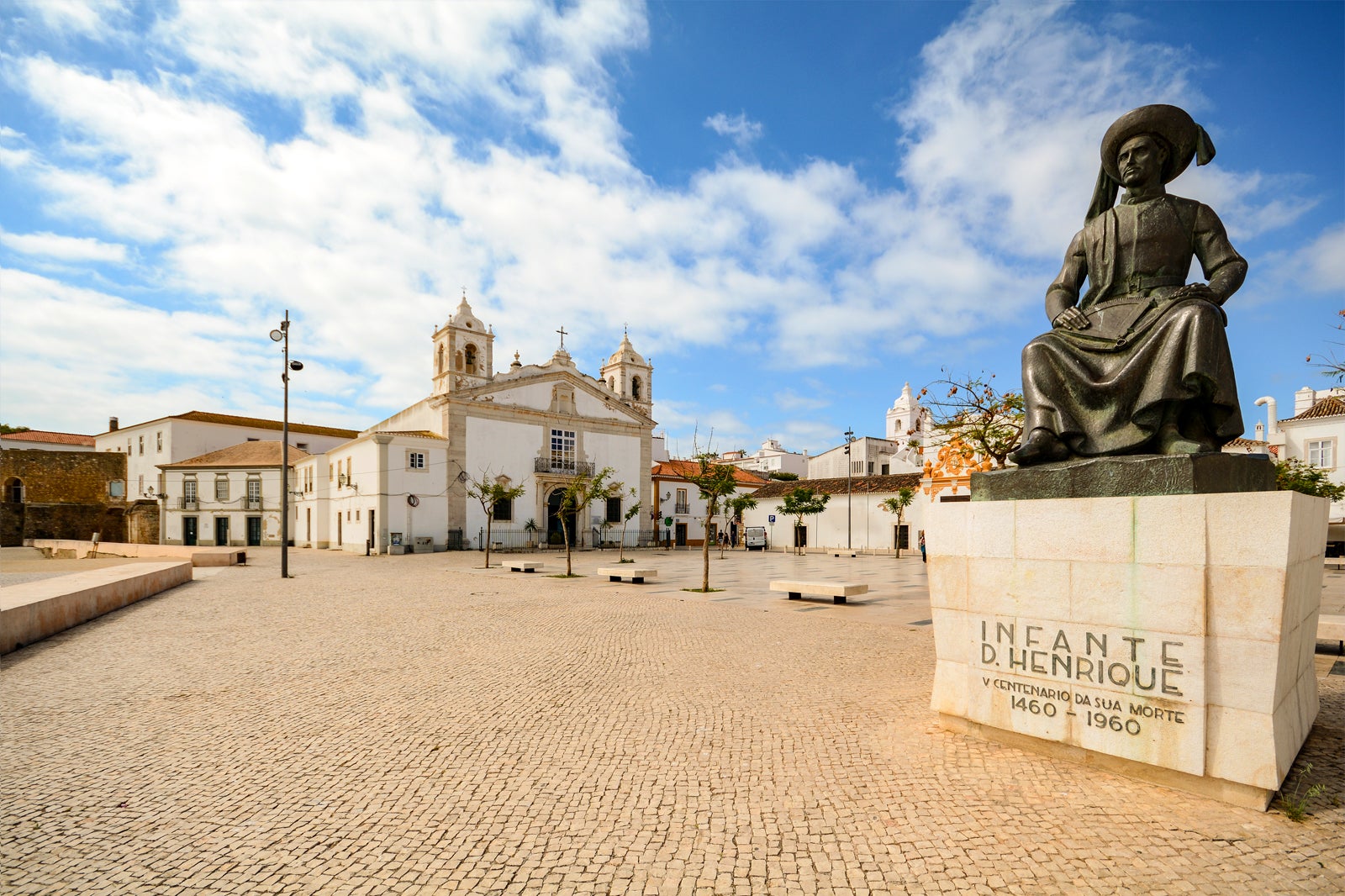 Couples
History
Photo
Budget
Lagos' historical centre dates back to the 16th-century and is a charming old town complete with stone city walls, narrow cobbled streets and fascinating cultural and historical attractions. Couples on a honeymoon in Lagos can cherish their moments of a dreamy stroll through the streets and discover whitewashed houses, traditional homes with ancient Moorish walls, monuments and romantic plazas and churches.
Top sights include the remarkable Santo Antonio Church and the Mercado dos Escravos (Europe's first slave market). Before you set out, arm yourself with a detailed map to help you navigate the endless pedestrian streets and wear comfortable shoes as Lagos is a hilly town.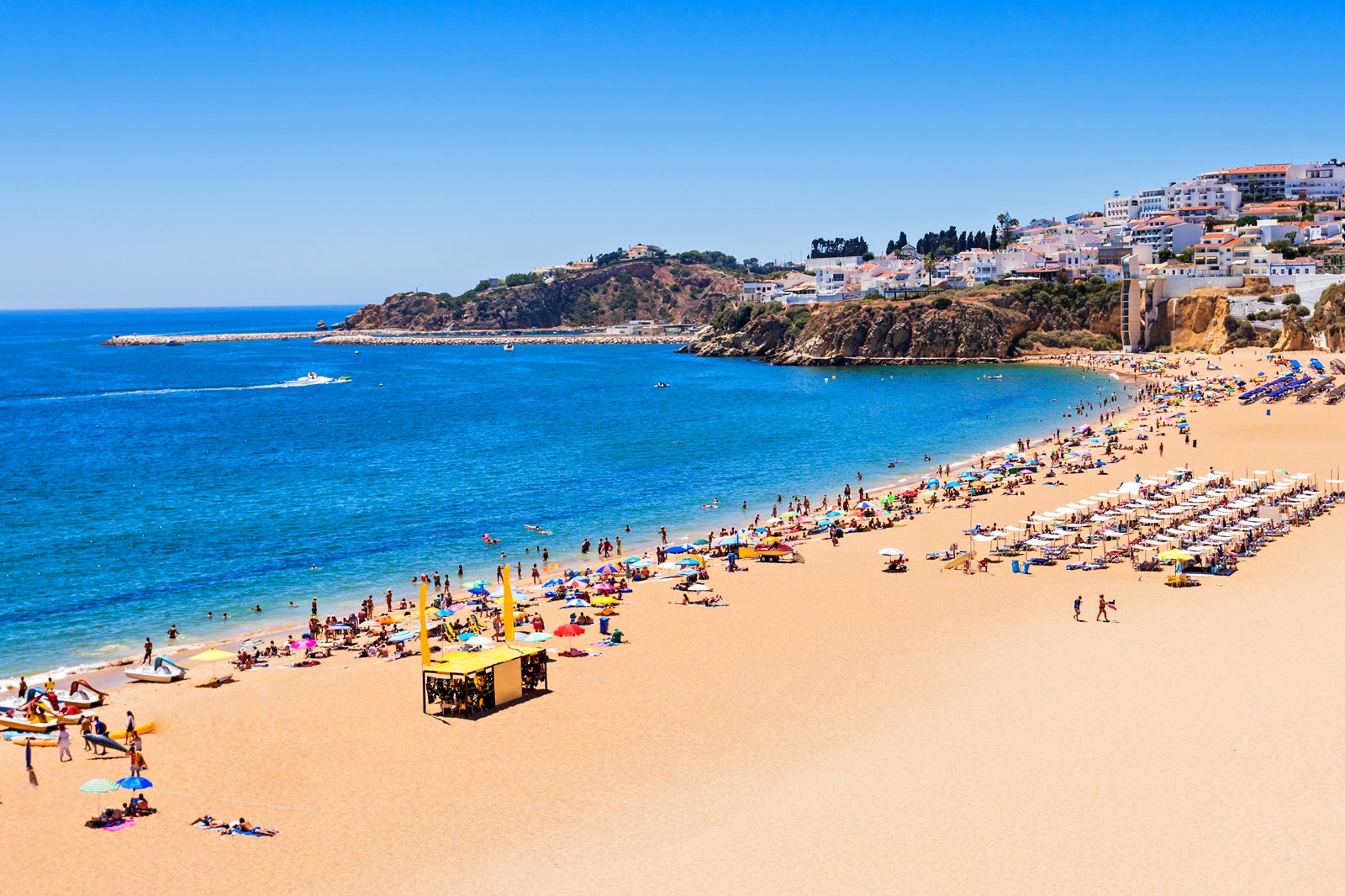 Lagos has several picture-perfect beaches (praia in Portuguese) dotted along the coastline. At the far end of town, Praia de Porto de Mos is a 3-km-long sandy beach surrounded by stunning cliffs. Thanks to its wide-open expanse, you'll always find a private spot to spread out your blanket here. It's also perfect for long, relaxing walks.
Praia do Pinhão is a secluded sandy cove near Lagos' old town with a scenic setting of transparent water sheltered by towering bluffs. The beach is generally quiet as access is via a long, steep staircase. While the super-clean, golden-sand Meia Praia attracts many people, the further east you walk, the more privacy you'll have. The eastern side of the horseshoe-shaped beach is also quite popular among naturists.
Read more
3
Go dolphin and whale-spotting
Have a mesmerising encounter with nature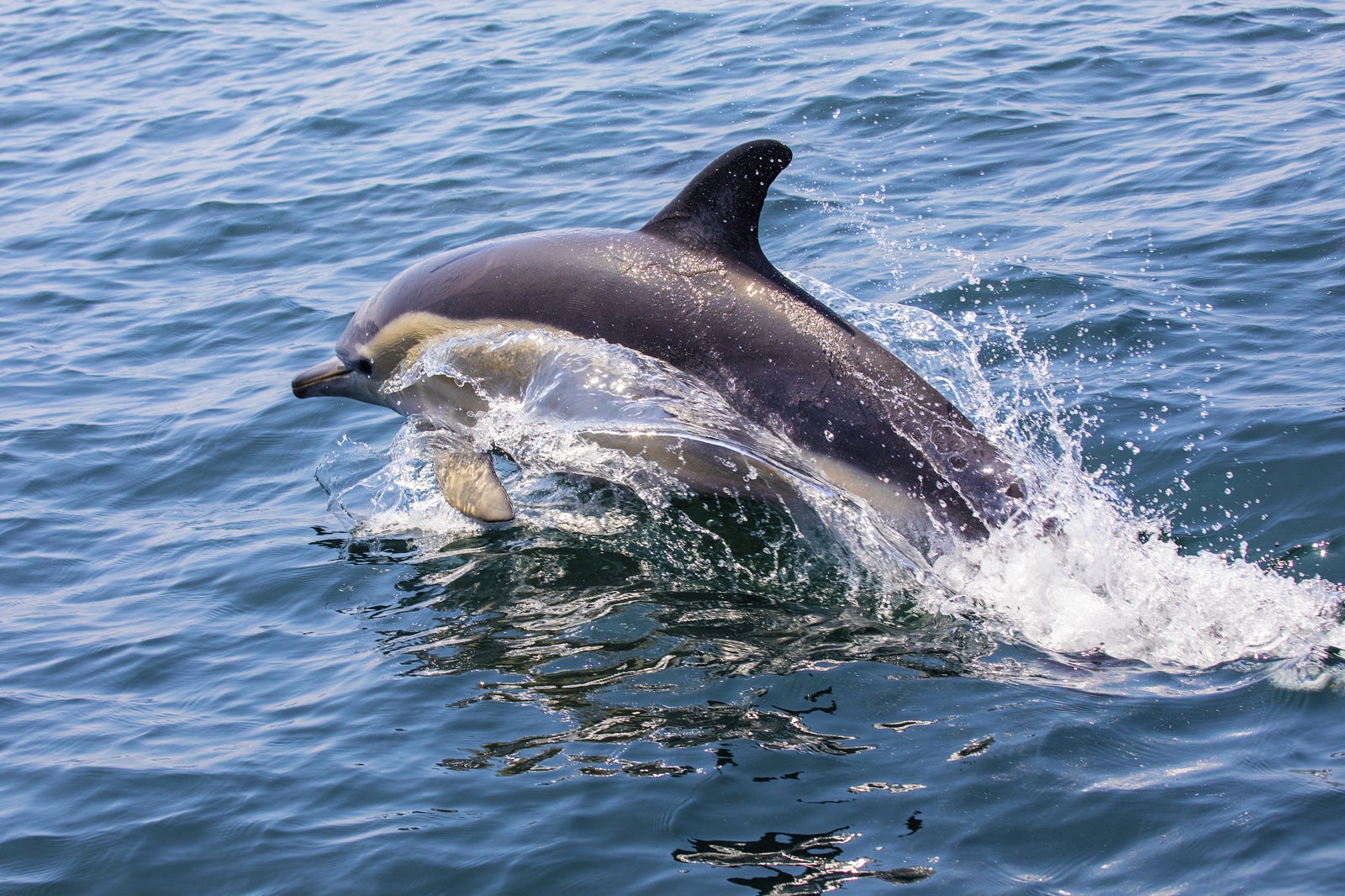 Share an unforgettable experience with your loved one and sign up for a dolphin and whale-spotting boat trip from Lagos. With your partner by your side, cruise along the picturesque Algarve coast, soak up the sun, feel the cool ocean breeze and take in the panoramic views as you try to spot pods of dolphins and other marine wildlife in the waters.
Getting up close to the majestic mammals is a magical experience, and it's incredibly rewarding to see the adorable animals at play. Sometimes, if you're lucky, the dolphins are especially active and friendly and approach the boats themselves.
4
Monte da Casteleja
Taste wines in a romantic setting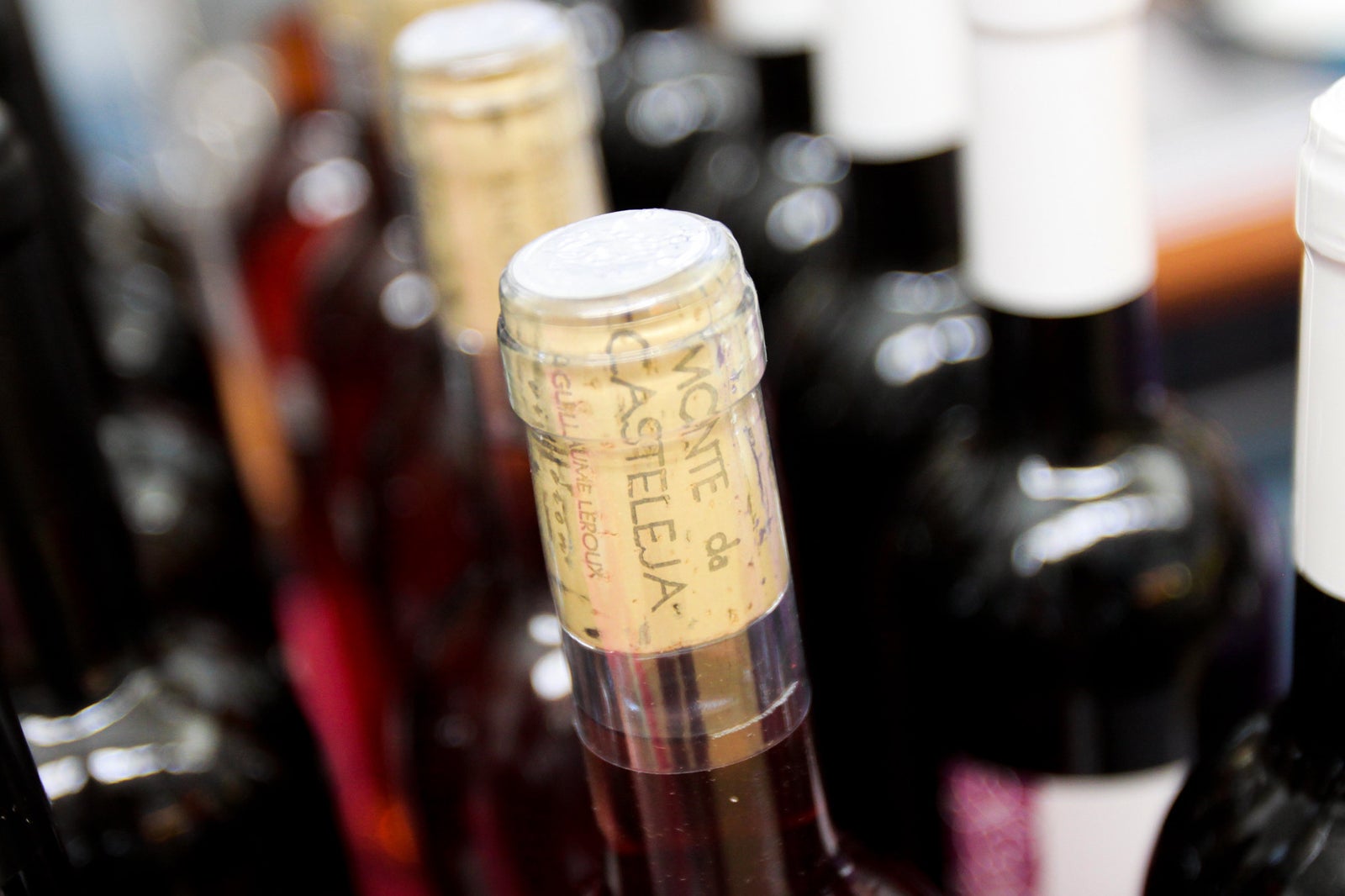 Monte da Casteleja is where you can up the romance factor on your trip to Lagos and experience the authentic flavours of Algarve grapes. You can visit this traditional winery just 10 minutes from Lagos. It's an organic wine farm with beautiful vineyards, plus almond and olive trees.
The passionate, knowledgeable guide will take you on a walk around the picturesque farm, including the basement and cellar, where you'll learn about their traditional and ecological processes of making organic wine. The tour ends with a tasting of their white, rosé and red wines, paired with regional tapas, on the farmhouse terrace. Book your visit in advance.
photo by Ricardo Bernardo (CC BY 2.0) modified
5
Explore Lagos' beaches and grottos by kayak
Marvel at the ancient rock formations of the Algarve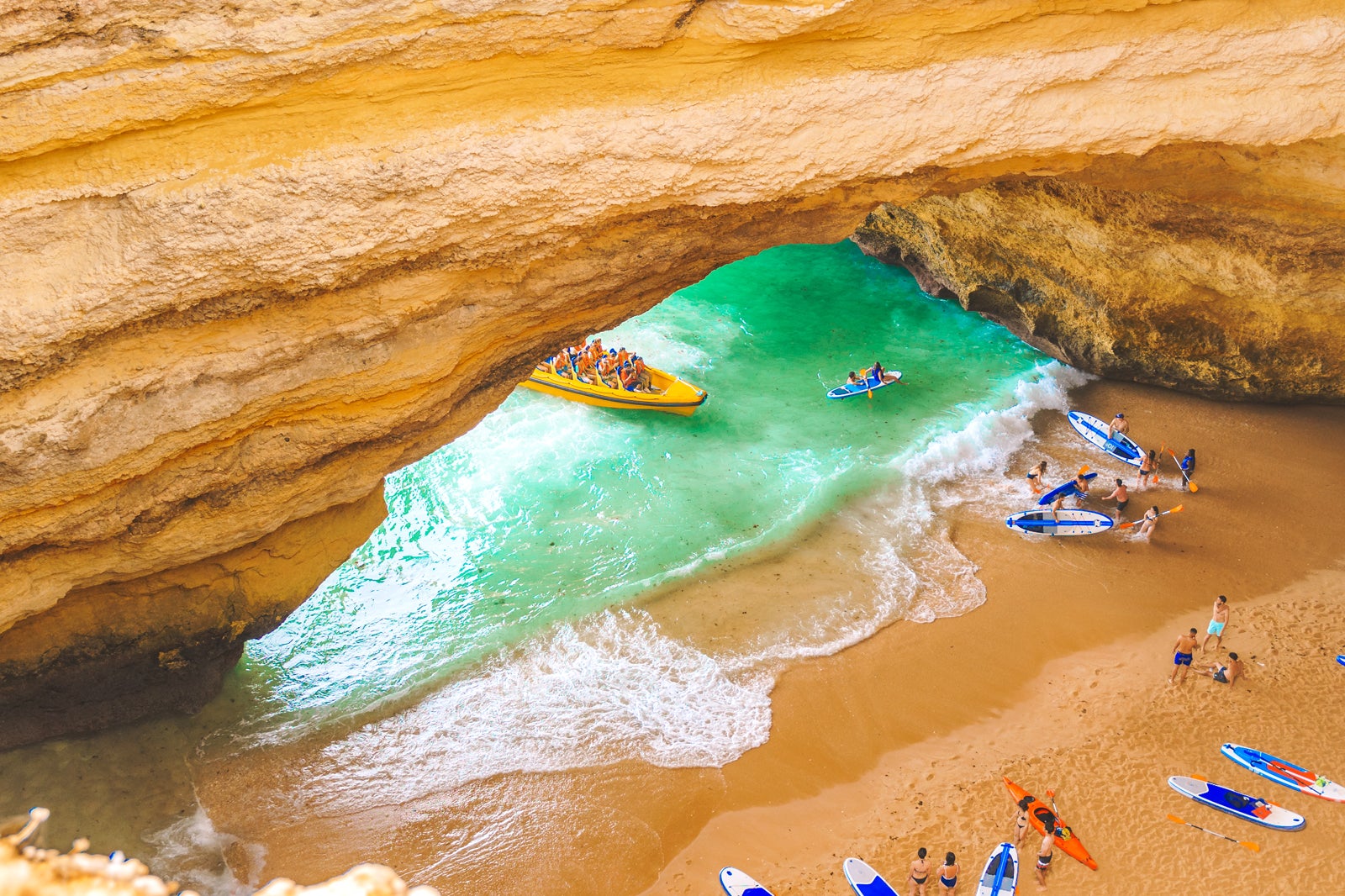 Make the most of your time in southern Portugal by joining an adventurous kayak trip. Aboard a 2-seater kayak, you and your partner can admire the natural beauty of this scenic stretch of Atlantic Ocean firsthand and up close. You'll paddle through incredible grottos – many only accessible by kayak or SUP – observing their every detail.
The tour also stops at some of Lagos' most breathtaking beaches. Here you'll have the opportunity to relax on a remote beach and swim in crystal-clear waters that are inaccessible by land. You can take this trip whether you're an experienced kayaker or are new to paddling. The only requirement is knowing how to swim.
6
Get a couples' spa treatment
Relax and enjoy some peace and quiet together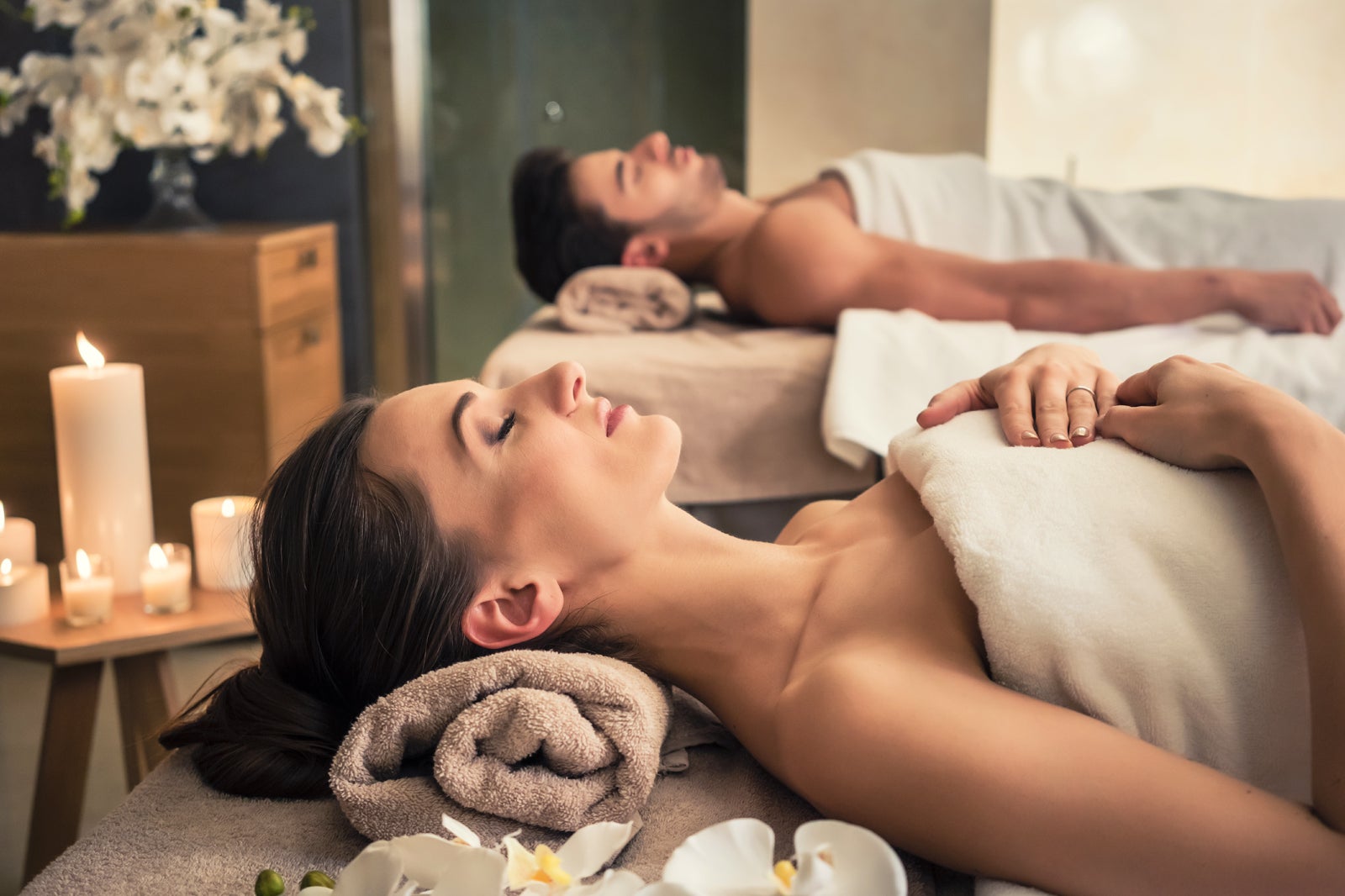 Spa-going couples looking for relaxation and quality time together should plan a trip to a spa when visiting Lagos. At Belmar Spa & Beach Resort you can choose from a wide range of spa treatments and heated facilities, including a sauna, Jacuzzi, Turkish bath and an indoor heated pool. For soothing treatments and magnificent sea and coastal views, Vivenda Miranda Spa is set overlooking Porto Mos Beach and is an oasis of tranquillity.
The clifftop Boavista Resort offers soothing massages in a serene setting. You can also enjoy stunning views of Lagos Bay and Praia da Luz from the warm waters of the Jacuzzi or indoor swimming pool. While not all spas offer couples' treatment, you can spend time together in the sauna, steam room and pools.
7
Marina de Lagos
A great place for a stroll and romantic dining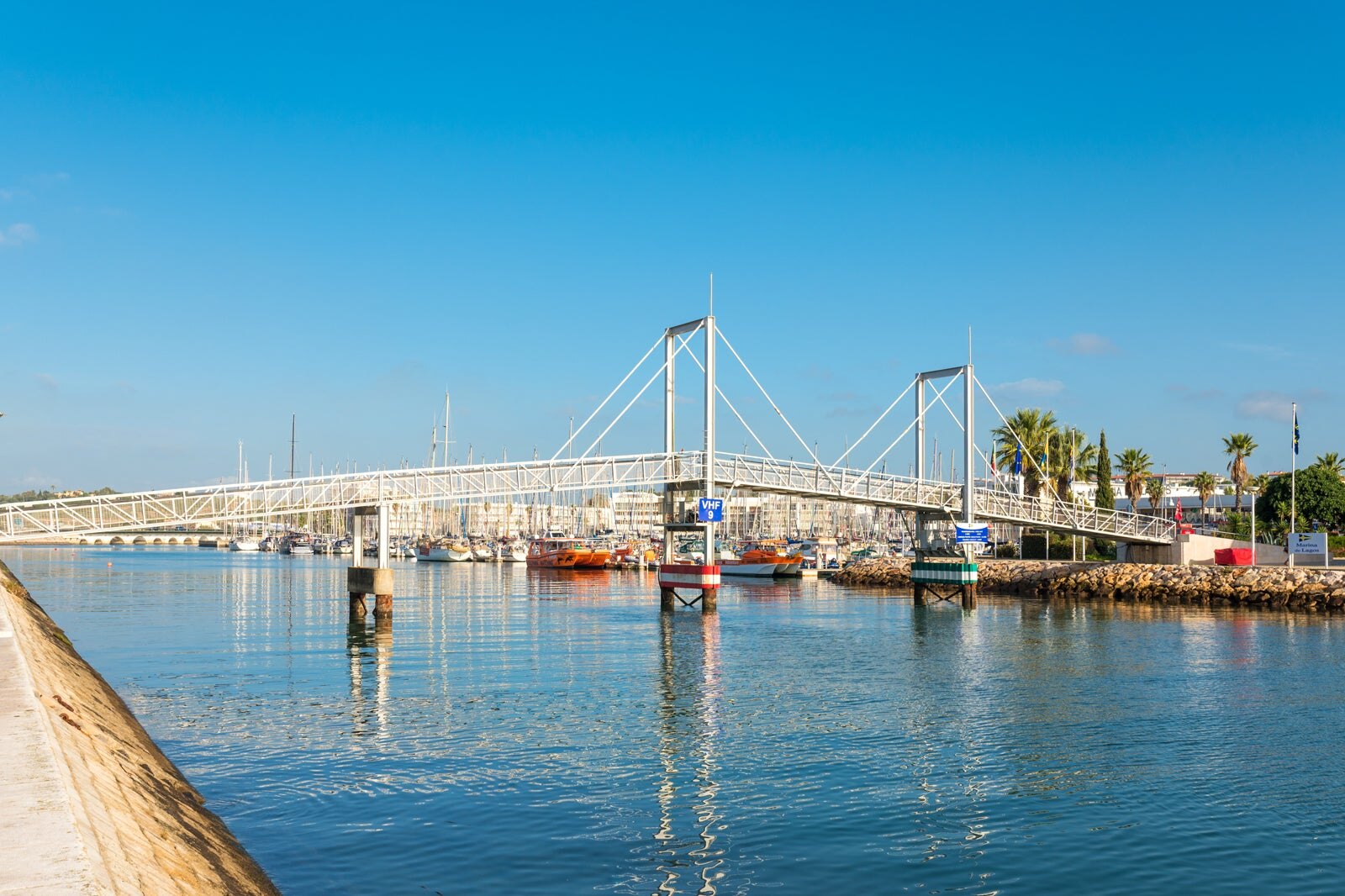 Marina de Lagos is a modern marina next to the historical centre of Lagos and a fantastic spot for couples to explore. To reach the marina, take the footbridge over the Bensafrim River. From here, you can enjoy lovely views of the town and forest of masts belonging to sleek yachts and local fishing boats.
In addition to being the place to go for water-based activities (trips to Ponta da Piedade, nature-spotting cruises and watersports), the marina boasts a variety of shops, bars and romantic restaurants — all with a charming view of the sails and boats.
Location: Edifício da Administração, 8600-315 Lagos, Portugal
8
Forte Ponta da Bandeira
Visit an old fortress overlooking the sea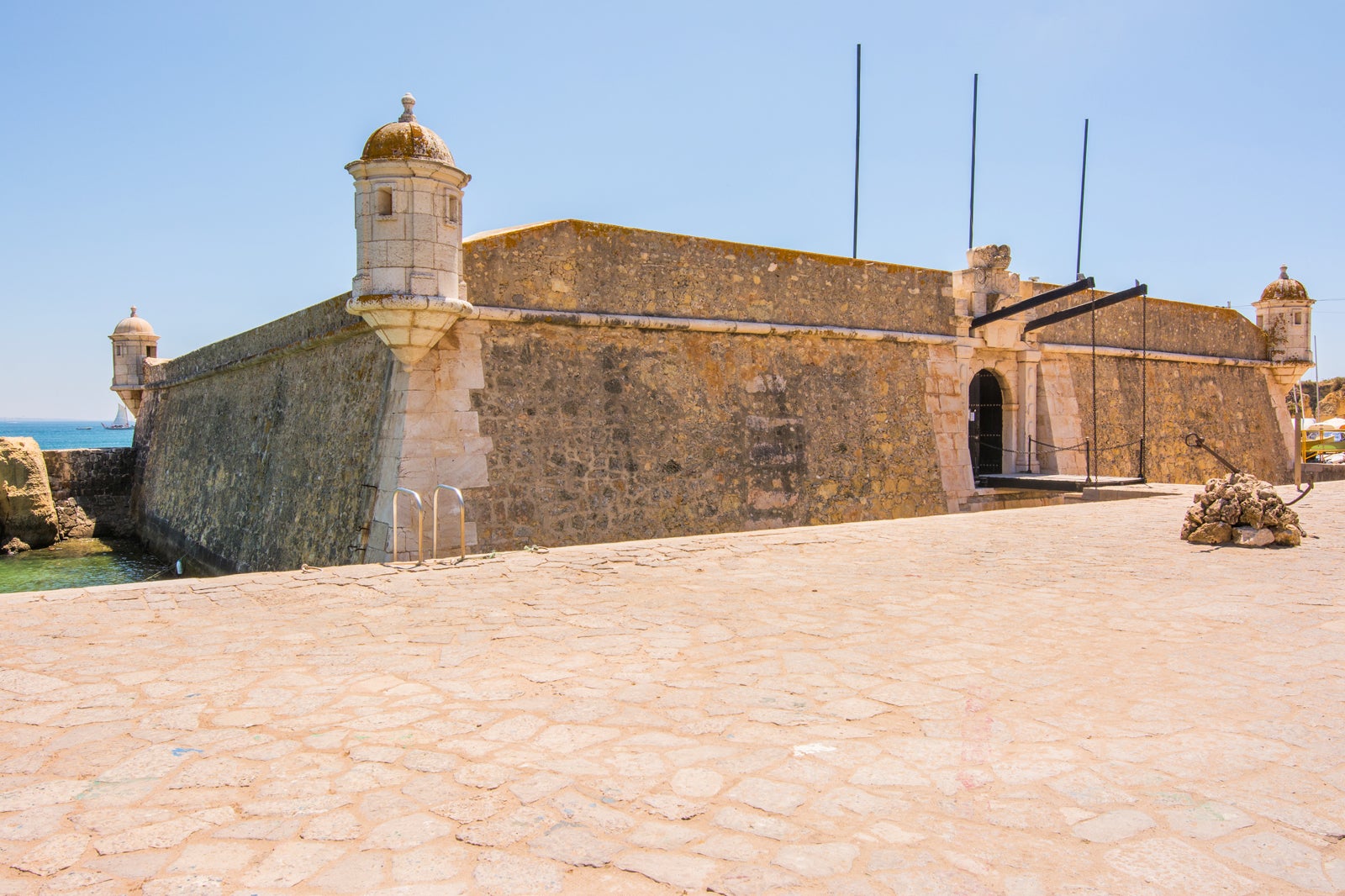 The restored Forte Ponta da Bandeira is a 17th-century fortress that stands on Lagos' waterfront, next to Praia de Batata. It once protected the port from enemy attacks and now is a great spot to take a leisurely walk to after a day of excursions.
Cross the drawbridge to reach the interior courtyard where you can find a beautiful azulejo-tiled chapel dedicated to Saint Barbara and a small maritime museum with exhibitions related to the Portuguese Age of Discovery. From the fort terrace, you and your beloved can take in spectacular panoramic views of the town and sea below.
Location: Cais da Solaria, 8600 Lagos, Portugal
Open: Tuesday–Sunday from 9.30 am to 12.30 pm and from 2 pm to 5 pm (closed on Mondays)
9
Ponta da Piedade
Admire Lagos' dramatic sunsets and natural beauty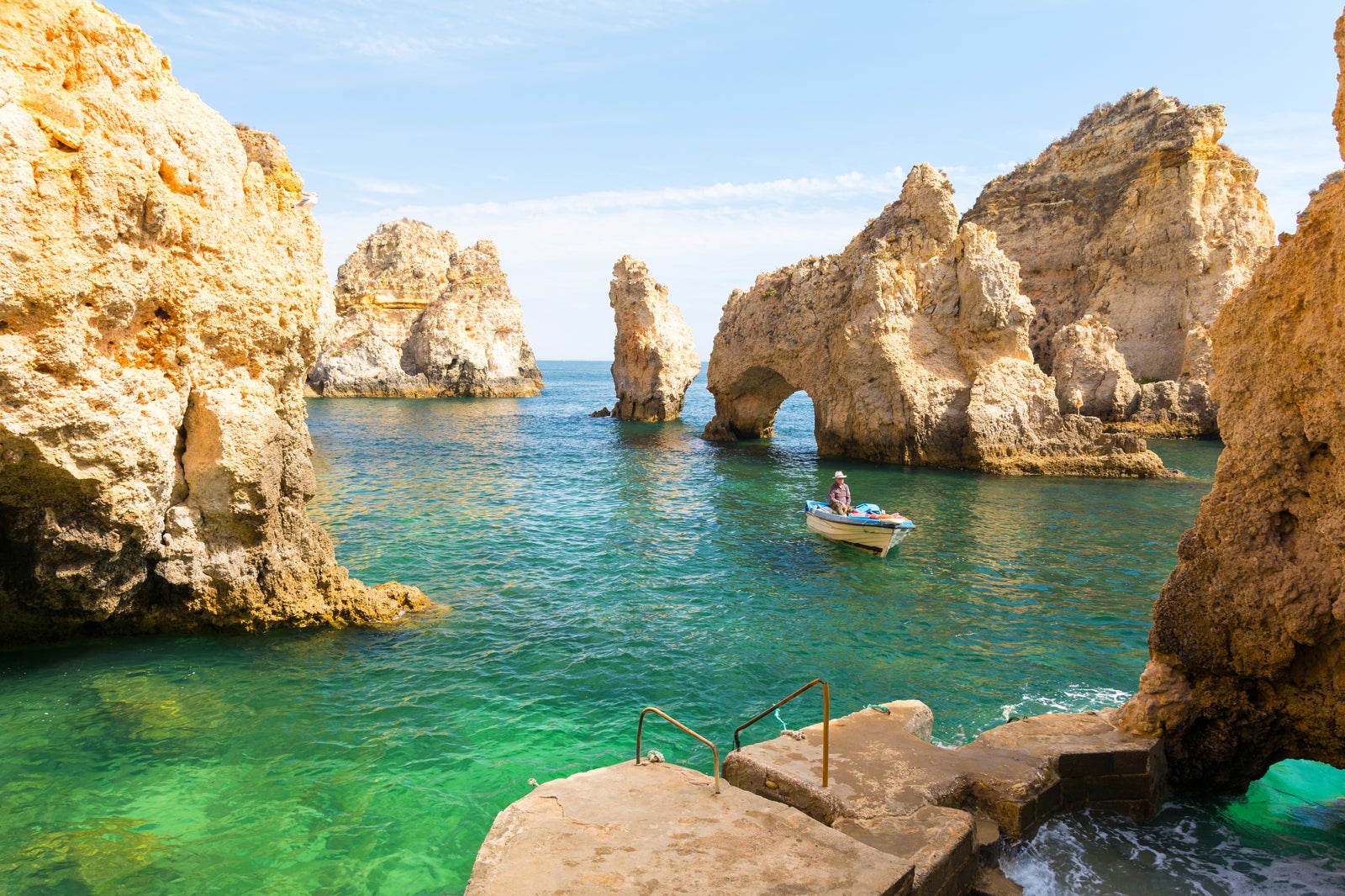 Couples
History
Photo
Budget
Watching the sunset at Ponta da Piedade can be an unforgettable moment for couples to share. The gorgeous sandstone cliffs are considered the most exceptional natural features of the Algarve. When the burning orange sun shines through the holes in the rock formations, it creates a magical setting.
To reach the headland, you can enjoy a 30-minute walk from Lagos along a coastal path that passes Praia Dona Ana and Praia do Camilo. The best section of cliffs is to the left of the lighthouse, where there's a long staircase (182 steps) leading down to the cove. At the base, you can observe this wonder of nature up close.
10
Go for a sunset cruise
With Portuguese food and drinks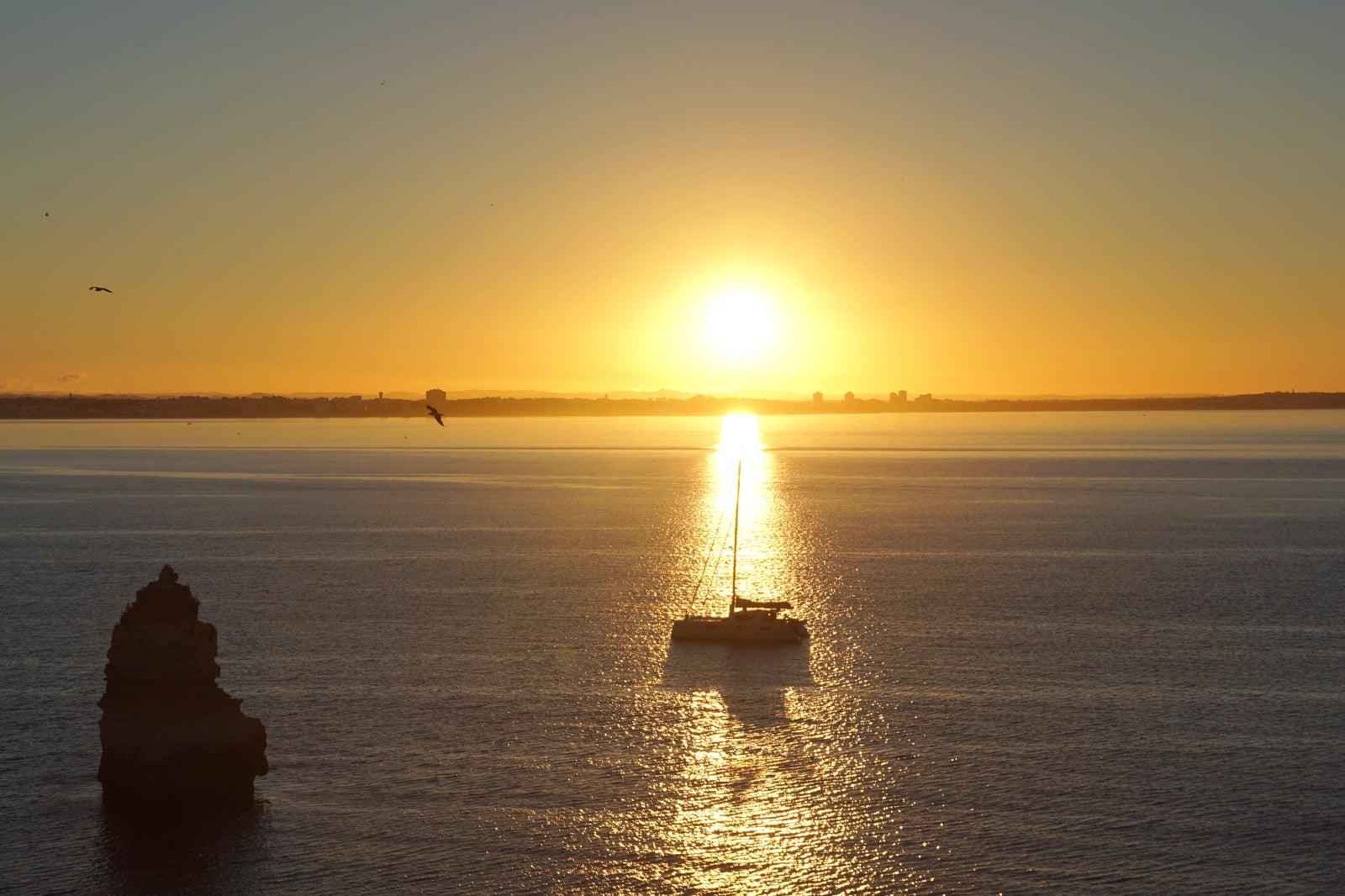 Take a romantic sunset cruise from Lagos along the astounding Algarve coast and see amazing sea caves, rock formations and golden beaches from the shimmering water. Try some local cheese and wine as you marvel at the contrast between the brown-red rocks of the grottoes and the turquoise-blue waters of the Atlantic.
Drop anchor at the picturesque sandstone cliffs of Ponta da Piedade and complete your evening in this side of paradise with a refreshing swim and get up close to the wind-eroded rock arches.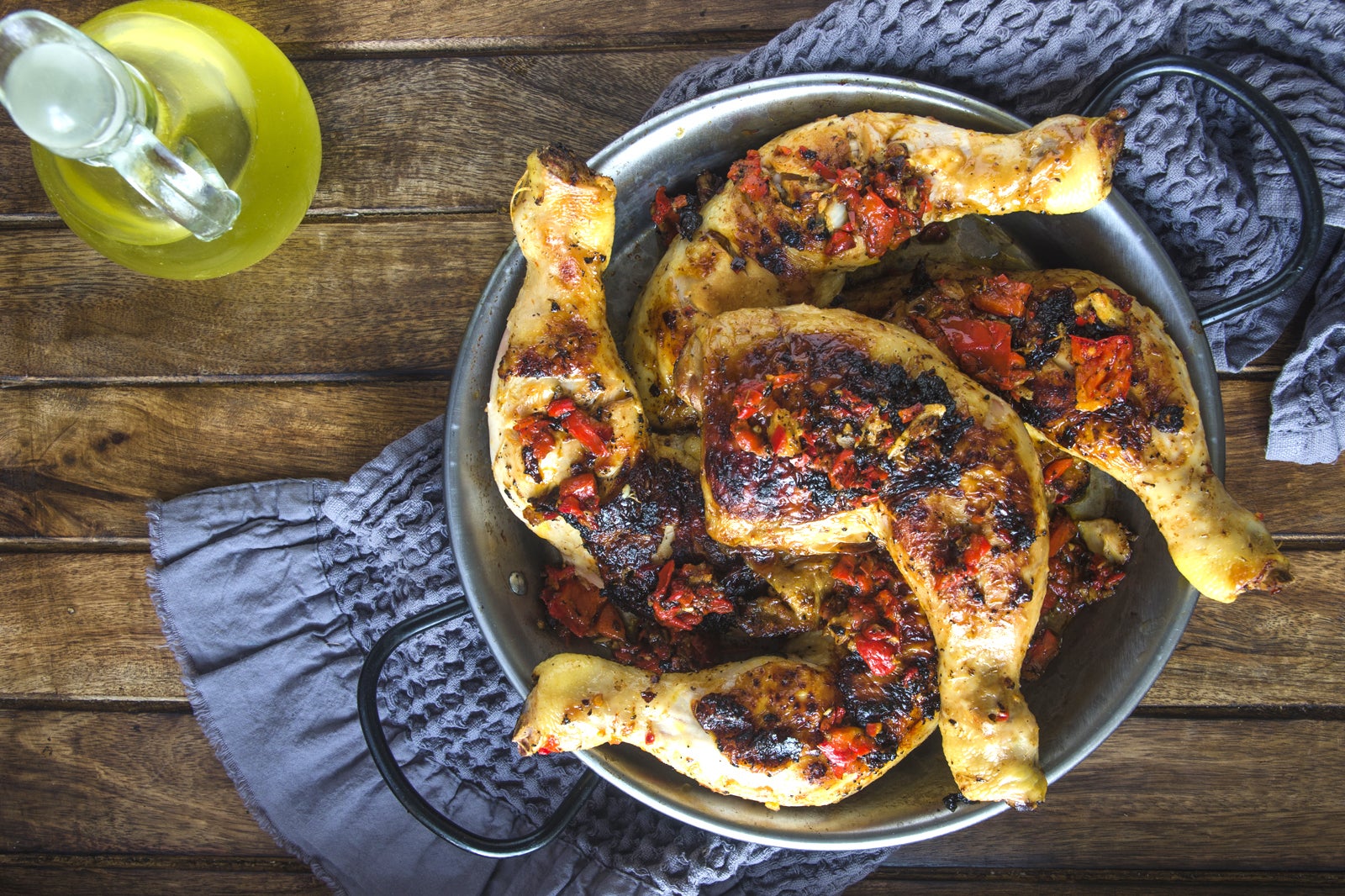 Lagos is a great place to try local and authentic Portuguese food and drinks, from chicken piri-piri and fantastic seafood dishes to locally made organic wines. Add romance to your evening plans and book a table at Mullen's. The restaurant's cave-like setting makes for an intimate backdrop for a romantic candlelit dinner for 2.
Alternatively, head to the cosy little courtyard of Cachoa, a real gem hidden in an idyllic setting just outside Lagos. With lights strung up everywhere and smooth jazz playing the background, you can tuck into out-of-this-world delicious food that's sure to feed both body and soul.
Read more
Back to top