10 Best Beaches in the Philippines
Discover the Most Popular Beaches in the Philippines
There are dozens of picturesque beaches in the Philippines, a country with over 7,000 islands. You will find these stunning beaches in different parts of the country. Some are famous for their white sand and clear water, while others are known for their vibrant nightlife scene.
There are probably some beaches among our favourites that might be new to you. If you have a thirst for adventure, this list of the best beaches in the Philippines may give you some new travel plans, especially if you've been to the popular beaches in El Nido and Boracay. It may take a long time to travel from one beach to the next, but the trip is well worth it.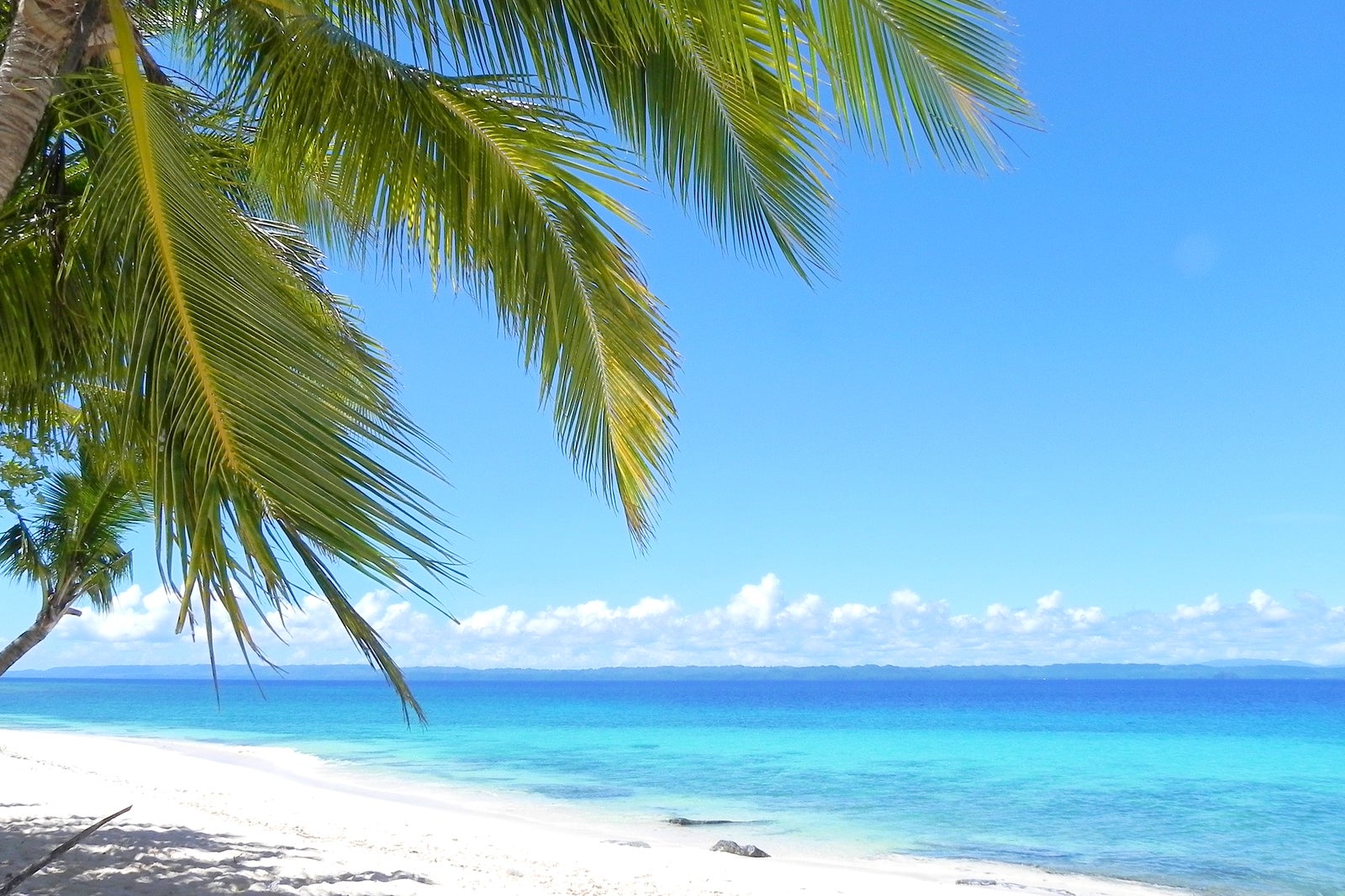 White Beach is located on the island of Borocay, about 315 km to the south of Manila. This beach is situated off the Panay Island's north-western tip and represents the aesthetically rich natural scenery of Borocay and the Philippines. There are tropical surroundings, panoramic ocean view, and various forms of vegetation and wildlife.
White Beach is about 3 km long, and has been divided into three sections, each having its characteristic charm and uniqueness. While Station 1 presents a quiet, low key atmosphere where most of the luxurious resorts and hotels are present, Station 2 is livelier thanks to its expansive shopping, entertainment and dining zones. The quietest part is Station 3, which has several native houses and bungalows.
Location: White Beach Boracay, Aklan, Philippines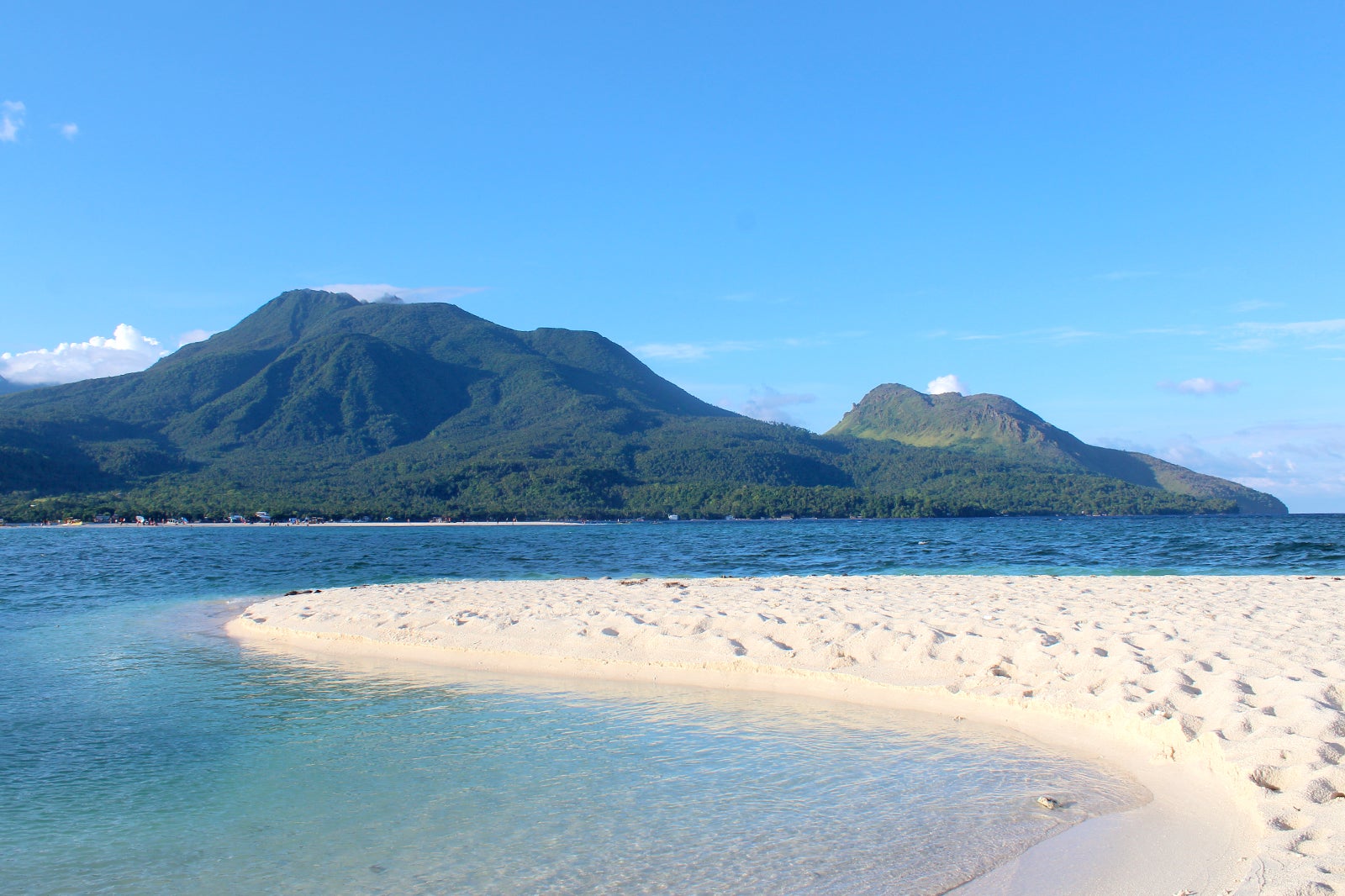 White Island is an uninhabited sandbar, so there isn't any trees or man-made structures that could offer protection from the sun. If you're going, make sure to bring enough water and sunblock. It's good for snorkelling, but be wary of sea urchins and sea snakes.
The sandbar is really stunning though – its shape and size changes according to the tide and the season. You'll enjoy the fine sand and clean waters, while the view of Hibok-Hibok Volcano makes for postcard-worthy snapshots. The best time to go to White Island is during summer as boats usually won't venture out when the weather is bad.
Location: White Island, Medano Islet, Philippines
photo by Wolfgang Hägele (CC BY-SA 4.0) modified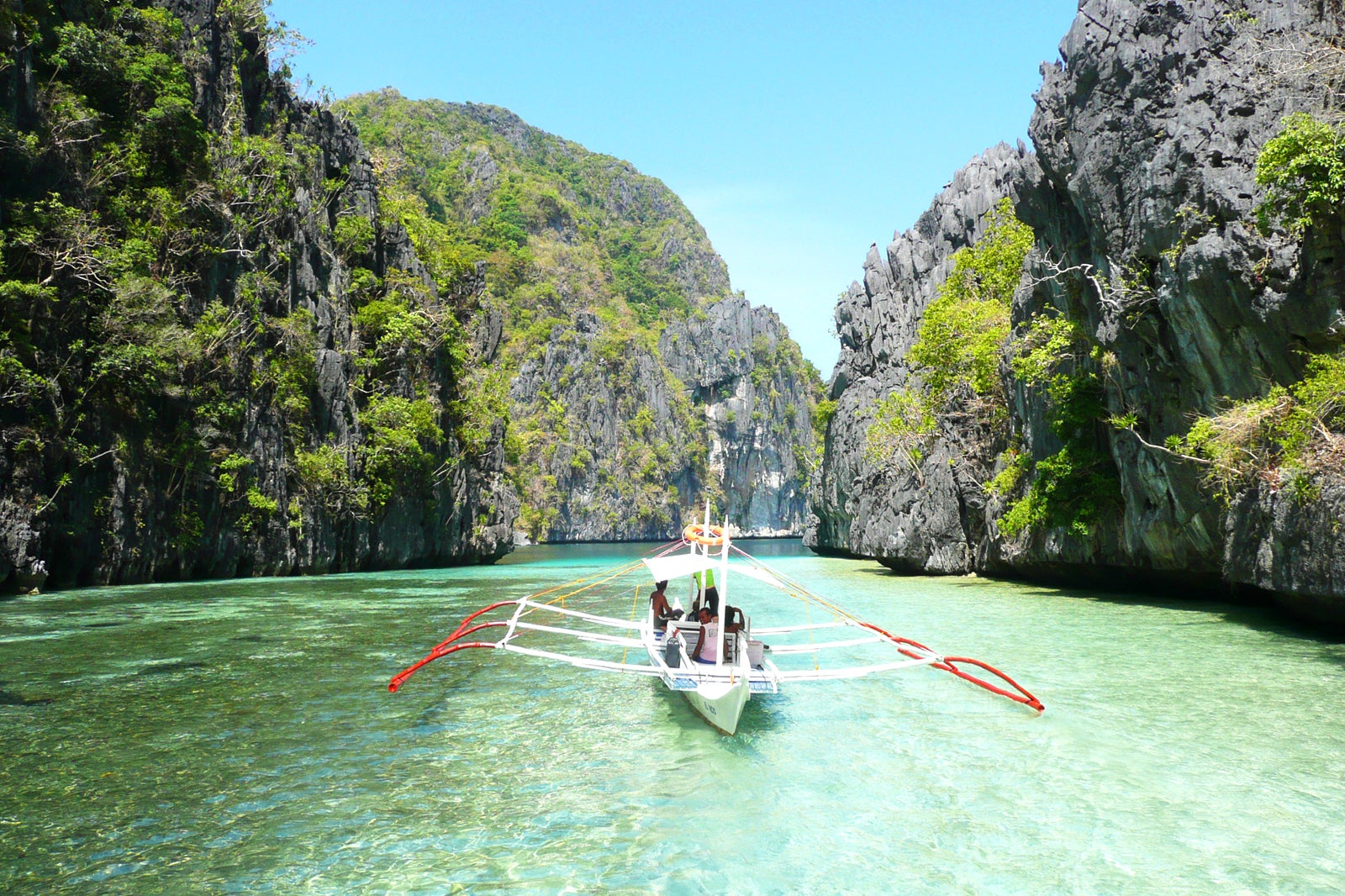 Matukad is a small island off the coast of Caramoan. It has fine, white sand beaches flanked by towering limestone cliffs. Its most intriguing feature is the presence of a lagoon, which is home to a solitary giant milkfish. There's an interesting story about this, so you can ask the boatman for the details. You might be able to spot the milkfish during your visit, so make sure to bring your camera and do a bit of trekking to get to the lagoon. The view from above is astounding.
Location: Caramoan, Camarines Sur, Philippines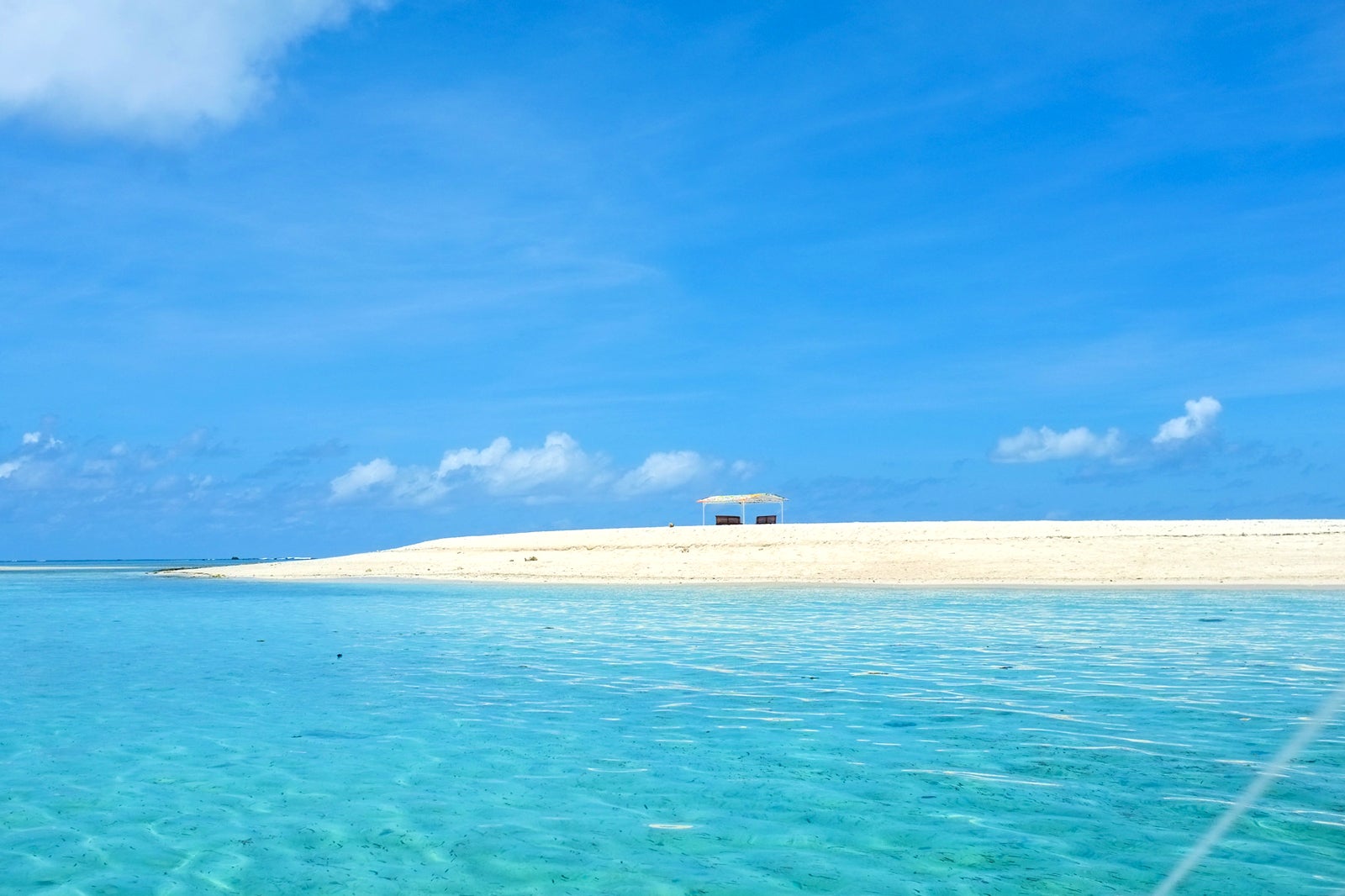 Daku, Naked and Guyam
Siargao
Daku, Naked and Guyam are a group of islets in Siargao that are accessible by joining an island-hopping tour. A day trip to these destinations typically starts at Naked Island, named due to the absence of vegetation or coconut trees. The heat can be rather scorching, so bring sunblock along with you. The islet's white sand is popular for sunbathing before continuing to the next stop.
Guyam Island is an interesting mix of sandy beach on one end and hard corals on the other. The final stop is the Daku Island, where you can have your lunch of fresh seafood and coconut juice in either a rented hut or beneath the palm trees. Its serene and crystal-clear water and fine, white sand makes it ideal for swimming.
Location: South-eastern coast of Siargao Island, Philippines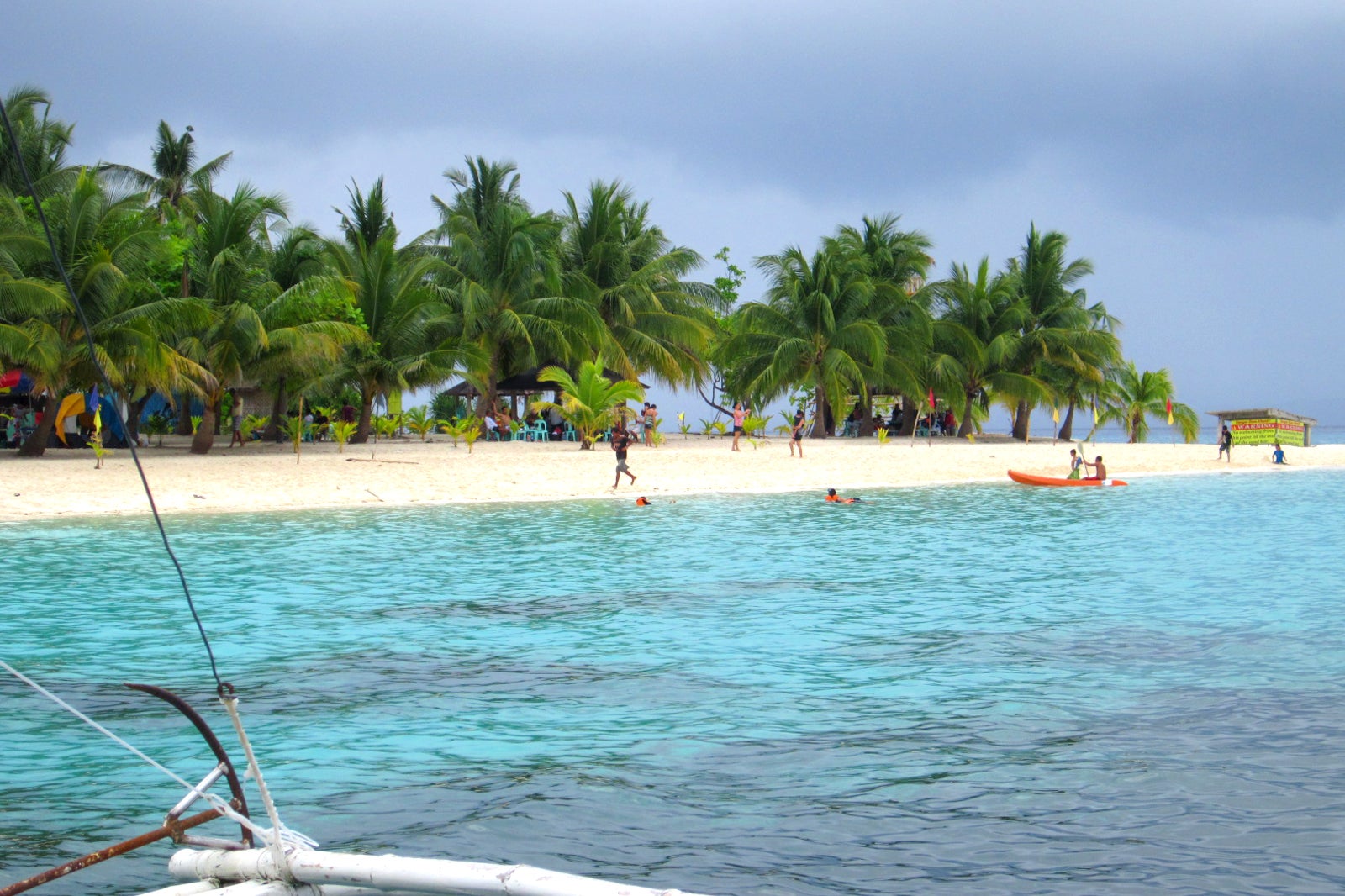 Kalanggaman Island in Leyte is one of the most beautiful islands in the Philippines. Its major draw is its long sandbar that stretches from one end of the island. It is quite spectacular when the tide ebbs to reveal it. Signs urge you to be careful if you're not a good swimmer, as the sandbank moves together with the changing tides.
Camping is allowed on the island – on clear nights, you can see the night sky dotted with millions of stars. Boat rental going to Kalanggaman Island costs 3,000 pesos on average. If you're sharing the boat with another group, make sure to agree on your return time since the boat only makes 1 trip back to the mainland.
Location: Palompon, Leyte, Philippines
photo by Debbie Tingzon (CC BY 2.0) modified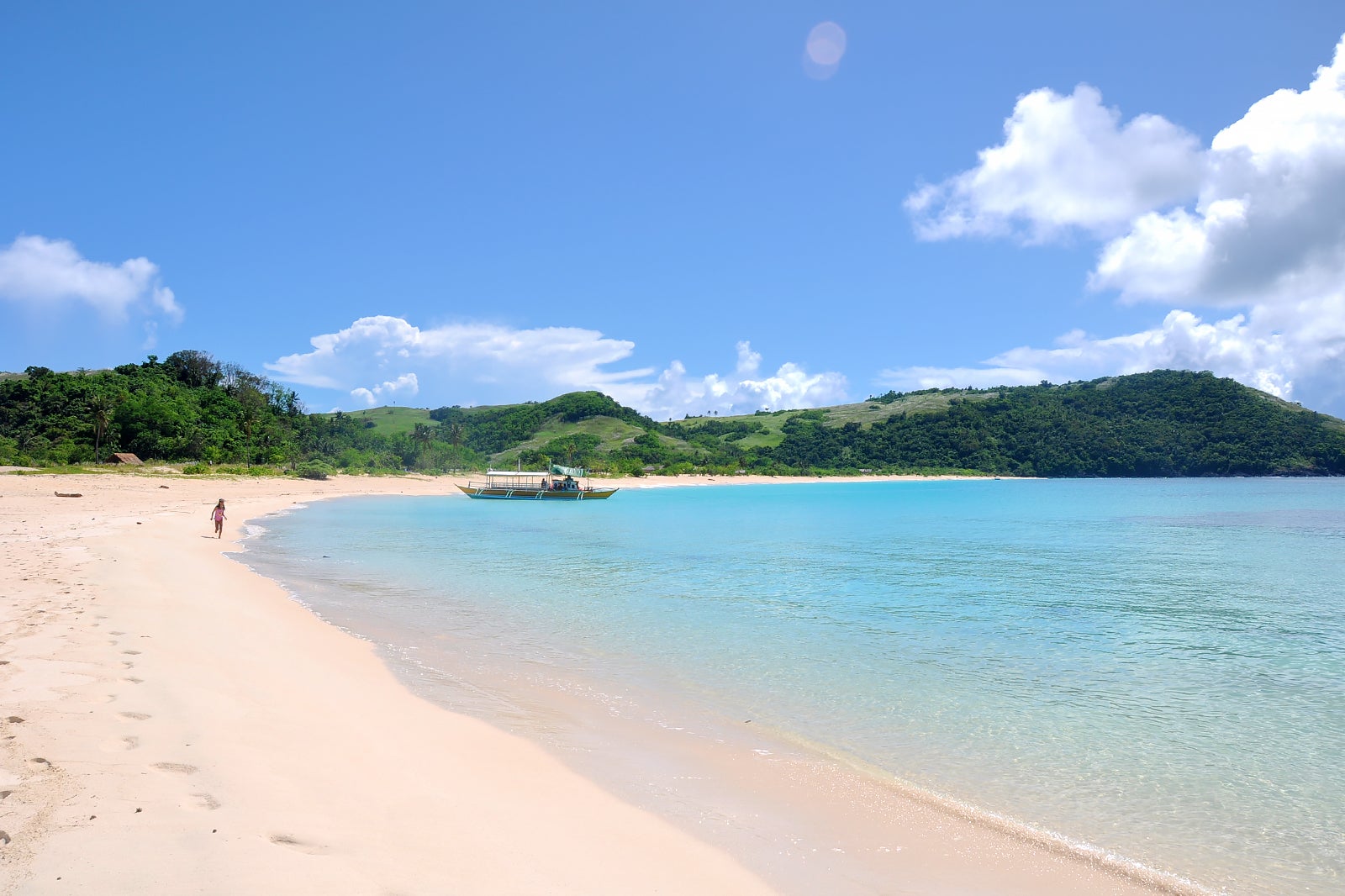 Calaguas is a group of islands in the province of Camarines Norte, about a 2-hour-long boat ride from the mainland. Getting here is not easy, which is one of the reasons why this tropical destination remains relatively untouched throughout the years. Its most popular beach, Mahabang Buhangin (Long Beach), is located on Tinaga Island, where you can enjoy swimming and camping.
There are also rolling hills and volcanic rocks overlooking the ocean. You can rent a nipa hut or cottage if you're looking to spend a day or two in Calaguas. These back-to-basics accommodations are part of its charm.
Location: Calaguas, Vinzons, Camarines Norte, Philippines
photo by Monette Nyem (CC BY 3.0) modified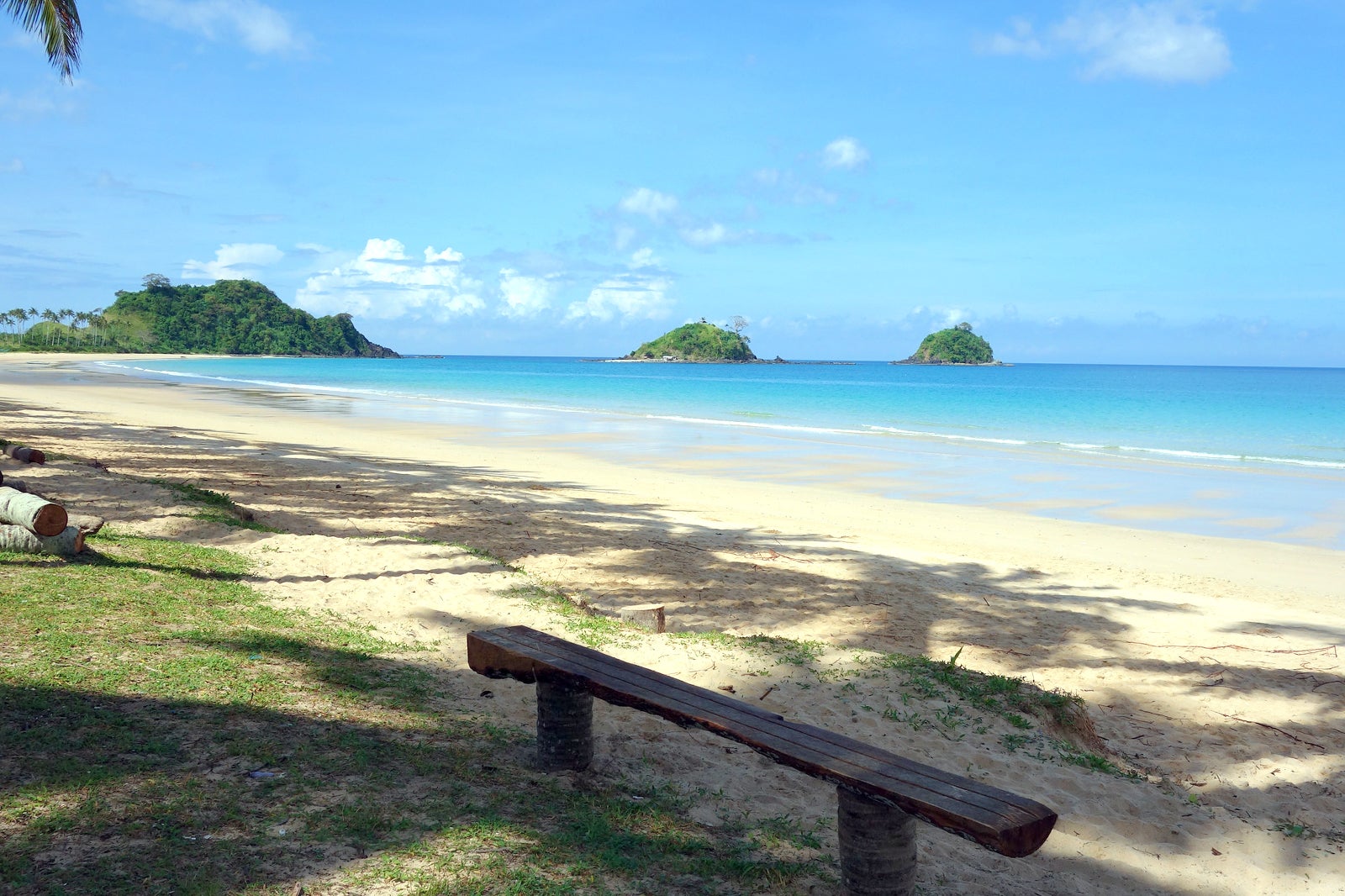 Nacpan and Calitang Beach
El Nido
There's a reason why the 4-km-long Nacpan Beach is considered as one of the most beautiful beaches in the world. It's a nice break from the endless island-hopping tours or hanging around the busier beaches in El Nido. Here, you get pristine blue waters and soft sand – sometimes you get to have the beach all to yourself. While there are no fancy restaurants on Nacpan Beach, there are small shacks where you can enjoy local snacks.
At the end of the beach, there's a small hill that you can climb to see the twin beaches of Nacpan and Calitang. You can rent a tricycle to get there. A good portion of the road is in bad shape, so be prepared for a bumpy and sometimes muddy ride.
Location: El Nido, Palawan, Philippines
photo by Allan Ascaño (CC BY 2.0) modified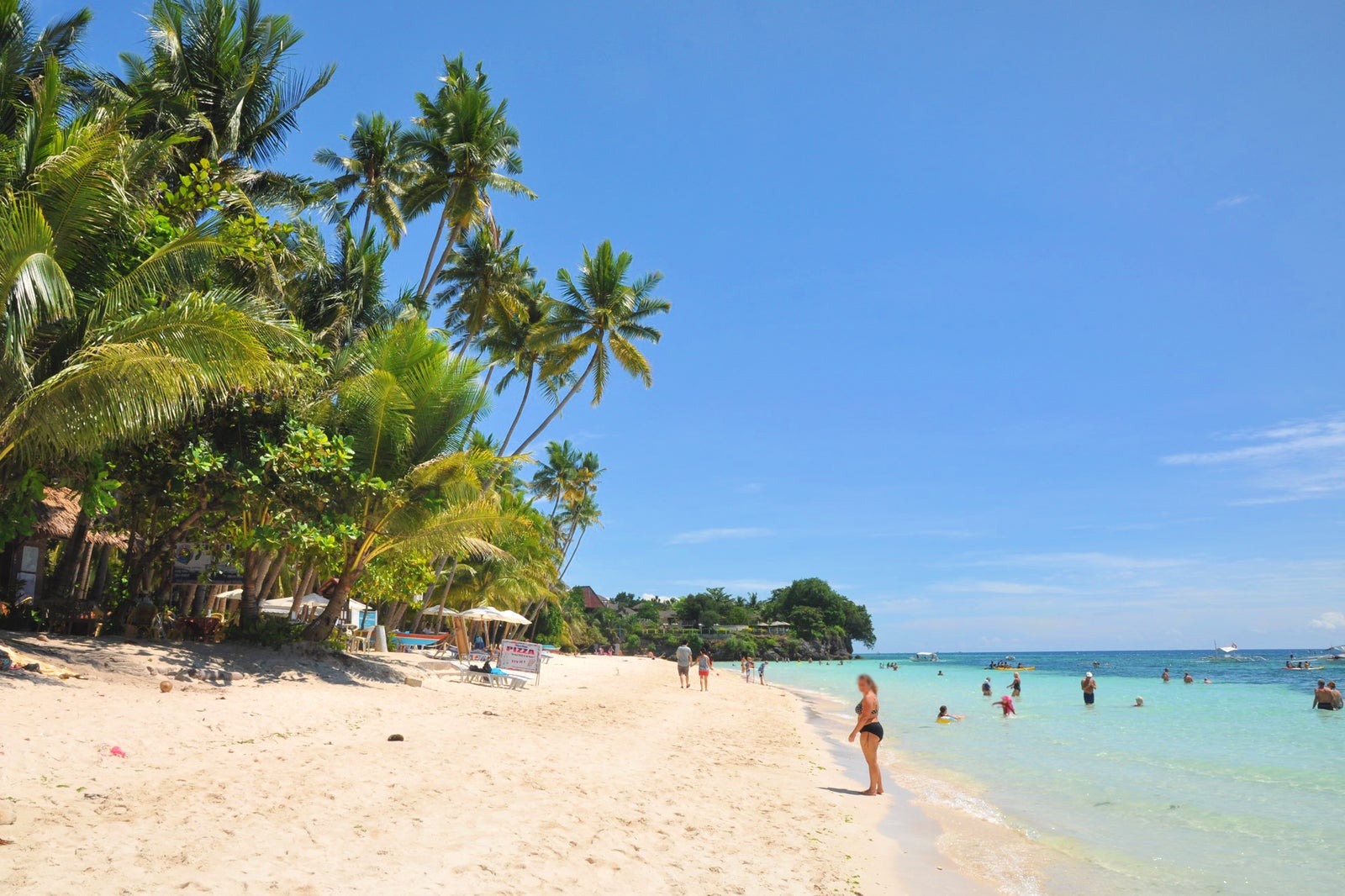 Alona Beach runs about 1.5 km in length on Bohol's Panglao Island. It's famed for its white sandy beach, clear blue waters, and world-class diving. This is where the action is, with the shoreline dotted with bars and restaurants, as well as open-air massage areas.
Alona Beach is a nice place for people watching and partying. During the day, you can go diving or snorkelling. Alona becomes more dynamic when food stalls and live bands occupy the shore in the evening. Some areas can be narrow due to development, but it's less crowded than most beaches in the Philippines.
Location: Alona Beach, Bohol, Philippines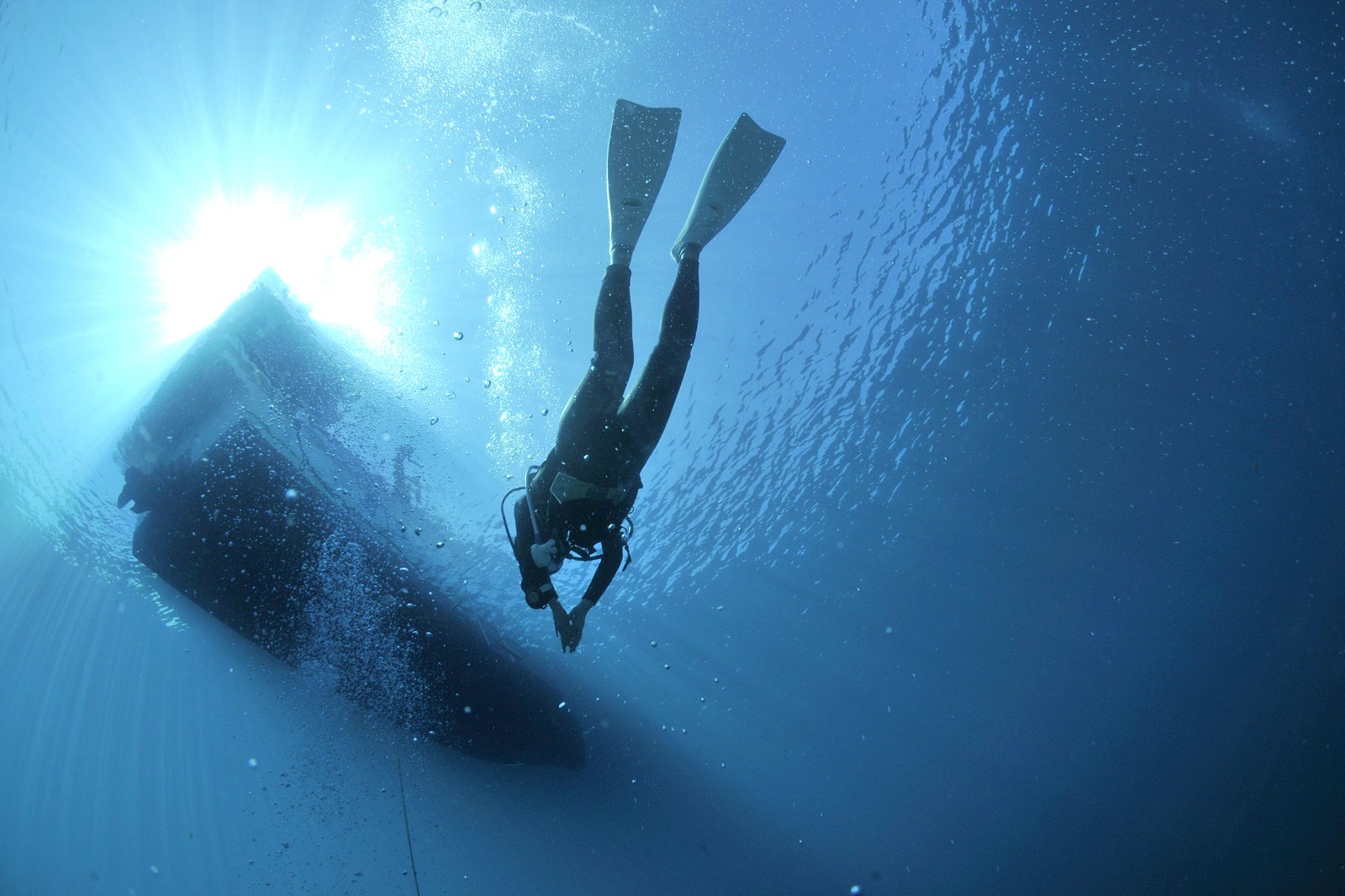 Buhatan Beach in Albay is home to a Spanish Galleon wreck site, which lies 9 metres below the ocean. There are plenty of tour companies offering snorkelling and diving excursions, though it's best if you have diving experience if you're looking to visit this wreck site. The beach itself is popular for sunbathing, swimming, and water sports.
As there's an active volcano in the province, Albay has black-sand beaches that were the results of natural erosion of volcanic rocks and minerals occurring throughout the years.
Location: Buhatan, Santo Domingo, Albay, Philippines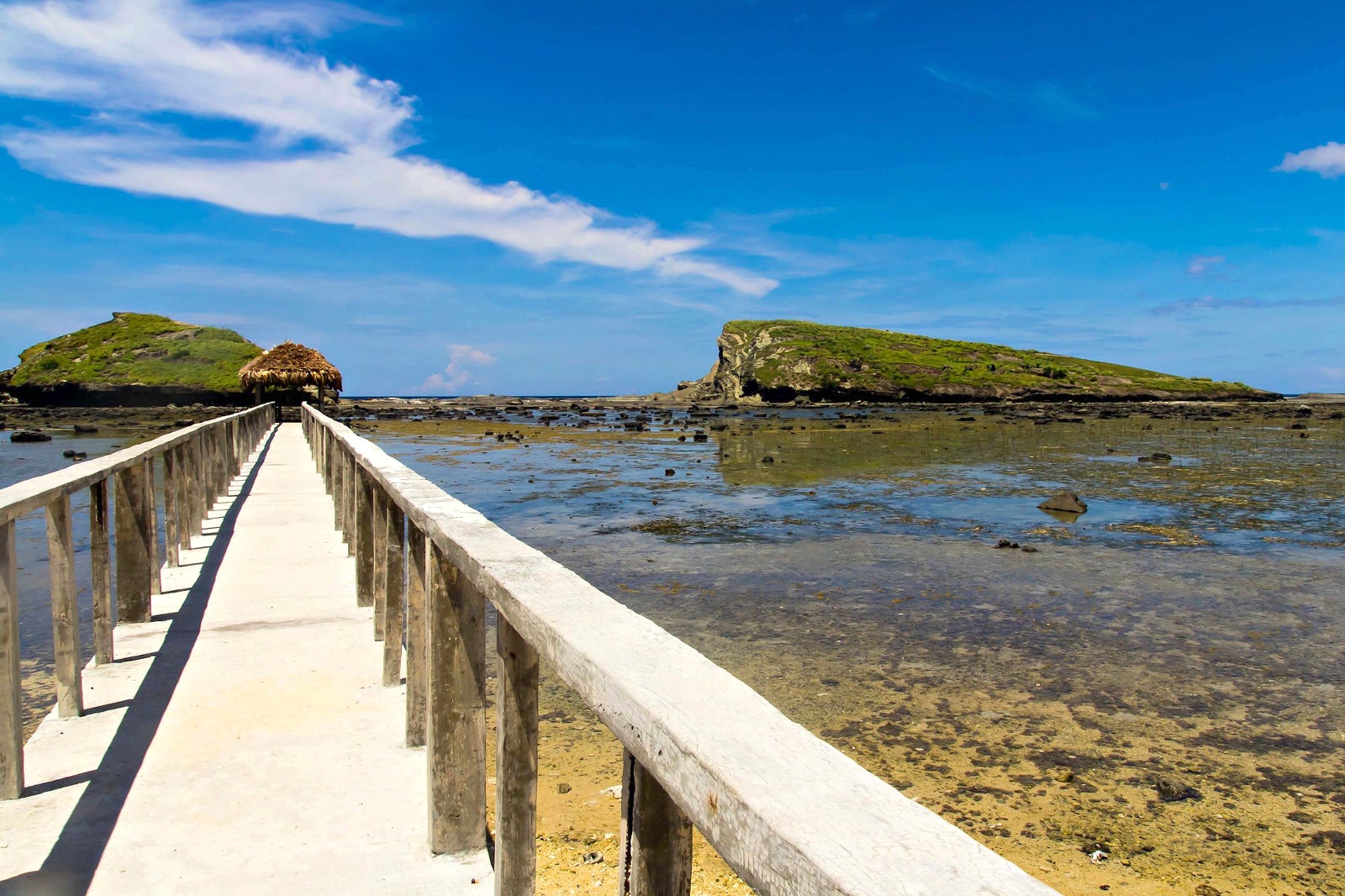 Biri Island
Northern Samar
Biri Island in Northern Samar has spectacular rock formations shaped through the years by the raging waves and stormy winds. There are about 7 rock formations on the island, which you can visit depending on the tide. Most can be easily reached at low tide. You'll be navigating sharp and slippery stones though, so it's best to wear sturdy and non-slip footwear. Besides the unique rock formations and pristine waters in Biri Island, you'll also find natural saltwater pools where you can take a dip to refresh.
Location: Biri, Northern Samar, Philippines