27 Best Things to Do in Boracay Island
What is Boracay Island Most Famous For?
This list of best things to do in Boracay Island puts together the reasons why this tiny island, that covers an area of around 11 sq km, is one of the most popular holiday destinations in The Philippines. The main point is that Boracay is a tropical island dream come true: the 17 beaches and coves it hosts are simply stunning, and it is part of an archipelago – the Western Visayas Island Group – which offers great island-hopping opportunities.
Boracay Island has both natural and manmade points of interest, though some of them require a short boat ride to access. They may give you the taste to visit this charming island, located some 300 km south of Manila.
What are the best things to do in Boracay Island?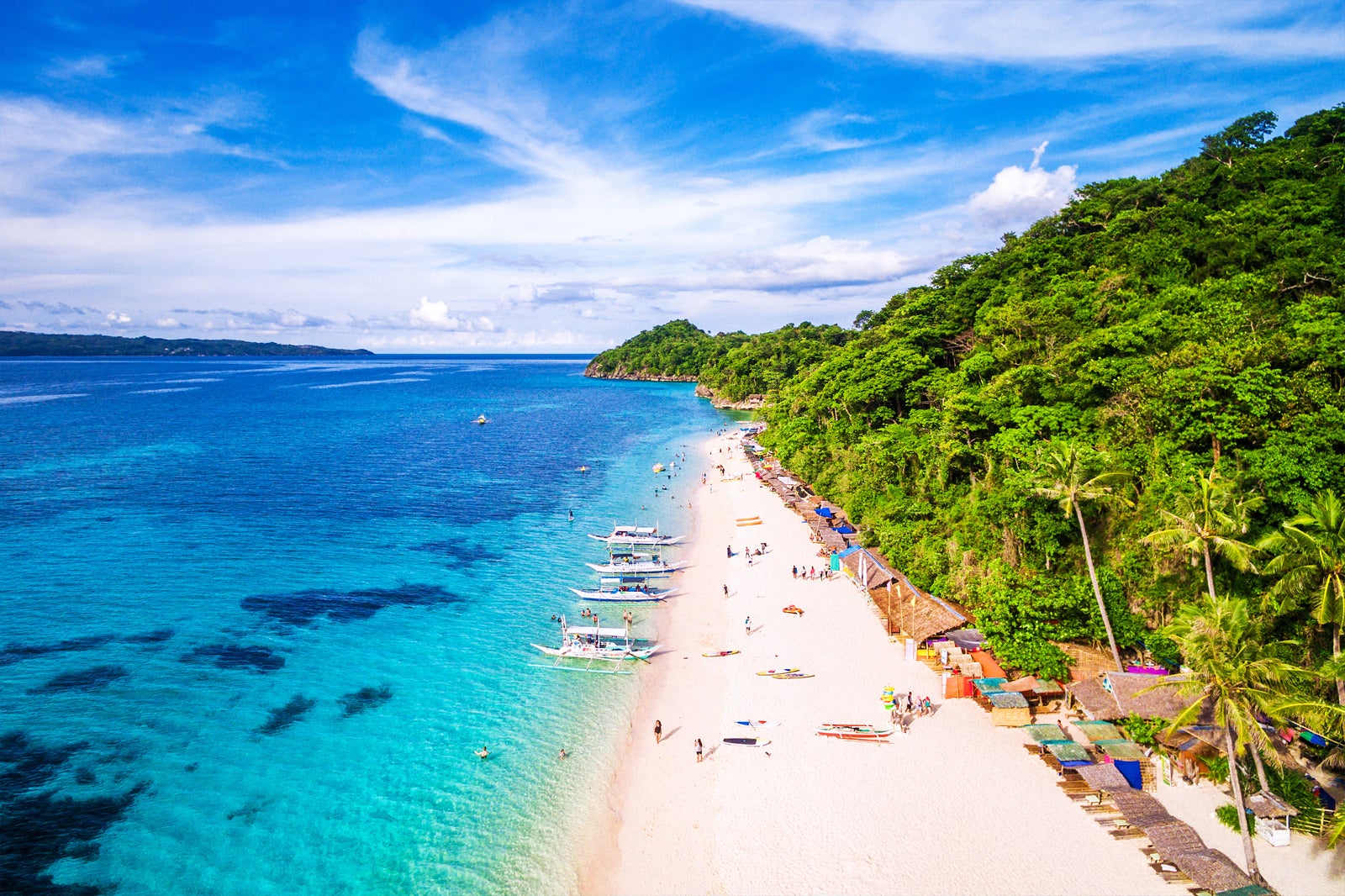 Boracay Island may be pretty small (7 km in length and less than 2 km wide), but there are no less than 17 beaches and coves of all shapes and sizes. You can head for the popular 4-km-long White Beach, or take a boat to the small and secluded Ilig-Iligan and Tambisaan beaches.
A wide range of nautical activities is available on Boracay's beaches, including surfing, kiteboarding and snorkelling, or simply relaxing on the soft sand to get a beautiful tan.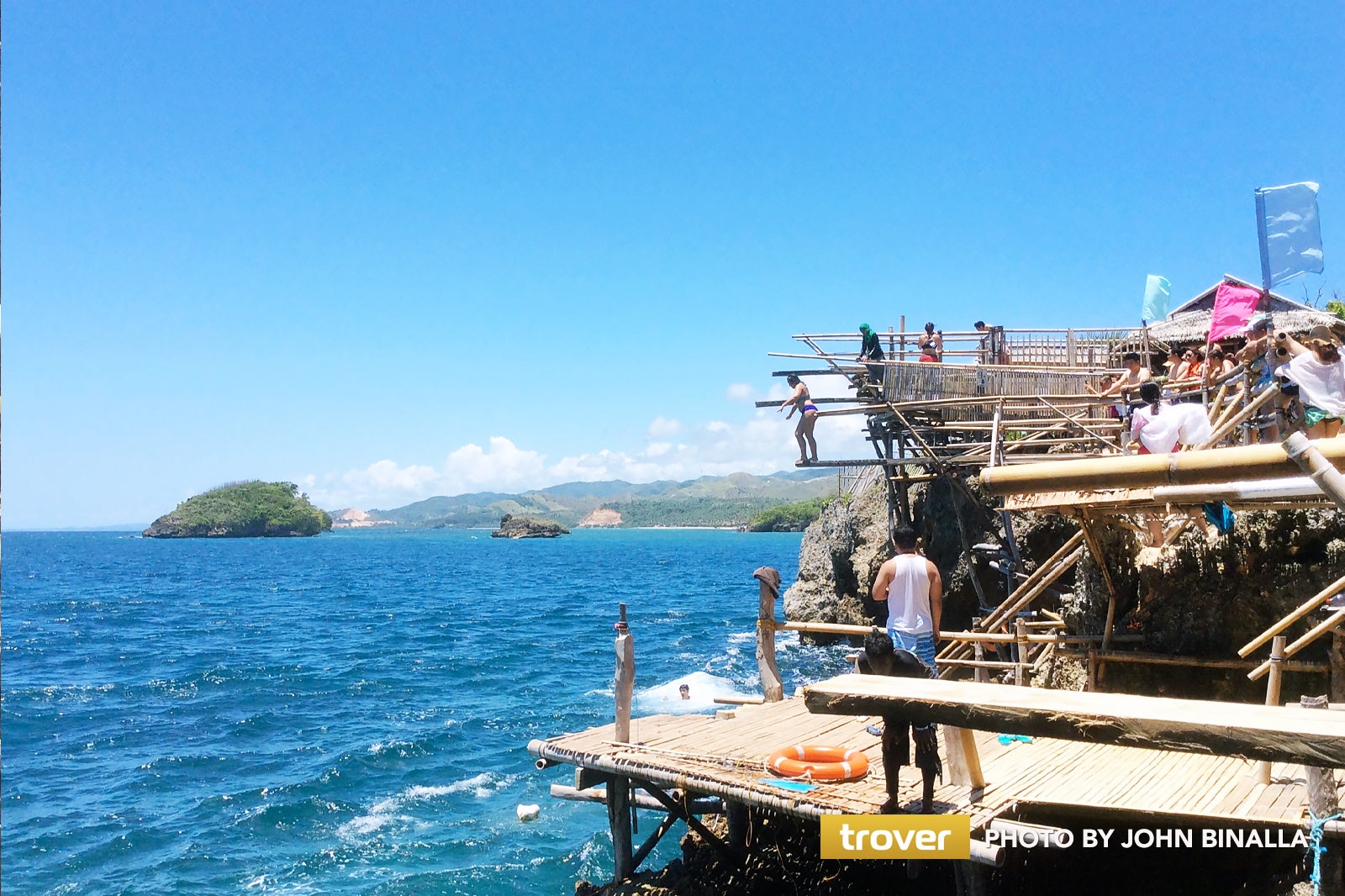 Ariel's Point is a day trip destination on the western edge of Buruanga, toward the northern tip of Panay Island, a 40-minute ride southwest by speedboat from Boracay Island. Settled in a lush environment, this eco-adventure seaside resort offers you thrilling activities. like cliff diving, kayaking, paddleboarding and snorkelling. It's also a cool place to meet fellow travellers attracted by the same kind of watersports. Daytrips to Ariel's Point usually include lunch and drinks.
Location: Batason, Buruanga, 5609 Aklan, Philippines
Open: Daily from 10.30am to 5pm
Phone: +63 (0)36 288 4853
Crystal Cove Island (aka Lauren Island) is a private islet located a 10-minute boat ride southeast of Boracay Island. Locally known as Tigwatian Island, Crystal Cove owes its name to the splendid coral reefs that lie beneath the crystal-clear waters that surround it. Daytrips to Crystal Cove are available from Boracay, which gives you the possibility of enjoying yourself with a good choice of leisurely fun on the island. These activities include trekking, caves exploration, snorkelling, pigeon feeding and more.
Location: Tabon Point, Malay, 5618 Aklan, Philippines
Phone: +63 (0)917 841 6057
Couples
Families
Photo
Adventure
Group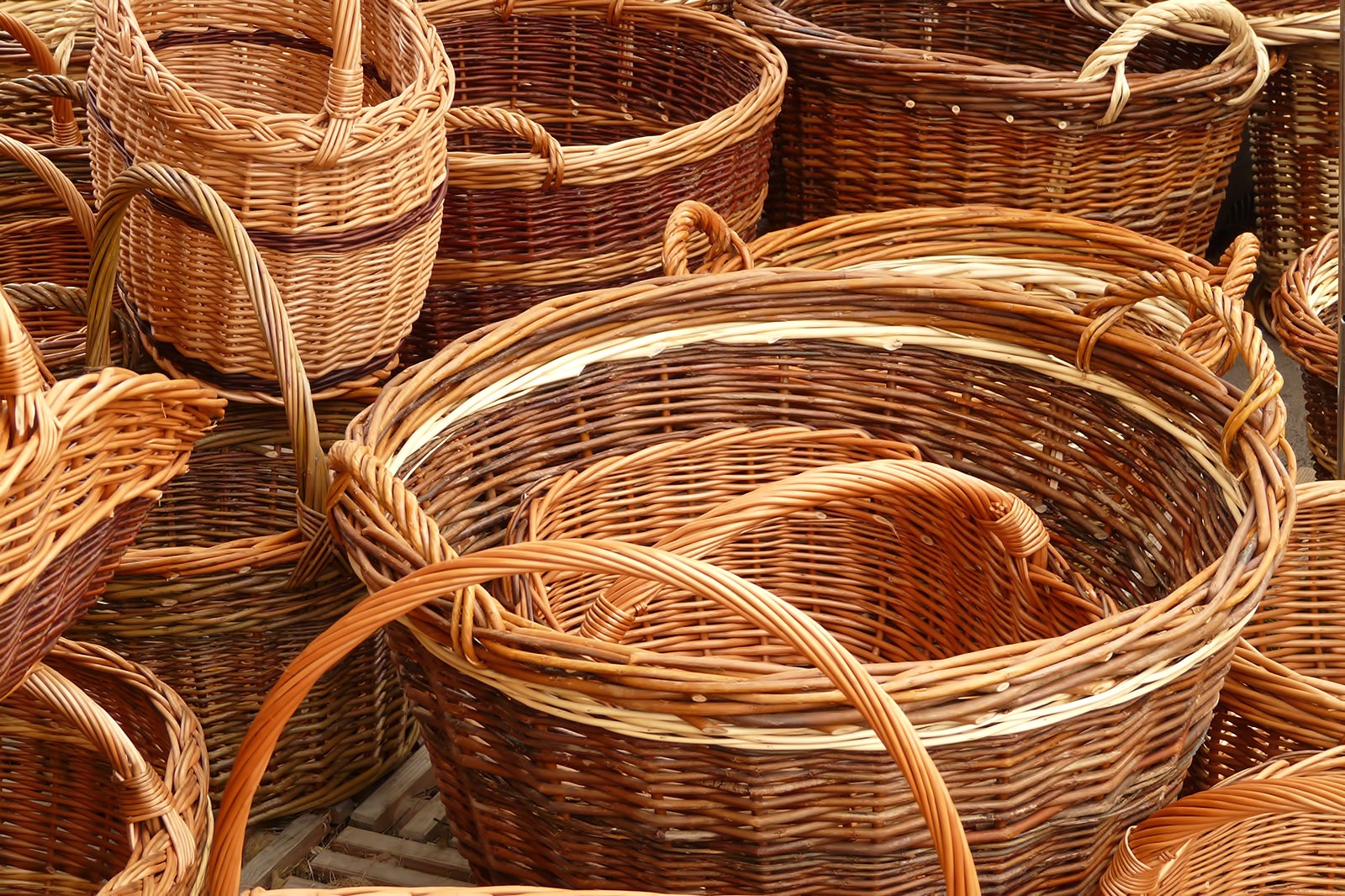 The Motag Living Museum lets you discover the great cultural heritage of this area of The Philippines through interactive expositions. Showcasing traditional farming and craft weaving, native cooking methods and introducing you to Malayanon folk songs, you'll find a vivid testimony to the ancestral way of life of the inhabitants of this area of The Philippines. The Motag Living Museu is located in Caticlan, at the northern tip of Panay Island,
Location: Malay, Aklan, Philippines
Open: Tuesday–Sunday from 10am to 4pm (closed on Mondays)
Phone: +63 (0)921 556 3111
Families
Shoppers
History
Photo
Mount Luho boasts an altitude of 112 metres, making it the highest point on Boracay Island. The 2 view decks at the top of Mount Luho can easily be reached via cement staircases. Along the way to the summit, you may spot birds, monkeys and a Filipino version of the Tasmanian Devil.
The panoramic view from the decks encompasses the beaches of Bulabog, Ilig-Iligan, and Lapuz-Lapuz. Access to the decks is respectively charged at PHP 50 and PHP 120, as each of them is privately owned. Mount Luho is north of Bulabog Beach, on the eastern coast of Boracay.
Location: Mount Luho, Malay, Aklan, Philippines
Couples
Families
Photo
Budget
Adventure
Single
Group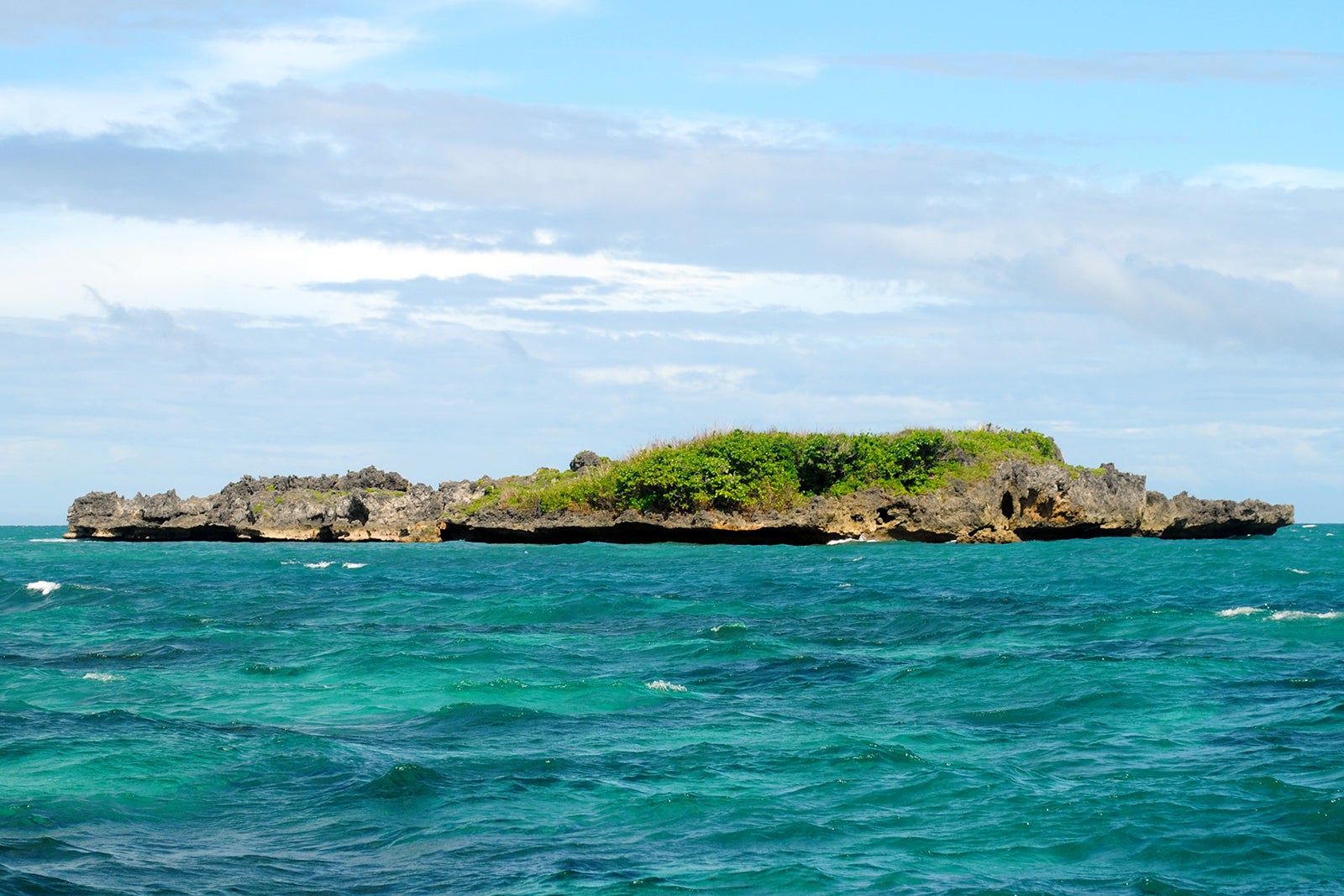 Crocodile Island is a mere 500 metres away from Tambisaan Bay, on the southeast coast of Boracay Island. This tiny island owes its name to its shape, which makes it resemble a large saurian reptile floating on the crystal-clear waters of the bay.
The waters surrounding the island host an impressive array of marine life, including different species of corals, schools of fish, nudibranchs, scorpionfish and much more. Diving and snorkelling day trips to this beautiful spot are readily available all around Boracay.
Location: Crocodile Island, Boracay, Philippines
The Boracay Bat Cave is near Ilig-Iligan Beach on the northeastern end of Boracay Island. You have to pay a small fee and hire a guide to get there and come back safely. The visit involves a walk through the jungle, before reaching the entrance of the cave framed by huge rocks.
Be careful when walking inside the cave, as the bats' faeces cover most of the ground and make it slippery. The stench is also pungent. You'll spot here large fruit bats as well as other smaller bat species.
Location: Ilig Iligan Beach, Boracay Batcave Beach Road, Malay, Aklan, Philippines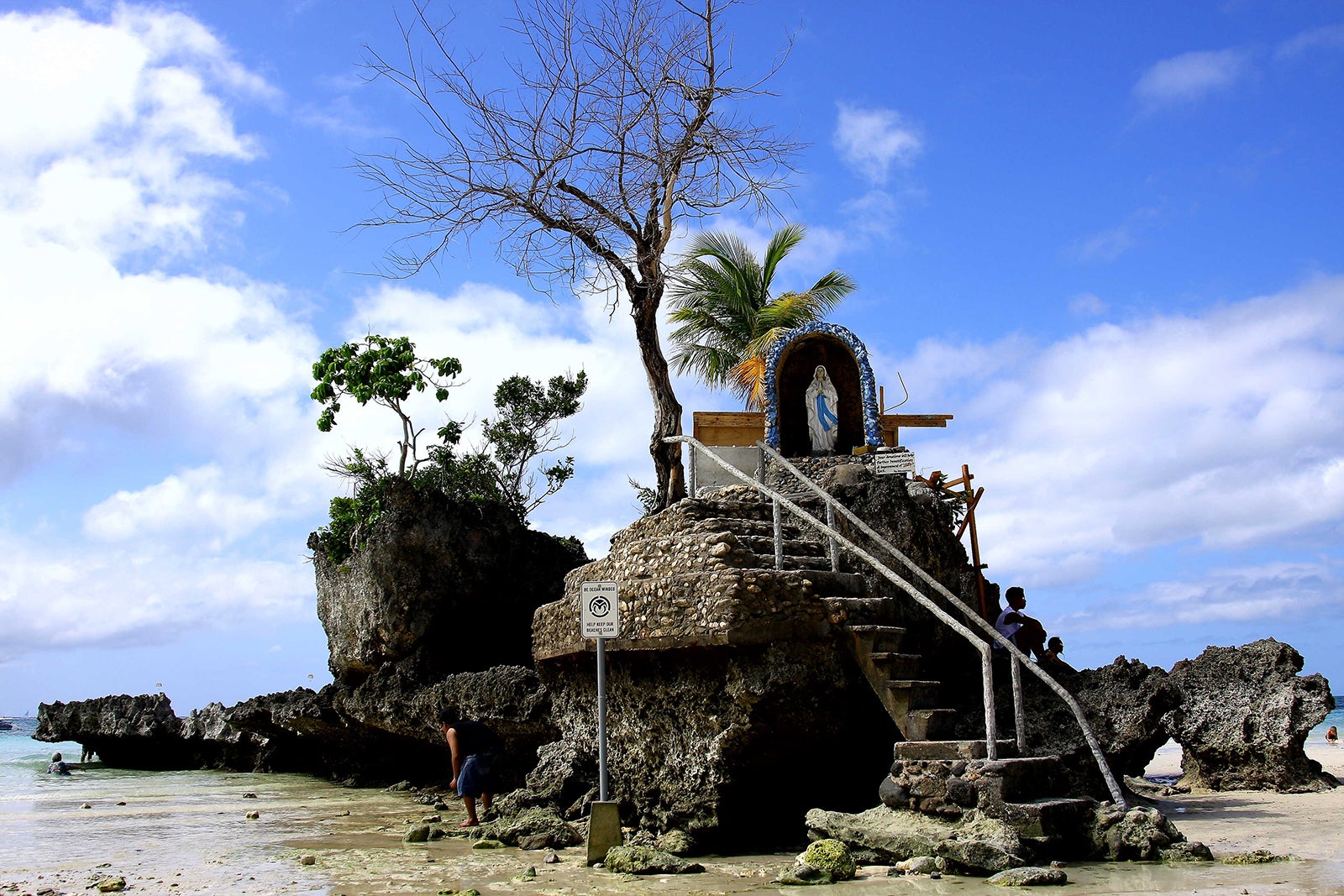 Willy's Rock is a rocky outcrop that forms a tidal island with a statue of the Virgin Mary atop steps carved into the volcanic rock. This volcanic rock formation gets its name from the nearby Willy's Beach Club Hotel.
It's a very popular spot with local people, especially local Catholics, and as a result, it can get a little crowded at times. The manmade staircase leading up to the statue is always wet and can get a little slippery at times, so take care, especially during high tide.
Location: Boracay Tambisaan Jetty Port Rd, Malay, Aklan, Philippines
photo by Zaldy Camerino (CC BY 2.0) modified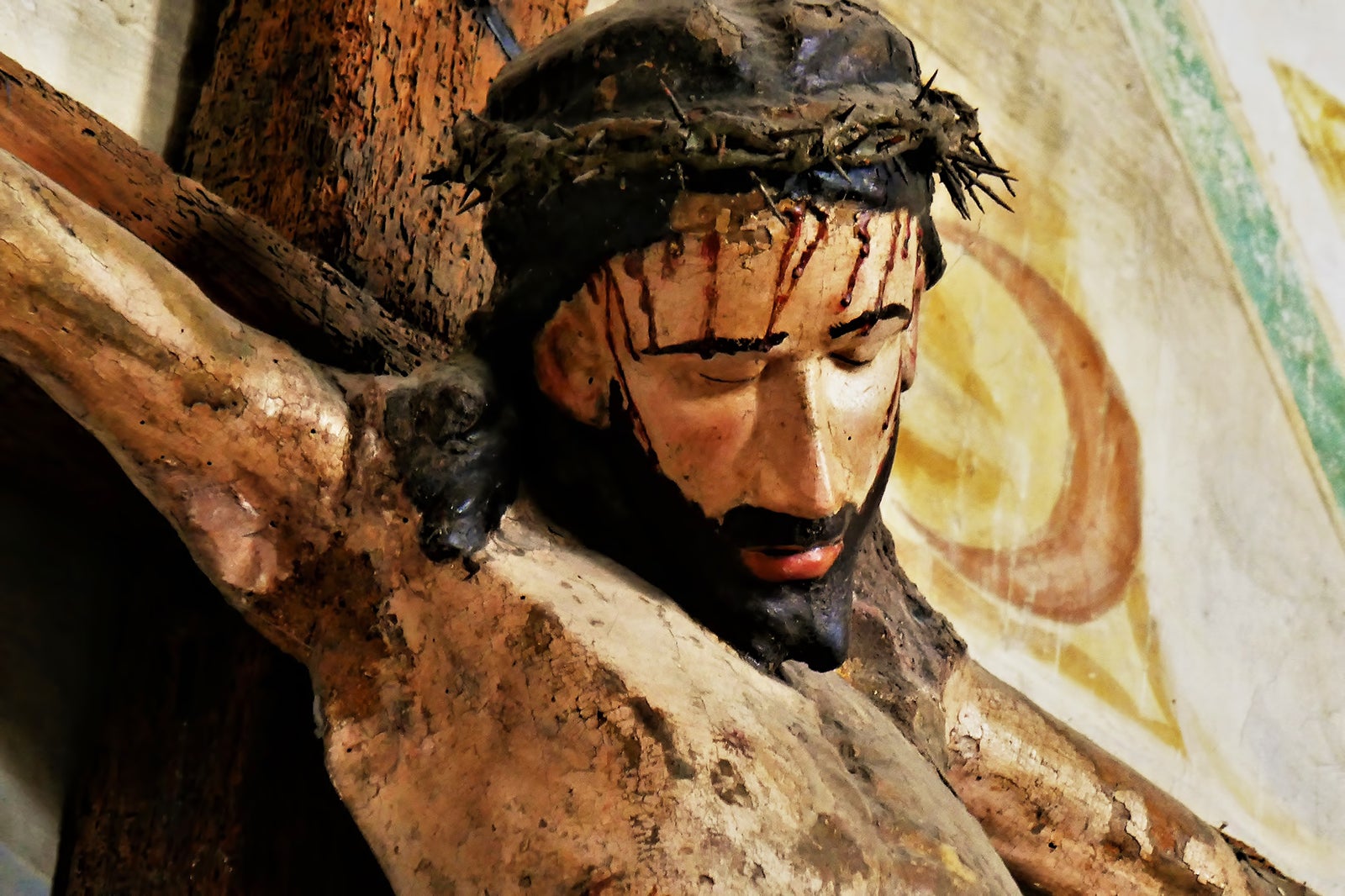 Our Lady of the Most Holy Rosary Catholic Church
Our Lady of the Most Holy Rosary is a Catholic church at Station 1's Balabag Plaza, close to the central area of White Beach. This lovely, well-kept church belongs to the Diocese of Kalibo and is open every day. The church's peaceful atmosphere makes it one of the island's most relaxing place to visit, even if you're secular.
Location: Boracay Highway Central, Balabag Plaza Station 1, Boracay Island, 5608 Aklan, Philippines
Phone: +63 (0)36 288 3219
Couples
History
Photo
Budget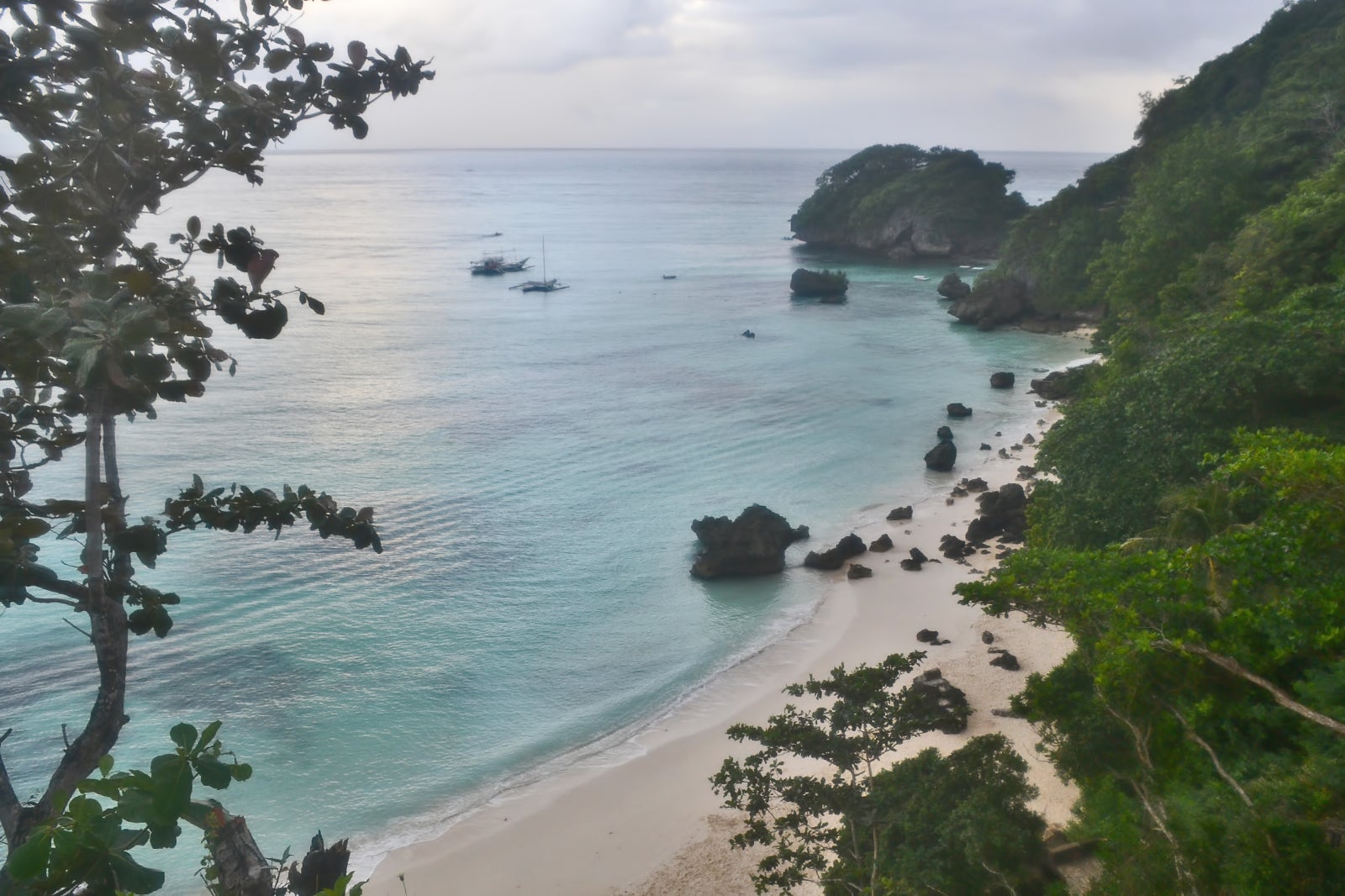 Balinghai Beach is a small cove located north of Diniwid and south of Punta Bunga, on the west coast of Boracay Island. It is semi-private, but you can get to the beach by paying an entrance fee, which you can use as credit for dining at Balinghai Beach Resort's onsite restaurant.
Balinghai Beach is shaded by tropical trees and dotted by big stones. If you're looking for a tranquil spot far from the hustle and bustle of White Beach, this is one of the best spots in Boracay.
Location: Boracay, Malay, Aklan, Philippines
photo by Wallpaperhd.io (CC0 1.0) modified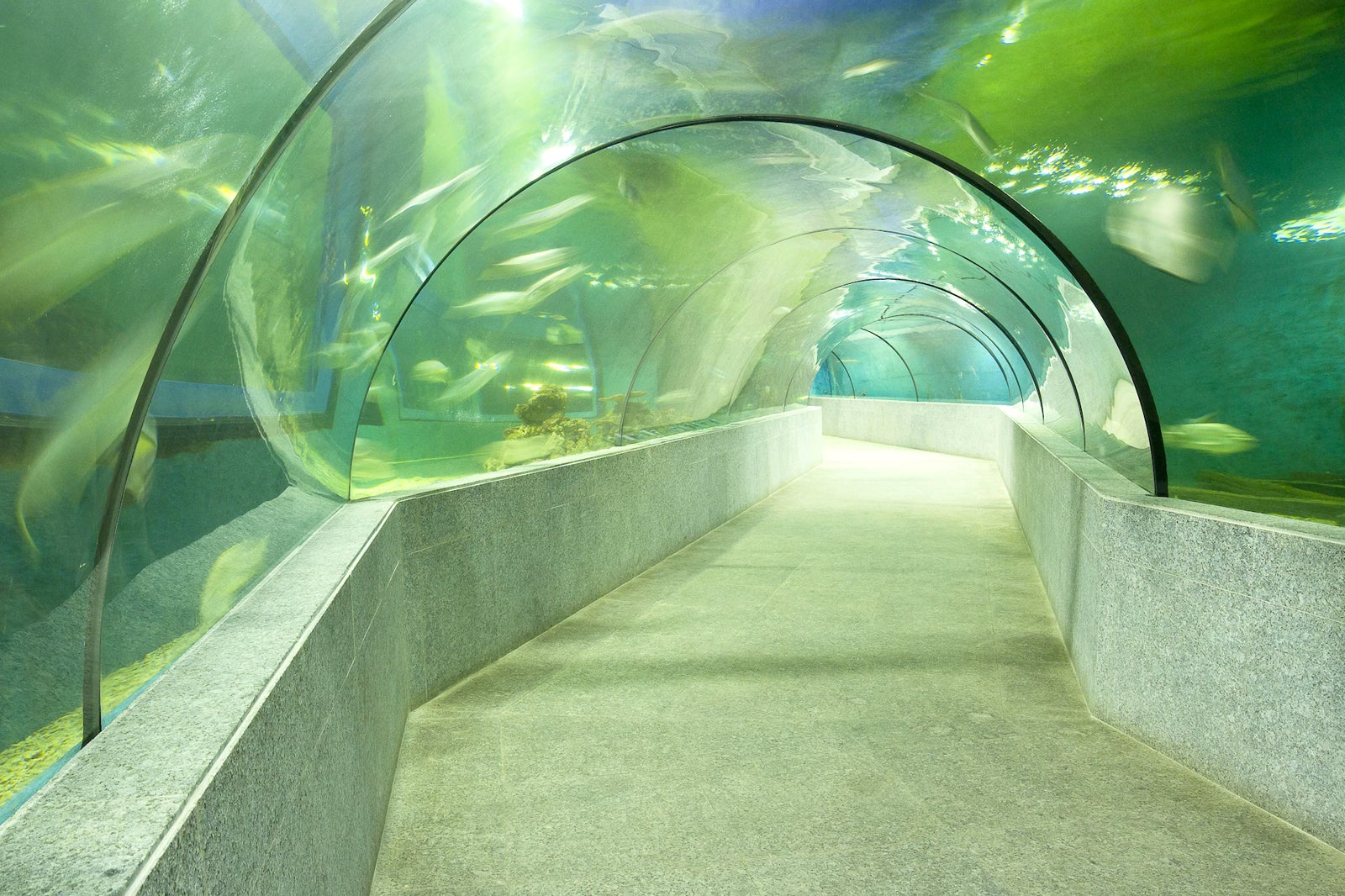 Boracay Oceanarium, located in the basement of the Crown Regency Resort and Convention Center, has the longest underwater tunnel in the Philippines and one of the world's largest pearls. It's one of the top attractions for kids and a good excuse to get out of a torrential downpour during the rainy season.
Guests staying at the hotel would need to pay PHP 400 per person while for non-guests it costs PHP 600, inclusive of a guided tour and snacks. Kids below 6 years old are admitted for free but don't get extra food.
Location: Crown Regency Resort and Convention Center, Station 2, Main Road Barangay Balabag, Boracay Island, Malay Aklan, Philippines
Open: Daily from 9am to 6pm
Phone: +63 (0)36 506 3029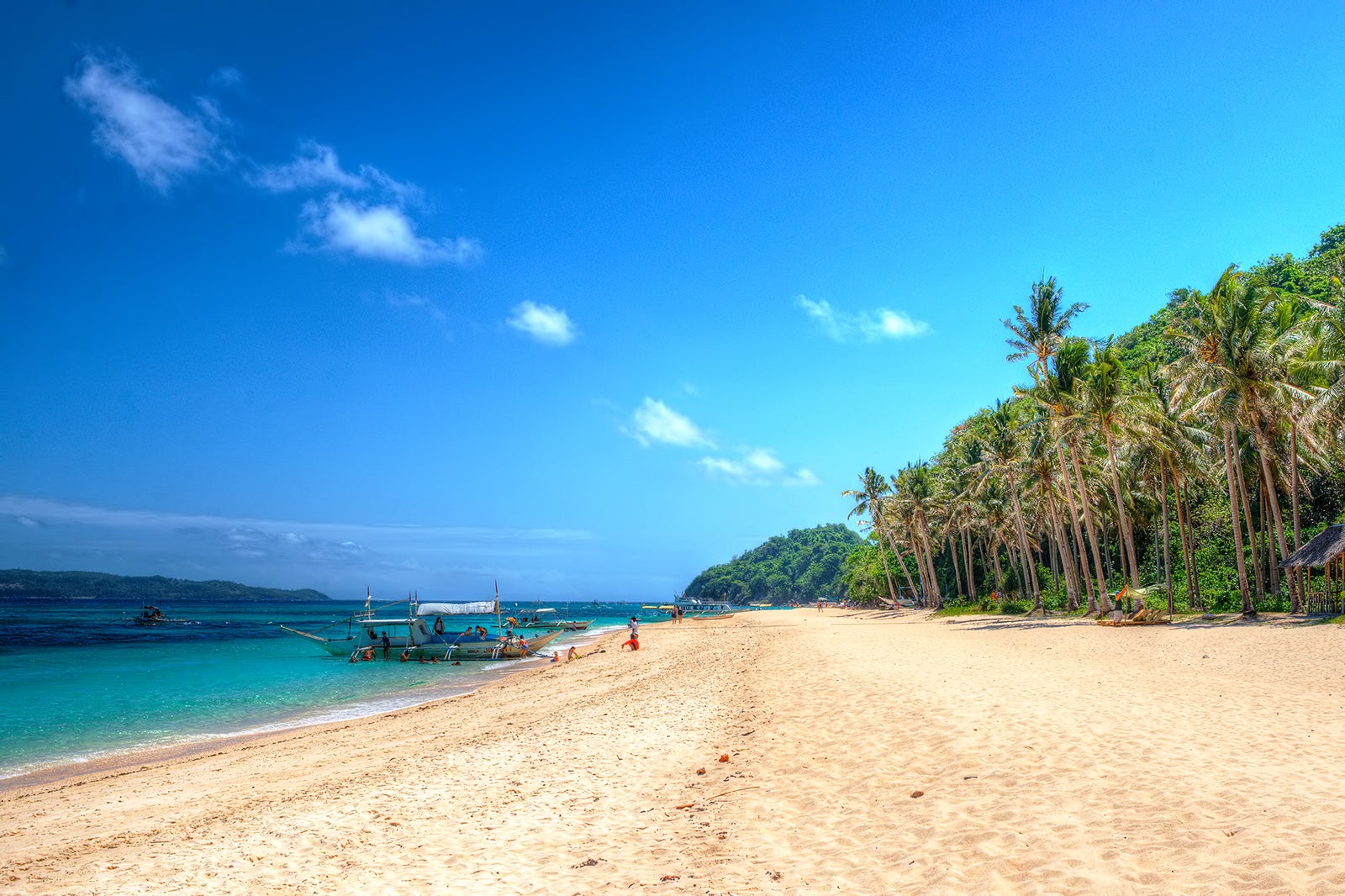 Puka Shell is the northernmost beach on Boracay Island. It is bordered by hills covered with the thick jungle that offer cool shade at the hottest time of the day. The main asset of Puka Shell is its serenity and lack of throng, especially during the morning and late afternoon. Some of the most popular things to do on Puka Shell Beach are kayaking, paddleboarding, swimming, playing beach volley and enjoying a beach massage.
Location: Boracay, Malay, Aklan, Philippines
Couples
Families
Photo
Budget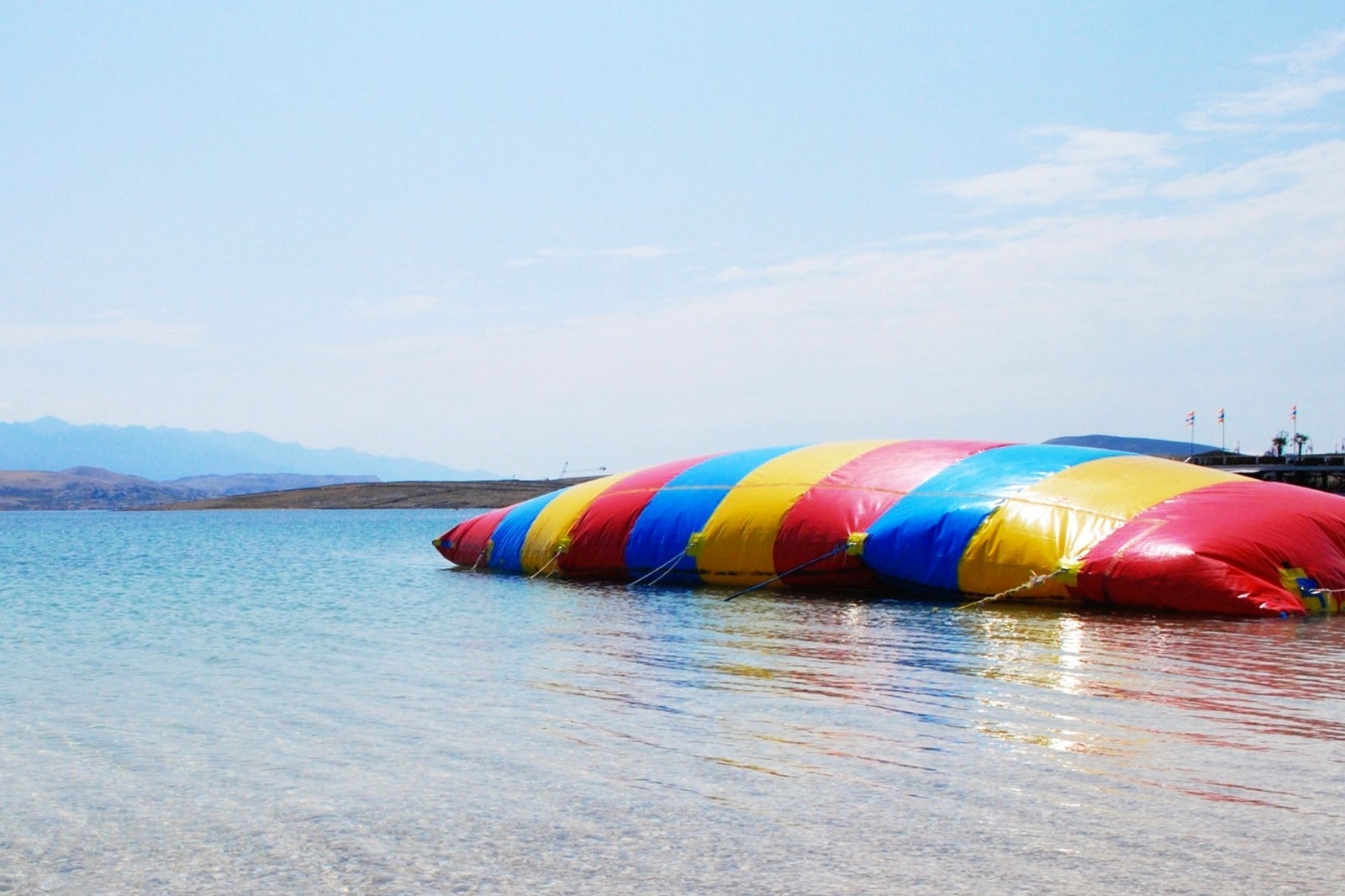 Slides N' Splash Water Park Boracay
Slides N' Splash Water Park Boracay opens up a world of adventure in the calm ocean for both kids and grownups. Featuring a variety of inflatable obstacle courses and water games, it is an extremely fun alternative for those who are done with the usual round of activities on the island. The first of its kind, this inflatable playground is located offshore approximately 20 minutes from the boat station in Bulabog beach.
Location: 0107 Manggayad, Barangay Balabag Boracay, Malay, Aklan 5606, Philippines
Open: Sunday–Monday from 8am to 4.30pm, Tuesday–Saturday from 9am to 5pm
Phone: +63 (0)945 396 2261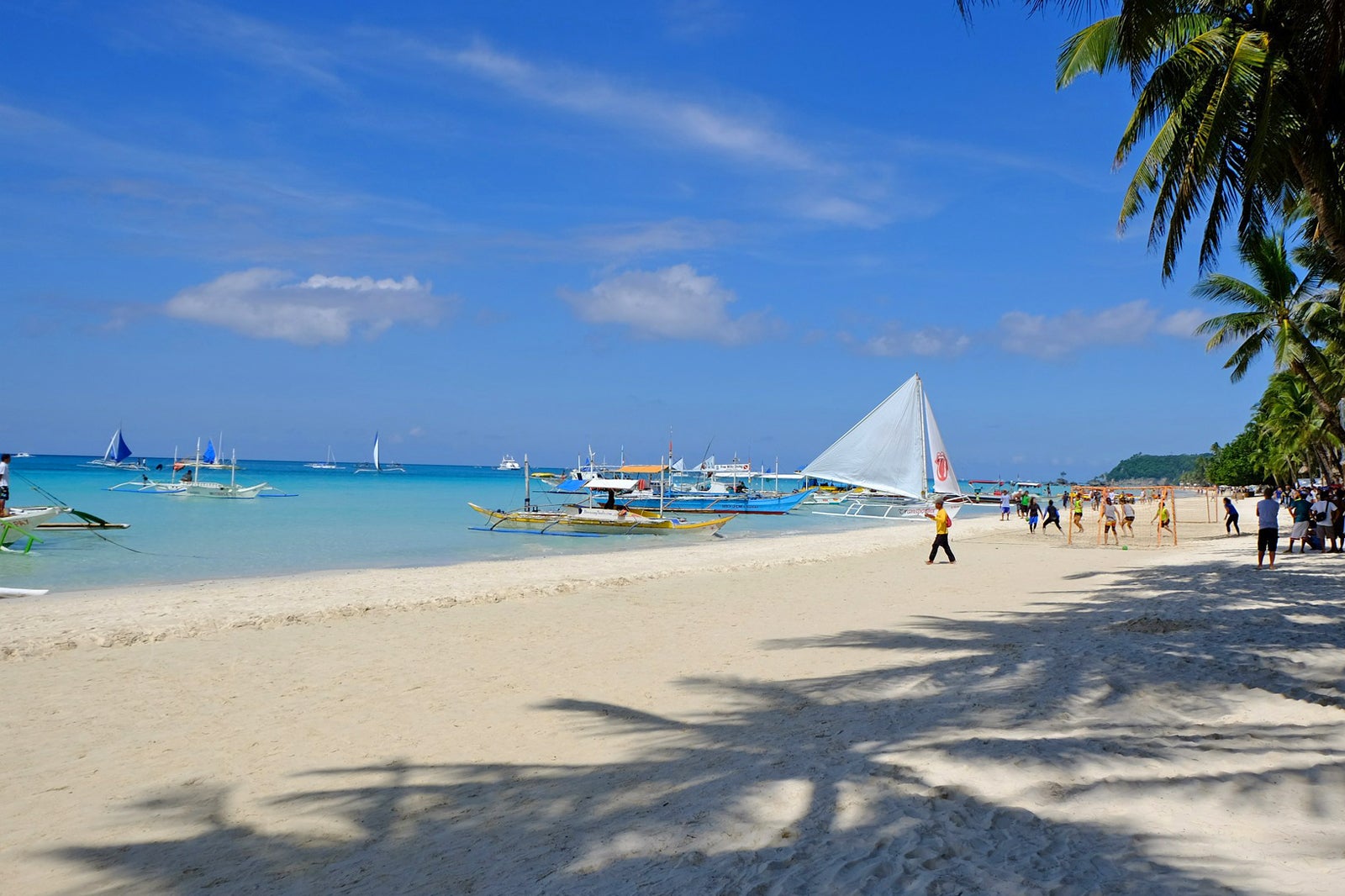 White Beach is arguably one of the most popular strips of sand on Boracay Island. With a length of about 4 km, it occupies half of the island's west coast and offers stunning sunset views. The beach is divided into 3 subareas or stations, each of them with its own specific atmosphere.
Location: Boracay, Malay, Aklan, Philippines
Couples
Families
Photo
Budget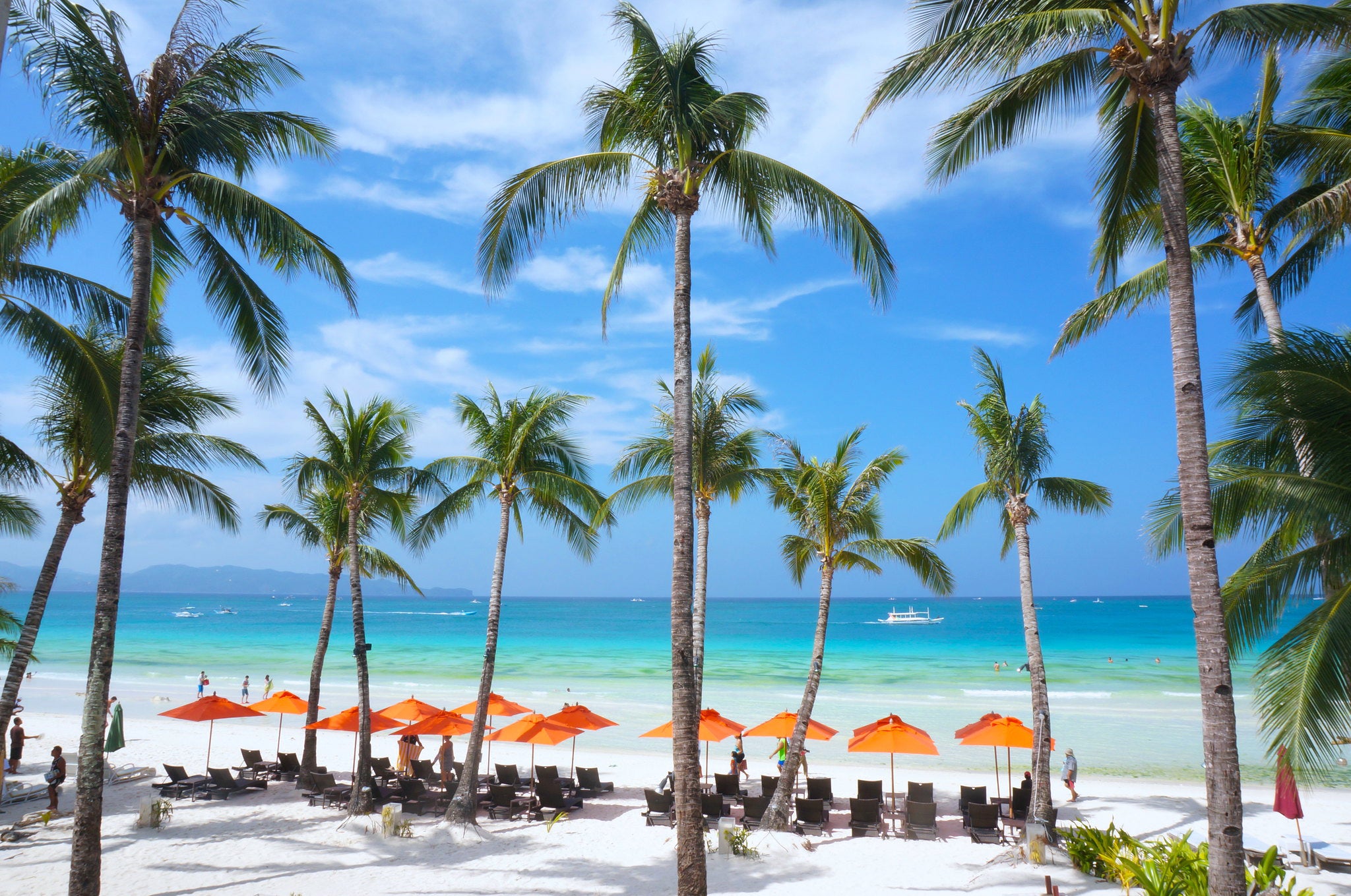 Carabao Island lies around 8 km north of Boracay, offering a pleasant getaway for those looking to escape the packed beaches of Boracay during the high season. It has 2 main beaches – Lanas to the west and San Jose to the east. Boracay has many diving centres and tour companies that organise day trips to Carabao Island by speedboat.
Location: Carabao Island, Romblon, Philippines
Couples
Families
Photo
Group
photo by Lim Ashley (CC BY 2.0) modified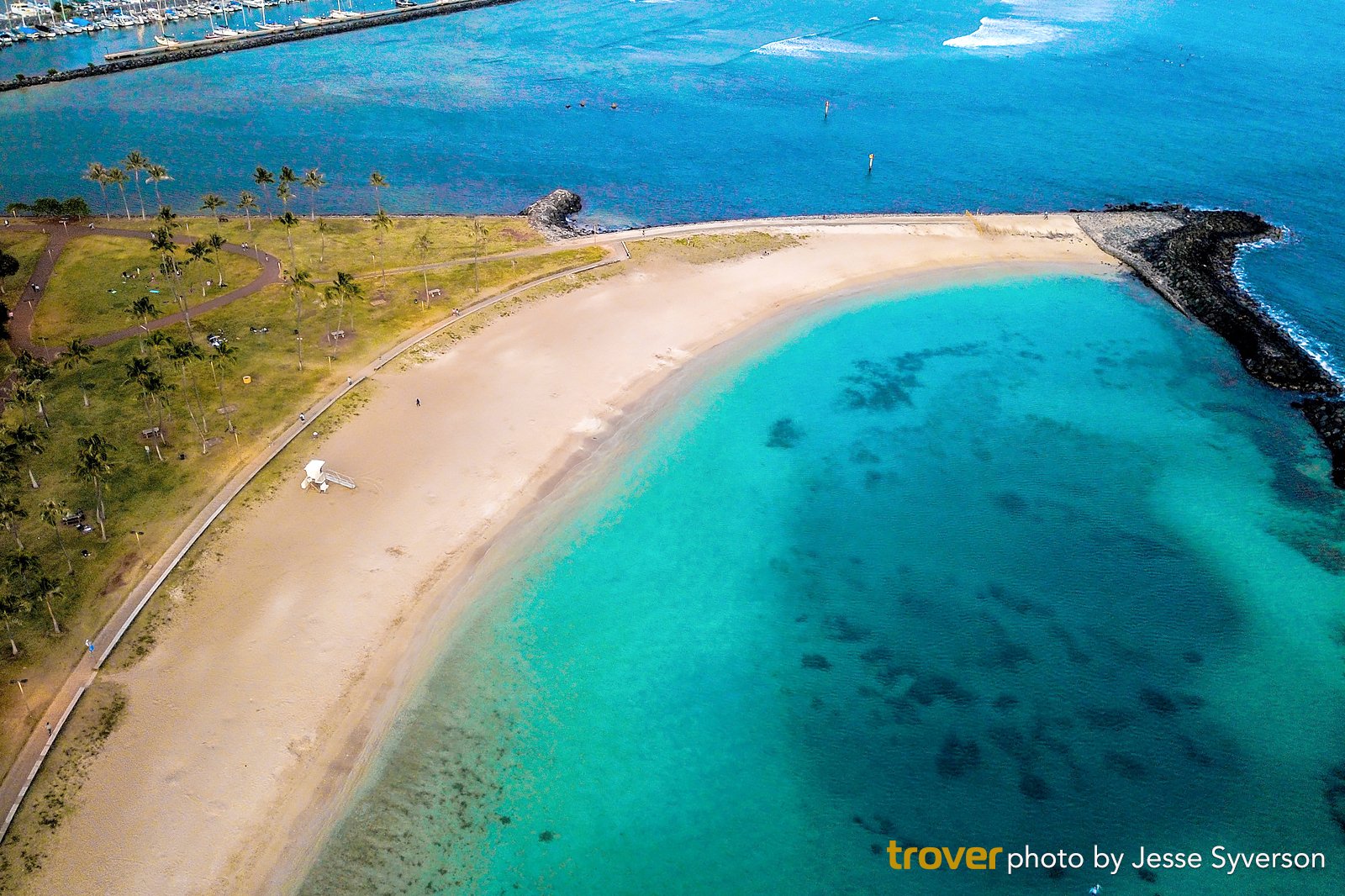 Magic Island is a popular spot for cliff diving in Boracay. There are 5 platforms installed at 3, 5, 8, 9 and 10 metres respectively, right above the Visayan Sea. A local team ensures that everything runs smoothly around the platforms, and makes sure that jumpers get back safely to the shore.
Located south of Crystal Cove Island, you can get there by joining a day trip or simply hiring a boat on any beach in Boracay.
Location: Magic Island, Malay, Aklan, Philippines
Couples
Families
Photo
Adventure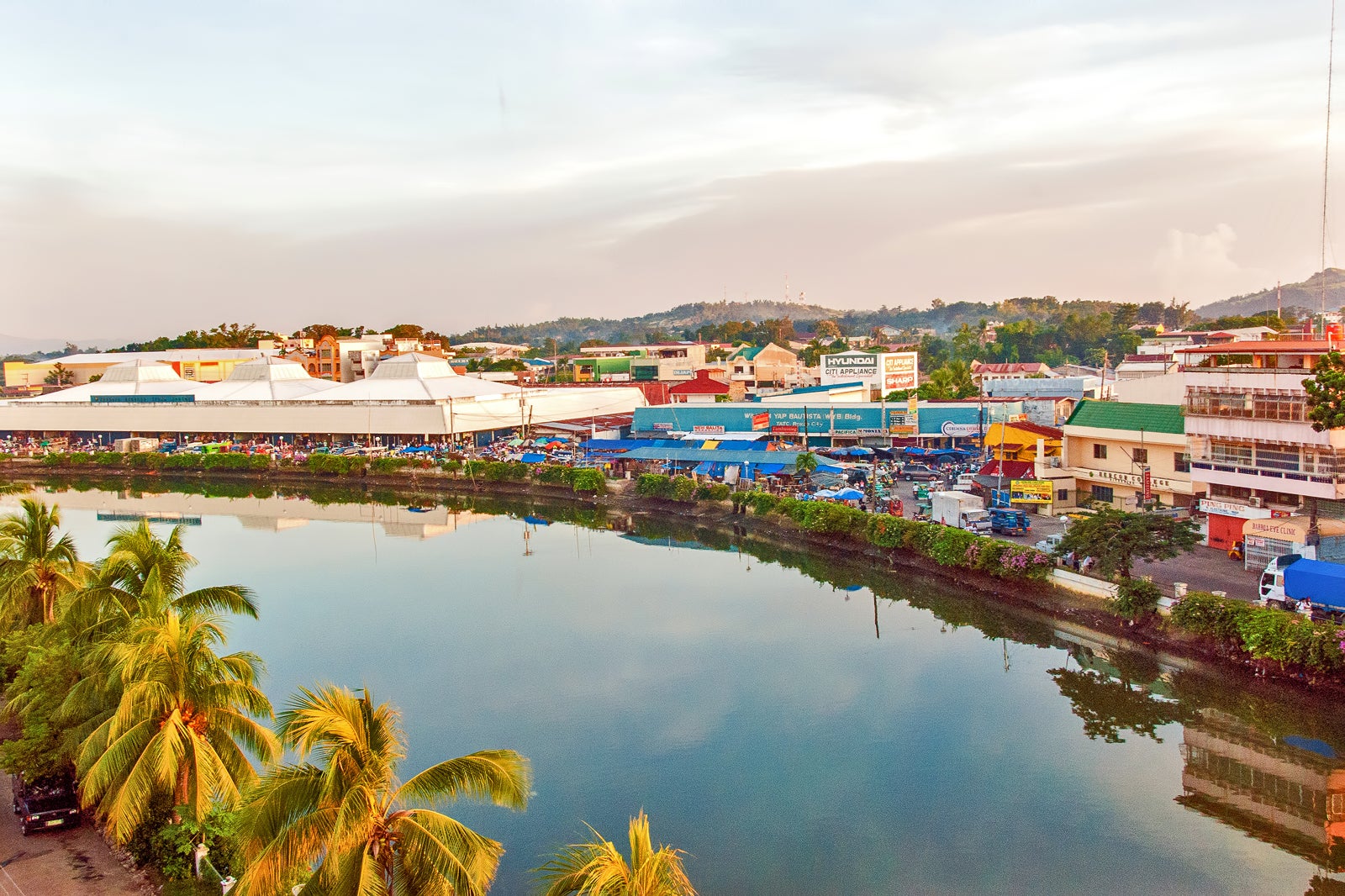 Panay is one of the largest islands in the Philippines. Practically continent-sized compared to Boracay Island, it spans over 12,011 sq km while Boracay covers around 11 sq km.
Panay serves as the landing point of all visitors to Boracay thanks to its 2 airports – Kalibo and Caticlan. The island is also a popular day-tripping destination from Boracay. Ariel's Point is an eco-friendly seaside resort on the northwest coast, where you can enjoy cliff diving and sea kayaking.
Location: Panay, Western Visayas, Philippines
photo by Francisco M. Pajares, Jr. (CC BY-SA 4.0) modified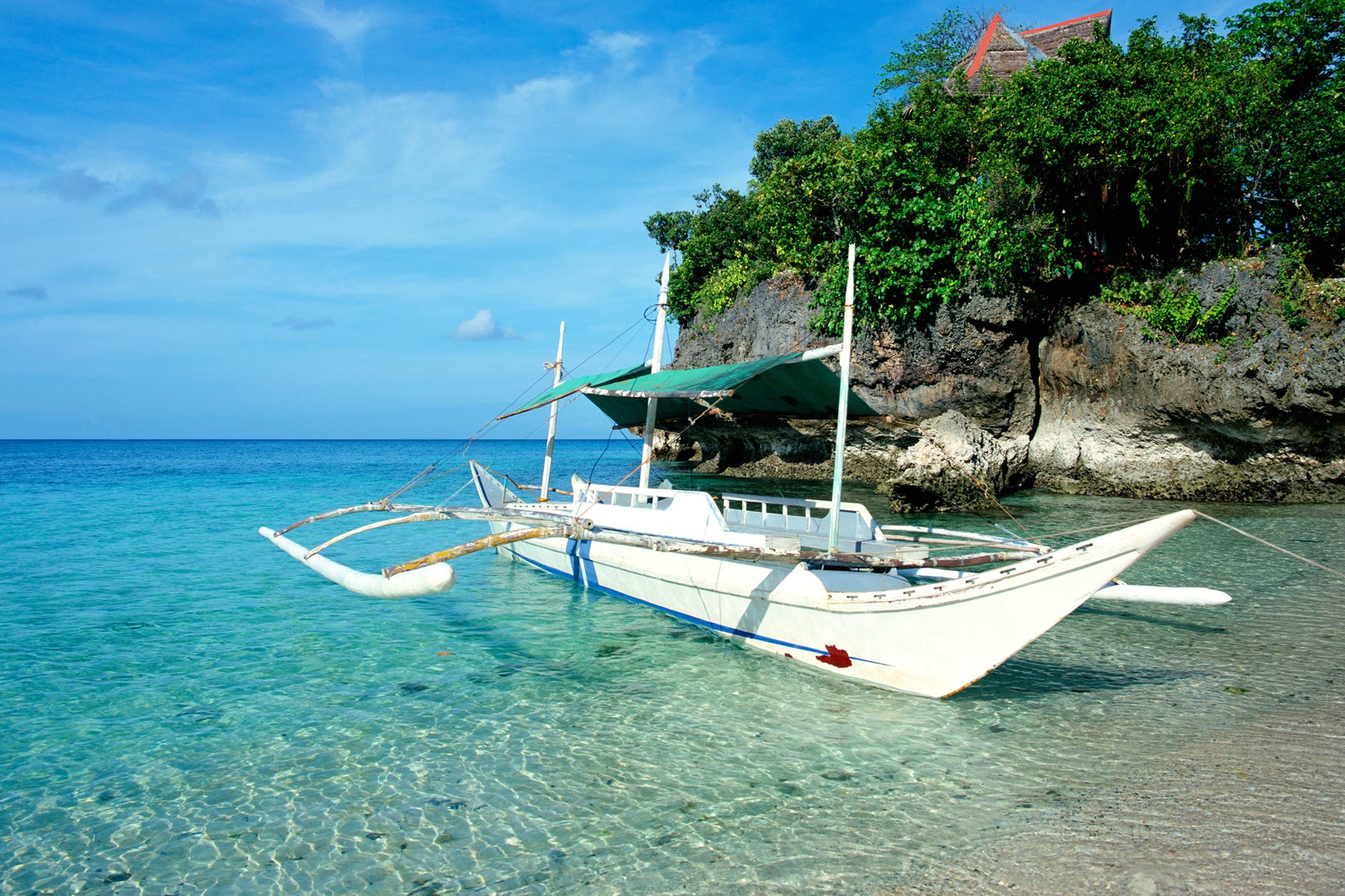 Island hopping is a prime activity in Boracay, as a good number of tropical islands can easily be reached by boat tours. Crocodile Island, Crystal Cove (aka Lauren), and Magic Island are the 3 closest and most popular islands to visit from Boracay.
These destinations offer a wide range of activities, from snorkelling to cave exploration and more. Many island-hopping tours are available from Boracay, with tour operators found in all main resort areas.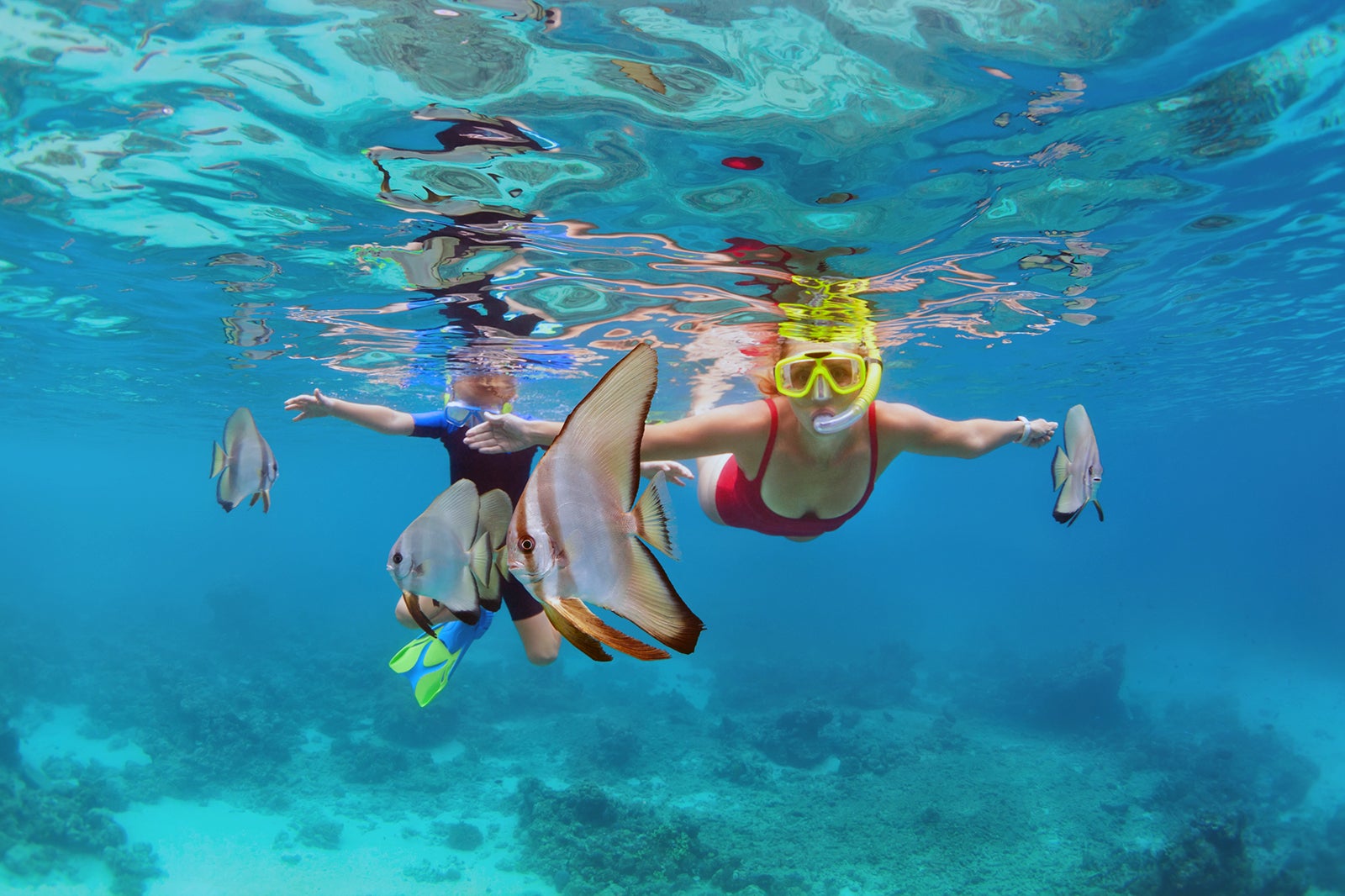 Boracay Island has its fair share of great snorkelling spots. The best beach for snorkelling in Boracay is Bulalog. Located on the east coast of the island, it hosts an impressive marine life accessible from the beach. The downside is that it is often crowded with snorkellers.
Ilig-Iligan Beach is another excellent snorkelling spot, as well as Tambisaan Beach, though the latter doesn't feature as many fish species as Bulalog. One of the best snorkelling sites in the area is located a few hundred metres off Boracay, surrounding Crocodile Island. You'll find here an impressive underwater fauna and flora bathing in crystal-clear waters.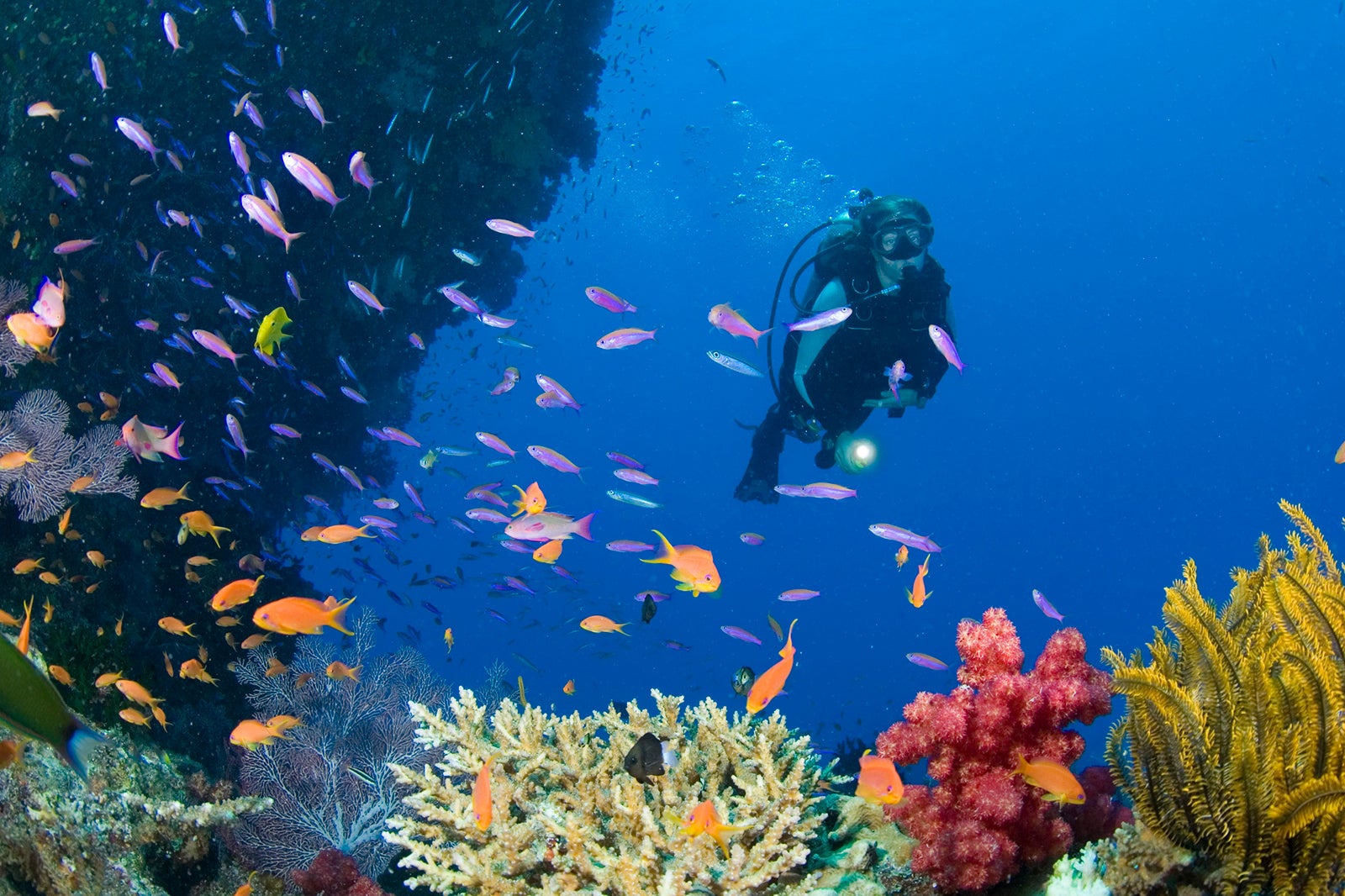 Both beginners and more experienced divers can enjoy scuba diving in Boracay. There's a good choice of dive centres at hand. most of which can be found on White Beach.
The waters surrounding the island host around 25 dive sites that are reachable via a short boat ride. The most famous dive site near Boracay is Crocodile Island. It's especially good for underwater photographers as it hosts many critters and nudibranchs. The best time to dive in Boracay is from April to June.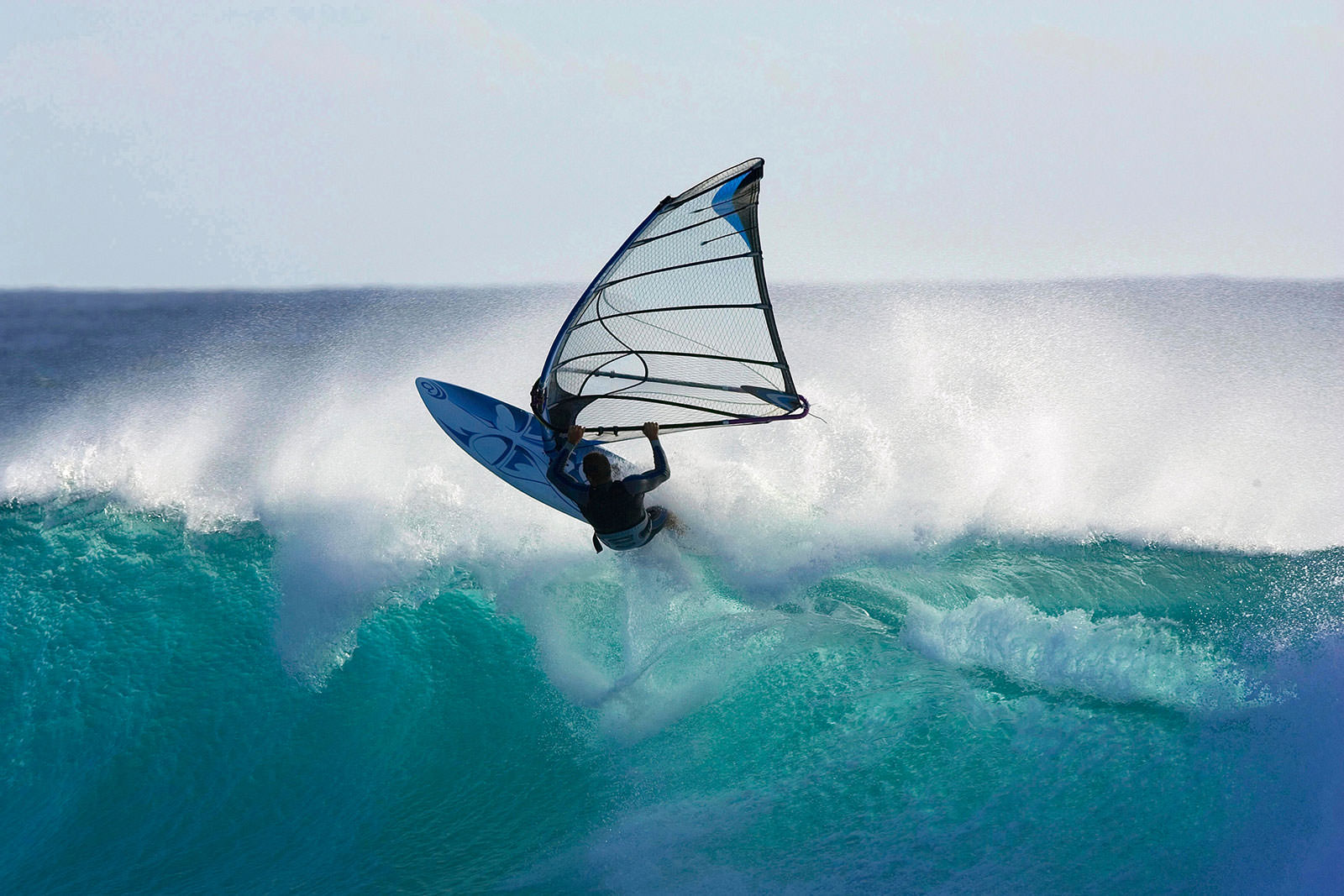 Windsurfing, kite surfing and SUP
Due to its position in the Visayan Sea, Boracay is a really good spot to enjoy windsurfing, kitesurfing and stand-up paddleboarding. Obviously, these cool water sports are not practised at the same place and time. Bulalog Beach, on the east coast of the island, is a renowned windsurfing and kite-surfing spot, especially during the dry season (from June to October).
SUP (stand up paddle) boarding can be experienced all around the island, but it's most popular at White Beach. The Boracay Beach Club and Enrico's Paddle Board Rentals Boracay are where you can rent SUP boards near White Beach.
Located on the flank of Mount Luho (the highest point in Boracay), Happy Planet Boracay Zipline & Cable Car takes you for an exciting ride over a superb view of the northern coast of the island, with Ilig-Iligan Beach right in front of you.
The flight lasts less than a minute but it's quite exhilarating. A cable car takes you back to the departure point in a far slower way and gives you the opportunity to take panoramic photos from this unique viewpoint.
Location: Boracay Mount Luho Rd, Malay, Aklan, Philippines
Phone: +63 (0)999 813 1559
photo by Wallpaperhd.io (CC0 1.0) modified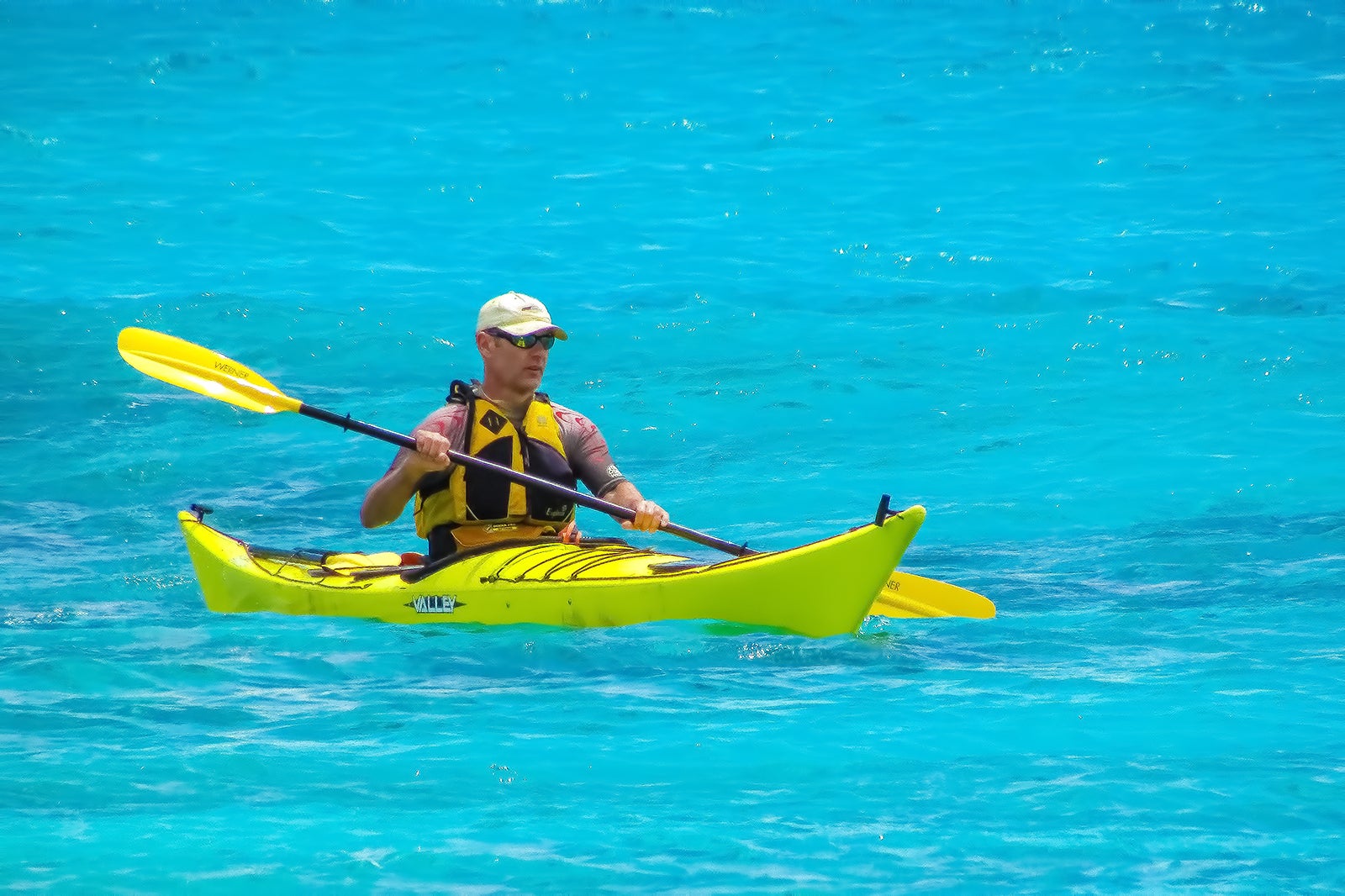 Kayaking is a big activity in Boracay. If you're a novice, you can simply kayak along the beaches and explore the rocky parts of the coast. Experienced kayakers don't hesitate to do a complete circle around the island, but at 20 km, it's definitely not for everyone!
If white-water kayaking is your thing, head over to Panay Island, which is an hour-long drive from Caticlan. You can rent a kayak and go by yourself from any beach (rates cost around PHP 500 per hour or PHP 1,500 for the whole day), or join a day tour (kayaking is usually included).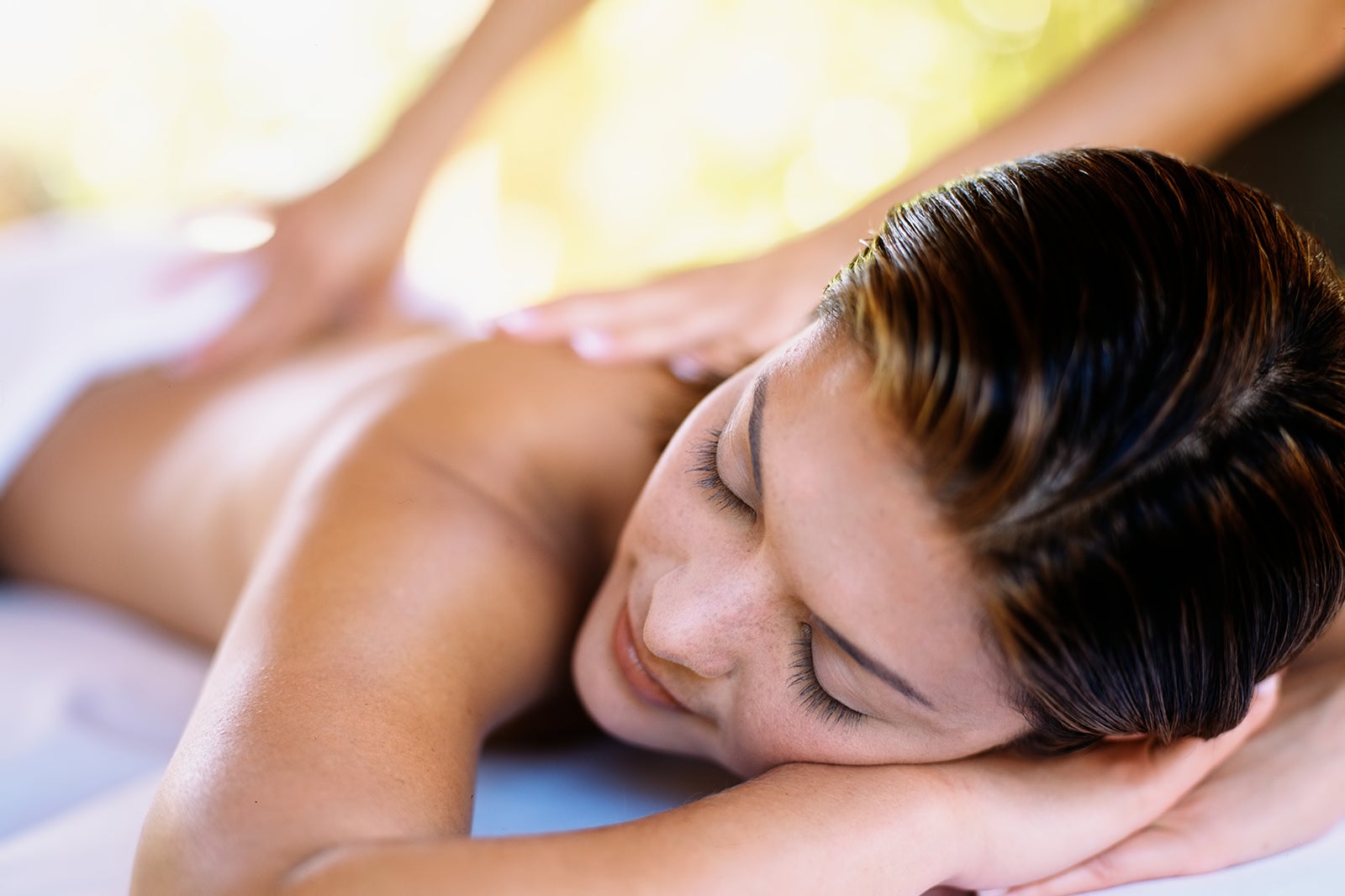 Spa and massages are readily available in Boracay and usually covers any budget level. The cheapest option, which is certainly the most popular, is a beach massage. If you want to indulge in a more comfortable – and less sandy – setting, there's a good choice of spa salons available in the 3 stations along White Beach, and near Bulalog Beach.
Prices are more expensive than beach massages, but the treatments and massages are more refined. You can also book a stylish spa resort such as Shangri-La Boracay and Mandala Spa & Villas.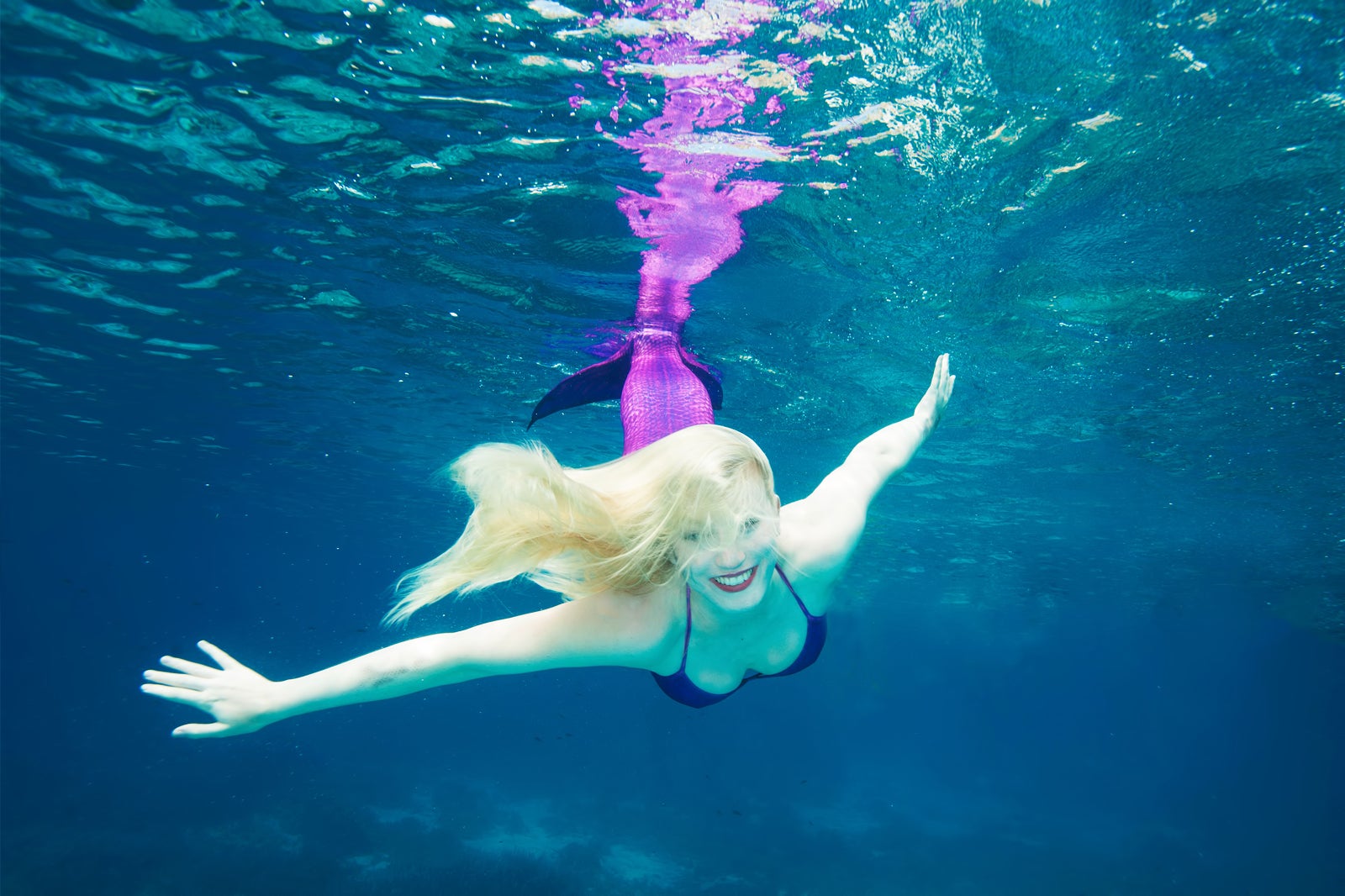 Fancy trying out an unusual water activity in Boracay? The island is home to the Philippine Mermaid Swimming Academy, where you can learn to swim (and look) like a mermaid.
You'll wear a colourful tail made of spandex and proper fins during your lessons. Mermaid swimming courses in Boracay have 5 levels, and mermaid tails can also be used while scuba diving. It may sound like a joke – especially for men who look rather cute with a mermaid tail, but it's a fun way to get active in Boracay. Of course, it makes for really nice photos as well.
Location: Fisheye Divers, Boracay Island, Malay, 5608 Aklan, Philippines
Open: Daily from 8am to 8pm
Phone: 63 (0)36 288 6090
photo by Grace Page (CC BY-SA 4.0) modified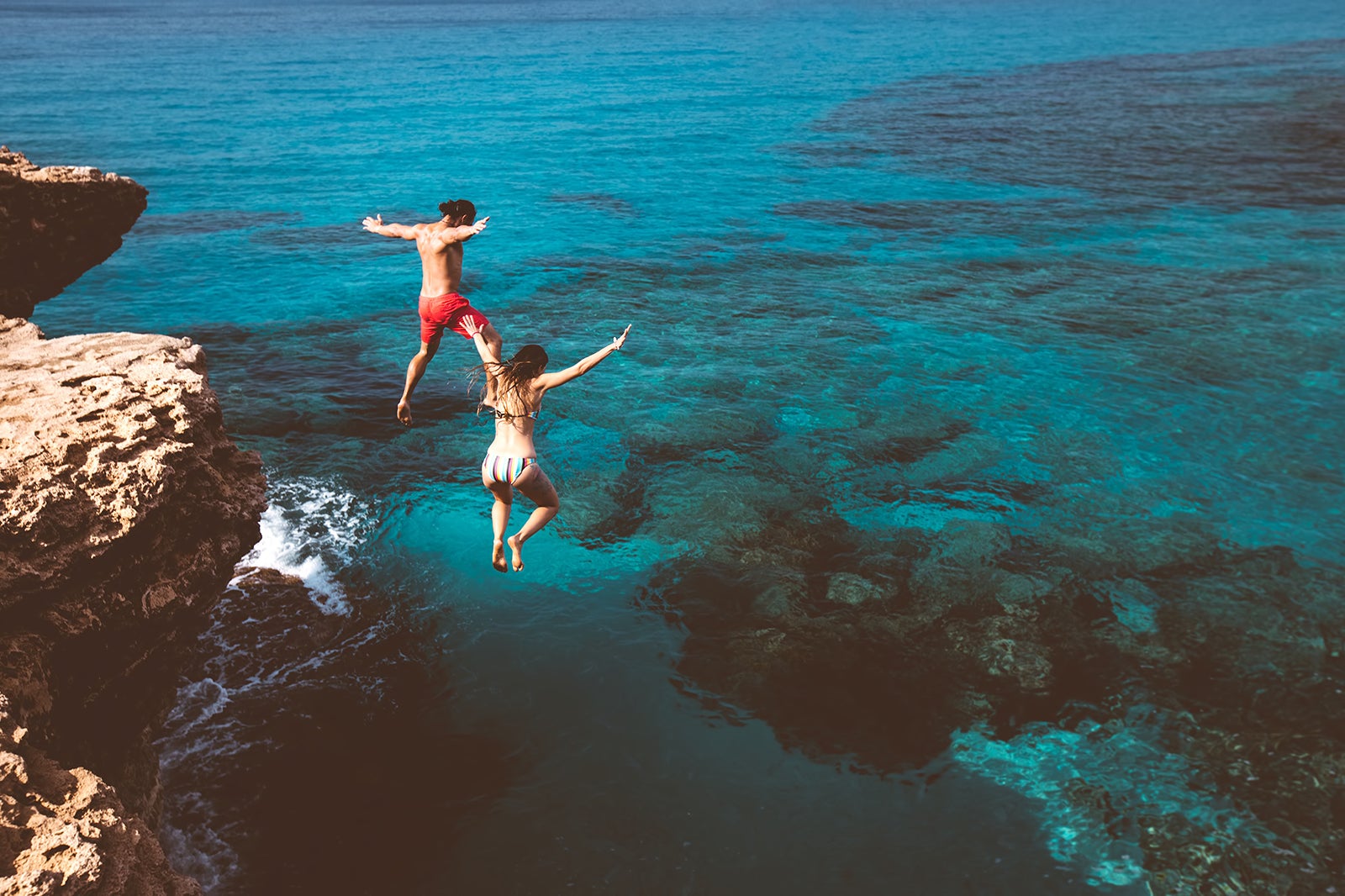 Cliff diving might be rather hazardous and risky, but the opportunity of jumping in the water from high perched seaside rocks is part of many island-hopping day trips. One of the most famous places to engage in this thrilling activity is Ariel's Point, located on Panay Island.
There are 5 cliff diving platforms that are properly supervised to ensure that everything goes fine for the divers. Magic Island is another popular cliff diving spot, and on Boracay Island itself, you'll also find a few cool spots to jump from.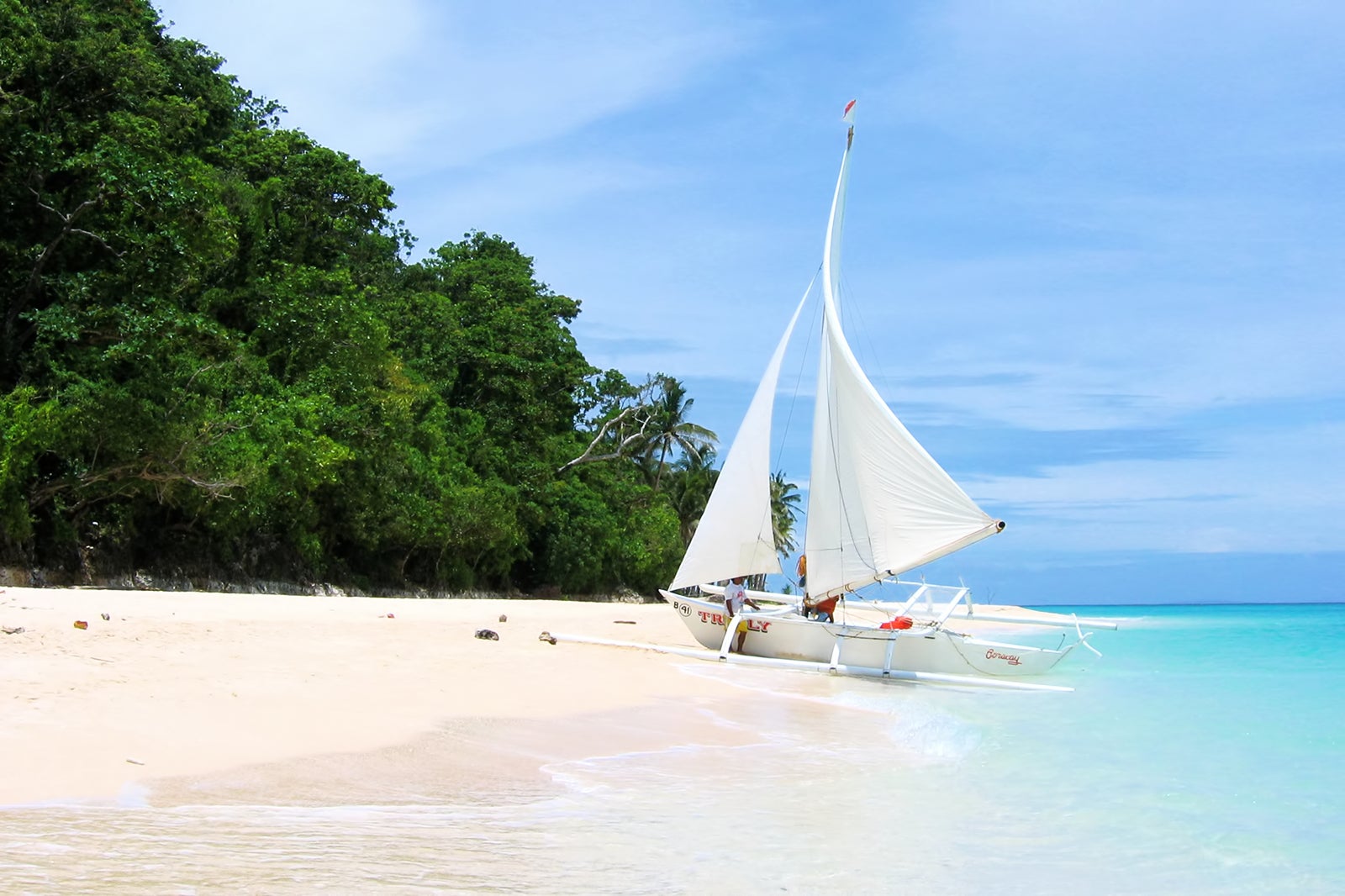 A paraw is a sailing boat native to the Visayas region of the Philippines. It's usually of modest dimension and has 2 outriggers and 2 sails. Joining an island-hopping day or sunset trip onboard a paraw is an exciting activity to enjoy while on holiday in Boracay. There are plenty of tours operating from White Beach.
photo by Angelo Juan Ramos (CC BY 2.0) modified