Zevenlandenhuizen, or the Houses of Seven Countries, is a one-of-a-kind architectural project in the Vondelparkbuurt neighbourhood of Amsterdam. This landmark is a row of 7 houses completed in 1894 when this district was at its most prosperous.
Zevenlandenhuizen was built in a period of great interest in far and exotic destinations, which translated in this creative plan by the Dutch architect Tjeerd Kuipers. Each of the 7 houses represents a European country by illustrating certain architectonic features of building styles used in those countries.
The houses that stand shoulder to shoulder in Roemer Visscher Street depict German, French, Spanish, Italian, Russian, English, and Dutch house designs. The most thorough way of discovering Zevenlandenhuizen is by staying at the English cottage house, as it's one of Amsterdam's most popular hotels.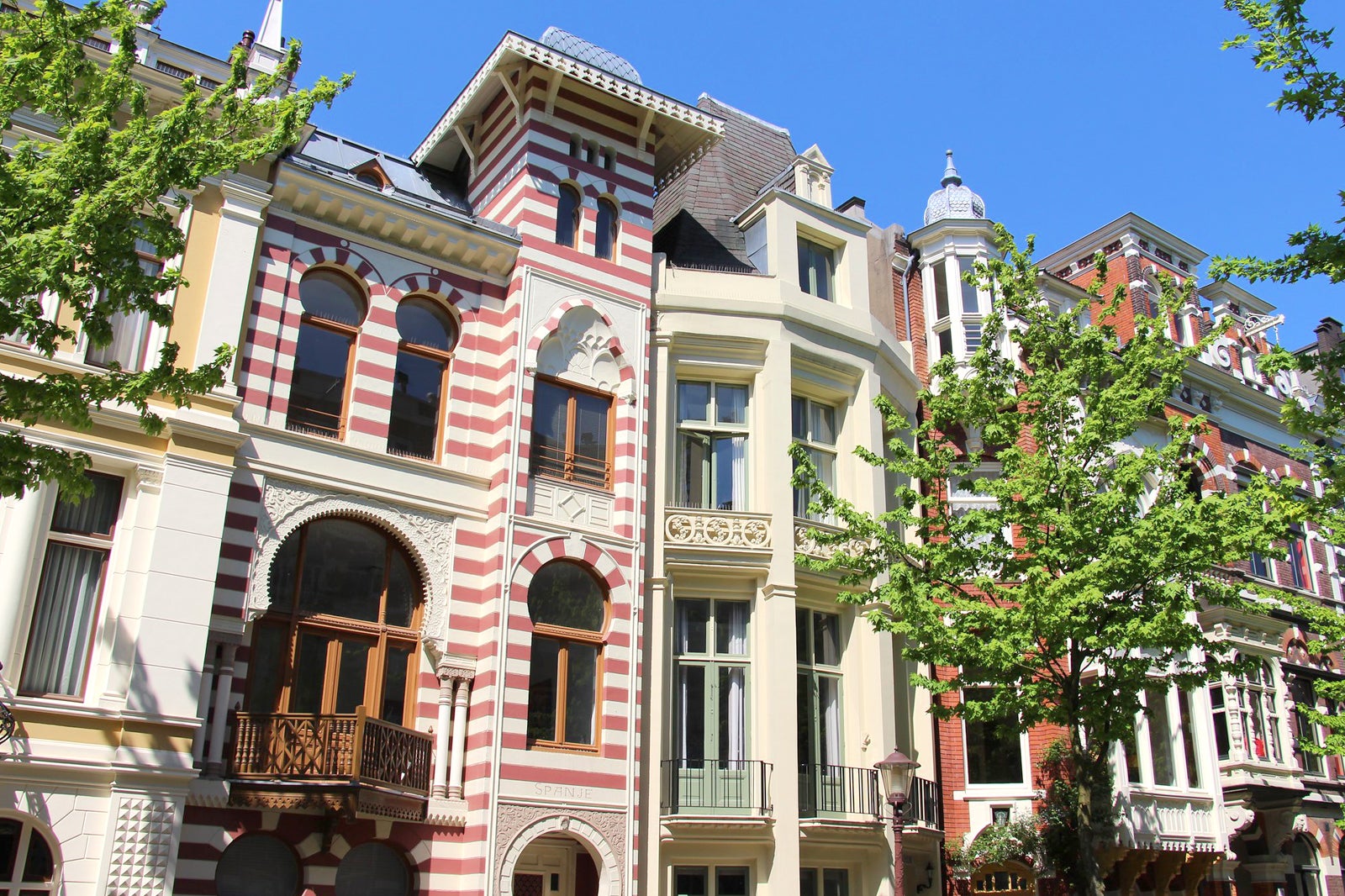 What are the highlights and features of Zevenlandenhuizen?
This unique attraction in Amsterdam was an ambitious idea that sprouted from the mind of architect Tjeerd Kuipers by the end of the 19th century. Although this architect created over 50 churches, this residential project was one of his finest achievements.
The 7 facades are pretty astounding, ranging from a Romanticist German house to a chateau-like French dwelling. The Russian house is topped with a dome, while the Spanish house is based on a villa with Moorish influences, and the English one represents a traditional cottage. The Italian residence imitates a neo-classic palace, while the Dutch house is inspired by the Renaissance era. To avoid any confusion about the 'nationality' of the houses, the names of the country they represent is stated on each house.
Together, the 7 houses blend into one photogenic block that adds colour and creativity to Amsterdam's street scenes. They also make for a unique sight that can't be seen somewhere else in Amsterdam or beyond.
A brief history of Zevenlandenhuizen
The Houses of Seven Countries were designed by Tjeerd Kuipers and commissioned by Sam van Eeghen, a notable merchant and politician. This row of 7 unique residences was a product of exoticism, a dominant art trend in Europa that drew ideas from far-flung countries and cultures.
Zevenlandenhuizen did – and still does – perfectly fit in the Roemer Visscher Street and the Vondelparkbuurt, an upscale neighbourhood where only the ritziest residences were built in the late 1800s.
Despite its intriguing history, Zevenlandenhuizen is often overlooked by many tourists as other monuments like Dam Square and Oude Kerk attract much bigger crowds. If you're close, it's recommended to walk through the street and see all 7 houses for yourself.
Good to know about Zevenlandenhuizen
It's only possible to take in Zevenlandenhuizen from the outside, as none of the houses is open to the public. Most function as office buildings nowadays, though the English cottage house is repurposed as a charming hotel. Book your accommodation well ahead, especially if you're planning a visit in summer.
All of the houses are perfectly visible from the outside, with unobstructed views from the other side of the street. The Houses of Seven Countries occupy numbers 20 to 30A in the Roemer Visscher Street, on the street side with even numbers only.
Close to this odd collection of houses are several highlights of Amsterdam, such as Vondelpark and Stadsschouwburg (International Theatre Amsterdam). You can see paintings by the Netherlands' most legendary masters in the Rijksmuseum and Van Gogh Museum.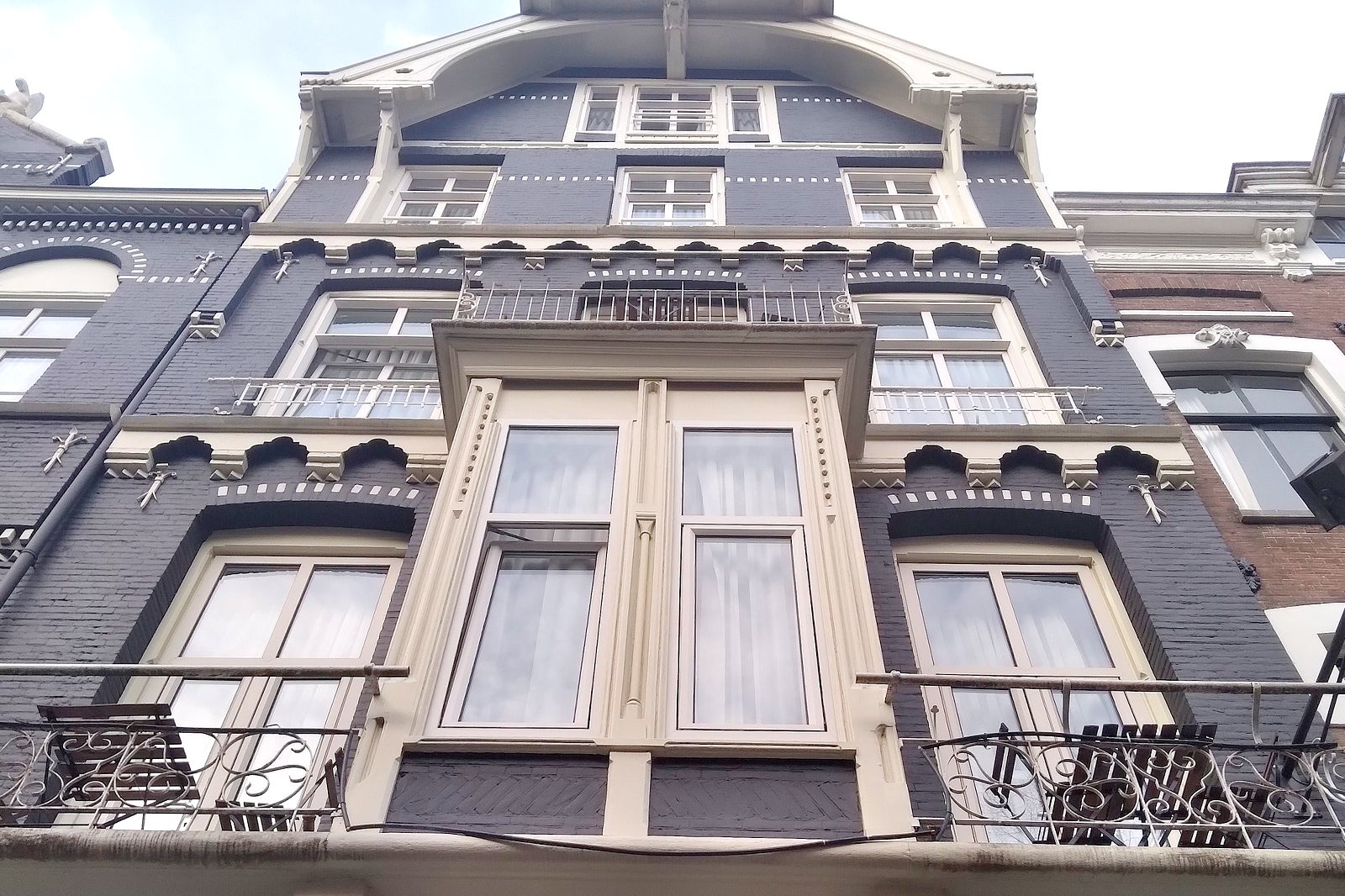 Zevenlandenhuizen in Amsterdam
Location: Roemer Visscherstraat, 1054 EZ Amsterdam, Netherlands
Back to top