10 Best Things to Do in Cabo San Lucas
What is Cabo San Lucas Most Famous For?
Cabo San Lucas is a Mexican coastal town on the southern tip of the Baja California Sur Peninsula. This trendy vacation spot rarely disappoints – you'll be enjoying iconic sights such as the Arco de San Lucas and Mount Solmar, together with water-based activities like whale watching, snorkelling, and surfing.
From savouring authentic Mexican food to vintage-shopping the day away, Cabo San Lucas has plenty of exciting entertainment for couples and families alike. Check out our guide of the best things to do in Cabo San Lucas.
What are the best things to do in Cabo San Lucas?
1
Arco de San Lucas
An arc-shaped rock formation at the southern tip of Cabo San Lucas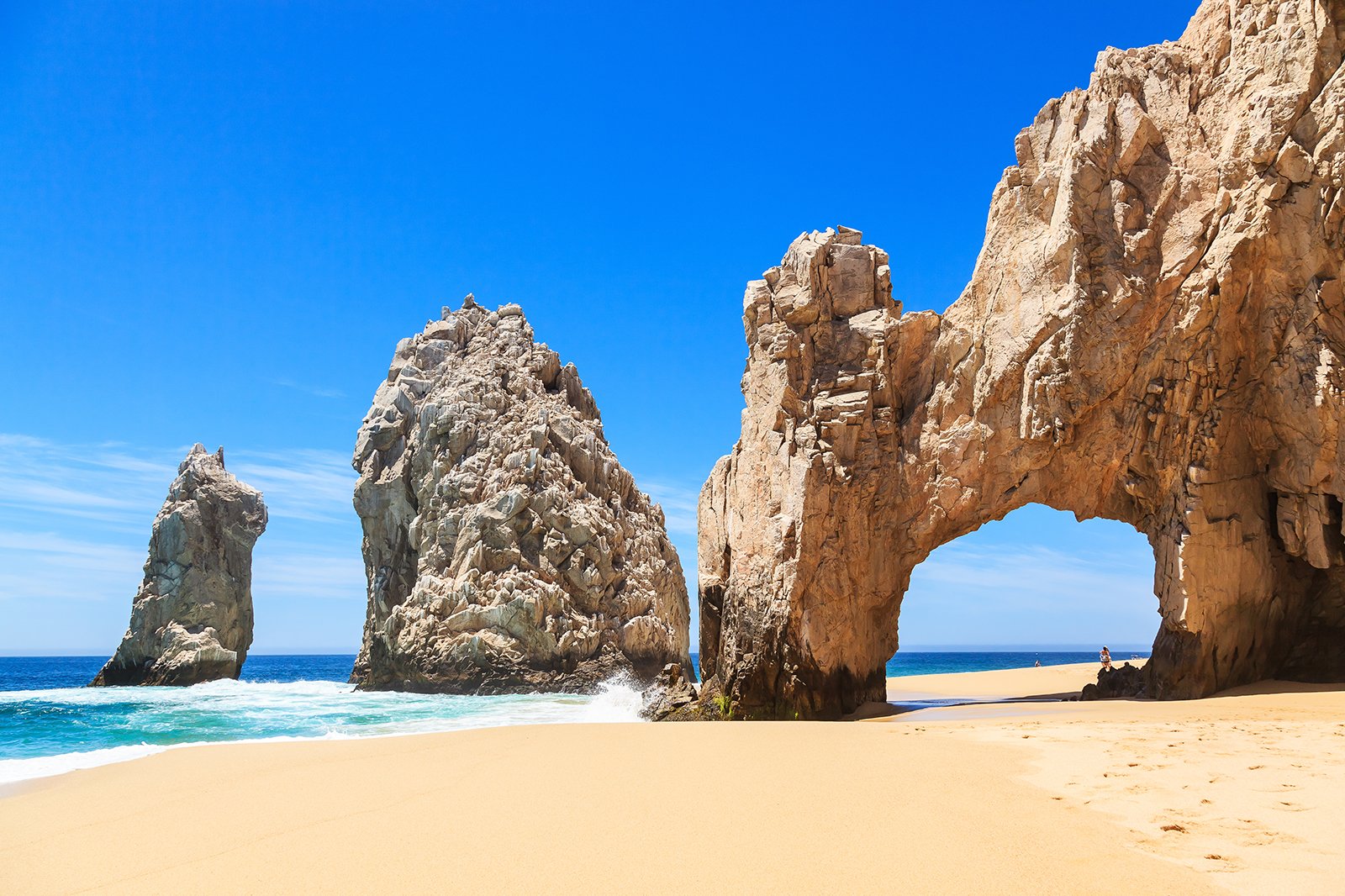 The Arch of Cabo San Lucas is a prominent rock formation marking the southernmost point in Cabo San Lucas. Often referred to as El Arco, the arch is only accessible by water taxi from the downtown marina. Land's End is one of the most romantic spots to see the sunset – you might even see sea lions gathering along the Los Frailes rock formation.
Many tourists arrange for a glass-bottom boat tour, which allows you to see the sea life below. Land's End is where the Pacific Sea meets the Sea of Cortez, so currents are strong - swimming isn't encouraged in the area.
Location: Cabo San Lucas, Baja California Sur, Mexico
2
Lovers Beach
Sunbathe with views of white sands and rock formations
Couples
Budget
Families
Photo
Playa del Amor (Lovers Beach) is a secluded beach in the southernmost coast of Cabo San Lucas. It's relatively undeveloped – you can pretty much spend the entire day sunbathing with a spectacular scenery of beautiful white sand and turquoise waters. Take a selfie with El Arco and Neptune's Finger, 2 limestone rock formations jutting out of the sea.
The best way to get to Lovers Beach is by joining a cruise or water taxi from Medano Beach. There are local vendors selling snacks and renting out beach umbrellas, but you can bring your own picnic to the beach.
Location: Cabo San Lucas, Baja California Sur, Mexico
3
Whale watching cruises
Spot the elusive humpback and grey whales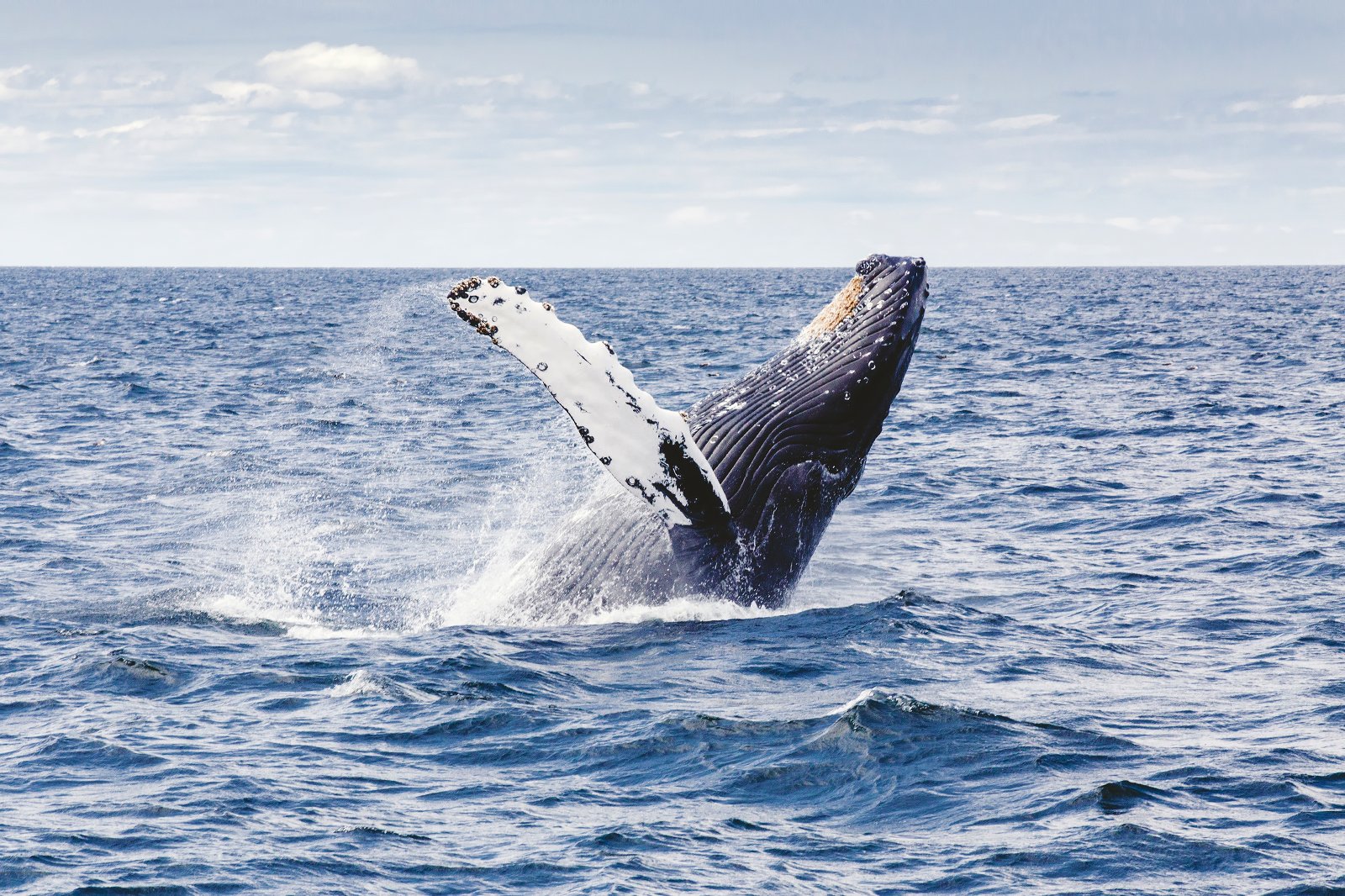 Plan your Cabo San Lucas holiday between December and April to enjoy the possibility of spotting wild whales. During this time of the year, pods of humpback and grey whales migrate south to the warm waters of the Sea of Cortez.
Join a whale watching cruise and sail alongside these majestic mammals. Sometimes you can also catch sights of dolphins, sea lions, and sea turtles during these excursions. There are many cruises in Cabo that offer tours varying from 2 hours to an entire day.
4
Marina Cabo San Lucas
Yachts, restaurants, bars and nightlife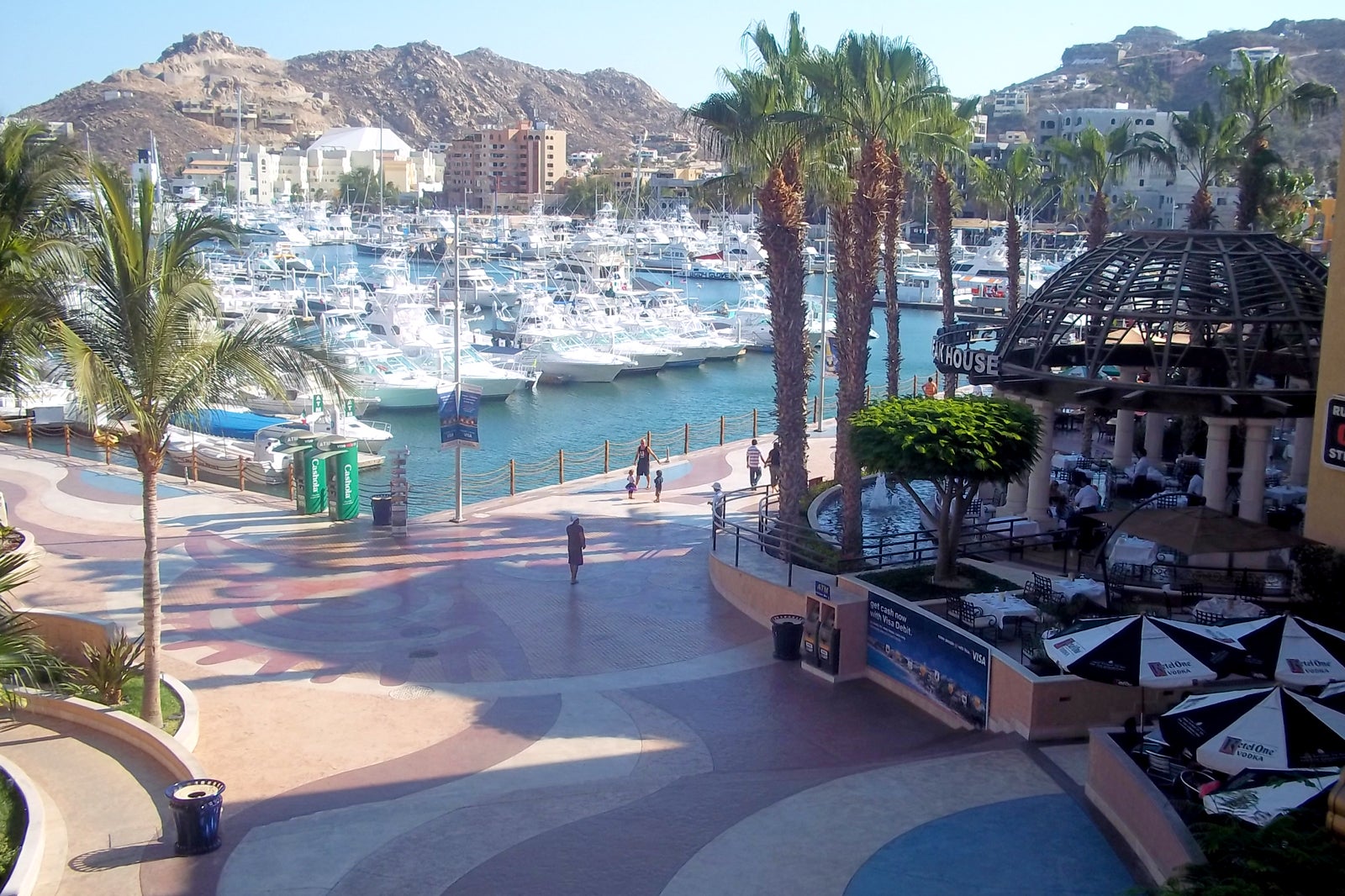 The dredging of the harbour began in 1973 with the beginning of ferry and boat services. Today, this modern port hosts thousands of boats of all sizes. The yachts are fun to look around, from quaint fishing boats to multi-million-dollar catamarans that are docked near the surrounding shops, restaurants and bars.
As a coastal town, seafood here is a must, with places that serve mahi mahi, red snappers, and your variety of sushi and sashimi from their same-day catch. Because this is where most tourists plan their excursions, this marina is the busiest place in Cabo San Lucas with tourist information centres, souvenir shops, and local vendors. Night time on the harbour makes a romantic, sparkling sight with music and drinks under the moonlight and ocean breeze. Most restaurants and bars are open until midnight.
Location: Lote A-18 De la Darsena, Cabo San Lucas 23450, Mexico
photo by Marrovi (CC BY-SA 2.0) modified
5
Cabo Pulmo Marine Reserve
Hike and snorkel at this nationally protected area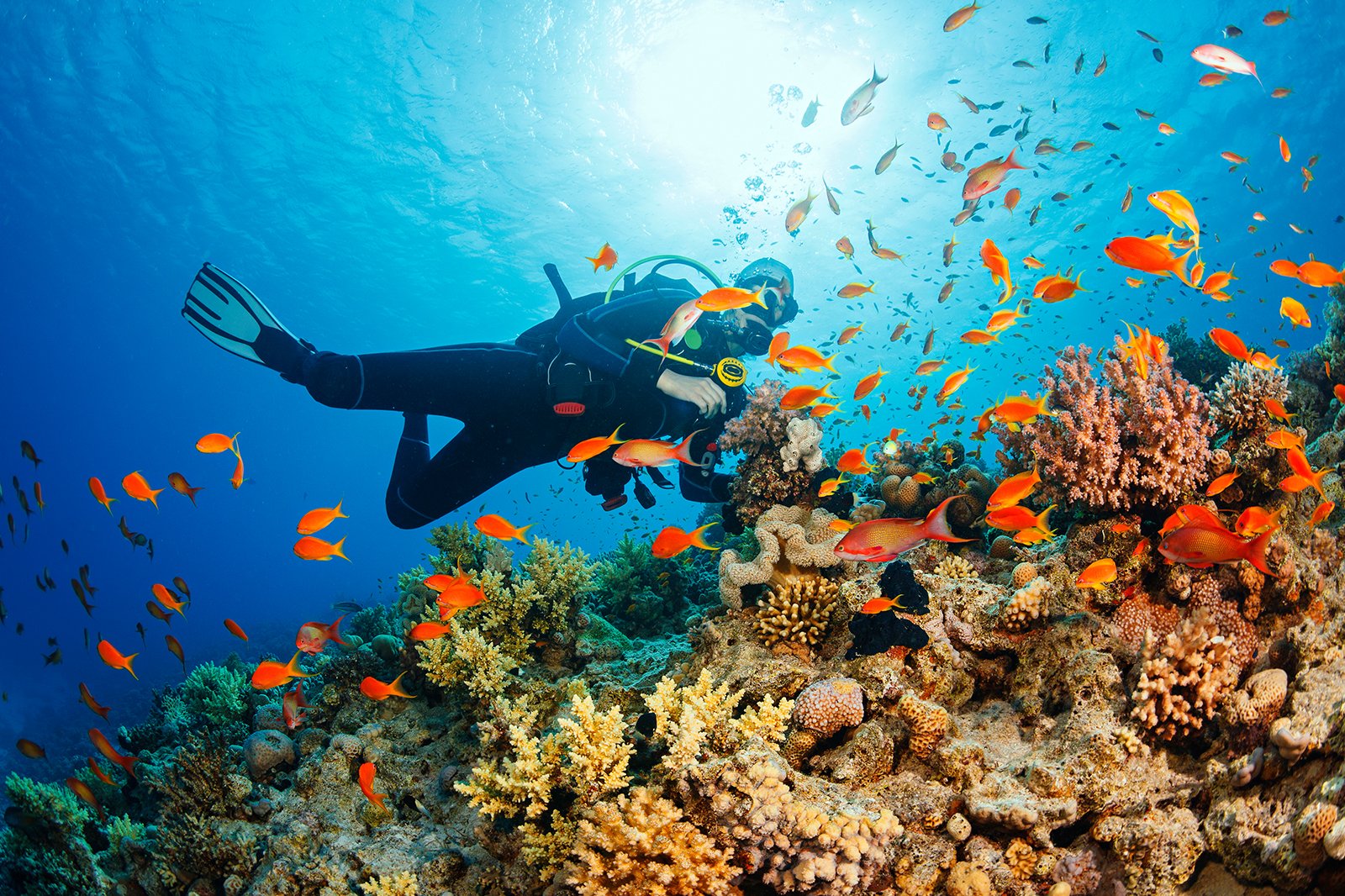 The Cabo Pulmo Marine Reserve, located on the eastern coast of Baja California, is a designated a protected area for marine species and reefs in Cabo San Lucas. The best time for diving is between October and November, when it enjoys the best all-around conditions. You can also opt for diving trips from December to May to enjoy marine life sightings.
If you're a hiker, there are miles of protected trails leading to serene beaches – you might be able to see humpback and sperm whales that frequent the Cabo Pulmo Marine Reserve, especially between the months of December and April.
Location: Centro, 23570 La Ribera, Baja California Sur, Mexico
Phone: +52 624 130 0195
6
Medano Beach
Spend the day at Cabo's most popular beach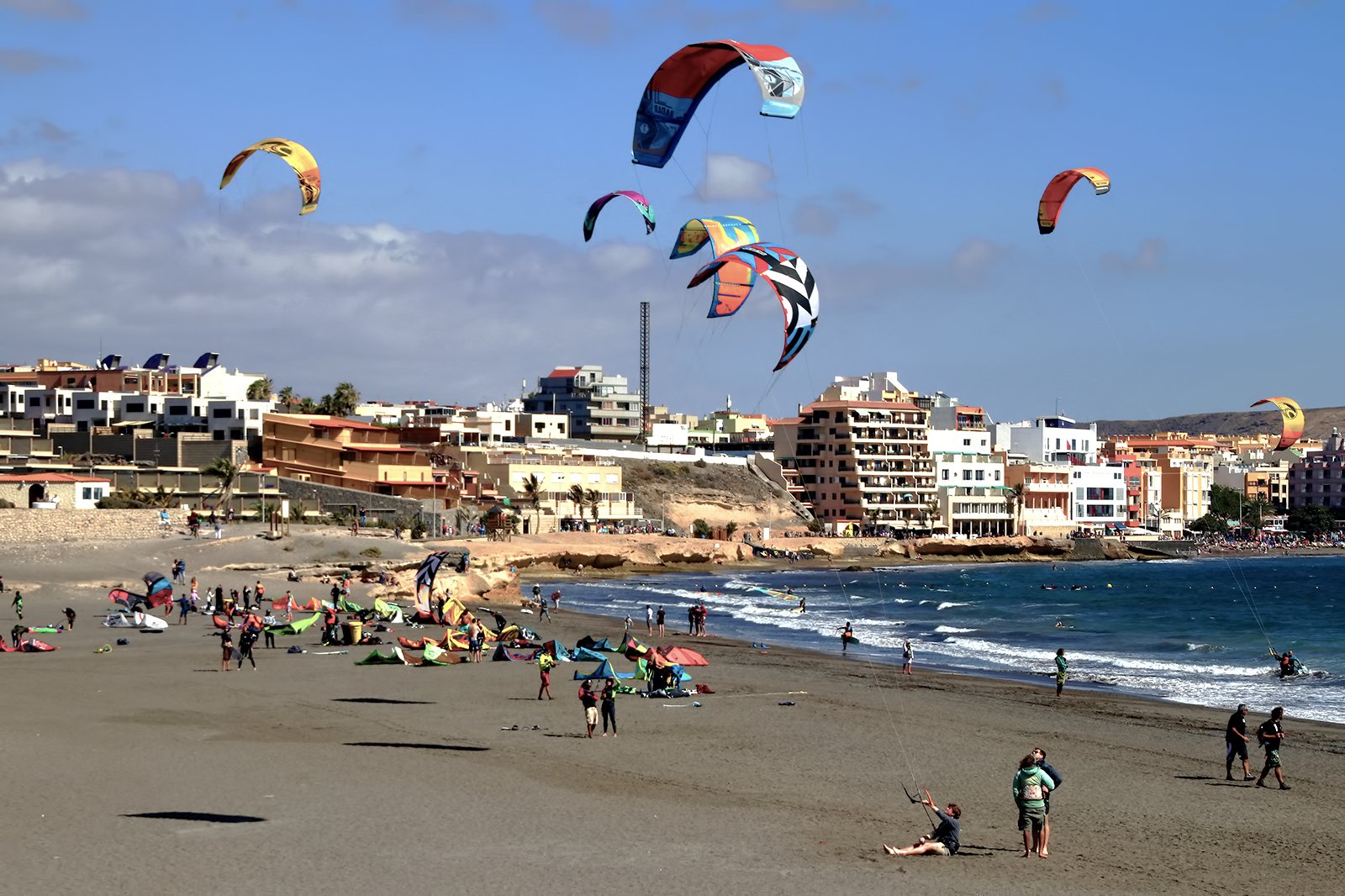 Budget
Families
Single
Group
Medano Beach is the centre of tourist activity in Cabo San Lucas as it's full of dining options, shaded beach loungers, and high-rise buildings dotting the coast. The beach is known for its beautiful turquoise waters, which make excellent bases for parasailing, kayaking, and paddle boarding.
If you're feeling peckish, Medano Beach has local shacks selling fresh seafood and fish tacos. In the evening, enjoy authentic Mexican food and beer at the promenade's many beachside restaurants and cantinas (bars).
Location: El Medano Ejidal, 23479 Cabo San Lucas, Baja California Sur, Mexico
photo by Guillaume Baviere (CC BY-SA 2.0) modified
7
La Coyota
Find unique souvenirs and support the local economy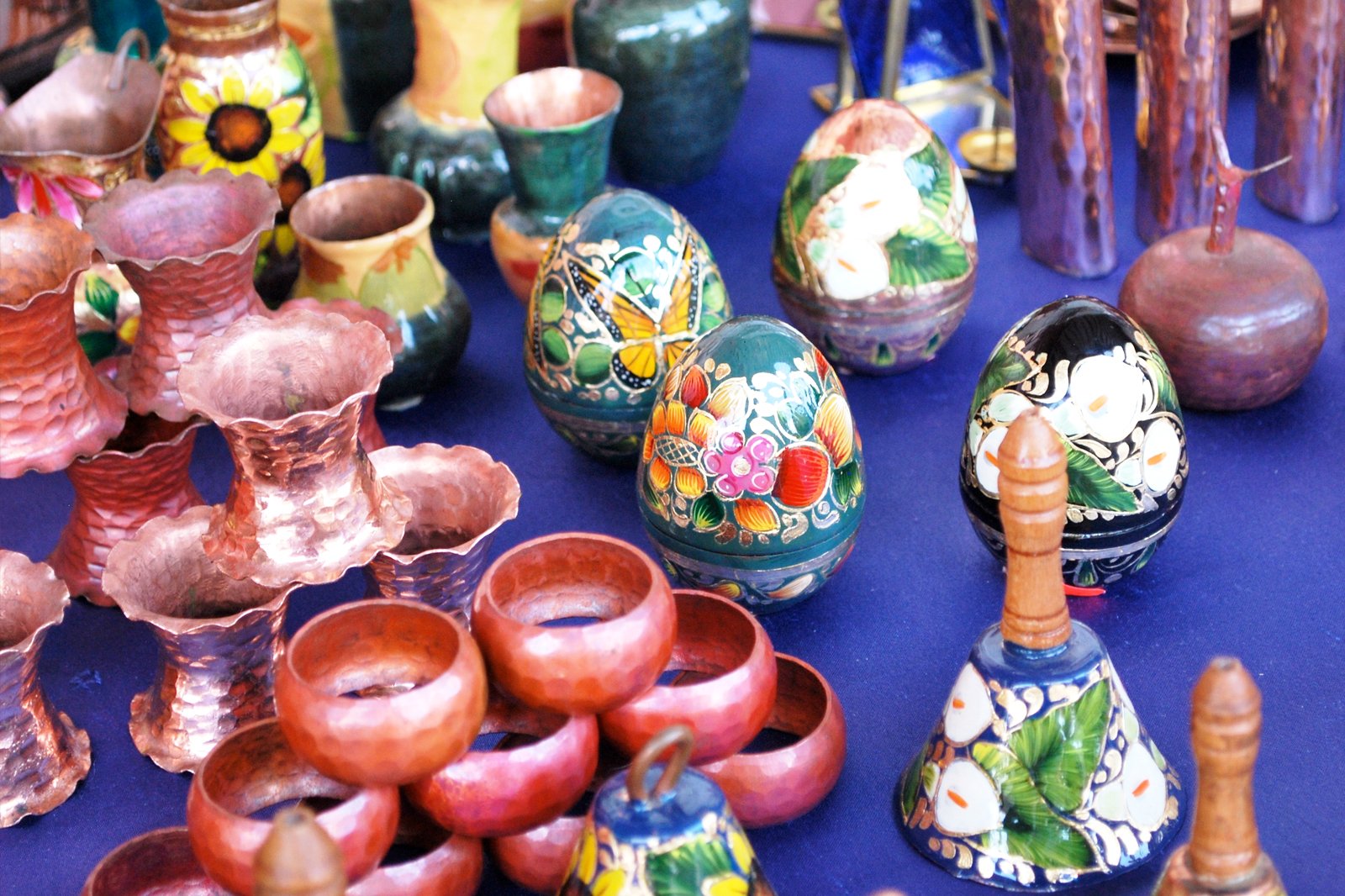 La Coyota is a colonial-style hacienda (estate) turned vintage shop, where you get to shop for authentic trinkets, knick-knacks, and curiosities. Some of the most popular items to buy here include hand-blown hand ornaments, pottery, light fixtures, and local artwork. Each room has a different theme – you'll find an embroidered linens room, toys room, and even one dedicated to Mexico's Day of the Dead celebration.
La Coyota is a good choice for supporting local businesses and purchasing some really unique pieces to bring back home. The shop is about 15 to 20 minutes from the main marina of Cabo San Lucas.
Location: Leona Vicario, Downtown, Ampliación Juárez, 23469 Cabo San Lucas, B.C.S., Mexico
Open: Monday–Friday from 9 am to 5 pm, Saturday from 9 am to 2 pm (closed on Sundays)
Phone: +52 624 143 0714
photo by Thelmadatter (CC BY-SA 3.0) modified
8
Mount Solmar
See the famous white cross
Mount Solmar is one of best spots to see the sunrise and sunset in Cabo San Lucas. The summit takes around 30 minutes, and you'll be greeted with views over downtown Cabo and all its beaches.
Access to the hiking trail is on a private property south of the Cabo Marina, but its owners are quite used to visitors looking to climb this iconic mountain. There's a tip jar for those wishing to help out with the trail's upkeep. It's advised that you wear sunscreen and proper walking shoes – carry some snacks and water to keep yourself fueled for the hike.
Location: Cabo San Lucas, Baja California Sur, Mexico
9
Zippers Beach
Hang 10 at Costa Azul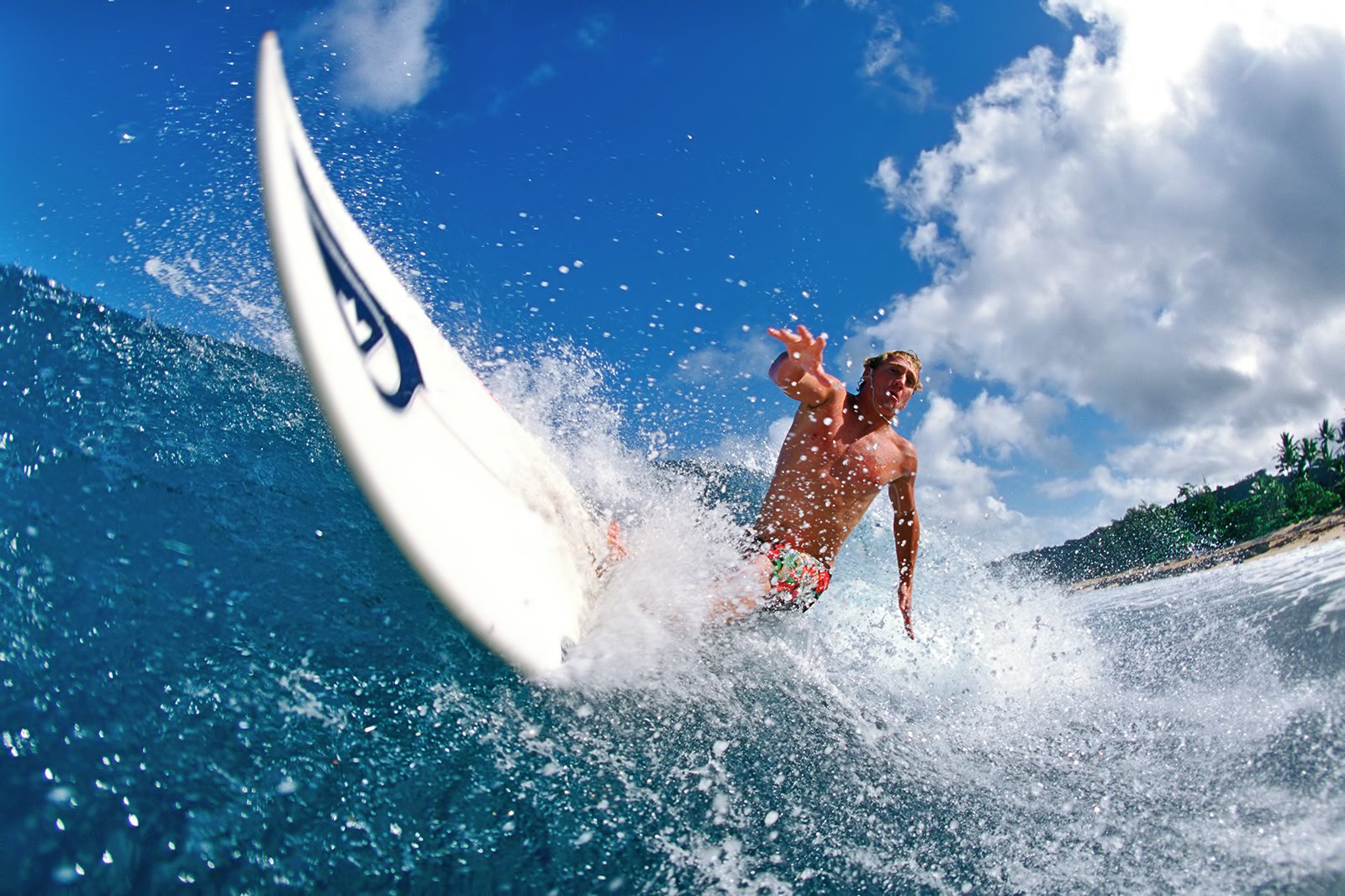 Couples
Budget
Adventure
Single
Zippers Beach, or Costa Azul, is the place to go in Cabo San Lucas if you're a seasoned surfer. Surfing competitions take place every summer, and you can enjoy optimum surf conditions year-round thanks to its rocky outcrops.
While this beach isn't recommended for inexperienced surfers, there are plenty of surf shops offering lessons for beginners. Costa Azul Surf Shop offers board rentals at relatively affordable prices. You can also watch the surfers in action while enjoying fresh ceviche and local drinks at one of the many seafood shacks along Zippers Beach.
Location: Carr. Transpeninsular 28.5, Tourist Corridor, B.C.S., Mexico
10
San Jose del Cabo
Explore this authentic Mexican town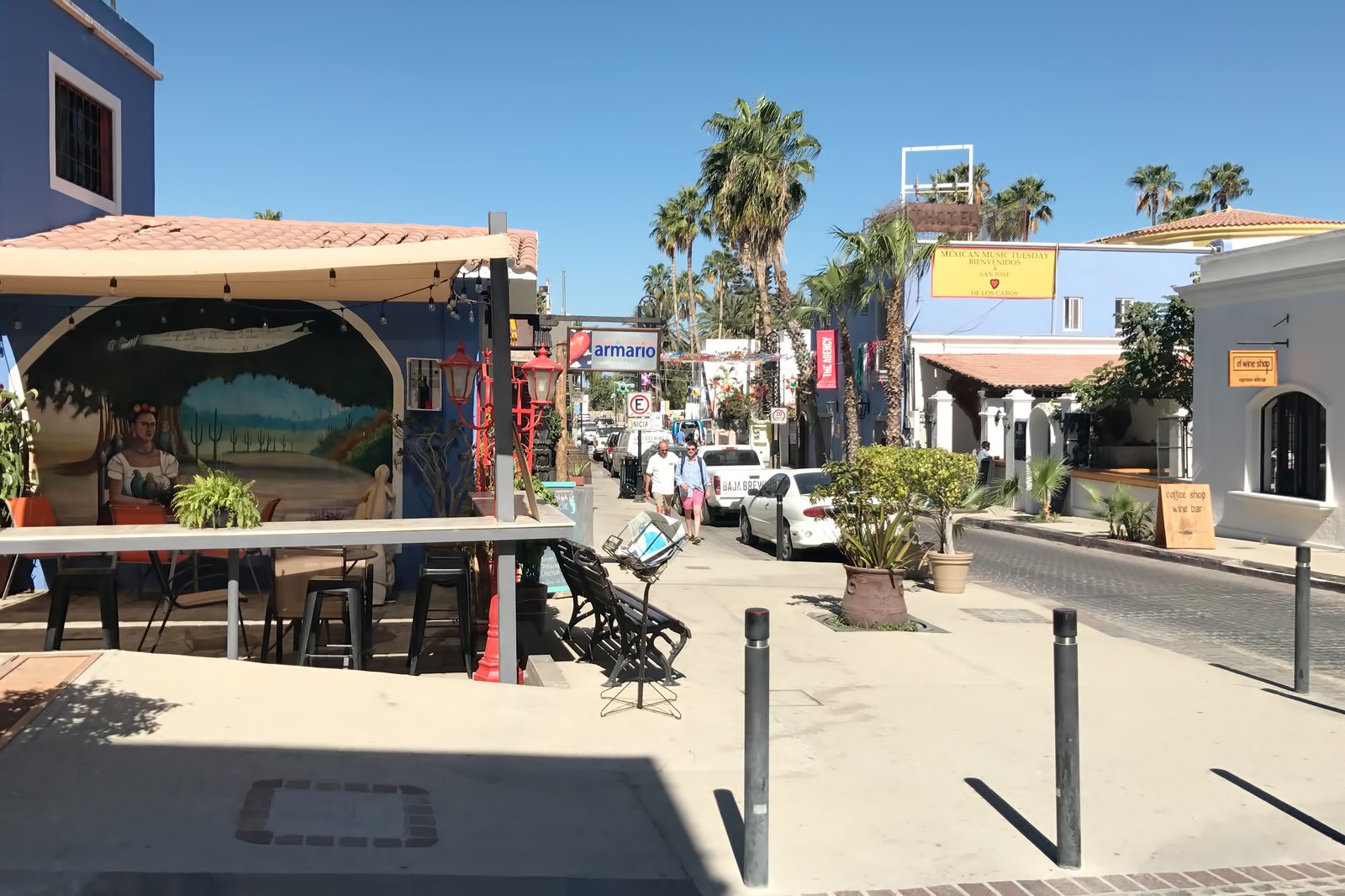 Couples
Families
History
Photo
San Jose del Cabo is a small and laid-back coastal town about 30 km northeast of Cabo San Lucas. It's known for its historic art district, cobblestone streets, as well as courtyard eateries and boutiques. Whereas Cabo San Lucas is always lively and full of energy, San Jose del Cabo offers a charming and authentic Mexican experience.
Folk dance and music take place at downtown's Plaza Mijares in the evenings. San Jose del Cabo's Art Walk is a seasonal event where you can enjoy wine tastings, gallery openings, and art exhibitions by local masters on Thursday evenings (November–June).
Location: San José del Cabo, Baja California Sur, Mexico
photo by TJ DeGroat (CC BY 2.0) modified
Back to top