10 Reasons to Visit Malta
What Makes Malta So Special?
There are so many reasons to visit Malta for your next holiday, as the archipelago often defies expectations with its mind-boggling UNESCO sites and stunning landscapes. Its many islands might be small, but they certainly pack a punch. Your trip can be filled with beach-hopping, mountain-hiking, and wine-tasting, but don't forget to take in Malta's unique history.
The towns and cities are an eclectic bunch. The capital of Malta, Valletta, tops the charts with its mighty fortress built by the formidable order of the Knights Hospitaller, but it's also bursting with moody art and honey-hued bulwarks. Then comes atmospheric Mdina – the ancient capital – and historic Victoria over on Gozo. From ancient citadels and cathedrals to world-class cuisine and wines, check out our list of what makes Malta so special.
1
Fort Saint Elmo
Be stunned by the mighty citadel of Valletta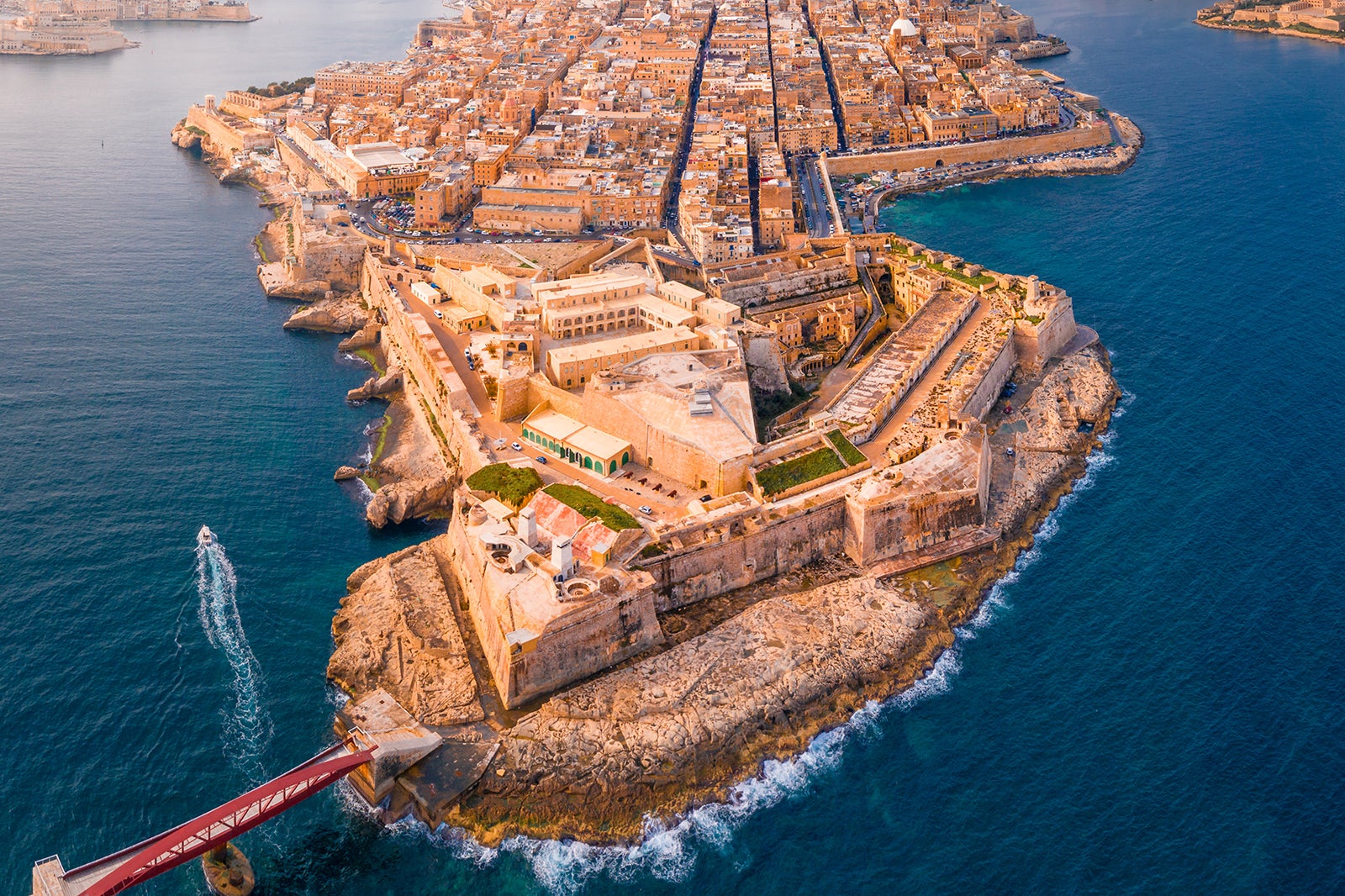 You simply can't miss Fort Saint Elmo in Valletta – it shoulders above the old city with its honey-hued stone, looking like something out of Game of Thrones, keeping watch over the main harbour and the Med. The great rock citadel was built by the Knights Hospitaller way back in the 16th century. It's now the icon of the islands' UNESCO capital.
Head in to learn all about hard-fought battles with the Ottoman invaders that came this way throughout the 1500s, not to mention WWII-era bombardments. You'll find eye-catching bulwarks and strong armouries, which now host vast collections of weapons, age-old cannons, and even a jeep once used by Franklin D. Roosevelt.
Location: Fort St Elmo, Valletta VLT 1741, Malta
Open: Daily from 9 am to 5 pm
Phone: +356 2148 1305
2
Catacombs and cathedral in Mdina
Unearth the mysteries of old Mdina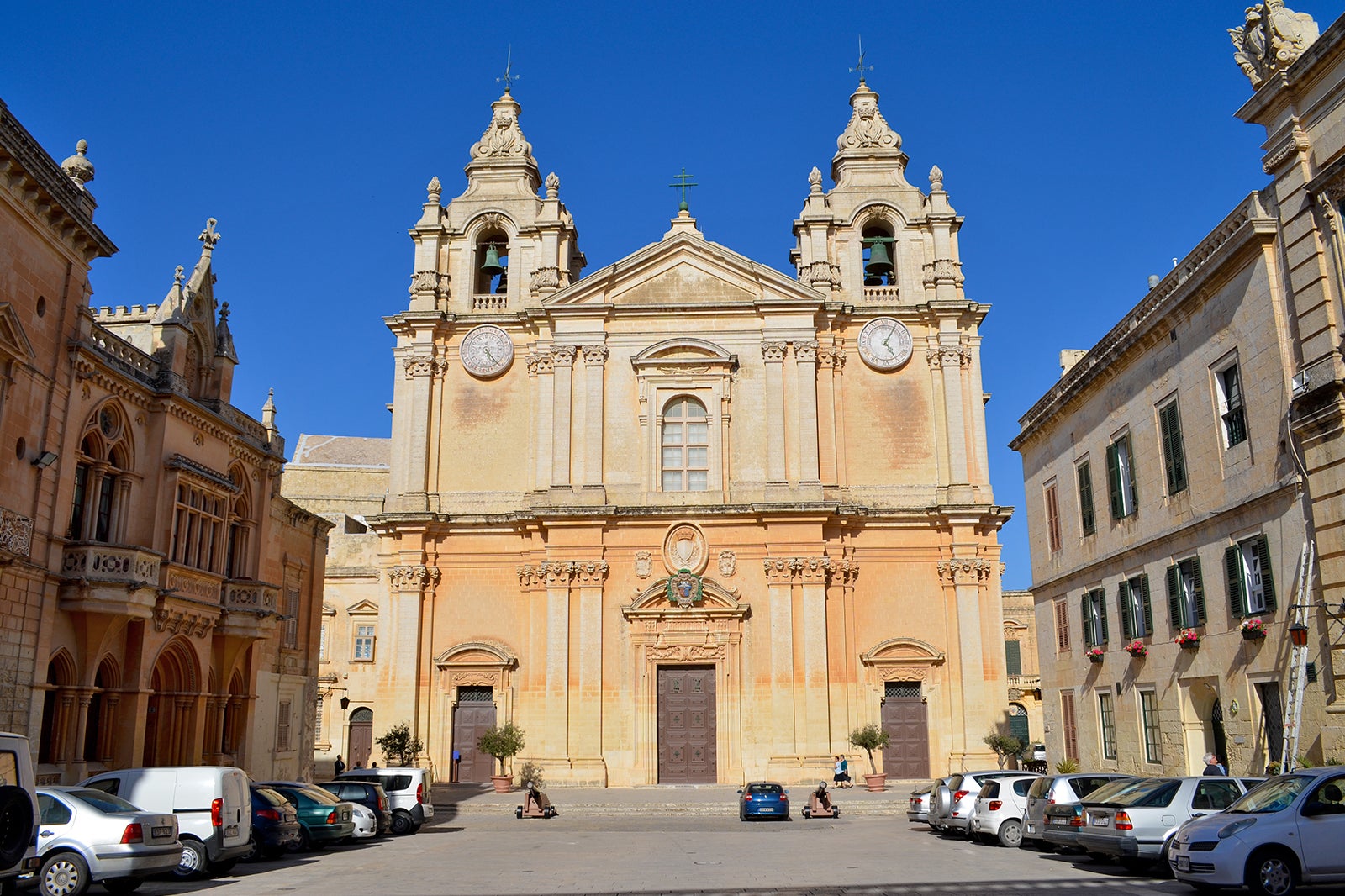 Venerable Mdina is also known as Città Vecchia and the Silent City of Malta. It's an apt name for the onetime Maltese capital, which sits close to the middle of the main island. More than 3,000 years old, it hosts some of the greatest cultural treasures of the nation.
First up is St Paul's Cathedral, which dates back to the 1100s. It's a gorgeous church with filigreed Baroque fronts and a vermillion dome that strikes high above the horizon. Inside, you'll see frescoed chapels and vaulted domes decked out in gold leaf. For something a little spookier, make for St Paul's Catacombs. They weave underground and cover a whopping 2,000 square metres, revealing the secrets of early Christian religiosity on Malta.
Location: Pjazza San Pawl, L-Imdina, Malta
3
Some seriously blue seas await
Lagoons and coves washed by turquoise Mediterranean water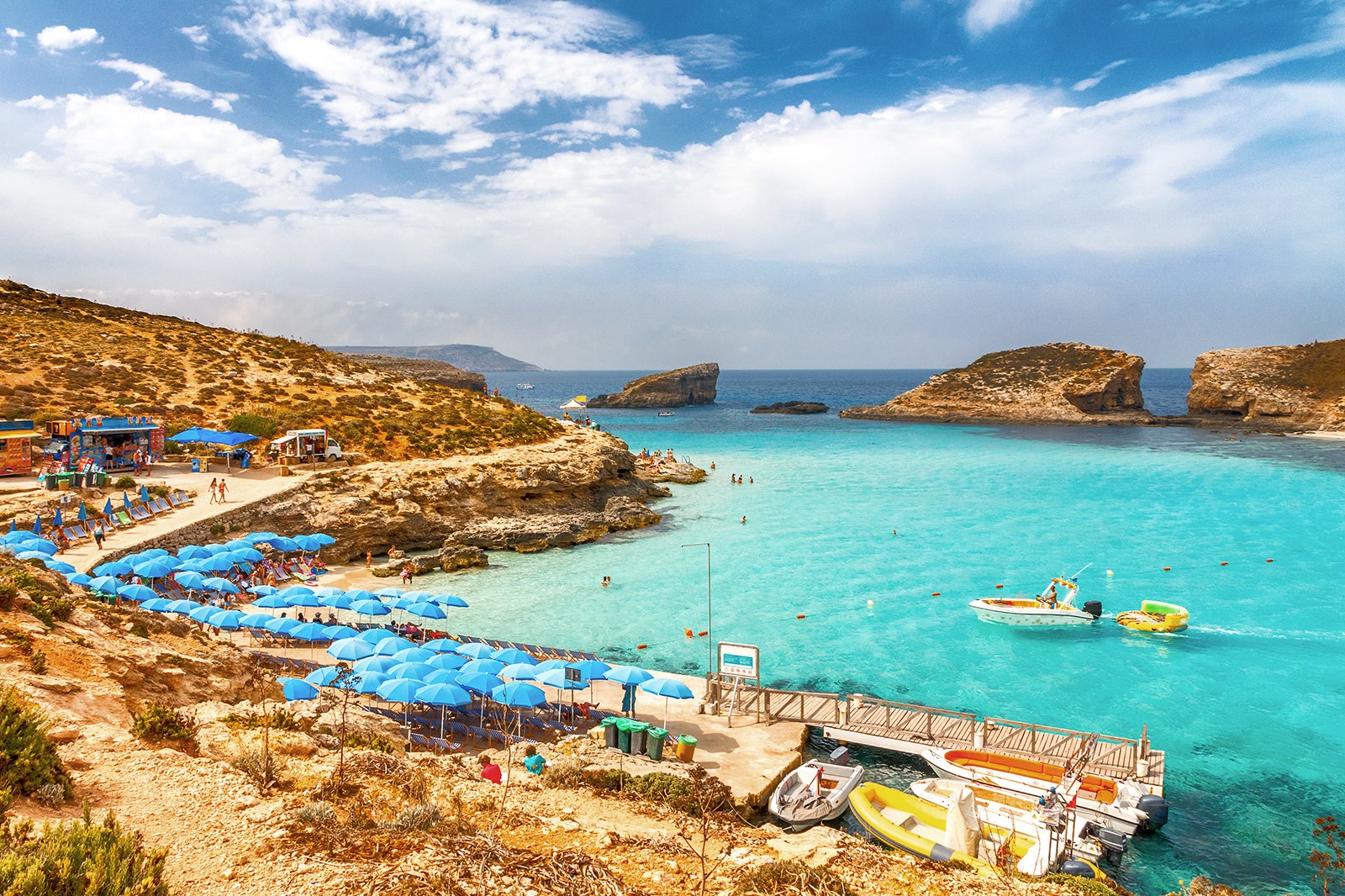 The Mediterranean around Malta always seems to be bluer than blue, especially when the summer sun is beating down between May and September. You can search out some seriously gorgeous swimming spots on the main island, like glistening Balluta Bay on the north-east coast, where steps dip into cobalt waters from a buzzy promenade.
Alternatively, the rockier isles of Gozo and Comino have their own treats. The appropriately named Blue Lagoon awaits in their direction, famed for its resplendent, sand-bottomed cove. Then there are the gold-tinted sands of Ramla Bay, sloping into turquoise waters with light waves – excellent for a family day out on the shore.
4
Traces of Caravaggio
The unruly artist painted some of his greatest works in Malta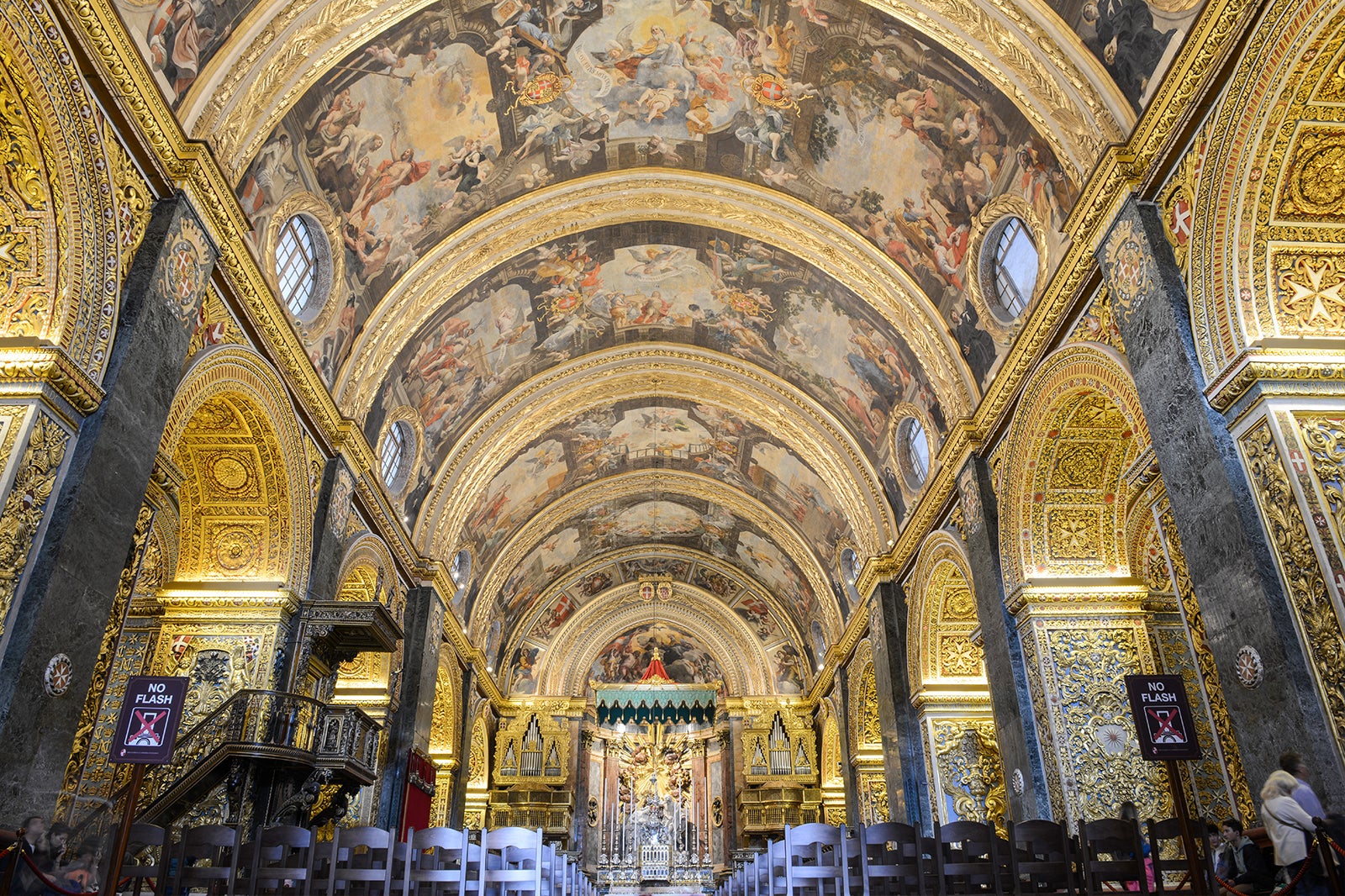 Dark and brooding Caravaggio remains one of the most evocative painters of all time. In the first decade of the 1600s, the artist was chased to Malta by bounty hunters. He left one of his greatest works in the glorious St John's Co-Cathedral, located in central Valletta.
Visitors can still encounter the eerie, spine-tingling canvas, titled the Beheading of St John the Baptist, in the Oratory there. It's wrapped up in tales of intrigue and even potential assassinations, hanging alongside another painting by the Italian master called Saint Jerome Writing. Both are musts for any art lovers exploring the Maltese capital.
5
The cuisine
Hearty and influenced by the Moors, there's plenty to taste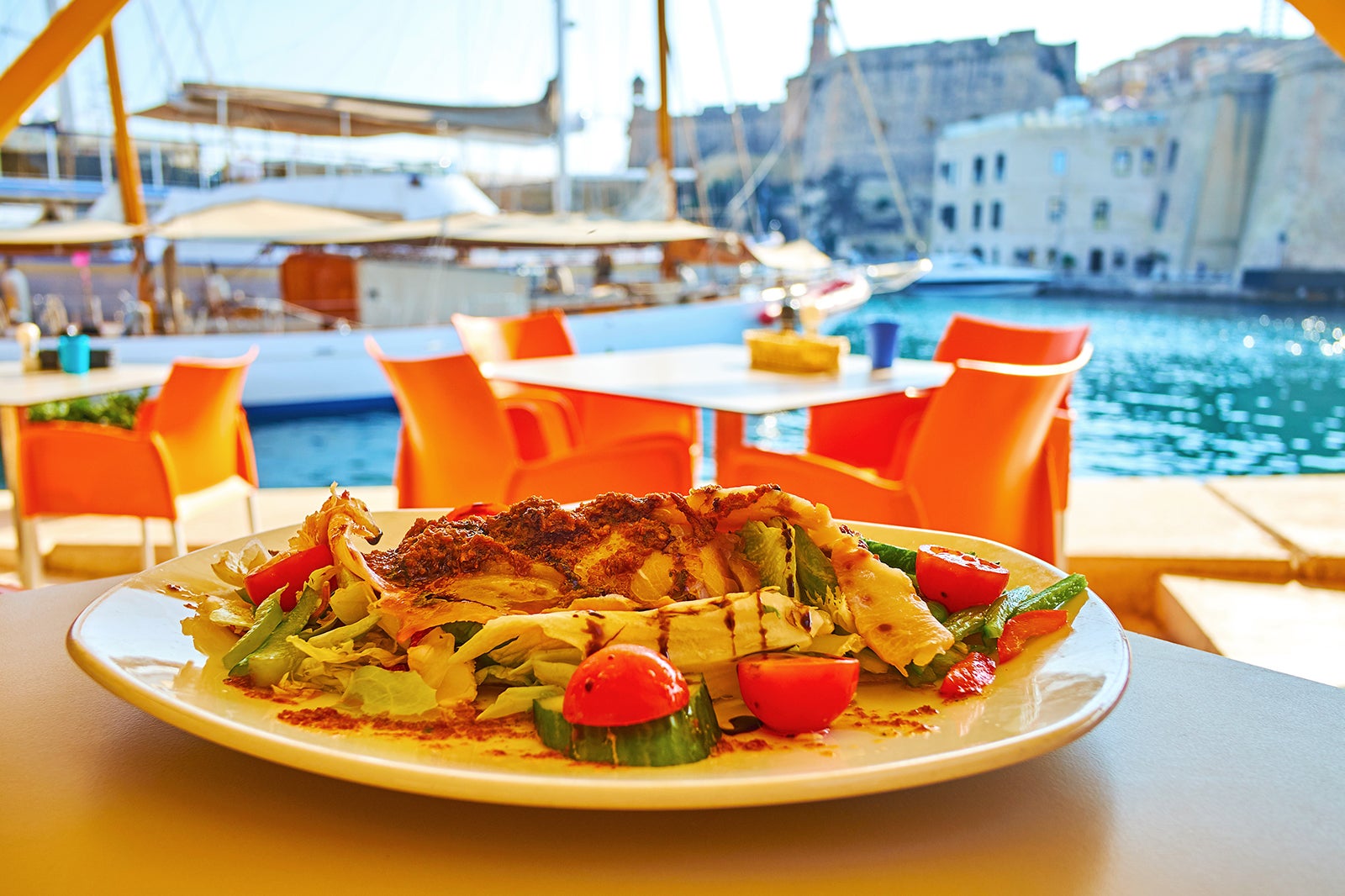 The food in Malta takes a little from Italy, a pinch of spice from North Africa, a twist of Spanish flair, and the country heartiness of the Normans. It's like a culinary reflection of the history of the islands themselves, and one that's sure to impress any gourmand.
Fish plays a big role. Make for the harbourside of Marsaxlokk when the boats pull in to see the catch of the day being hauled straight into the tavernas – it's the main ingredient for crusty, seafood-based lampuki pie. Elsewhere, you'll munch on mezze platters that come packed with Moroccan herbs and olive oils, or stroll the promenades while clutching Sicilian ice creams.
6
The scuba diving
Caves, wrecks, and reefs combine to make Malta a seriously good scuba destination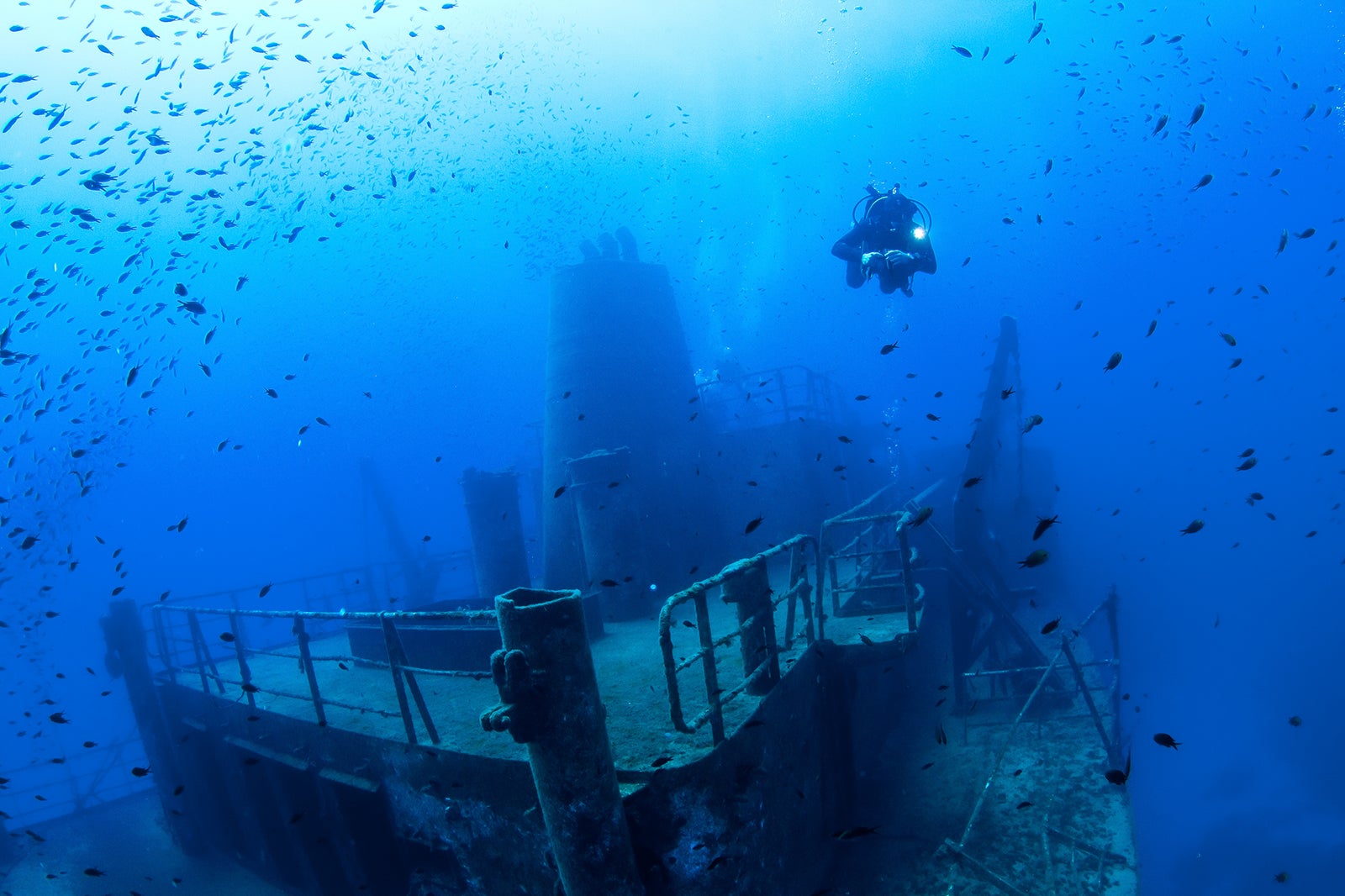 With over 120 miles of coastline and swathes of the clear Mediterranean Sea sloshing all around it, Malta might just be tailor-made for scuba divers. You won't have to venture far to find an amazing dive spot. They come in the form of the famous Blue Hole, a submerged cave over on Gozo, as well as Ċirkewwa, a region replete with coral reefs and even underwater statues.
Local outfitters offer oodles of scuba packages. A standard PADI course on the island will set you back around the €300 mark, but an introduction dive (or try dive) can cost as little as €85 for the day.
7
Dwejra Bay
Rugged rocks and sky-blue seas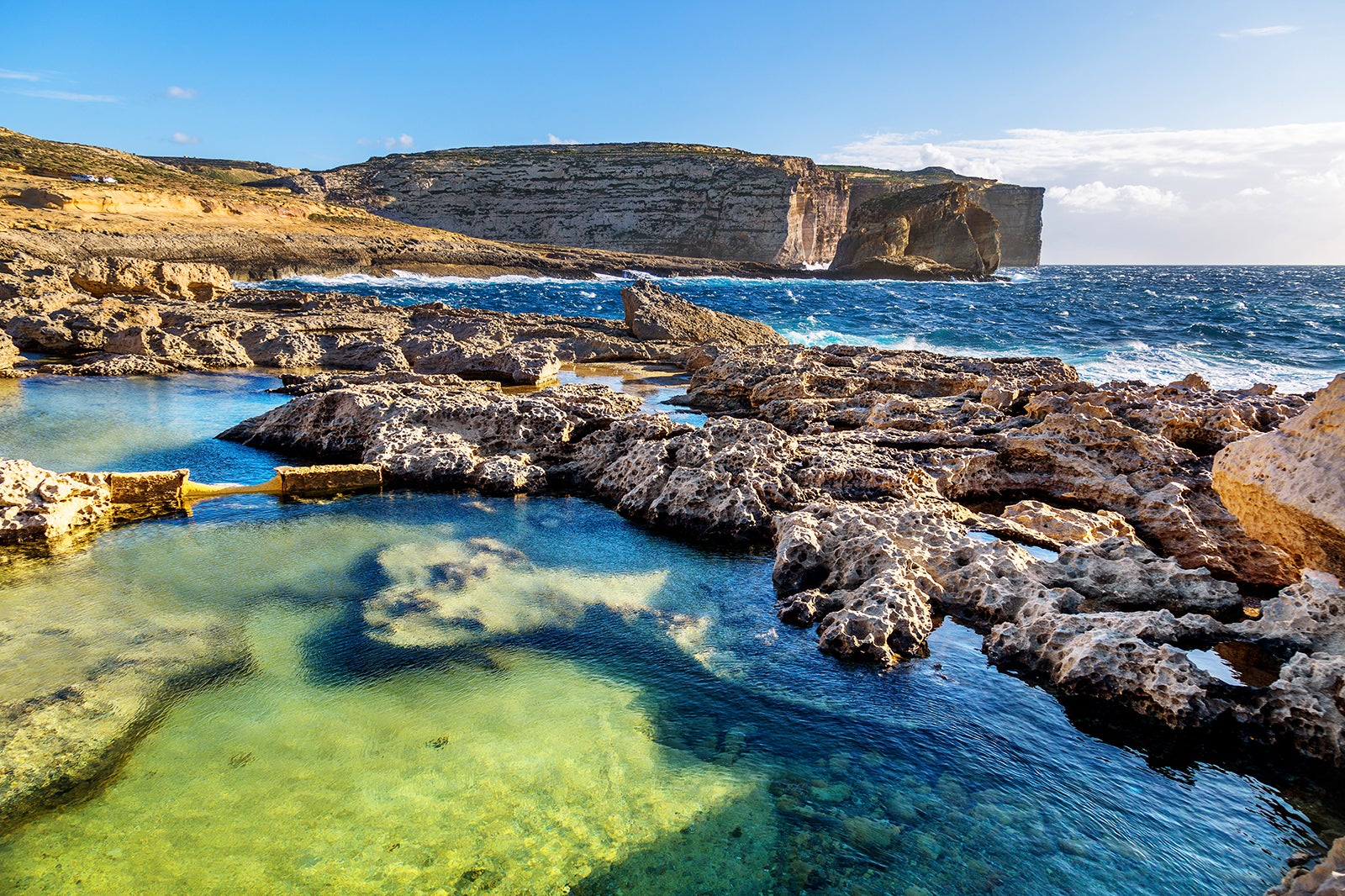 Dwejra Bay is lined with caves, rock-ribbed cliffs, and lonely islets, making it one of the most dramatic sections of Malta's coastline. You can find it in the remote western region of San Lawrenz, on the wild island of Gozo. There, beautiful walking trails weave across high cliffs to give spectacular views past the stones, coastal herbs and headlands.
But you don't have to stay on dry land. In fact, Dwejra Bay is among Malta's best dive sites, offering deep underwater caves with unusual marine species. There are also tidal pools where you can soak your feet in the Med. Some grottoes can only be properly explored by boat.
Location: Dwejra Bay, Malta
8
Comino
Sail through clear seas to remote bays in Comino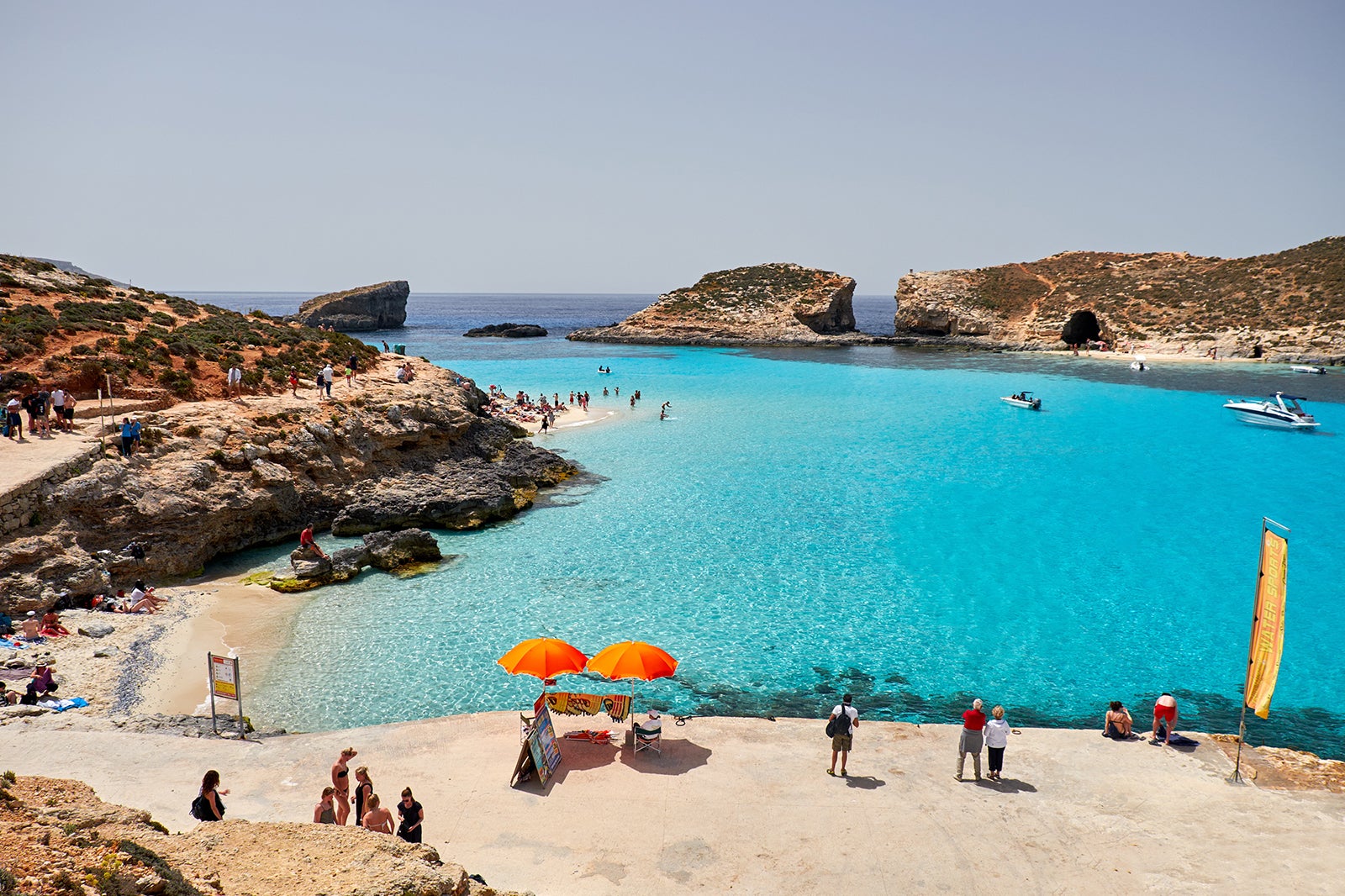 Comino is a tiny limestone islet wedged between Malta and Gozo, the 2 main islands of the archipelago. Size aside, there's plenty to explore, with rugged cliffs and deep waters that make for an ideal yachting location. Then comes the untamed backcountry, where hikers can tread dusty trails past eerie disused prisons and meadows of wild herb.
However, the real piece de resistance surely has to be the Blue Lagoon. That might be the Malta you've seen on the postcards and in the travel brochures, where the Med does its best impression of the Caribbean. Expect clear waters rolling into a sandy inlet, offering plenty of snorkelling and wild swimming opportunities.
Location: Comino, Kemmuna, Malta
9
The wine
Medal-winning reds and a tradition of over 2 millennia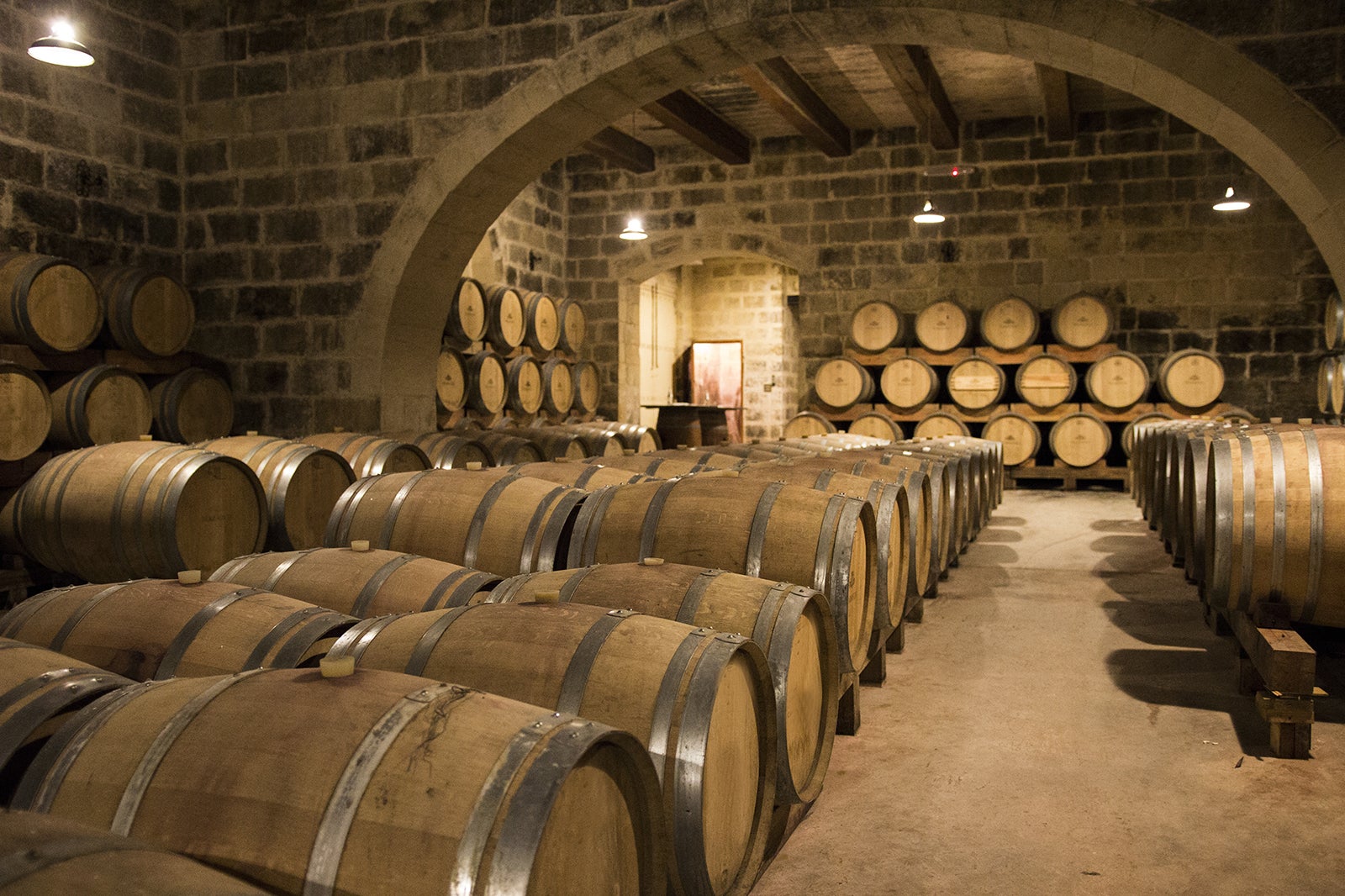 The production of wine in Malta can be traced back more than 2,000 years when it was brought to these islands by the seafaring Phoenicians. Since then, grape growing has spread from the mainstay vineyards on Malta itself across to Gozo, while Maltese reds and whites have slowly been making a name for themselves on the international stage.
The most famous wine house in the country is arguably Marsovin. They have cellars located just south of Valletta. You can head down to try their famous gellewza rose with a hint of frizzante. Or, check out the noble cabernet sauvignon varieties, known for their intense aromas of cherry and oakwood.
10
Ggantija Temples
See ruins that pre-date the Pyramids of Giza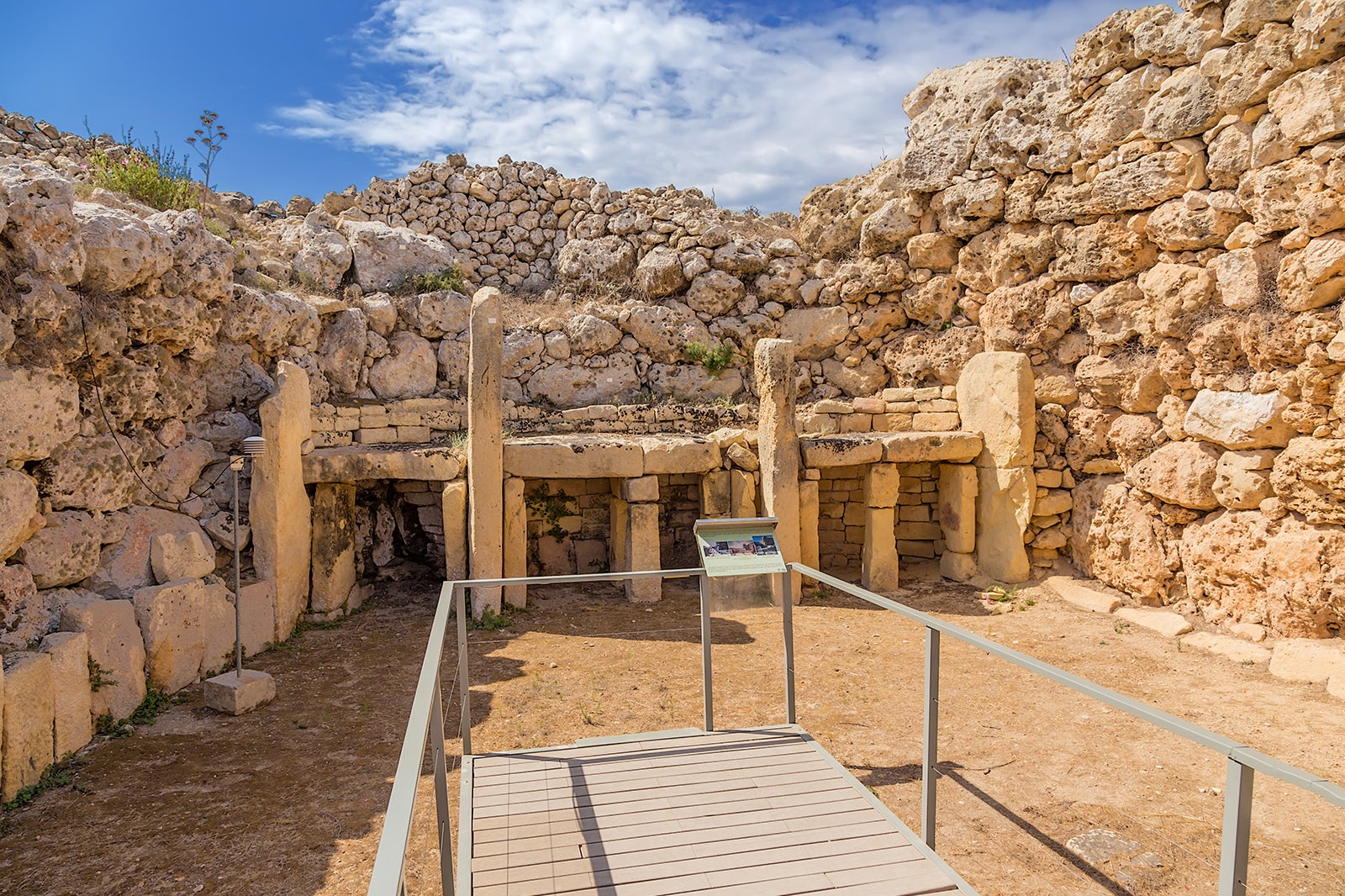 Forget Stonehenge and the Egyptian pyramids, Malta's Ggantija Temples pre-date the lot. They clock up a mind-boggling age of 5,000 years or more, found in the remote and rural heart of Gozo island. History buffs should be certain to add a pitstop to the itinerary, to spy out the grand concentric structure of megalithic stones and small shrines.
The true purpose of the temples remains shrouded in mystery. However, the Gozo Museum of Archaeology does host a few artistic icons retrieved from the remains that might shed some light. Go there only after visiting the main site, which has libation rooms and huge gateways carved from monoliths of Maltese limestone.
Location: Triq John Otto Bayer, Ix-Xagħra, Malta
Open: Daily from 9 am to 5 pm
Phone: +356 2155 3194
Back to top