Kiyomizu Temple or Kiyomizu-dera is one of the most spectacular temples in Japan, situated on the majestic Mount Higashiyama's slopes overlooking Gion district in Eastern Kyoto. Due to its amazing mountainous backdrop and beautiful Otowa waterfalls on its ground, this Buddhist temple is more often referred to as Otowa-san Kiyomizu-dera, literally meaning 'the temple of pure water.'
Kiyomizu-dera is a must-see attraction in Kyoto, particularly during the cherry blossom season in the spring and the autumn when the maple leaves burst into colourful reds and browns.
Kiyomizu Temple - one of the highlights of 11 Best Things to Do in Japan and 10 Things to Do in Kyoto on a Small Budget (Read all about Kyoto here)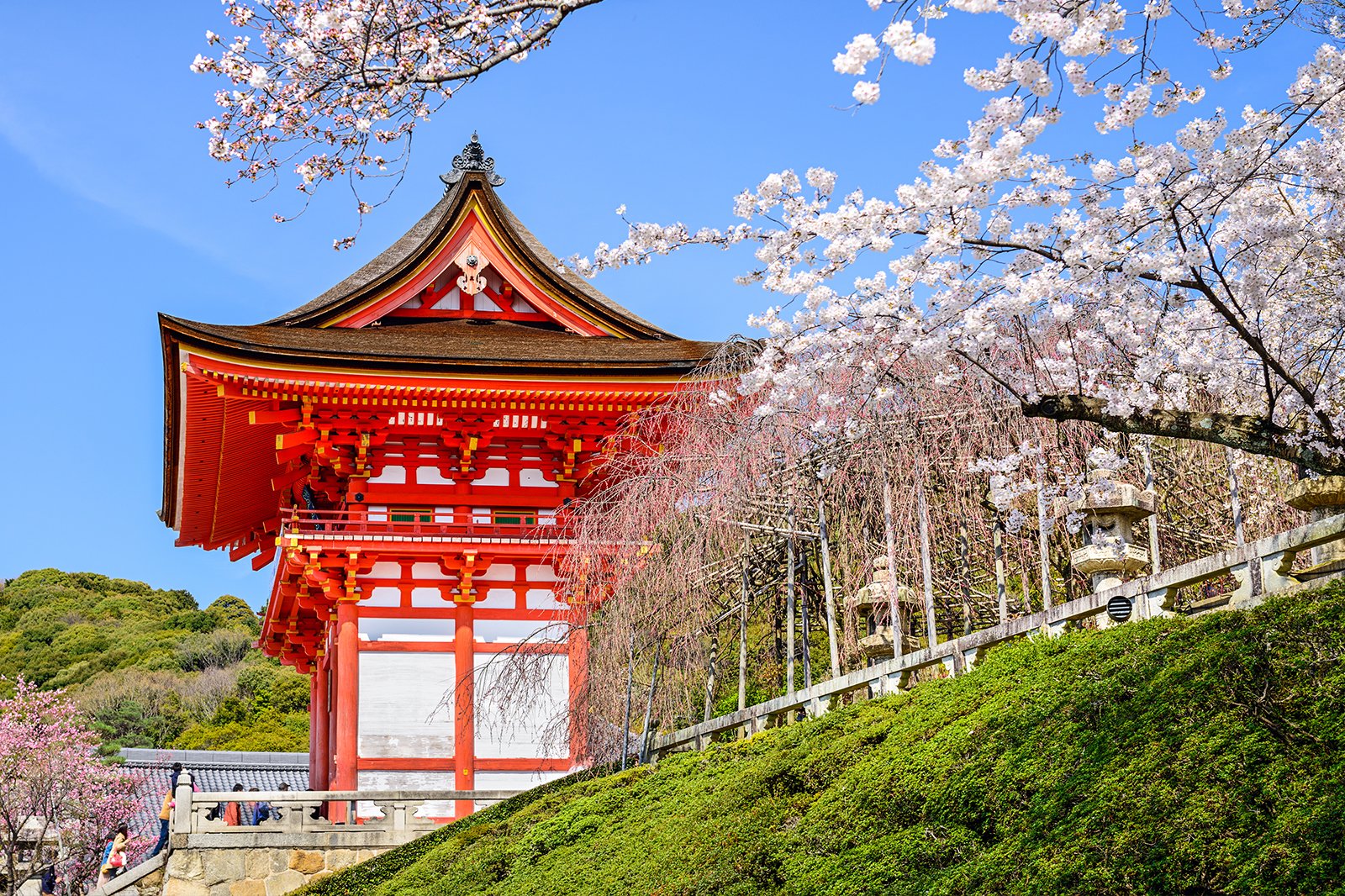 History of Kiyomizu Temple
Dedicated to Juichimen Kannon – the Goddess of Mercy – this shrine is believed to have been founded by Enchin, a Buddhist monk, during Heian period in the 8th century. The legend has it that Enchin, as a result of the revelation in his dream, set out on a journey to discover a fountain of water at the foothills of Mount Otowa within a foggy forest, where he found Gyoei Koji – a Buddhist hermit was offering supplication to Kannon for the last 200 years.
Enchin then carved out an image of the deity Kannon from a piece of sacred log given to him by Gyoei Koji. Later, Tamuramaro who came here to hunt a deer for his pregnant wife got inspired by the profound devotion of Enchin to Kannon and decided to convert his own house close to the waterfalls to a temple in order to enshrine the deity of Kannon with eleven faces and thousand arms. However, the shrine was destroyed several times due to earthquake and fire. The present structure of the temple dates back to 1633 when the temple was rebuilt as per the order of the third Tokugawa shogun, Iemitsu. Formerly a shrine of the Hosso sect of Buddhism, Kiyomizu-dera became an independent Buddhist temple in 1965.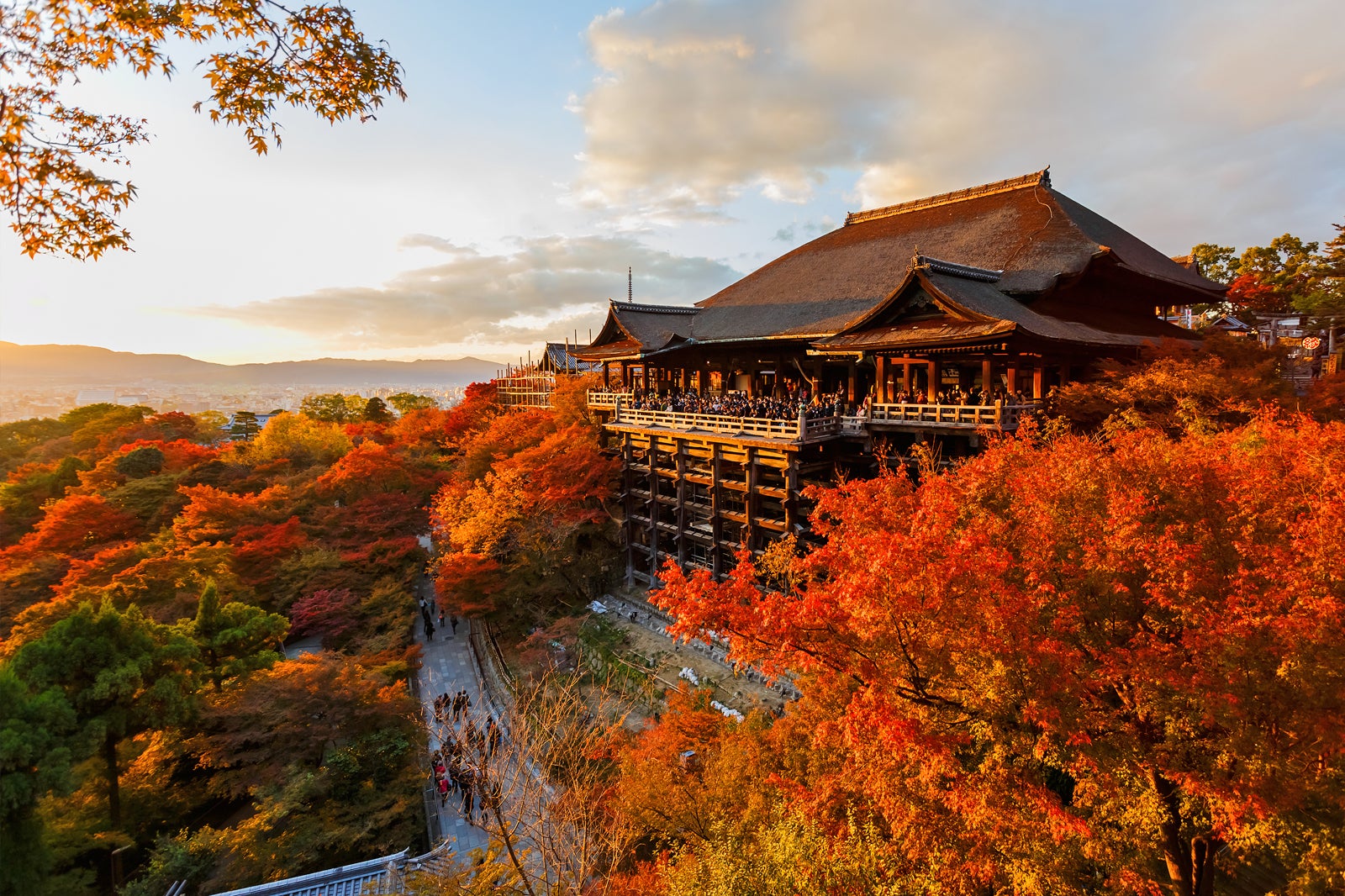 Features and highlights of Kiyomizu Temple
The mind-blowing location where the shrine rests itself is its key highlight. A quaint narrow street dotted with numerous restaurants, souvenir shops and ryokans (traditional inns) leads you to the temple's enchanting main gate that is an important cultural property. An interesting thing regarding this street is that you can find shops here that have been in existence since the Edo era. Occupying an area of about 35,000 square meters, the temple complex of Kiyomizu comprises more than 30 structures. The major draw of the temple is undeniably its main hall, Hondo, where Kannon Bodhisattva – the main deity of the temple – is housed.
A segment of the main building is Kiyomizu-no-butai – a wooden terrace that has been declared as a national treasure. This 15m high structure, constructed into a sheer hillside, offers the sweeping views of the surroundings. But what that makes this structure really special is its architecture style made using Japanese cypress and supported with more than 150 giant zelkova wooden pillars that are gathered not using a single nail. According to ancient beliefs, anyone who made a vow to the deity and dived into the air from Kiyomizu-no-butai was able to realise their wish, but a ban was established to forbid this act back in 1872.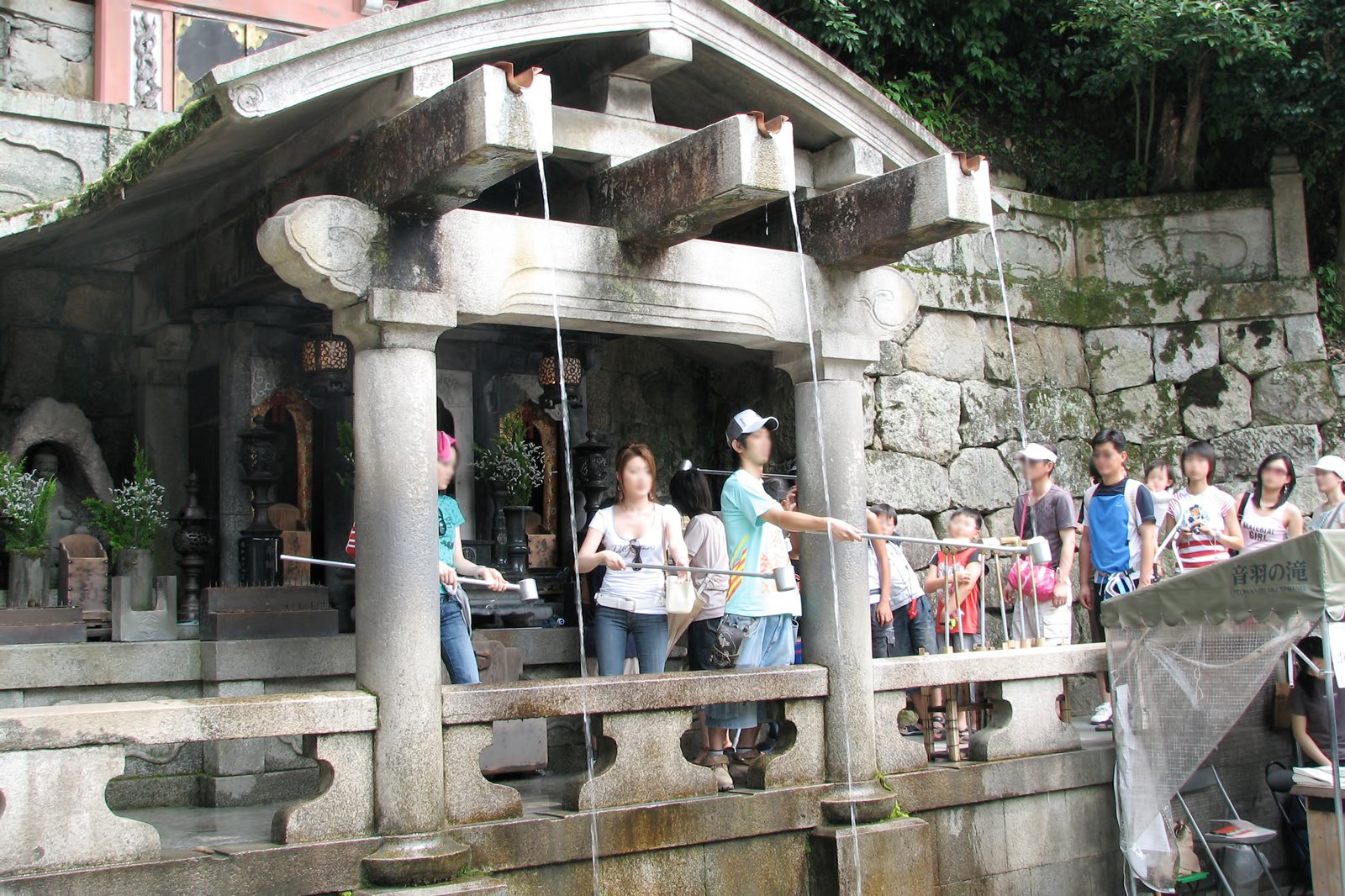 Another important aspect that makes this temple worth visiting is Otowa waterfalls, from which the temple derives its name. Listed among the top ten most clear water sources in the country – this waterfall originates from the Mount Otowa and consists of a group of three fountains, each of which is thought to have the power to grant you intelligence, beauty and longevity. However, the interesting thing with regards to these fountains is that you are allowed to drink water from any one of them, as drinking from all of them is considered greed and may result in misfortune.
Points of interest within the temple precincts also include Jishu-jinja, a shrine devoted to Okuninushino-Mikoto – the god of love and matchmaking. You will find 2 love stones here and many believe that walking from one stone to other blindly will help a bachelor to get a suitable match. Other highlights include remarkable water fountains for cleansing purposes, Bussoku-seki, which contains the footprints of Buddha and a bell that resounds more than 100 times on the eve of new year.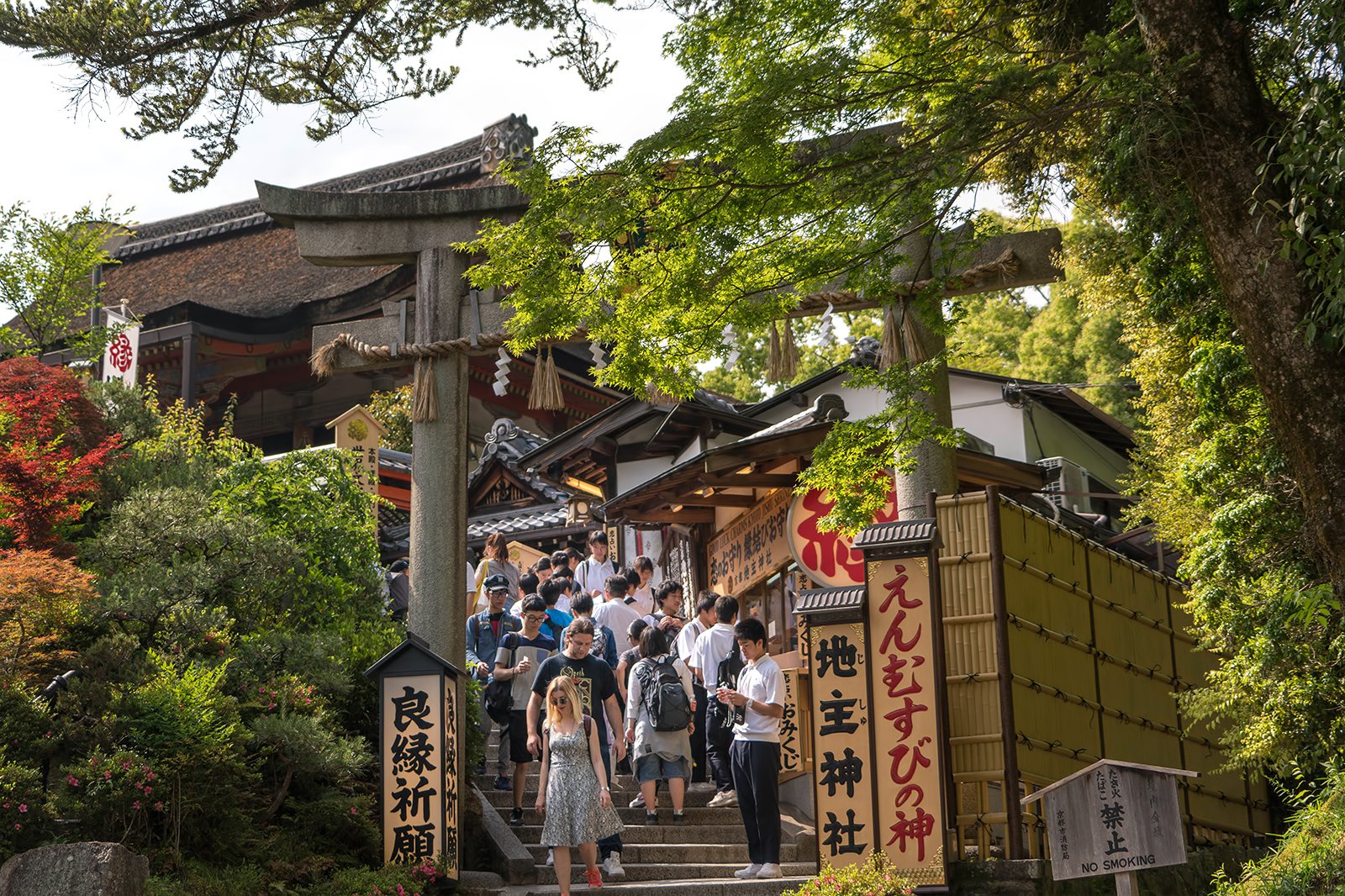 Kiyomizu Temple
Location: 1-chome, Kiyomizu, Higashiyama-ku, Kyoto City, Japan
Open: daily from 6am to 6pm
Back to top