10 Best Tours in Tokyo
Fun Tokyo Tours You Can Book Today
No matter why you want to visit Tokyo – whether it's the beautiful temples, bustling streets, or fascinating culture – Japan's capital offers nearly everything a traveller could hope for in a single, sprawling metropolis. Seek solitude in one of the city's gardens, find peace at a shrine, or go wild as you take part in the city's nightlife.
With so much to see and do, the city can be overwhelming for first-timers, which is why we created this list of the best tours in Tokyo you can book for your holiday.
1
TOKYO SKYTREE® ticket
Tour duration: 14h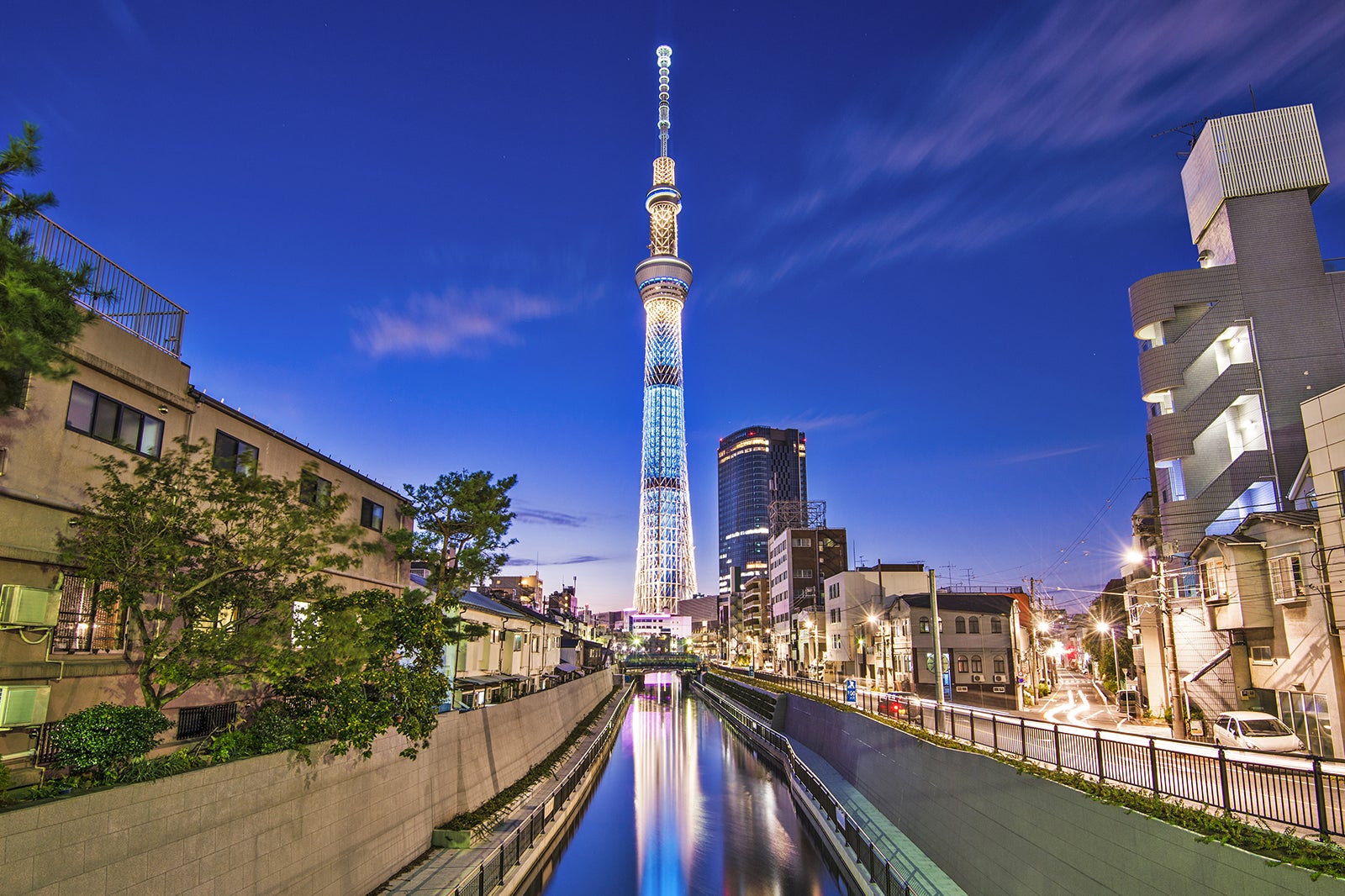 There's no easier way to see all of Tokyo in a short time than taking the lift to Floor 340 in TOKYO SKYTREE. The tallest structure in Japan boasts panoramic views from 2 glass-enclosed decks that offer unique vantage points to take in the sprawling city. There's even a level with a glass floor that you can bravely stare through and spot miniature figures rushing around Tokyo.
If you don't want to get locked into a single admission time, be sure to pick up a 7-day ticket, which allows you to visit whenever works for you.
2
Robot Restaurant Show
Tour duration: 1h 30m
If you ever wanted to see samurai battling dinosaurs, pandas riding cows, and dancers wearing robot costumes, the Robot Restaurant Show is just what you're looking for. This performance captures Tokyo's playful side and is a fun, welcoming show for travellers of all ages. Neon lights illuminate every corner of the room, including the performers themselves, and pulsing music raises the energy to new heights.
This show encourages you to take life a lot less seriously, so sit back and enjoy the madness at the Robot Restaurant.
3
Wrestle a sumo master
Tour duration: 2h
Due to the years of training required, few people ever get an opportunity to sumo wrestle, but you have a chance to jump in the ring and take on a retired sumo master. Head to the Ryogoku district, also known as Sumo Town, and meet one of Japan's top sumo talents to learn all about this traditional sport.
If you're feeling brave, join the massive grappler in the sumo circle and try – just try – to push him. After you put your sumo skills to the test against the master, enjoy a lunch made for a champion.
4
Private tour of Tokyo
Tour duration: 5h
Tokyo is so massive that it's virtually impossible to go everywhere worth visiting, but you can give yourself a chance with a private city tour.
Instead of getting on an overstuffed tour bus, enjoy convenient pickup from your hotel in a private vehicle as you set off for Senso-ji, Tokyo's oldest Buddhist temple. Next, walk down Nakamise Shopping Street to find that perfect memento. Then, venture over to the Ginza district before heading to Meiji Shrine, the Imperial Palace, and finally back to your hotel. And don't forget that you can easily customize the tour to suit your interests.
5
Izakaya bar hopping in Shinjuku
Tour duration: 3h
The bright lights of Shinjuku beckon, with countless izakaya bars inviting you to taste and drink your way through this vibrant neighbourhood. As you wander the narrow streets, listen for the sizzle of grilling chicken and enjoy the sweet yet bitter smell of smoky veggies – and don't forget to grab a bite of whatever catches your fancy.
Once you've had your fill of Japanese treats, wash it all down with your choice of refreshing local beer or sake before ending your tour and setting off on your unguided izakaya crawl.
6
Sushi-making class
Tour duration: 3h
If you're looking for a more hands-on Tokyo food experience, join a sushi-making class to learn all about this traditional dish. After meeting the master sushi chef, learn all about the history and customs associated with this delectable delight.
Try your hand at making 5 varieties, including nigiri (hand shaped), inari (with an outer coating of deep-fried tofu), gunkan (battleship shaped), hosomaki (thinly rolled), and uramaki (inside-out roll). Close out your experience by enjoying your delectable creations with miso soup, rice, and an egg roll.
7
Private iaido sword lesson
Tour duration: 1h
Learn the way of iaido as you explore this martial art devoted to constant awareness and the ability to quickly draw a sword and dispatch an opponent (usually bamboo). Meet your sword-wielding instructor and discover the graceful techniques that make this style different from other martial arts.
Rather than focusing on combat, iaido involves controlled movements, mindfulness, and attention to your body. After you learn how to swing the sword like a pro, try cutting some standing bamboo or straw before your lesson comes to an end.
8
Calligraphy class
Tour duration: 1h 30m
Yuriko Hoshino, a world-renowned calligrapher, is your teacher for this fulfilling morning or afternoon class. Start your lesson by making your very own authentic bokuju ink, which smells like a pine forest after a spring rain. Then, learn how to hold the bamboo-handled brush to ensure your lines are smooth and represent the emotion you're trying to convey.
Once properly prepared, dip the bristles into the ink and apply a stroke to the special calligraphy paper. Whether you write your name or the symbol for tranquillity, you are guaranteed a terrific cultural experience and souvenir from your trip to Japan.
9
Woodblock printing
Tour duration: 1h
Whether you've been inspired by Hokusai's The Great Wave off Kanagawa or you're looking for an authentic cultural experience, woodblock printing is the perfect way to experience Tokyo. Step into a working woodblock studio and check out works by the artist-teachers before they share the history of Japanese printing.
Discover the colours, figures, and patterns that define this art form, and then try making your very own print. An expert instructor shows you how to hold the baren to apply ink from the pre-carved woodblock onto paper. And once it dries, you get to take your masterpiece home.
10
Private tour of Mount Fuji by car
Tour duration: 8h
Book a private car with a licensed tour guide and take the road less travelled up to a Mount Fuji viewing point 2,300 metres (7,500 ft) above sea level. While there are plenty of ways to see Mount Fuji from Tokyo, whether it's atop the SKYTREE or aboard a tourist coach, those settings don't offer the solitude that beholding such a wonder requires.
No matter if you go in the hazy summer or snowy winter, your view of Mount Fuji is sure to be one-of-a-kind due to the ever-changing nature of this marvel.
Back to top