10 Best Things to Do in Palermo
What is Palermo Most Famous For?
Palermo is a wonderful example of a traditional Italian town, with modern facilities surrounding a historical heart. The Sicilian capital has a bit of a dark past relating to organised crime, but has many brighter notes in the form of an impressive medley of architectural and ornamental styles, including Byzantine, Arabian and Italian. As in many Italian cities, a walk in the centre of Palermo takes you for a journey in a timeless décor and atmosphere.
From the historical buildings that dot Palermo Old Town to the lively ambience of the street markets, and from the attractive nearby beaches to the delicious local wines and food, Palermo leaves an indelible mark on its visitors. Get ready for a memorable trip on the shore of the Tyrrhenian Sea.
What are the best things to do in Palermo?
1
Palermo Old Town
Take a leisure walk through Palermo's architectural wonders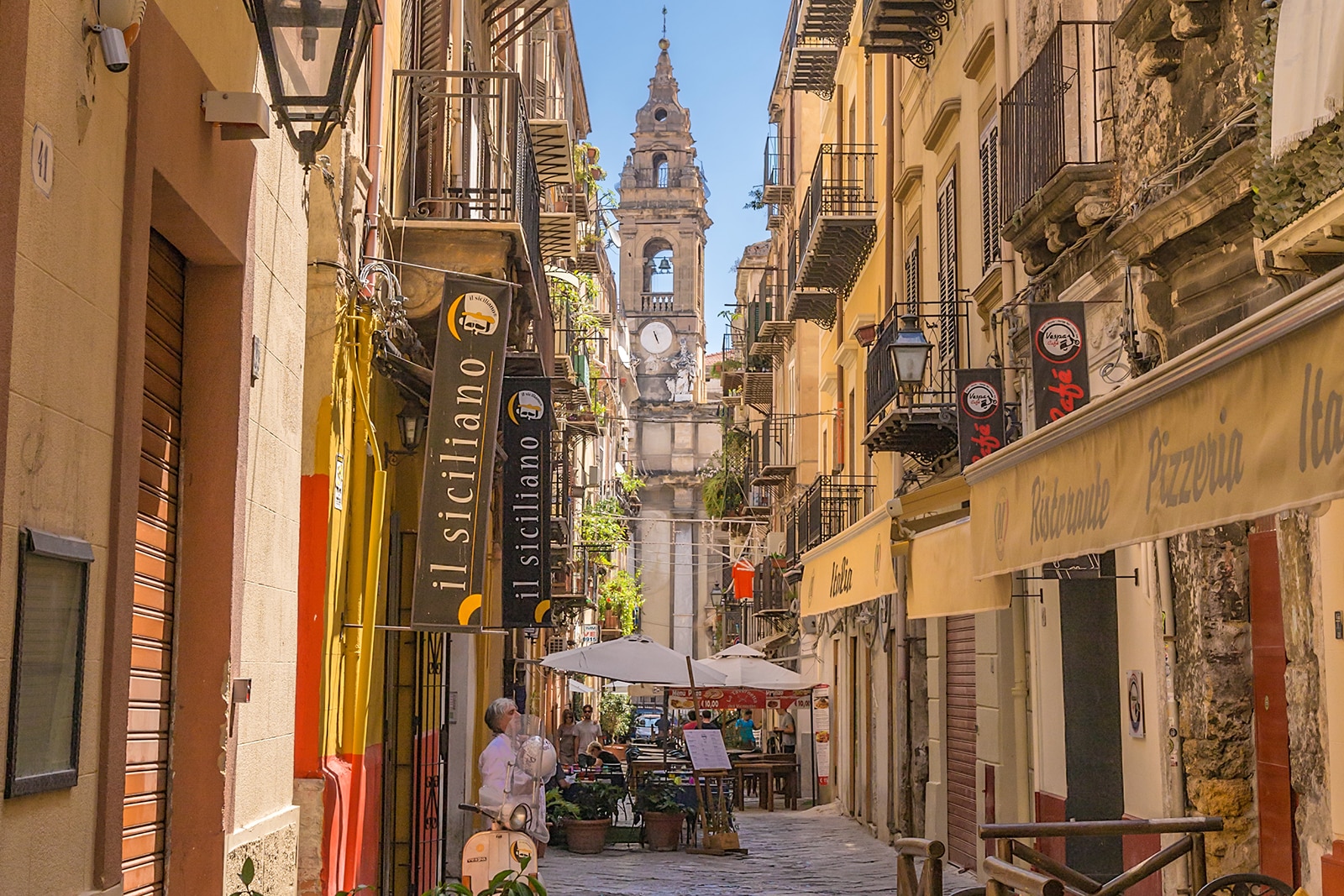 Couples
Families
History
Photo
Budget
Start your Old Town tour at Quattro Conti, which is considered to be the exact centre of Palermo Old Town. Located right next to Piazza Pretoria, it's an intersection framed by 4 buildings decorated with fountains. Teeming with splendid historical buildings, baroque palazzos, and ornamental sculptures, Palermo Old Town takes you for a journey back in time.
During your stroll, do not hesitate to walk down the narrow alleys that link the main streets as they offer excellent shortcuts. There are plenty of boutiques, bars and trattorias where you can take a break during your exploration.
Location: Just west of the Port of Palermo
2
Piazza Pretoria
Take the pulse of Palermo in its historical centre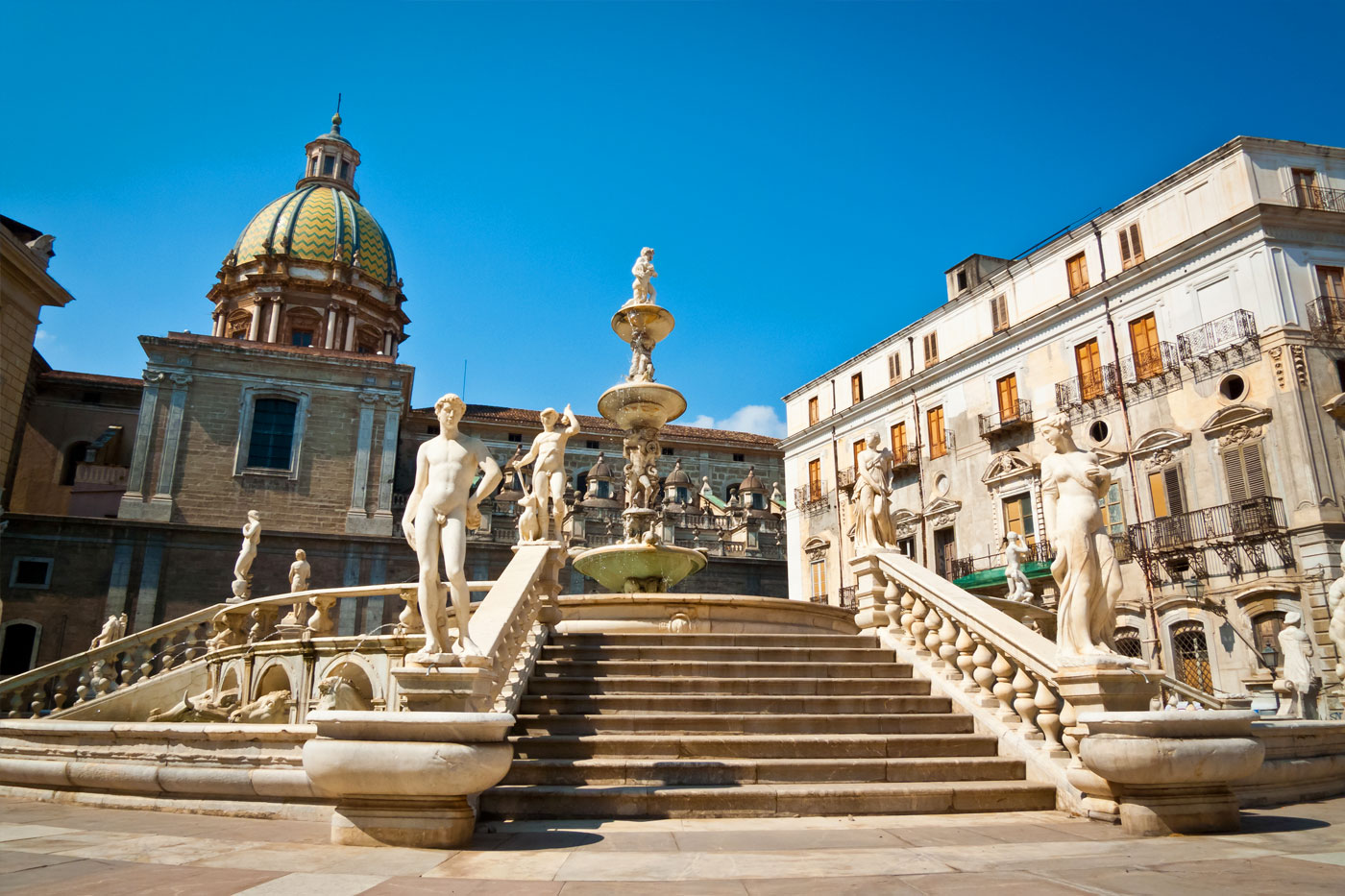 Couples
Families
History
Photo
Budget
Centrally located in Palermo Old Town, Piazza Pretoria is also known as the 'Square of Shame' because of the nude statues on the iconic Pretoria Fountain, one of the landmarks of Palermo. Surrounded by stylish palazzos, the Church of St. Catherine, and the Praetorian Palace (Palermo town hall), it's the right place to start a tour of the Old Town.
To get into the atmosphere of the city, walk 100 metres south to the entrance of Via dell'Università and drink a genuine caffè stretto at the terrace of caffè Ateneo before roaming the historical district of Palermo.
Location: On Via Maqueda in the centre of Palermo Old Town
3
Palermo Cathedral
It's a true architectural masterpiece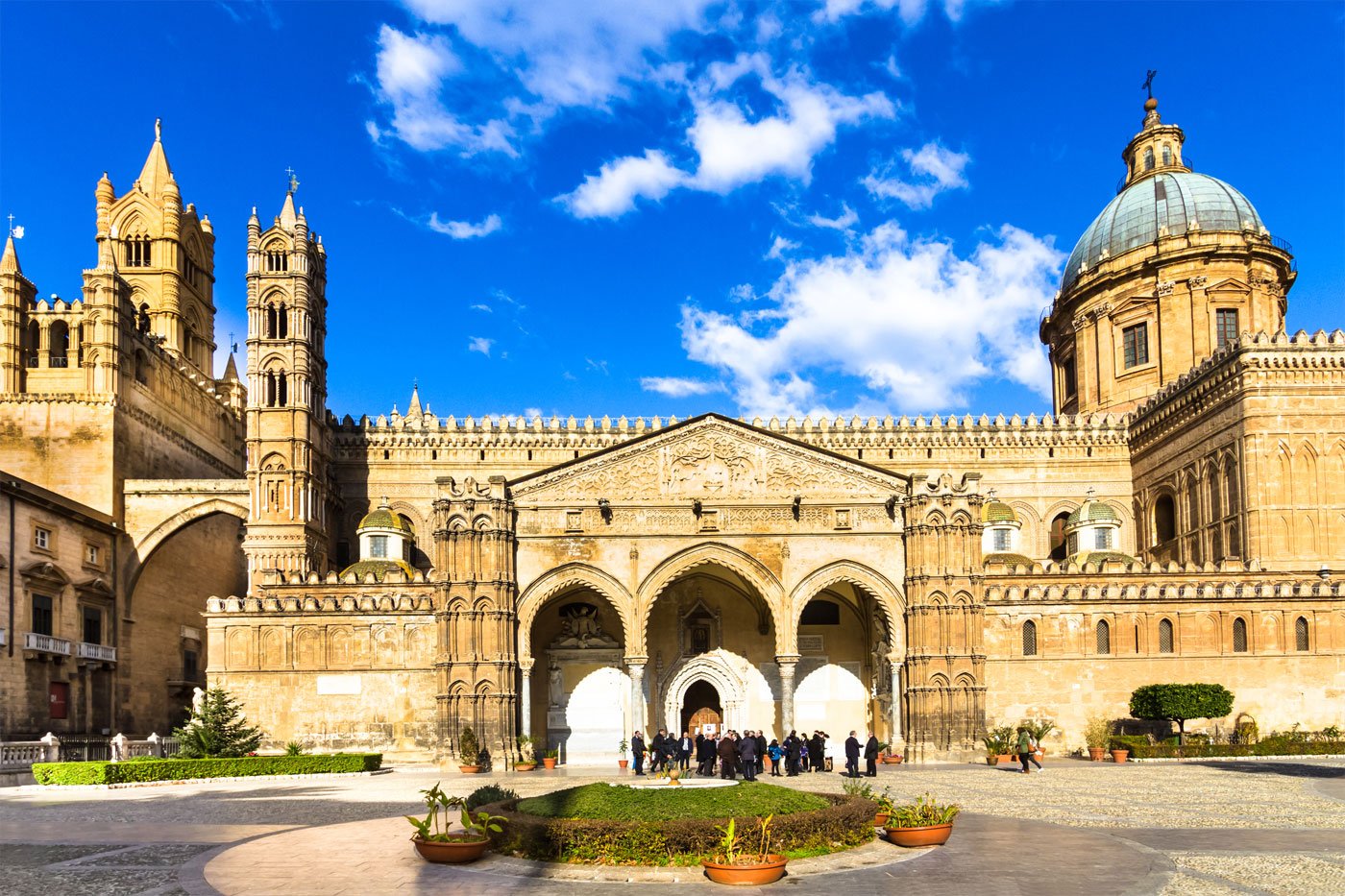 Couples
Families
History
Photo
Budget
Erected at the end of the 12th century, Cattedrale di Palermo (Palermo Cathedral) is a stunning religious building that blends many different architectural styles, including Byzantine, Gothic-Catalan and Neoclassical, to name a few. The cathedral is as spectacular inside as it is outside, it's a true masterpiece ornamented with precious stones and filled with historical items. Go in the morning if you want to get to the roof of the cathedral and see a panoramic view of Palermo.
Location: Via Vittorio Emanuele, 500 metres west of Quattro Conti intersection
4
Mondello Beach
Get a suntan at the closest beach to Palermo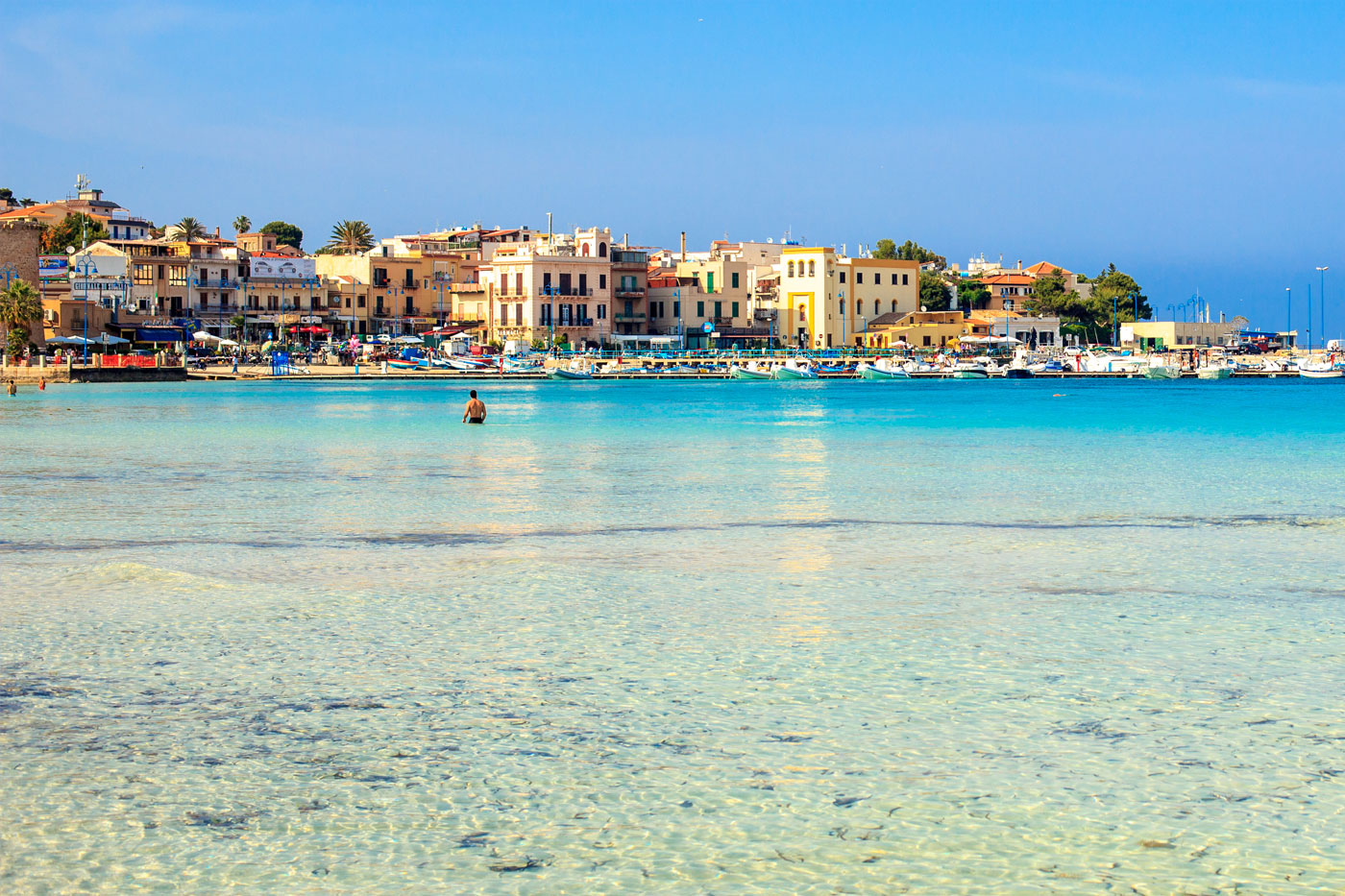 Couples
Families
Photo
Budget
Head to Mondello Beach to get a beautiful suntan. Located 10 km north of the Old Town, Mondello is the closest beach to Palermo. Cliché warning! Here, you'll find soft white sand lapped by the turquoise waters of the Tyrrhenian Sea.
Joking aside, Mondello is a great place to spend some time, not only for its beautiful beach, but also for the refreshing and relaxing getaway it offers. A good choice of beach bars and restaurants for all budgets are available.
Location: 10 km north of Palermo Old Town
5
The Norman Palace and the Palatine Chapel
Explore one of the oldest royal residences in Europe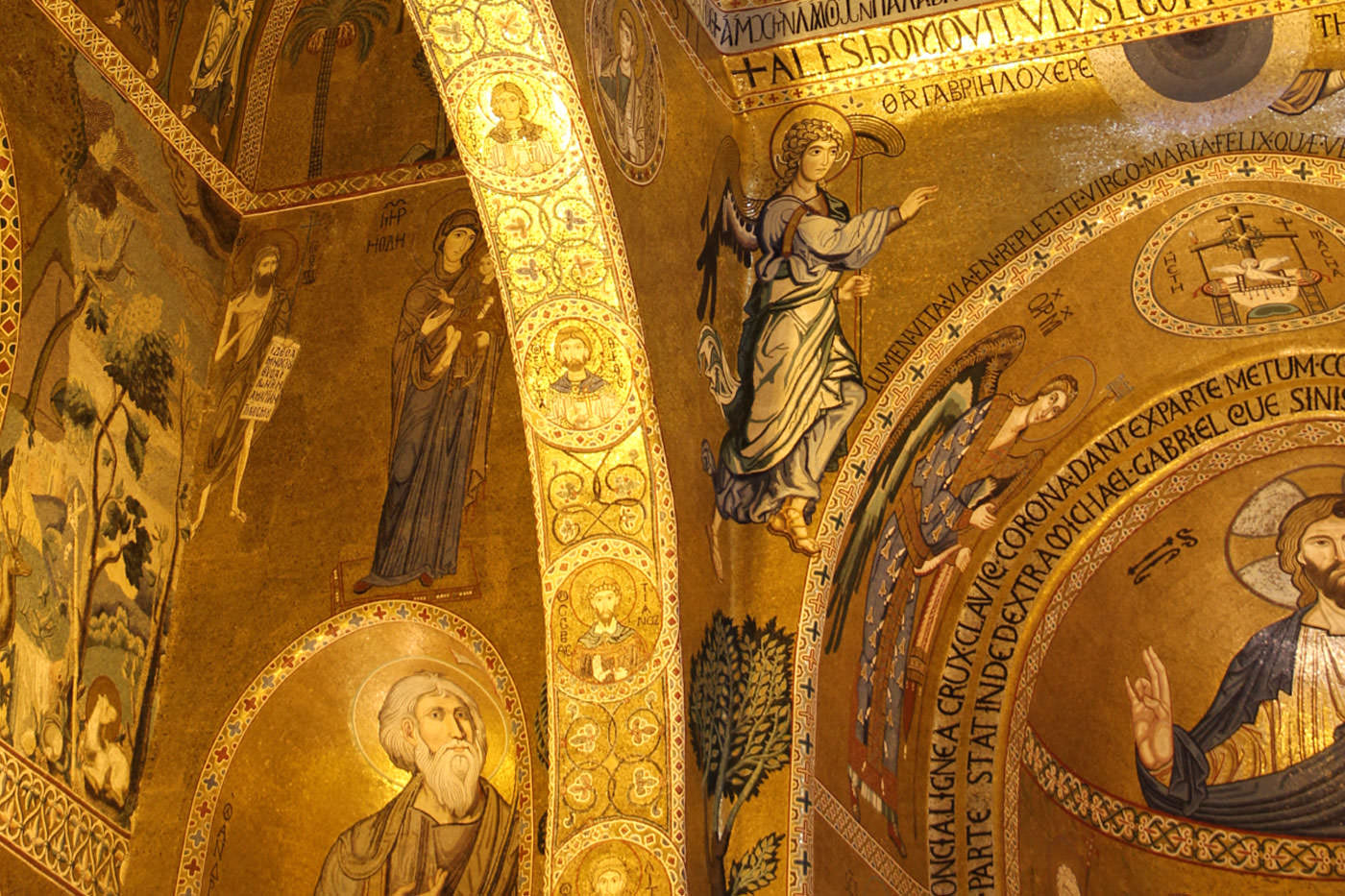 Couples
Families
Photo
Budget
The Palazzo dei Normanni e Cappella Palatina are 2 historical landmarks located a stroll away of Palermo Cathedral, at the highest point of the Old Town. Also known as the Palazzo Reale (Royal Palace), the Norman Palace dates back to the 9th century while the chapel on the palace's first floor was completed during the 12th century.
Walk through the rooms of this stunning building and you'll be wowed by the paintings, sculptures and ornamentations that cover all spaces from floor to ceiling.
Location: Just off Via Vittorio Emanuele, 350 metres west of Palermo Cathedral
Open: Monday - Saturday from 8.15 am to 5.45 pm, Sunday from 8.15 am to 1 pm
6
Mount Pellegrino
Admire a panoramic view of Palermo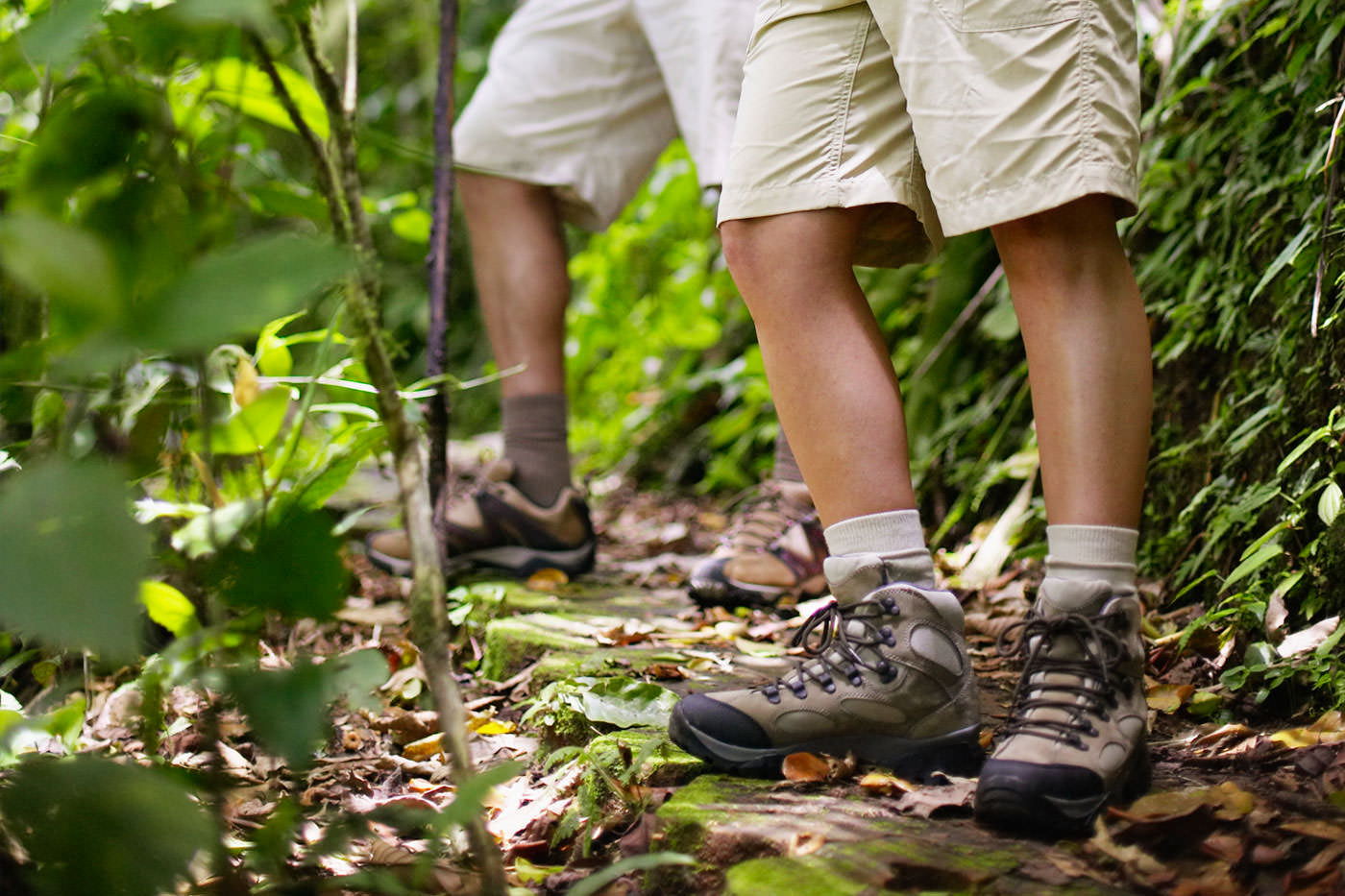 Couples
Families
Photo
Budget
Located just north of Palermo, 5 km from the Old Town, Mount Pellegrino offers a pleasant breath of fresh air and a good opportunity to work your legs…or not, as there's a bus stop at the top of the mountain.
A popular picnic place on weekends, the nature park that is Mount Pellegrino is famed for offering stunning panoramic views of the city, surrounding mountains and the Tyrrhenian Sea. While you're there, you can also visit the sanctuary of Saint Rosalia, the patron saint of Palermo.
Location: 5 km north of Palermo Old Town
7
Teatro Massimo Vittorio Emanuele
Visit the theatre in which the last scene of The Godfather Part 3 was filmed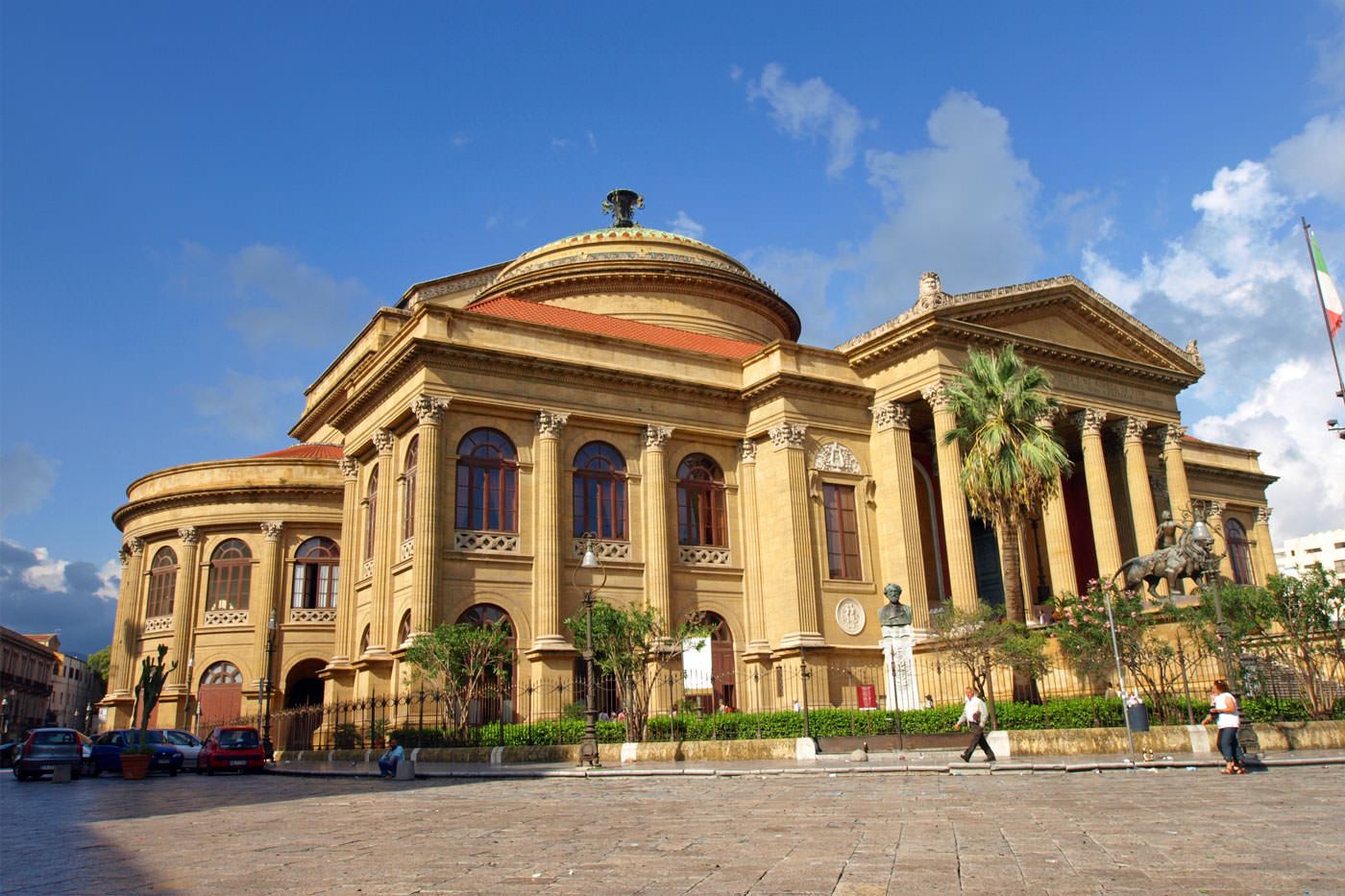 Teatro Massimo Vittorio Emanuele, simply known as Teatro Massimo, is a beautiful 19th-century theatre in the Old Town, 800 metres of the Port of Palermo. Inspired by classical Sicilian architecture, it can be visited by day from 9.30am to 6pm, but it's even better to attend one of the operas or dance ballets performed here most evenings. Note that Teatro Massimo is so popular that reservations are mandatory, even for a simple guided tour.
Location: In the Old Town, 800 metres west of the Port of Palermo
8
The Old Port
Sample flavourful Sicilian wines in Palermo Old Town
What could be better than a night of sampling a few Sicilian wines in the Old Town of Palermo? If you're already a wine lover, names like Marsala, Carricante or Cerasuola di Vittoria may ring a bell. You can enjoy local red and white wines all around Palermo, but the following wine bars are especially popular.
Enoteca Picone is a picturesque Sicilian restaurant located on Via Guglielmo Marconi. La Nicchia Enoteca is a genuine Sicilian venue that serves first-class local wines, cold cut and cheeses in unpretentious settings. It sits on Via Principe di Belmonte.
9
Palermo's Farmers Market
Feast on local street food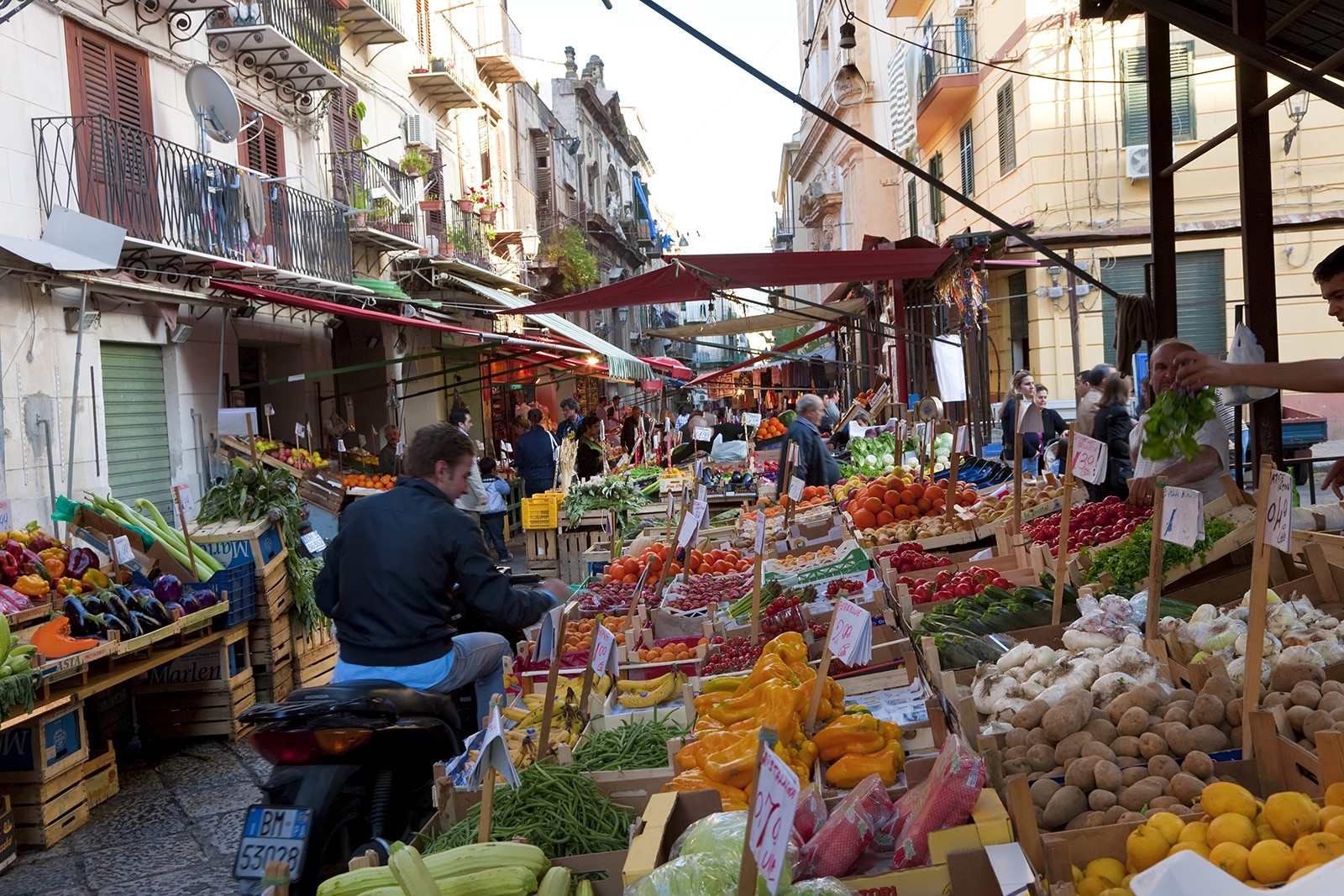 Locally known as Mercato di Capo, Palermo's farmers market should be on your bucket list if you want to sample local delicacies. Starting at Porta Carini, 200 metres west of Massimo Theatre, it's a street market at which you can find a large assortments of goods, from fresh fruits and vegetable to souvenirs and from fish and meat to street food.
Try Sfincione (spongy pizza topped with tomato sauce, onions and caciocavallo cheese) and Arancine (ball of saffron-scented rice filled with shrimp and pesto or spinach and smoked cheese), 2 of the favourite local delicacies. You can wash them down with a glass of Marsala wine at one of the many bars near the market.
Location: Porta Carini, 200 metres west of Massimo Theatre in Palermo Old Town
Open: Daily from 7 am to 8 pm (1 pm on Sunday and Wednesday)
10
La Cala Old Port
Sample Italian and Sicilian cuisines in Palermo Old Town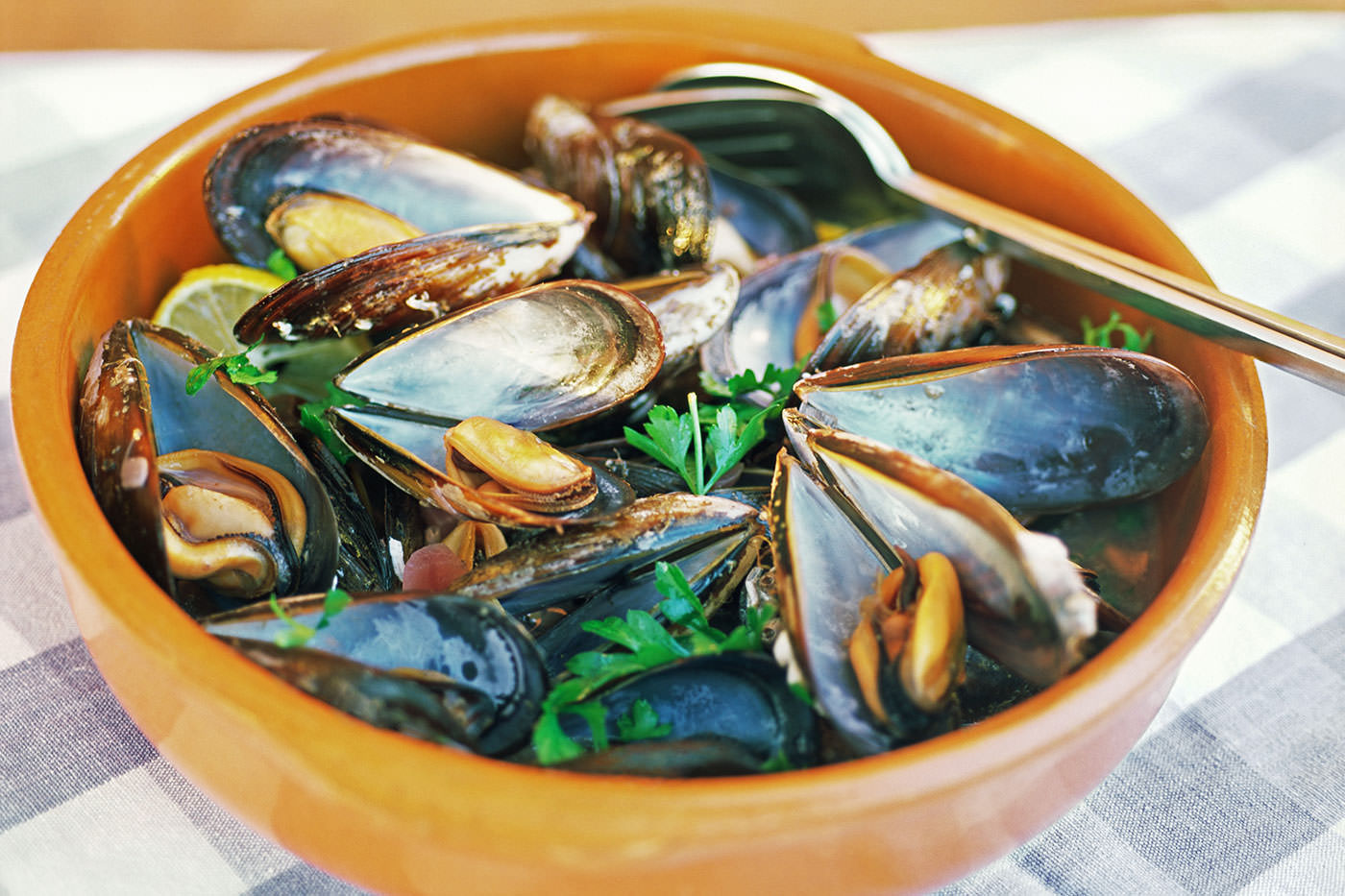 Being on an island, it's no surprise that top-notch seafood is on offer in most Palermo restaurants. For dinner, head to La Cala Old Port. You'll find an excellent choice of restaurants here, but Ristorante Ottava Nota is among the best. Located on Via Butera, it's a Michelin-starred place which serves a creative cuisine that blends tradition and innovation
On Piazza Marina, you'll find Garraffo Ristorante Wine Bar. This restaurant serves most of the classic Italian dishes including octopus, squid and swordfish. Last but not least, Gagini Social Restaurant, on Via dei Cassari, specialises in genuine traditional Sicilian dishes. Among the splendid vintage décor, you can try a choice of local seafood dishes as well as excellent wines.
Location: Just east of the Old Town
Back to top