11 Best Things to Do in Florence
What's Florence Most Famous For?
Florence charms visitors with its mix of majestic chapels and fortified palaces. Elegant gardens are spread out near museums that house Renaissance masterpieces. The Arno runs through Florence at the base of the Apennines, and picturesque stone bridges like the Ponte Vecchio cross over it, allowing you to easily explore both halves of this idyllic Mediterranean city.
Throughout Florence's public spaces and piazzas, almost everywhere you look there's a magnificent marble Renaissance sculpture by a great Italian artist. When not exploring the city's art-filled spaces and magnificent landmarks, you may easily find yourself pleasantly lost inside a lively Florentine flea market. Make your visit a memorable one with these 11 best things to see, do and try in Florence.
What are the best things to do in Florence?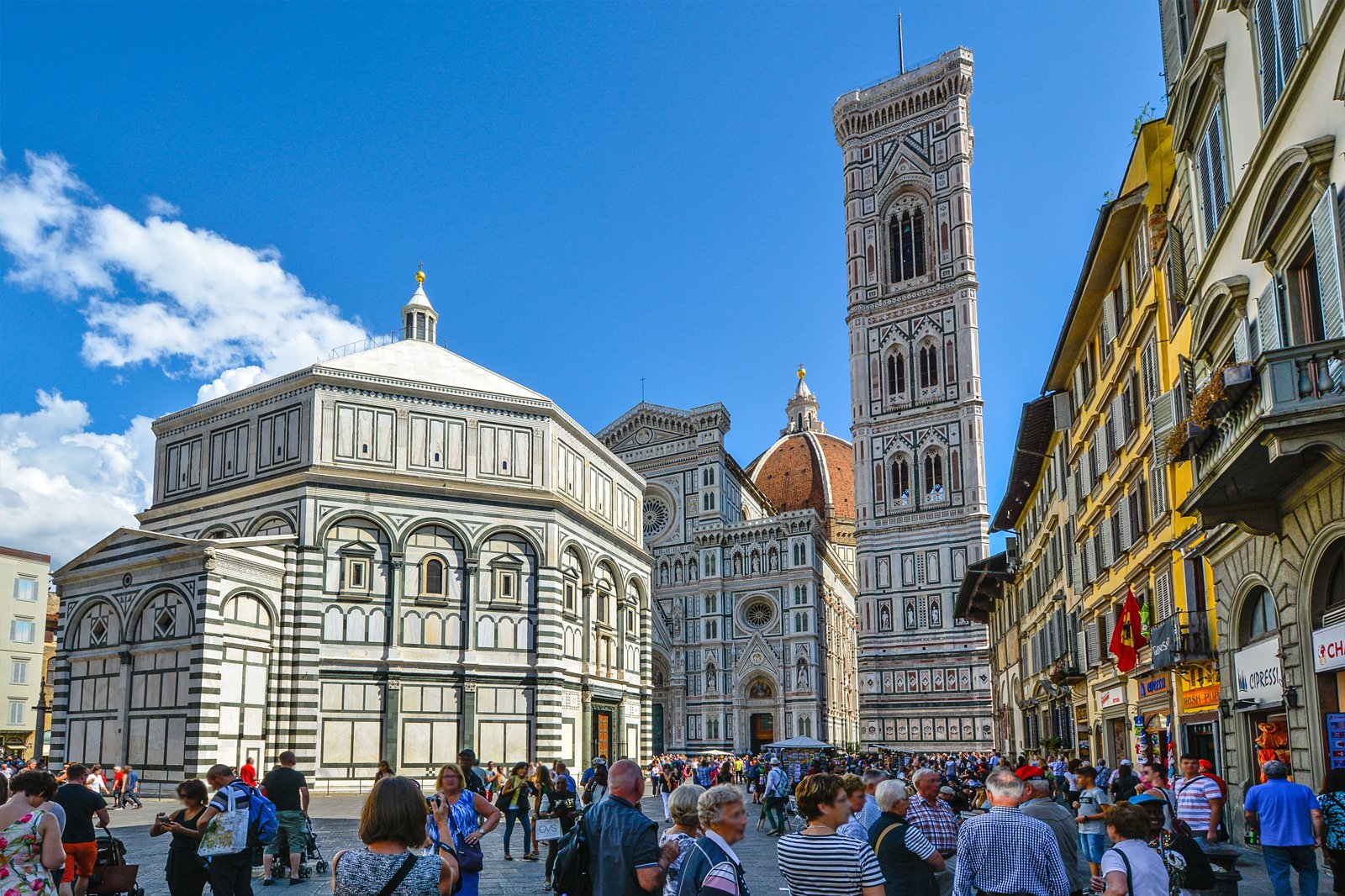 Start your day at Piazza Del Duomo
Get a first taste of Florence around its majestic cathedral
Piazza Del Duomo is Florence's main public square, with the Santa Maria del Fiore cathedral (the Duomo) as its central landmark. Buzzing with pedestrians, it provides you with a good first sense of Florence's mix of old and new – modern restaurants and shops border the square, housed in well-preserved Renaissance-style buildings. The cathedral's Gothic frontage features 3 massive bronze doors and lunettes covered in coloured marble and reliefs. Inside, you'll find a fine display of mosaics throughout. Access is free.
Location: Piazza del Duomo, Florence, Italy
Open: (The Duomo) Monday – Wednesday from 10am to 5pm, Thursday from 10am to 4pm, Saturday from 10am to 4.45pm, and Sunday from 1.30pm to 4.45pm
Phone: +39 (0)55 230 2885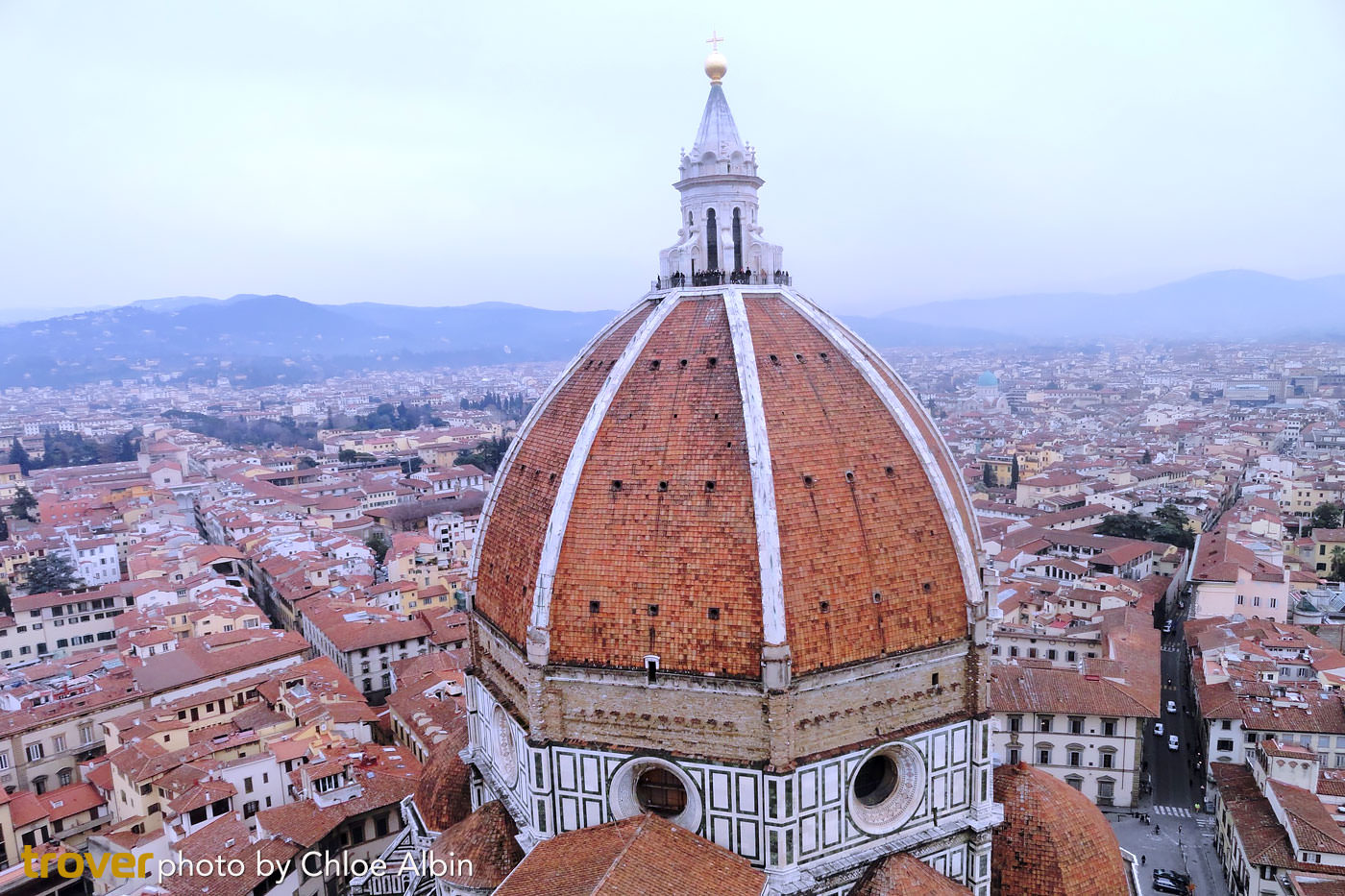 Climb Giotto's Campanile
View downtown Florence from atop its tallest tower
Giotto's Campanile is the bell tower right next to the Duomo, and is one of the tallest historical structures dominating Florence's skyline. Together with the adjacent cathedral, the tower showcases one of the city's best examples of Florentine Gothic architecture. It's mostly a vibrant white colour, and all four walls below its midsection feature numerous sculptures. Most visitors to the Duomo spare enough time (and around €15) to climb up for panoramic views from around 84 metres high. You'll need to walk up the 400 or so steps to the top, with pauses at its 3 middle floors for bonus views.
Location: Piazza del Duomo, Florence, Italy
Open: Daily from 8.15am to 6.50pm
Phone: +39 (0)55 230 2885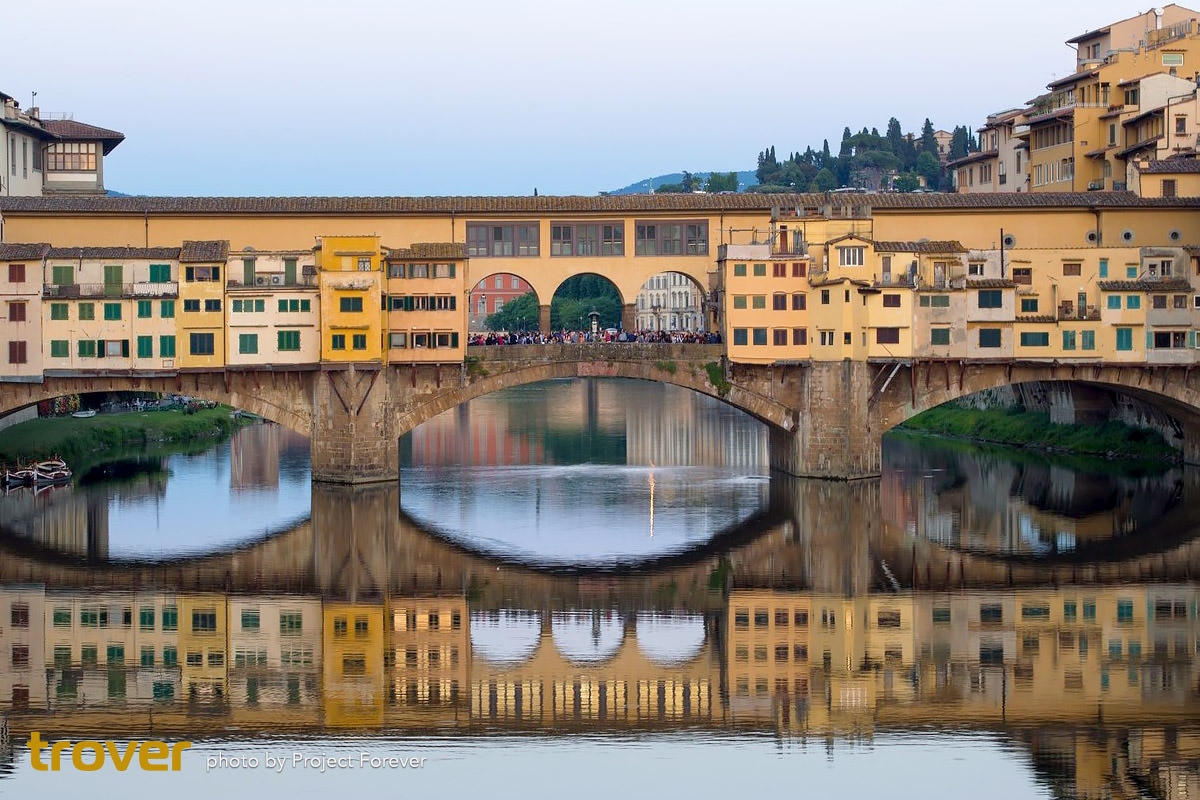 Window shop along Ponte Vecchio
Cross over the Arno through a Florentine icon
Ponte Vecchio is one of Florence's oldest bridges crossing over the Arno, linking both halves of the city. The bridge is picturesque when viewed from the other bridge to its west, namely the Ponte Santa Trinita (Saint Trinity Bridge). Crossing Ponte Vecchio, you'll find it's lined with a variety of small jewellery and watch shops, and bustling with pedestrians around the clock. Prices in the shops tend to be touristy, though. The bridge is your main access for visiting two of Florence's piazzas: the downtown Piazza della Repubblica and the Piazza dei Pitti on the Arno's southern bank.
Location: Ponte Vecchio, Florence, Italy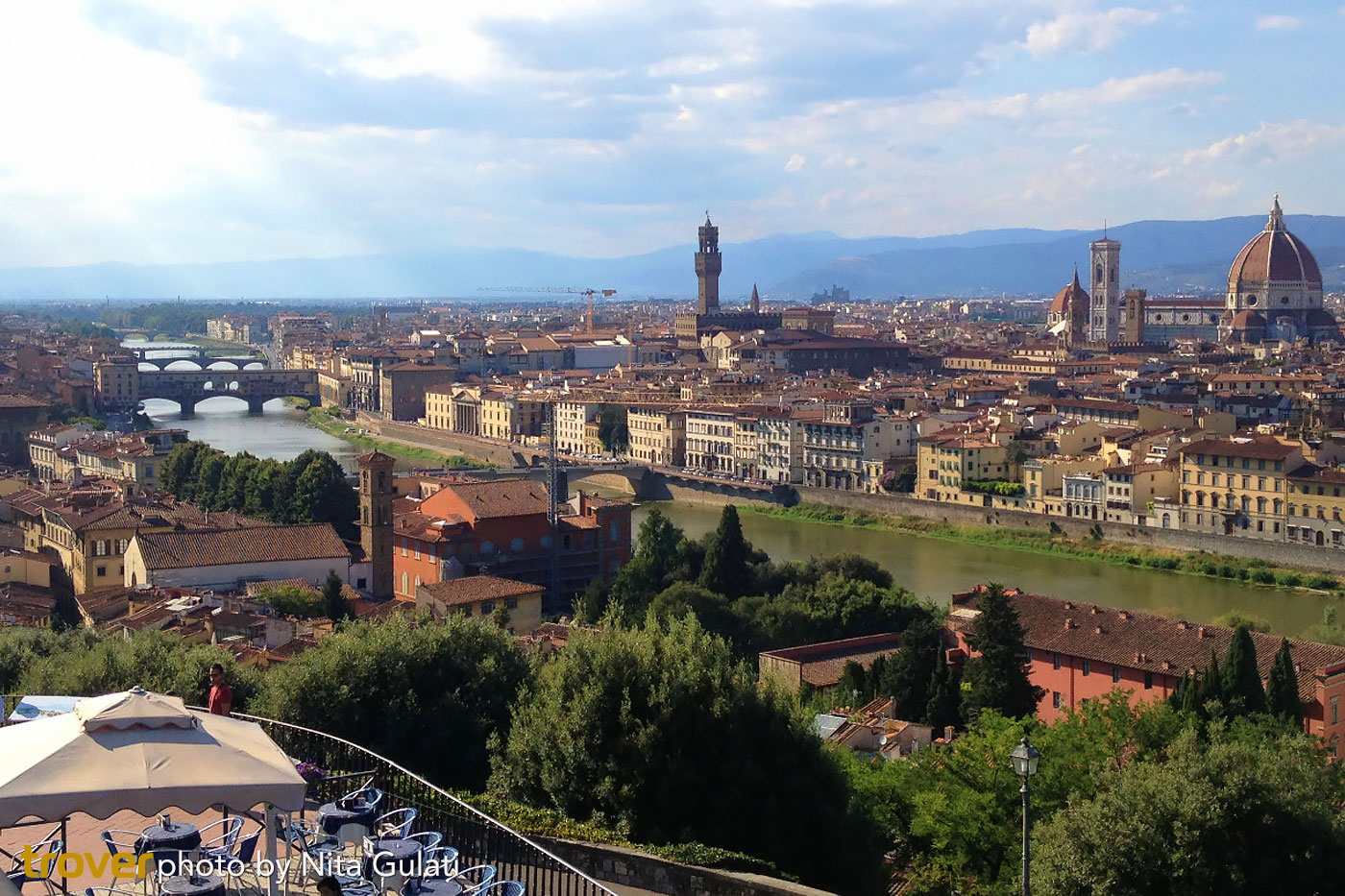 Must-do: visit Piazzale Michelangelo
Admire a fantastic skyline from across the Arno
Piazzale Michelangelo is a 19th-century hilltop square that offers a full and stunning view over Florence from across the Arno. A full-sized bronze replica of Michelangelo's David faces the city from the square's centre (the original's in the Galleria dell'Accademia art museum, downtown). You can reach the square either by going up the flight of stairs of "Poggi's Ramp" from the lower Piazza Giuseppe Poggi, or on a 15-minute scenic drive from the city hub via the tree-lined Viale Michelangiolo. Access to Piazzale Michelangelo is free.
Location: Viale Michelangiolo, Florence, Italy
Open: Daily from 9.30am to 1pm and from 3pm to 7pm, Sundays from 3pm to 7pm
Couples
Families
History
Photo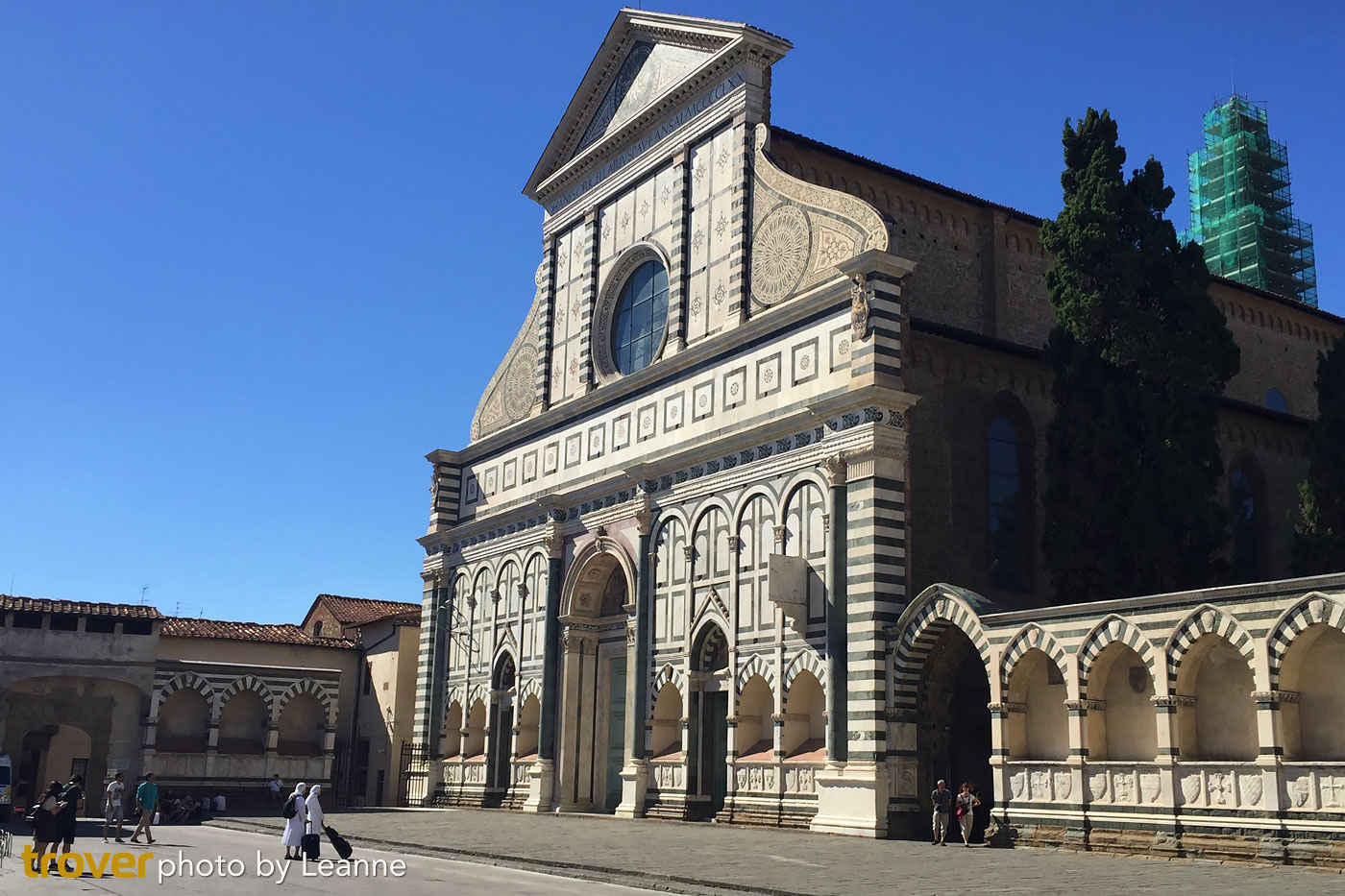 Must-See: Basilica of Santa Maria Novella
Marvel at Italian Gothic architecture
The 15th-century basilica of Santa Maria Novella is one of Florence's most beautiful Gothic churches. Its façade shows spectacular examples of Italian Gothic style, featuring coloured marbles in a combination of green and white. Pay about €7.50 to get inside this vast church and you'll find more colours through its central arches, plus masterpieces by some of Italy's greatest. The highlight artwork is the Trinity, by Masaccio. Some consider the church's frescoed interiors to be far better than the Duomo's.
Location: Piazza di Santa Maria Novella, Florence, Italy
Open: Monday – Friday from 9am to 6pm
Phone: +39 055 219257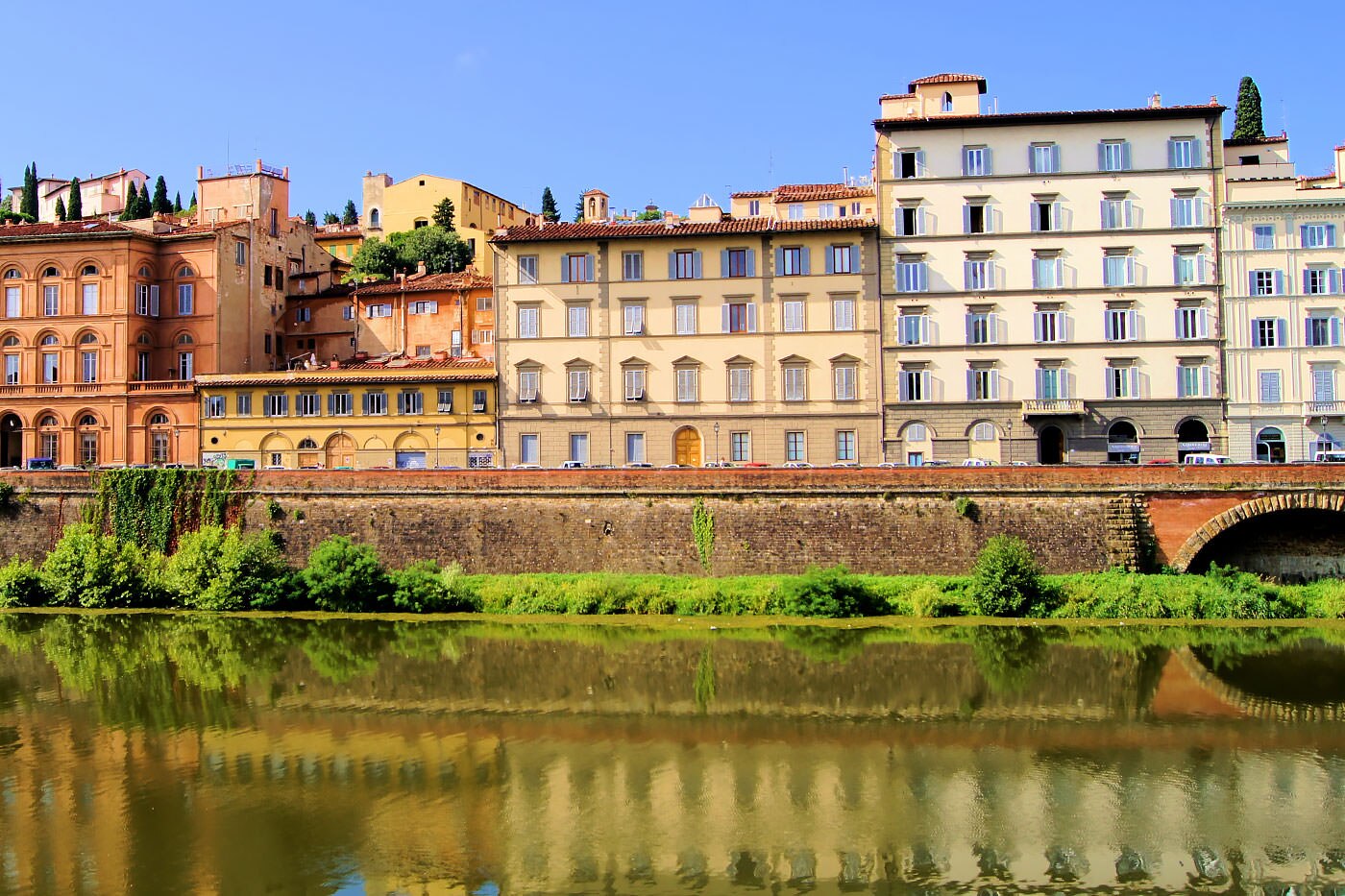 Explore the Oltrarno Quarter
Go beyond the Arno
The Oltrarno Quarter is worth exploring if you've covered most of Florence's central hub. It's considered one of the most beautiful parts of the city, and a historic cradle where you can find some of Florence's grand monuments and palatial sites. These include the wondrous Palazzo Pitti and the linked Boboli Gardens, around a 15-minute drive west of Piazzale Michelangelo. You can cross over to the Oltrarno Quarter via several bridges, such as the landmark Ponte Vecchio, and most of the walks are pleasantly shaded along lush, tree-lined paths.
Location: Oltrarno Quarter, Florence, Italy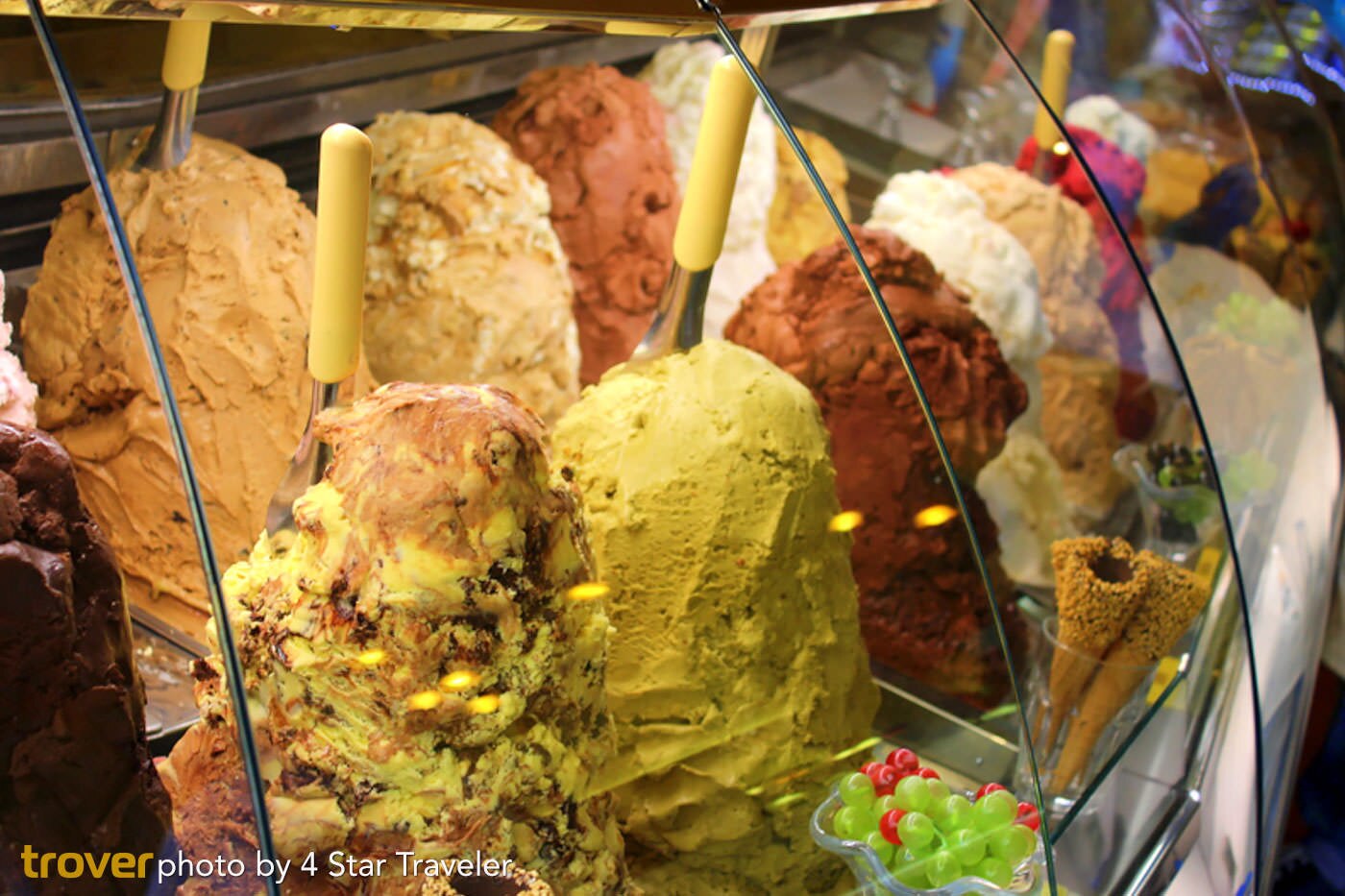 Pick Your favourite gelato
Find the best gelato among the many available
Get a good scoop of creamy Florentine gelato while you're here. Finding the best can be quite a challenge – there are so many gelaterias serving their own special flavours. Gelaterias also generally serve some of the best espressos you'll ever taste. Surprisingly, the best places are rarely found in Florence's main historical centre. Check out Cantina del Gelato, which has shops in several spots, including one near Ponte Vecchio. They usually have around 20 good, bold and playful flavours, spanning tropical fruits and even spices, from about €3 for a medium serving.
Location: Via de' Bardi 31, Florence, Italy
Open: Daily from 12pm to 11pm
Phone: +39 055 050 16 17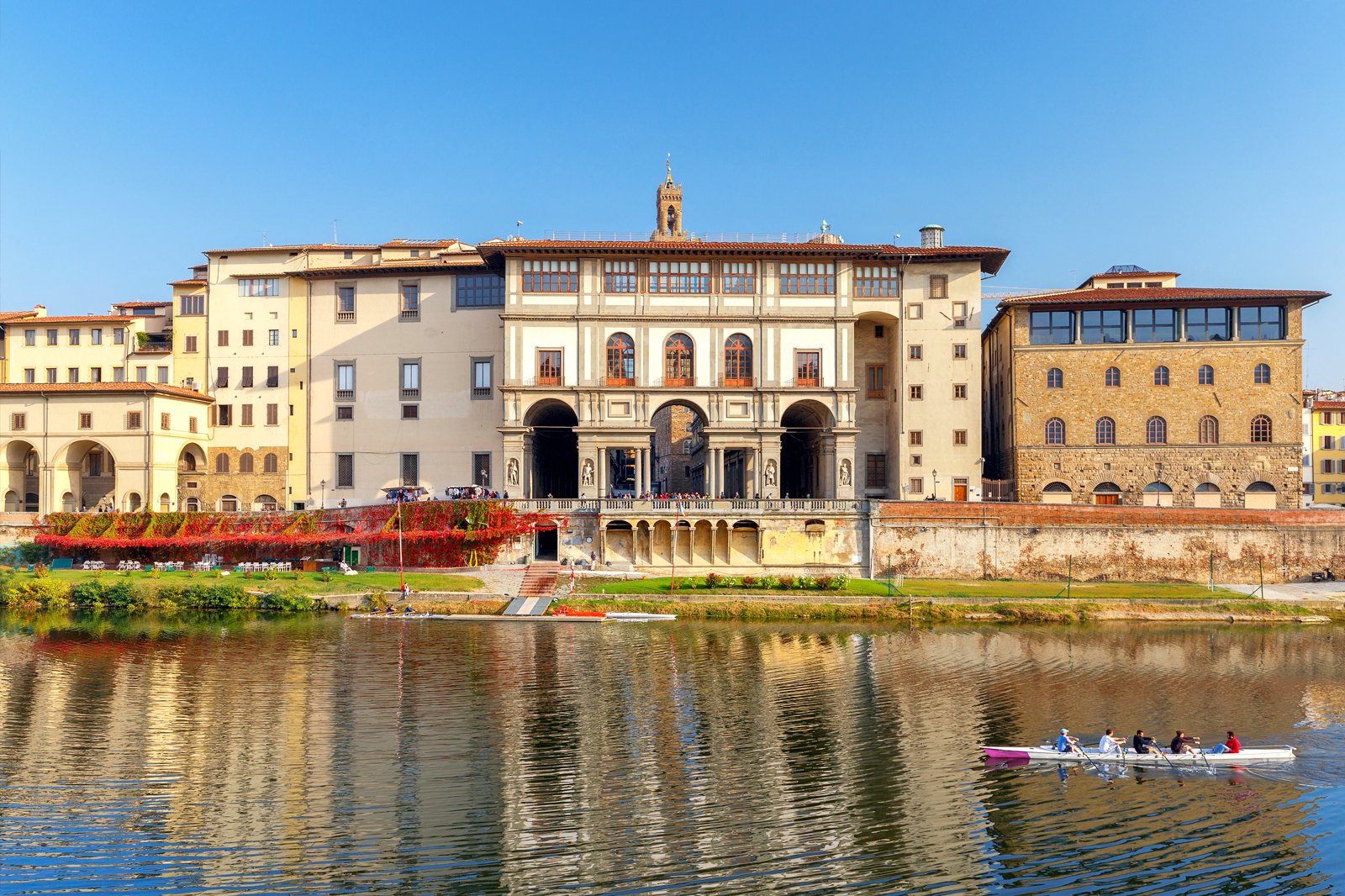 Admire masterpieces at Uffizi Gallery
Discover a treasure trove of arts
The Uffizi Gallery is a 16th-century office building in the heart of Florence, where you can wander through a long row of rooms that house a vast collection of Renaissance artworks. The works are set in chronological order, and include religious artefacts that reflect the sense of piety of those ancient times. It's home to some famous classical pieces, such as Botticelli's The Birth of Venus, Caravaggio's Medusa and da Vinci's Annunciation. Tickets are from about €6.50, but it's good to pay a little extra for a guided tour – you'll gain a better insights and, most importantly, skip the usually long lines.
Location: Piazzale degli Uffizi, 6, Florence, Italy
Open: Tuesday – Sunday from 8.15am to 6.50pm
Phone: +39 (0)55 294883
Shop at Mercato Centrale
Eat, shop and mingle with locals at Florence's famous flea market
Mercato Centrale – Florence's Central Market – is a fun and lively spot to visit. With the many food stalls to choose from, you can relax, eat and shop. It's also great value, as the prices are reasonable for the fresh and authentic Tuscan food you get. You can sample the items from each vendor on display before you decide to buy anything, making it a great opportunity to discover the best flavours of the Tuscany region. Come early to witness how some of the dishes are prepared.
Location: Piazza del Mercato Centrale, Via dell'Ariento, Florence, Italy
Open: Daily from 10am to 12am
Phone: +39 055 239 9798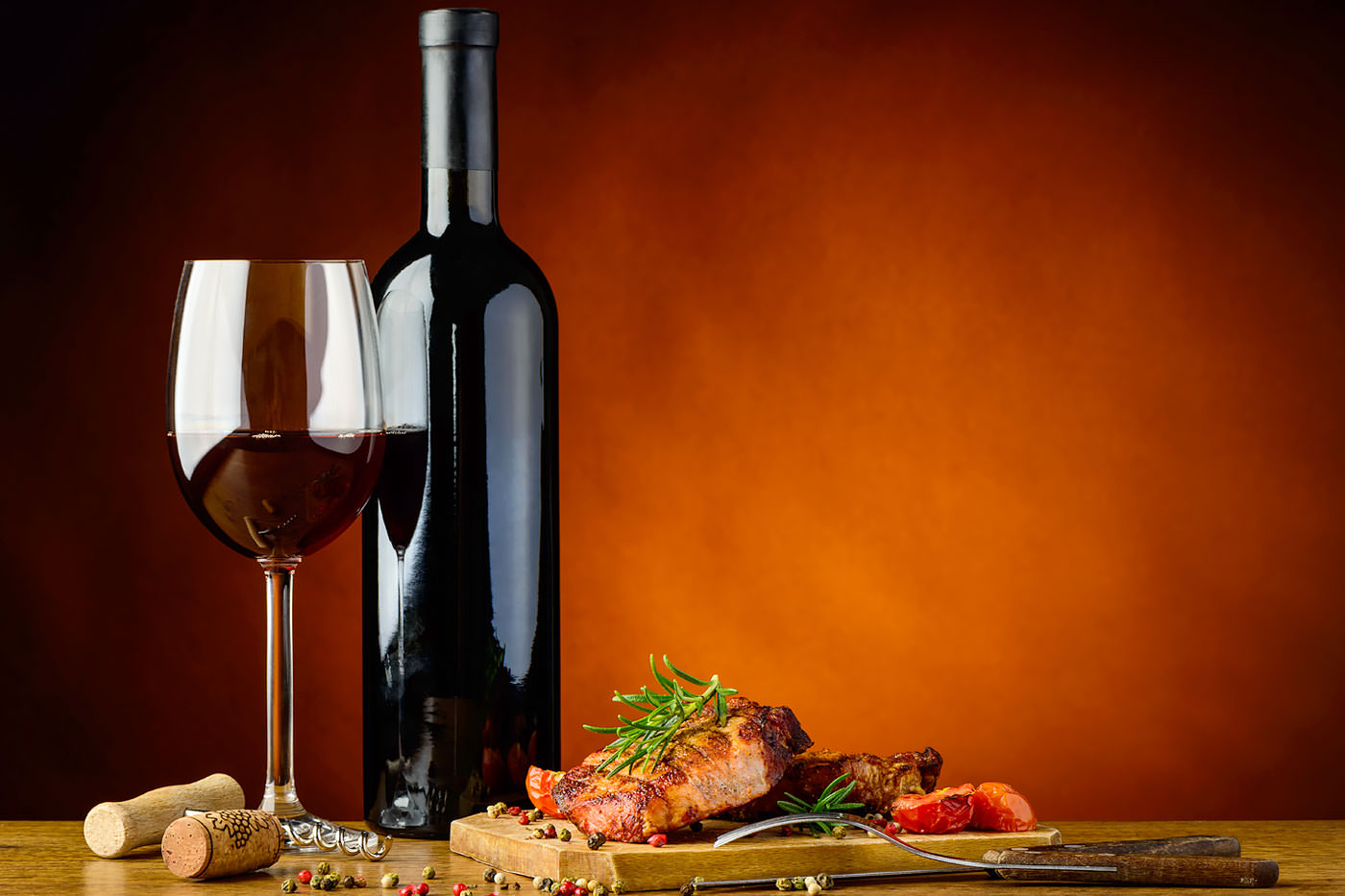 Try Bistecca at Trattoria dall'Oste Chianineria
Taste the best Florentine steaks and Tuscan wines in town
At the end of a day in Florence, consider enjoying a specialty: a glass of Chianti Classico. These red wines from the Tuscan region are made exclusively from Sangiovese grapes, and are a good match to the best specialty dishes of this so-called "capital of Tuscany". One of the dishes not to be missed is the T-bone Florentine Steak, known as Bistecca alla fiorentina. Using the marbled high cut of the Chianina breed of Tuscany, it's woodfire-grilled rare, with a smooth and buttery texture that melts in your mouth. Plenty of Osterias and Trattorias all over Florence offer the steak, but a great spot to try is Trattoria dall'Oste Chianineria, near the Santa Maria Novella church.
Location: Via Luigi Alamanni, 3/5r, Florence, Italy
Open: Daily from 11am to 10.30pm
Phone: +39 055 212048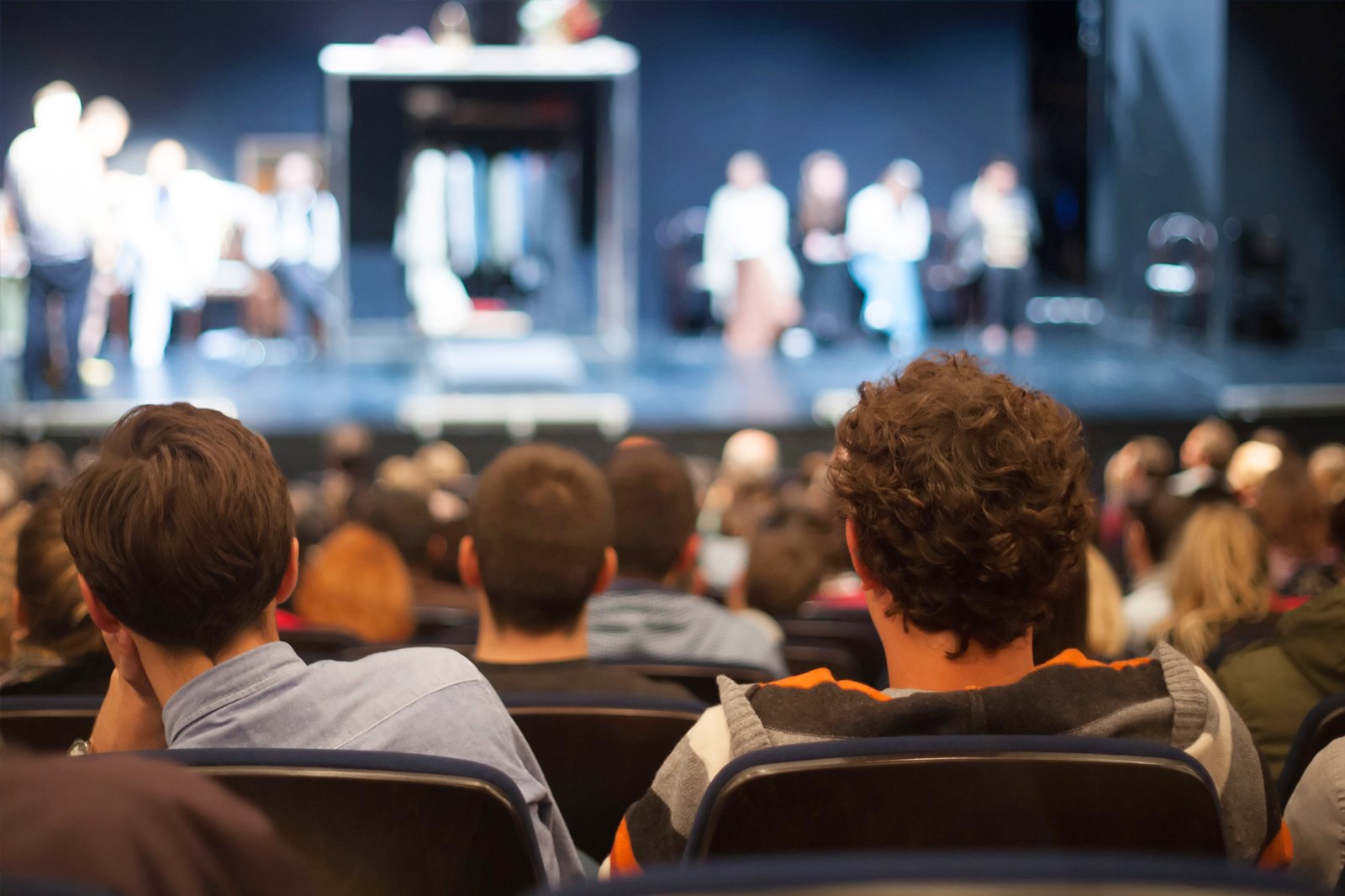 End the day watching a concert at Opera di Firenze
Classical and live performances in a modern auditorium
Opera di Firenze is a modern auditorium on the outskirts of Florence. It's home to one of the world's longest-running classical music and opera festivals, the Maggio Musicale Fiorentino. Throughout every annual "festival season", the venue shows performances and collaborations of some of Italy's finest orchestras, theatre directors and artists. Operas include Giuseppe Verdi's melodramatic rendition of Shakespeare's Macbeth in four acts (seats range between €35 and €200). Opera di Firenze is around an 18-minute ride by Bus 22 from Santa Maria Maggiore, downtown.
Location: Piazza Vittorio Gui, 1, Florence, Italy
Open: (Ticket office) Monday – Saturday from 10am to 6pm, most shows start at 3pm or 8pm
Phone: +39 (0)55 277 9309