Uluwatu Temple, or Pura Luhur Uluwatu, is renowned for its magnificent location, perched on top of a steep cliff approximately 70 metres above the waves. As one of the 6 key temples considered to be Bali's 'spiritual pillars', Uluwatu also shares the splendid sunset backdrops as that of Tanah Lot Temple, another important sea temple that graces the island's western coast.
Pura Luhur Uluwatu is definitely one of the top places in Bali for witnessing a delightful sunset, with direct views overlooking the beautiful waves of the Indian Ocean and daily Kecak dance performances held at an amphitheatre nearby. Balinese architecture, traditionally-designed gateways, and ancient sculptures all add to Uluwatu Temple's appeal.
Uluwatu Temple in Bali - one of the highlights of 10 Best Places for Sunsets in Bali and 10 Best Viewpoints in Bali (Read all about Bali here)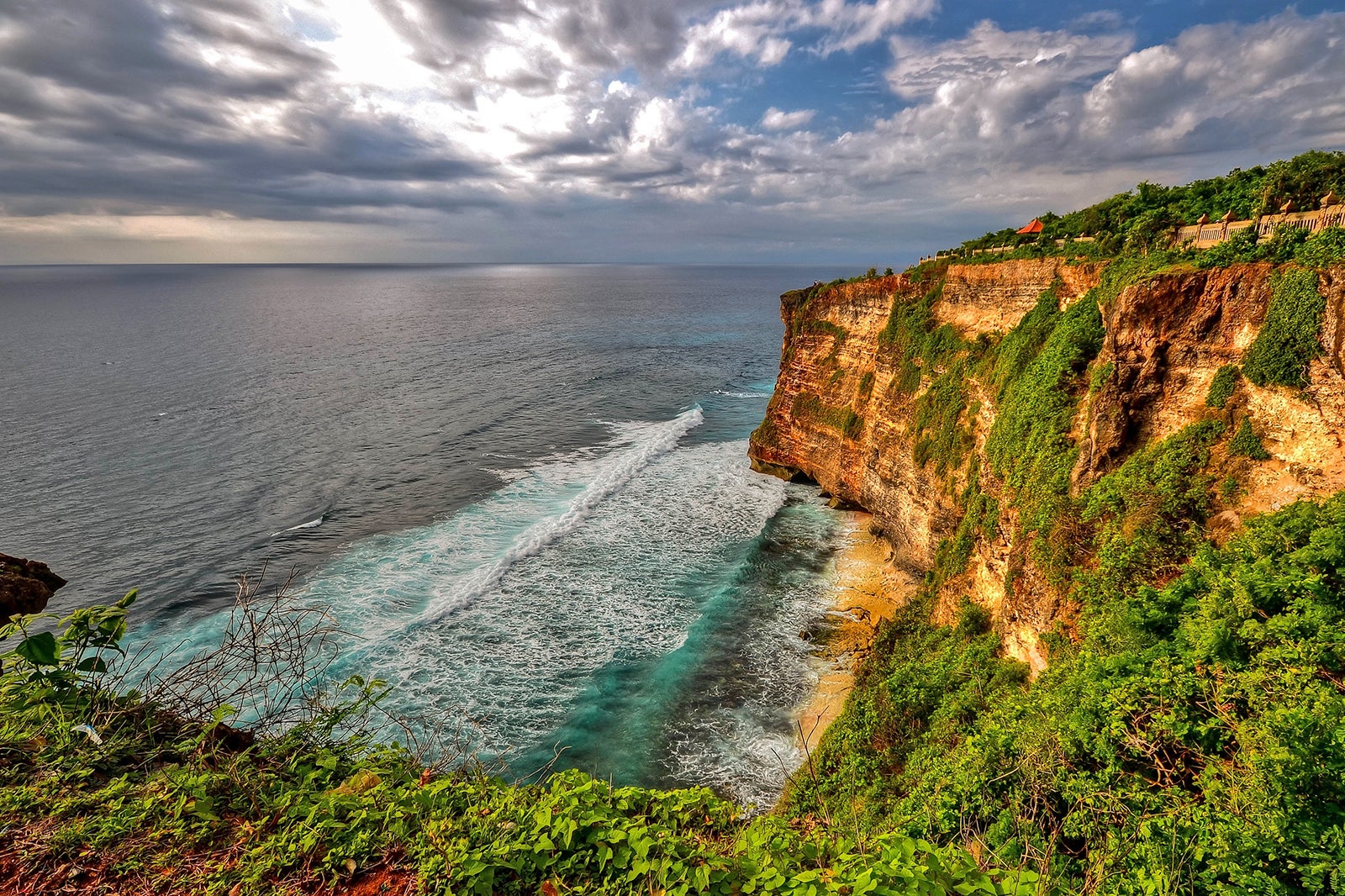 Spectacular setting of Uluwatu Temple
Without a doubt, what makes Uluwatu Temple spectacular is its high setting at the edge of a cliff and overlooking the waves of the Indian Ocean. Ulu means the 'top' or the 'tip' and watu is 'stone' or 'rock' in Balinese. Several archaeological remains found here prove the temple dates back to around the 10th century. There are 2 entrances to Uluwatu Temple, one from the south and the other from the north.
A small forest surrounds the temple where hundreds of monkeys dwell. They are believed to be the loyal guardians the temple. The serpentine pathway to the temple is fortified by concrete walls on the cliff side. It usually takes about an hour to get from one end to another as there are several fenced points along the way where you're surely to take a pause. The views from the bottom of the water surging up against rocks and the ocean horizon are breathtaking.
The Balinese Hindus believe that the powers of the Hindu Trinity: Brahma, Vishnu, and Siva, merge here. That belief results in making Uluwatu Temple a place of worship of Siva Rudra, the Balinese Hindu deity of all elements and aspects of life in the universe.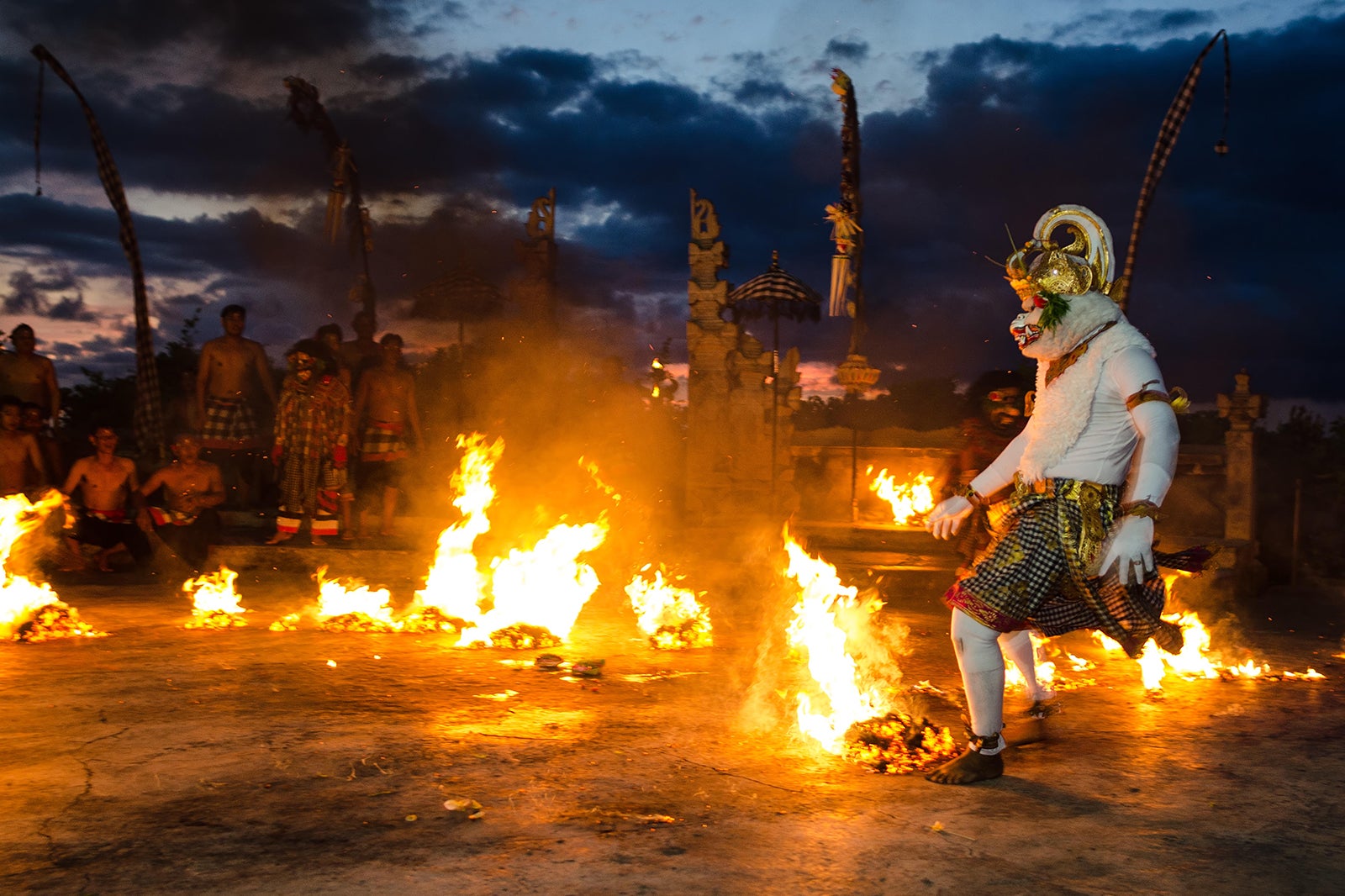 Brief history of Uluwatu Temple
Inscriptions mention that Uluwatu Temple was instigated by Mpu Kuturan, a Majapahit monk who's also credited for the establishment of several other key temples in Bali. A holy priest from eastern Java, Dhang Hyang Dwijendra, then chose Uluwatu Temple to be the endpoint of his spiritual journey. Devotees believe that he reached the highest point of 'spiritual oneness' by a strike of lightning and vanished.
Legend says that Dhang Hyang Dwijendra (also frequently referred to by name as Danghyang Nirartha) was the architect of Uluwatu Temple and several other temples in Bali, Lombok, as well as Sumbawa. Until 1983, Pura Uluwatu was hardly accessible and a lightning strike in 1999 set some parts of the temple on fire. The temple had undergone a series of restoration efforts since.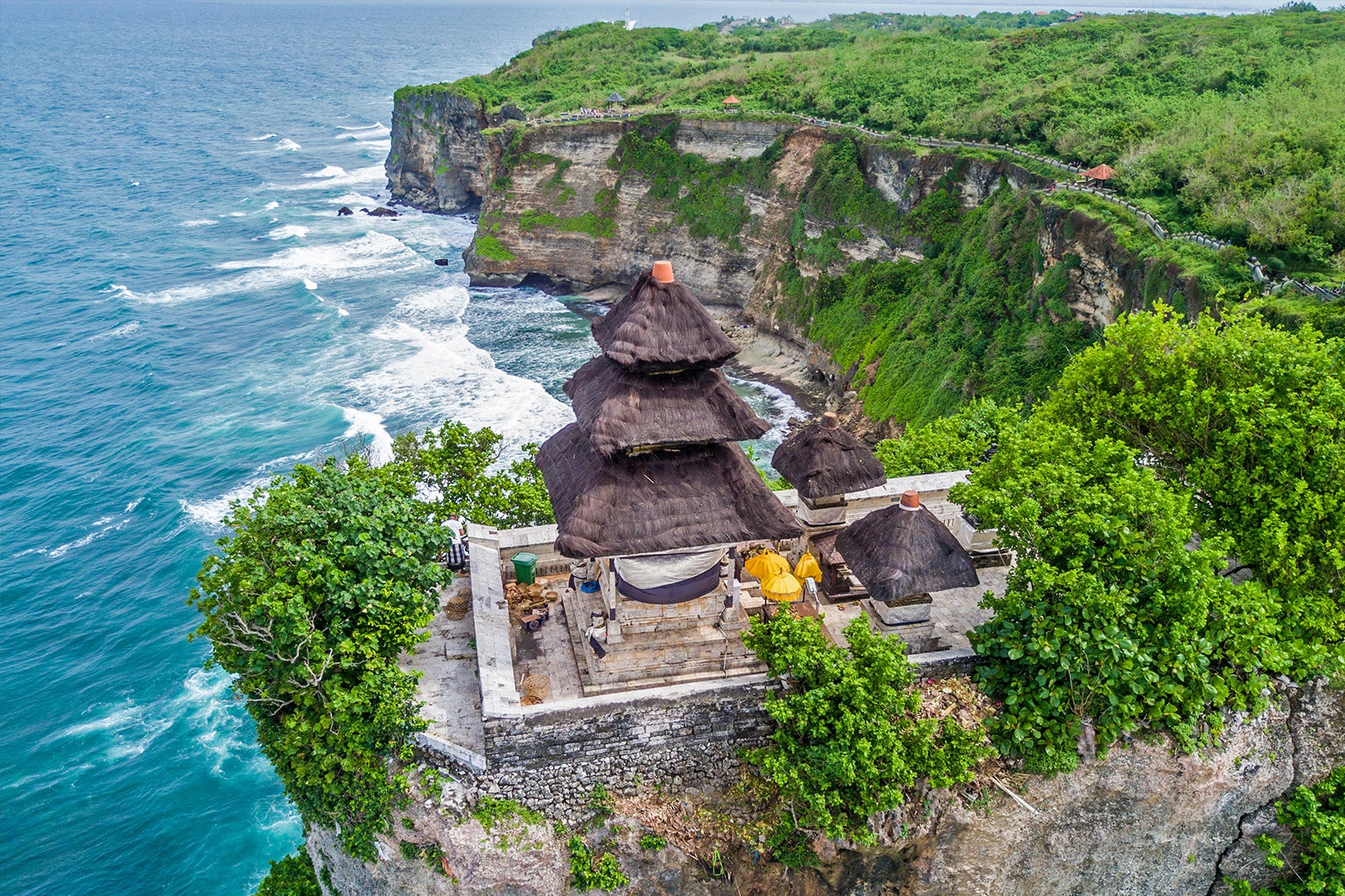 Uluwatu Temple's highlights and features
Behind the main shrine in one of the courtyards of Uluwatu Temple lies a Brahmin statue facing the ocean, which is considered to be a representation of Dhang Hyang Dwijendra. The 2 entrances to the temple area are split gates with leaves and flower carvings.
One of Uluwatu's 10th-century relics is a one-piece winged stone gate leading to the temple's inner courtyard. Winged gates aren't common on the island. The Pura Dalem Jurit temple was added in the 16th century. There are 3 statues inside, one of them depicting Brahma. There are 2 stone troughs in the temple area. If both of them were to be joined, they would form a sarcophagus (Megalithic coffin).
Right below the cliff is Uluwatu Beach, one of Bali's best internationally-known surfing spots.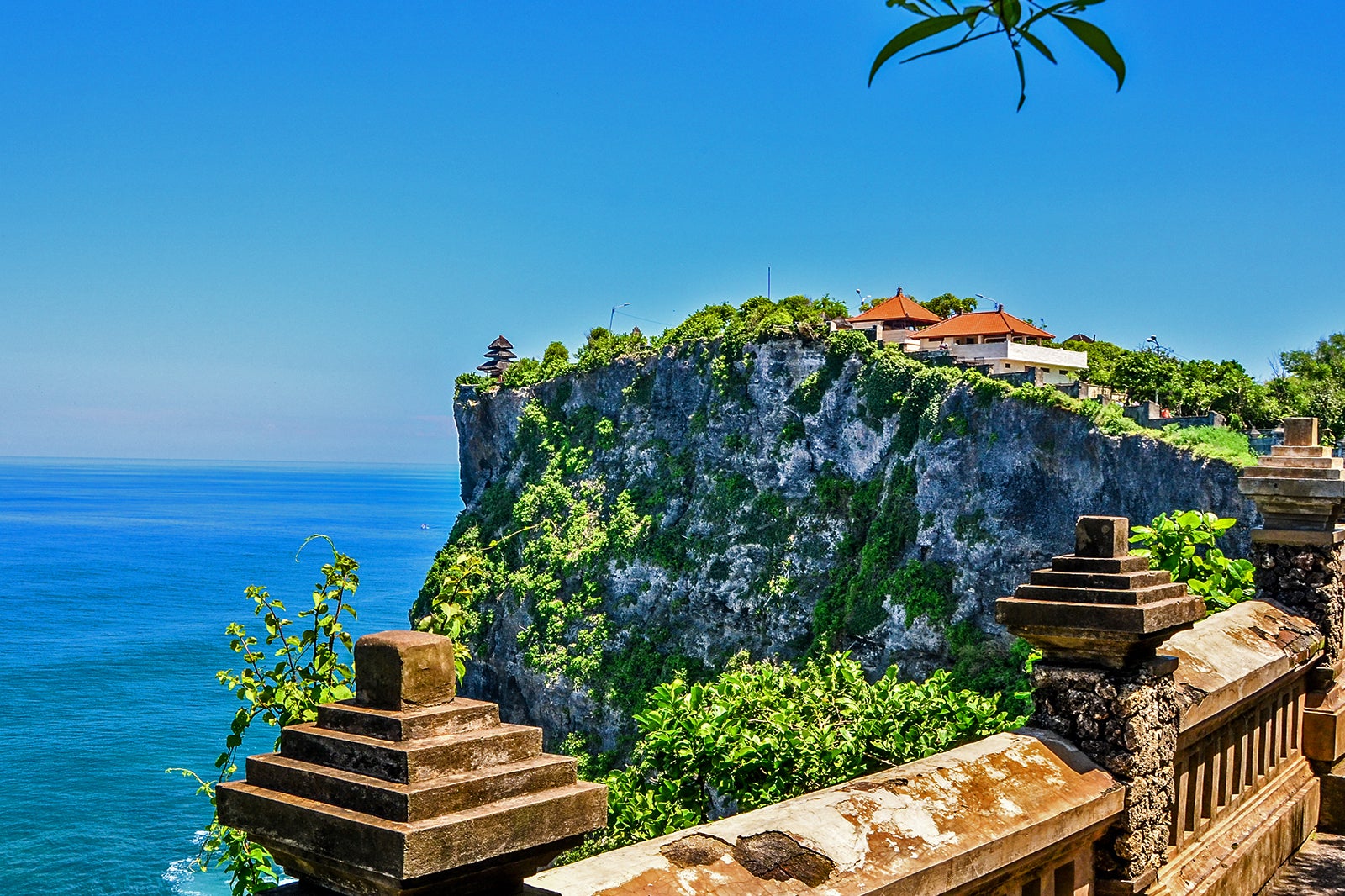 Good to know about Uluwatu Temple
Precautionary signs warn visitors of the resident macaques habitually grabbing attractive items such as sunglasses and cameras. They can be calmer when approached with peanuts or bananas, though, lending you an opportunity to retake stolen possessions.
As a visitor, you must wear a sarong and a sash, which can be hired at the temple entrance. The best time to visit is just before sunset. A Kecak dance is performed every day at the adjacent cliff-top stage from 6pm and usually last an hour. What makes it the most favourite venue to watch a Kecak dance is the sunset background of the performance.
There's no public transportation to get to Uluwatu Temple and going back into town will be difficult without any prearranged ride or taxi. A guide is not necessary but can be helpful.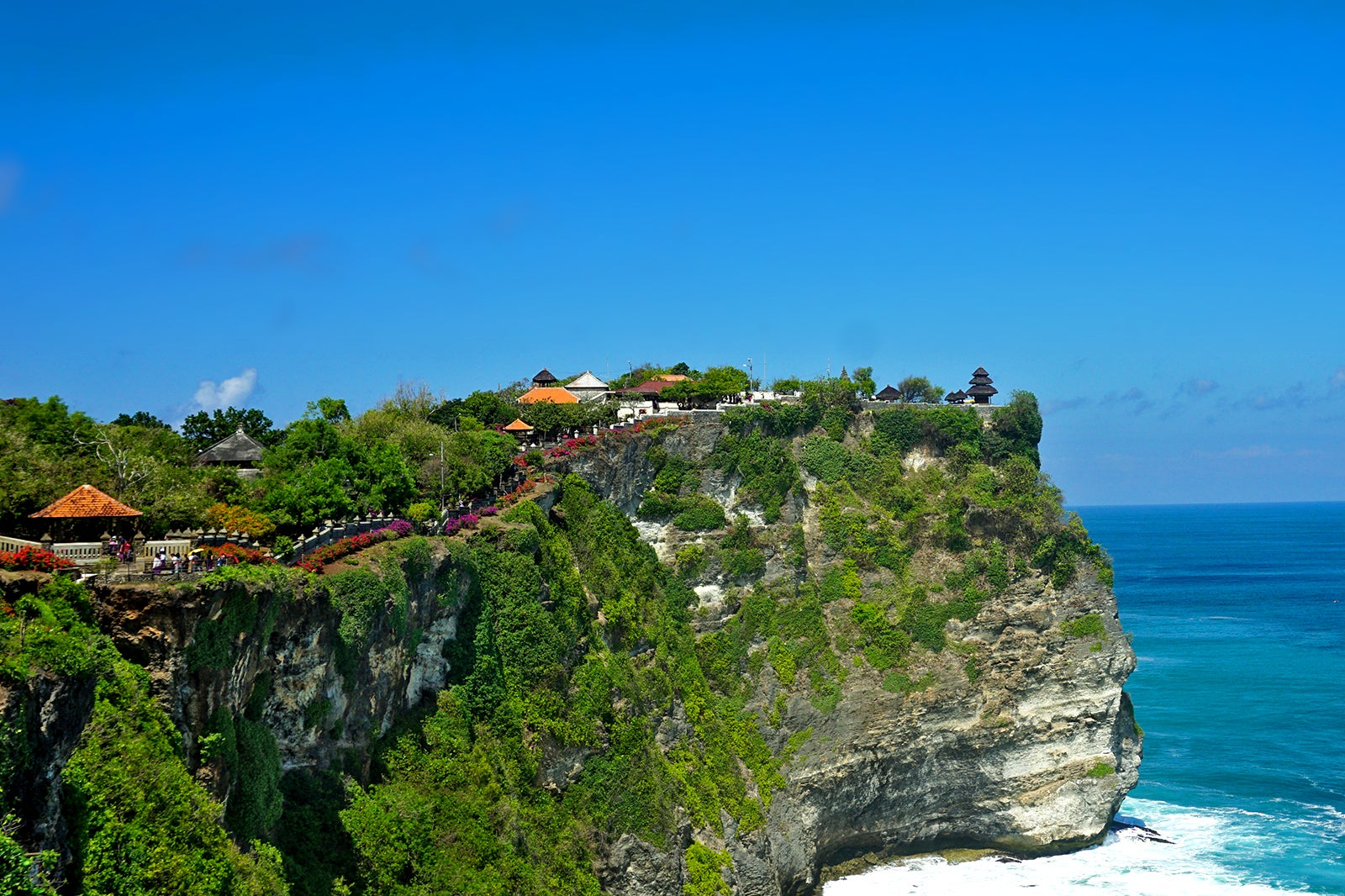 Uluwatu Temple in Bali
Location: Jalan Raya Uluwatu, Pecatu, Badung, Bali 80361, Indonesia
Open: Daily from 9am to 6pm
Why book with Hotels.com?