The Tegallalang Rice Terraces in Ubud are famous for their beautiful scenes of rice paddies and their innovative irrigation system. Known as the subak, the traditional Balinese cooperative irrigation system is said to have been passed down by a revered holy man named Rsi Markandeya in the 8th century. Tegallalang forms the 3 most splendid terraced landscapes in Ubud's shared region, with the others being in the villages of Pejeng and Campuhan.
The Tegallalang rice terraces alone offer a scenic outlook that spreads down before you and away to the far side of the valley. The high roadside location is cool and breezy and it's a well-known spot for tourists to stop and take photos. Painters and nature lovers also enjoy visiting this spot, and there are numerous art kiosks and cafés near the ledge.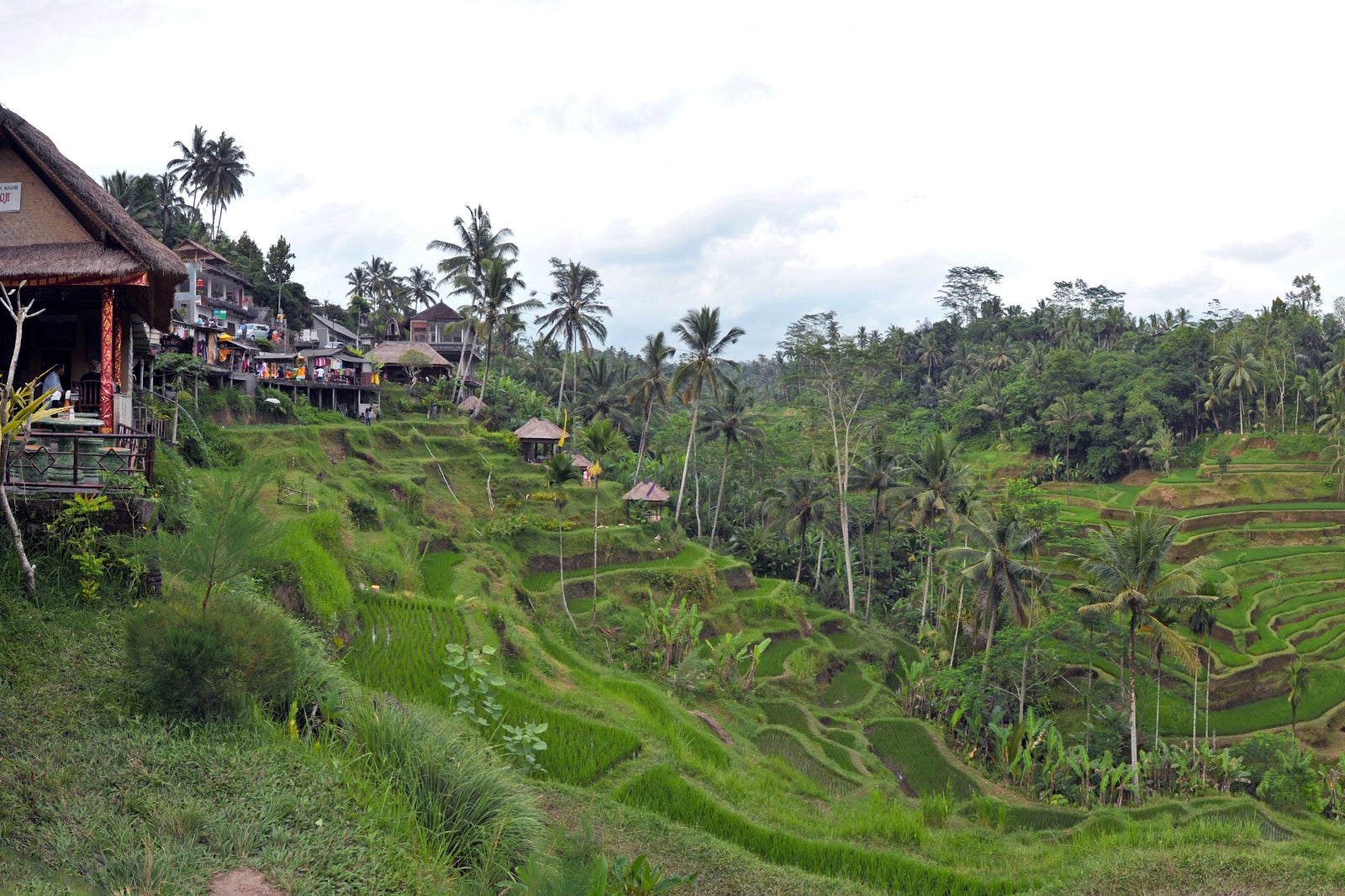 Things to see at the Tegallalang Rice Terraces
With the dramatic views within easy reach, the Tegallalang rice terraces offer a fantastic Bali photo opportunity. The vista sprawls down and away to the rice terraces on the slopes across the valley. It's a very popular view, but this ancient valley has a timeless quality whether there are tourists there or not.
Local elders who own and cultivate the land often invite visitors to sample their green coconut drinks, as well as to purchase woven hats that they make from coconut leaves. Some will even pose with you for photos (usually for a small fee).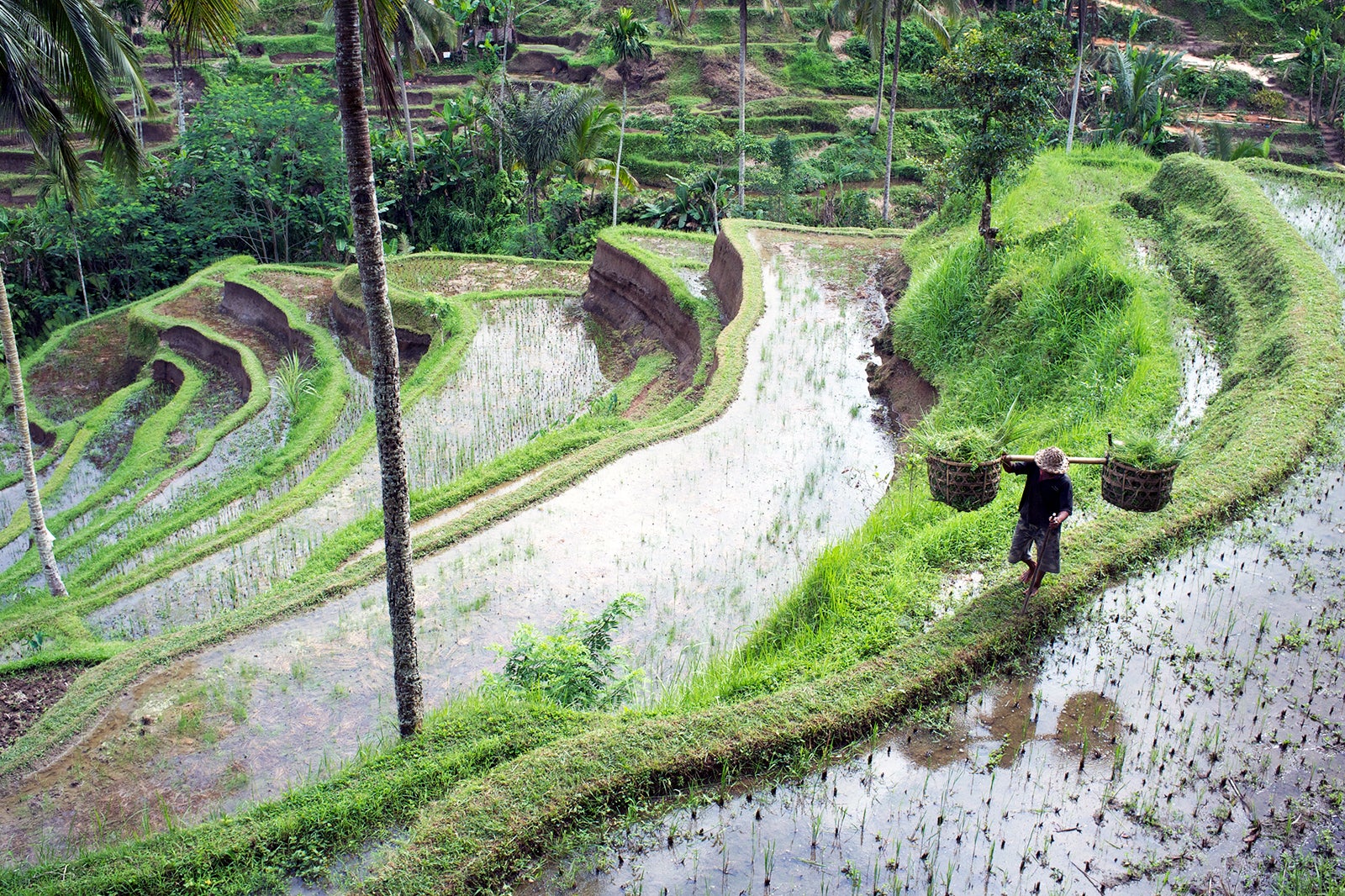 Pakudui Village in Tegallalang
The small village of Pakudui is a craftsman's dominion located in Tegallalang and is a great place to see local talent at its best. Here you'll find an extraordinary variety of ornamental woodwork and carvings. The villagers are avid Balinese craftspeople and have taken up different forms of sculptures, either handed down through generations or as a result of an ever-growing creative process using the most natural of all media – wood.
Throughout your village tour in Pakudui, you'll notice the recurring presence of one particular mythical Balinese figure – the Garuda. Other common carvings depict mythical lions, horses, human figures, dogs, dragons, vases, frogs, kangaroos, cats, ornate totems, panels, doors, windows, tables and more. The really ambitious artists even do large-scale dinosaurs. However, the bird-like Garuda – the national symbol of Indonesia – seems to be ever-present among the creations.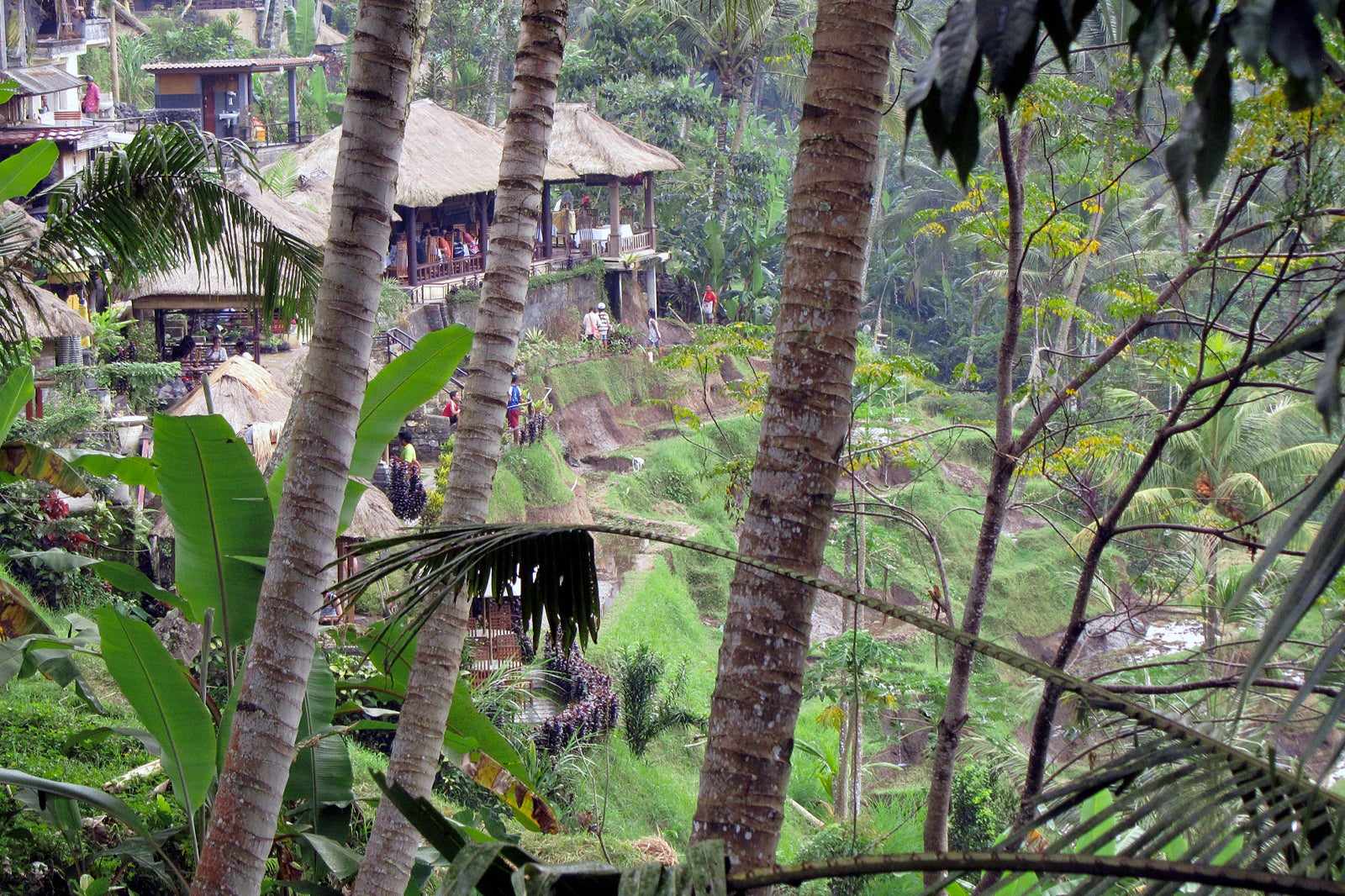 Good to know about Tegallalang Rice Terraces
Some souvenir sellers and the old farmers may seem a little pushy. There are no fixed prices, though, so have those bargaining skills at hand or, better still, remind yourself that you're just there for the picture. The fee for a posing farmer is at your own discretion, and the photos are just as amazing without a subject.
While the rice terraces serve as a highlight photo-op in the Tegallalang area, souvenir shopping options abound along the roadsides, and the trip to Pakudui village is worth the time. Pakudui is reachable after a right turn up from the famed rice paddy outlook. Find magnificent carvings and wooden art forms lined up along the small and winding village road.
Tegallalang Rice Terraces in Bali
Location: Jalan Raya Tegallalang, Tegallalang, Gianyar, Bali 80561, Indonesia
Why book with Hotels.com?