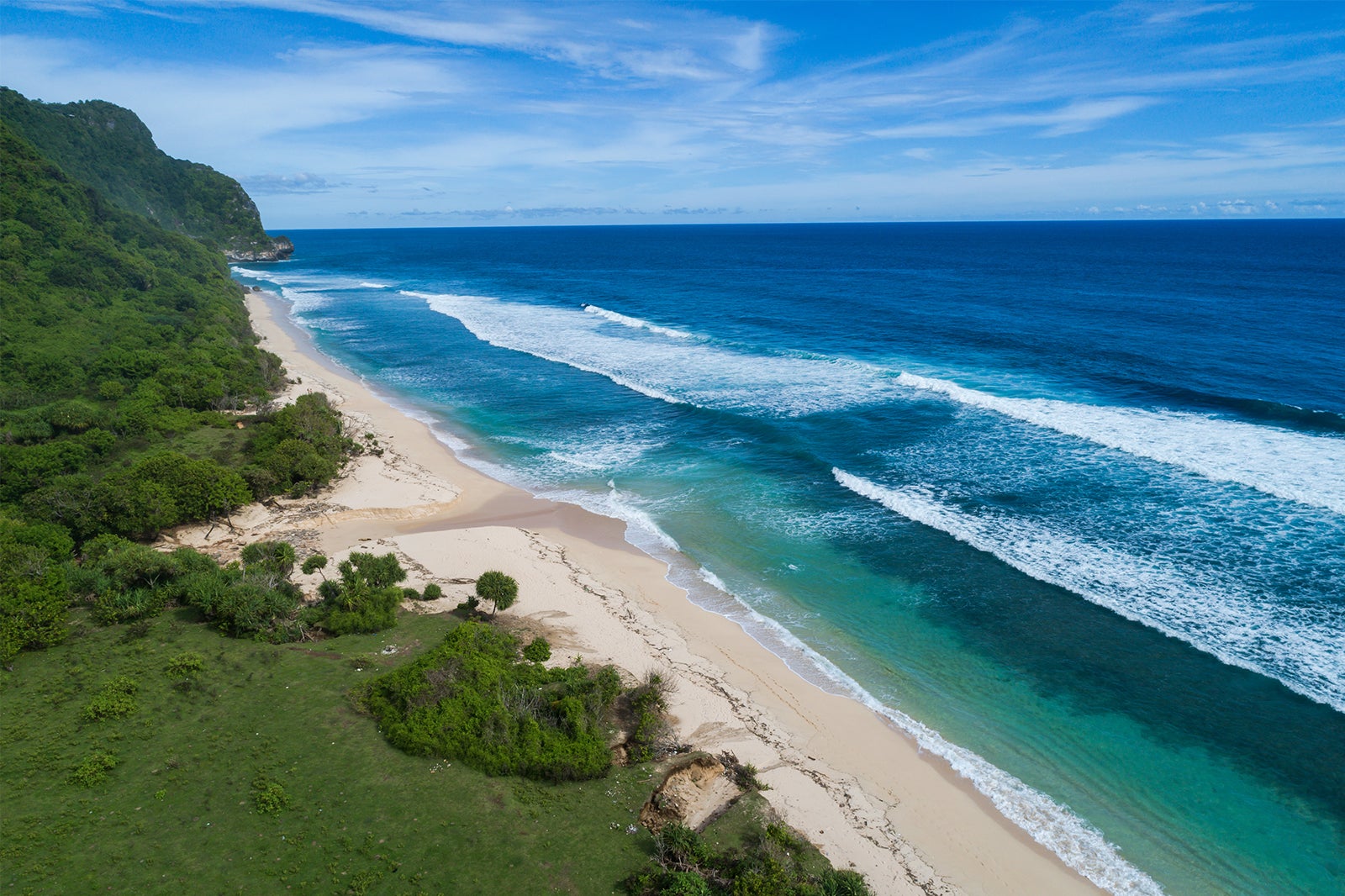 Suluban Beach is one of Bali's most unique shores, concealed by natural limestone formations and accessed via steps and log ramps through narrow gaps in the rock. Shaded by a looming cliff face, this small beach may not be ideal for sunbathers, but pro surfers love it as a base to paddle out and ride nearby reef breaks from.
Nicknamed 'Blue Point', Suluban Beach lies at the end of Jalan Mamo, in the coastal area of Labuan Sait – the same area shared by famous surf spots Padang Padang and Uluwatu. Parking is at the roadside, right before the flight of stairs down to the beach.
Suluban Beach in Bali - one of the highlights of 11 Secret Beaches in Bali and 10 Best Viewpoints in Bali (Read all about Bali here)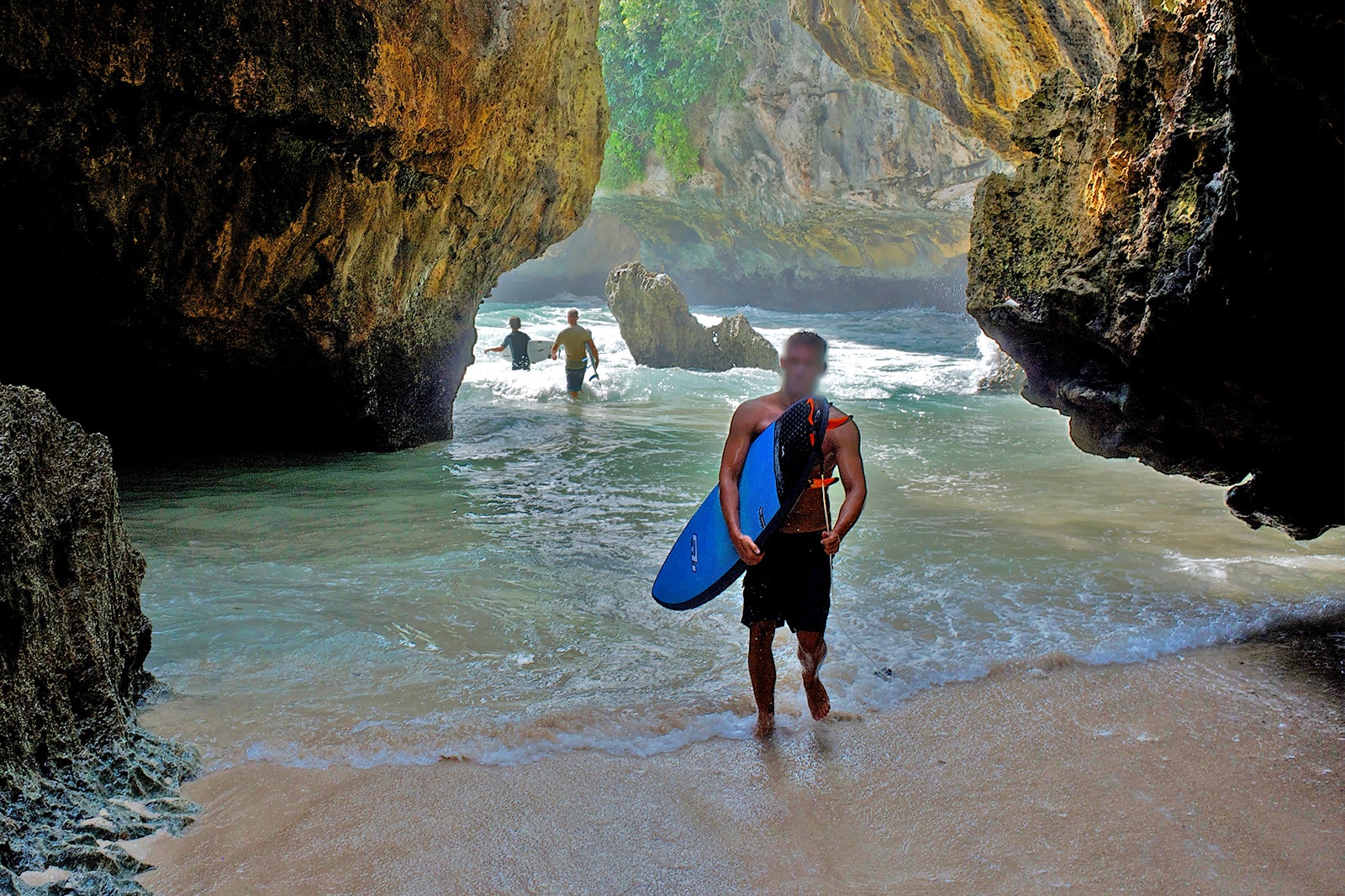 From here, you'll need to endure a 10-minute walk down a flight of concrete steps. But you won't immediately find the beach at the end. Pass the rows of locally-run cafés (serving cold Bintangs, light bites and surfer snacks including local-favourite nasi campur mixed rice), surfboard rentals and art shops, with the Single Fin Bar up on your right. You'll eventually find the main beach entrance down a narrow crag at the end.
A long log parallel to a large cavern serves as a boardwalk that leads you over some rocks and onto the soft sand, all while the sounds of crashing waves become more discernible. The cavern is also a favourite campsite, with tents and bonfires becoming a frequent sight. Further ahead, azure waters and sky are visible through narrow cliff openings.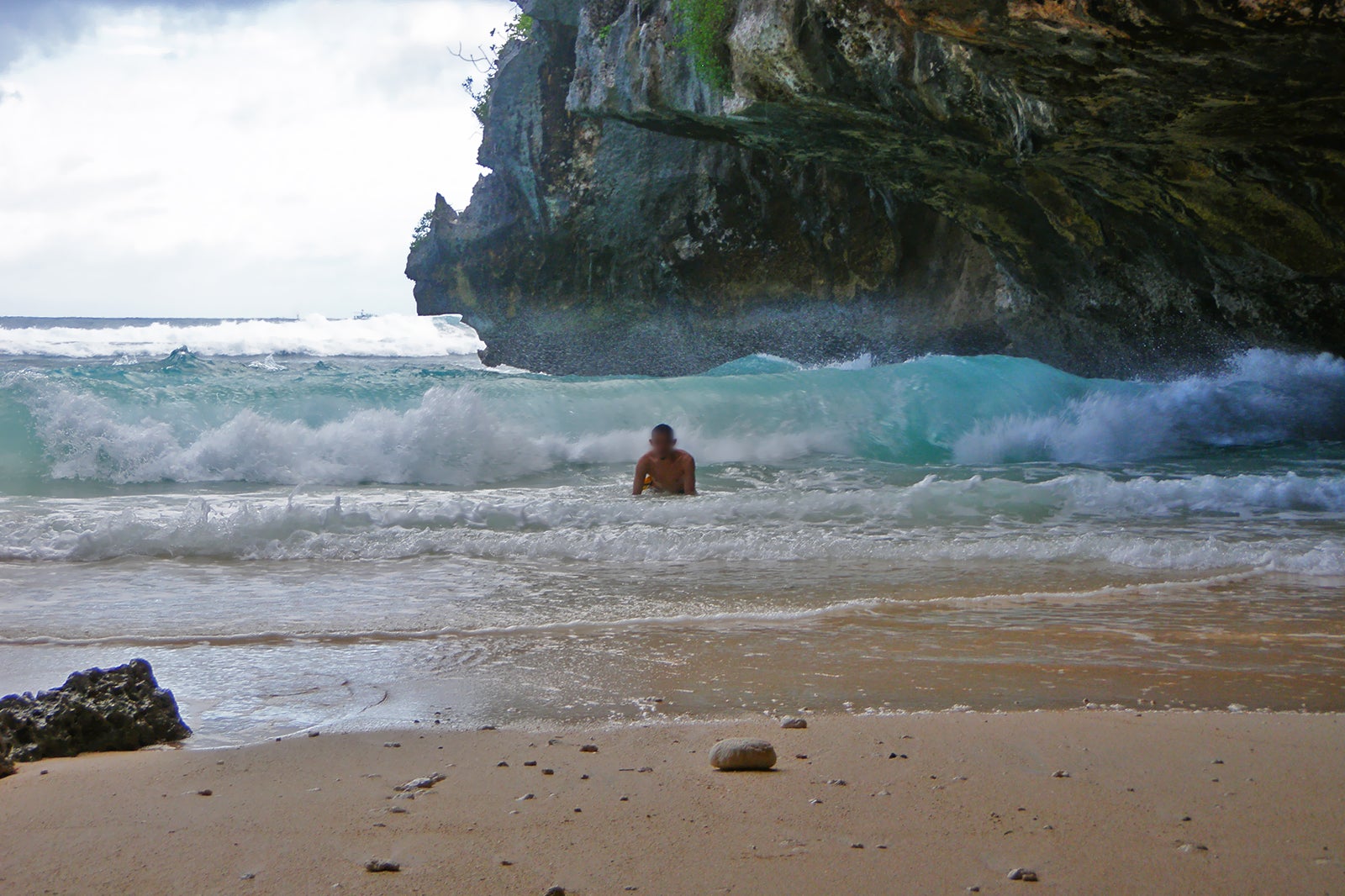 There are several rocky openings and mini caves that you can explore and even claim as your 'resting spot' for the day, and which also lead to different sections of the beach. The best time is during low tide, which reveals more spaces and sandy paths, together with tide pools which you can have a pleasurable soak in. Surfers come and go, high tide or low, with the prized breaks being only a short paddle out.
Balawista lifeguards are on duty in their cliff-top watchtower northwest of the beach, mostly observing the waves and the surfers. There are none on duty down in the beach area itself. Be sure to watch the tides, as currents can be strong and waves can crash through cave openings. Suluban Beach is also not recommended for young children. Early mornings are usually the best time to go to avoid the crowds and easily claim your favourite spots, but it's most scenic at sunset.
Suluban Beach in Bali
Location: Jalan Mamo, Uluwatu, Pecatu, Badung, Bali 80361, Indonesia
Back to top