10 Secret Beaches on Bali's Southern Tip
Bali's Hidden Beaches Only an Hour from Kuta
Discover these secret beaches in Bali from the secluded stretches of sand around the southern Bukit peninsula, which is also famous as being home to a selection of the island's world-class surf breaks. Mostly remote and positioned at the base of towering limestone cliffs, these beautiful strips of white sand are generally a chore to get to, but the effort usually pays off, with gorgeous beachscapes and pristine waters.
The generally barren topography of these locations make for stark and exotic features, with great panoramic bird's-eye views from the cliff tops and picture postcard views from down on the coastline. These hidden and almost secret beaches in Bali let you escape to your own stretch of paradise within only an hour or two from Kuta.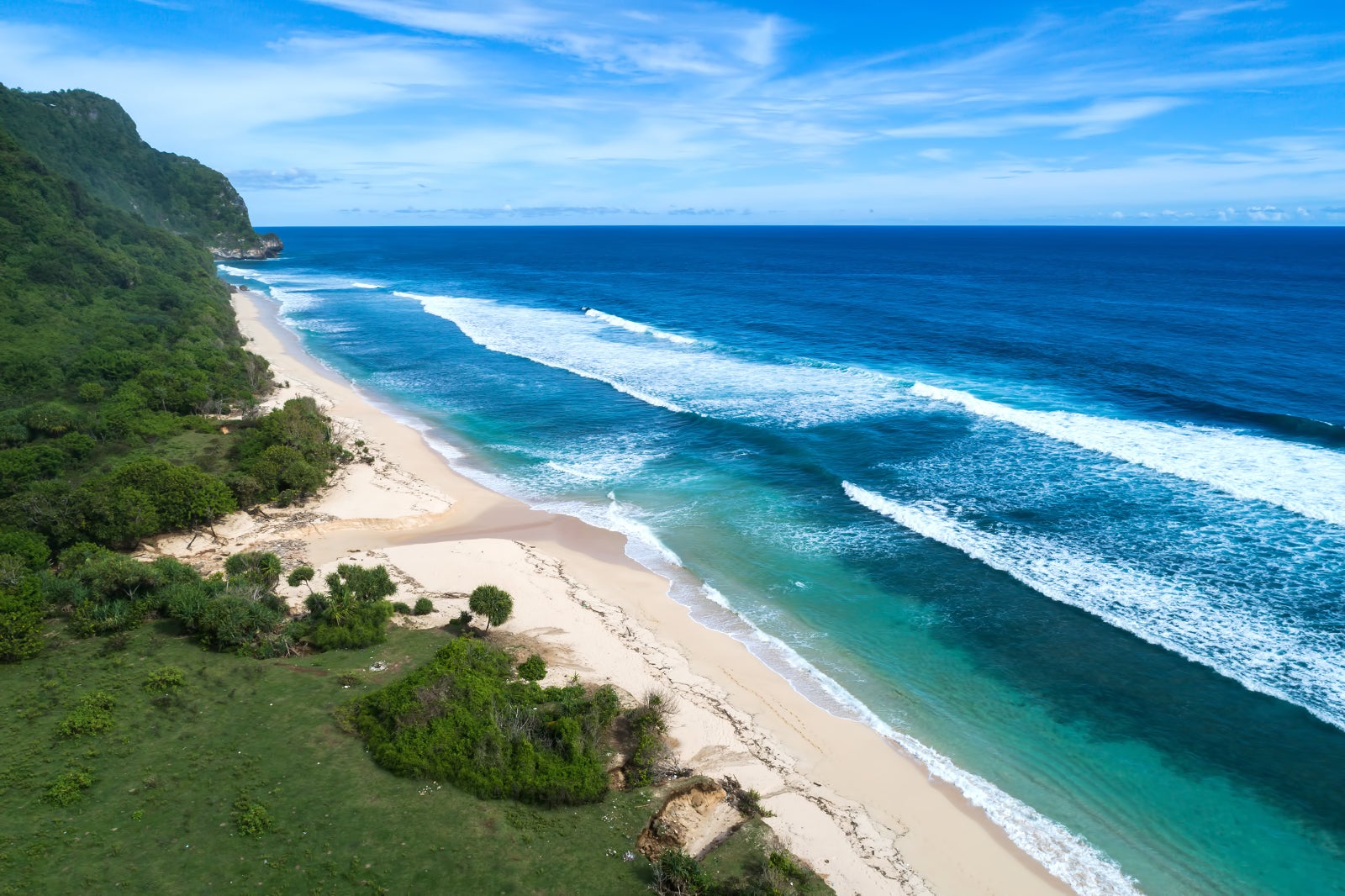 Nyang Nyang is one of the least visited beaches in Bali, which often means you can enjoy it all to yourself. The pristine, 1.5-km sandy coastal stretch in the Pecatu area of Bali's Bukit peninsula requires an approximate half-hour trek over rugged terrain with splendid views over the hillside and ocean.
Before reaching the beach you'll find fields of wildflowers and the barren coastline features crystal clear waters and even a shipwreck. You can stay on for sunset or make the climb up again before dark. It's also excellent with bonfires under the stars if your willing to set up a tent and spend the night.
Location: Jalan Batu Nunggalan, Pecatu, South Kuta, Badung, Bali, Indonesia
Couples
Photo
Budget
Adventure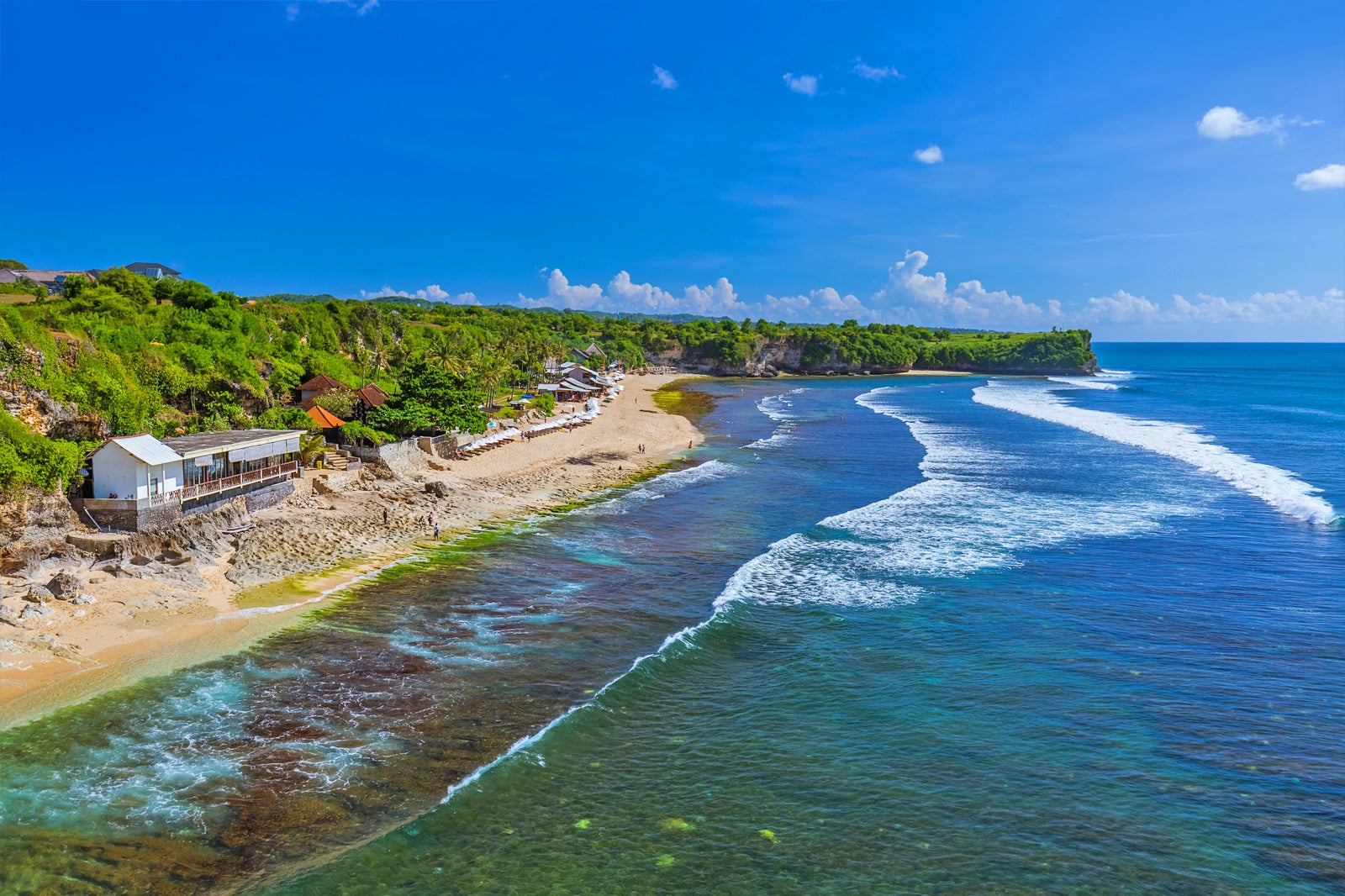 Balangan Beach is one of Bali's most scenic spots, featuring a gorgeous half-kilometre stretch of golden sand between grassy limestone cliffs. It's also considered one in the group of Bali's southern surfing paradises. A reef just off Balangan's coast creates one of the longest left-hander breaks on the island. This surf spot attracts wave riders from around the world.
Balangan and Dreamland Beach, a neighbouring beach and surf spot that is equally popular, is separated by a small headland that serves as the famous signature Hole 15 of the New Kuta Golf Course. Players get the best bird's eye-view over both beaches and the ocean horizon from here. The coast is about 20 km south from Kuta.
Location: Jalan Pantai Balangan, Jimbaran, Badung, Bali 80361, Indonesia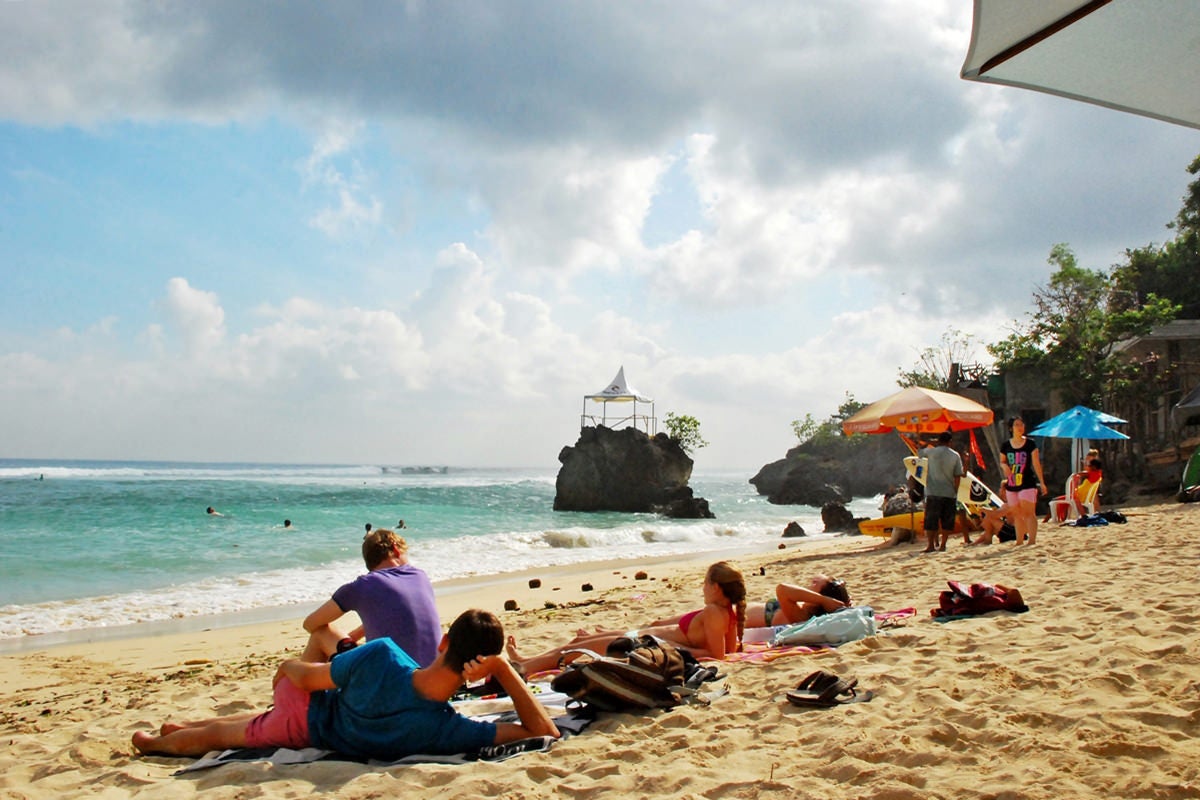 Padang Padang is a small beach set in a tiny cove, accessible from the main road and down a flight of stairs under a limestone crag. It's relatively visible from the bridge on Jalan Labuan Sait, as you come down from Uluwatu Temple. Padang Padang was briefly shot for one of the scenes in Eat, Pray, Love (2010), with the 2 lead characters swimming in its crystal-clear waters.
On the sand, there are stalls offering snacks and refreshments, as well as surf gear rentals. The waters near the coast are safe to swim, while the outer waves and reef breaks are reserved only for advanced wave riders.
Phone: Jalan Labuansait, Pecatu, Badung, Bali 80361, Indonesia
Couples
Families
Photo
Budget
Adventure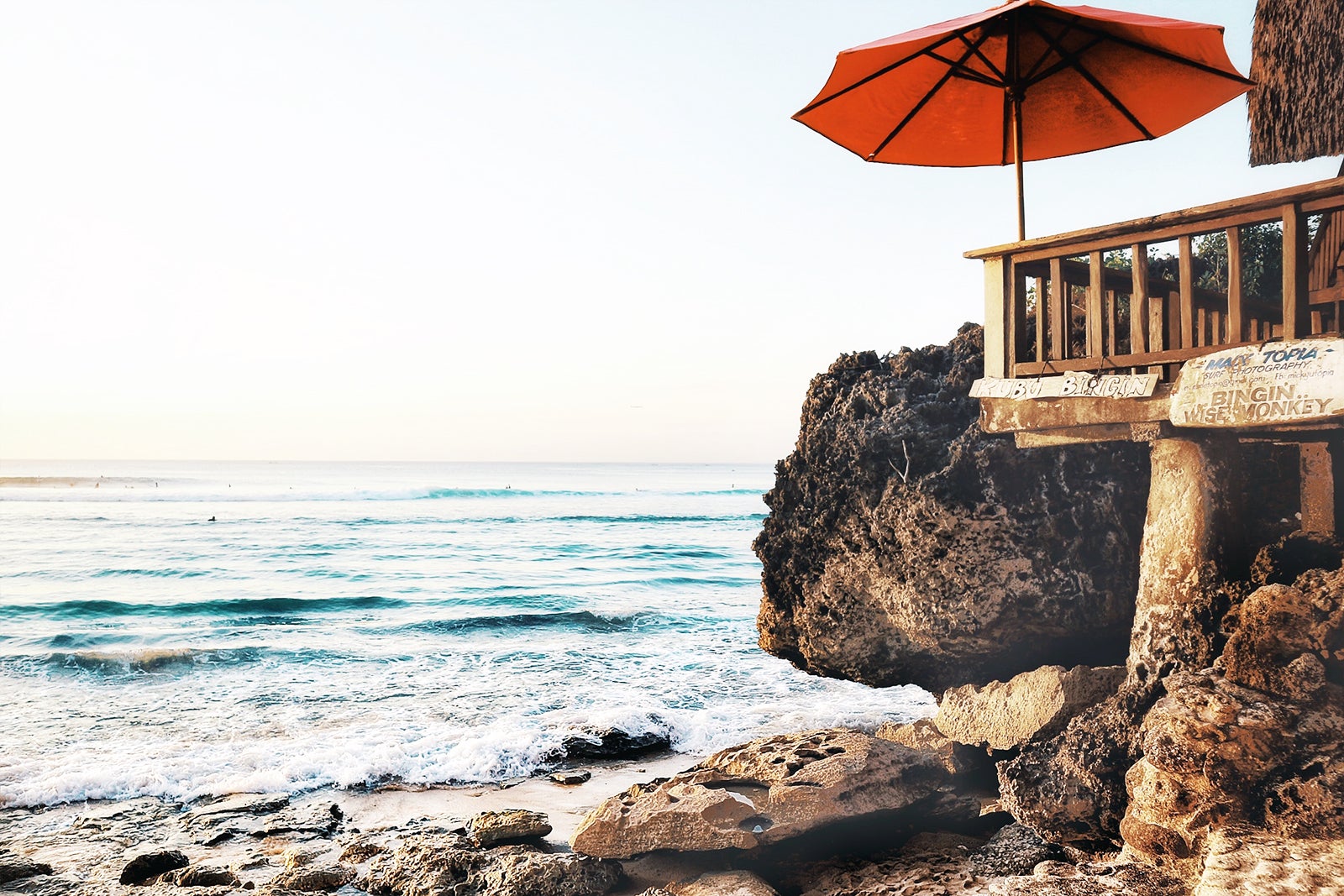 Bingin Beach is just a few minutes' drive north from Uluwatu Temple and has a number of local bars and warungs with splendid views over the surf. The best time for beach lovers to visit Bingin is during low tide when much of the stretch of sand is revealed. The main draw is the coast's exotic setting, with different pieces of limestone boulders scattered around the coast.
Mainly a pro surfers' paradise, the waves off Bingin can be strong, and the waters near the shore are shallow but too rocky to wander with bare feet. Even still, the coarse-sand coast is one of the most beautiful on the Bukit coastline.
Location: Jalan Pantai Bingin, Pecatu, Badung, Bali 80361, Indonesia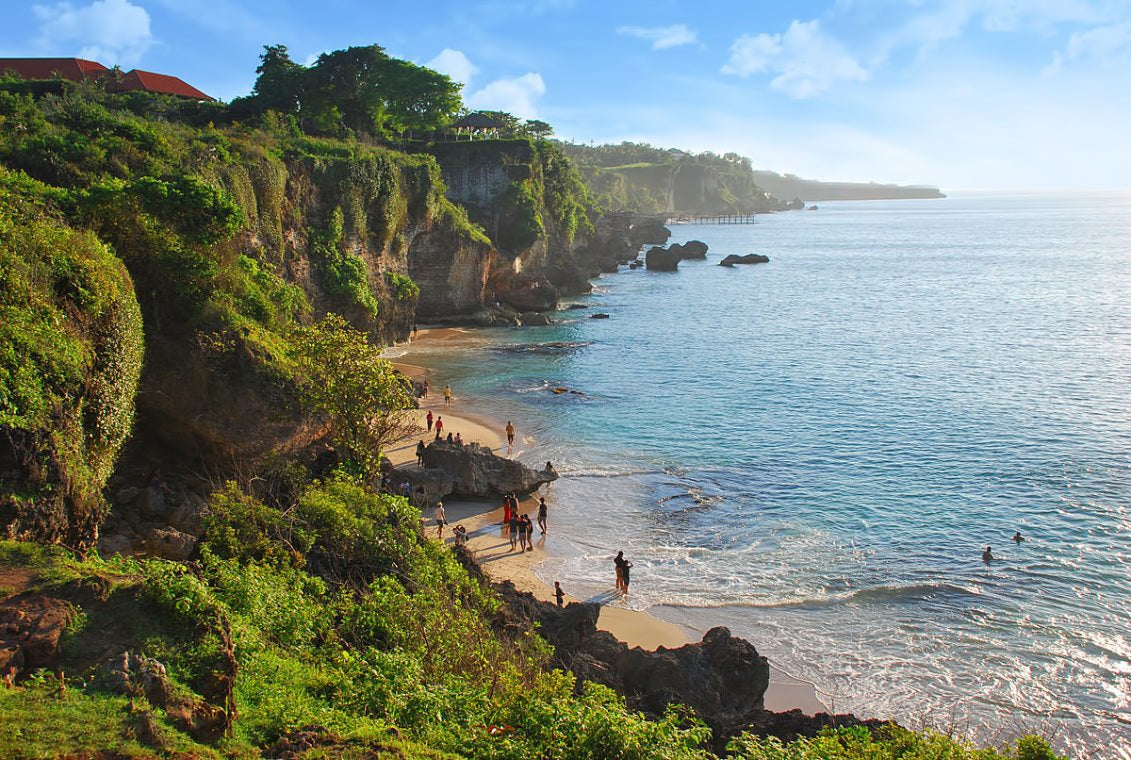 Tegalwangin is a unique 'hidden' beach that graces the western side of Bali's Bukit peninsula. The beach is named after a sea temple that you can find on the hilly cape to its north. From the cliff edge of the temple and the adjacent area, you can enjoy breathtaking vantage points over the cliffs and sea.
The small stretch of exotic white sand is accessible down a rocky limestone flight of steps. The waters are not recommended for swimming due to strong ocean currents with no lifeguards around. Many come here for the excellent views and often stay on for sunset's magical moments.
Location: Jalan Tegal Wangi, Jimbaran, Badung, Bali 80361, Indonesia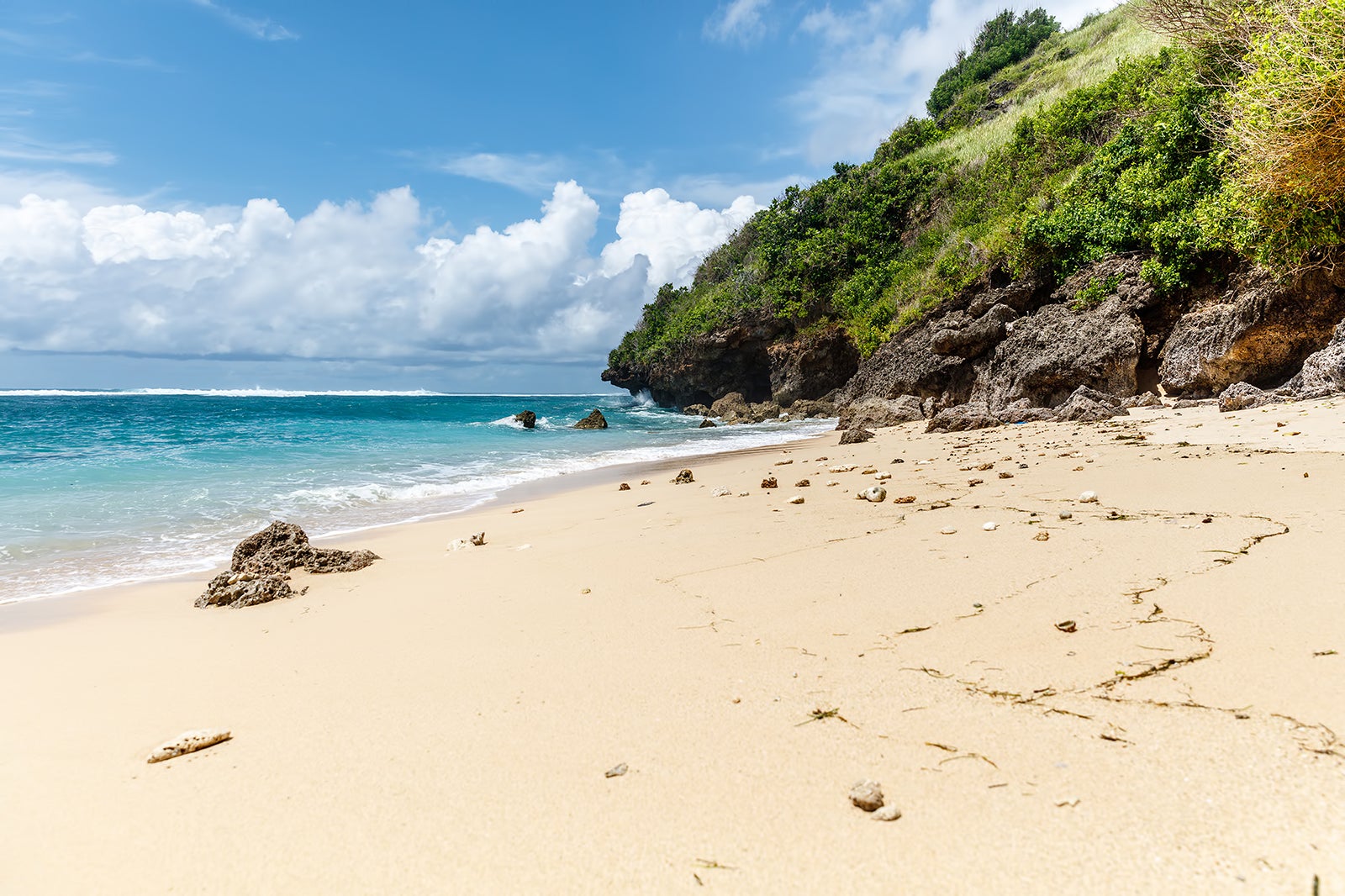 Gunung Payung Beach is a remote but beautiful beach on Bali's southern Bukit peninsula that's accessible down a steep flight of steps from a namesake clifftop temple. The descent provides you with great views over the ocean and coastline. At the base, you'll discover deep and coarse sand and calm waters great for snorkelling. The waters are also home to local seaweed farms.
The natural reef barriers mean calm and swimmable waters most of the time. Even so, beware of spiny sea urchins that frolic around these southern coasts as well as the high tide conditions as there are no lifeguards around. Midday trips are recommended when the seascape is clearer and the water warmer.
Location: Jalan Gunung Payung, Kutuh, South Kuta, Badung, Bali, Indonesia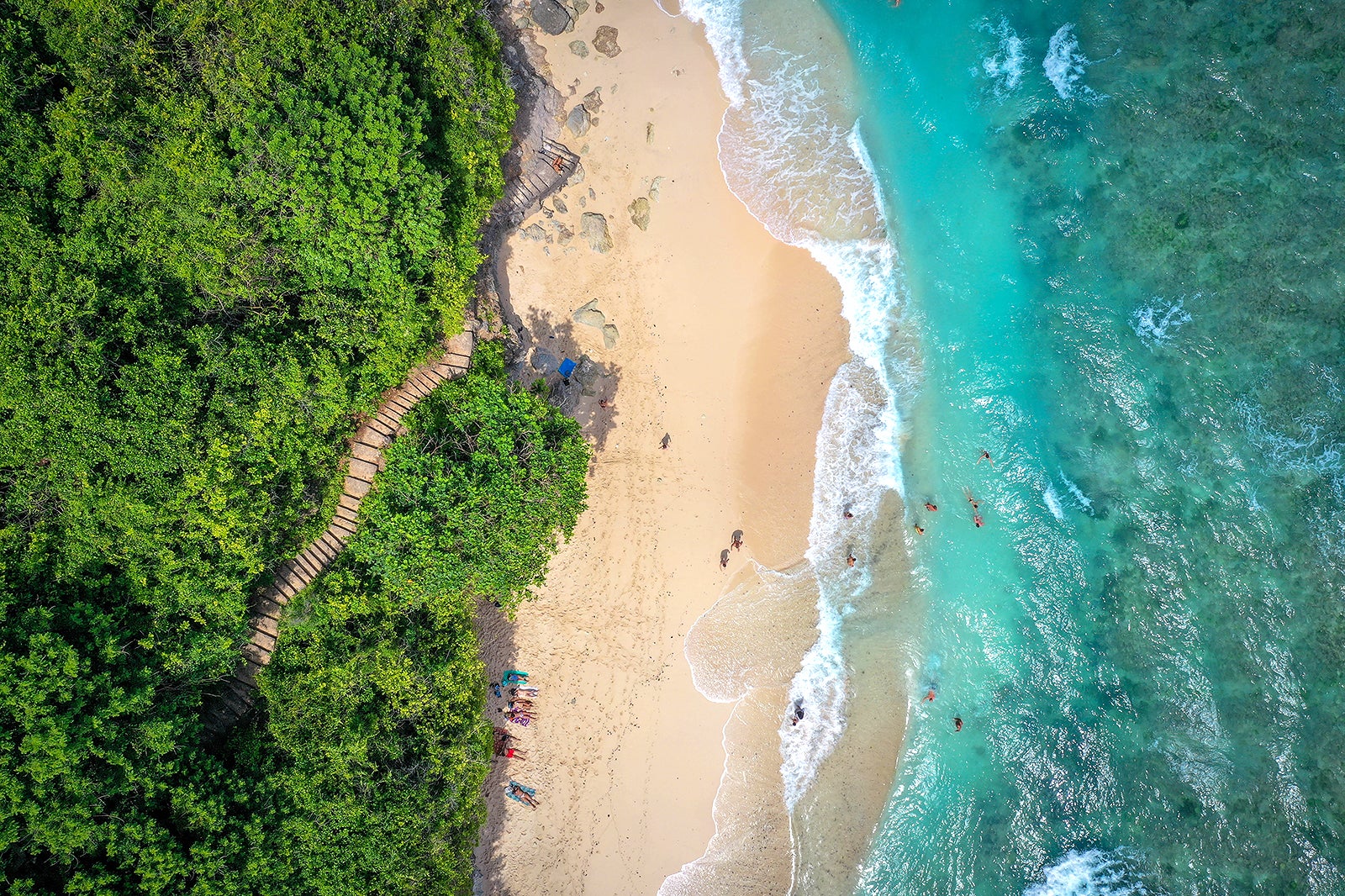 Green Bowl Beach on Bali's southern coast features a small 60-metre-long stretch of sand that's quiet and secluded most of the time. Getting to the beach at the base of a cliff requires a steep 10-minute descent down a flight of stairs. The beach was named by surfers perhaps for the colours of its lush hillside and the stretches of seaweed farms that dominate its waters.
There are several bat caves that add to the beach's exotic appeal. It's good for snorkelling close to the beach while the waves beyond the reef break feature consistent swells for advanced wave riders. The climb back up might take longer, but with various points offering great views as you catch your breath.
Location: Jalan Bali Cliff, Ungasan, Badung, Bali 80361, Indonesia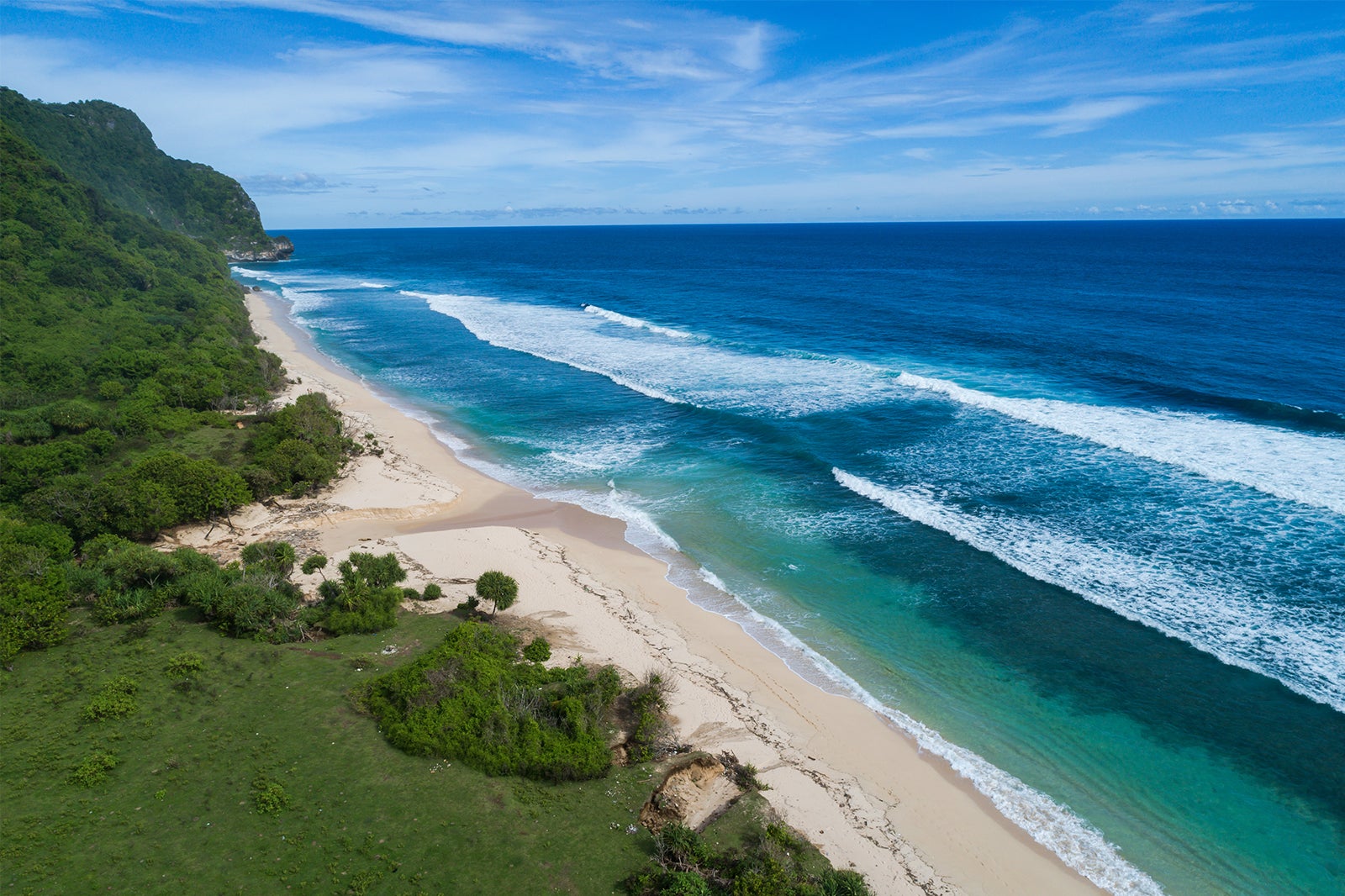 Suluban Beach is one of Bali's most unique beaches, concealed by natural limestone formations and accessed via steps and log ramps through narrow gaps in the rock. Canopied by a looming cliff face, this small beach may not be ideal for sunbathers. Even so, it serves pro surfers well as a base to paddle out and ride adjacent reef breaks such as Uluwatu to its south.
Also nicknamed 'Blue Point', Suluban's access is narrow and steep via crags and rocky steps. But when you arrive at the sand, the view is truly rewarding.
Location: Jalan Mamo, Uluwatu, Pecatu, South Kuta, Badung, Bali 80361, Indonesia
Pantai Pandawa Beach, originally referred to as Kutuh Beach, is a kilometre stretch of white sand bordered by white cliffs in South Bali. The cliffs directly facing the coast feature impressive manmade structures and sculptures depicting mythical characters. The winding road to the beach literally cuts through limestone hills.
The eastern part of the beach has parasol-shaded sun loungers and local stalls selling light meals and refreshments. The western part has a long stretch of sand, with a number of restaurants and water sports operators. Pandawa is one of the few 'hidden' beaches in Bali where families can enjoy recreational fun.
Location: Pantai Pandawa, Bali, Indonesia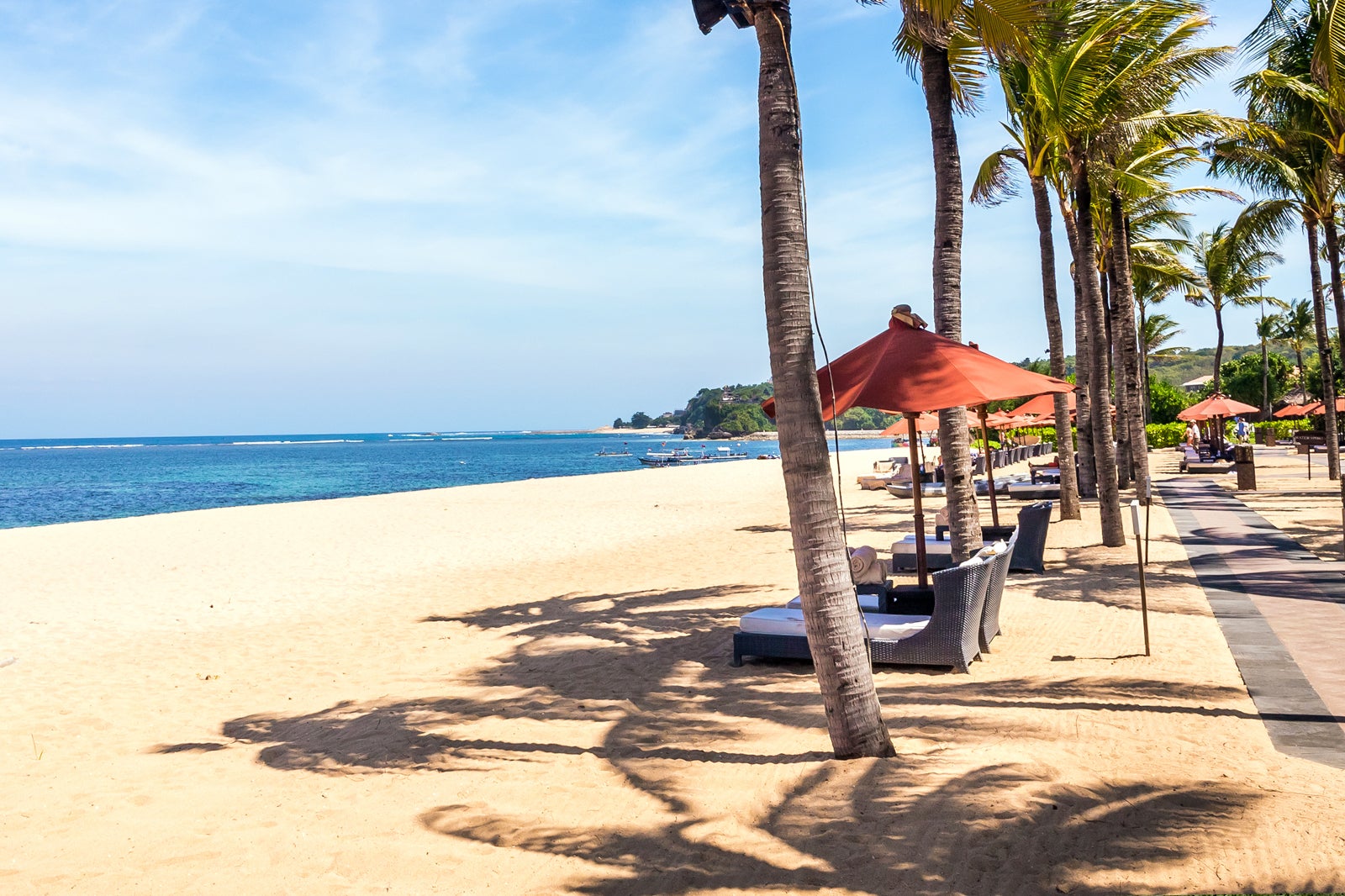 Geger Beach is one of the favourite 'hidden beaches' on Bali's southeastern coastline, part of the long coastal stretch known as Sawangan. Sawangan is the stretch of sand between The Mulia Bali, Samabe Bali Suites & Villas and The Ritz-Carlton, Bali.
The beach offers an exotic and secluded setting with calm turquoise-blue waters and white-golden sand. Sunrises are magical here and throughout the day you can enjoy great swimming and snorkelling or laze on the sand under the sun. There are various ways to access the beach, with the main one being a paved road just before the Hilton Bali Resort.
Location: Jalan Nusa Dua Selatan, Nusa Dua, Badung, Bali 80363, Indonesia