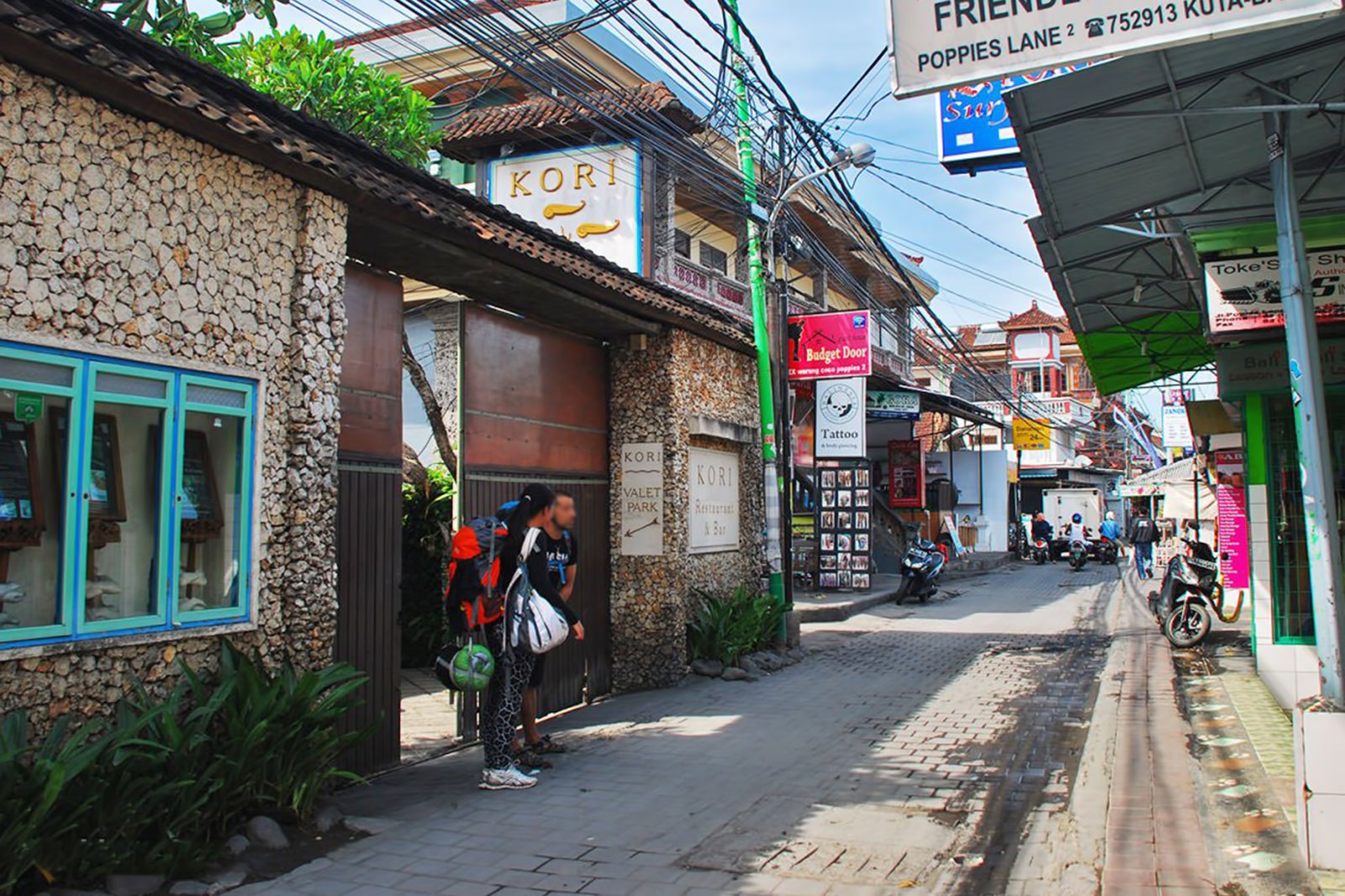 Poppies Lane I and II are 2 separate and narrow streets, both of which connect Jalan Pantai Kuta beach road to Jalan Legian – Kuta's nightclub-lined thoroughfare. Poppies Lane is popular for its selection of budget stays, particularly if you're looking for a cheap guesthouse, homestay, or inn, right in the middle of Bali's popular beach resort areas.
You can easily reach Kuta Beach, or the exciting nightlife hub of Legian, all within a 10- or 15-minute stroll from Poppies Lane.
Poppies Lane Walking Streets in Bali - one of the highlights of 21 Best Things to Do in Kuta and 15 Best Places to Go Shopping in Kuta (Read all about Bali here)
History of Poppies Lane Bali
Like most small streets in Bali, the lane was named after a prominent establishment - in this case, the Poppies Bali Restaurant. With humble beginnings as a warung (local street-side food stall) in the early 1970s, it was said to have been further developed by former Californian restaurateurs, who ran a restaurant with its name inspired by California's state flower, the Golden Poppy.
A popular hangout spot for surfers and backpackers, the original Poppies Lane eventually became known as Poppies Lane I and retains much of its past's charm. The interconnecting street, running parallel to its north, shared some of its fame, but eventually saw more development and became known as Poppies Lane II. The result is a little more hectic scene, representing much of the contemporary vibe of today's Legian.
What to see at Poppies Lane Bali
Both lanes are popular walking streets lined with shops, bars and restaurants. Beware of traffic on your walks, though, as Poppies Lane II also serves as a shortcut for surfboard rack-rigged scooters, cars and taxis. There are various shops, cafes, bars and restaurants that you can walk past along both lanes. Start at the Poppies Bali Restaurant on Poppies Lane I where it all started, then move further west onto Poppies Lane II via Jalan Pantai Kuta, which is a shortcut for Legian.
Poppies Lane in Kuta has several small surf shops displaying racks full of short boards, Malibus and body boards of different sizes. Sion Surf Shop is one where you can bring your own design to be turned into the real thing. If you're looking to surf in Kuta, check out Boardhouse Surf Shop. It rents out surfboards of all sizes and does ding repairs for your boards.
The first 100 metres of Poppies Lane II consists of a row small art shops reminiscent of the Kuta Art Market. You can try your luck on a good bargain over anything from Bintang singlets and coasters, paintings and lighters, to beaded bracelets and bumper stickers.
Poppies Lane Walking Streets in Bali
Location: Jalan Poppies, Kuta, Badung, Bali 80361, Indonesia
Back to top