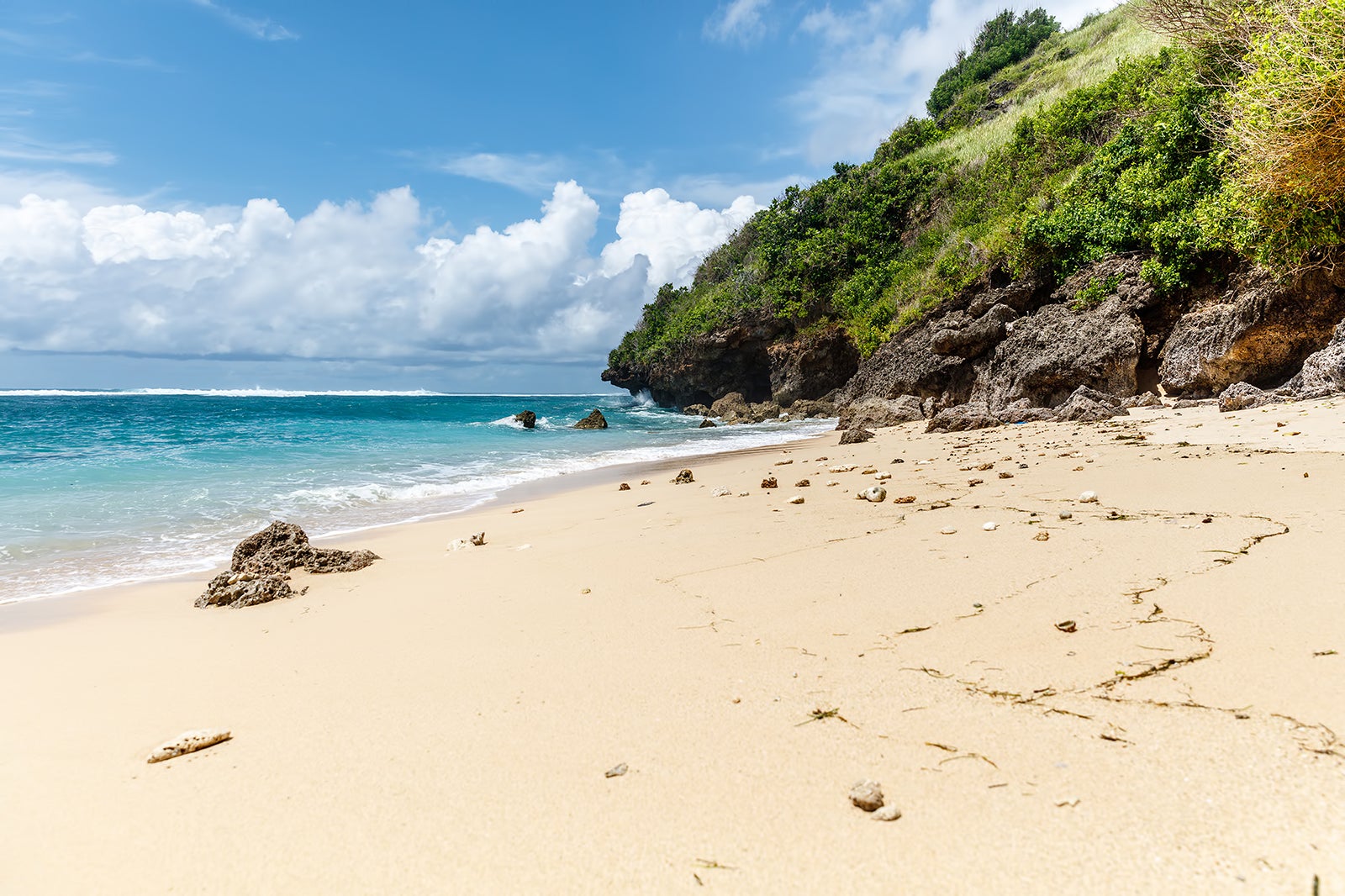 Gunung Payung Beach is one of the 'hidden beaches' on Bali's southern coast where you can find a remote and quiet setting overlooking stunning seascapes. The location takes its name from a Balinese Hindu temple complex of the same name (Pura Dhang Kahyangan Gunung Payung) on the clifftop.
Getting to Gunung Payung Beach requires an approximate half-hour drive to Kutuh village from Nusa Dua. Along the main Jalan Gunung Payung road, you'll also encounter the landscaped greens of the 18-hole Bukit Pandawa Golf Club together with rugged limestone terrain. Just outside the temple, catch glimpses of grey long-tailed macaques, which are more of the shyer kind compared to those at the Uluwatu Monkey Forest.
Gunung Payung Beach in Bali - one of the highlights of 10 Secret Beaches on Bali's Southern Tip (Read all about Bali here)
Features of Gunung Payung Beach
Approaching the cliff edge after the temple, you're immediately welcomed to soaring ocean views and sounds of the waves below. The beach is quite an effort to reach, only for the fit and determined – down a steep flight of stairs that locals claim to total around 300. The deep green patches in the clear waters are growing grounds of local seaweed farmers, and upon reaching the base, you'll discover deep and coarse sand with calm waters great for snorkelling.
The remoteness and effort required to discover the beach keeps it untouched by vendors. Therefore, it's good to bring your own drinking water and perhaps some snacks to replenish once you get down here. The natural reef barriers also mean calm and swimmable waters most of the time. Even so, beware of spiny sea urchins that frolic around these southern coasts as well as the high tide conditions as there are no lifeguards around.
Midday trips are recommended when the seascape is clearer and the water warmer. The temple has its piodalan anniversary every full moon on the 8th month of the Balinese pawukon calendar (coinciding January or February on the Gregorian calendar).
Gunung Payung Beach in Bali
Location: Jalan Gunung Payung, Kutuh, South Kuta, Badung, Bali, Indonesia
Back to top