5 Great Silver Workshops in Bali
Have a Go at Crafting Your Own Bali Silver Jewellery
Bali's clans of gold and silversmiths have been creating intricate objects for temple heirlooms, rituals and fine jewellery for centuries. Their designs continuously evolve, as do the crafting techniques.
The island's gold and silver communities are mostly located in the villages of the Gianyar regency, particularly Celuk, Mas and Ubud. Some have showrooms alongside workshops that welcome you to watch the creation process, and some go further by handing you the silver beads, tweezers and wireworks to learn from the local artists in creating your own piece to take home.
Here are some of Bali's top jewellery crafting centres where you can go on a brief workshop and showroom tour and even pick up the art of silver making.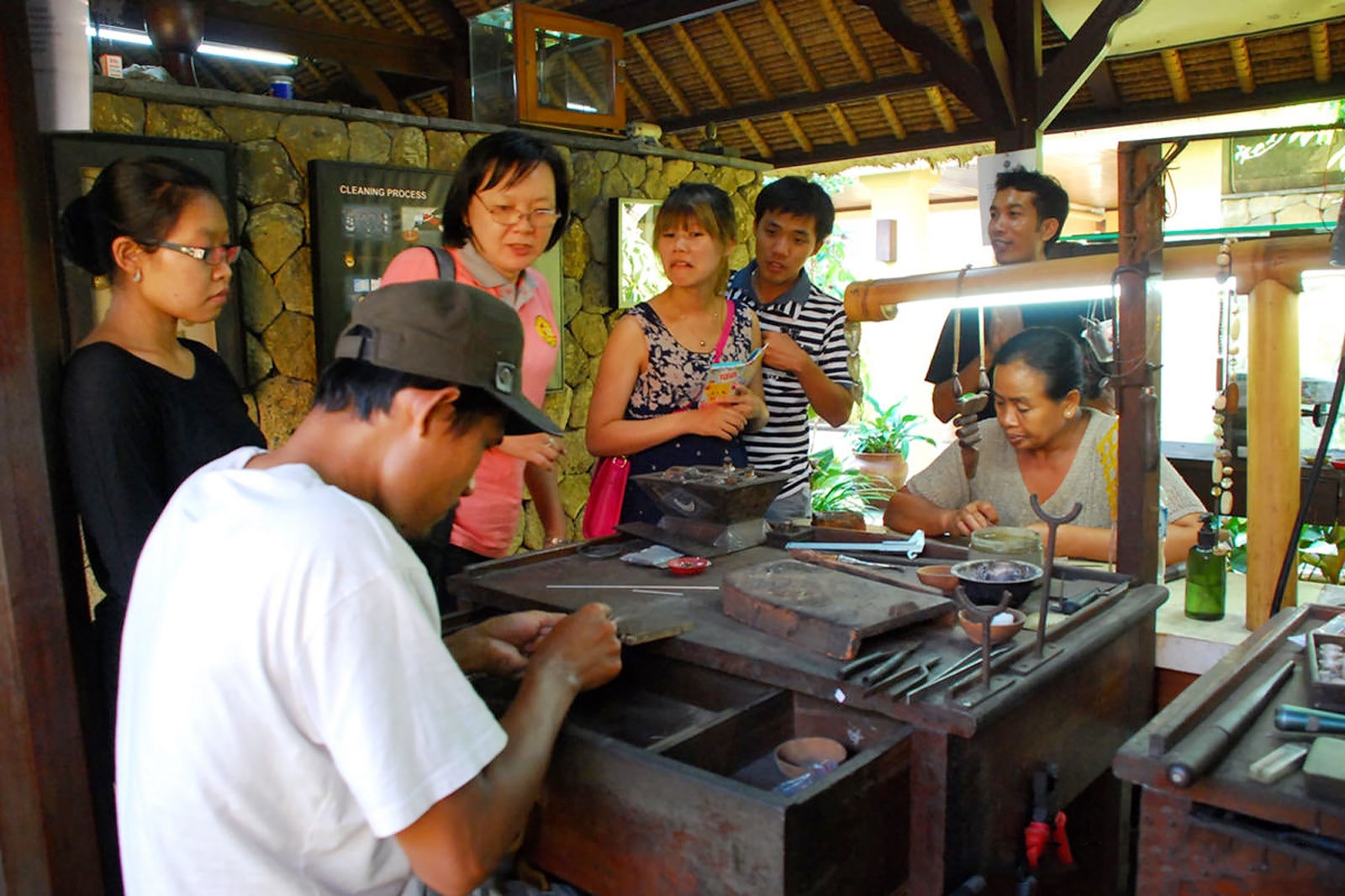 Prapen Jewellery is a large jewellery production centre and showroom in the village of Celuk. It's owned by a Balinese family of silversmiths who, in old times, produced ceremonial and household items. Behind the showroom is a workshop where workers patiently solder hundreds of tiny silver granules onto metal bases – a process that requires a high level of patience, caution and attention to detail. This technique is used extensively in the design of Prapen's jewellery pieces.
You can also reserve a seat to learn how to make your own pieces in the same style. Prapen Jewellery provides private classes to those willing to learn a few rare techniques or other subjects that interest you, including Prapen's heritage granulation techniques.
Location: Jalan Jaga Raga No.66, Celuk, Sukawati, Gianyar, Bali 80582, Indonesia
Open: Daily from 9am to 5pm
Phone: +62 (0)813-3911-4877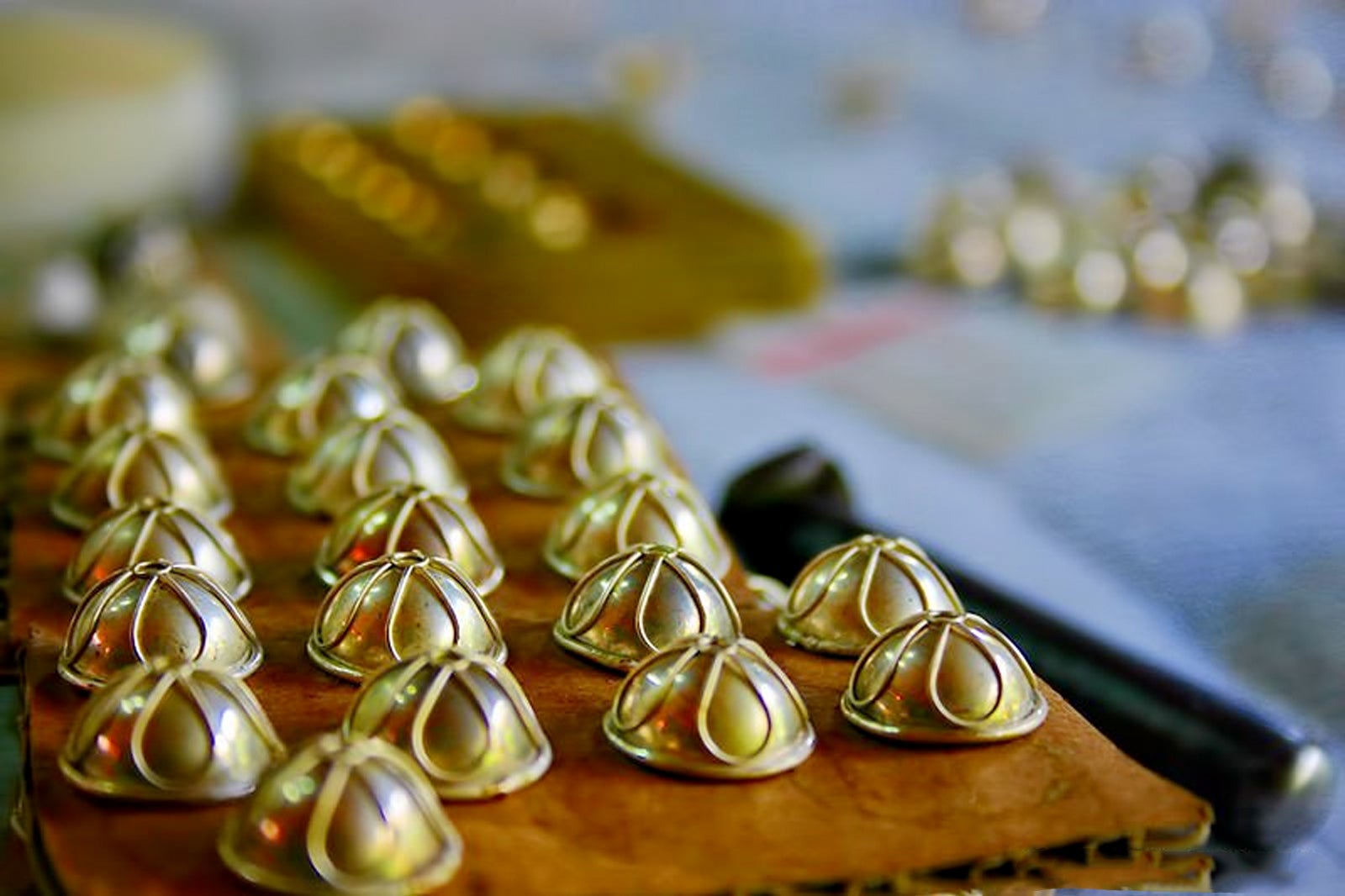 Chez Monique was one of the first silversmiths to open special classes for those wanting to learn the art of making silver jewellery in Ubud. The shop was founded by Balinese silver craftsman Wayan Sunarta, who also oversees the classes and provides mentoring to participants himself.
Classes usually take 4 hours, during which you can create your own unique jewellery piece. You can follow a design from their simple yet stylish collection, and Wayan's staff will help you to accomplish your first mission. You can make a gorgeous ring, exotic bracelet, stunning necklace or earrings. You can also bring your own crazy design ideas. Chez Monique's showroom is located on Jalan Hanoman, while the classes are taught on Wayan's own family compound on Jalan Sri Wedari.
Location: Jalan Sri Wedari No.57, Ubud, Gianyar, Bali 80571, Indonesia
Open: Daily from 10am to 7pm
Phone: +62 (0)813-3845-4677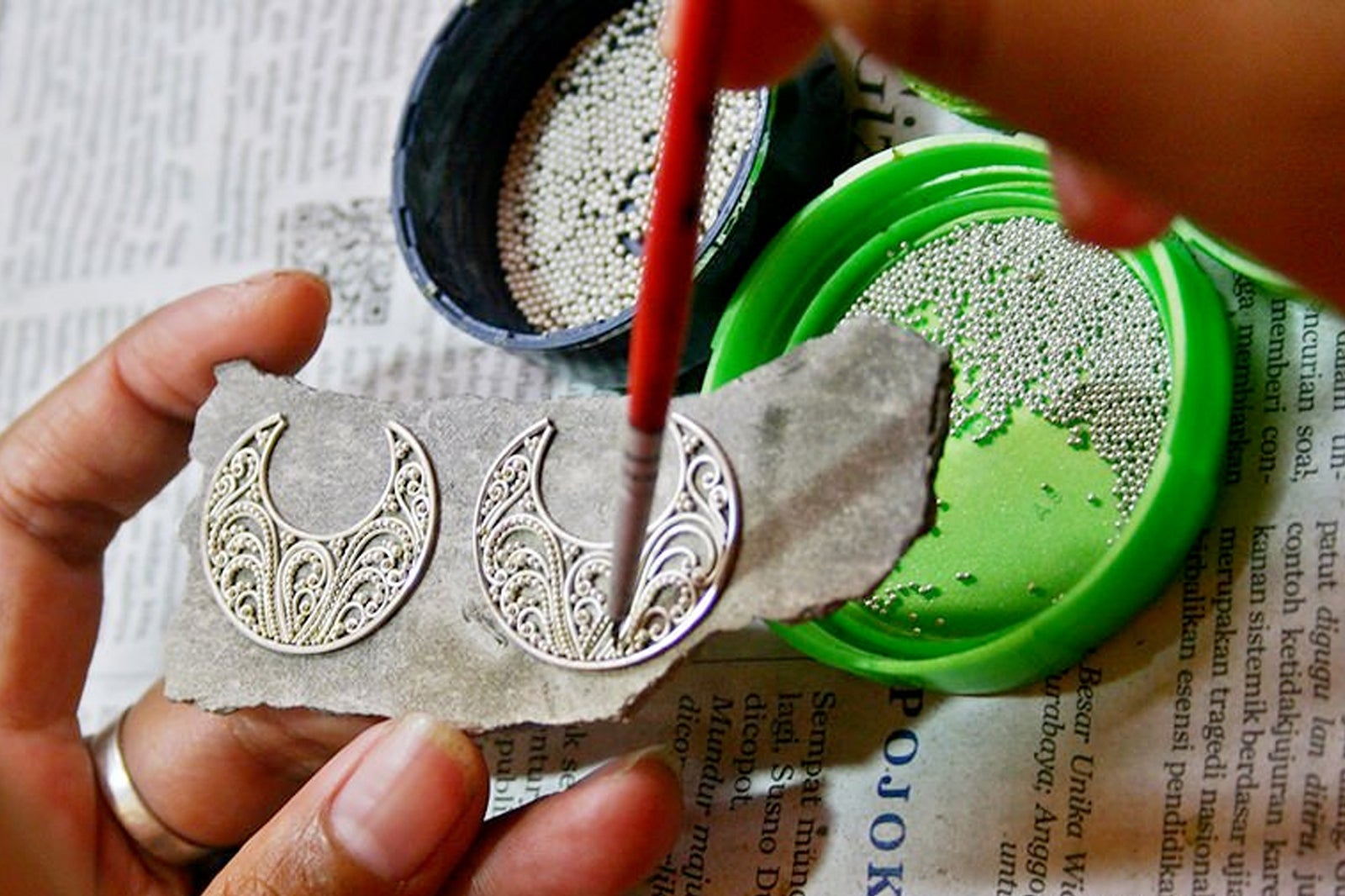 Founded by Balinese silver craftsman and businessman Ketut Darmawan, Studio Perak produces beautiful, organically inspired silver jewellery studded with semiprecious stones. Having created and exported his unique jewellery pieces, Ketut decided to share the craft by opening classes in central Ubud.
Studio Perak holds its friendly sessions in an air-conditioned studio on Jalan Hanoman. There's a half-day experiential course available where instructors show you the basic skills of silversmithing and you can create a silver ring or pendant of your own design in only 3 hours. Classes are open to anyone aged 8 or older.
Location: Jalan Hanoman No.15, Ubud, Gianyar, Bali 80571, Indonesia
Open: Daily from 8.30am to 9pm
Phone: +62 (0)878-6172-4905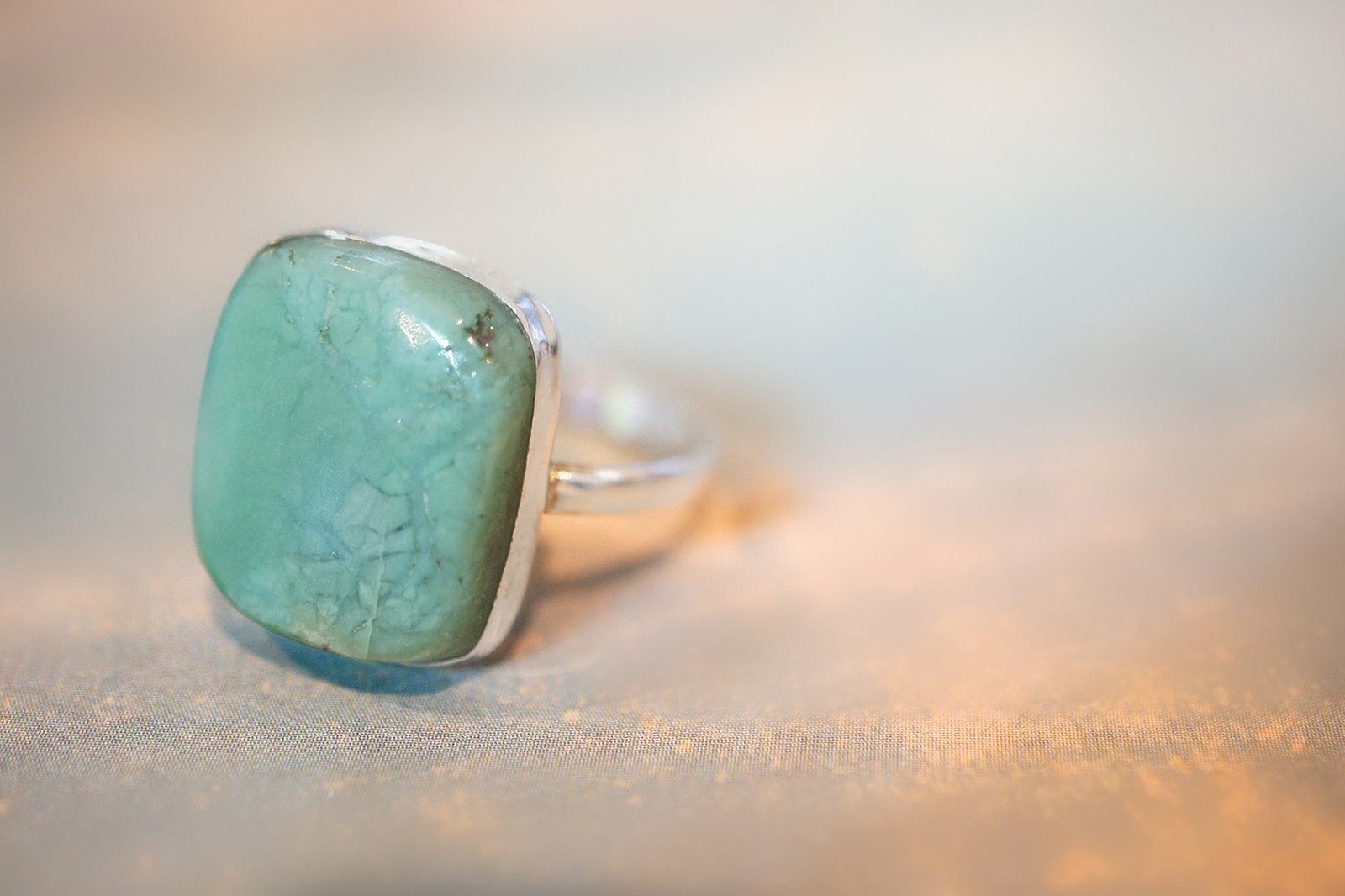 Wahana Silver's art studio provides a wide range of Balinese art workshops, including mask carving, batik painting, reading ancient Balinese manuscripts, traditional Balinese dance, bamboo weaving, and crafting silver jewellery.
You can have a go with the jeweller's tools in one of their silver-making classes. With 5 grams of silver provided per participant, you can customise your own individual piece of jewellery or create an original piece. Also included in the fun experience are transfers to and from the remote studio, as well as morning tea. The studio is compact and their small classes make for a more personal experience.
Location: Jalan Bhisma Dua, Lodtunduh, Ubud, Gianyar, Bali 80571
Open: Daily from 11am to 6pm
Phone: +62 (0)821-4689-5330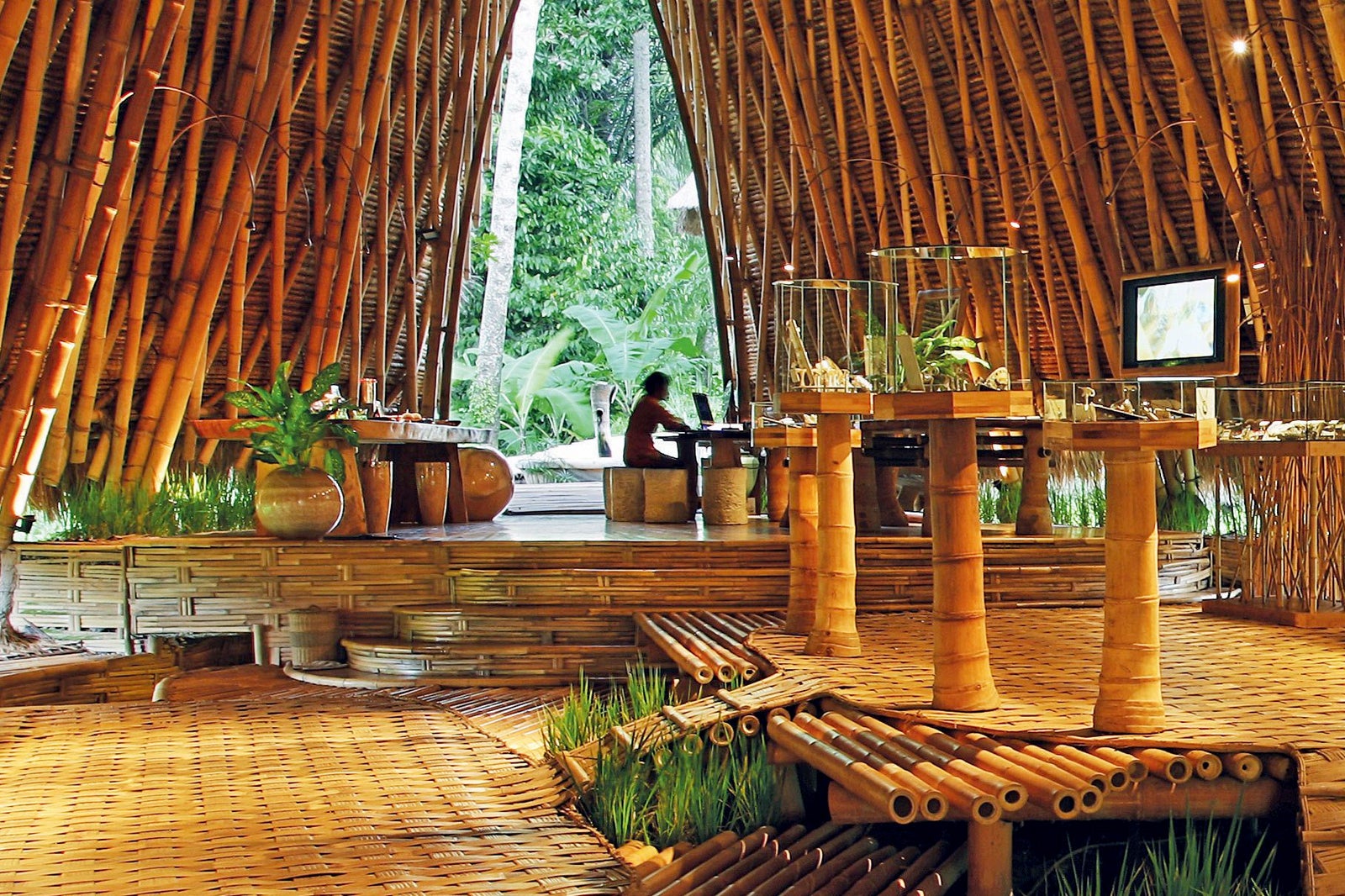 John Hardy Workshop
Mambal
John Hardy is one of the most famous Bali-based jewellery brands. John Hardy's magnificent all-bamboo Kapal Bambu showroom is a must-see for jewellery and art lovers, and appointments can be made for small tours through its compound, which also includes the opportunity to join the silver craftsmen and craftswomen for lunch!
The John Hardy compound in Mambal comprises the workshop where the jewellery is handcrafted, a farm where organic produce is harvested, and the great bamboo structures that consist of the design centre, the Three Mountain Workshop and the Kapal Bamboo showroom.
Location: Jalan Raya Mambal No.1, Br. Baturning, Mambal, Abiansemal, Badung, Bali 80352, Indonesia
Open: Daily from 8am to 5pm
Phone: +62 (0)361 469888