7 Great Halal Restaurants in Bali
Bali's Muslim-Friendly Dining Spots
Halal restaurants in Bali are among the best dining spots for those looking to enjoy exotic local cuisine during their holiday. Thanks to the stricter methods of ingredient selections and overall preparation, most of these restaurants also attract diners with specific dietary needs.
Halal cuisine in Bali mainly focuses on seafood sourced straight from the Indian Ocean, so you'll be assured of its freshness and quality. You can enjoy a wide range of fish, prawn and squid prepared either grilled, leaf-wrapped or steamed, and served with rice, vegetables and fiery sambal (chili sauce). Check out our guide to Bali's Muslim-friendly dining spots, many of which are halal-certified by MUI, one of Indonesia's top Islamic councils.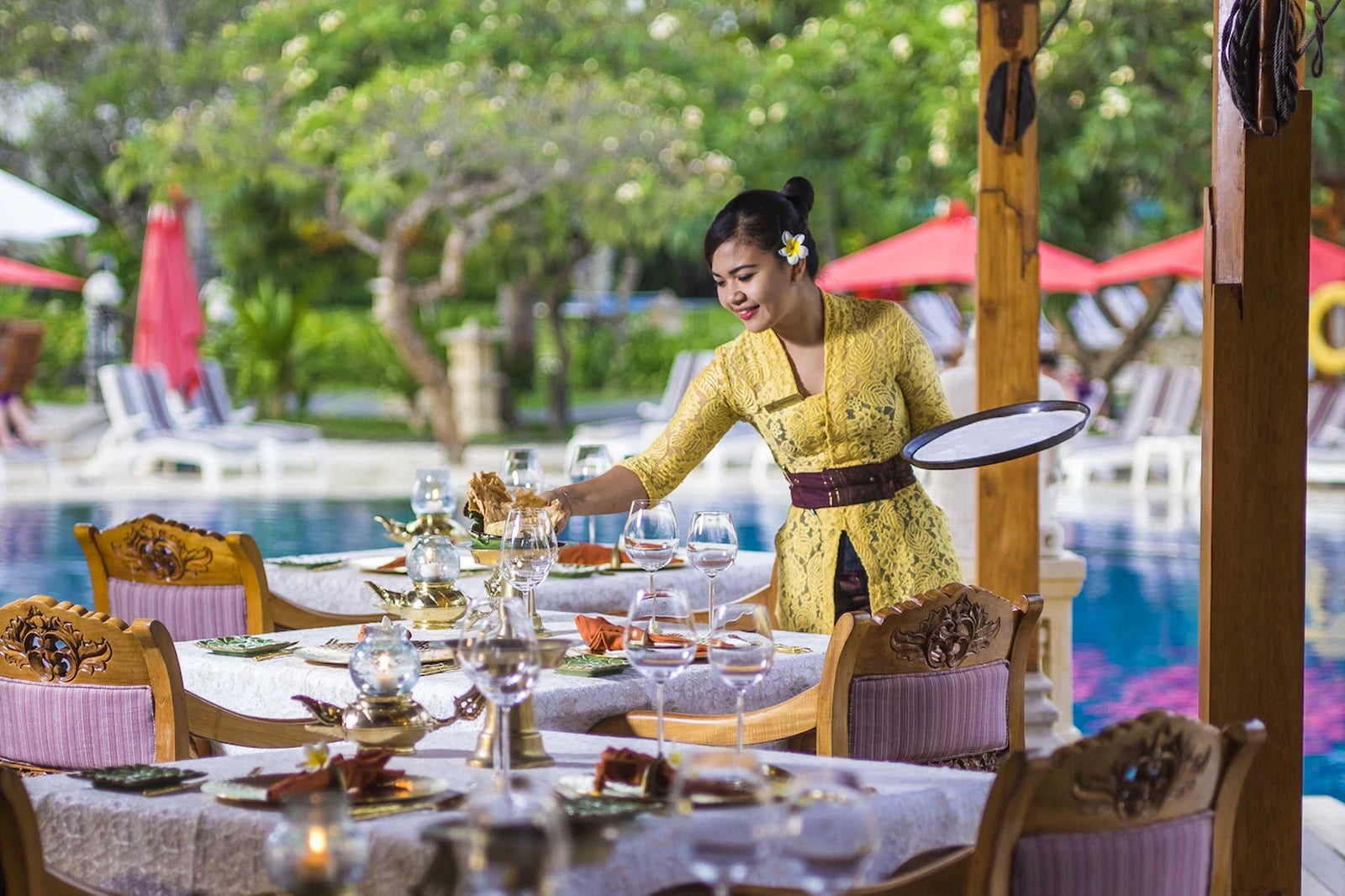 Raja's Balinese Cuisine at Nusa Dua Beach Hotel & Spa
Nusa Dua
Raja's Balinese at Nusa Dua Beach Hotel & Spa serves local cuisine in a fine-dining setting. This halal-certified restaurant has well-illuminated dining spaces, complemented by Balinese décor of crafts and fabrics. It offers 2- and 3-course menus, with mains such as bebek betutu (whole duck marinated in 16 Balinese spices) and ulam ayam mepanggang (roasted spring chicken). You can also opt for a la carte dishes – standouts include nasi goreng (fried rice), oxtail soup, and Balinese lobster in coconut curry sauce.
Location: Nusa Dua Beach Hotel & Spa, Nusa Dua, Badung, Bali 80363, Indonesia
Open: Wednesday–Sunday from 5.30pm to 10.30pm (closed on Mondays and Tuesdays)
Phone: +62 (0)361 771 210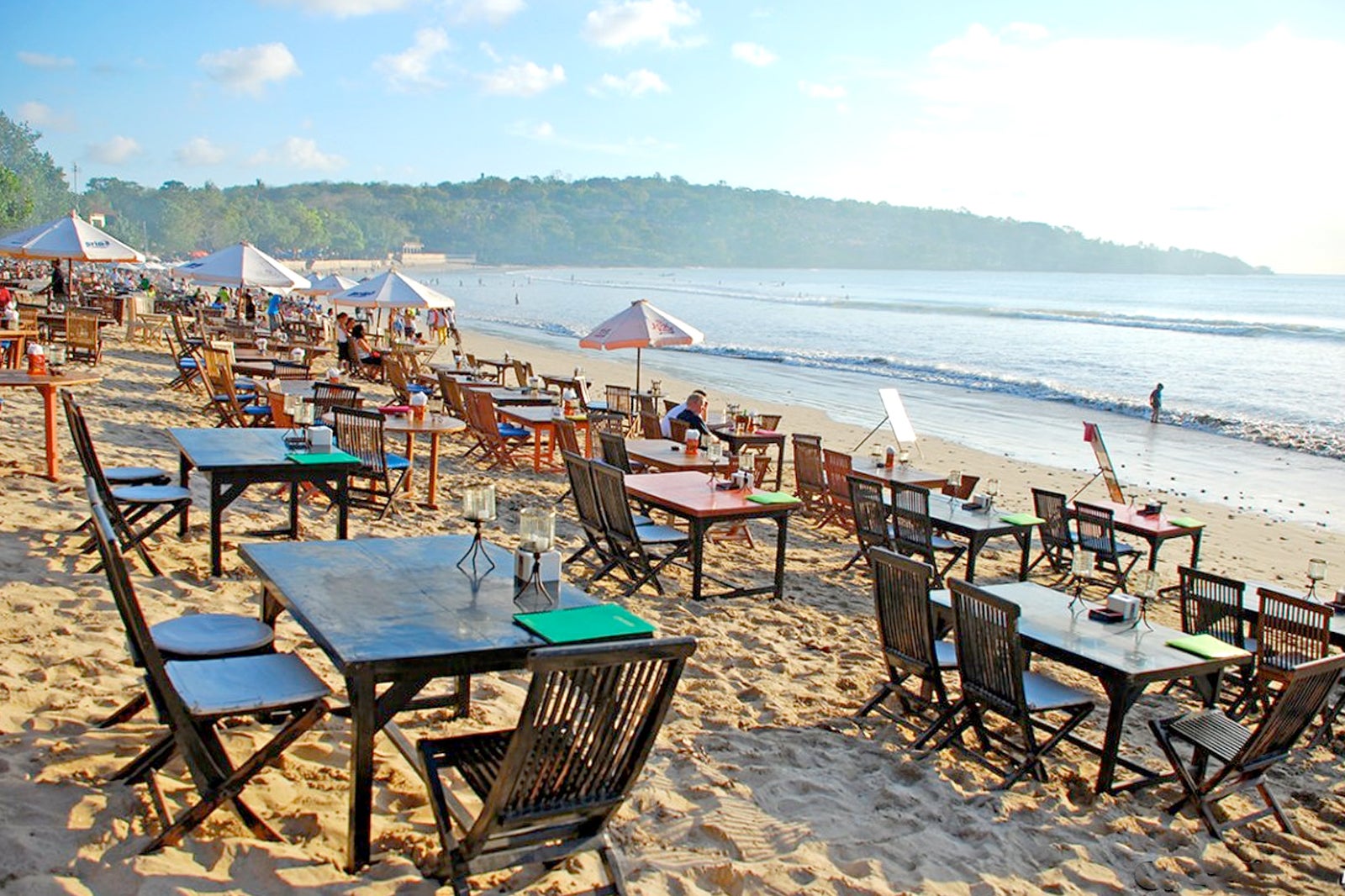 Jimbaran seafood cafés
Jimbaran
The Jimbaran seafood cafés line a white-sand beach called Pantai Muaya in Bali. Popular for sunset dinners, each Jimbaran seafood cafe serves freshly grilled seafood at beachfront and candlelit tables. Dishes are usually served with steamed rice, mixed vegetables and homemade sambal (traditional chilli sauce) on the side. As the sun goes down, the horizon features faint lights from Ngurah Rai Airport and traditional fishing boat lanterns in the sea.
Location: Jalan Four Seasons, Muaya Beach, Jimbaran, Badung, Bali 80361, Indonesia
Open: Daily from 3pm to 11pm (hours may vary)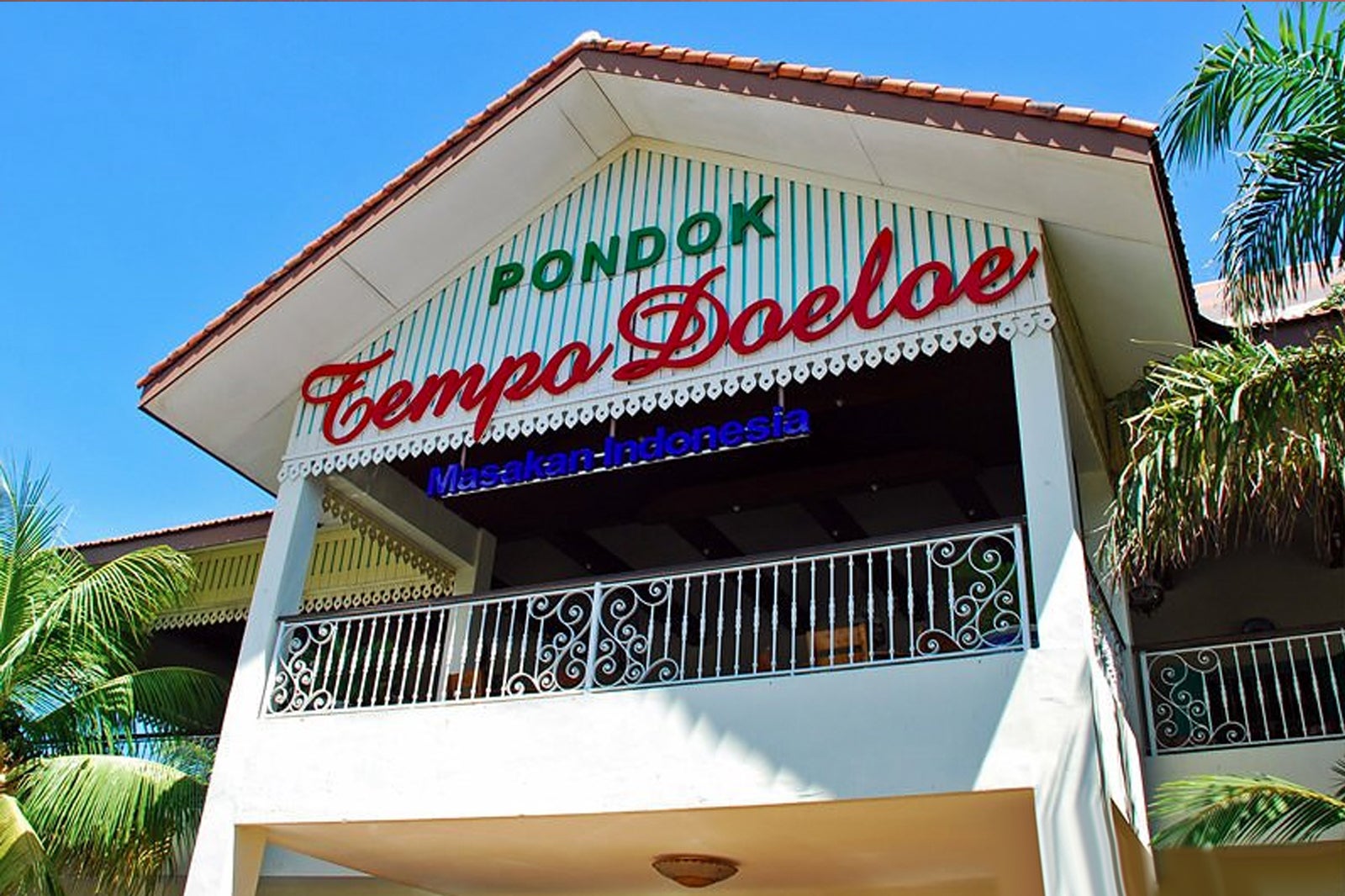 Pondok Tempo Doeloe is a family-friendly restaurant on the southern end of Sunset Road, where you can enjoy halal Sundanese cuisine. Its extensive menu includes freshwater fish and seafood dishes, such as its signature ikan bakar Tempo Doeloe (grilled fish), steamed tilapia in sweet-sour sauce, and banana leaf-wrapped steamed spicy fish. Orders come with rice baskets and mixed vegetable on the side.
Location: Jalan Sunset Road No.8, Kuta, Badung, Bali 80361, Indonesia
Open: Daily from 10.30am to 10.30pm
Phone: +62 (0)361 757 699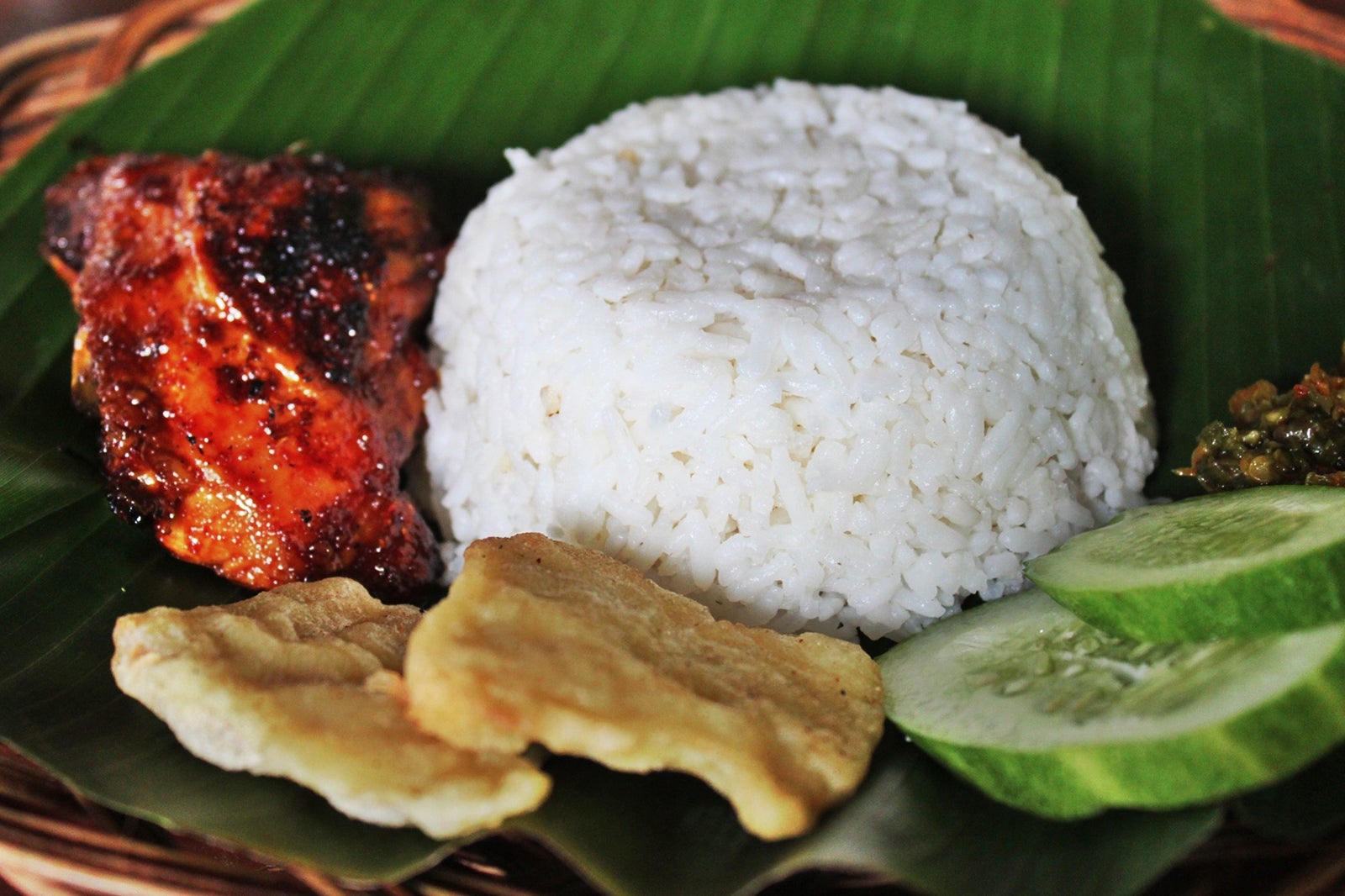 Ayam Bakar Wong Solo specialises in juicy grilled chicken prepared a la Solo, which is the name of a town in Central Java. Its main offerings are platters known as paket, which consist of meat, rice and vegetables. You can choose from ayam bakar (grilled chicken), ayam penyet (smashed fried chicken) or grilled gourami – each serving comes with sambal (chilli sauce), steamed white rice, fried tofu and tempeh, sliced cucumber, seared eggplant, and fresh sprigs of basil.
Location: Jalan Raya Kuta No.87, Kuta, Bali 80361, Indonesia
Open: Daily from 9am to 11pm
Phone: +62 (0)361 763 487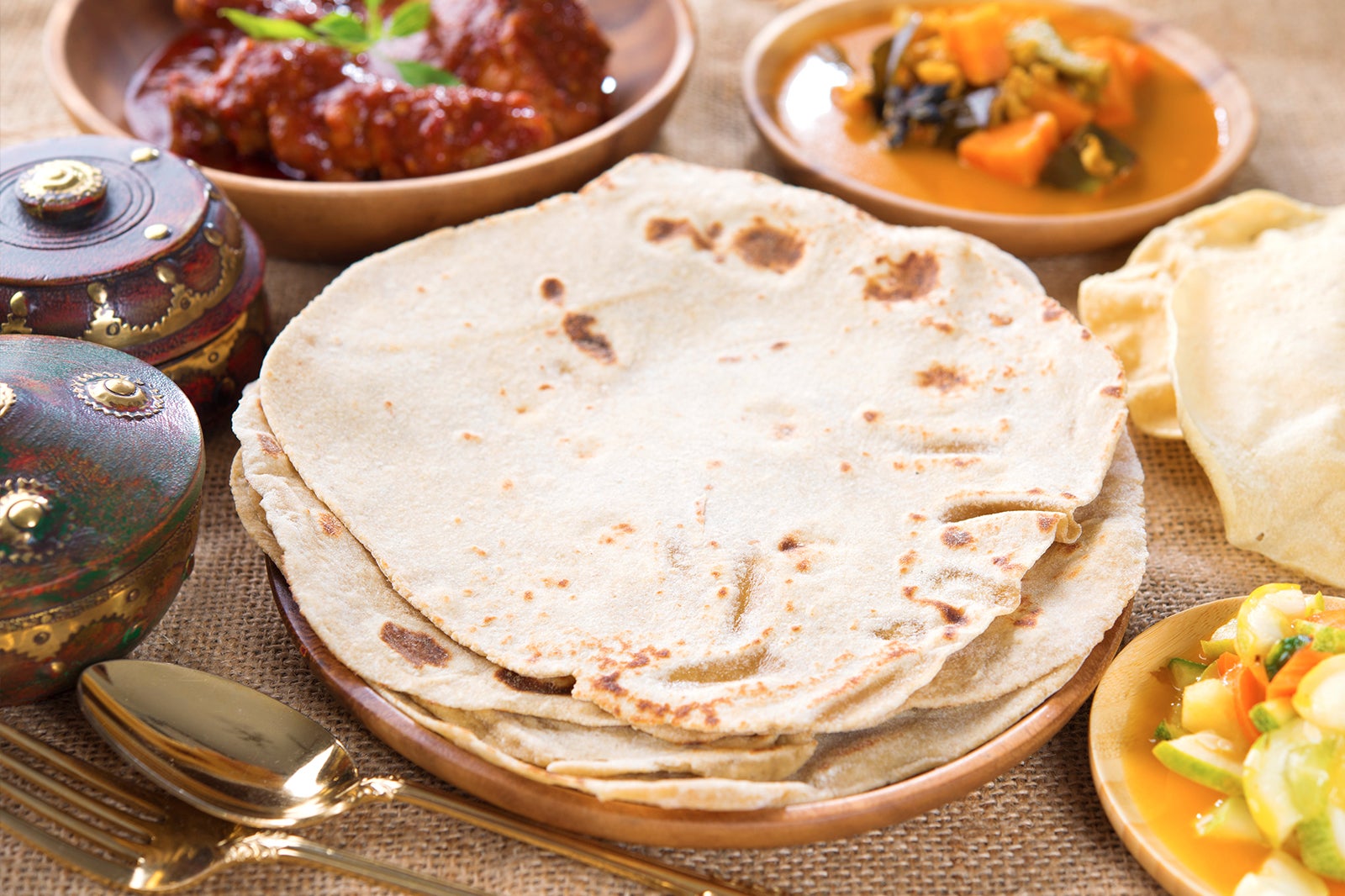 Queen's Tandoor serves authentic Indian dishes in Seminyak, Kuta and Nusa Dua. You can find a wide range of vegetarian, meat and seafood dishes on the menu. For something light, try their South Indian menu, which has varieties of dosa (crepe-like pancake) and uttapam (thick Indian pancake) or go for their speciality tandoori chicken and mutton vindaloo for a more filling treat.
Location: Jalan Raya Seminyak No.1/73, Seminyak, Badung, Bali 80361, Indonesia
Open: Daily from 12pm to 11.30pm
Phone: +62 (0)361 732 770
Bale Udang Mang Engking
Kuta and Ubud
Bale Udang Mang Engking offers a unique dining experience in floating thatch-roofed pavilions set over an artificial lake. There are large 3 bales, each of which can accommodate up to 21 people, along with 9 smaller pavilions that fit 9 people at a time.
The menu is mostly Sundanese-style, such as jumbo prawns with barbecue sauce and honey-grilled prawn, together with a wide range of vegetables, rice and noodles. There's a dedicated playground for the kids, as well as a snack corner selling chips and pickled fruits.
Location: Jalan Nakula No.88, Kuta, Bali 80119, Indonesia
Open: Daily from 11am to 11pm
Phone: +62 (0)361 370 0660
Bawang Merah Beachfront Restaurant
Jimbaran
Bawang Merah Beachfront Restaurant is a halal-certified beachfront restaurant in Kelan, about 3 km north of Jimbaran Beach. Tables are arranged on the sand, with views of the surf and famous sunsets of Bali. The restaurant specialises in fresh seafood selections and Balinese dishes, such as ayam sambal bawang, a platter of fried chicken served with steamed rice, mixed vegetables and a shallot-based sambal mix.
If you're dining in a group, its rijsttaffel offers a multi-course serving of popular Indonesian dishes. For drinks, Bawang Merah Beachfront Restaurant offers non-alcoholic jamu (herbal beverages), fruit juices and mocktails.
Location: Jalan Pantai Kelan, Tuban, Badung, Bali 80361, Indonesia
Open: Daily from 1pm to 10pm
Phone: +62 (0)361 770 210