7 Best Nightlife in Uluwatu
Where to Go at Night in Uluwatu and Bukit
The best nightlife in Uluwatu is often found in the 5-star resorts that line the limestone cliff-fringed coast. There are some exciting venues worth checking out, delivering a sophisticated bar scene come nightfall.
Rooftop bars in stunning ocean-facing locations serving high-end cocktails are the main draw around Uluwatu and the southern Bukit peninsula. Some are also surf-themed, overlooking one of Bali's most famous surf spots. Here are the best places to go at night in Uluwatu and the Bukit area.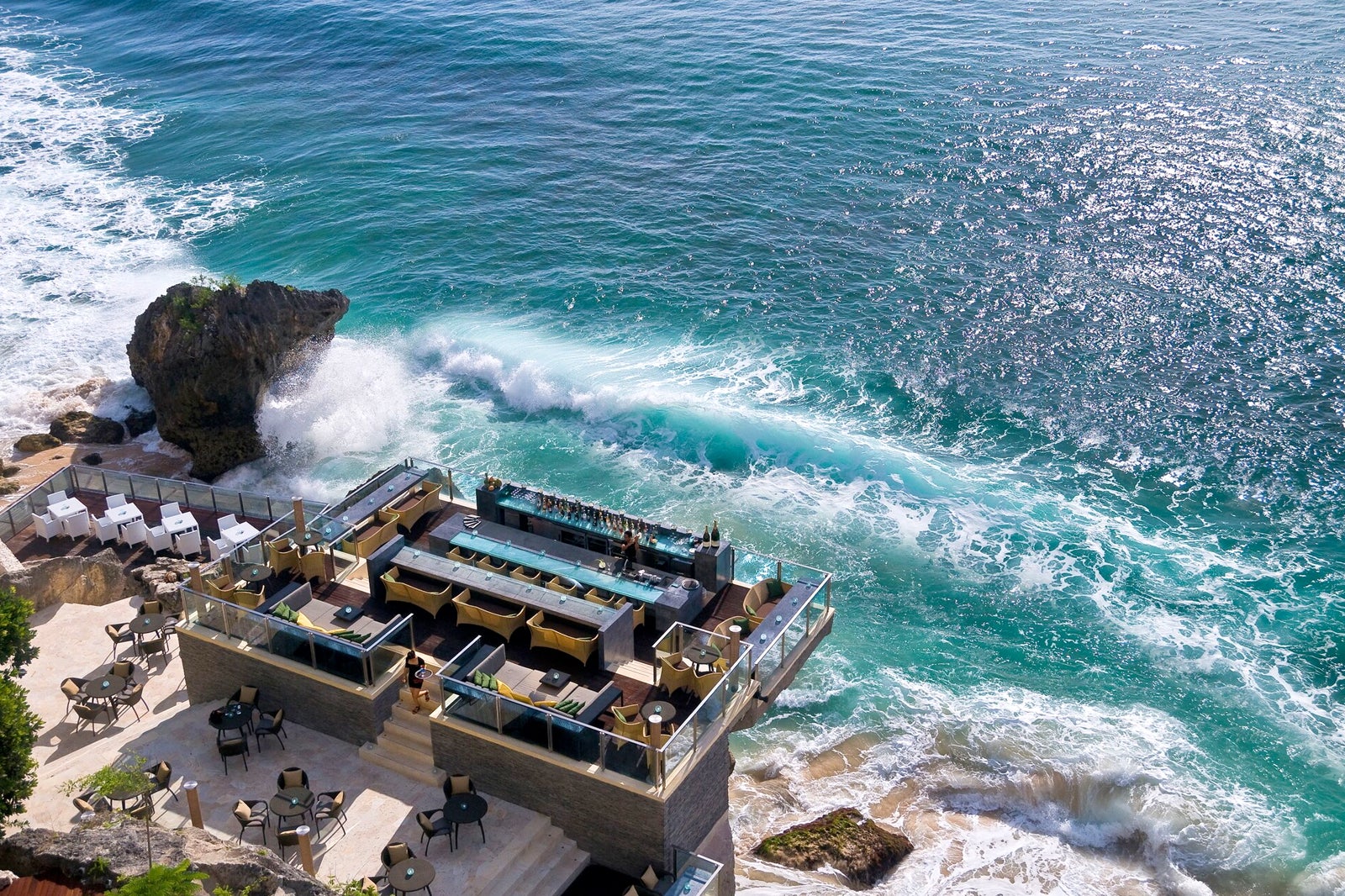 Rock Bar at Ayana Resort and Spa
The Rock Bar at the Ayana Resort and Spa is unrivalled as a fancy sunset and chill-out spot in Bali. It's positioned on a limestone rock just above the cliff base on the southern tip of the island. Access to the bar is by a funicular ride down the cliff with bird's-eye views over the coastline. A bar sits on a raised platform overlooking the wide ocean, and there's a natural cave not to miss, which features a sparkling quartz-like mineral on its rock face.
The drinks list presents signature cocktails to pair with exceptional ocean views and waves crashing at the rock base. Cool vibes are created by its resident music director, including regular gigs from world-class DJs. Rock Bar's martinis include Punch Rock, Rockberry Martini and Spa on the Rock.
Location: Sejahtera, Jalan Karang Mas, Jimbaran, South Kuta, Badung, Bali 80364, Indonesia
Open: Monday–Thursday from 4pm to 12am, Friday–Sunday from 4pm to 1am
Phone: +62 (0)361 702 222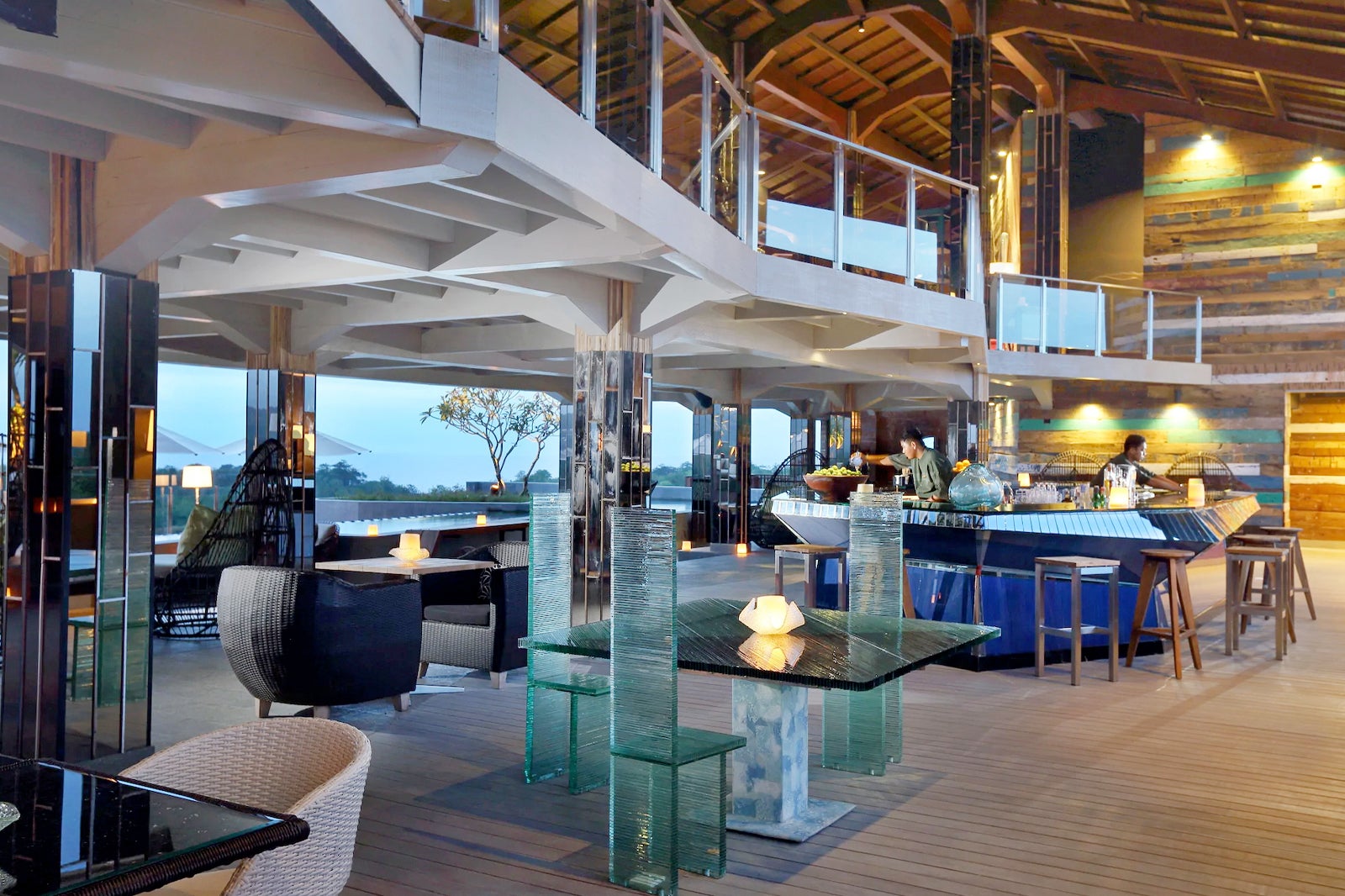 Unique Rooftop Bar at Rimba Jimbaran Bali
Unique Rooftop Bar at the Rimba Jimbaran Bali offers a chic dining and chill-out spot, brought to you by the same team behind the acclaimed Rock Bar. While not on the beachfront, the chill-out scene here features lush 360-degree panoramas over green hills instead – it's equally spectacular at sunset time.
The rooftop bar offers a retreat during the day with its lounging options around a 25-metre infinity pool, and sunsets into evenings are great with the cool alfresco setting around the central bar. Must-tries include fancy martinis, watermelon-based punches to share and 'mature' milkshakes. A concise snack menu includes Asian-inspired gourmet nibbles.
Location: Sejahtera, RIMBA Jimbaran by AYANA, Jalan Karang Mas, Jimbaran, South Kuta, Badung, Bali 80361, Indonesia
Open: Daily from 11am to midnight
Phone: +62 (0)361 846 8468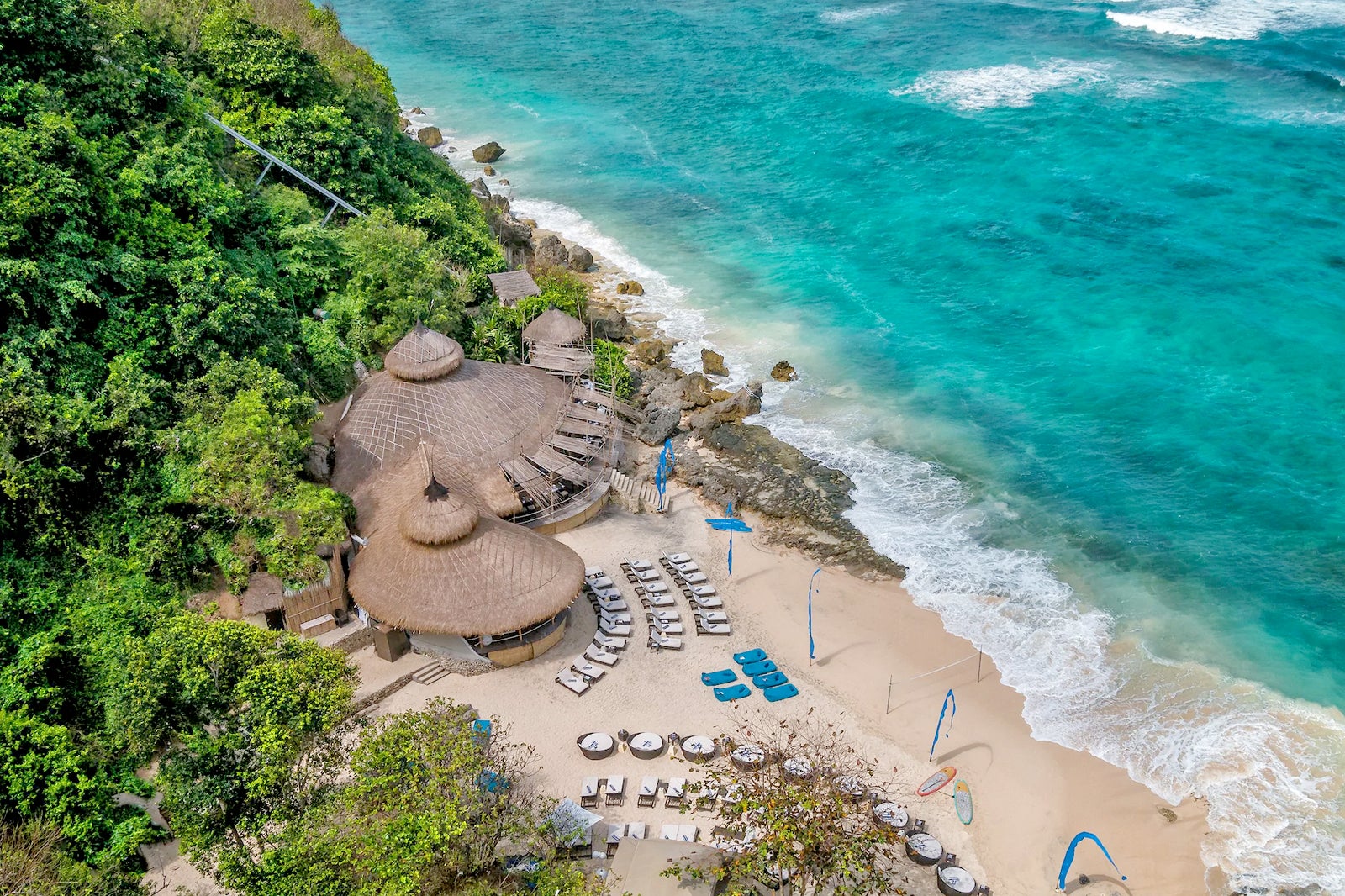 Karma Beach Bali at Karma Kandara Resort offers a gorgeous private beach setting on Bali's southern coast. A white-sand beach surrounded by towering cliffs features idyllic thatched-roof huts with raised bamboo platforms. Overlooking the calming ocean, these shaded huts offer relaxing spots where you can easily lose your sense of time. The main way of getting down to the beach club is by way of a private funicular.
Karma Beach Bali is open during the day, and evenings are to be shared with cold drinks and delicious Mediterranean dishes. DJs occasionally take to the turntables to set the vibe for a secluded beachfront evening in a Mediterranean-inspired setting.
Location: Karma Kandara Bali, Jalan Villa Kandara, Ungasan, Badung, Bali 80362, Indonesia
Open: Daily from 9am to 10pm
Phone: +62 (0)361 8482200
Sundara at Four Seasons Jimbaran
Sundara at the Four Seasons Resort Bali in Jimbaran Bay is one of Bali's most stylish places to dine and chill out, featuring a beach club, restaurant and an ultra-stylish bar. From the main indoor bar lounge to the 2-level main restaurant and ocean-view poolside loungers, there are many ways to have a great time at Sundara.
At the bar, large windows fully open to views across the pool and the bay. Right after the magnificent sunsets, stone cauldrons in the inner courtyard are lit ablaze, accentuating its sophisticated atmosphere. Must-try cocktails include the Jim-Let Fox-Trot and the Thousand Nights. Resident DJs help set the laidback seaside mood with a steady flow of chill-out music against the sound of crashing waves.
Location: Jimbaran, South Kuta, Badung, Bali 80361, Indonesia
Open: Daily from 11am to 1am
Phone: +62 (0)361 701 010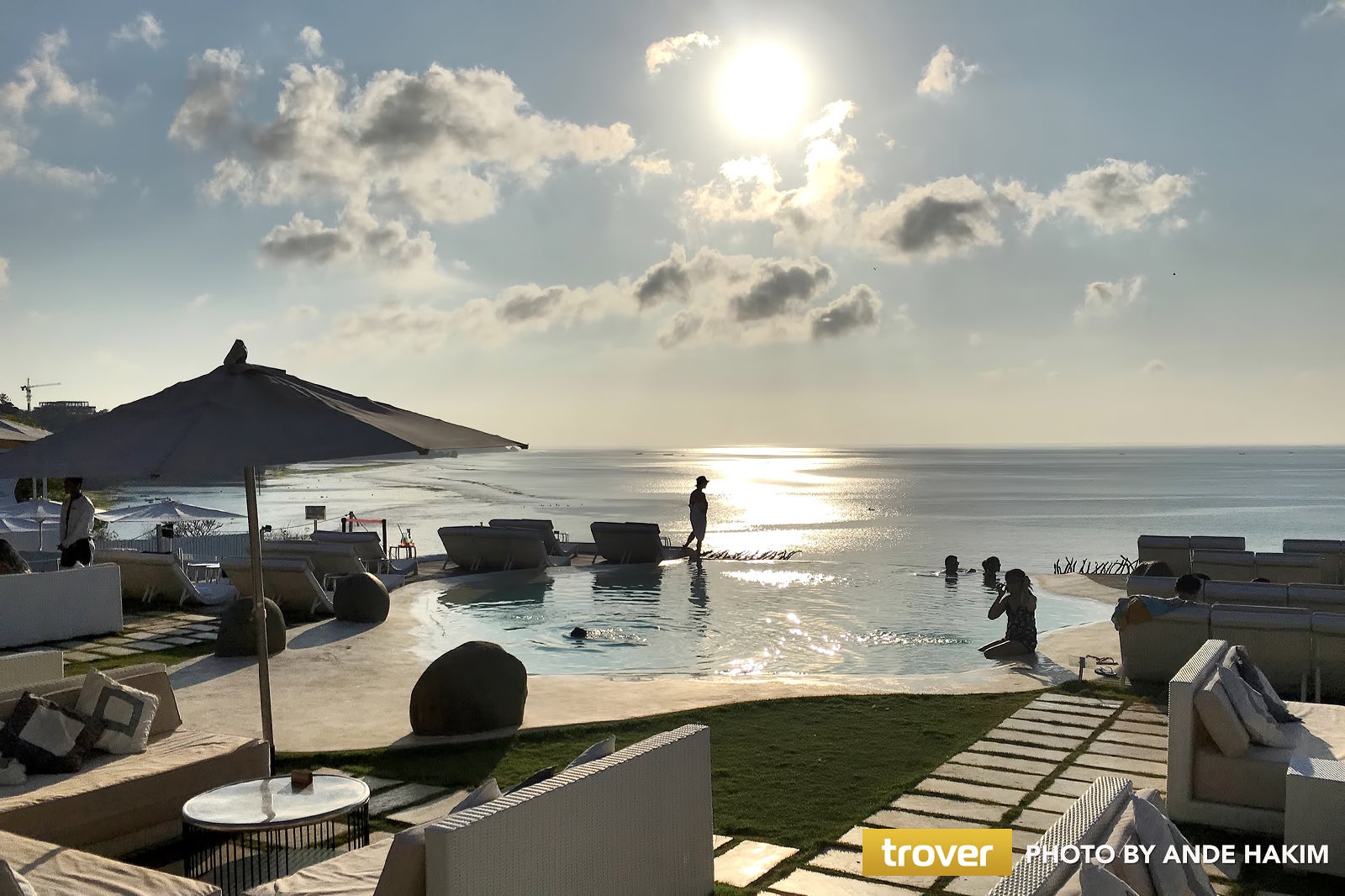 El Kabron Cliff Club offers a unique dining experience, with a menu featuring a selection of authentic Mediterranean dishes and laidback vibes. You can enjoy breathtaking birds'-eye view of sunsets over one of Bali's favourite surf breaks here.
A swimmable freeform pool is surrounded by beanbags and sun loungers where you can lounge away with a cocktail at hand. El Kabron Cliff Club's far-flung location and unique cliff-top setting make for a must-visit when in Bali. Signature cocktails include the secret-recipe 'sex on the cliff' and a refreshing jug of homemade sangria. Monthly full moon parties feature resident DJs spinning music from 5pm.
Location: Jalan Pantai Cemongkak, Pecatu, South Kuta, Badung, Bali 80361, Indonesia
Open: Daily from 10am to 10pm
Phone: +62 (0)878 6171 7212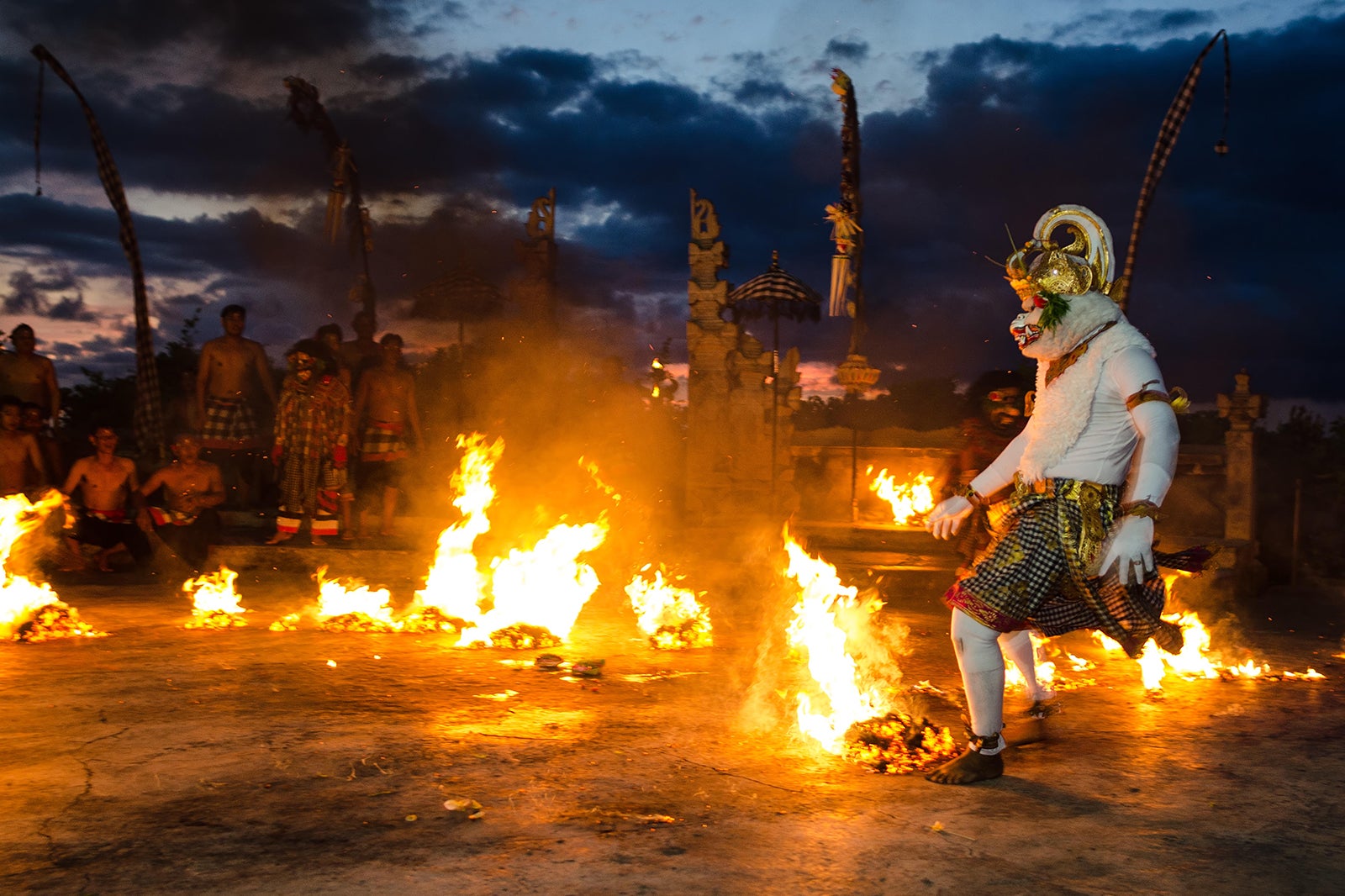 Kecak and fire dance show at Uluwatu Temple
For an evening of folk culture, head down to the open amphitheatre beside the Uluwatu Temple to watch the enthralling yet enigmatic kecak dance at sunset. The show uses the setting sun as its backdrop while a large group of 100 male dancers surround the fire and vigorously chant the chorus that gave the dance its name. A large flame in the middle of the stage adds to the dramatic appeal of the show.
Performers in vibrant costumes act out several episodes from the Ramayana epic. You'll see Lord Rama, his consort Dewi Sita, the evil king Rahwana, and several jesters that unpredictably jump into the audience to interact and have fun, adding comic relief to the show.
Location: Jalan Pura Uluwatu, Pecatu, Badung, Bali 80362, Indonesia
Open: Daily from 6pm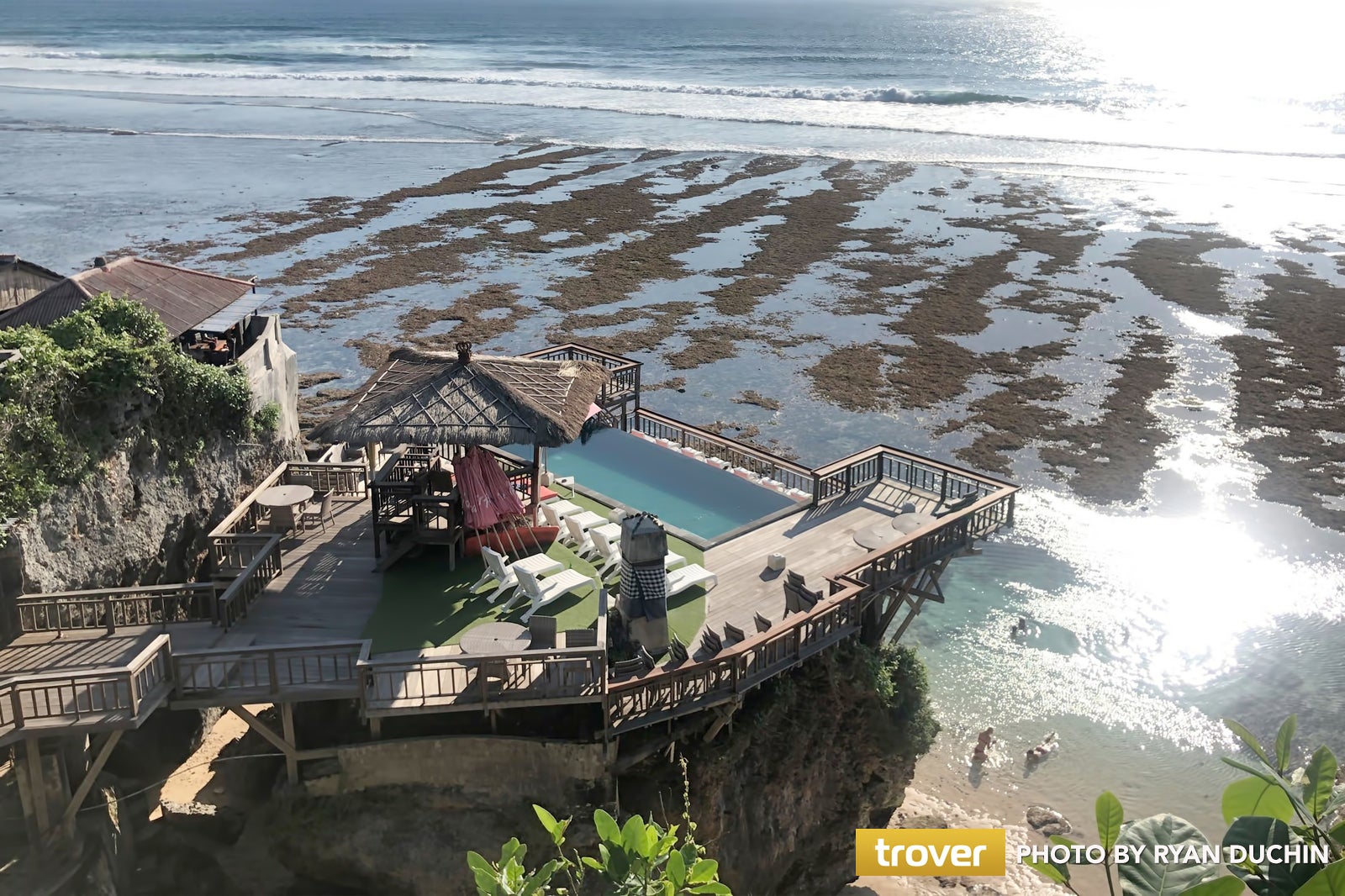 Single Fin is a surfer's bar, café and chill-out spot that overlooks one of Bali's most famous surf spots. The relaxed setting has not only won the hearts of surfers but also spectators who come for the great cocktails, bites and, most of all, great views over the Uluwatu surf.
Choose from a selection of coffee brews, wholesome salads, pasta and pizzas, or share some cocktails or margaritas with like-minded company as the sun sets after a great day of surfing. Connected to the bar, you'll find a surf shop with a cool selection of gear and surf memorabilia. Sunday sunset sessions are a highlight at Single Fin, with live bands and DJs taking to the stage for a unique evening out in Uluwatu.
Location: Suluban Beach, Jalan Labuan Sait, Pecatu, Badung, Bali 80361, Indonesia
Open: Monday–Tuesday and Thursday 8am to 11pm, Wednesday and Sunday from 8am to 1am, Friday–Saturday from 8am to 12am
Phone: +62 (0)361 769 941