26 Best Things to Do in Sanur
What is Sanur Most Famous For?
Some of the best things to do in Sanur appeal to those looking to learn about Bali's unique culture and natural landscape. Historical landmarks include the Le Mayeur Museum, the ancient and mysterious Blanjong inscription, and even a 'ghost town' that only the brave should enter.
Sanur Beach was one of the first resort areas in Bali, though it remains rich in history and maintains a laidback ambience. It's made up of several beaches that are relatively quiet when compared to the likes of Kuta or Legian. Sanur's expansive coastline is shared by some of the island's oldest hotels and boutique resorts.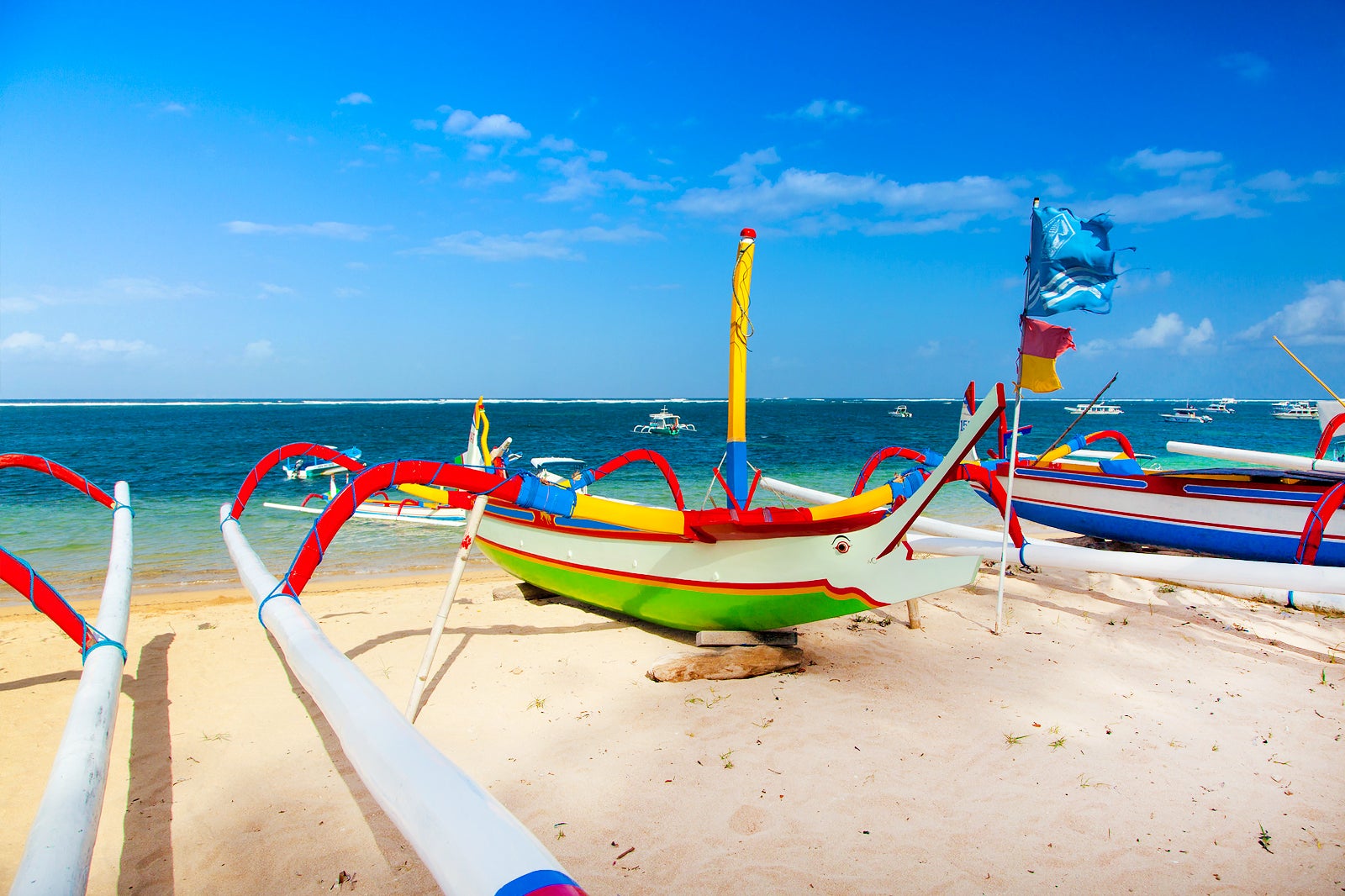 The coastline of Sanur spans around 8 km from north to south, between the coastal border of the Gianyar regency and southern Denpasar's mangrove forest. You'll enjoy several notable Sanur beaches that are connected by a paved footpath. The walkway provides a nice jogging track and scenic cycling routes.
Starting from the southern end, Sanur beaches include Mertasari Beach, Semawang Beach, Pantai Karang (Reef Beach), Segara Ayu Beach, and Sindhu Beach. The footpath ends at Grand Bali Beach, one of the most popular coasts on the island.
Location: Sanur, Pantai Sanur, Bali, Indonesia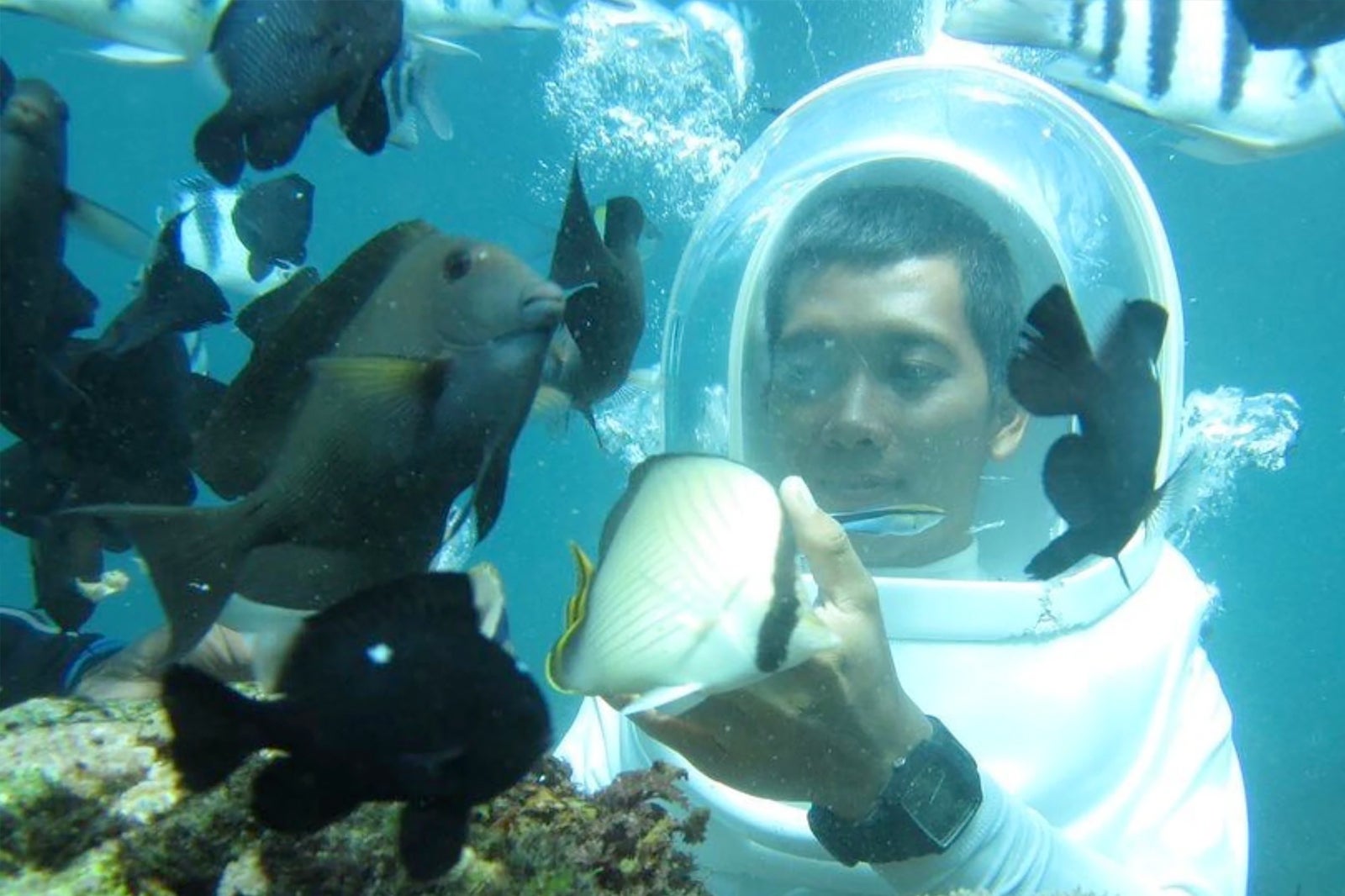 Bali Seawalker, as the name implies, lets you walk underwater to view beautiful reefs and the tropical marine life that live on them. Their pontoon is anchored 5 minutes offshore, from where you go below the waves on a ladder while wearing a specially designed helmet.
You can easily explore the bottom of the ocean on foot for about 30 minutes, with certified and experienced guides overseeing the activity from above and below. Bali Seawalker can be enjoyed by children aged 10 and up, and no diving experience or swimming skills are necessary.
Location: Puri Santrian Hotel, Jalan Cemara No.35, Semawang, Sanur, Bali 80228, Indonesia
Open: Daily from 10am to 8pm
Phone: +62 (0)813 3739 9432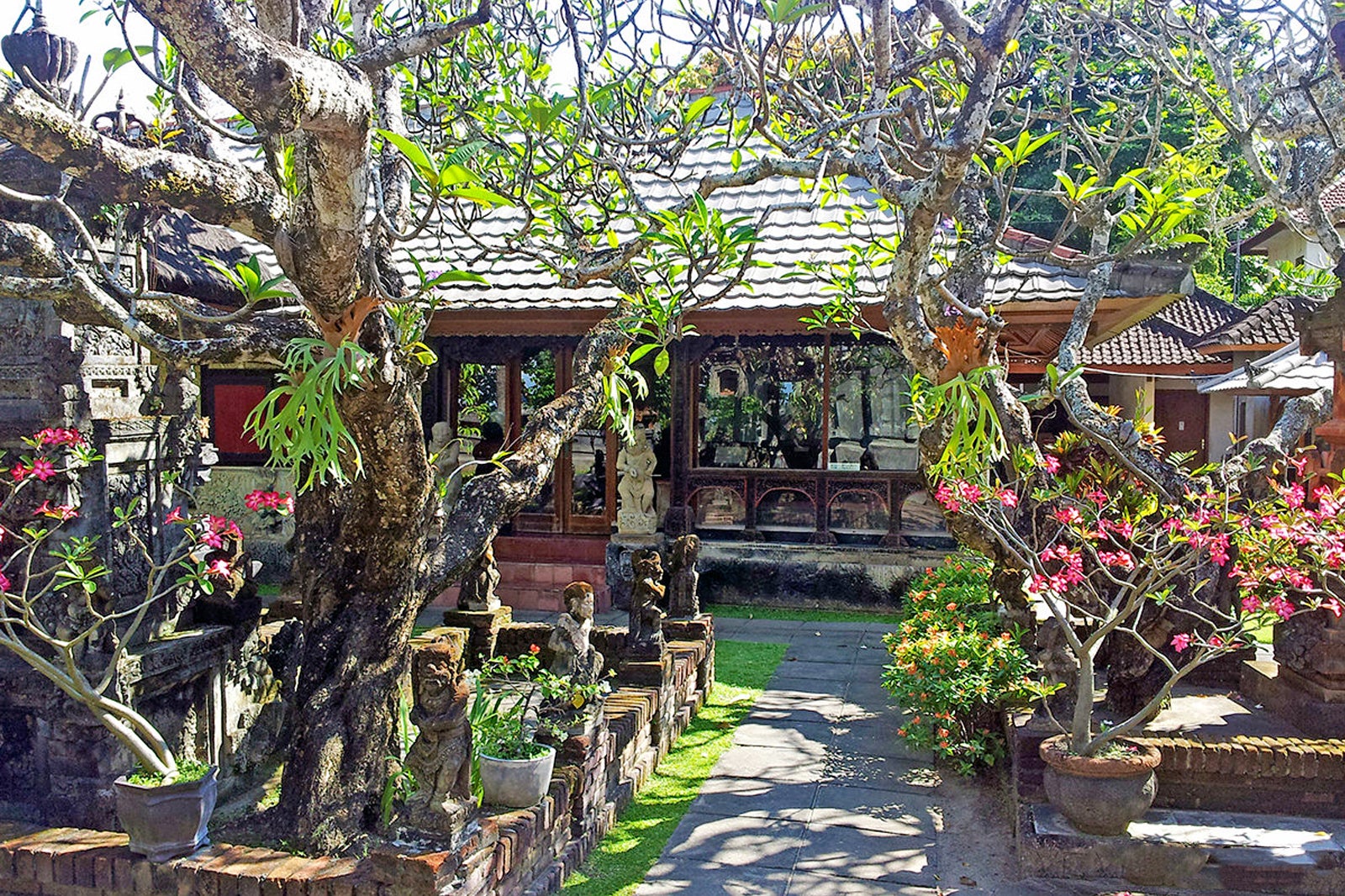 Le Mayeur Museum is right on the main Sanur Beach of Sindhum, behind a row of art and souvenir stalls. This memorial museum mainly houses the artworks and personal history of painter Adrien-Jean Le Mayeur de Merpres, a Brussels-born artist who was impressed by Bali and the shores of Sanur.
His wife and muse was Legong dancer Ni Pollok. She is prominently featured in his oil paintings. The main building features the former living quarters of the couple, with classical Balinese elements, sculpted stone walls and red terrazzo floor tiles. Carved wood dominates the furnishings, and window sills feature motifs inspired by wayang (shadow puppet) characters.
Location: Jalan Hang Tuah, Sanur Kaja, Denpasar Selatan, Kota Denpasar, Bali, Indonesia
Open: Fridays from 8.30am to 12.30pm, Saturday–Thursday from 8.30am to 3.30pm
Phone: +62 (0)361 286 201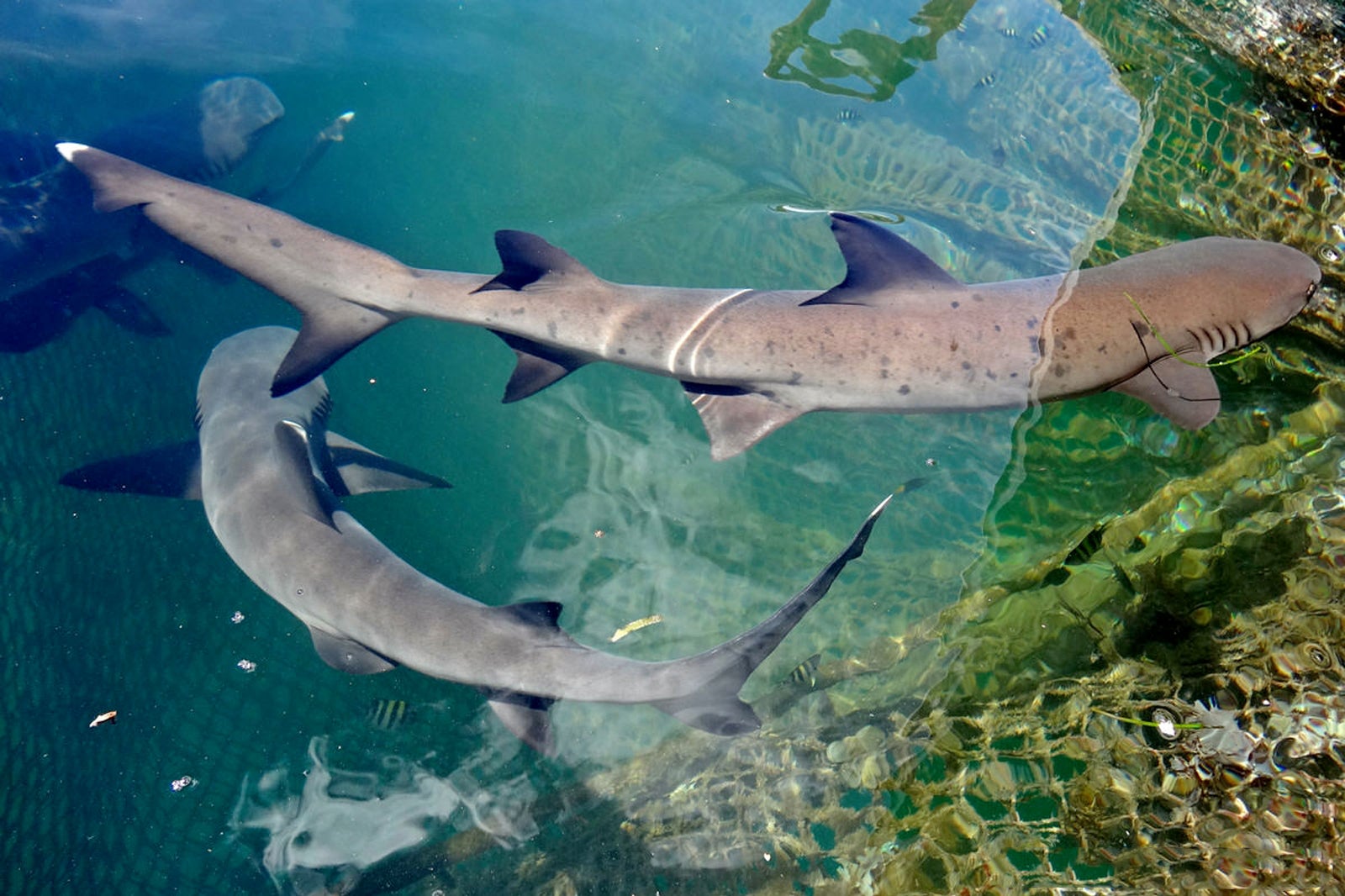 Bali Sharks is a private nature conservation initiative with a mission to save black tip and white tip reef sharks in Indonesia. Also known as the Serangan Shark Island Project, it also offers environmentally-friendly tours of its pontoon nursery located east of Serangan Island.
The conservation centre collaborated with the local Kelompok Nelayan Serangan fishermen's group to build this nursery, which has over a dozen pups. The tours let you swim and snorkel with these young sharks, visit a turtle hatchery and a marine garden aquarium. Meals and refreshments are provided as well.
Location: Jalan Tukad Punggawa No.25, Serangan, Denpasar Selatan, Kota Denpasar, Bali 80229, Indonesia
Open: Daily from 8am to 4pm
Phone: +62 (0)858 5732 0471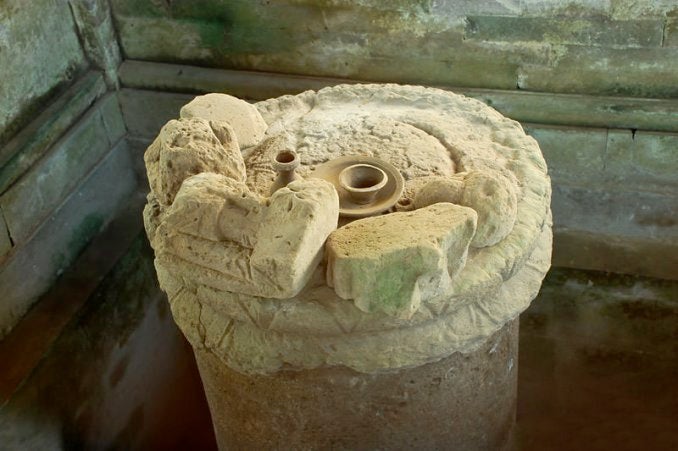 Blanjong Temple displays one of Bali's oldest known artefacts, which dates back to AD914. It's a stone pillar with Sanskrit inscriptions, and is believed to be some sort of victory monument, chiefly of King Sri Kesari Warmadewa. The first king of the Balinese Warmadewa dynasty. He was believed to have installed Bali's first formal government.
Blanjong Temple also showcases sandstone statues of Hindu lord Ganesh and various animal figures. The temple is a national cultural heritage site and welcomes visitors year-round.
Location: Jalan Danau Poso, Sanur, Denpasar, Bali 80228, Indonesia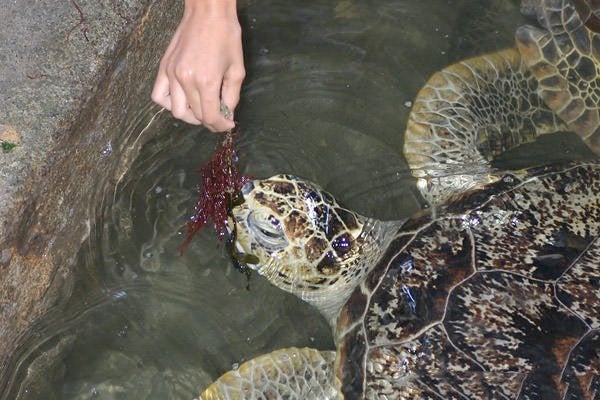 Turtle Conservation and Education Centre (TCEC)
The Turtle Conservation and Education Centre (TCEC) serves as a hatchery, nursery and sanctuary for rescued turtles. The centre is open for the public year-round. Well-shaded open-air pools separate the turtles according to size. Its supervising staff can provide information and brief tours if they aren't busy maintaining the pools or feeding the turtles. There's also a small sandy enclosure for tortoises, a hatchling pen, and a small souvenir shop selling turtle-themed items.
Location: Jalan Tukad Punggawa, Serangan, Denpasar Selatan, Kota Denpasar, Bali 80229, Indonesia
Open: Daily from 9am to 4.30pm
Phone: +62 (0)813 3849 0357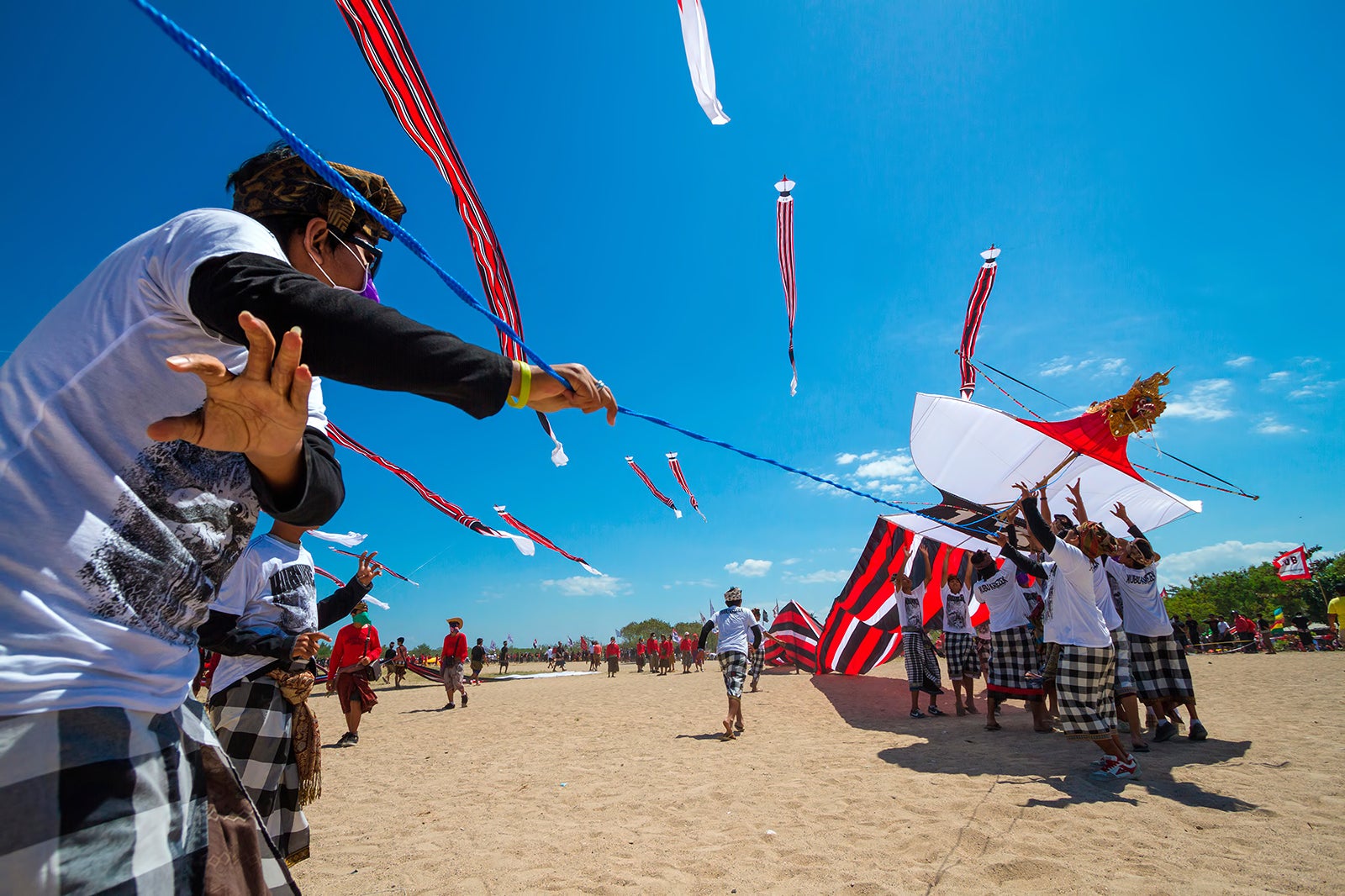 The annual Bali Kites Festival takes place at Padanggalak Beach, located on the northern end of Sanur. It's one of Bali's major provincial calendar highlights, preceding the Bali Arts Festival. On this day, you'll see thousands of traditional kite troupes and youth groups transporting their gigantic kites to the beach using large trucks. The kites usually have wingspans ranging between 5 and 10 metres.
Bring your camera to take photos of the sky speckled with hundreds of colourful kites, though the process of take-off and landing are just as exciting, with the troupes manoeuvring in their droves. The Bali Kites Festival is usually held during the windy season, between July and August. Confirmed dates follow favourable weather conditions in Bali.
Location: Pantai Padang Galak, Denpasar Selatan, Kota Denpasar, Bali 80223, Indonesia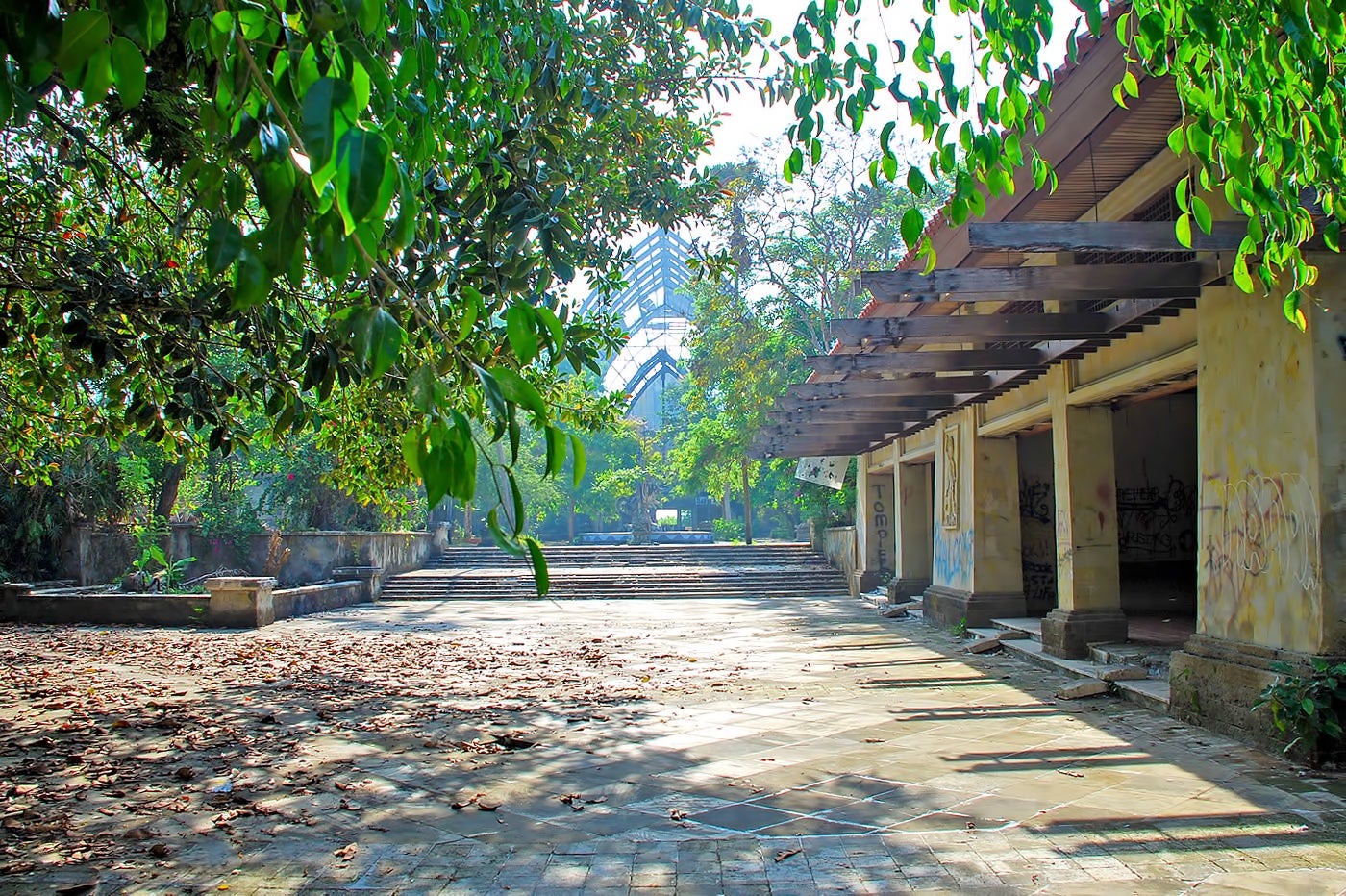 Sanur has a spooky 'ghost town' on Padang Galak Beach, a remote coast about 7 km north of the main Sanur hub. It's the vast ruins of Taman Festival Bali, a favourite location for photographers looking for a desolate, post-apocalypse-like setting.
The park's deserted main entrance gates, ticket booths, empty cafeterias and deteriorated main buildings (with partially collapsed roofs) all give it a creepy sensation even in broad daylight. Dense foliage and creeper vines have grown over broken windows, and ornamental stone figures loom over in the open spaces, making it a nice place to try your nerves. The locals believe long-abandoned sites like Taman Festival Bali are 'borrowed' by lost spirits.
Location: Jalan Padanggalak No.3, Kesiman, Denpasar, Bali, Indonesia
History
Photo
Budget
Unusual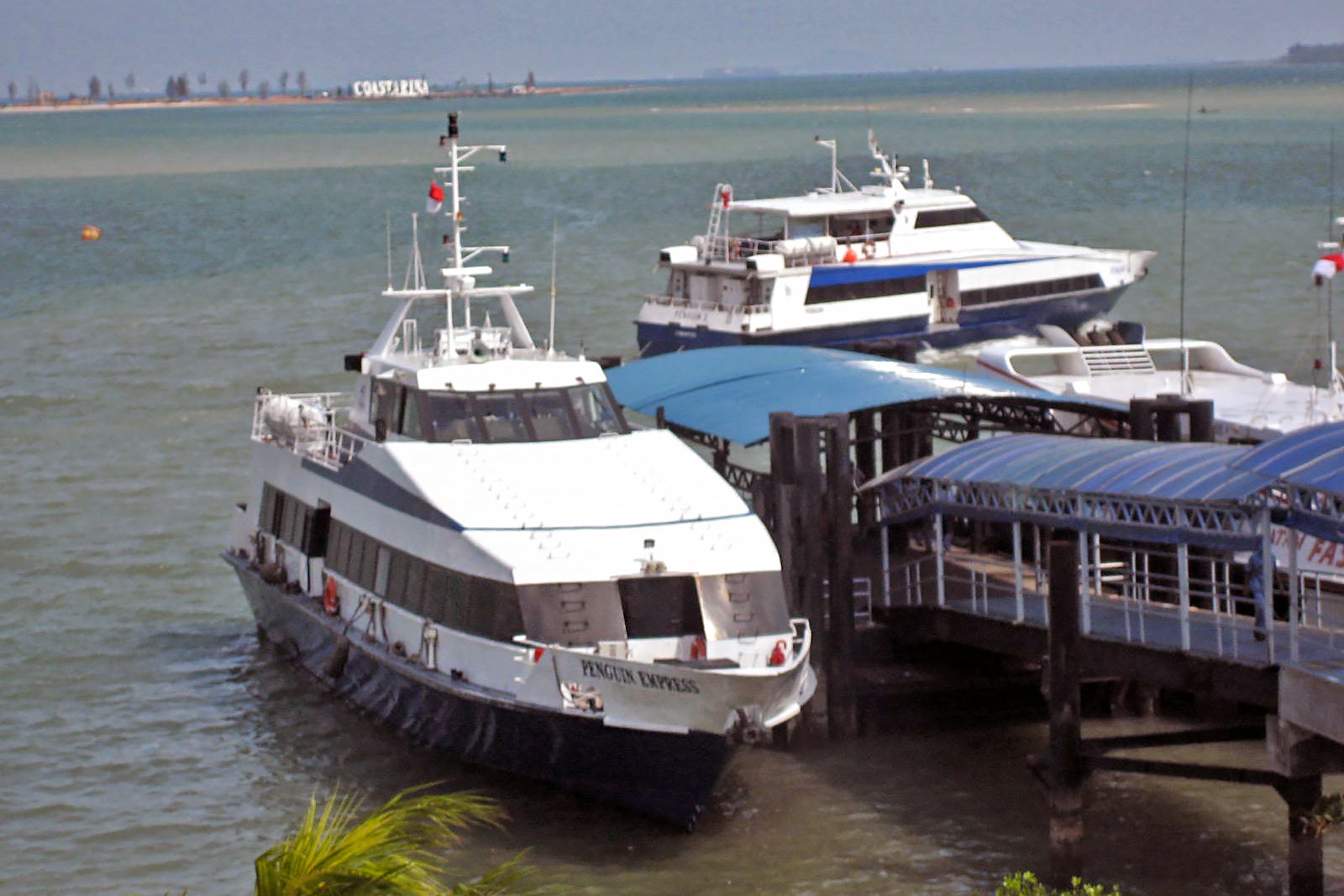 Sanur, Nusa Lembongan and Nusa Penida, are some of Bali's premier sailing points. Many cruises depart from Sanur, stopping on a pontoon at Lembongan Bay for water activities and a village outing, and end at Benoa Harbour by dusk. The floating dock has waterslides, a swimming pool, an underwater viewing chamber, glass-bottomed boats, banana boats, canoes and snorkelling equipment. Meals usually consist of an international buffet spread, with a live band playing at the background.
photo by Masgatotkaca (CC BY-SA 3.0) modified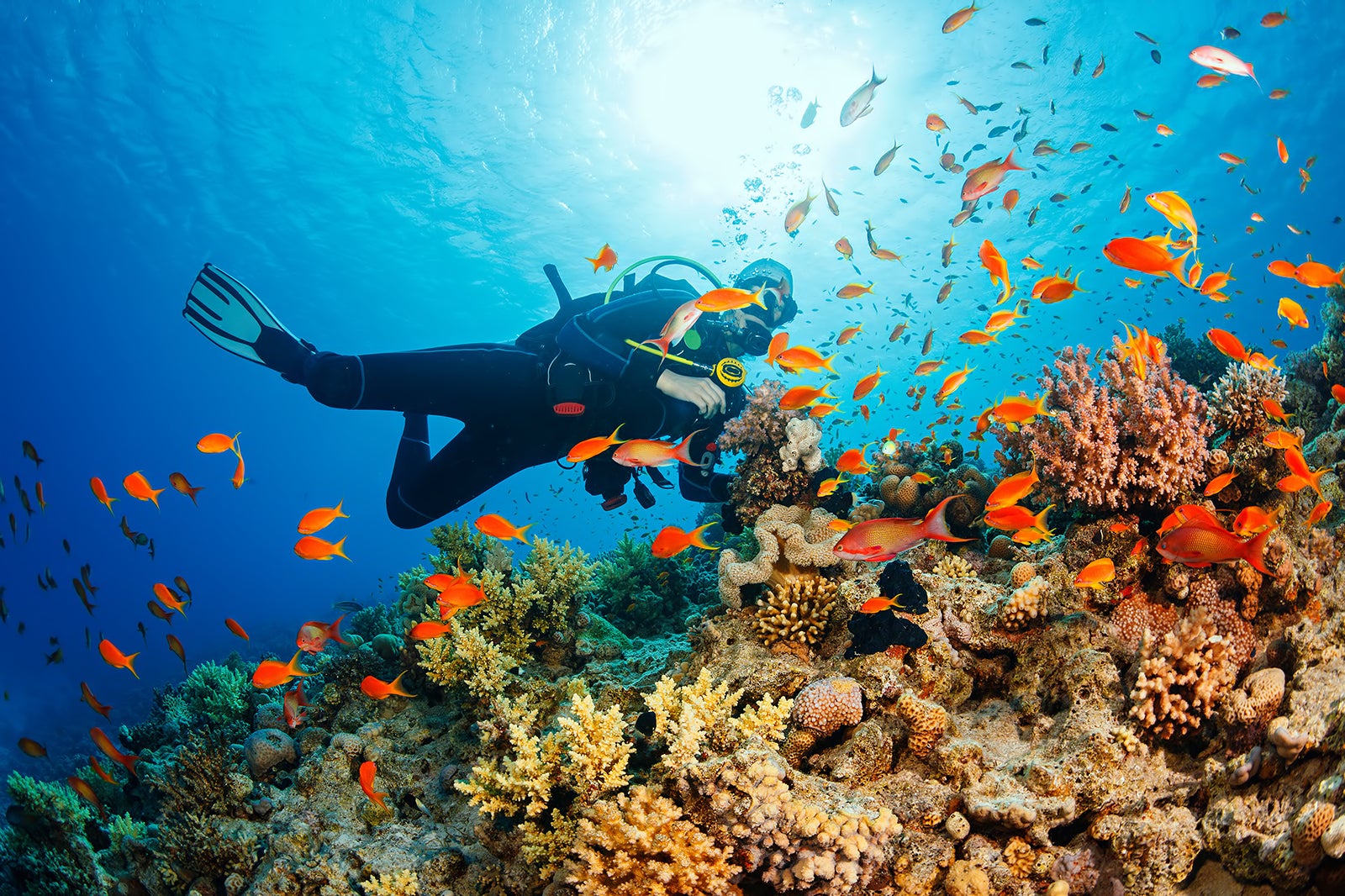 The waters surrounding Sanur are considerably colder than Kuta, but are host to hundreds of species of fish, sea urchins, crustaceans, and coral reefs. The beach can be your starting point for discovering Bali's underwater landscape through scuba-diving. The Bali International Diving Professionals offer twice-daily diving trips to the Nusa Islands, led by PADI-certified instructors. Other notable centres along Sanur Beach include Bali Marine Diving (BMD), Joe's Gone Diving Bali, and Crystal Divers.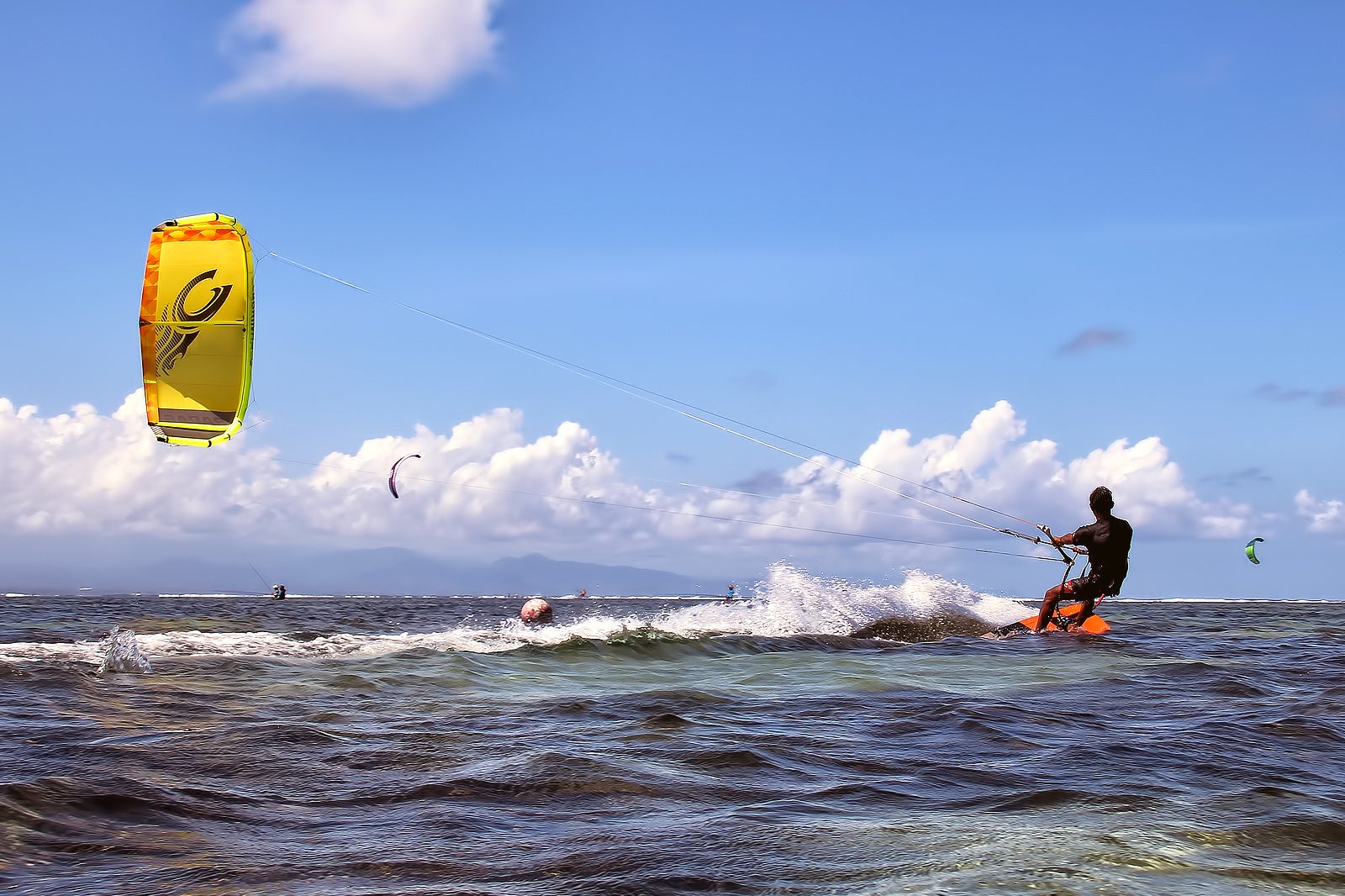 Kitesurfing is one of the most popular water sports in Sanur, with dozens of rental shops lining the coast. The sport is a combination of parasailing, wakeboarding, and water-skiing, uses a large kite to tow the wakeboard instead of a boat. Most of the time, you'll see kitesurfers at Kite Beach as this is where some of Sanur's best surf schools – like Rip Curl School of Surf – are located.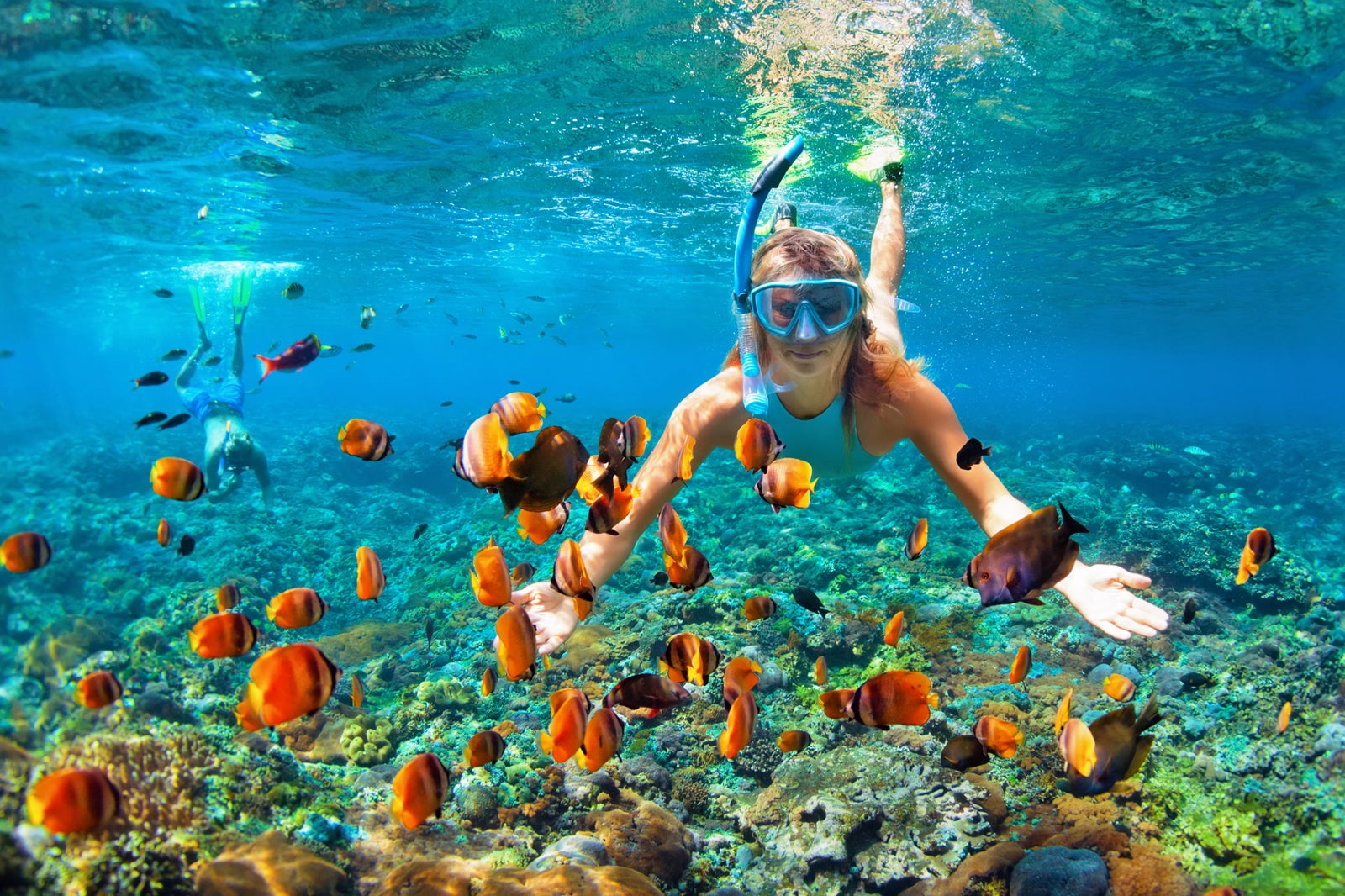 Snorkelling and swimming at Sanur Beach
Snorkelling is a popular activity in Sanur as you'll find several shallow sites with colourful reefs and schools of tropical fish like parrotfish, pufferfish, and batfish. To find the best spots, you can rent a dinghy or sign up for a snorkelling tour at your hotel or with a dive centre. If you'd like to go further, there are day trips to neighbouring islands like Nusa Penida, Padang Bai or Tulamben – these areas are known for attracting manta rays and turtles.
Swimming in Sanur is safe for kids as this beach area has a lower tide as well as cooler waters compared to most beaches in Bali. The main beach can be rather crowded, so head over to Sindhu Beach on the coastline's southern end – it's also the site of an excellent saltwater lagoon.
Surfing and windsurfing in Sanur Beach
Keramas Beach in Sanur attracts surfers with its opposing twin swells that reach an uneven lava reef. The black-sand beach lies on Bali's eastern coast in Gianyar, facing Nusa Lembongan. The waves are mostly fast right-handers and average up to 1.5 metres. To surf in Sanur, you'll require a boat or face a long paddle to cover the 500-metre distance between the shore and the curly barrels.
Windsurfing is more popular than surfing in Sanur. The beach enjoys steady winds and constant currents year-round, though the best time to enjoy this sport is during the dry season. For professionals, the wind at Serangan Island is always a few knots stronger than other spots on the island, while the reef breaks serving as ramp waves make for impressive stunts.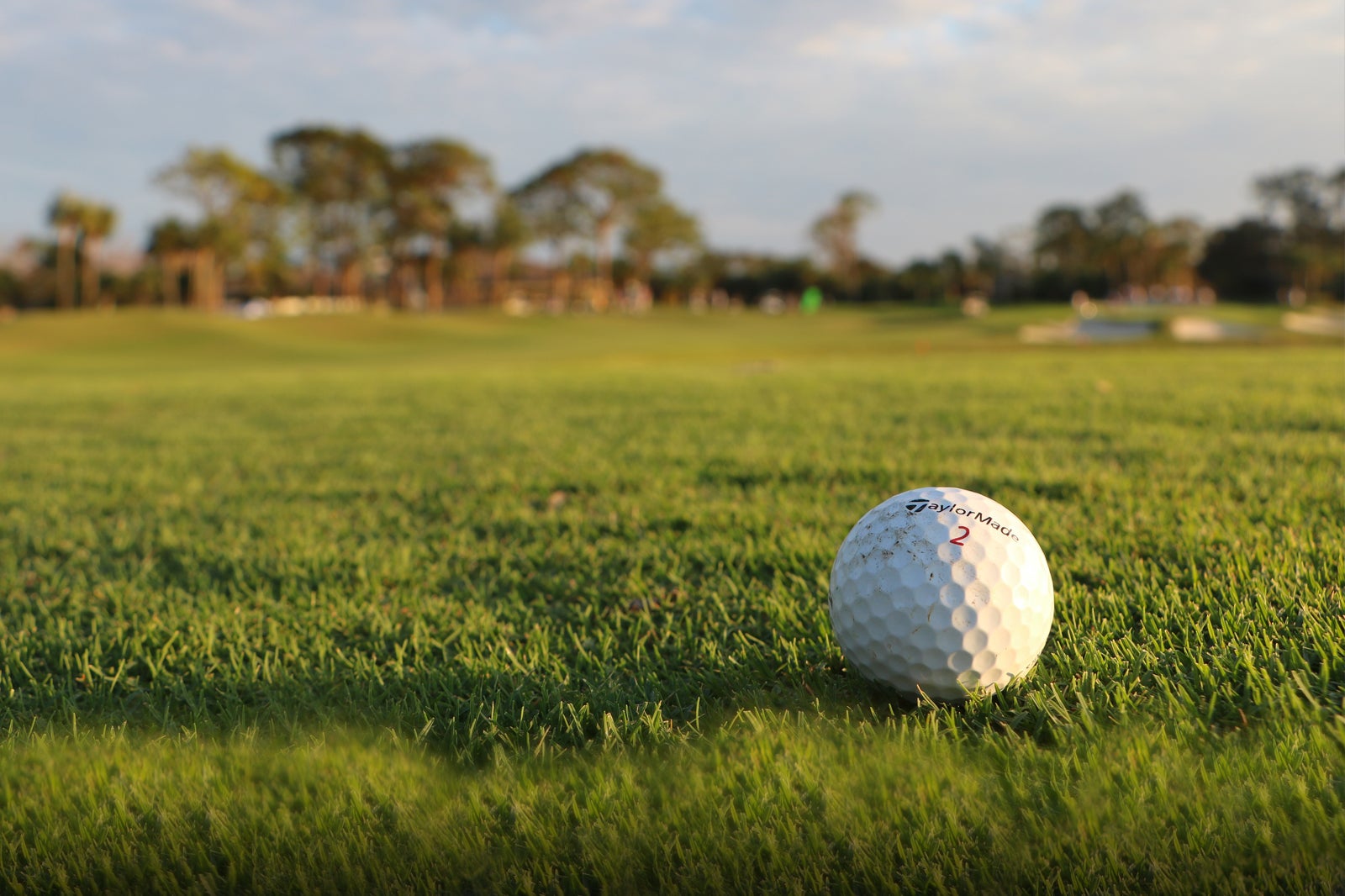 Bali Beach Golf Course at Inna Grand Bali Beach Hotel is one of Bali's smallest golf courses, offering 9- and 18-hole courses with a private country club atmosphere. A round of golf can be quite challenging, thanks to its small acreage and greens surrounded by ponds, fountains, crisscrossing garden bridges, and pine trees. The golf centre has a night driving range on the 2nd floor and an event venue on the 1st. Onsite facilities include a pro shop, meeting rooms, and a restaurant overlooking the greens.
Location: Inna Grand Bali Beach Hotel, Jalan Hang Tuah No.58, Sanur Kaja, Denpasar Selatan, Kota Denpasar, Bali 80226, Indonesia
Open: Daily from 6am to 6pm (hours vary by course)
Phone: +62 (0)361 287 733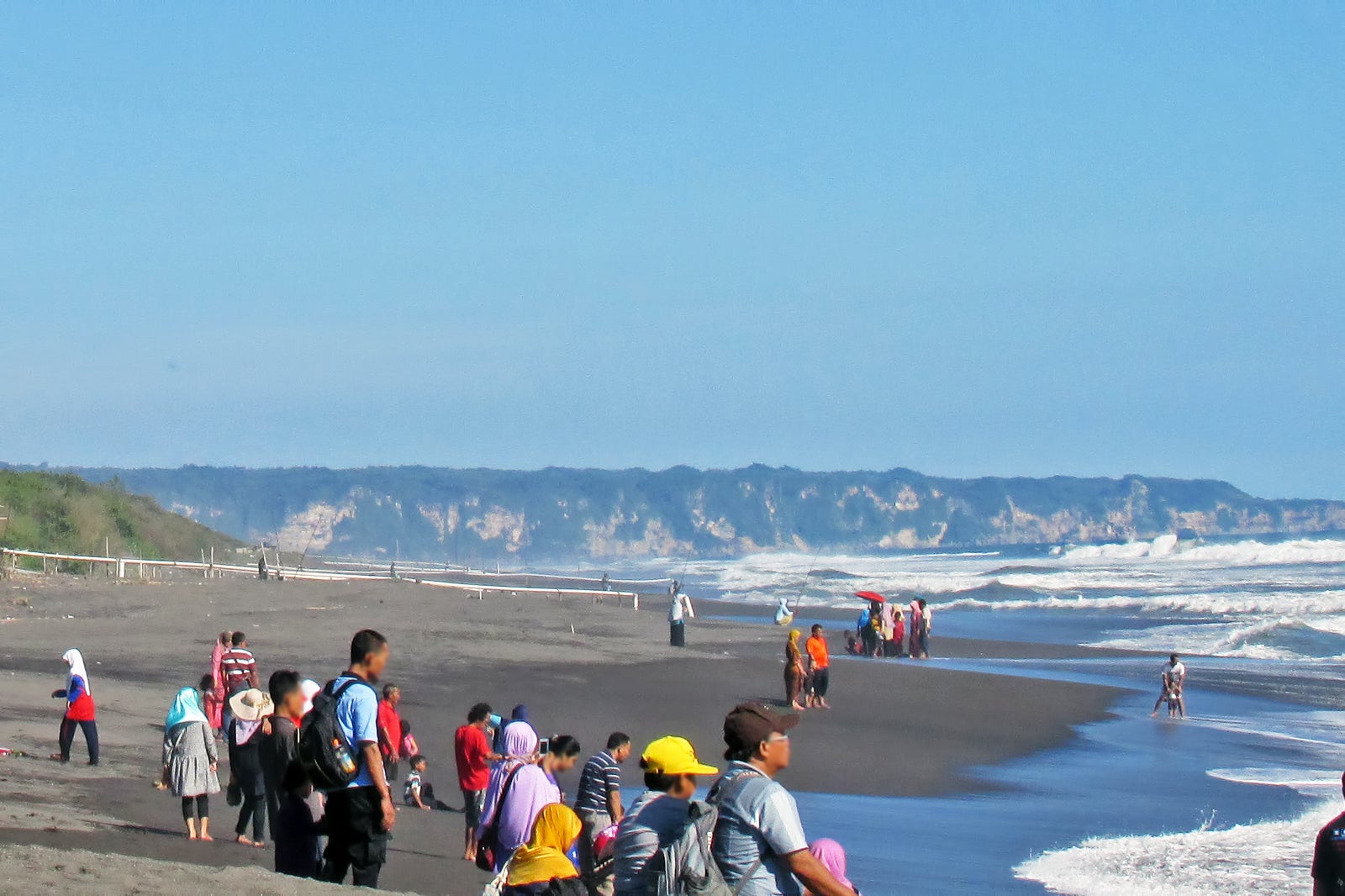 Cemara Beach is a continuation of Sanur's coastal strip, located south of Semawang Beach. The waves are relatively calm here, thanks to reefs protecting the coastline. At low tide, you can stroll on coarse sand and check out rock pools housing starfish, corals, and tropical fish. Cemara Beach offers a good walking, jogging or cycling path with views of the wonderful sunrises. There are plenty of small warungs (food stalls) selling cold drinks and refreshments, as well as dive operators if you're looking to go underwater.
Location: Jalan Cemara, Sanur, Denpasar Selatan, Kota Denpasar, Bali, Indonesia
photo by BMSyauqi (CC BY-SA 4.0) modified
Mertasari Beach can be found in the southern part of Sanur Village. The beach is geared more towards local activities, such as fishing and boating, but there are touristy activities to enjoy as well. The beach is quite popular among windsurfers and kitesurfers and there's a vast, flat field that serves as a take-off and landing spot for paramotoring and paragliding. Mertasari Beach is also close to Sanur's historical landmarks like the Bali Museum, Jagatnatha Temple, Werdhi Budaya Art Centre, and the Bajra Sandhi Monument.
Location: Pantai Mertasari, Sanur, Denpasar Selatan, Denpasar, Bali, Indonesia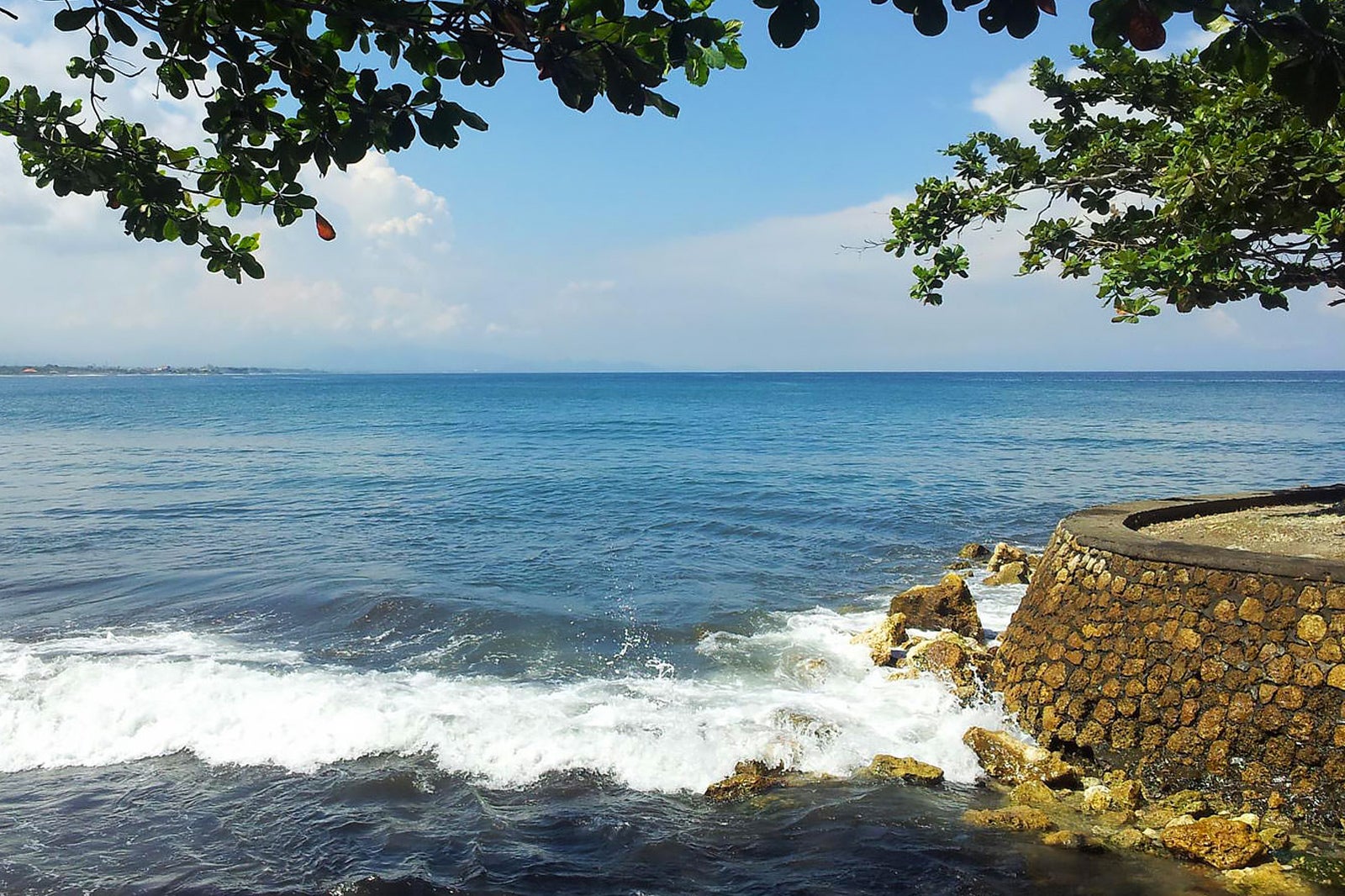 Padang Galak Beach hosts the annual Bali International Kite Festival every July. The area enjoys strong winds (10–20 knots) from June to August, making it a popular spot for Bali's traditional flying hobbyists. The beach is also close to Taman Festival Bali, an abandoned amusement park with dilapidated structures and ornamental figures that are partially covered with dense foliage and creeper vines. It's far away from the main Sanur crowds, which adds to its eeriness.
Location: Jalan Padang Galak, Kesiman, Denpasar Selatan, Kota Denpasar, Bali 80223, Indonesia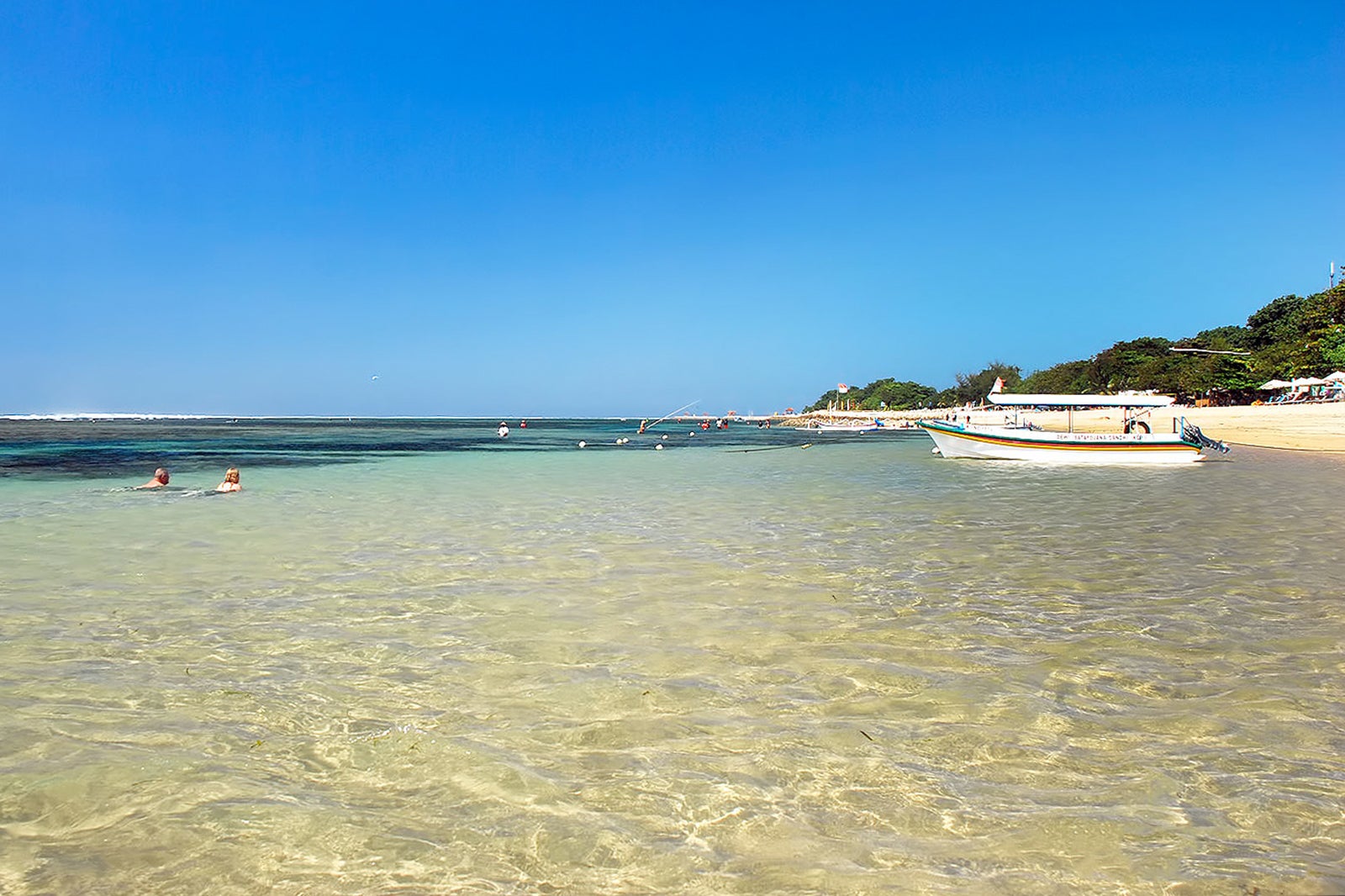 Pantai Karang is a small and secluded beach in Sanur, about 1 km south of Sindhu Beach. Swimming, playing, and sea kayaking are some of the best things to do here, thanks to its relatively calm waters. There are inexpensive gear rental operations at Pantai Karang Beach, many of which don't impose a time limit. Part of the beach has tree-shaded spots where you can enjoy sunbathing, yoga, and picnics year-round.
Location: Jalan Pantai Karang, Sanur, Denpasar Selatan, Kota Denpasar, Bali, Indonesia
Couples
Families
Photo
Budget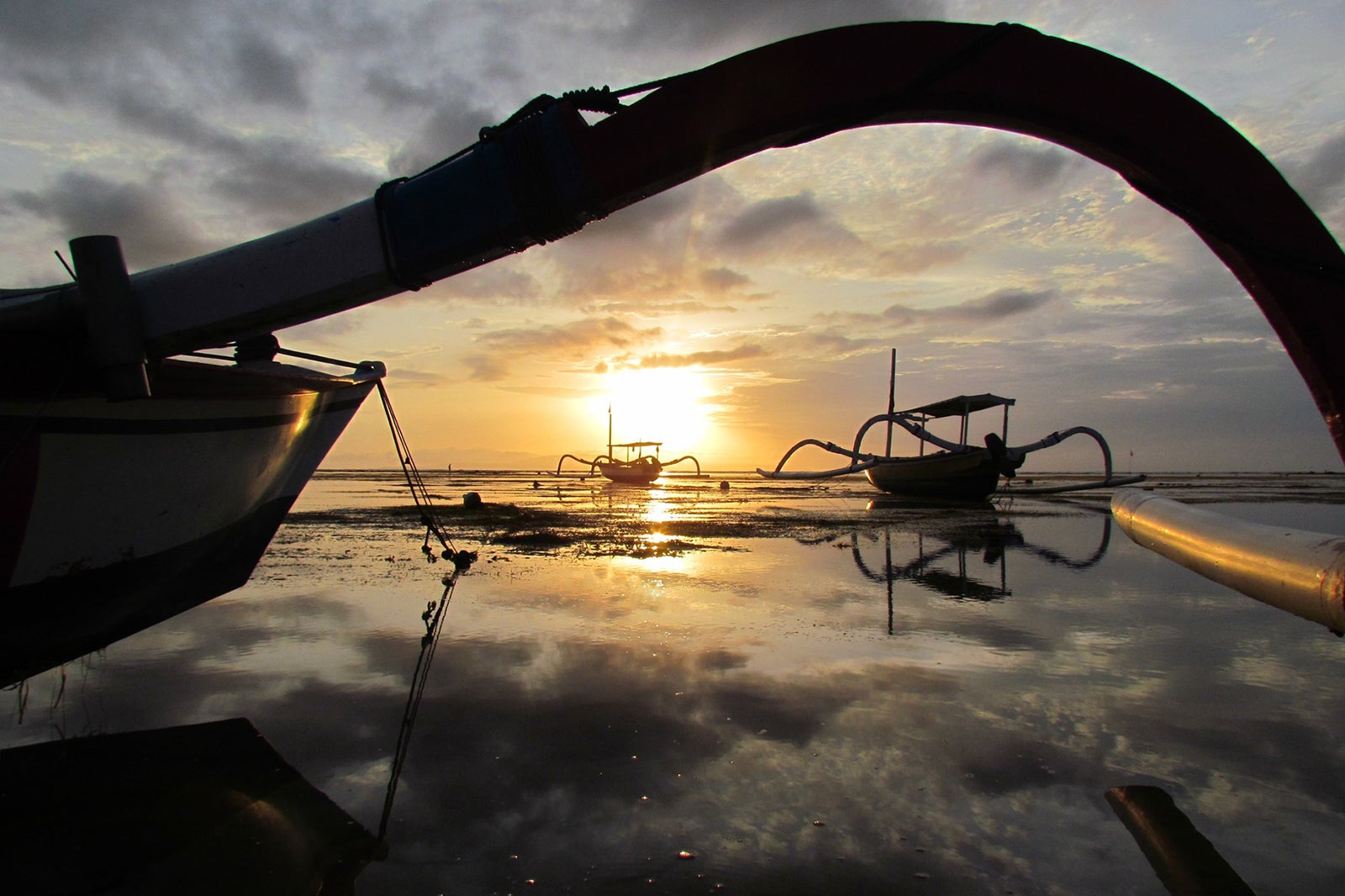 Pantai Matahari Terbit Beach
Pantai Matahari Terbit Beach is a 500-metre strip on the northern end of Sanur, about 2 km north of Padang Galak Beach. Its name means 'Sunrise Beach' in Indonesian. The beach may lack a sandy shoreline, due to wave breakers and a beach footpath bordering the waves, but it's popular among locals looking to catch the sunrise in Sanur. You'll find a small cluster of warungs (local food stalls) lining a small part of Pantai Matahari Terbit.
Location: Jalan Pantai Matahari Terbit, Sanur, Denpasar Selatan, Kota Denpasar, Bali 80237, Indonesia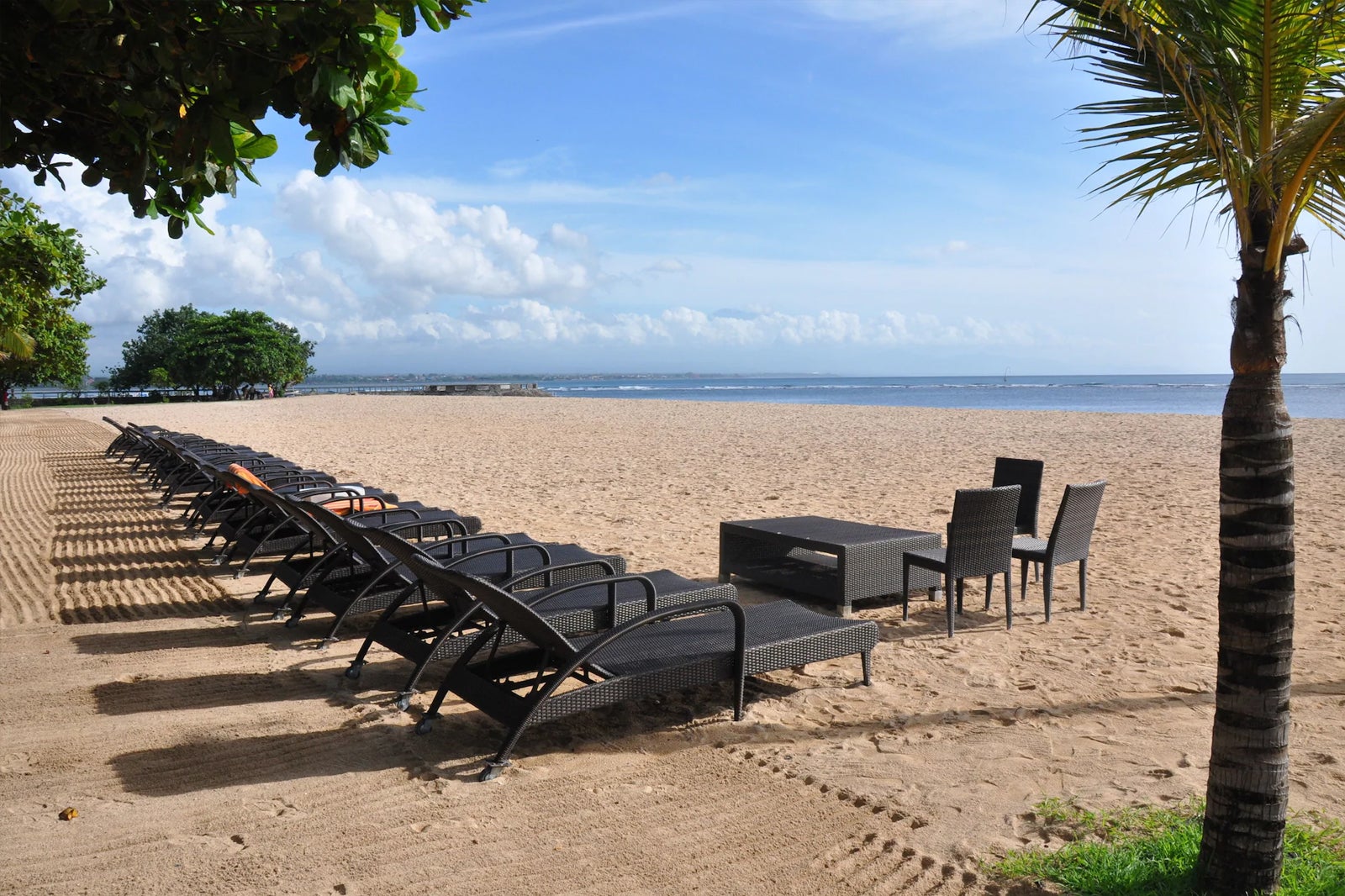 Pantai Segara Ayu Beach in Bali
Pantai Segara Ayu is one of Sanur's centrally located beaches. It has a stretch of clean and white sand that's maintained by Inna Grand Bali Beach Hotel and beach restaurants along the coastline. The beach is popular for its broad sands and calm waves, where you can enjoy recreational activities and excursions to the Nusa and Gili Islands. There are plenty of dining and shopping options along a beachfront pathway, which connects Pantai Segara Ayu with neighbouring Sanur beaches.
Location: Jalan Segara Ayu, Sanur, Denpasar Selatan, Kota Denpasar, Bali 80227, Indonesia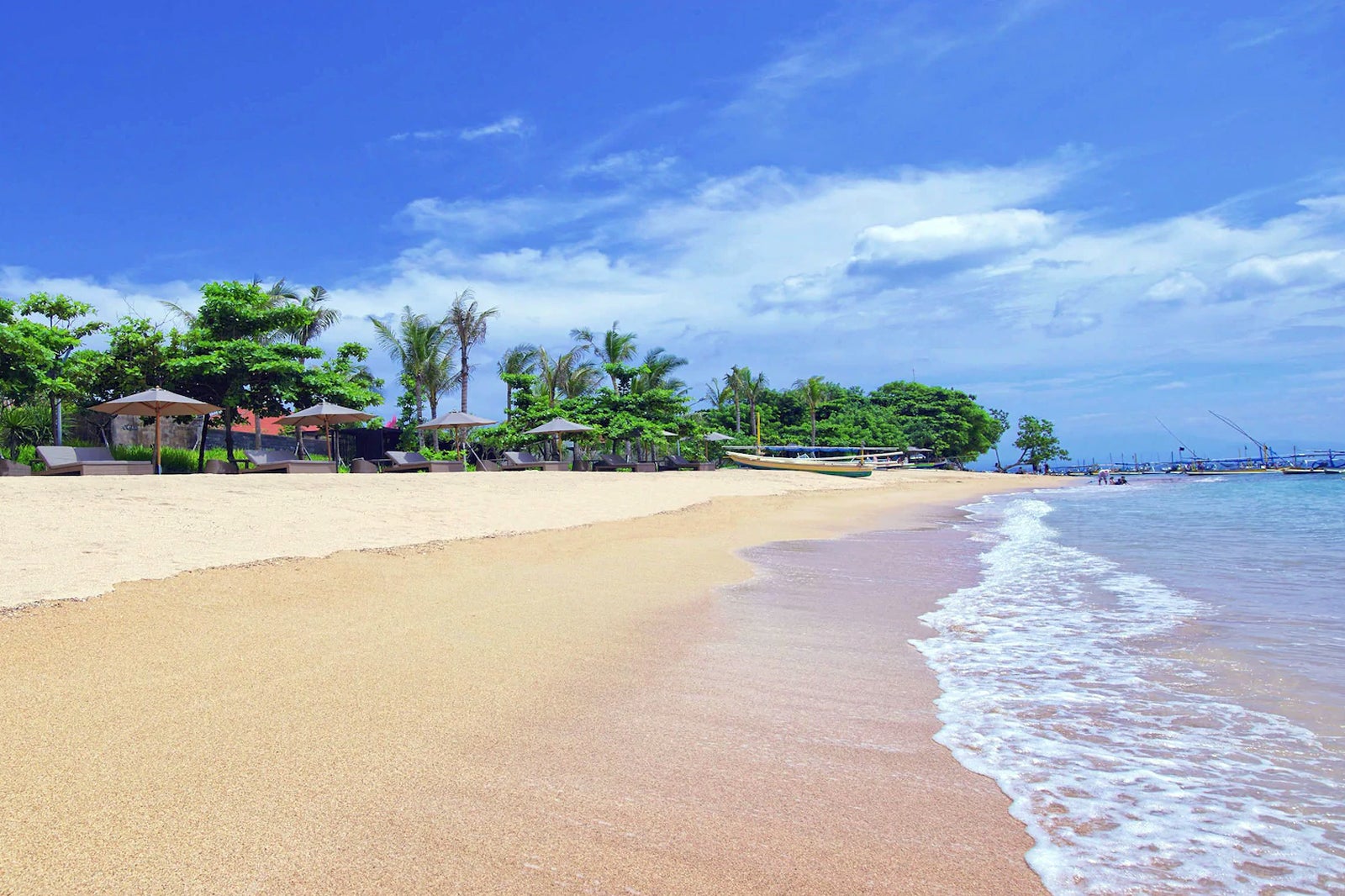 Pantai Semawang Beach in Bali
Pantai Semawang Beach is one of the small coastal areas along the Sanur coastline. The beach connects seamlessly with Cemara Beach to its south and both offer impressive sea views. The waves are calm enough for swimming and snorkelling on Pantai Semawang Beach.
There's an artificial wave breaker with a Balinese gazebo at its end, where you can rest and enjoy the coastal view. The early morning seascape is especially beautiful, with the silhouettes of Nusa Penida and Mount Agung in the background.
Location: Pantai Semawang, Jalan Setapak, Kota Denpasar, Bali, Indonesia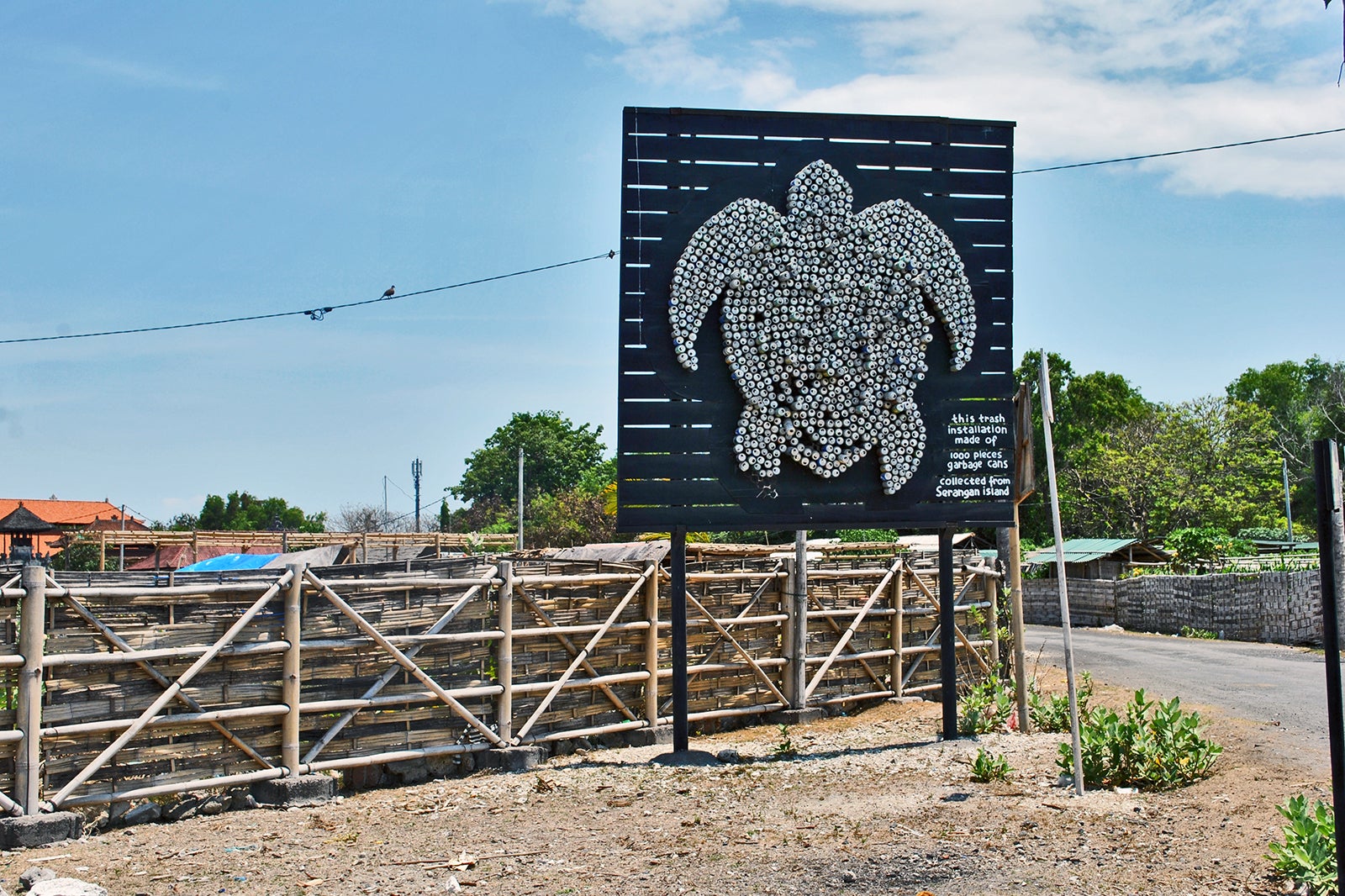 Serangan Island, located 10 km south of Denpasar, serves as a nesting ground for sea turtles in Bali. The island is also home to Sakenan Temple, located on its westernmost edge. Daytrips to Serangan Island are organised by the Turtle Conservation and Education Centre, which allows you to learn about the endangered species and see baby turtles being released into the ocean. There's a shark nursery on Jalan Tukad Punggawa that houses over a dozen black tip pups and white tip reef sharks.
Location: Serangan Island, Serangan, Denpasar Selatan, Kota Denpasar, Bali, Indonesia
photo by Ya, saya inBaliTimur (CC BY-SA 2.0) modified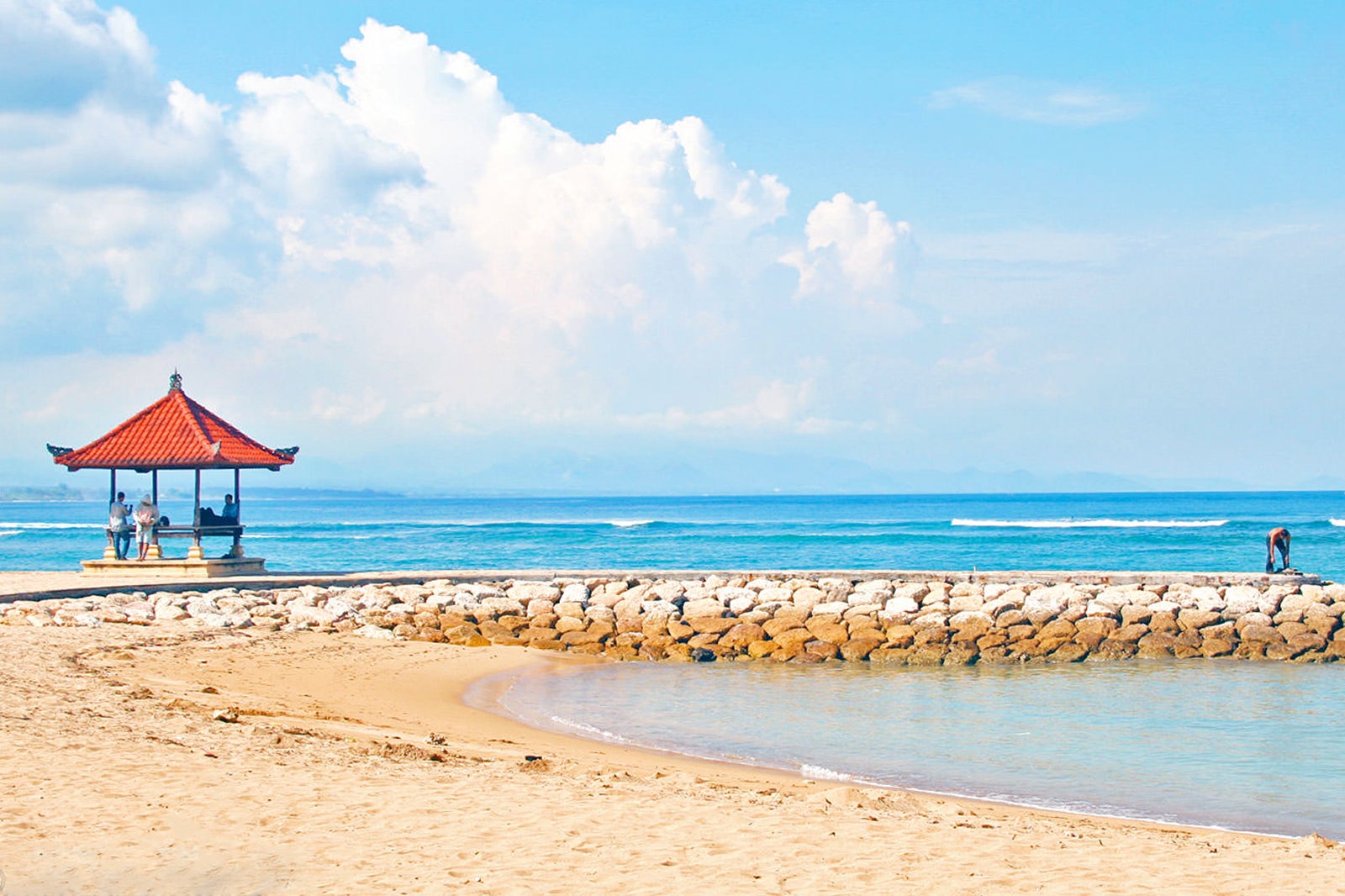 Sindhu Beach has a wide sand bed and moderate winds, making it popular for both leisurely and challenging sports in Bali. Snorkelling, canoeing, and kitesurfing are some of the best things to do if you want to stay active during your holiday.
Local art shops and warungs (food stalls) line the roadsides and Sindhu's footpath, and you can easily rent a bike to explore the rest of Sanur. On clear days, you can take in the sweeping seascape, with Mount Agung and the outlines of Nusa Penida Island on the horizon.
Location: Pantai Sindhu, Sanur, Denpasar Selatan, Denpasar City, Bali, Indonesia
Griya Santrian Gallery regularly hosts art exhibitions, book launches and gatherings of local and international artists. Almost every month, the gallery showcases paintings and sculptures from artists who mainly focus on classical styles. Notable names who have displayed their artwork at Griya Santrian Gallery include Syahrizal Koto, Ni Nyoman Sani, I Ketut Muja, Le Mayeur de Mempres, Auw Kok Heng, and Sujana.
One of the most reputable galleries in Sanur, Griya Santrian Gallery is owned by the same people behind the annual Sanur Village Festival. It's one of the main art exhibition venues during the week-long event.
Location: Jalan Danau Tamblingan No.47, Sanur, Denpasar Selatan, Kota Denpasar, Bali 80228, Indonesia
Open: Daily from 10am to 6pm
Phone: +62 (0)361 288 181
Big Garden Corner in Bali
Big Garden Corner is a stone sculpture garden and art space in Sanur. This family-friendly spot has spacious and flower-filled gardens that are linked by decorated pathways. You'll also find life-sized stone sculptures of Hindu gods and goddesses, Balinese cultural figures such as the Barong and Rangda, as well as temple replicas and art installation made from recycled materials. Big Garden Corner is a popular recreational spot, where you can enjoy picnics, photoshoots, and yoga classes.
Location: Jalan Bypass Ngurah Rai, Kesiman, Denpasar Selatan, Kota Denpasar, Bali 80237, Indonesia
Open: Daily from 9am to 9pm
Phone: +62 (0)812 3810 2983
SOS From the Deep Escape Room Bali
SOS from the Deep Escape Room is part of the Coral Triangle Center (CTC), an NGO foundation focused on the conservation of marine ecosystems in Indonesia. This unique recreational centre challenges you to escape its eco-themed chamber through puzzles about coral reefs. The escape room's games are suitable for players aged 7 years (accompanied by an adult) and above. SOS from the Deep Escape Room is around 700 metres northwest of Sanur Beach.
Location: Jalan Bet Ngandang II No.88-89, Sanur, Denpasar Selatan, Kota Denpasar, Bali, Indonesia
Open: Daily from 9.30am to 8pm
Phone: +62 (0)811 3940 0400