9 Best Things to Do in Padangbai
What is Padang Bai Most Famous For?
There are plenty of things to do in Padangbai, a remote coastal town area in East Bali that's best known for its bustling harbour. You'll find a laidback seaside retreat at its beautiful and secluded beaches, which are located within a short walk of Padang Bai Port. The waters surrounding Blue Lagoon and Bias Tugel are popular diving sites, while ancient temples can be found along the coast.
The main beach of Padangbai is suitable for swimming and snorkelling, while the black-sand beach of Kusamba has a local village that produces salt using traditional tools. To unwind after a good day out diving or beach wandering, there are several notable resort spas with an extensive range of treatments.
Pantai Padangbai Beach is the main stretch of sand in Padangbai. While the coastal town is better known for its busy seaport – where ferries take travellers southeast to Lombok – you'll find a nice beachfront on the eastern corner of the bay.
Divers won't find a shortage of operators lining Pantai Padangbai. Motorboats and traditional outriggers operated by locals can take you to the best spots around the waters, where you can discover vivid reefs teeming with marine life. If you prefer staying on the beach, check out local temples like Pura Tanjung Sari and Silayukti Temple.
Location: Pantai Padang Bai, Padangbai, Manggis, Karangasem, Bali 80871, Indonesia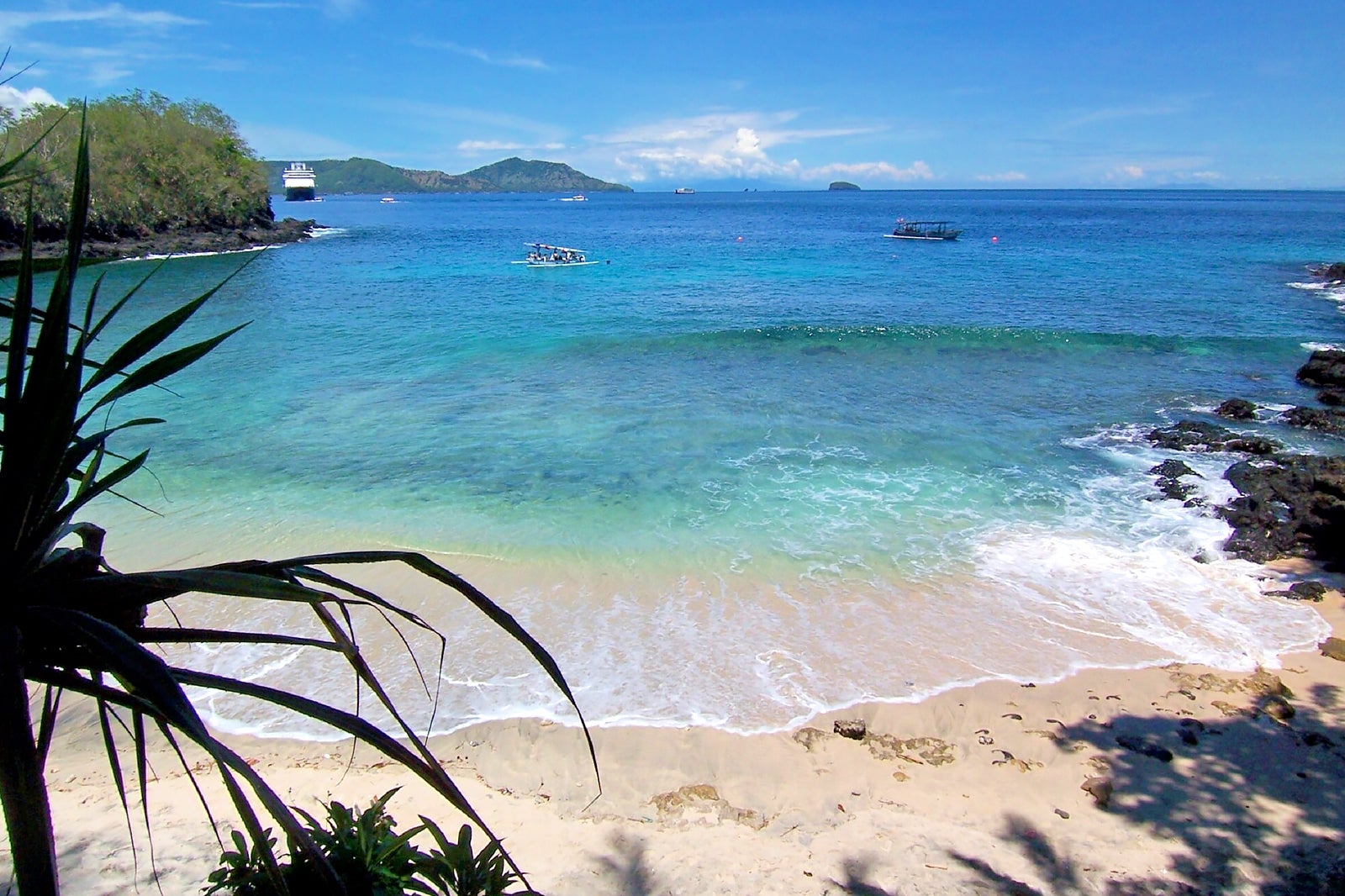 Blue Lagoon Beach occupies a small bay about 1.5 km northeast of Padang Bai Port. You can snorkel right off from this 60-metre stretch of white sand. It has a diving spot that's home to exotic marine life, including Napoleon wrasse, reef shark, stonefish, moray and blue ribbon eels, nudibranchs, octopuses, and cuttlefish.
It's considered one of Bali's hidden beaches, attracting those looking for a quiet tropical holiday. The best time for snorkelling, swimming, and sunbathing at Blue Lagoon Beach is during the dry season (April–October).
Location: Padangbai, Manggis, Karangasem, Bali 80871, Indonesia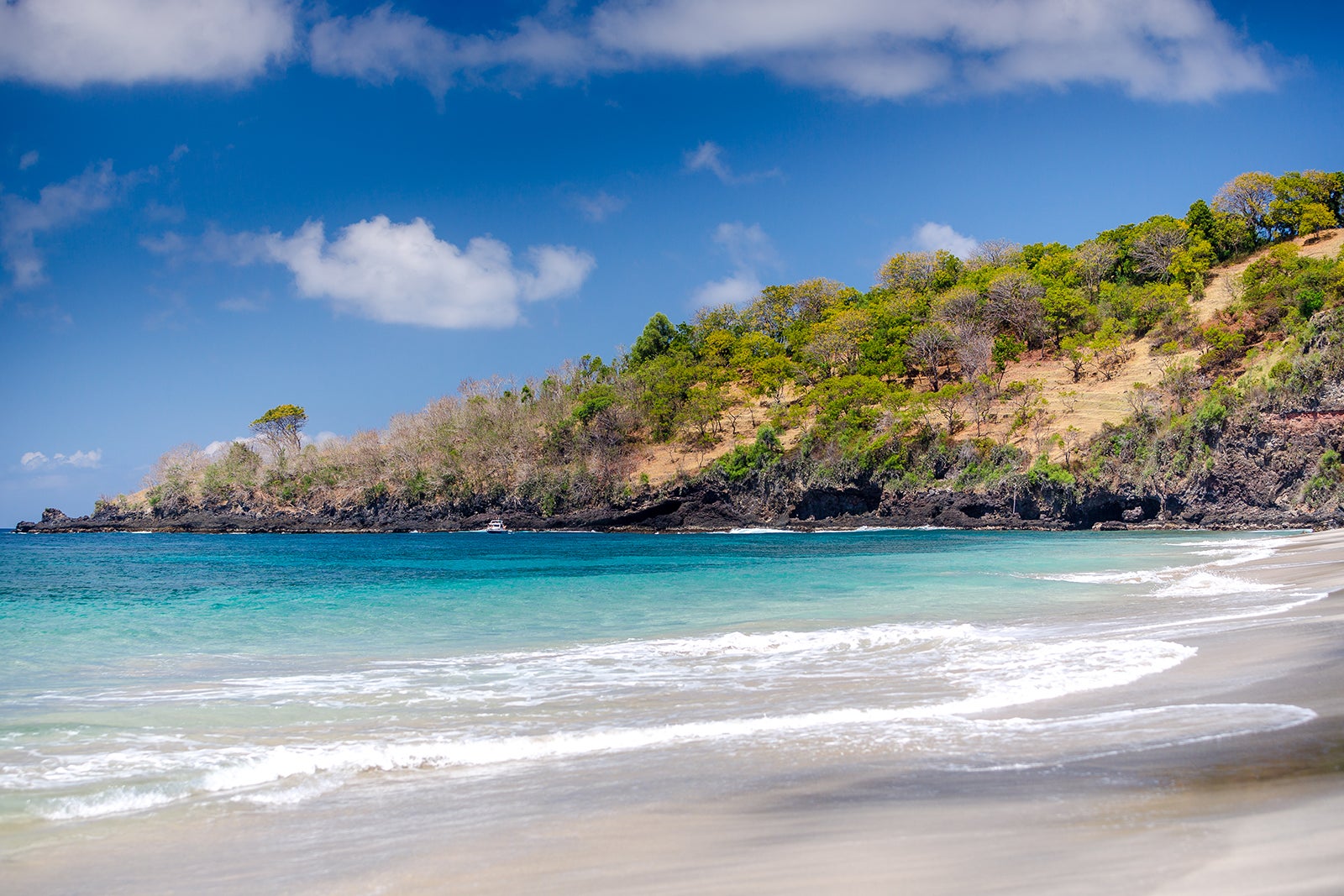 Bias Tugel (White Sand) Beach
Located 150 metres southwest of Padang Bai Port, Pantai Bias Tugel is a secluded beach hidden between hilly capes. This 130-metre-long sandy stretch offers calm and blue waters most times of the year. You can relax on the even sand or under the shades of parasols.
Head over to Bias Tugel Beach's far eastern end to find fairly nice spots for swimming and snorkelling. You can find local vendors selling snacks and cold beers, as well as renting out parasols and snorkelling gear along this stretch of the coast.
Location: Pantai Bias Tugel, Padangbai, Manggis, Karangasem, Bali 80871, Indonesia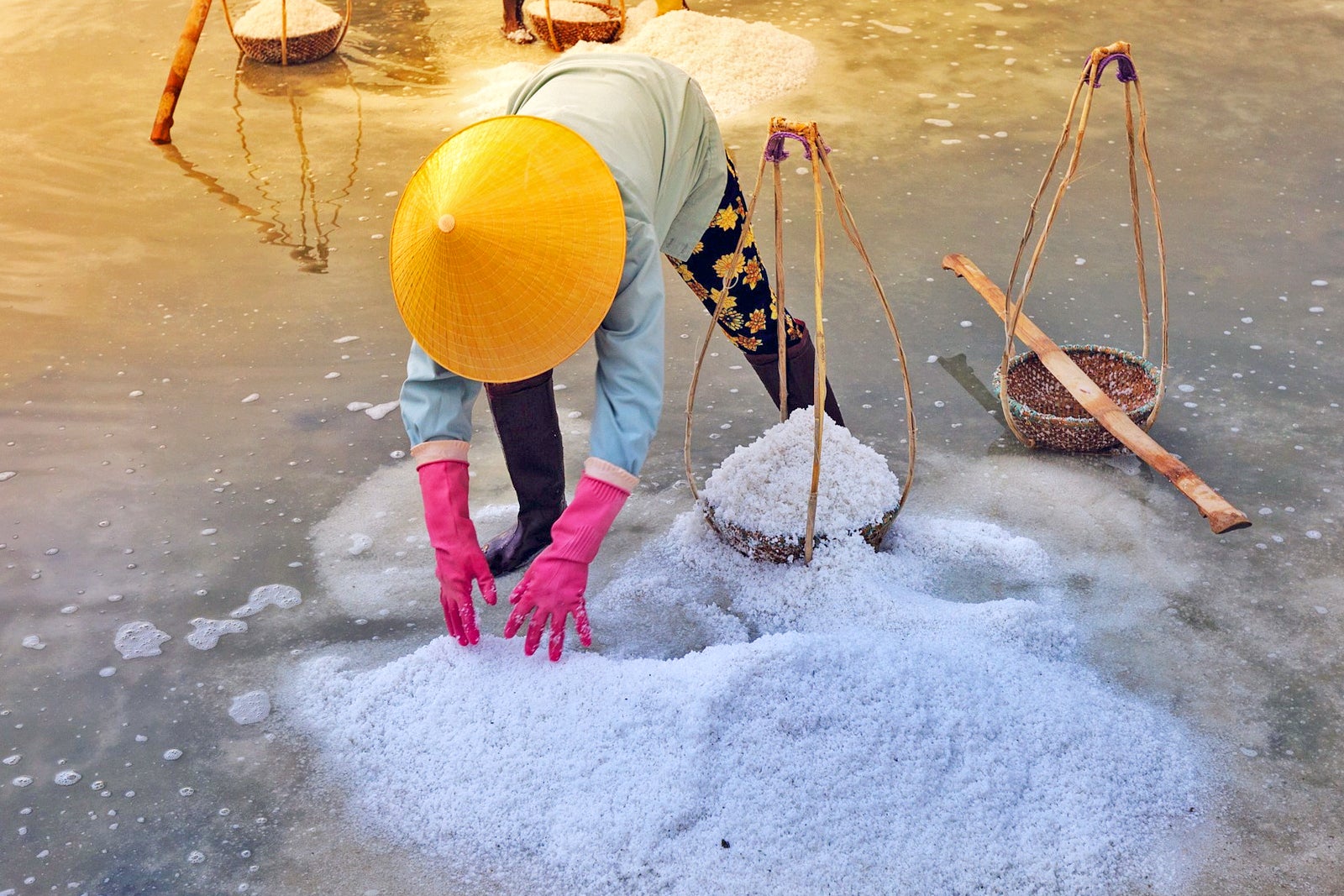 Kusamba Salt Farm Village
The Kusamba Salt Farm Village occupies a black-sand beach about 4 km southwest of Padang Bai Port. You'll find salt farmers fetching seawater in buckets on carrying poles, then emptying them onto the smoothened black sand.
The salt begins to crystallise after several hours under the scorching sun. Once it's fully dried, the salt gets scraped off, collected and brought into salt-making huts for filtration processes. Kusamba Beach is quiet and exotic on its own, with the local practice of salt farming adding to its appeal.
Location: Kusamba Beach, Antiga, Manggis, Karangasem, Bali, Indonesia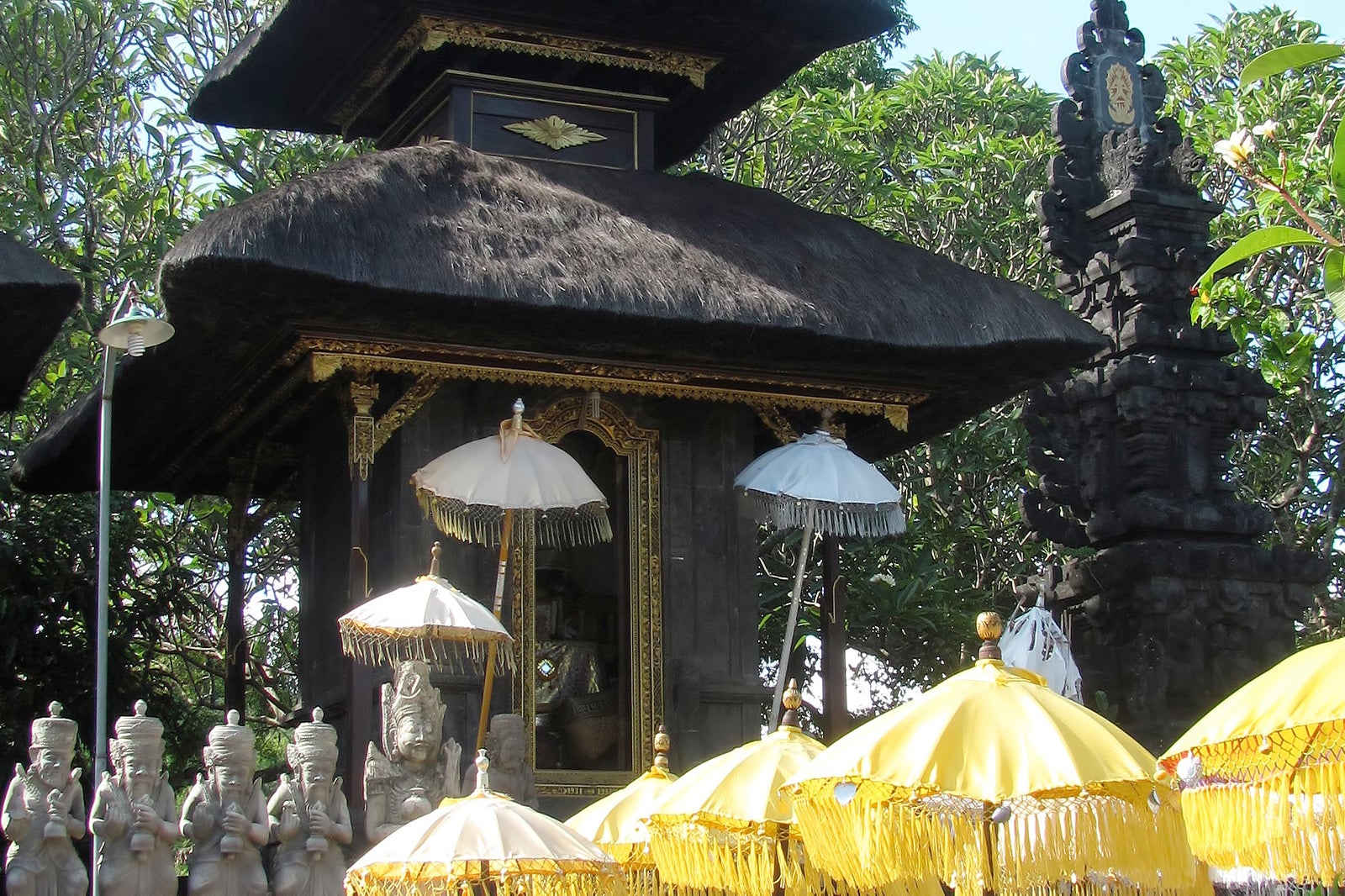 Pura Silayukti (Silayukti Temple)
Pura Silayukti is an 11th-century Hindu temple in Padangbai. Its hilltop location overlooks the main sandy length of Padangbai and Blue Lagoon Beach to the north, making it one of the best spots for sunsets and sunrises in Bali. The temple is located on a headland about 1.2 km northeast of Padang Bai Port. There's a pathway that also takes you to several shrines like Pura Tanjungsari and Pura Telaga Mas.
Pura Silayukti is liveliest during its temple anniversary, which takes place every Kliwon Pahang Wednesday on the Balinese 210-day calendar. Pilgrims from all over Bali attend the temple for prayers over 4 days.
Location: Jalan Silayukti, Padangbai, Manggis, Karangasem, Bali 80871, Indonesia
photo by Torbenbrinker (CC BY-SA 3.0) modified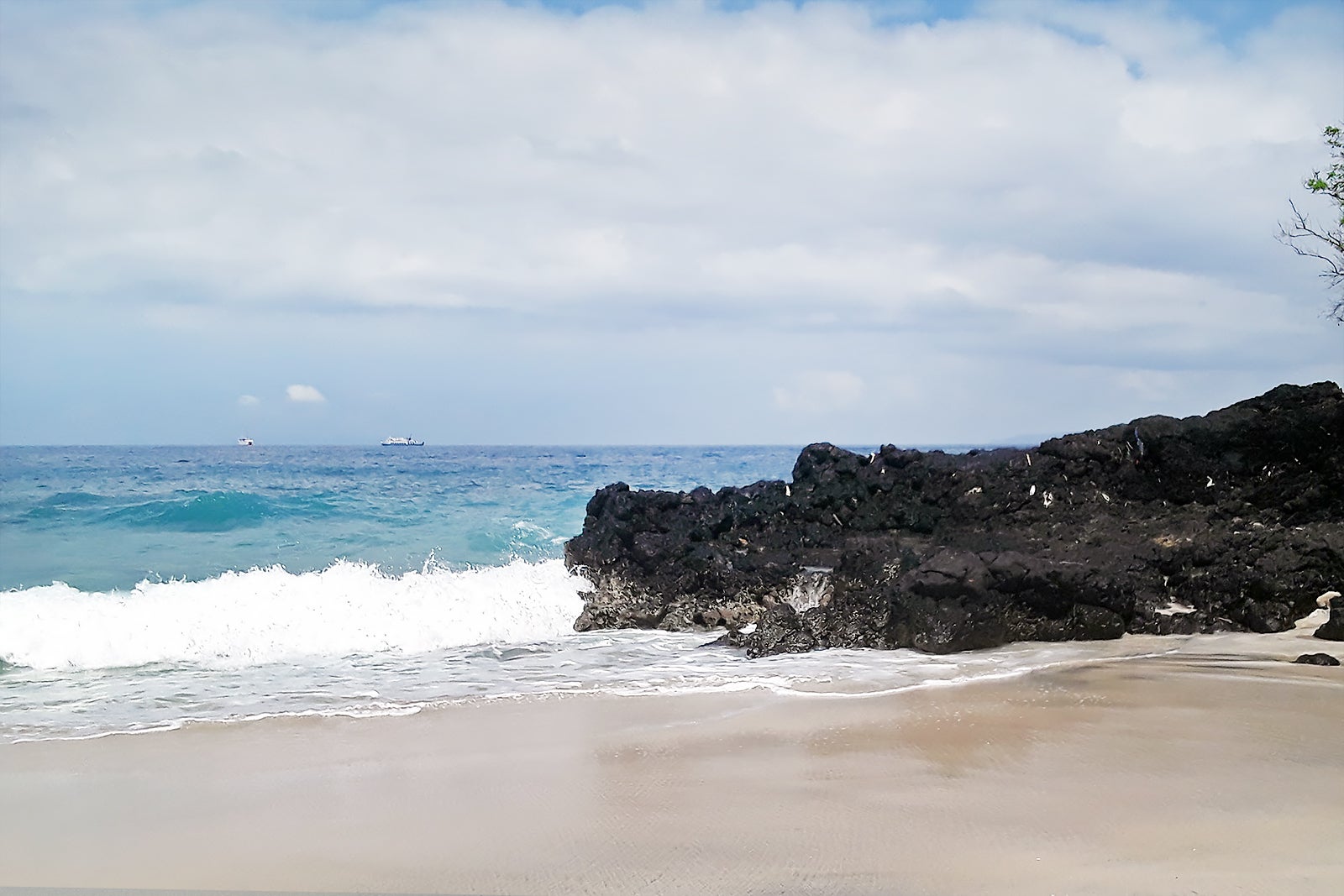 Pantai Yeh Malet is a black sand beach close to the traditional salt farming villages of Kusamba. This rather small beach is about 4 km east of Kusamba Beach and is visible from drives along Jalan Raya Tengading. On the coast, you'll see several wooden outriggers that belong to local fishermen, as well as warungs (food stalls) selling drinks and local snacks. Pantai Yeh Malet Beach is a local hangout for shore fishing and beach volleyball.
Location: Yeh Malet, Antiga, Karangasem, Karangasem, Bali 80871, Indonesia
photo by laurent houmeau (CC BY-SA 2.0) modified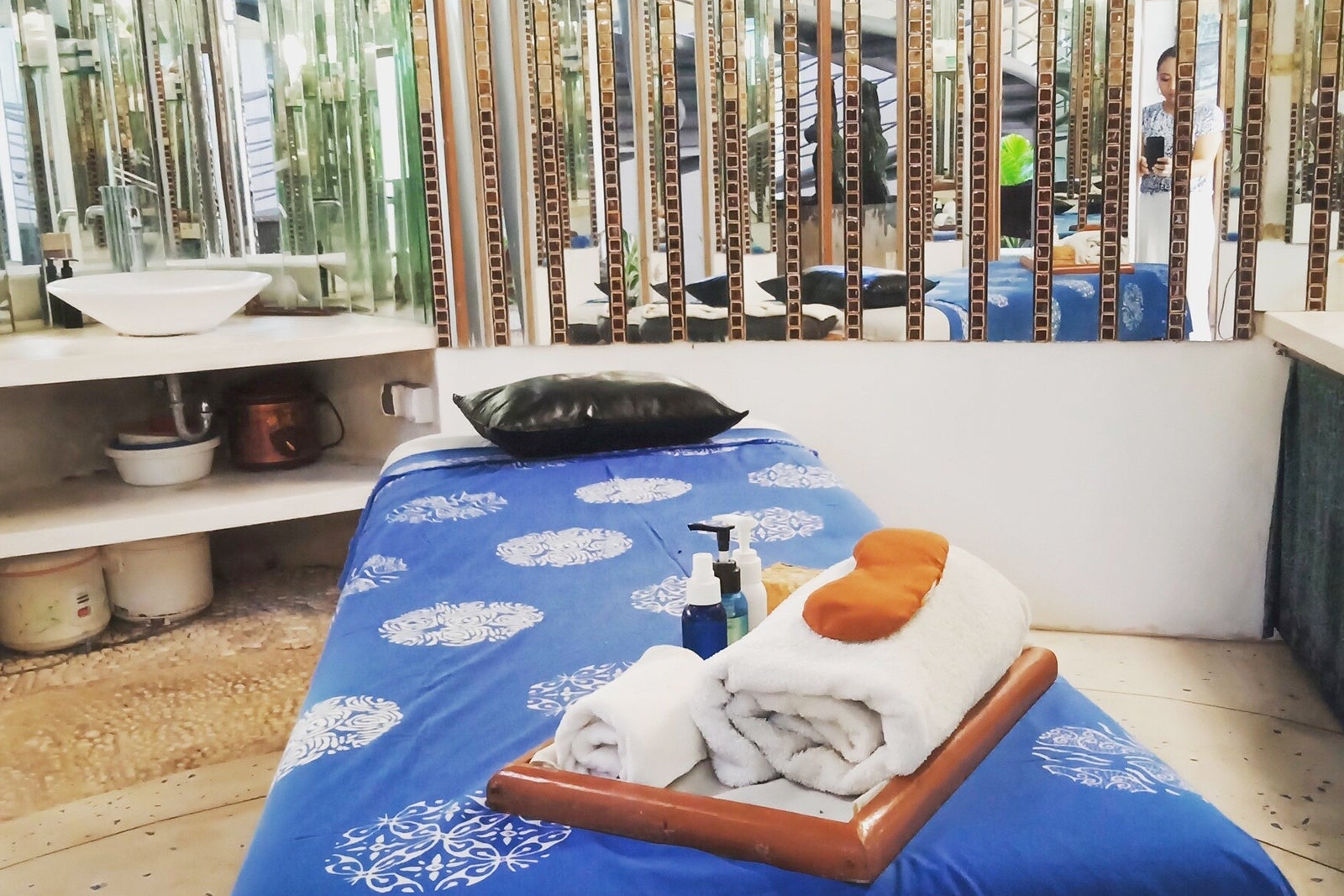 Spiral Spa at Bloo Lagoon Eco Village
Spiral Spa at Bloo Lagoon Eco Village offers a wide range of traditional spa treatments for those looking to unwind after a day of exploring Padang Bai. The spa centre occupies a unique dome building at the resort, with treatment rooms overlooking the ocean. Must-try treatments that include Balinese healing and hot stone massages, which help relax the body and increase blood circulation in the skin and muscle. Facials, body wraps, nail services, and waxing are also available at Spiral Spa Bali.
Location: Bloo Lagoon Village, Jalan Silayukti, Padangbai, Manggis, Karangasem, Bali 80872, Indonesia
Open: Daily from 10am to 8pm
Phone: +62 (0)36 341 211
Pura Penataran Padang Bai
Pura Penataran Padang Bai dates back to the 16th century, and is believed to have been built by the high priest Dang Hyang Nirartha during his missions to Bali. Located 650 metres southwest of Pantai Padang Bai Beach, the temple complex is known for its grand gate and white limestone bricks.
The temple anniversary takes place every Wage Kelawu Wednesday on the Balinese 210-day calendar when Hindu pilgrims visiting Pura Penataran Padang Bai for prayers. You're welcome to visit the temple, but you should dress appropriately out of respect for the locals and monks.
Location: Padangbai, Manggis, Padangbai, Karangasem, Bali 80871, Indonesia
Rumah Bambu Pengalon (Beach Bamboo Houses)
Rumah Bambu Pengalon is a cluster of 4 unfinished bamboo structures on a grassy beachfront field in Banjar Pengalon. This striking display of sustainable architecture is popular among photographers and Instagrammers.
The bamboo houses look like art installations in the middle of rural land. A bridge made from coconut tree trunks is close to Rumah Bambu Pengalon. You can freely explore the site, but do be careful as the structures can be fragile due to lack of maintenance.
Location: Banjar Pengalon, Antiga, Padangbai, Karangasem, Bali 80871, Indonesia