11 Best Nightlife Experiences in Legian
Where to Go and What to Do at Night in Legian
Nightlife in Legian is a rich mix of nightclubs and dining spots that stay open until late along Jalan Legian, the street that links Kuta and Seminyak. There's also a variety of notable and unique bars found on the branching alleys such as Poppies Lane 1 and 2. Legian's Ground Zero memorial site serves as a central landmark.
After you've spent the day relaxing on the beach, you're never short of other fun options in Legian. The area is home to some of Bali's favourite bars and clubs and always promises a night to remember – or forget… depending on exactly how long your night lasts.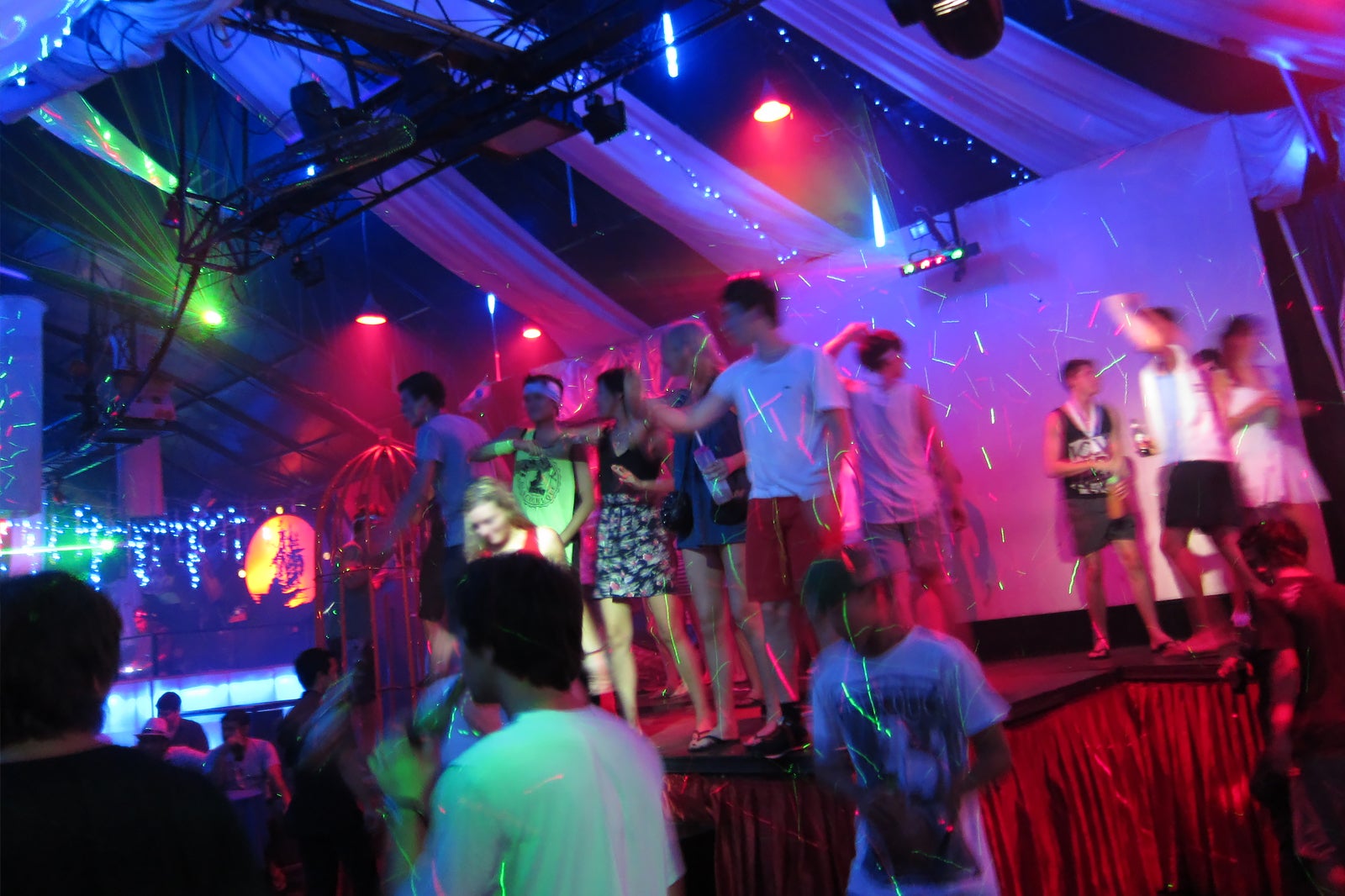 Bounty became famous for its rave foam parties and is a regular watering hole for Aussies and young 'schoolies'. The nightspot also features pool tables and a karaoke section at the front. The Bounty's exterior is inspired by the legendary ship of the same name, on which the crew mutinied, which gives the place its alternative name: Bounty Ship. Inside are 2 dance floors arranged like a ship's decks.
The bar has an entrance fee that pays for your first drink. After that, the beer and brightly coloured liqueurs and cocktails from its Captain's & Cadet Bar are famously cheap. With tried-and-tested dance anthems and an almost too-carefree vibe, the club is something of a Legian legend.
Location: Jalan Legian, Legian, Badung, Bali 80361, Indonesia
Open: Daily from 10pm to 3am
Phone: +62 (0)823 9704 1938
photo by Aiko Konishi (CC BY 2.0) modified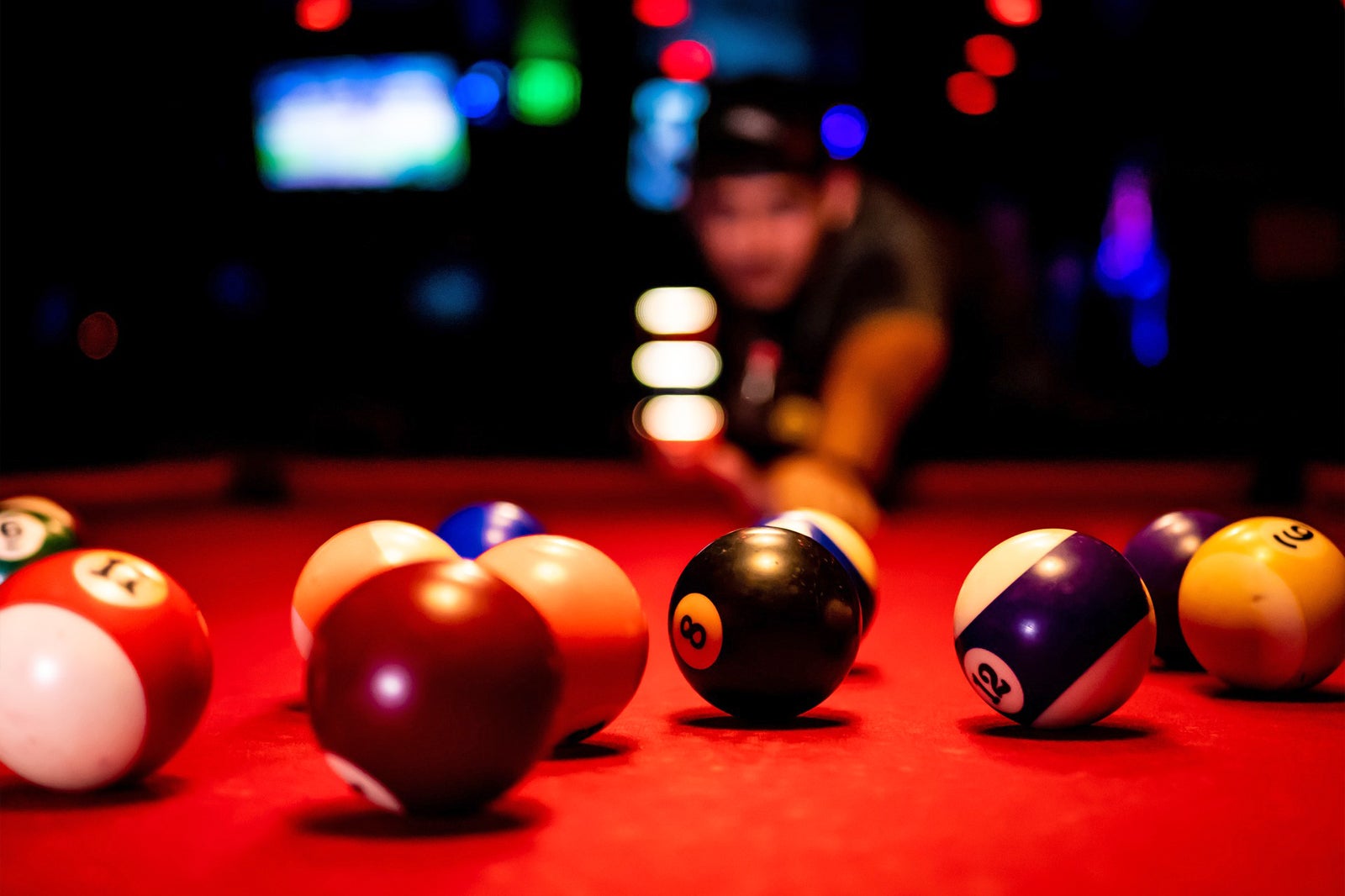 Engine Room is a hip, 3-storey nightclub that jumps nightly with a mostly young crowd. The club's doors open in the afternoon, earlier than most of the late-night spots along the same strip. Partygoers can drop straight into the main dance floor from the Legian sidewalk, and it's a popular first stop on their club-hopping adventures.
The atmosphere builds up steam around midnight as its team of resident DJs turn up the beats with a good mix of hip-hop, dubstep and trap. You'll find a convivial atmosphere as the staff here are seemingly trained to spread fun, either inviting you to dance or challenge you with a round of pool.
Location: Jalan Legian No.66, Legian, Badung, Bali 80361, Indonesia
Open: Daily from 6pm to 4am
Phone: +62 (0)361 755188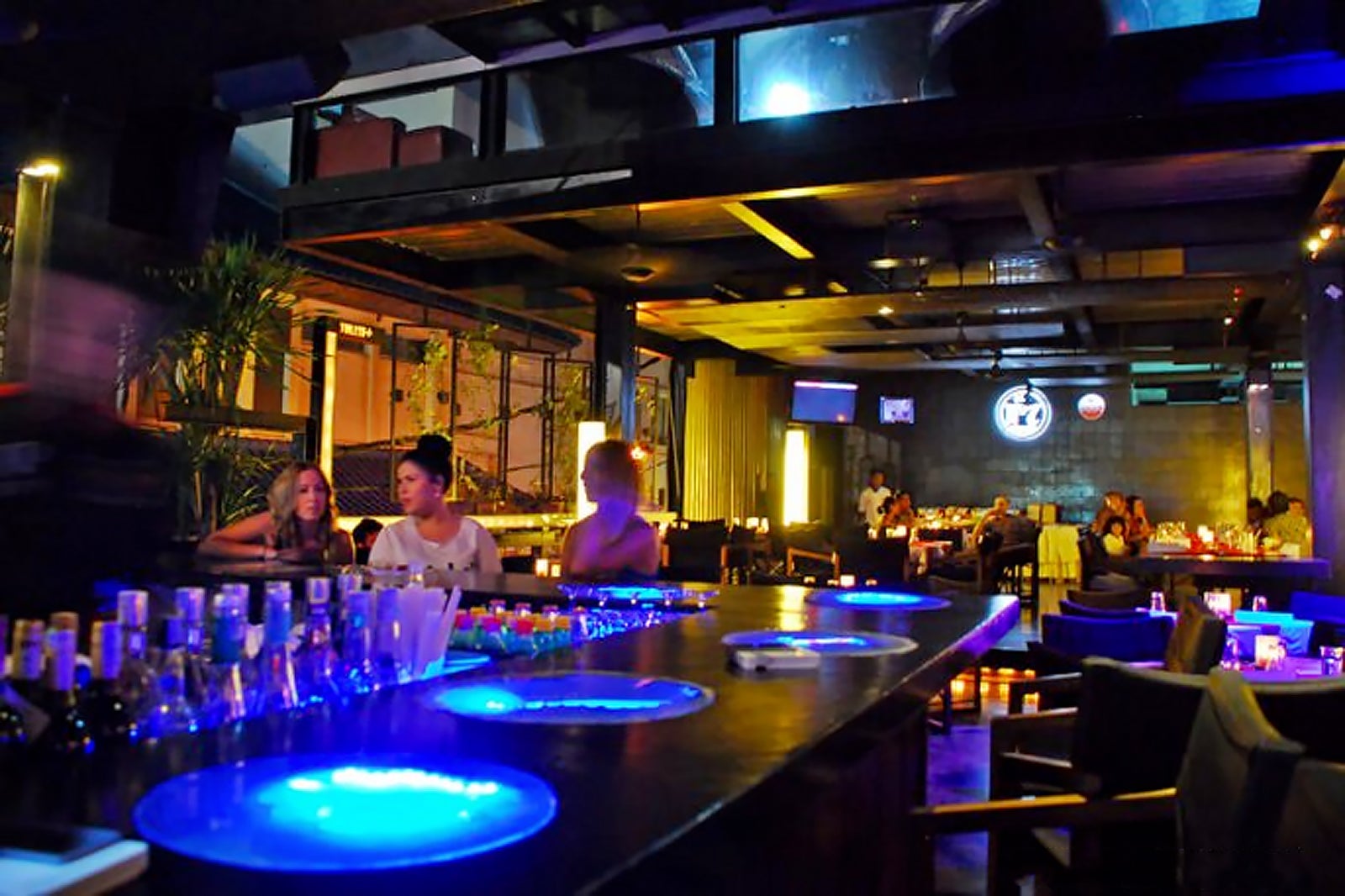 Vi Ai Pi occupies the 2nd and 3rd levels of a single block, and its main venue is a quick hop up a main entrance between 2 surf boutique shops. Its 1st level features a bar with cool blue LED lighting in acrylic circles, bordered by tall stools and a casual dining area at the back. Upstairs is a roomy club area, which takes on a livelier pace later into the night.
Fashion shows and exotic dancers fill the weekend agenda, and dazzling drag queens lip-synch to remixed songs under disco lights. Resident DJs carry on the party into the wee hours, playing tunes from electronic to trance as partygoers hit the dance floor. Vi Ai Pi is one of the few venues in the area offering free entry for all.
Location: Jalan Legian No.88, Legian, Badung, Bali 80361, Indonesia
Open: Daily from 10am to 4am
Phone: +62 (0)361 752 355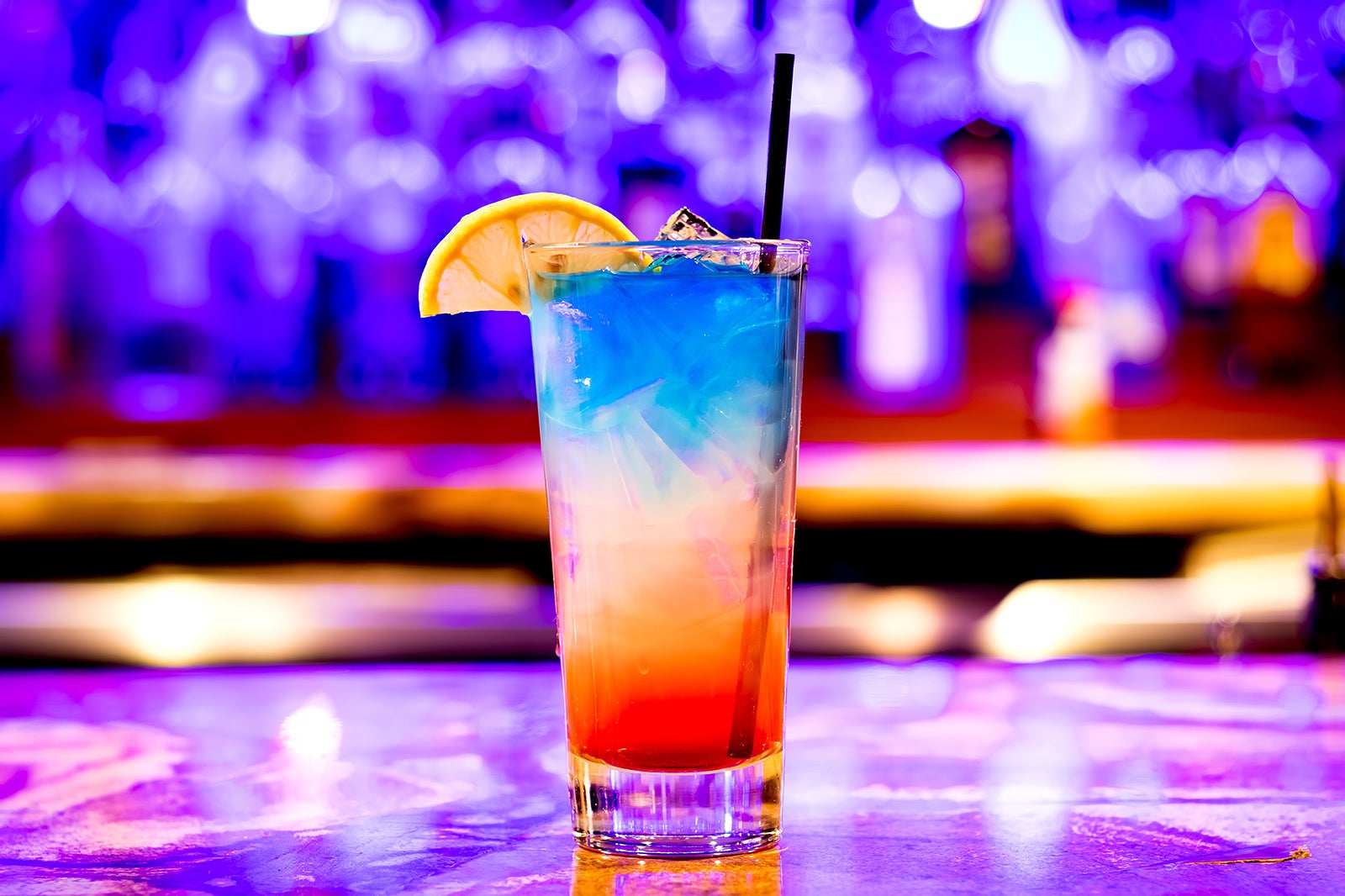 Paddy's Pub is the 3rd incarnation of the legendary Paddy's Club, and retains much of its former appeal with its fun themed parties and reasonably priced drinks. Open from the late afternoon, you can step right in from the sidewalk and pick a seat on its open-air terrace to enjoy street views and people-watching, or go further inside to the bar, lounge or dance floor where a mostly young crowd begins to gather in the wee hours.
The venue is a sight of contrasts, and somehow deliberate. Paddy's Pub's entrance is a Balinese-style gate decorated with statues and parasols, yet, the 'temple' buzzes with an interplay of colourful laser lights and thumping beats. You'll experience a different set of décor almost every week around this façade, depending on the theme, so one evening here might not be the same as the next. Most enjoy Paddy's better when it's not too packed, notably during weekdays and non-holidays.
Location: Jalan Legian No.166, Legian, Badung, Bali 80361, Indonesia
Open: Daily from 5pm to 3.30am
Phone: +62 (0)361 758 555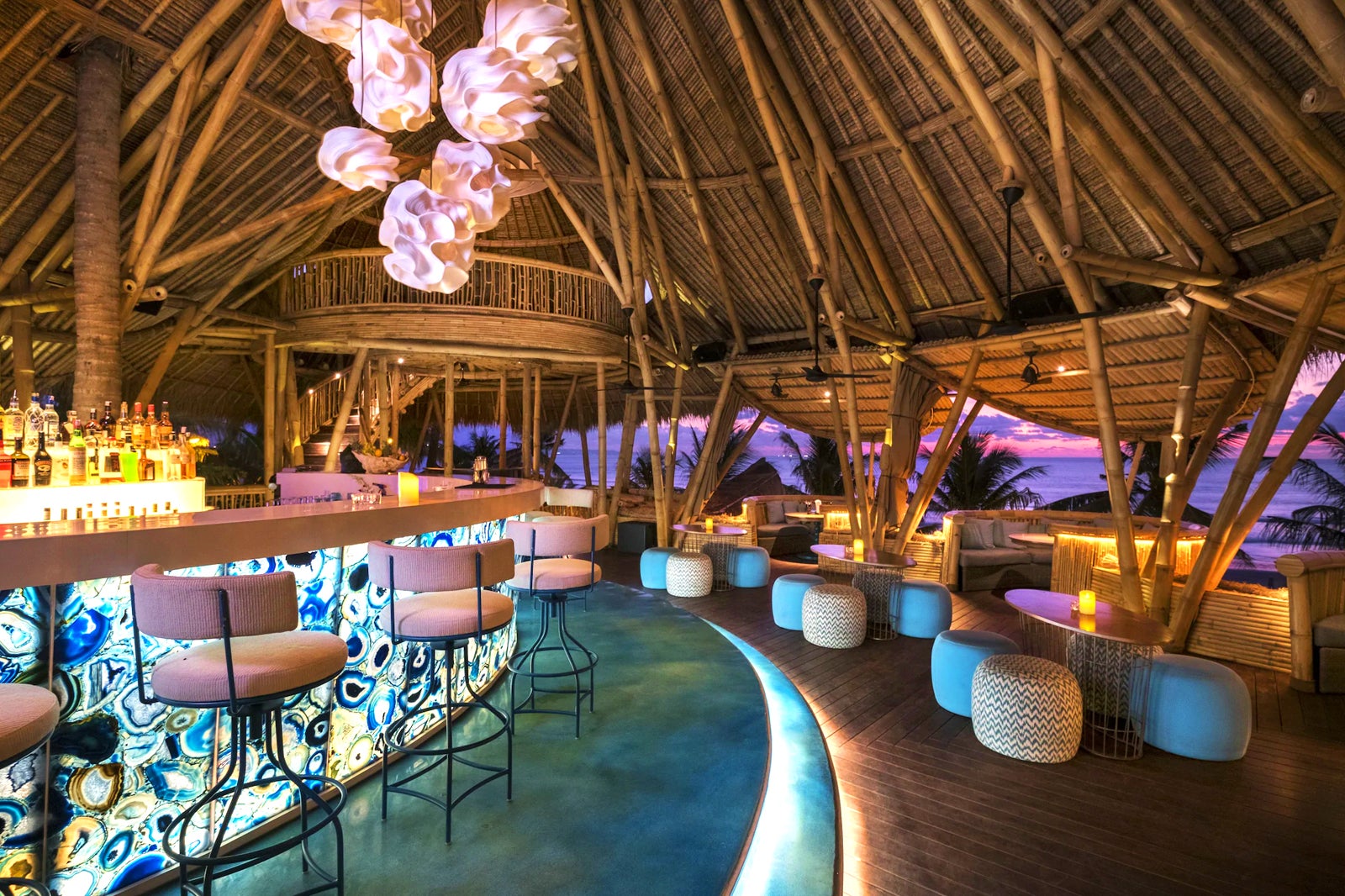 Enjoy laidback lounging with drinks, Legian sea breezes by day, and chill-outs at sunset. Semi-open dining sections, a bar and lounging spaces over 3 levels are designed under rotundas and towering thatch-roof domes.
Behind the bar, acclaimed mixologist Joseph Boroski has devised a great list of signature cocktails for Azul Beach Club. Come mealtimes, Chef Arief Wicaksono showcases his talent through a range of innovative dishes, such as 'chef's creation pizzas' that include twists like gado-gado, and tom yum goong.
Location: Jalan Padma No.2, Legian, Badung, Bali 80361, Indonesia
Open: Daily from 7am to 11pm
Phone: +62 (0)361 765759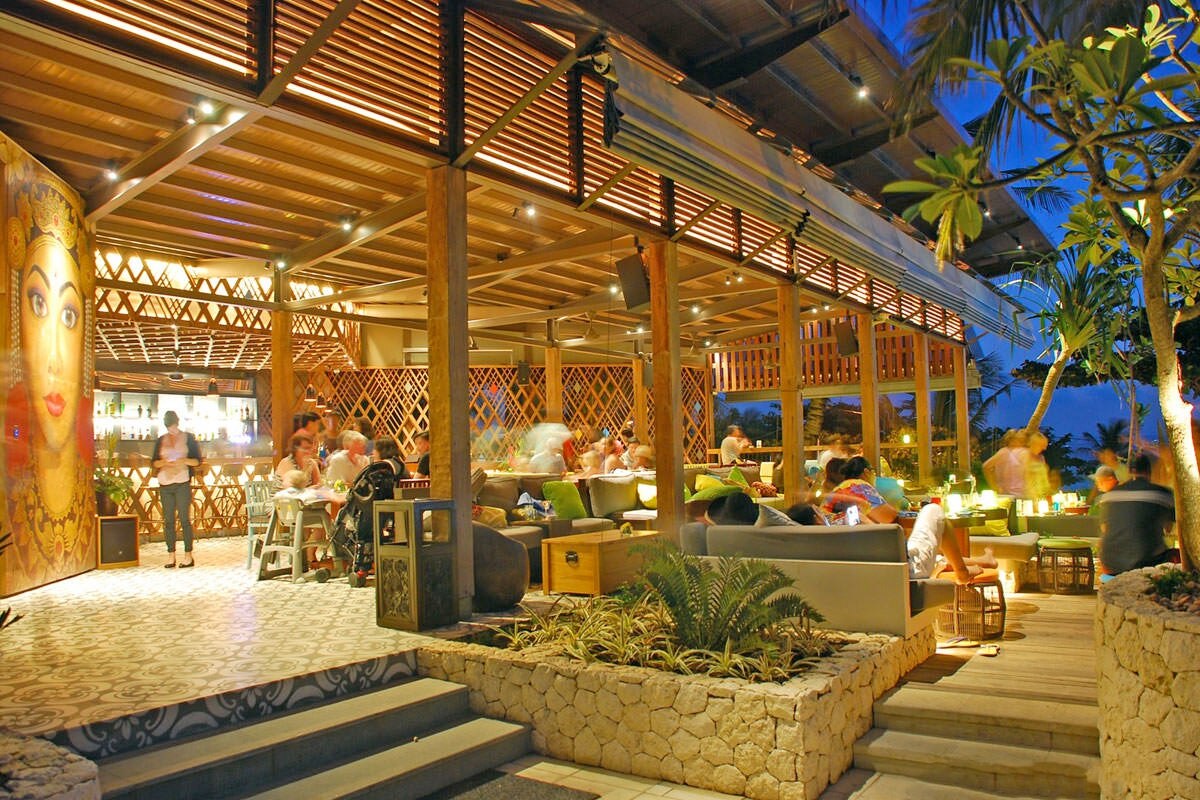 Take in the stunning sunsets over the Legian surf from various cosy lounging spots at S.K.A.I, Padma Resort Legian's main beachfront venue. There's a semi-alfresco terrace and an infinity pool to dip into.
S.K.A.I beach club is a refined chill-out venue with signature cocktails served from a strikingly designed bar. The bar's composed of crisscrossed woody trellises and latticework. Light bites are featured on its all-day dining menu.
Location: Padma Resort Legian, Jalan Padma No.1, Legian, Badung, Bali, Indonesia
Open: Daily from 11am to midnight
Phone: +62 (0)361 752 111
Couples
Photo
Nightlife
Group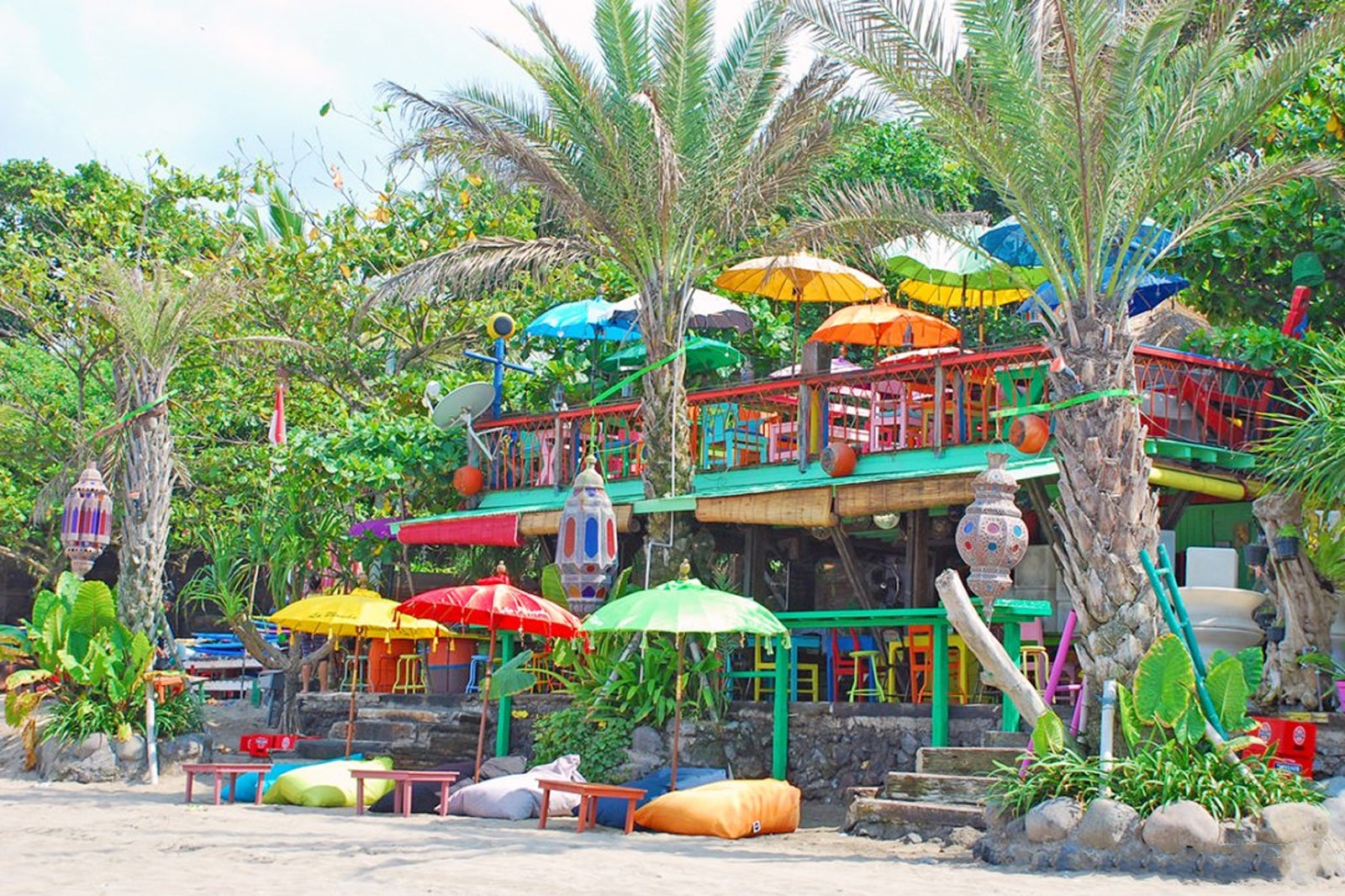 La Plancha Beach Bar & Restaurant
La Plancha is a colourful beach bar on Mesari Beach at Seminyak's southern end. It teases your senses with splashes of colours throughout its 2-level structure and with a menu of tasty grills and Spanish cuisine. With large and colourful parasols on its beachfront, it appeals most at sunset, when you can sink into beanbags around mini tables laid out on the sand.
Living up to its name, La Plancha (literally 'the grill') serves a variety of Spanish and barbecued delights. Open for breakfast, lunch and dinner, the café is a welcoming stopover on morning beach strolls, a day out in the waves or for fun evening gatherings. Look out for regular live music events throughout the year.
Location: Jalan Mesari Beach, Seminyak, Badung, Bali 80361, Indonesia
Open: Daily from 10am to 12am
Phone: +62 (0)878 6141 6310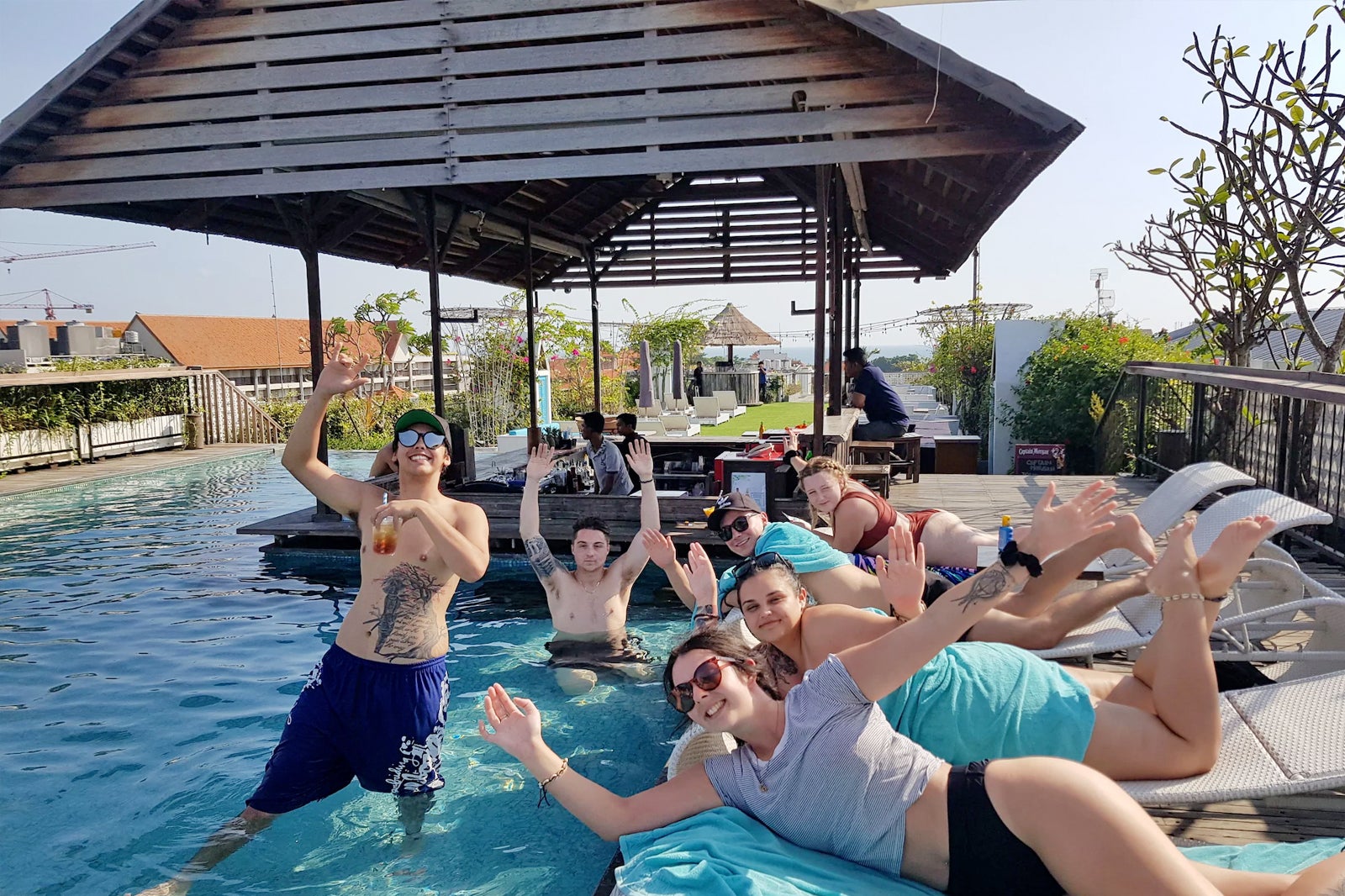 Located on the rooftop of the Akmani Legian in Legian, H8S Rooftop Bar sits close to iconic attractions on Legian Beach and is an ideal spot to head up to if you want to take in Bali's gorgeous sunsets.
H8S Rooftop Bar is actually a Jacuzzi bar, which means that you can soak in a tub while you enjoy a fresh and delicious cocktail or icy bottle of beer. The bar area is covered in wooden decking as well as water features and ample greenery, and there is a large dip pool in addition to a well-stocked bar. If you prefer to stay on dry land, then you can enjoy a lounge area next to the whirlpools.
Location: The Akmani Legian, Jalan Raya Legian 91, Legian, Bali 80361, Indonesia
Open: Daily from 10am to 11pm
Phone: +62 (0)361 754 577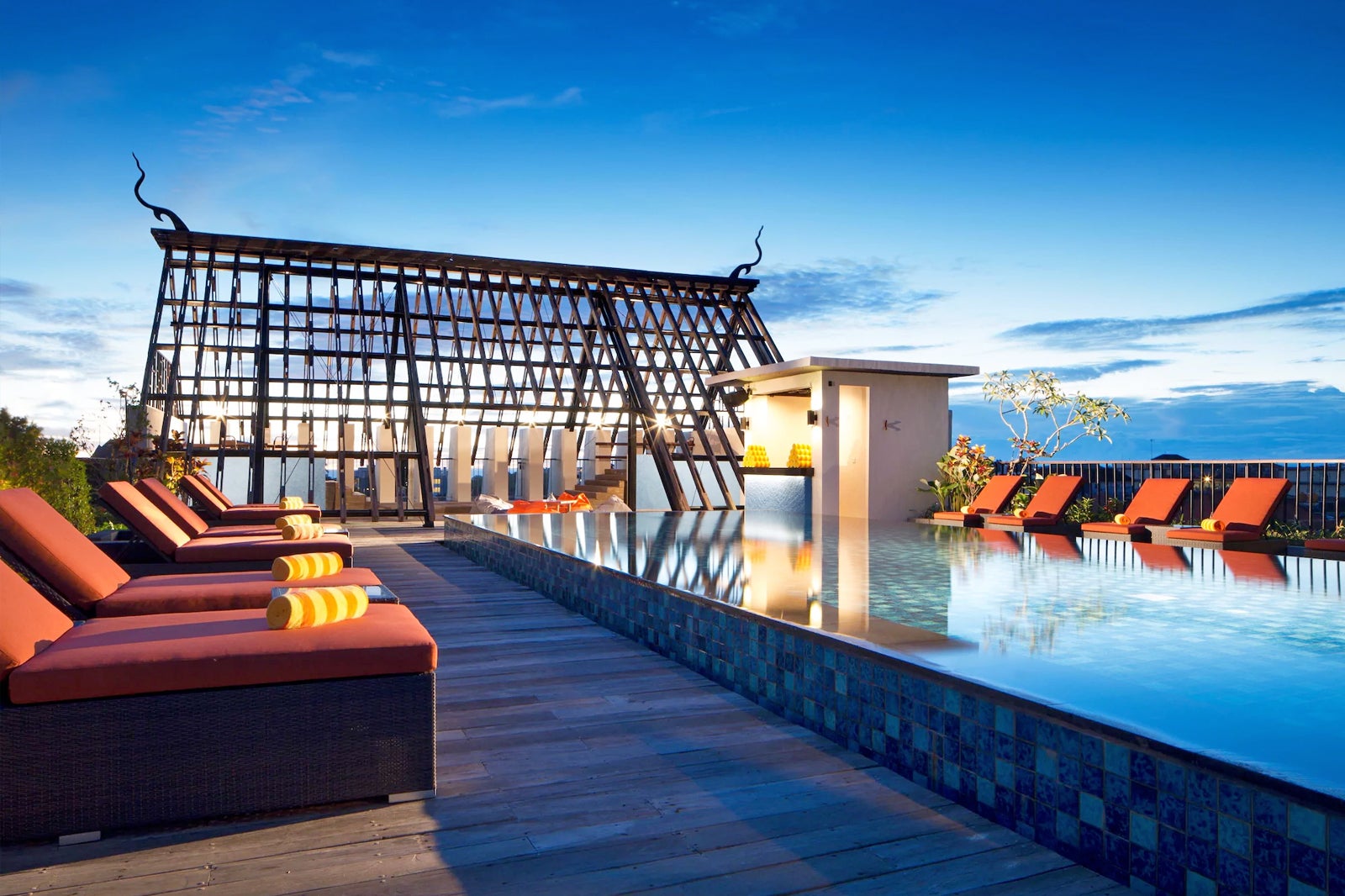 Skylight Rooftop Bar Bali
Skylight Rooftop Bar at Sun Island Hotel & Spa Legian is a great chill-out spot in Legian. Here, you can enjoy cold beers and cocktails on the sundeck. You can also recline on one of the sun loungers surrounding its long, blue-tiled pool and enjoy the sunset over an urban Legian skyline.
Next to the rooftop pool is a multipurpose space under a clear glass roof. This space houses the DJ booth during specially scheduled pool parties. Below the rooftop bar is the Sunken Pool Bar, with a freeform pool where you can sip and swim while looking out over the streets of Legian.
Location: Hotel Sun Island, Jalan Raya Legian No.123, Legian, Badung, Bali 80361, Indonesia
Open: Daily from 11am to 10pm
Phone: +62 (0)361 8469 888
Bali Beach Shack Bar & Restaurant
The Bali Beach Shack in Legian lets you enjoy your dinner with a fun drag show. The place is popular due to the fun entertainment, good service and friendly atmosphere.
The shows are free, and a wide selection of beverages are on offer at reasonable prices. It draws mixed crowds – straight, gay, families, locals, expats and tourists all come to enjoy the shows. You can usually see the live drag shows from Thursday to Sunday from 10pm. Live music plays daily.
Location: Jalan Legian No.470, Legian, Badung, Bali 80227, Indonesia
Open: Tuesday–Sunday from 3pm to 11.30pm
Phone: +62 (0)819 3622 2010
Bali Joe is a popular gay bar that serves as a beacon for the LGBT community in Seminyak. Located on Jalan Camplung Tanduk, the bar is a great spot to chill out with the friendly staff and bar crew who not only prepare and serve refreshing cocktails but also occasionally join in on the revelries.
The bar's interiors comprise artistic décor and retro photographs of bygone-era celebs. Expect dancers climbing onto the bar tops as the night matures, together with lip-synching drag queens on the separate stages throughout the evening.
Location: Jalan Camplung Tanduk No. 8, Seminyak, Badung, Bali 80361, Indonesia
Open: Daily from 8pm to 3am
Phone: +62 (0)361 730931