15 Best Traditional Dance Shows in Bali
Live Dance and Theatre Performances in Bali
Traditional dance shows in Bali allow you to enjoy some of the island's most alluring visual treats. There's a good mix of dance and drama, with live performances mostly presented on dedicated stages and amphitheatres – some being part of restaurants offering cultural dinners. You can admire barong and kris performances, kecak dances, and eloquent legong and joged dancers in vivid costumes.
Shows are held regularly and some feature different line-ups of events throughout the week, adding to the variety of colourful highlights that you can appreciate on your next bookings. Keep these great restaurants and venues in check whenever you're feeling peckish and wish to please your inner arts and culture buff.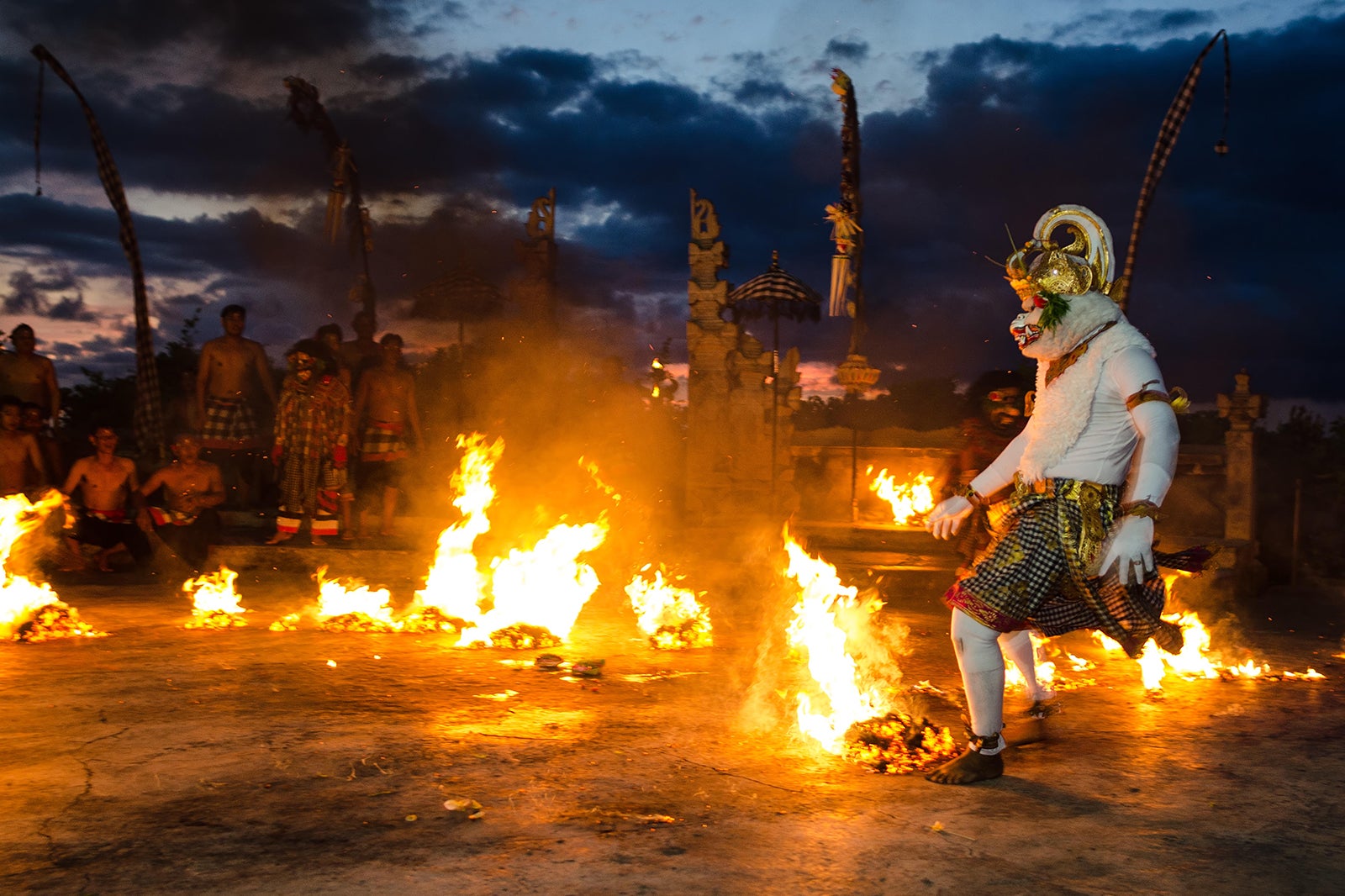 Uluwatu Temple Amphitheatre
Uluwatu Temple is one of the best places on the island to admire Bali's legendary dance-drama spectacles, known locally as kecak. It has an open amphitheatre run and performed by the local Pecatu villagers' cultural cooperative. 2 kecak dance troupes regularly perform at the Uluwatu amphitheatre, namely the Sekaa Tarian Kecak and Sekaa Tari Kecak Karang Boma dance and gamelan group.
The acapella performance involves over a dozen or more male performers dancing and rhythmically chanting, "chaak, chaak, chaak", which gave the dance its name. Shows are held regularly around sunset and usually run for an hour.
Location: Jalan Pura Uluwatu, Pecatu, Badung, Bali 80362, Indonesia
Open: Daily from 8am to 7pm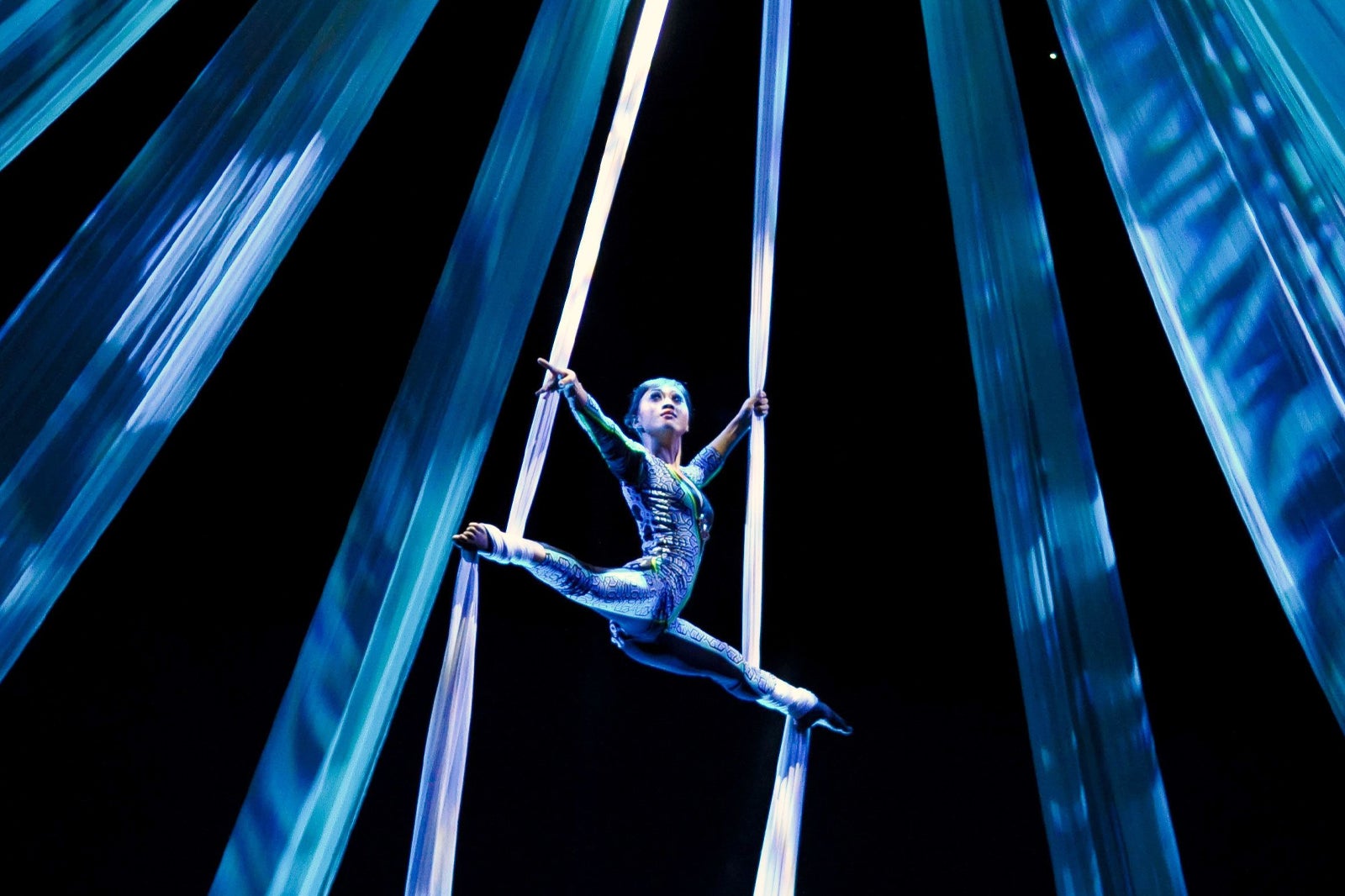 Devdan Show at Nusa Dua Theatre
Devdan is a 90-minute theatrical show that combines spectacular dance choreography and state-of-the-art lighting, audio and special effects. It tells of a boy and girl who decide to break away from their mundane tour group, only to stumble upon an enchanted treasure chest filled with various cultural objects from the different islands in the Indonesian archipelago – that's where the show's subtitle, 'Treasure of the Archipelago' fits in.
Their adventure goes on from there, as each 'discovery' of an item from the treasure chest brings on a corresponding scene onto the stage, complete with acrobatics on the floor and even aerial silk dancers suspended from the ceiling. Read more...
Location: Komplek ITDC Nusa Dua, Nusa Dua, Badung, Bali 80363, Indonesia
Open: Monday, Wednesday, Friday and Saturday from 7.30pm to 9pm
Phone: +62 (0)361 770 197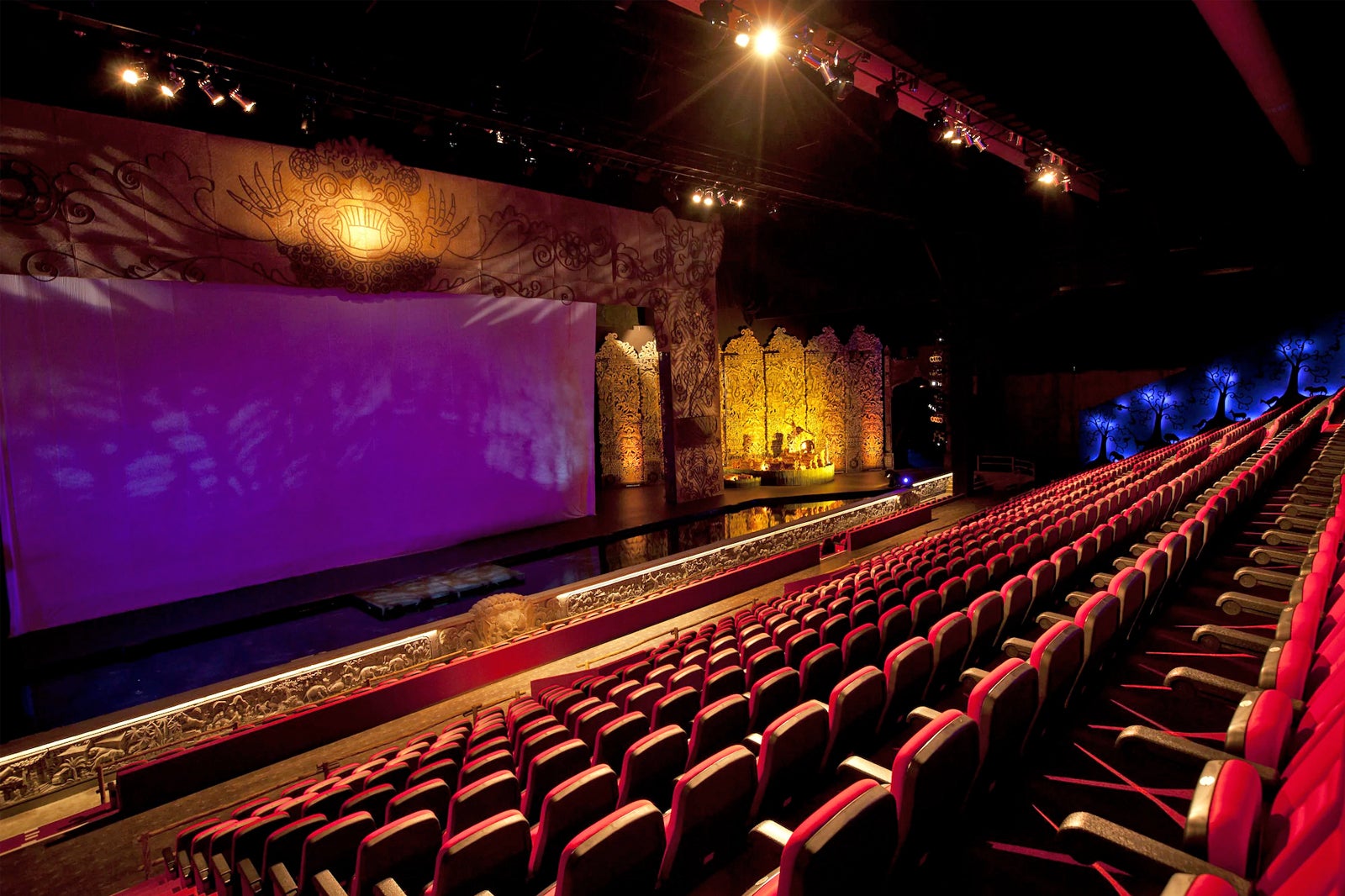 Bali Agung Show at Bali Theatre
Bali Agung is a theatrical art performance at the Bali Theatre, a modern purpose-built indoor theatre at the MARA RIVER SAFARI LODGE at Bali Safari & Marine Park. Loosely based on a Balinese legend, the performance is brought alive through lively dance choreography, vibrant costumes, dramatic music compositions and state-of-the-art lighting and sound systems.
A unique aspect of the show is that it combines traditional and contemporary dances, traditional shadow puppetry using modern techniques – and features the animals of the Bali Safari Marine Park, such as birds and tigers, as co-stars of the show.
Location: Bali Safari & Marine Park, Jalan Profesor Doktor Ida Bagus Mantra, Km.19,8, Serongga, Gianyar, Bali 80551, Indonesia
Open: Tuesday–Sunday from 2.30pm to 3.30pm (closed on Mondays)
Phone: +62 (0)361 751300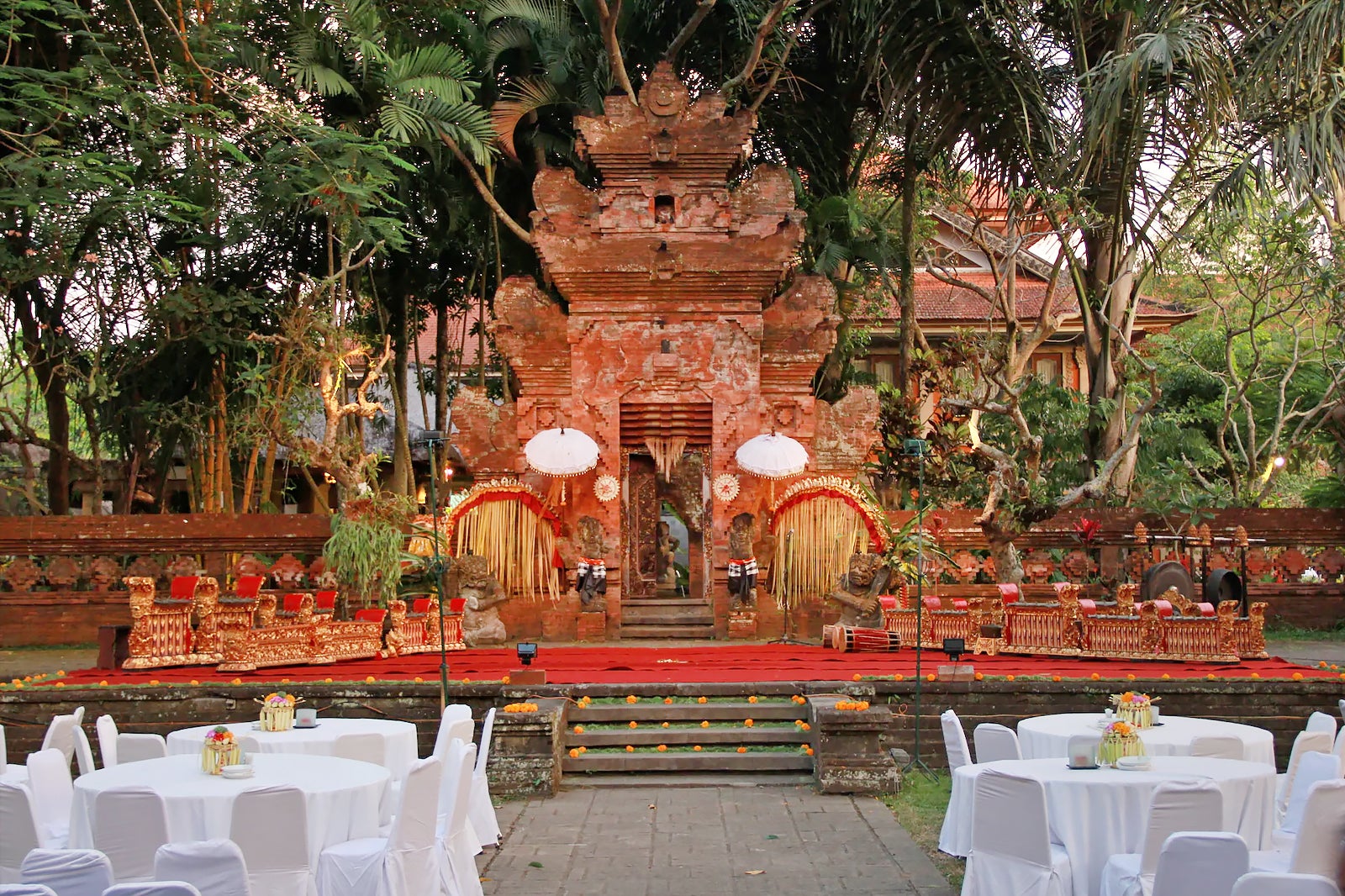 The Agung Rai (ARMA) Museum & Resort in Ubud has an open stage showcasing Balinese performing arts on certain days of the week. Each of these performances is available with dinner options. Kecak performances usually take place every evening on a full moon or new moon.
The satyabrastha, a dance drama is held every Saturday and legong is performed every Sunday by the Peliatan dance troupe. Wayang wong, a mime-like dance, is every Monday at 7pm, and a similar dance topeng jimat, is performed every Wednesday by ARMA's own troupe. A barong and kris dance is shown every Friday by the Lodtunduh troupe, and a variant of the legong, known as legong telek, is performed every Tuesday.
Location: Jalan Raya Pengosekan, Ubud, Gianyar, Bali 80571, Indonesia
Phone: +62 (0)361 975 742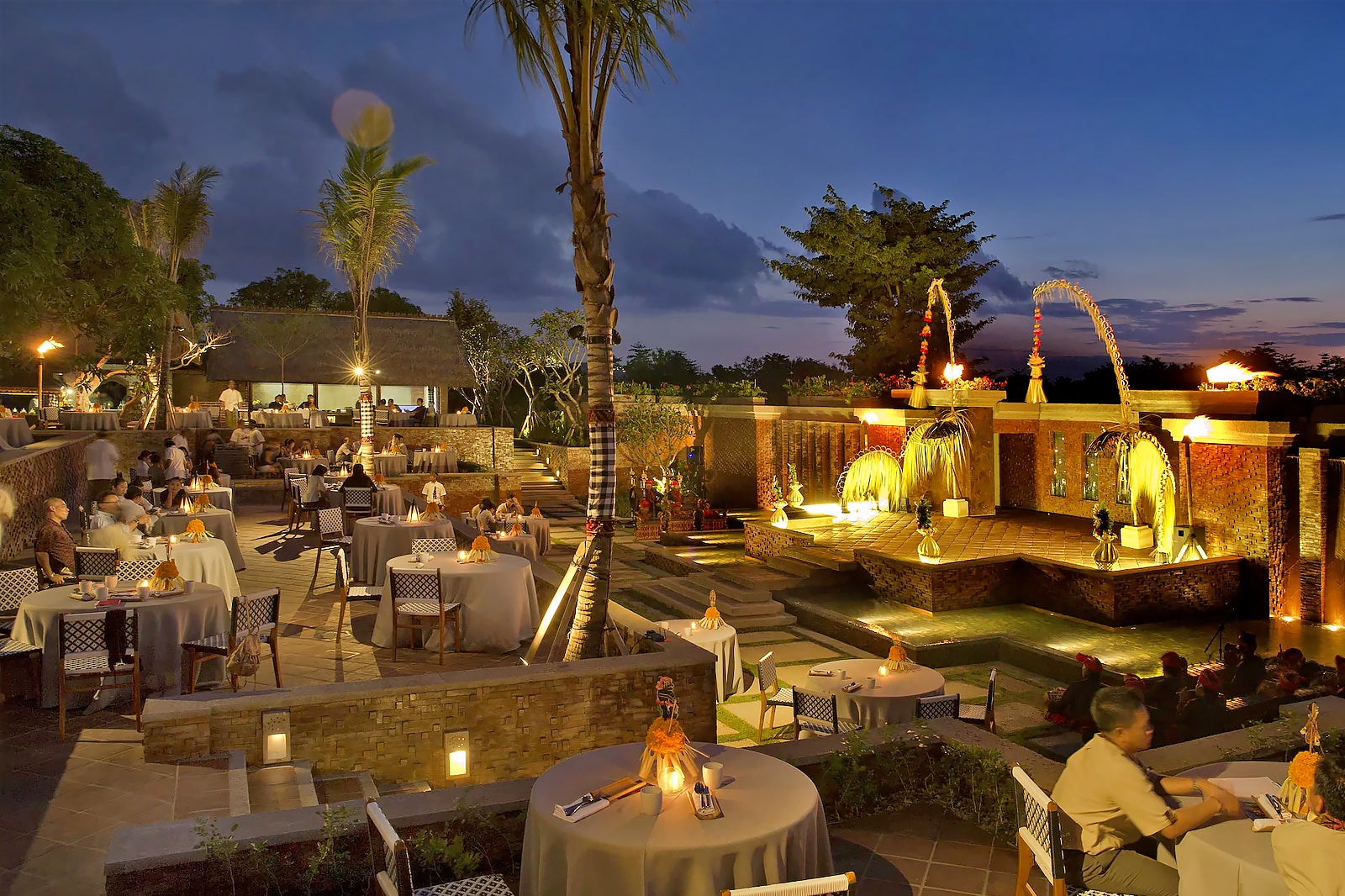 Kampoeng Bali at RIMBA Jimbaran Bali
Kampoeng Bali is an open-air restaurant located at the RIMBA Jimbaran Bali By AYANA with views overlooking tranquil water features and green rice paddies. The name of the restaurant translates to 'Balinese Village', which describes just what the venue delivers: an authentic experience in a traditional Balinese village, complete with a dramatic live kecak (fire dance) performances.
The venue presents a grand buffet complete with live cooking stations with a wide variety of local dishes, including babi guling (whole spit-roast pork). As Kampoeng Bali is an open-air venue, during the rainy season, which usually takes place between October and March, dinners are alternatively hosted at the resort's Padi Restaurant.
Location: RIMBA Jimbaran Bali by AYANA, Jalan Karang Mas Sejahtera, Jimbaran, Bali 80364, Indonesia
Open: Mondays, Wednesdays and Fridays from 6pm (closed on Tuesdays, Thursdays, Saturdays and Sundays)
Phone: +62 (0)361 846 8468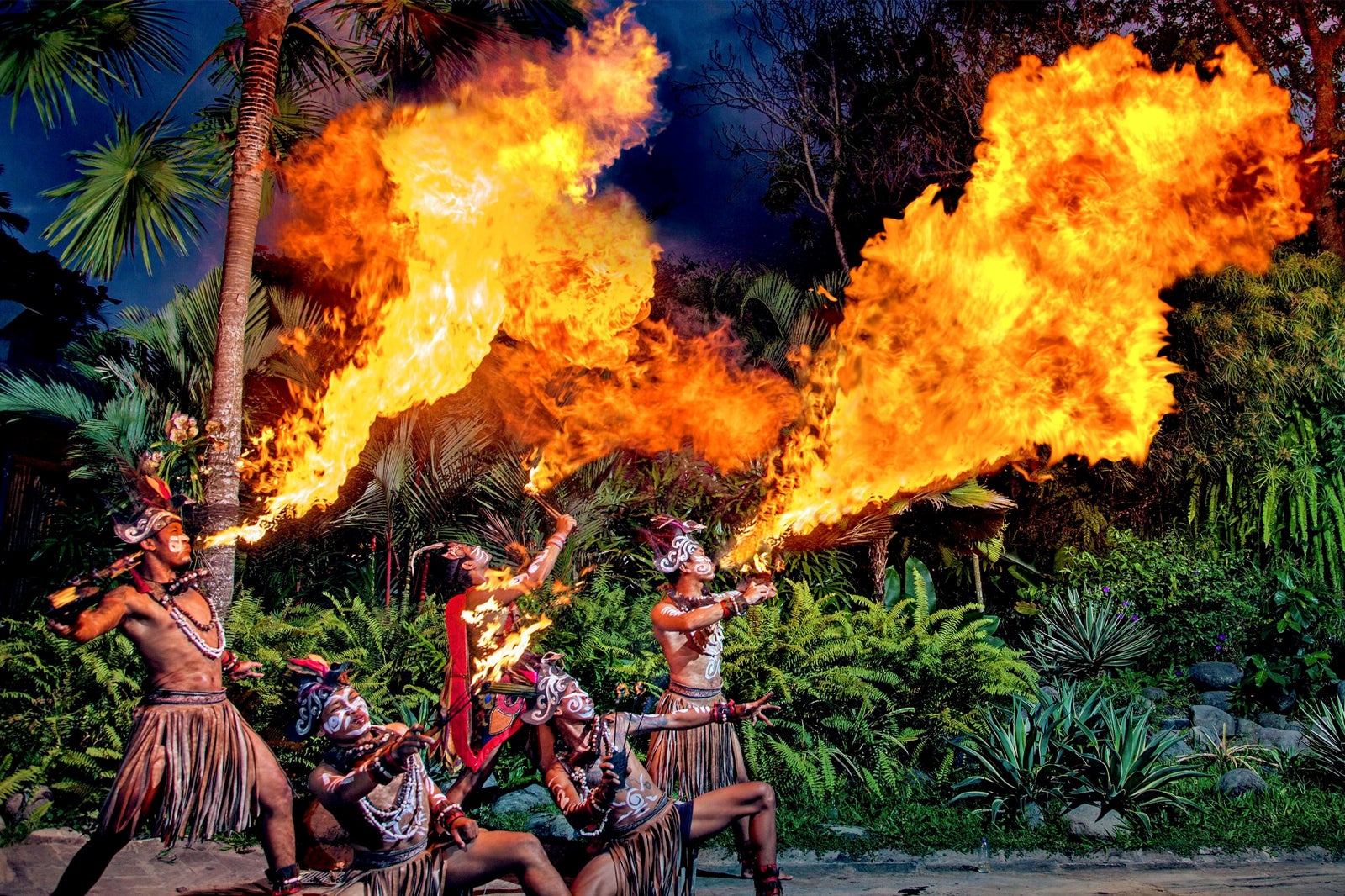 Night at the Bali Zoo program lets you enjoy a wild nocturnal adventure complete with a dinner and show. Your evening at the zoo starts with elephant feeding, followed by a petting and photo session with tame animals. The tour then continues with a stunning fire dance before you proceed to enjoy your set-menu dinner.
The zoo's Wana Restaurant, Lounge and Bar serves up great Indonesian selections as well as a western-inspired menu, and you can sit down in an alfresco setting under the stars, right next to a lion family's enclosure.
Location: Bali Zoo, Jalan Raya Singapadu, Singapadu, Sukawati, Gianyar, Bali 80582
Open: Daily from 6pm to 9.30pm
Phone: +62 (0)361 294 357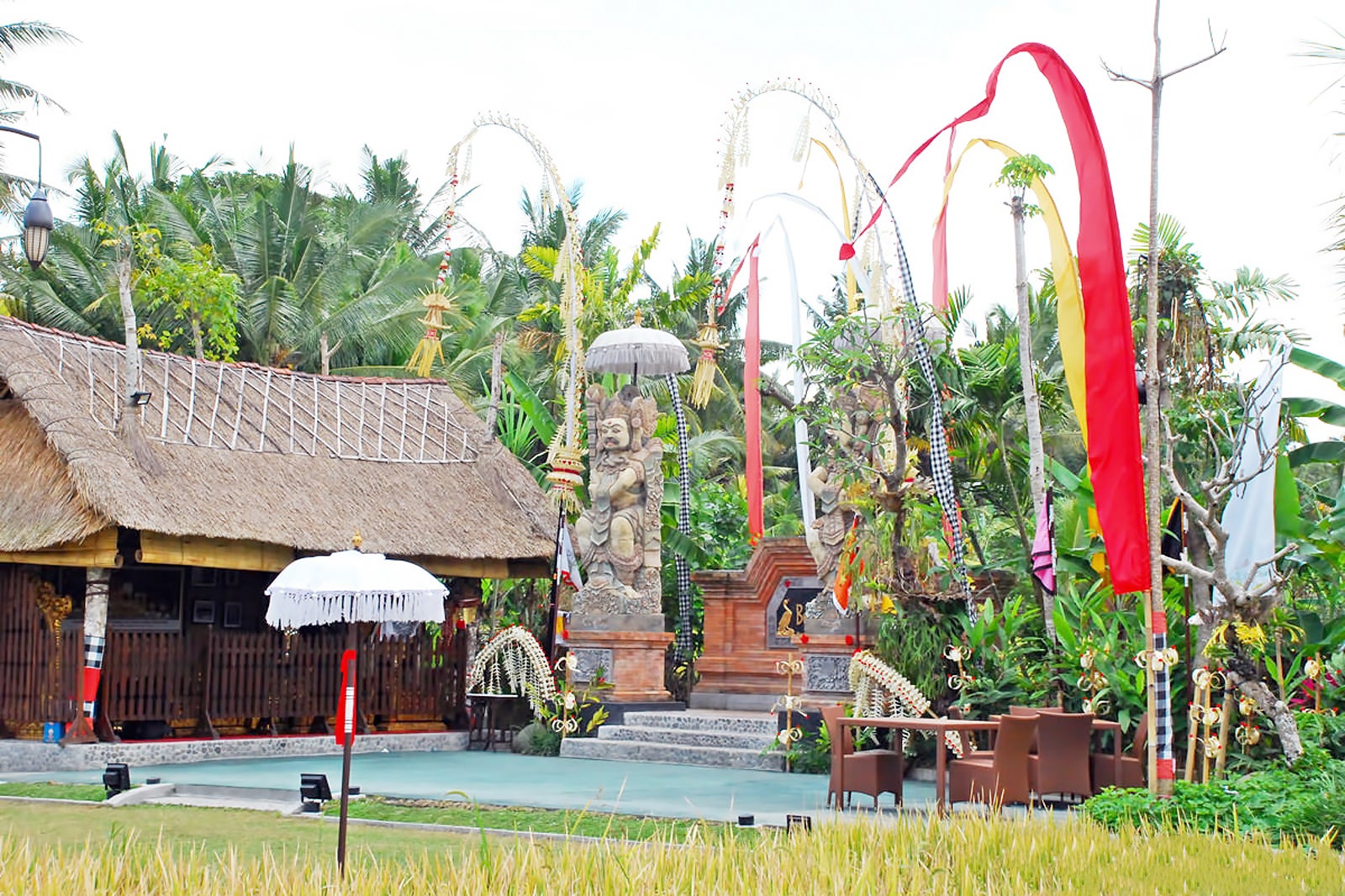 Bebek Tepi Sawah offers an alfresco dining experience in rustic Balinese pavilions set amid rice fields. Open for lunch and dinner, the best experience is in the evening when oil torches along rice field paths are lit and nature sounds blend with the flowing live music of traditional bamboo gamelan.
Around the restaurant's main foyer, diners are treated to free nightly performances of Balinese dancers performing the fun-to-watch joged bumbung dance. Be prepared as you will occasionally be invited to partake in some expressive dance moves. It serves as a fun and interactive way to spend an evening with a relaxed natural ambience just outside the main Ubud proper.
Location: Jalan Raya Goa Gajah, Banjar Teges, Peliatan, Ubud, Gianyar, Bali 80571, Indonesia
Open: Daily from 11am to 10pm
Phone: +62 (0)361 975 656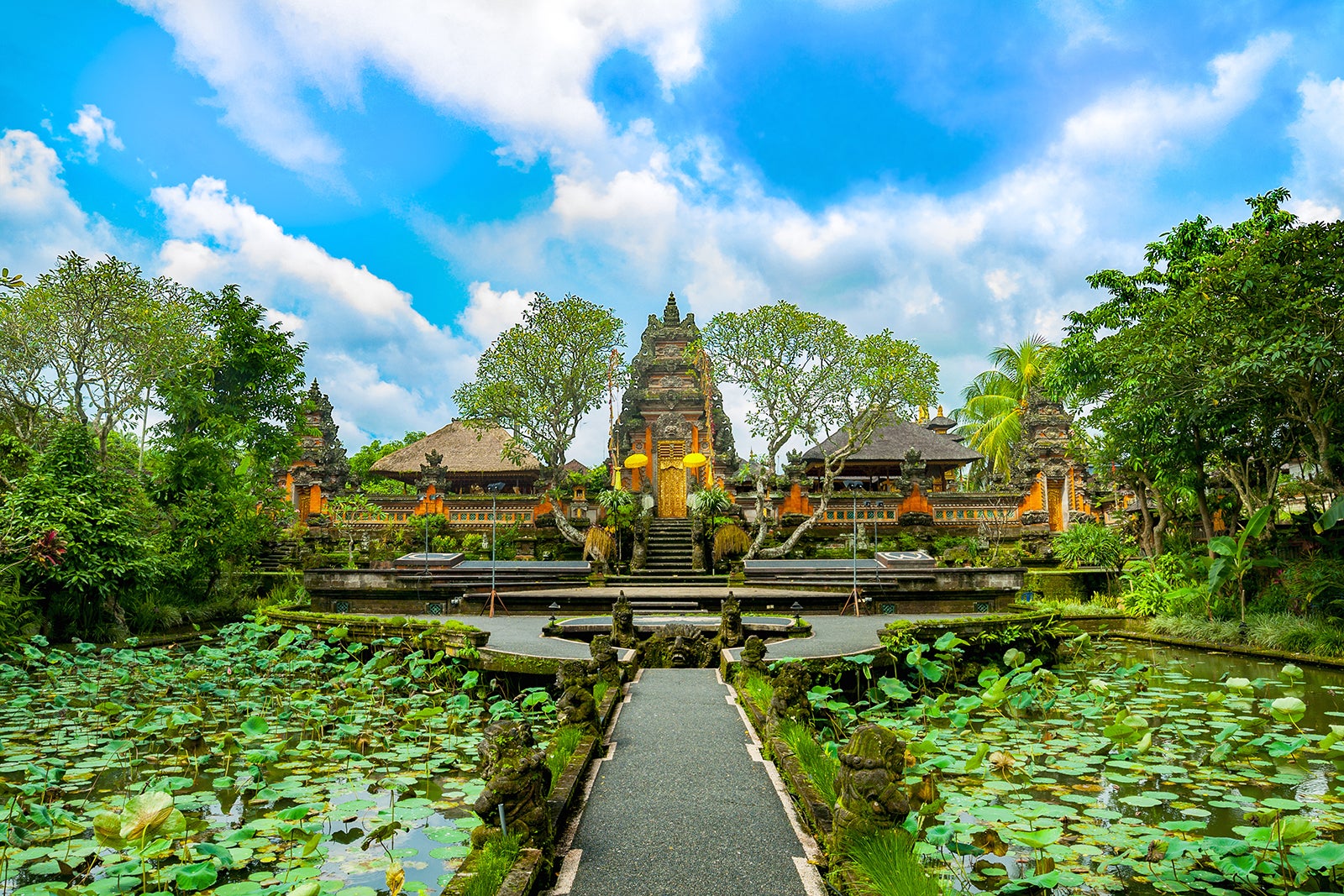 Lotus Café overlooks the lotus pond and amphitheatre of Ubud's Taman Saraswati Temple. Performances start around 7.30pm, with the weekly line-up: Mondays present joged dance with bamboo orchestral accompaniments, Tuesdays showcase legong with a ladies' orchestra, Wednesdays the Ramayana ballet, Thursdays the barong dance, Saturdays host legong with a men's orchestra, and a Balinese theatrical drama on Sundays.
Front row tables beside the lotus pond provide the best views. You can score a seat with additional ticket purchase and a minimum charge for food and beverages. A la carte selections include Italian and fusion cuisine, as well as local Balinese delights such as ayam betutu (slow-roast chicken) and bakso ikan (fish meatball soup).
Location: Jalan Raya Ubud, Ubud, Gianyar, Bali 80571, Indonesia
Open: Daily from 9.30am to 10.30pm
Phone: +62 (0)361 975 660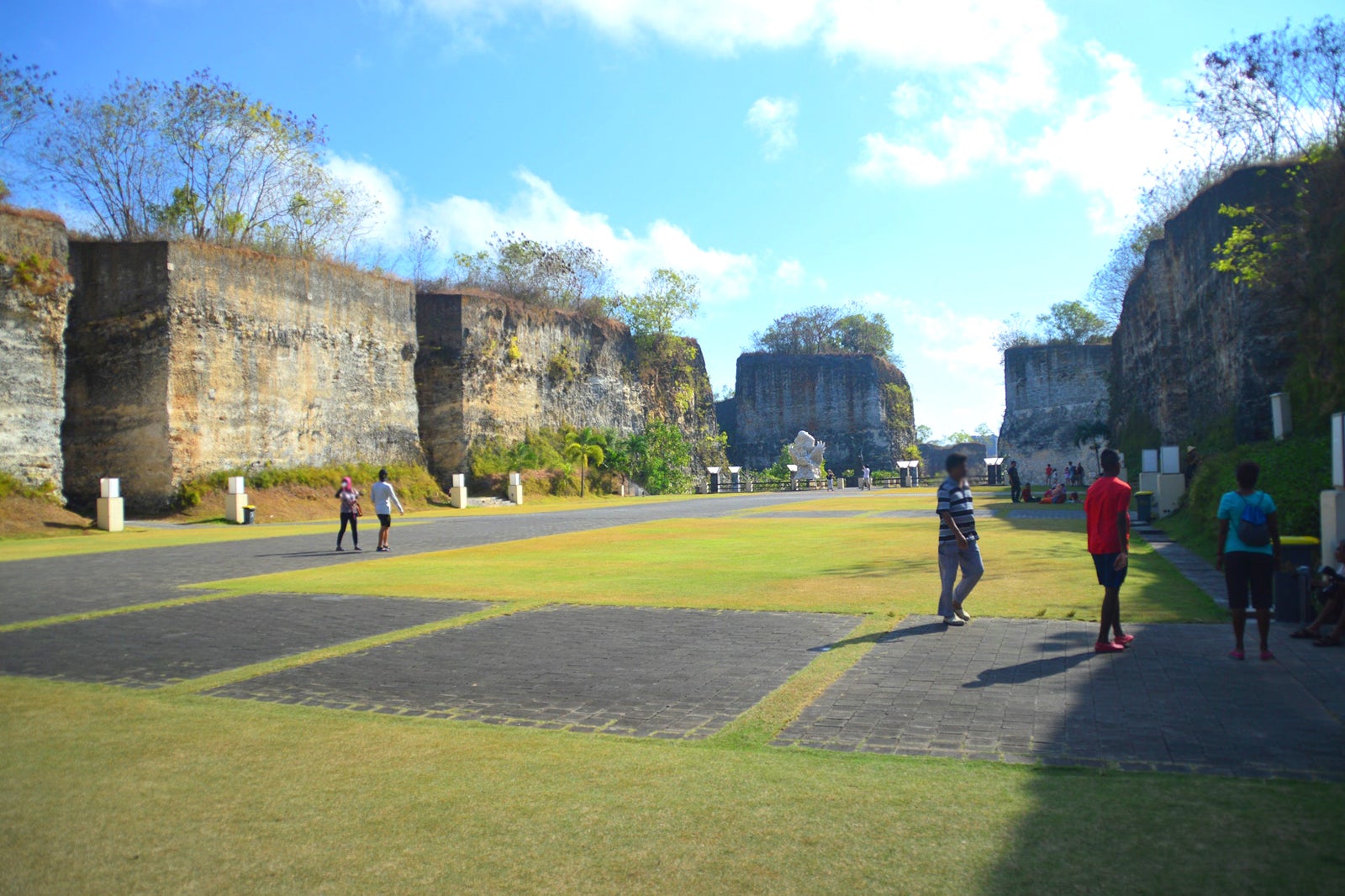 GWK (Garuda Wisnu Kencana) Cultural Park
Garuda Wisnu Kencana Cultural Park (GWK) offers a day out in a massive open park venue that's home to one of the largest statues in the world. GWK has an open amphitheatre showcasing live cultural performances in the late afternoons. These include barong (a dance drama depicting the eternal battle of good versus evil) and kecak (depicting a scene from the Ramayana epic, accompanied by the chanting choruses of male dancers).
Other cultural performances include bamboo orchestras, joged (a social dance) and the mesmerising legong (royal court dance) performed by petite dancers in vivid costumes.
Location: Jalan Raya Uluwatu, Ungasan, Badung, Bali 80364, Indonesia
Open: Daily from 8am to 9pm
Phone: +62 (0)361 700 808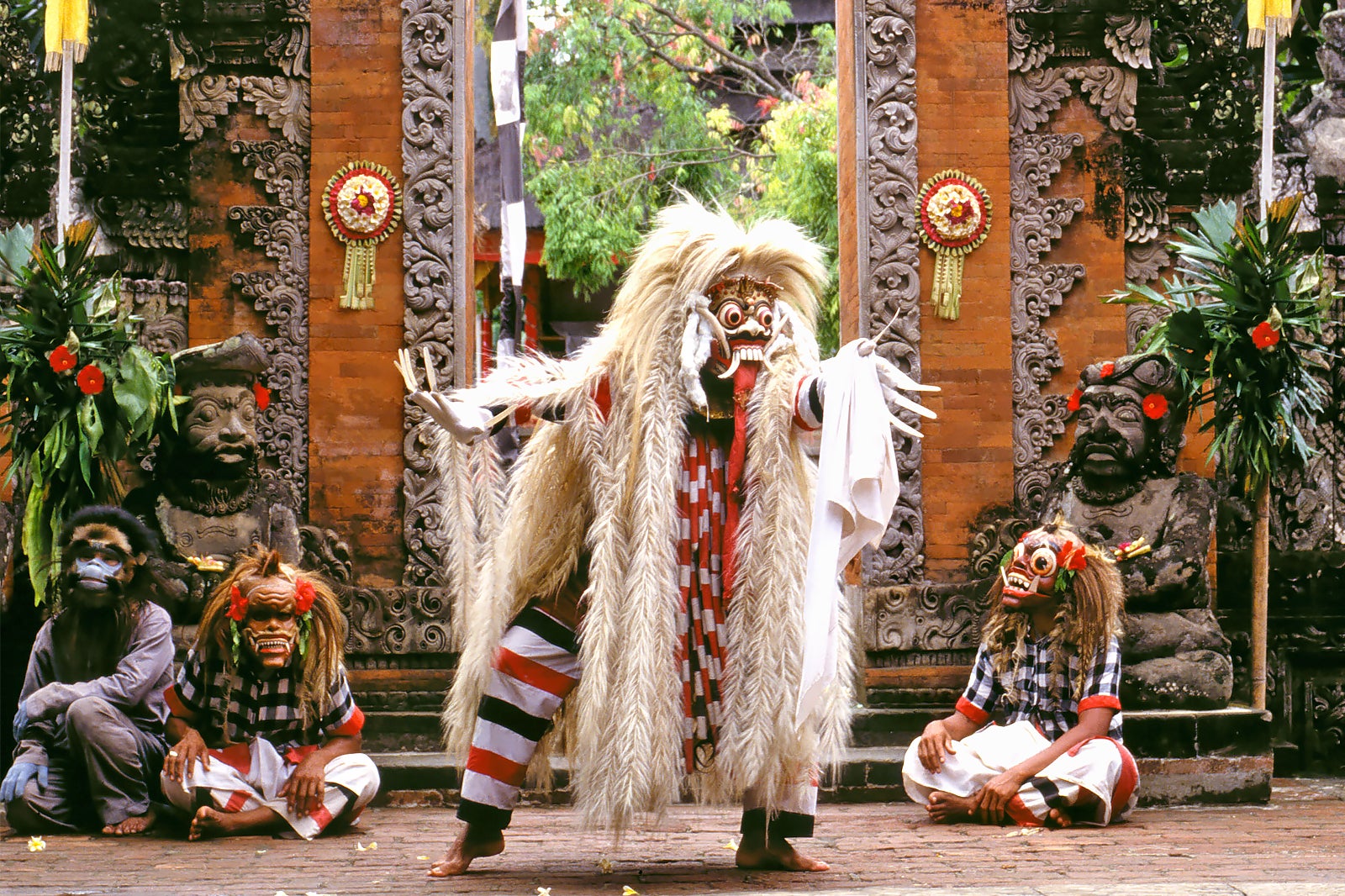 Jambe Budaya Barong Dance
The Jambe Budaya Theatre in Batubulan offers a different kind of Barong dance performance, with its shows presented in play-like format. Many of the performers are residents of the Batubulan village, and unlike common barong performances in the area, the antics of the comic reliefs (such as those acting out the roles of monkeys and other animals from the Ramayana's monkey forest episode) can be quite hilarious.
Compared to other local amphitheatres, the setup of Jambe Budaya's stage is also modern, laid out with carpets and supported by advanced lighting and sound systems.
Location: Batubulan, Sukawati, Gianyar, Bali 80582, Indonesia
Open: Daily from 9am to 10.30am
Phone: +62 (0)818 0559 0490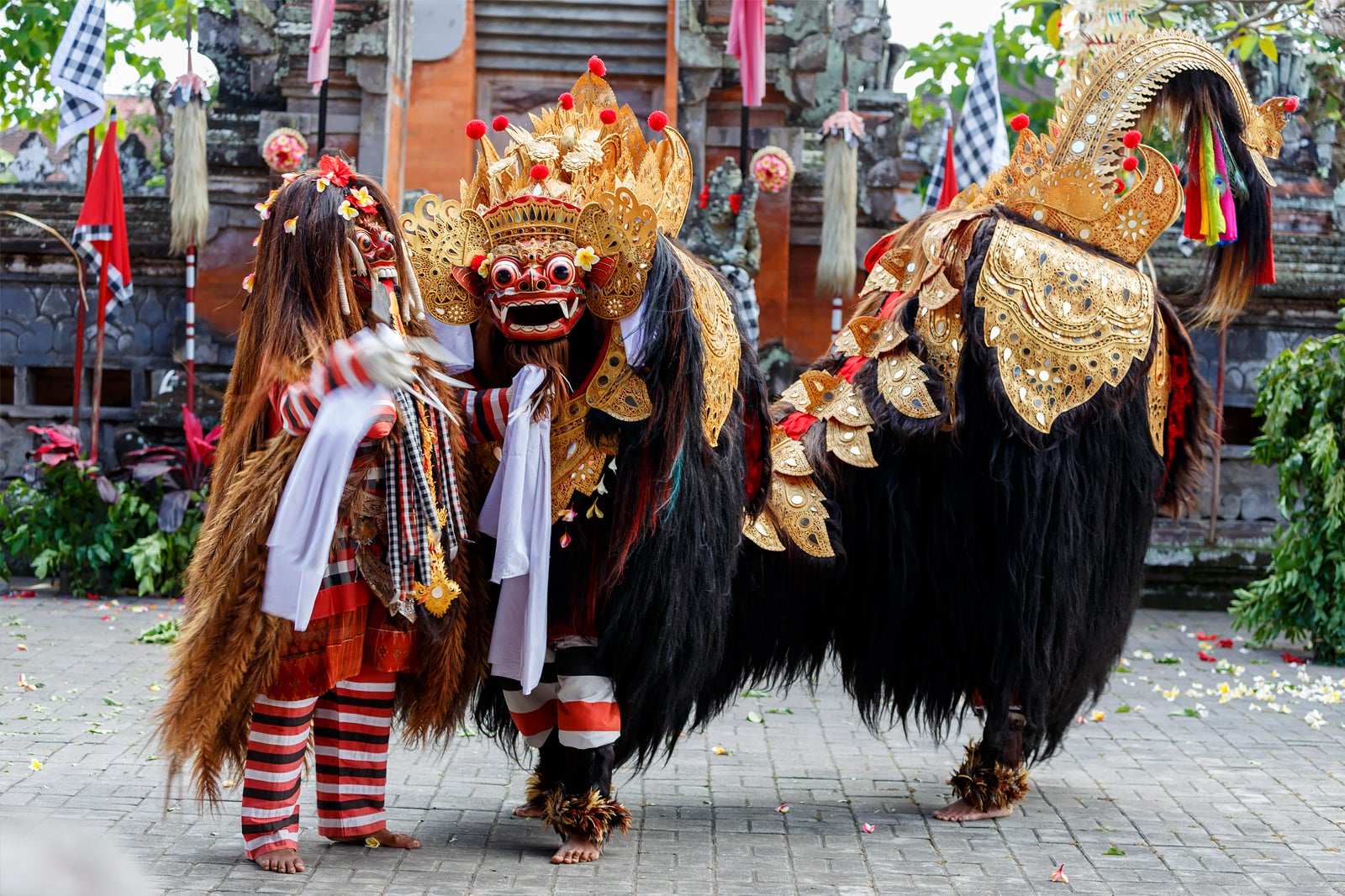 Putra Barong & Kris Dance
The Putra Barong & Kris Dance is a local stage in Batubulan that shows the popular Balinese Barong and Kris dagger dance drama. It is often an included stop on popular tour itineraries to Ubud and its outlying areas, particularly to the goldsmiths and silversmiths communities of Celuk and Mas in the Gianyar regency. The shows are held daily and in the mornings only, with dancers and the gamelan troupes made up mostly of local villagers.
The show is often presented in 5 episodes, each depicting a scene from the Calonarang epic that tells the battle between the Rangda and Barong, otherwise known as a classic tale of good versus evil.
Location: Jalan Raya Celuk, Batubulan, Sukawati, Gianyar, Bali 80582, Indonesia
Open: Daily from 8.30am to 10.30am
Phone: +62 (0)851 0052 9969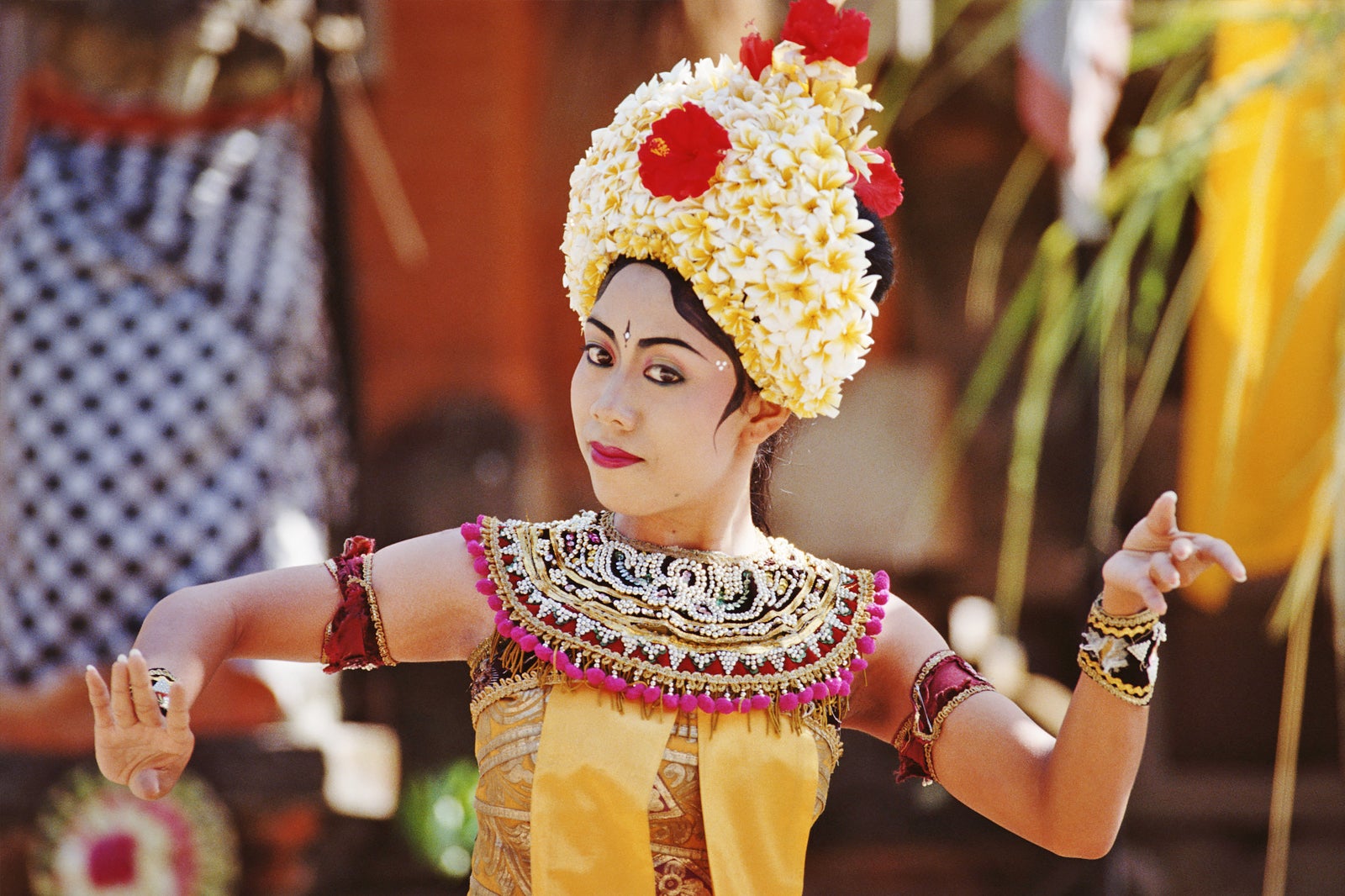 Showing barong and kecak dance performances daily in the Balinese artists' village of Batubulan, the Sahadewa dance theatre has 2 indoor stages, allowing you to enjoy shows year-round.
The Sahadewa stage is also one of Bali's pioneering local stages. It has been presenting daily shows since 1972. The barong dances here are shown mainly at its open stage, while the indoor stage hosts cultural dinners as well as varieties of other traditional Balinese dances such as legong and jegog (bamboo gamelan).
Location: Jalan SMKI, Batubulan, Sukawati, Gianyar, Bali 80582, Indonesia
Open: Daily from 9.30am to 10.30 and from 6.30pm to 7.30pm
Phone: +62 (0)631 471 1015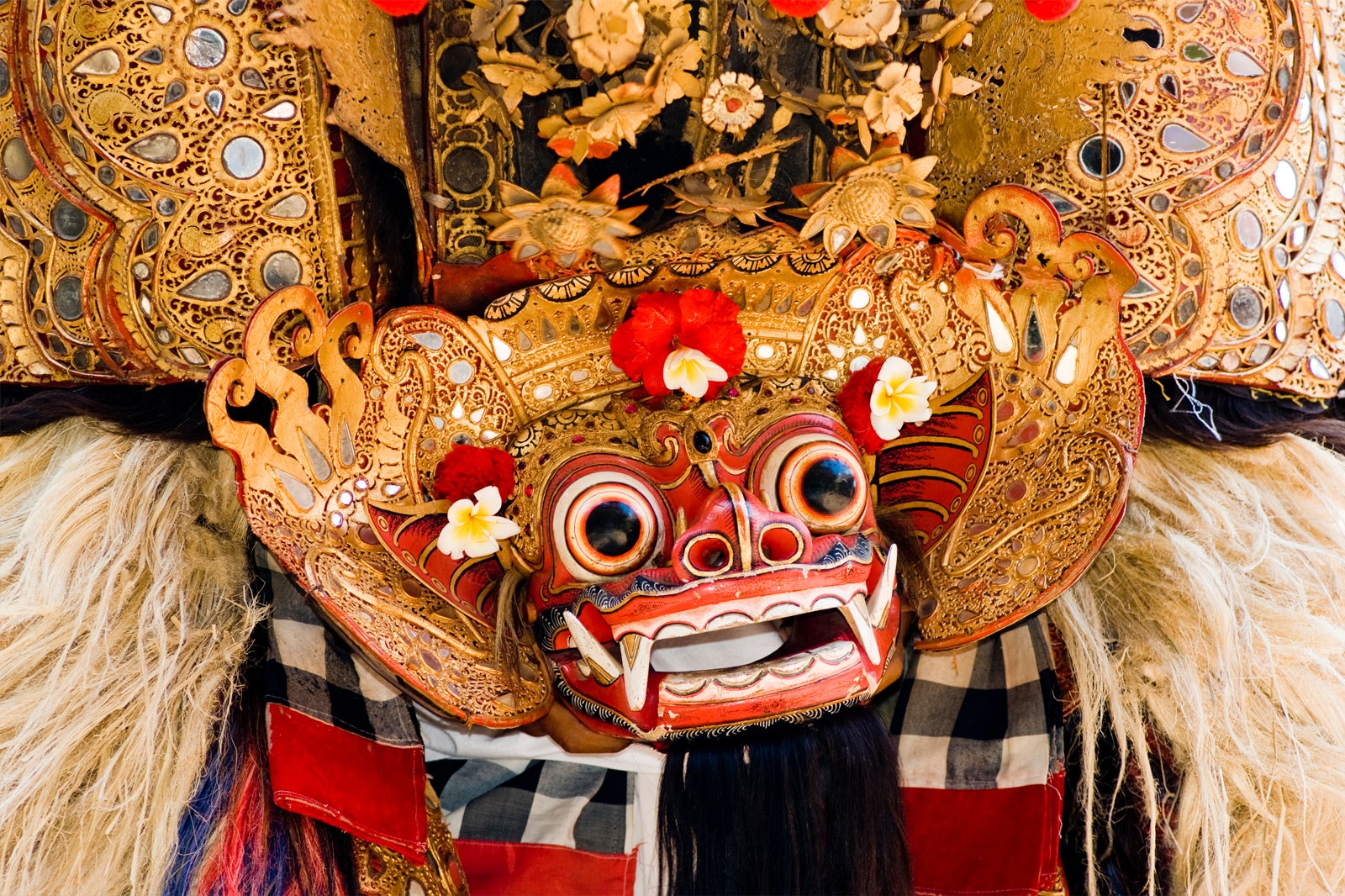 Sari Wisata Budaya Barong & Kris Dance
The Sari Wisata Budaya stage in the village of Suwung Kauh (roughly between Kuta and Sanur) has a semi-open stage where Barong and kris (dagger) dances take place daily. Pamphlets are handed out before the show. Episodes of the performances are inspired by the legendary Calonarang tale of the struggle between the powers of good and evil, which are represented by the 2 main characters known as the Barong and Rangda.
A lively gamelan orchestra accompanies the dances, and photo sessions with the performers clad in their dazzling traditional costumes onstage usually follow after the show. Shows are in the mornings daily for approximately 1 hour.
Location: Jalan Griya Anyar No.25B, Pemogan, Denpasar, Bali 80221, Indonesia
Open: Daily from 8am to 10.15am
Phone: +62 (0)818 562 400
Laka Leke Garden Restaurant
Laka Leke combines an enriching dining experience with a weekly roster of Balinese dances. The restaurant features an outdoor setting with thatch-roofed pavilions set around rice paddies. Their regular dance nights includes a buffet with chiefly Indonesian cuisine, while an a la carte menu offers speciality selections such as nasi campur (mixed rice platter), signature crispy fried duck, and satay varieties.
Kecak dance performs on Mondays, and the barong and kris dance is featured on Wednesdays. Fun and interactive joged dances take place on Thursdays, while Saturdays show the amusing 'frog dance' performed by Balinese kids. Afternoon arts and craft workshops let you learn woodcarving, kite making, bamboo weaving, and gamelan.
Location: Jalan Nyuh Bojog No.32, Mas, Ubud, Gianyar, Bali 80571, Indonesia
Open: Daily from 9am to 11pm
Phone: +62 (0)361 977 565
Surya Mandala Cultural Park at Tanah Lot
The Surya Mandala Cultural Park at Tanah Lot Temple comes to life at sunset and is a popular attraction for visitors to enjoy after admiring the sea temple. The show features Bali's famous kecak (fire dance) performance, which depicts a major episode in the Ramayana epic. Dancers perform to background music provided by a circle of male singing-dancers chanting acapella.
The dedicated amphitheatre is located to the west of the Batu Bolong Temple, Tanah Lot's sister temple that is no less breathtakingly set on a unique rock formation.
Location: Tanah Lot, Beraban, Kediri, Tabanan, Bali 82121, Indonesia
Open: Daily from 10am to 10pm
Phone: +62 (0)361 831 1755