10 Best Shopping Malls in Bali
Most Popular Bali Malls
These great shopping malls in Bali are among the island's most popular spots for shopping and entertainment. As a resort island destination, Bali may be lacking in high-rise buildings and glitzy, big-city malls but some in this list are large complexes with plenty for family fun and dining.
Kuta has its own massive beachfront lifestyle centre with a design that's perhaps one of its kind in Indonesia. Other popular malls in Bali feature great department stores and gift shops – their fixed prices can save you the hard haggling you'd go through at traditional art markets. You can escape the heat of the day, watch a movie, or simply go on a spree at some of the best shopping malls in Bali.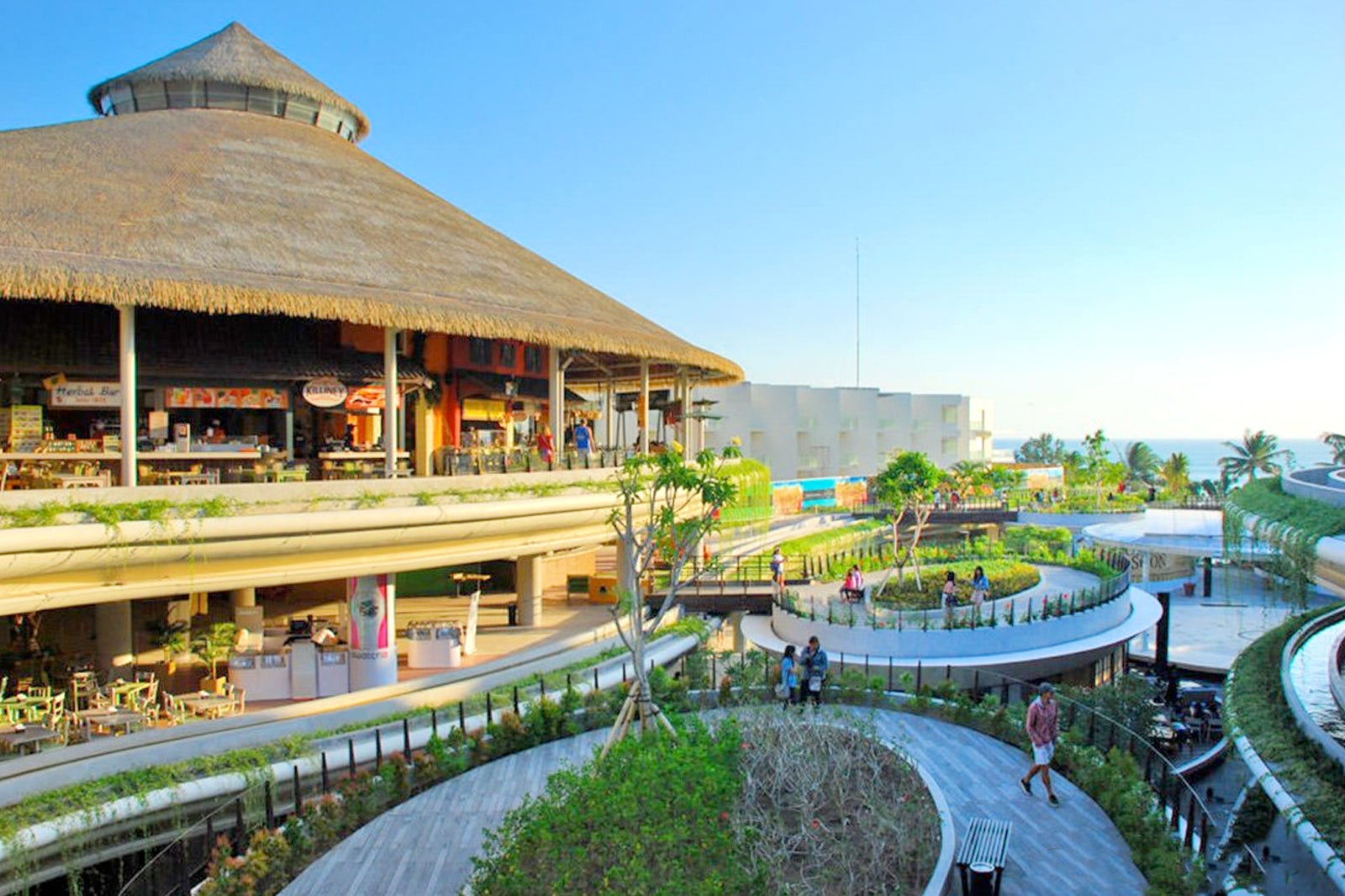 Kuta Beachwalk is a shopping, dining and entertainment complex on the main beach road of Jalan Pantai Kuta. It was the first shopping mall on the island to feature a freeform, airy and sustainable design which is a major departure from other malls on Bali. Various luxury brand shops and boutique tenants are spread over its 3 levels, with some of the open spaces on its topmost western edge offering great views over Kuta's rolling surf and sunsets.
Besides standalone restaurants near the mall's street side, there's a major food court with a huge variety from local and international dishes in the central atrium. Kuta Beachwalk is also home to one of the largest cinema chains in Indonesia, Beachwalk XXI Cineplex. In all, it's a great spot to head to whenever you're feeling peckish or want to escape from the heat of Kuta Beach.
Location: Jalan Pantai Kuta, Kuta, Badung, Bali 80361, Indonesia
Open: Daily from 10am to 10pm
Phone: +62 (0)361 8464888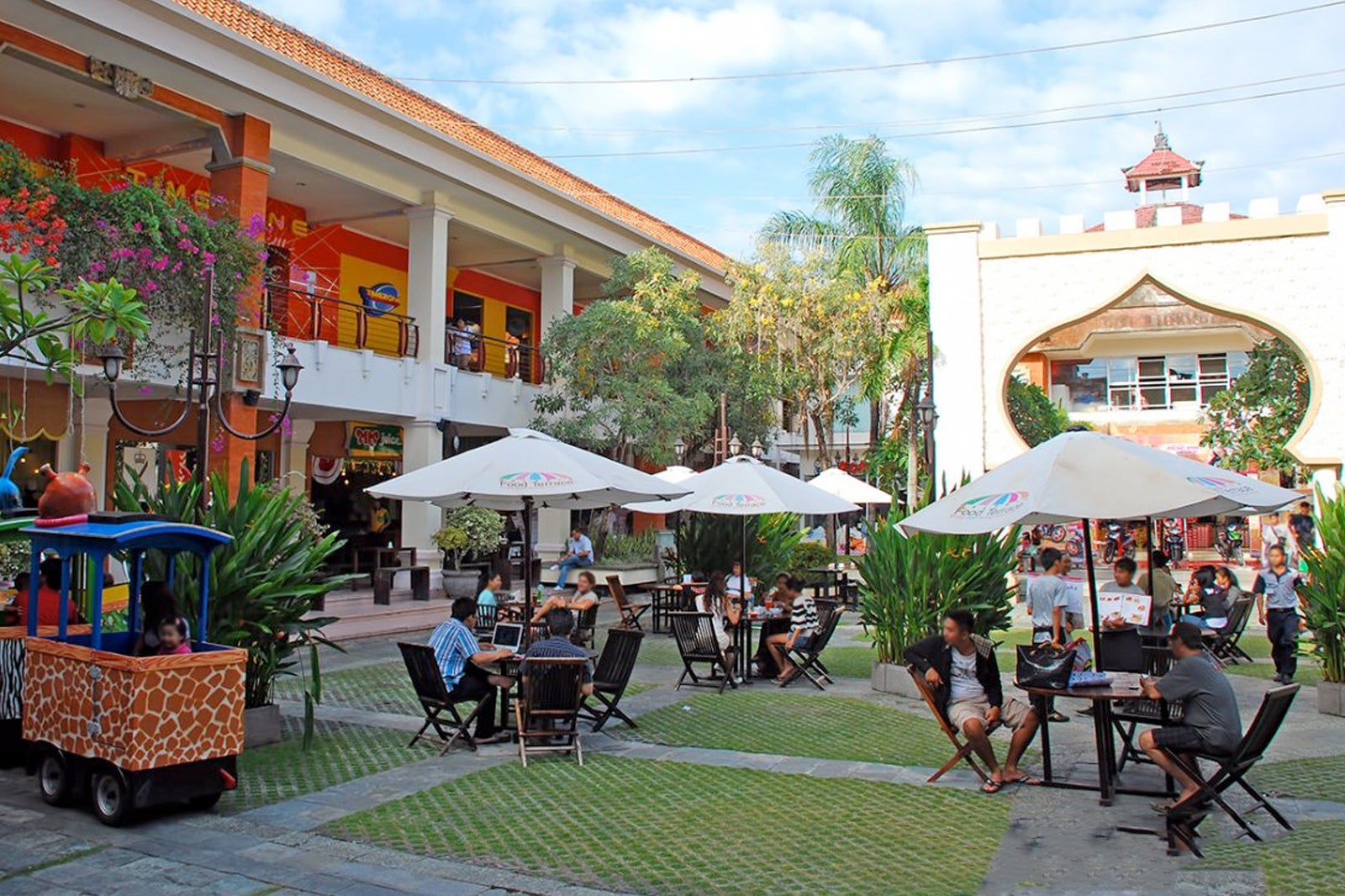 Mal Bali Galeria is one of Bali's most well-established shopping malls, appealing to both locals and visitors. It serves as an unofficial landmark, complementing the Simpang Dewaruci roundabout that connects Kuta to Nusa Dua and Sanur, so it's hard to miss.
The mall houses one of the largest ACE Hardware stores in Bali, a large Hypermart chain supermarket, several notable international fashion stores and an expanded multi-storey car park. Embracing a 'family mall' concept, the Galeria contains numerous dining outlets, regular live entertainment scheduled in its central courtyard, and there's an adjoining Cineplex too, making it a favourite weekend destination for families.
Location: Jalan Bypass Ngurah Rai, Kuta, Badung, Bali 80361, Indonesia
Open: Daily from 9am to 10pm
Phone: +62 (0)361 755277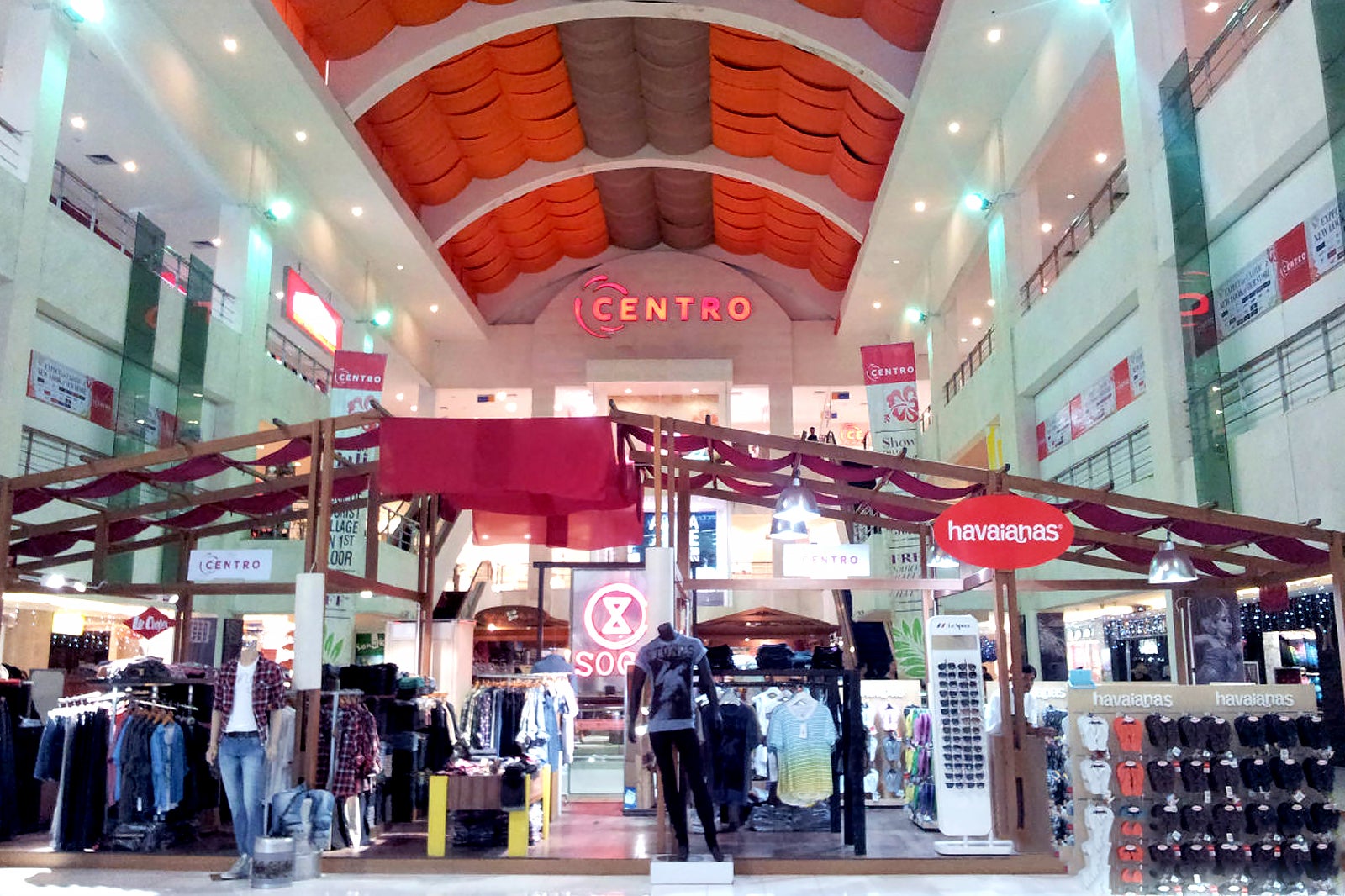 Discovery Shopping Mall
Kuta
Discovery Shopping Mall is one of the more established shopping hubs in Kuta. It's right beside the Discovery Kartika Plaza Hotel and across the road from the Waterbom Bali water park. The mall features a great beachside location with an open-air amphitheatre right on the sands of Kuta Beach.
Inside, you'll find numerous fashion and lifestyle outlets spread over 3 levels, together with restaurants and franchise fast food outlets serving a wide range of snacks and cuisines. You can enter the mall either from the street on Jalan Kartika Plaza or up the flight of stairs from the beach. There's also a large souvenir market on its southern half, where you can source great Balinese handicrafts at fixed prices.
Location: Jalan Kartika Plaza, Kuta, Badung, Bali 80361, Indonesia
Open: Daily from 10am to 10pm
Phone: +62 (0)361 755522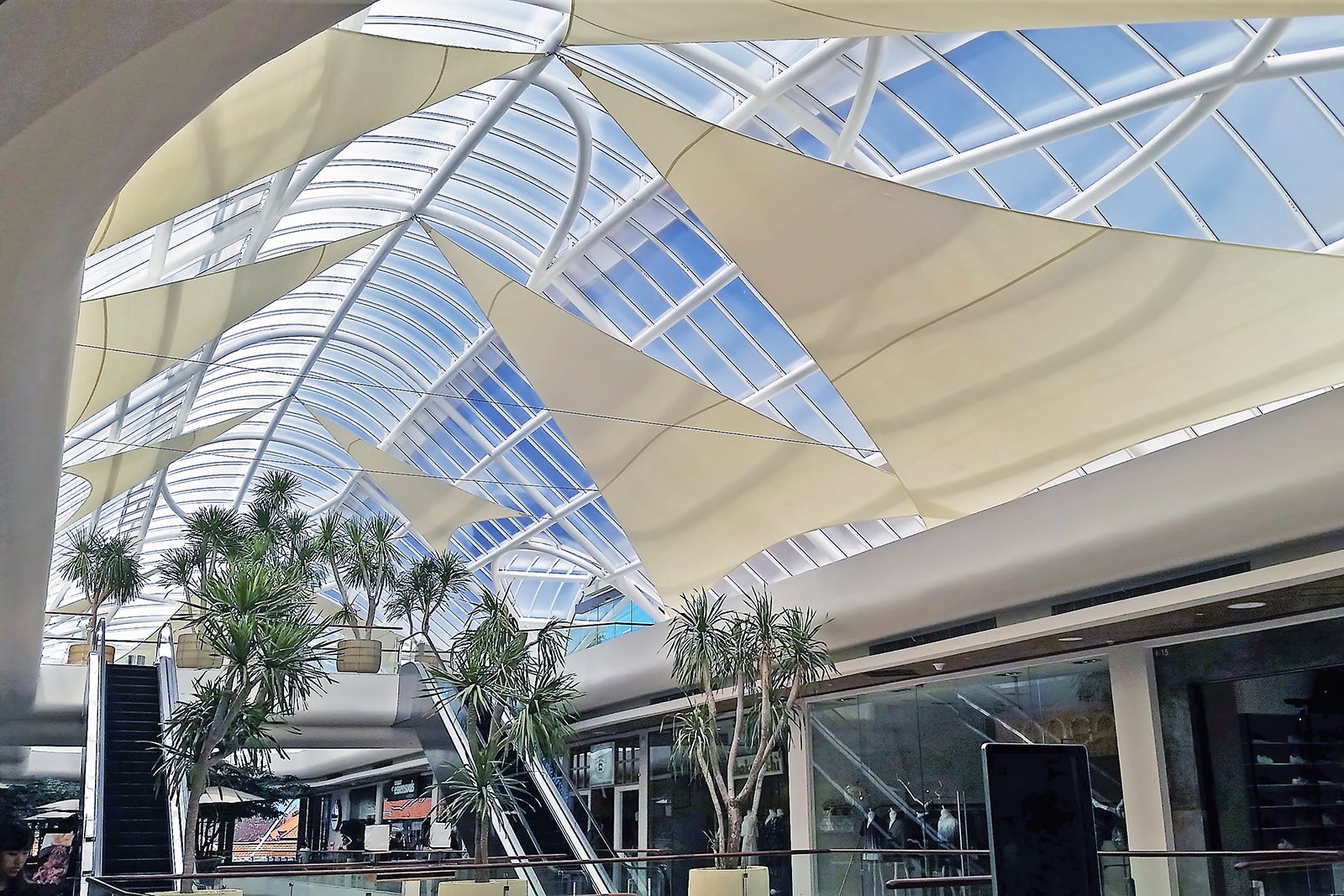 Seminyak Village is a modern mall tucked away on a side street off the main Seminyak roads. The mall is right behind Seminyak Square, another shopping hub that's smaller and has a limited number of shops. Several popular fashion brands occupy the mall's 2 levels, which are conveniently interconnected by lifts and escalators.
Renowned fashion brands and designer boutiques include MCM for luxury leather bags and travel wear; Farah Khan for stylish hand-sewn and ready-to-wear ladies' pieces; and Lily Jean, Milo's Collezioni and MC2 Saint Barth for fun and colourful beachwear.
Location: Jalan Kayu Jati No.8, Seminyak, Badung, Bali 80361, Indonesia
Open: Daily from 10am to 10pm
Phone: +62 (0)361 738097
photo by Mike (CC BY-SA 2.0) modified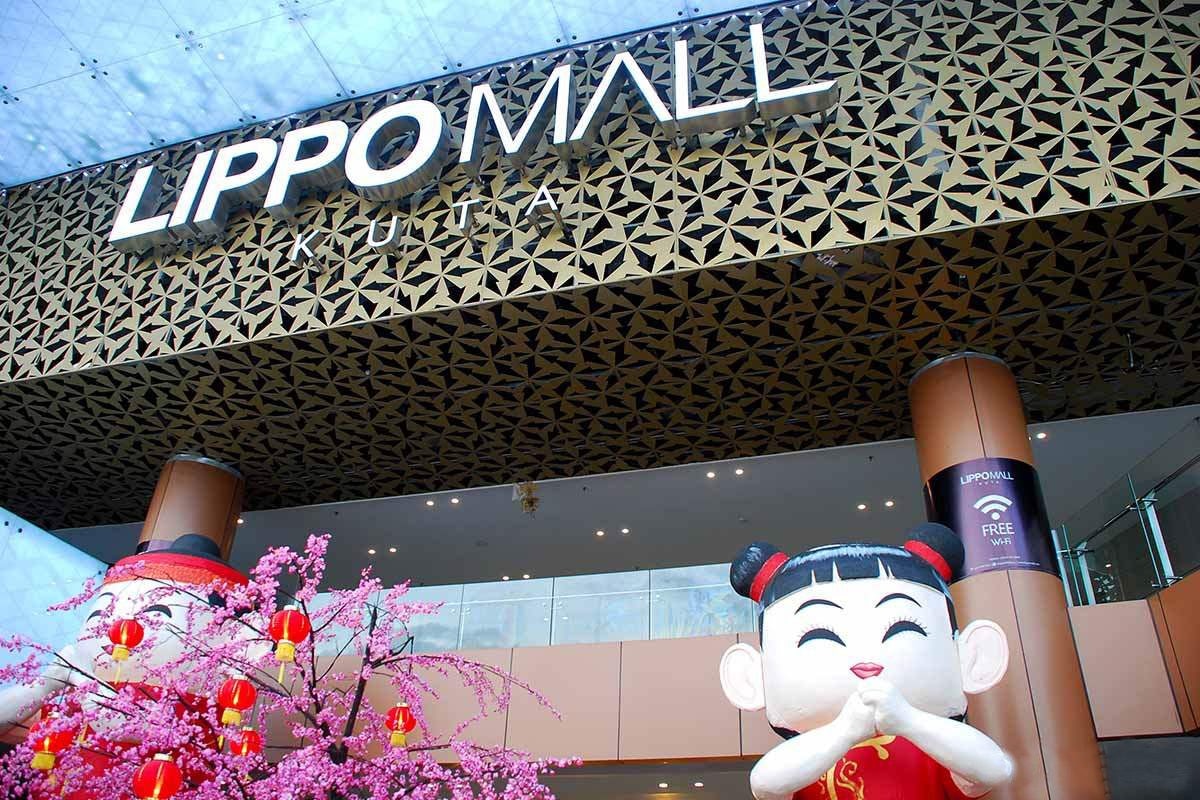 Lippo Mall Kuta is the closest mall to Bali's airport and features a spacious front area with a mini food court that's accessible on your walks along Jalan Kartika Plaza. Inside are various fashion stores and tenants spread over the mall's 3 floors, all of which surround a large central atrium that regularly turns into a special event space.
On the mall's basement level, you'll find a unique 'sunken plaza' where most of the favourite restaurants are located. These include Cosmic Diner, Bali Kobo, a Starbucks, and Batan Waru restaurant, which serves local cuisine. Upstairs is a department store and an Amazing Kuta games arcade.
Location: Jalan Kartika Plaza, Kuta, Badung, Bali 80361, Indonesia
Open: Daily from 10am to 10pm
Phone: +62 (0)361 8978000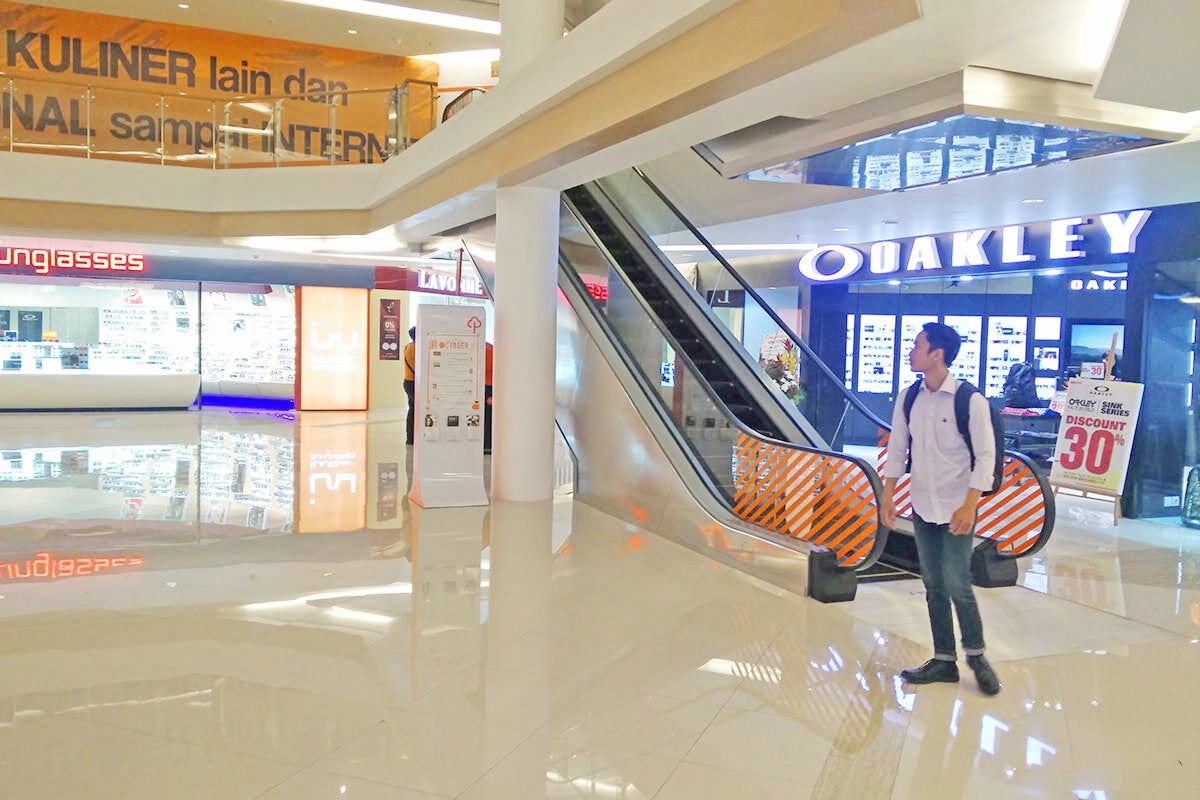 Park 23 Mall is right next to Circus Water Park in Tuban, South Kuta. The mall offers a young and fun concept, with a shopping centre, exhibition and entertainment area inside, together with a street-facing dining court outdoors, where you can find street food-style carts that sell everything from chicken satays to roti canai and Spanish churros.
Park23 also houses a cinema courtesy of the Indonesian Cineplex XXI cinema chain, featuring 4 screens. You'll also find amusement centres and game arcades, a thematic food court, a Starbucks, and various other dining outlets. Obviously, there are also shops – expect plenty of fashion stores offering a good mix of Indonesian and international brands.
Location: Jalan Kediri, Tuban, Kuta, Badung, Bali 80361, Indonesia
Open: Daily from 10am to 10pm
Phone: +62 (0)361 4712323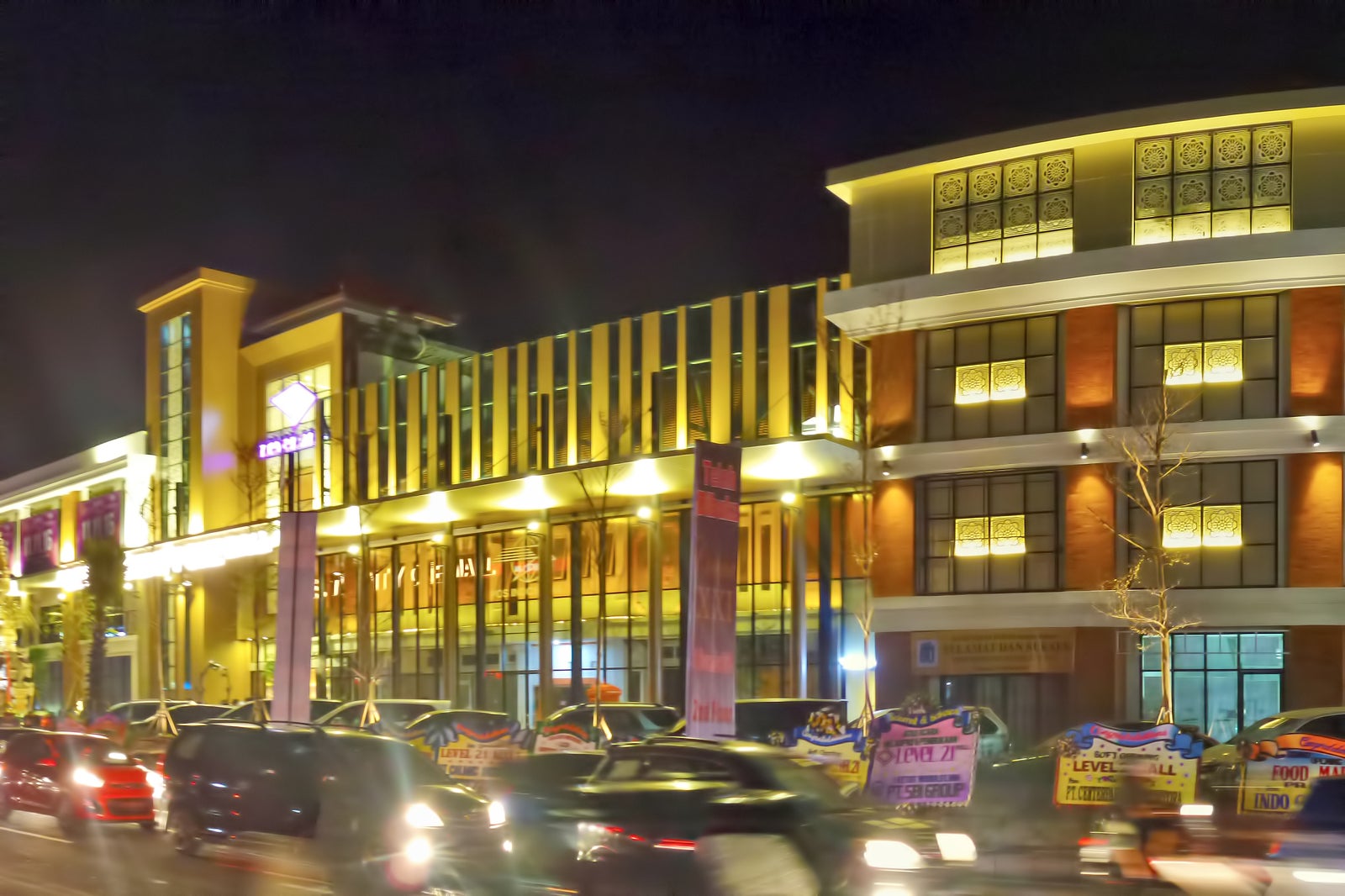 Level 21 Mall is one of Denpasar's modern shopping malls, which offers something for everyone through its variety of tenants that range from fashion stores, food and beverage outlets to entertainment spots over its 4 levels.
The mall is hard to miss as it occupies the easternmost end of Jalan Teuku Umar in Denpasar. Inside, the mall's lengthy atrium makes it good for window shopping, with ample spaces for hanging out when you're not feeling much like walking.
Location: Jalan Teuku Umar No.1, Dauh Puri Klod, Denpasar, Bali 80113, Indonesia
Open: Daily from 10am to midnight
Phone: +62 (0)361 257790
photo by BxHxTxCx (CC BY-SA 2.0) modified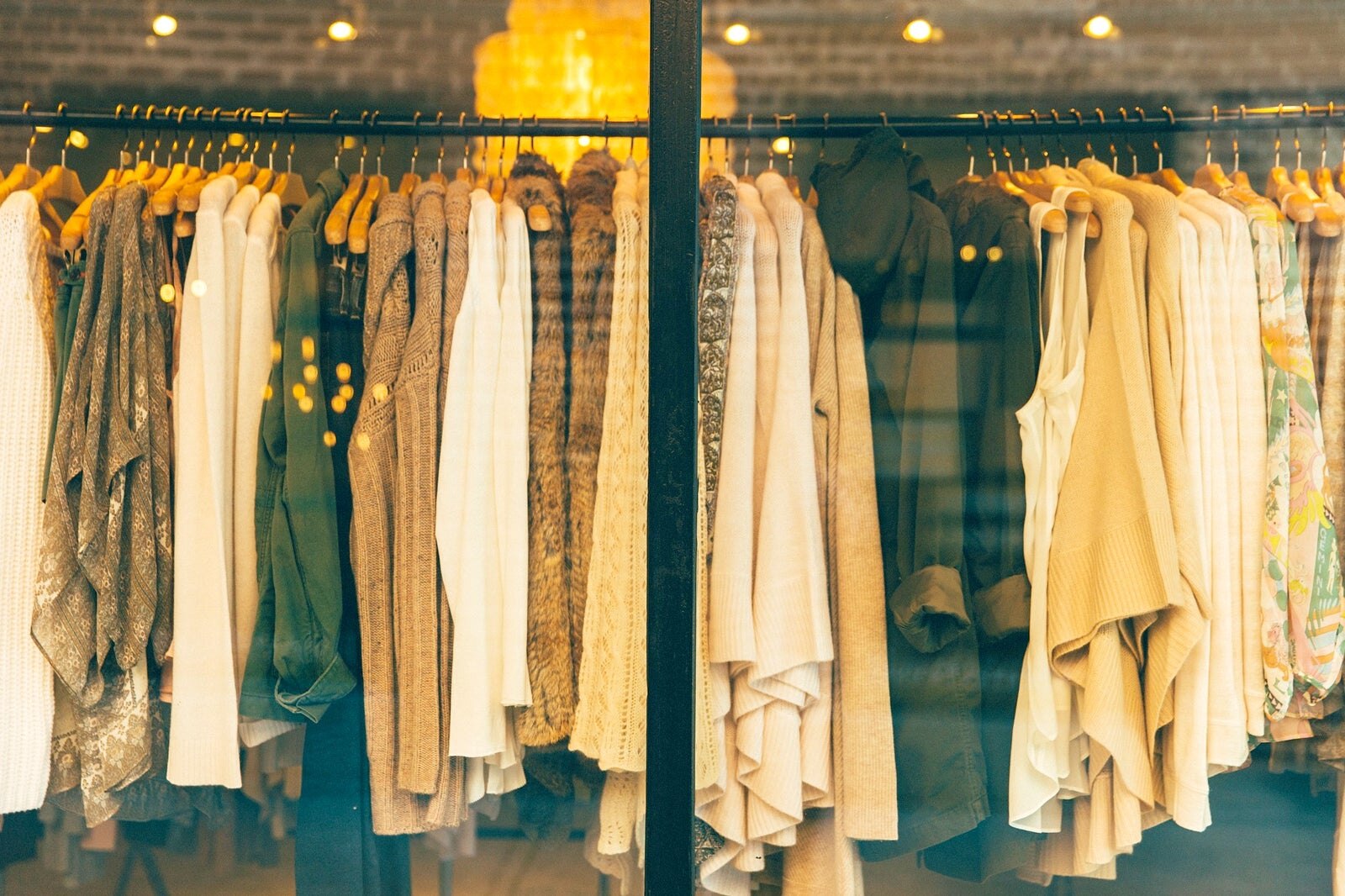 The Bali Collection
Nusa Dua
The Bali Collection is a shopping complex that offers a high-end retail experience in Nusa Dua. It comprises a Sogo department store and various tenants offering famous international brands. Food and beverage outlets, spa centres, and much more are all clustered together in a hassle-free and open layout.
Unlike other shopping destinations on the island, you'll find the Bali Collection very clean and well-maintained, with trees, benches and eateries conveniently spread throughout the complex. Due to its exclusive setting within the luxury resort area of Nusa Dua, you'll often find a shopping scene that's less crowded here compared to Bali's other malls.
Location: Komplek ITDC Nusa Dua, Nusa Dua, Bali 80363, Indonesia
Open: Daily from 10am to 10pm
Phone: +62 (0)361 771662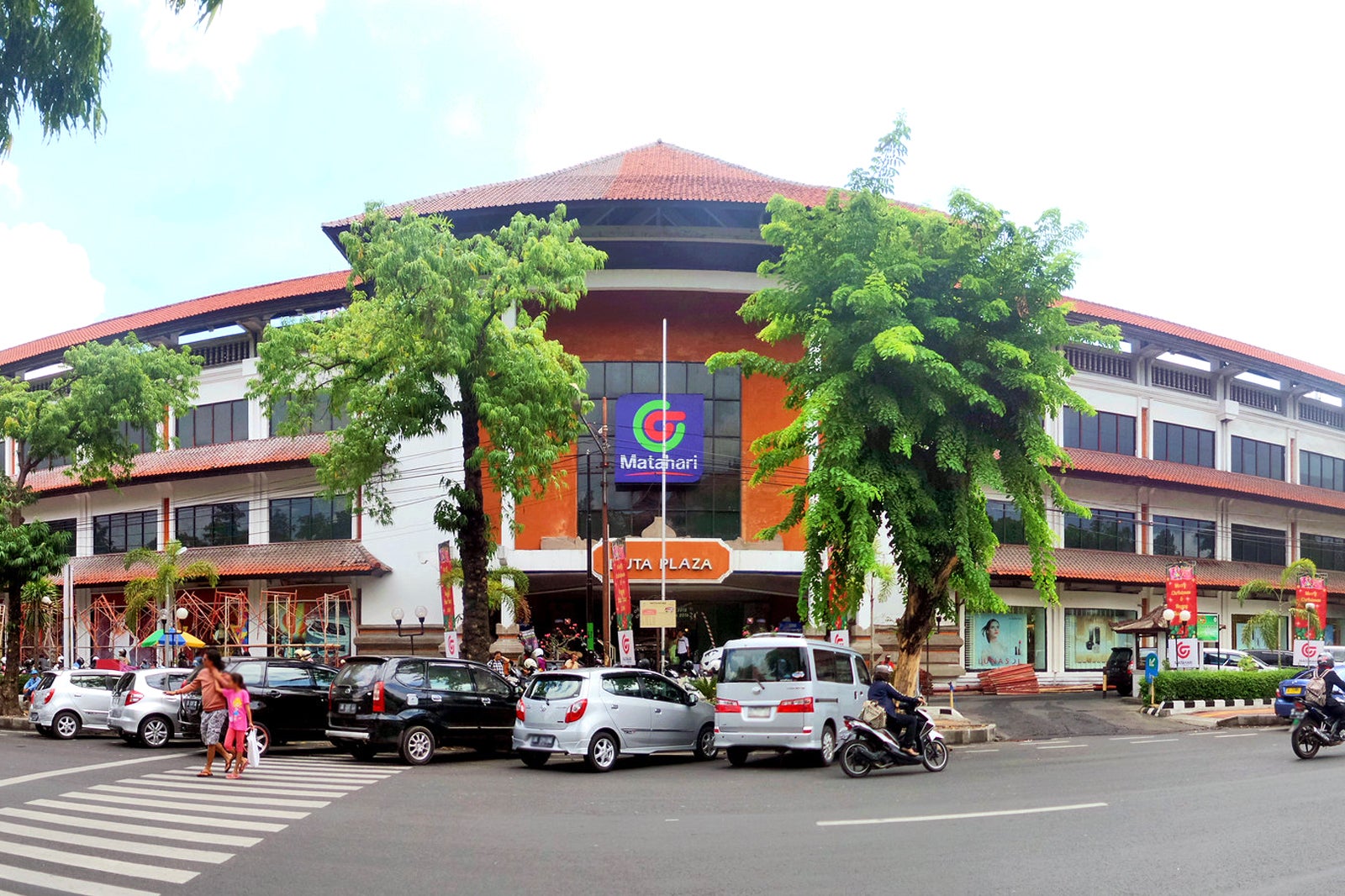 Duta Plaza was one of the first malls in Denpasar. It's home to Bali's first Matahari Department Store, a national chain that features quality fashion labels. In fact, Denpasar residents often find the names Duta Plaza and Matahari interchangeable.
Besides the main department store, this large building on Denpasar's Jalan Dewi Sartika also houses separate brand stores like Nike and Hush Puppies, alongside a Body Shop, an Athlete's Foot and various counters offering perfume and body care products. Prices tend to be higher than what you'll find in other malls in Denpasar, but come with better quality and a huge variety of goods.
Location: Jalan Dewi Sartika No.4G, Dauh Puri Klod, Denpasar, Bali 80232, Indonesia
Open: Daily from 10am to 9pm
Phone: +62 (0)361 237365
photo by Ya, saya inBaliTimur (CC BY-SA 2.0) modified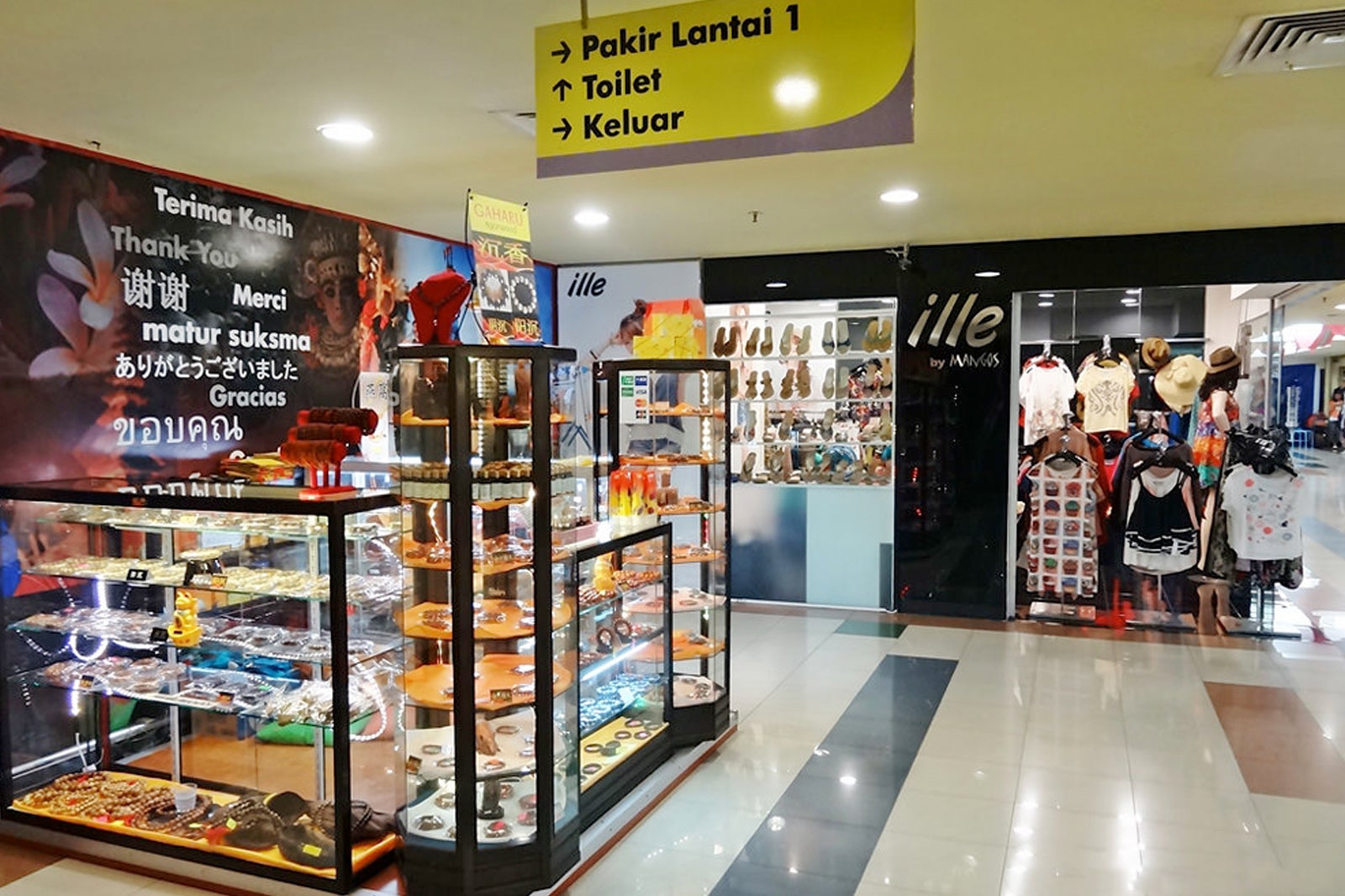 Carrefour has hypermarkets spread all over Indonesia. This one on Kuta's Sunset Road is most popular among residents and expats. The large building is hard to miss along the road heading to the Dewaruci ('Simpangsiur') roundabout, located on a slight bend and bearing the large and unmissable red-blue logo.
The goods being offered range from daily necessities, meat and groceries to electronics and household appliances. The plaza also features numerous tenants offering a wide variety of wares on its 4 levels, and the hypermarket itself has some corners featuring unique Balinese souvenirs and items that you'd normally find at art markets, including woodcarvings and beach sarongs.
Location: Jalan Sunset Road, Pemogan, Badung, Bali 80221, Indonesia
Open: Daily from 8am to 10pm