10 Best Restaurants in Bali
Where to Eat and What to Eat Around Bali
Selecting the best restaurants in Bali from the wealth of world-class dining venues on offer was a real challenge. Many venues offer incredible cuisine and often feature awe-inspiring views to complement your meal. Over the years, Bali has evolved with each wave of visitors and is now a truly first-class dining destination, where the world's most innovative and talented chefs can be found.
The variety available among the best restaurants in Bali is extraordinary, in terms of setting, cuisine, atmosphere and more besides. That being the case, there's plenty to pick from whether you're looking for a romantic venue to celebrate a special evening as a couple, or looking to revel in a friendly place with your family.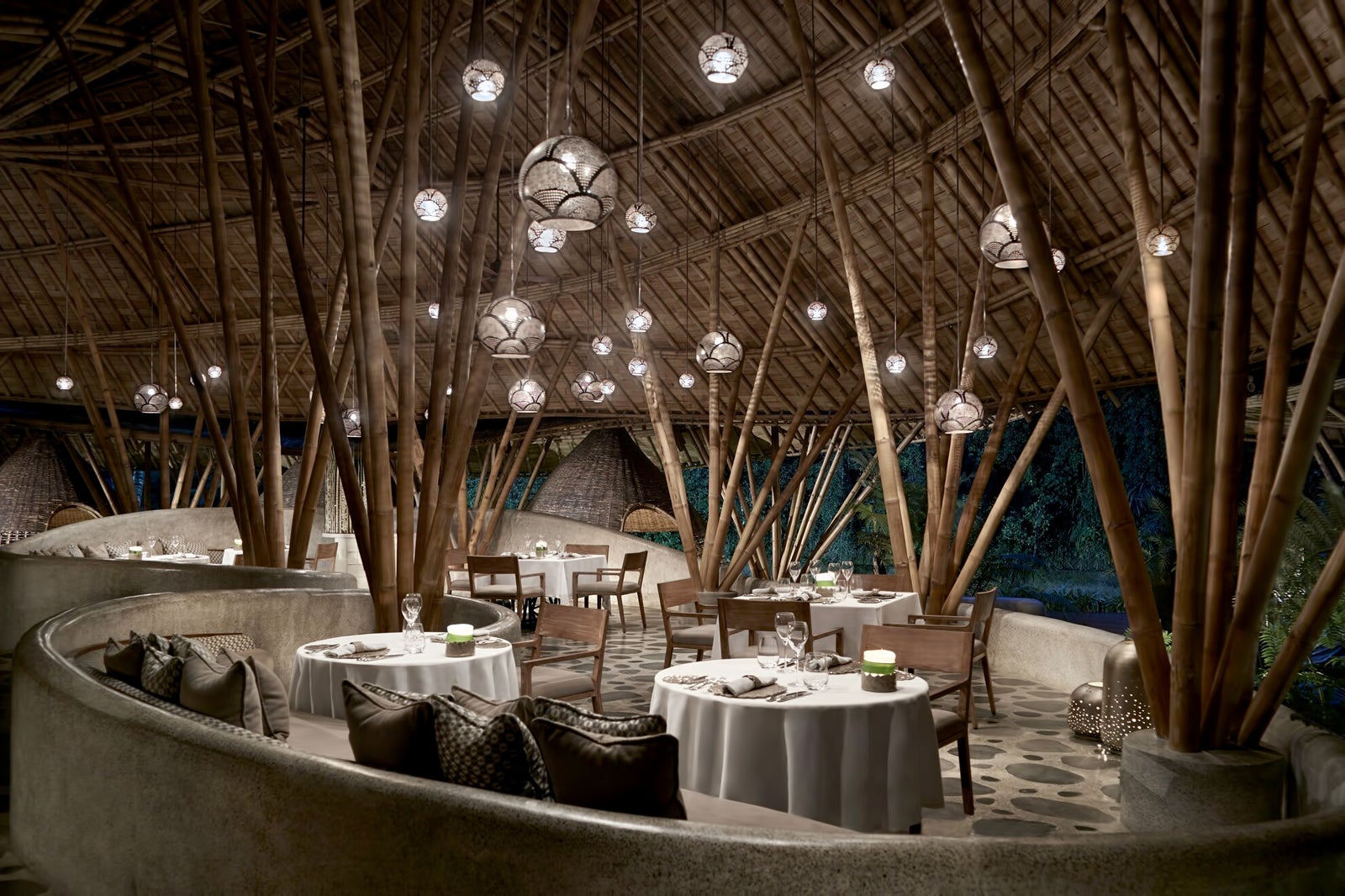 Kubu Restaurant Bali
European cuisine in Ubud
Kubu Restaurant Bali offers scenic riverside views and fine Mediterranean-European dining, attracting honeymooners and foodies alike. The signature restaurant of Mandapa, a Ritz-Carlton Reserve, this dinner-only venue is located on Jalan Raya Kedewatan, slightly removed from downtown Ubud but still easily accessible by car or motorbike.
Crafted mainly from bamboo, the open-air restaurant's primary soundtrack is provided by the babbling Ayung River. Kubu Restaurant Bali takes its name from the huts local farmers have traditionally used for storing rice and pays tribute to these shelters with 9 private dining cocoons, tailor-made for a romantic dinner. Booking ahead is advised for any of the restaurant's 40 seats and is an absolute must if you plan on dining in one of the sought-after cocoons.
Location: Jl. Raya Kedewatan No.Banjar, Kedewatan, Ubud, Gianyar, Bali 80571, Indonesia
Open: Daily from 6.30pm to 11pm
Phone: +62 (0)361 479 2777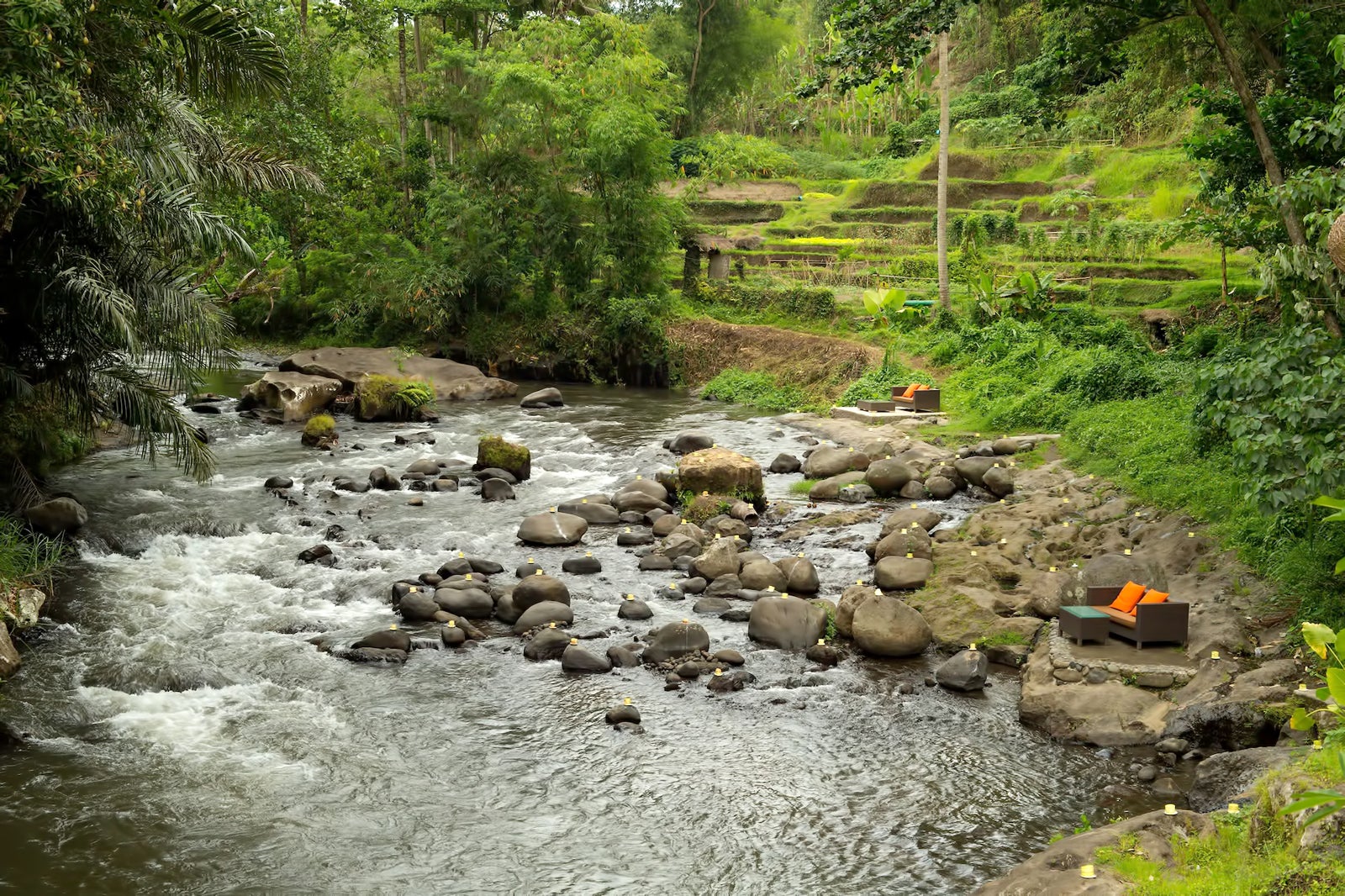 Swept Away Restaurant
Balinese and western cuisine in Ubud
Swept Away Restaurant, located inside The Samaya Ubud, sits on an elevated deck looking out over a picturesque river that runs past this charming part of Ubud.
You'll find high-end cuisine based on Balinese and western recipes at Swept Away Restaurant. The ambience here is perfect for anyone looking for a relaxed dining experience that's close to nature, and one of the best things about Swept Away is the sheer number of food choices on offer.
Location: Jalan Raya Sayan, Sayan, Ubud, Gianyar, Bali 80571, Indonesia
Open: Daily from 11am to 10pm
Phone: +62 (0)361 973 606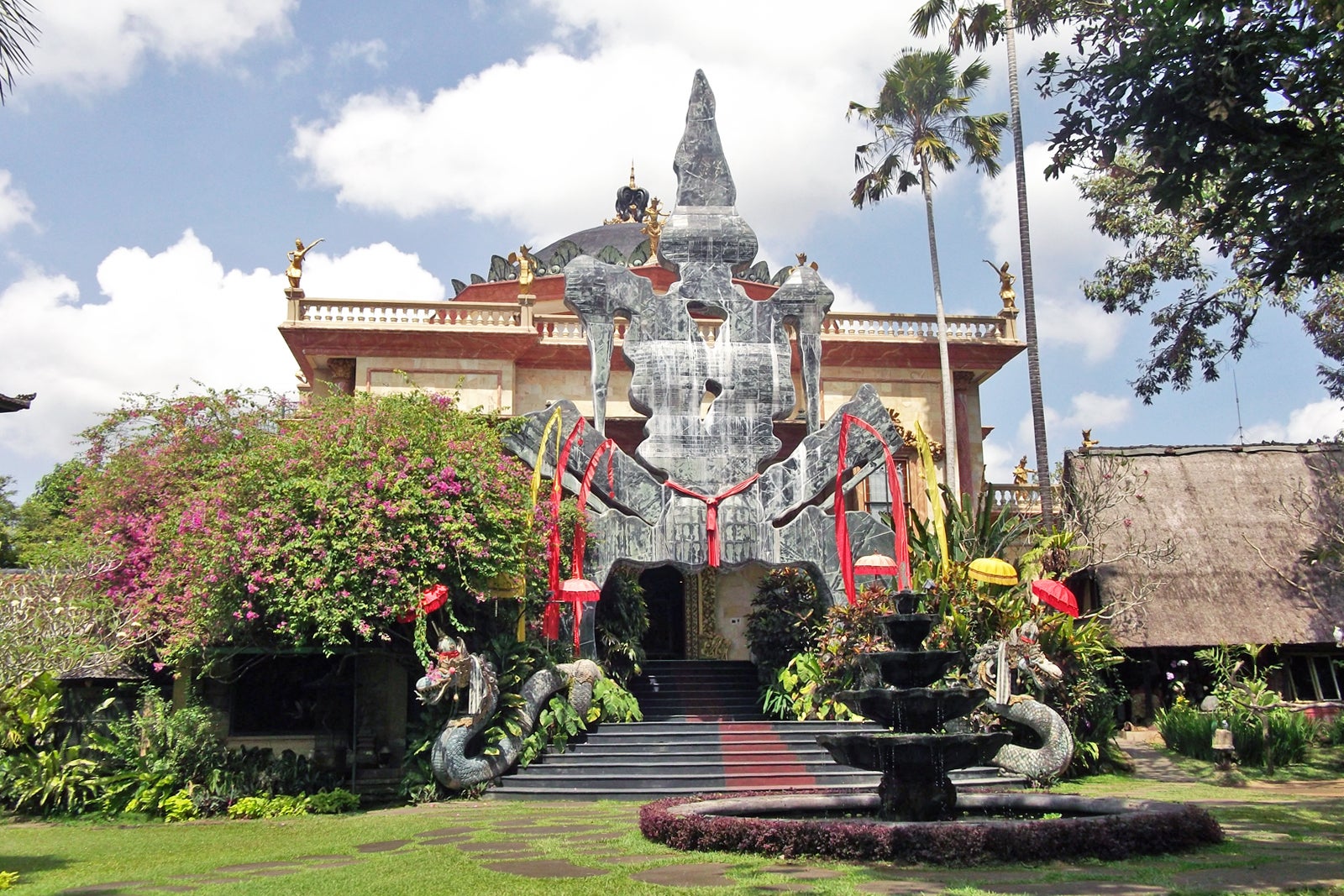 Blanco par Mandif
Balinese cuisine in Ubud
Blanco par Mandif serves delicious local Indonesian food but adds a unique twist by offering a degustation-style menu that you would more typically find in a French fine-dining restaurant. Expect 7 to 9 courses of elegantly plated cuisine with optional wine pairing. An a la carte menu is also available.
Located in the cultural capital of Bali, Blanco par Mandif serves lunch and dinner in the gorgeous Blanco Renaissance Museum where you can look out over the famous Campuhan River. The restaurant has an intimate feel as it only seats 10 diners per sitting, so it's the perfect place if you're looking for an exclusive dining experience. Advanced bookings are a must.
Location: Jalan Raya Campuhan, Ubud, Gianyar, Bali 80571, Indonesia
Open: Daily from 12pm to 2pm, 6pm to 8.30pm and 9pm to 12am
Phone: +62 (0)361 479 2284
photo by Taguelmoust (CC BY-SA 3.0) modified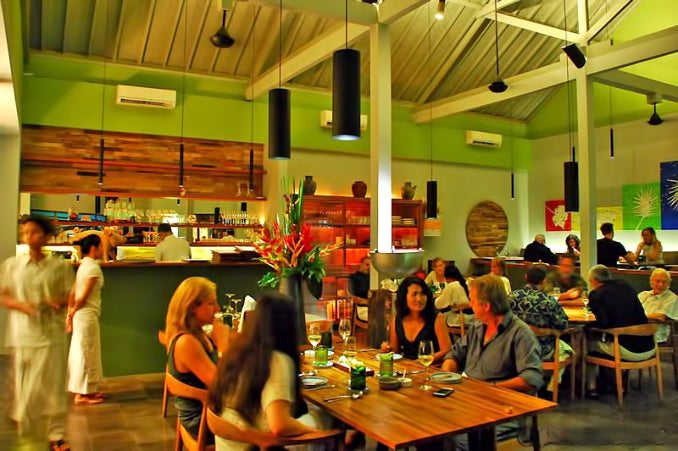 Locavore Restaurant
Modern international cuisine in Ubud
Locavore became famous across the region for its innovative approach to international cuisine using locally sourced produce. Bookings are essential for this celebrated fine-dining restaurant. The sleek and modern interior is trendy but not too pretentious because it's all about the well-crafted cuisine served from the open kitchen.
Locavore Bali has tasting menus – vegetarian and non-vegetarian – with optional wine pairing. Among the recommended mains are raw Japanese amberjack on watermelon with watermelon gazpacho foam, and slow-braised oxtail with caramelised shallots. Desserts are also heavenly.
Location: Jalan Dewisita No.10, Banjar Padang, Tegal, Gianyar, Bali 80571, Indonesia
Open: Monday–Saturday from 12pm to 2.30pm and 6pm to 11pm
Phone: +62 (0)361 977 733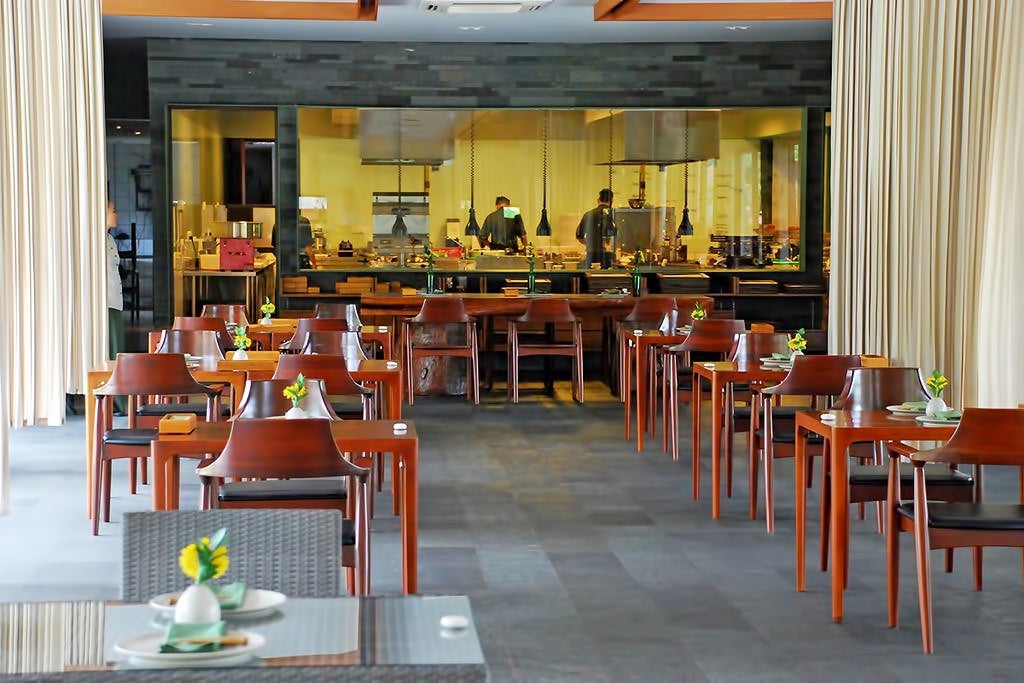 Cuca Restaurant Bali
Tapas in Jimbaran
Cuca Restaurant serves artisanal tapas and desserts, brought to you by a husband-and-wife team. Cuca offers a sharing experience with highly innovative dishes using ingredients that are locally and sustainably grown. The best spot is at the long table where you can enjoy Chef Cherkas' special tasting dishes while watching him and his culinary brigade in action inside the open kitchen.
Location: Jalan Yoga Perkanthi, Jimbaran, Badung, Bali 80364, Indonesia
Open: Daily from midday to midnight
Phone: +62 (0)361 708 066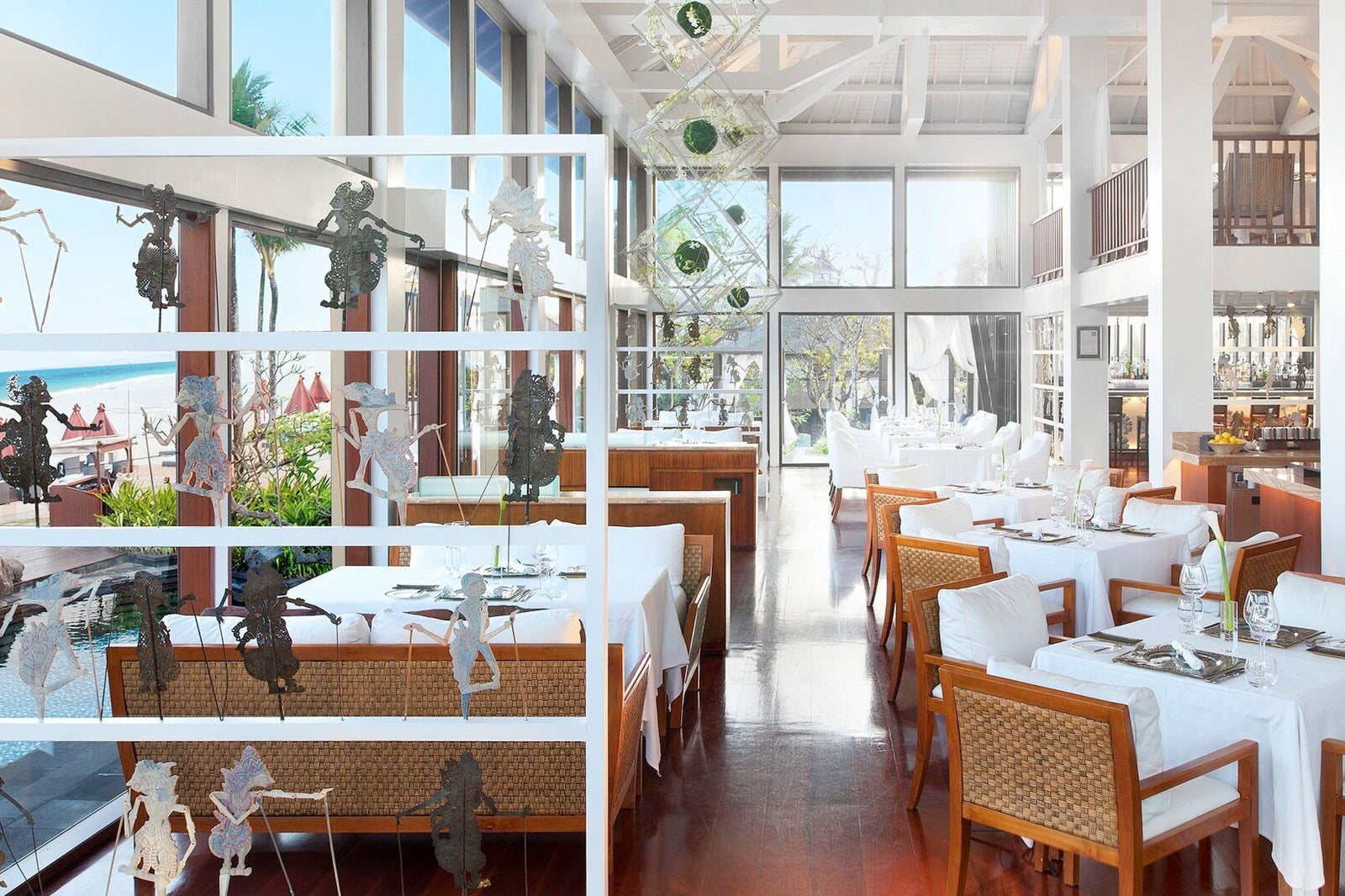 Kayuputi Restaurant
Pan-Asian cuisine in Nusa Dua
Kayuputi is a luxurious restaurant at the St. Regis Bali Resort in Nusa Dua. The award-winning beachfront venue offers premium Asian-influenced haute cuisine and an appealing wine list to pair.
The interiors are adorned with wayang traditional shadow puppet ornaments, while the alfresco dining area has private gazebos bordering an impressive pool with ocean views. Open for brunch, lunch and dinner, Kayuputi features a la carte and lavish tasting menus.
Location: Kawasan Pariwisata Nusa Dua, Blok Lot S6, Benoa, Badung, Bali 80363, Indonesia
Open: Daily from midday to 11pm
Phone: +62 (0)361 300 6786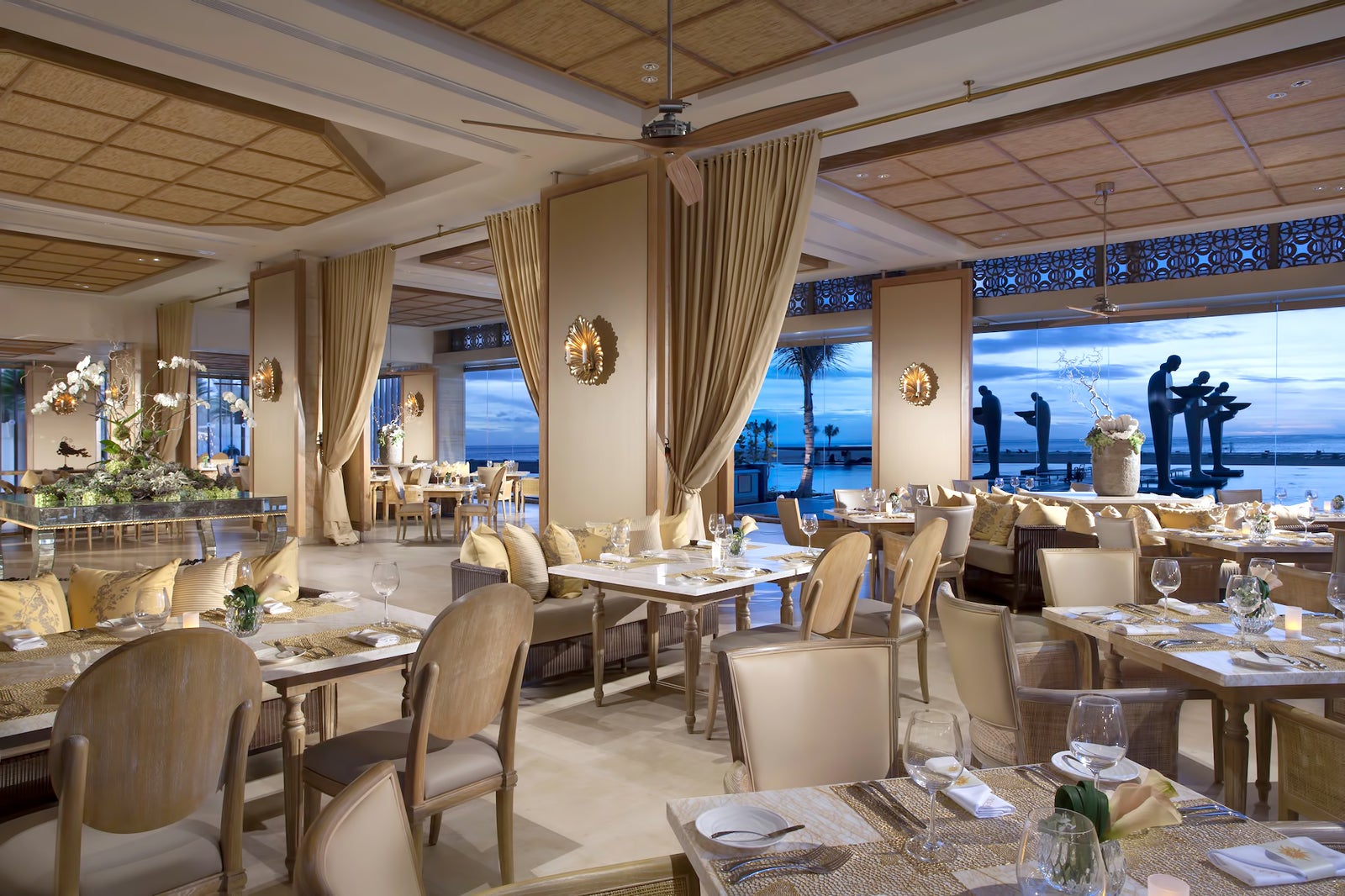 Soleil at The Mulia Bali is a swanky buffet-style restaurant on the Nusa Dua coast. The elegantly designed hall is dominated by shades of gold, white and beige, and has gained popularity for its extravagant weekend dinners and Sunday brunches of Mediterranean and pan-Asian cuisine.
Popular options from the buffet islands include cured meats, French cheeses, seafood, and a range of baked desserts. You can opt for alfresco seating with gentle sea breezes or pick a place in the open-air garden lounge under shady parasols.
Location: Kawasan Sawangan, Jl. Raya Nusa Dua Selatan, Nusa Dua, Badung, Bali 80363, Indonesia
Open: Daily from 11am to 11pm
Phone: +62 (0)361 302 7777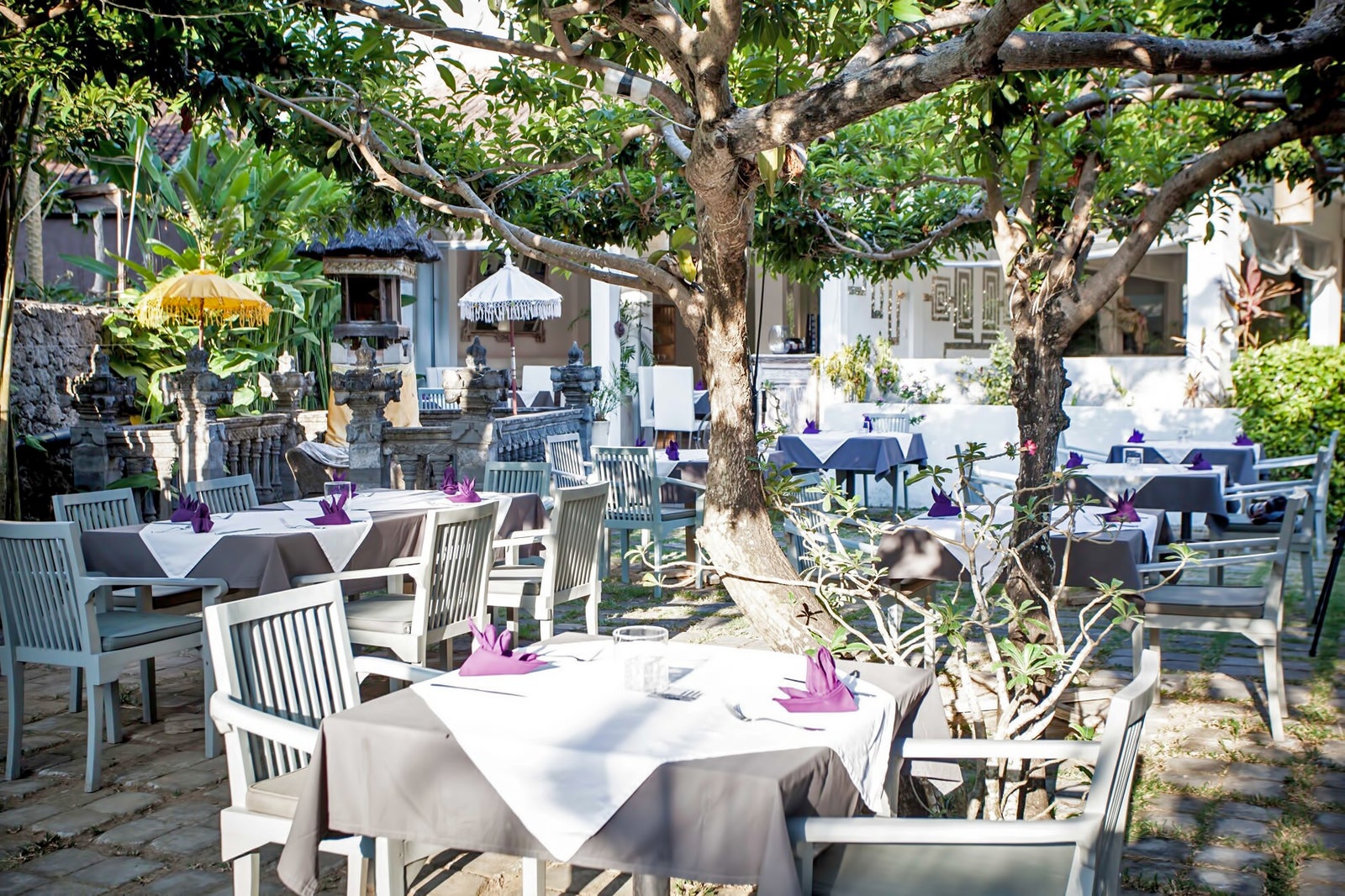 Pearl Restaurant
Classic French in Seminyak
Pearl Restaurant Bali serves up authentic French fare in an airy but intimate garden setting. It's neatly tucked away at the end of a lane off Legian's Jalan Arjuna (aka Double Six Road) and completely away from the traffic.
Part of the namesake Pearl Hotel, the restaurant's garden area comes to life in the early evening with blue fairy lights and hanging lanterns. Inside, you'll find more private spaces, together with a bar, wine cellar and the kitchen where French chef Jeremy Blanchet prepares his creations. Classic highlights include lobster bisque, duck confit and crème brulee.
Location: Jalan Arjuna - Double Six, Gang Eddy, Legian, Badung, Bali 80361, Indonesia
Open: Daily from 6pm to 10.30pm
Phone: +62 (0)81 934 334 060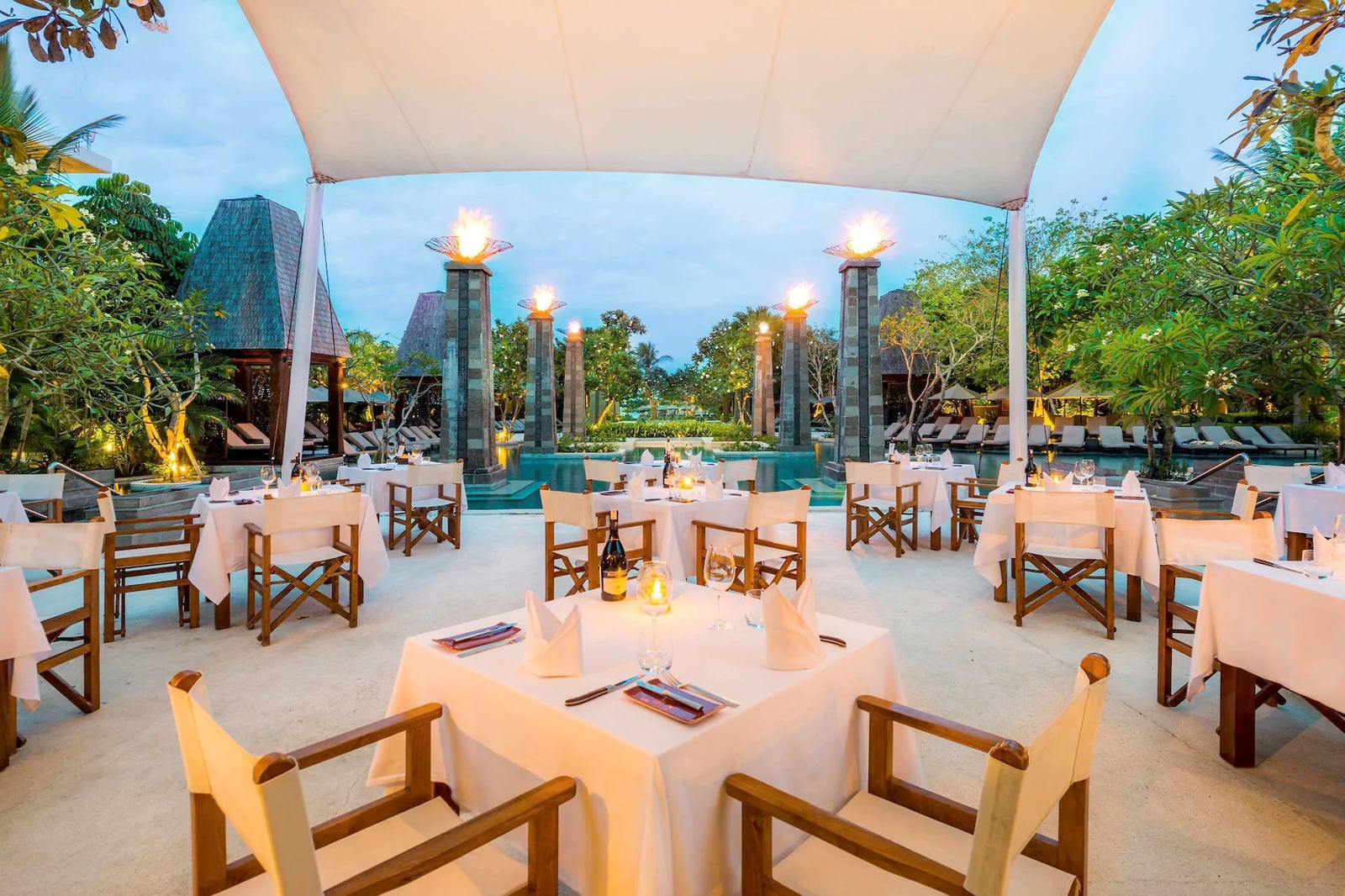 Cucina
International cuisine in Nusa Dua
Cucina at Sofitel Bali Nusa Dua Beach Resort offers an eclectic dining experience in a luxurious setting and features multiple outlets within, namely a steakhouse, seafood and grill section, as well as an Italian osteria.
It's one of the best dining spots on the island to experience a fine combination of food all in the same spot. And the Sunday Brunch at Sofitel Bali makes for one of the best dining experiences about.
Location: Kawasan Pariwisata ITDC Lot N5, Benoa, South Kuta, Badung, Bali 80363, Indonesia
Open: Daily from 6pm to 11pm. Sunday brunch from 12pm to 3pm
Phone: +62 (0)36 1849 2888
CasCades
Balinese and western cuisine in Ubud
CasCades at the Viceroy Bali combines splendid views looking east over the verdant Petanu River valley with fantastic haute cuisine split into western and Indonesian options.
You'll find an overall refined setting for couples to share intimate, candlelit moments. From the menu, you can choose between Balinese spiced duck leg or Canadian lobster, such is the range of cuisine offered on the concise but diverse menu.
Location: The Viceroy Bali, Jalan Lanyahan, Br. Nagi, Ubud, Gianyar, Bali 80571, Indonesia
Open: Daily from 11am to 3pm and 6pm to 9pm
Phone: +62 (0)361 972111