11 Best Places for Cycling in Bali
Where to Go Biking in Bali
Cycling in Bali lets you experience the island's beautiful countryside and rural Balinese village life from up close. Pedalling through rugged terrain alongside volcanic rims, zooming downhill past ancient temples and plantations while greeting local farmers and school kids as you pass by, all add to an immersive experience – it's far better than working out at your hotel's gym!
Terrain and highlights vary from biking at a leisurely pace through jungle villages in central Bali to riding over undulating topography of hillside neighbourhoods. If you're looking for breathtaking views, check out our guide to where to go biking in Bali for your next exhilarating cruise on 2 wheels.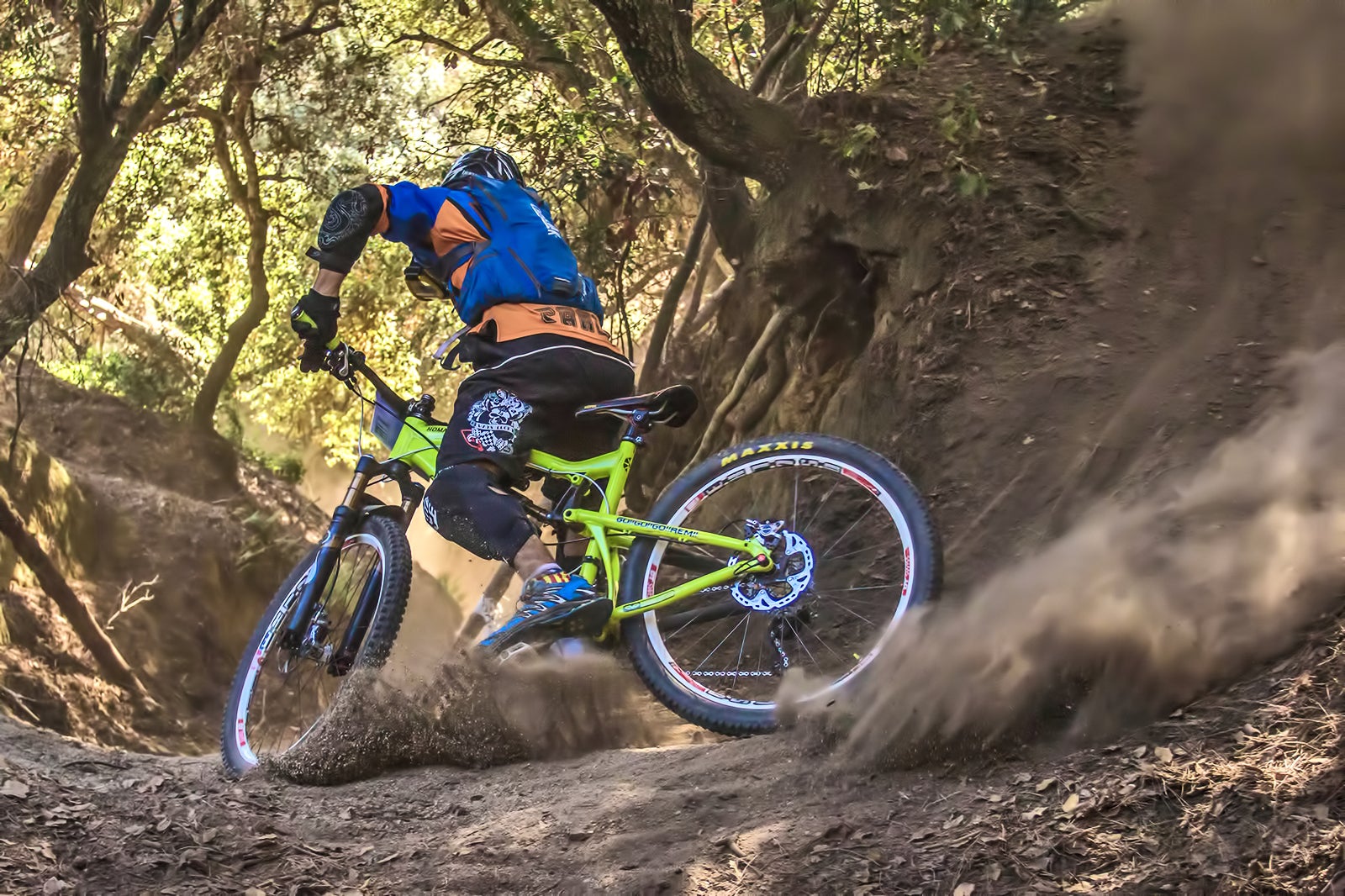 Bali Bike Park is a large purpose-built arena in the village of Pancasari, North Bali. Popular mountain biking trails with obstacle courses include Downhill, Jump Line and Enduro Line. The park is quite popular among families, as most of the routes are suitable for any level.
You can choose a trail of your choice and cycle around while enjoying great views, before ending your day with some local food and a swim in the ocean. Bali Bike Park also has a cross country area where you can bike freely on extensive (and signposted) trails through a jungle.
Location: Jalan Dasong Banjar Yeh Mas, Banyuning, Pancasari, Sukasada, Buleleng, Bali 81111, Indonesia
Open: 24/7
Phone: +62 (0)852 3866 4414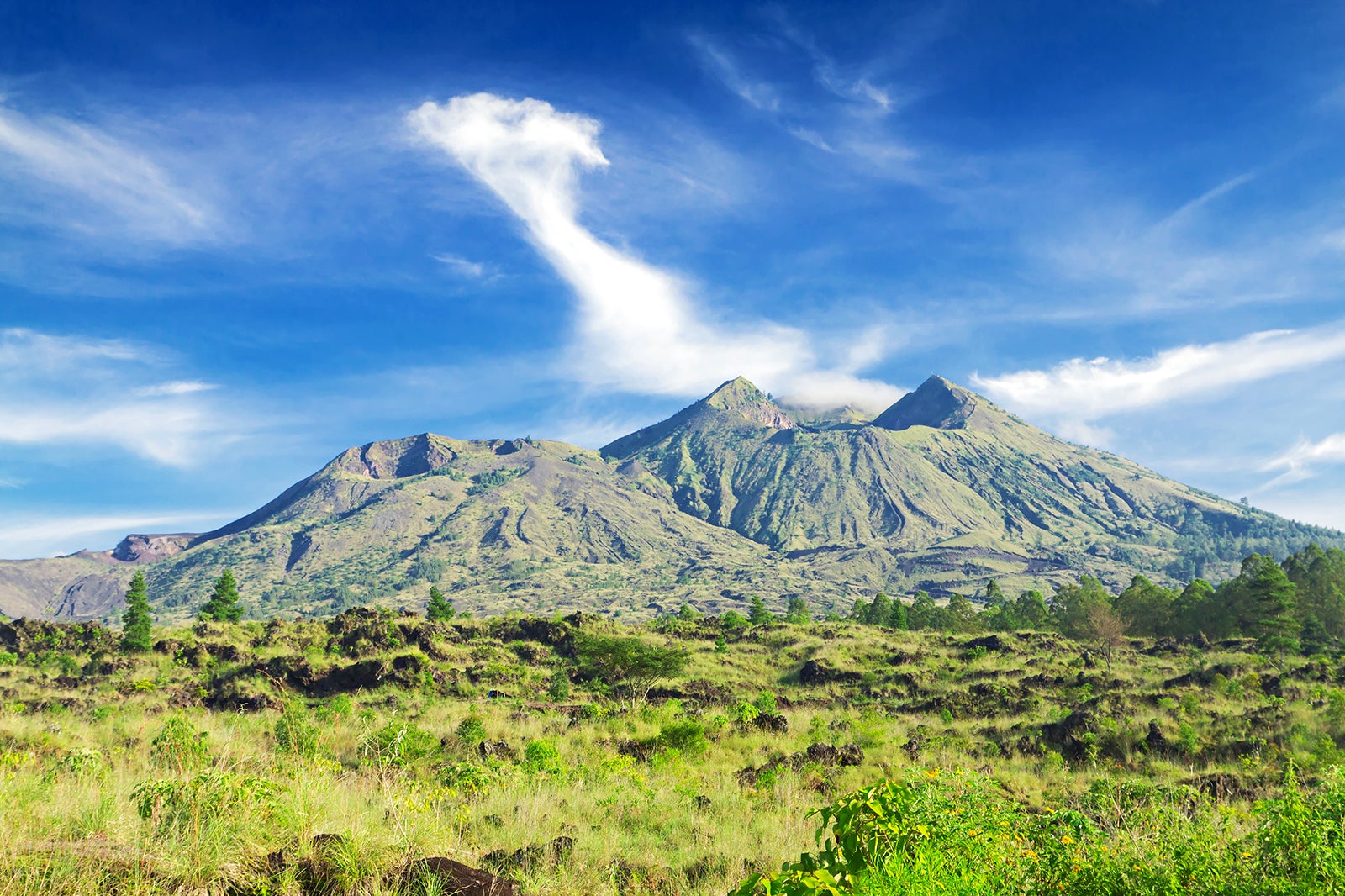 Mount Batur and Kintamani Highlands
Mount Batur is popular among mountain cyclists thanks to its combination of paved roads and exciting off-road terrain of gravelly to ruggedly frozen lava trails. Bali's second tallest peak after Mount Agung, it offers bits of Balinese culture throughout the village communities of the Kintamani highland, set against a cool climate and natural vistas.
For a challenging route, start from Mount Batur's famous caldera lake, where an ensuing ride downhill leads you to Ubud, passing rice fields, temples and coffee plantations. The total length normally takes up to 4 hours to complete.
Location: Kintamani, Bangli, Bali, Indonesia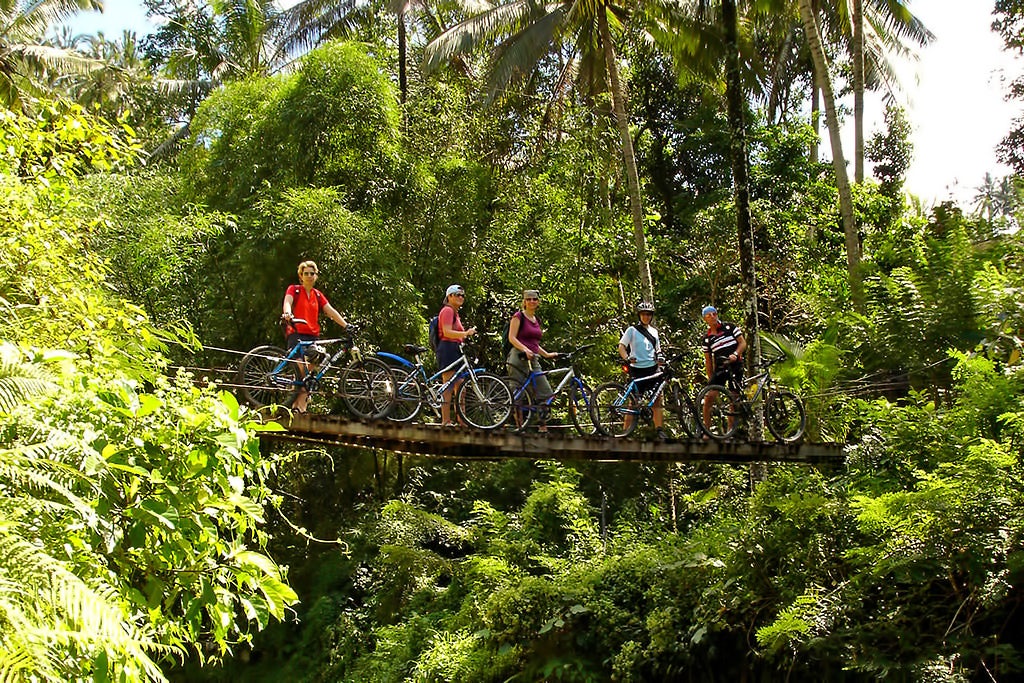 Ubud has varying terrains that are suitable for moderate and advanced cyclists. You can go for easy rides along paved roads within the town centre, where you can pass by historical temples, palaces and galleries. Most hotels in Ubud have complimentary-use bicycles available for their guests.
On the outskirts, there are hilly valley routes and a combination of rice field and tropical jungle trails fit for the more adventurous.
Location: Ubud, Gianyar, Bali, Indonesia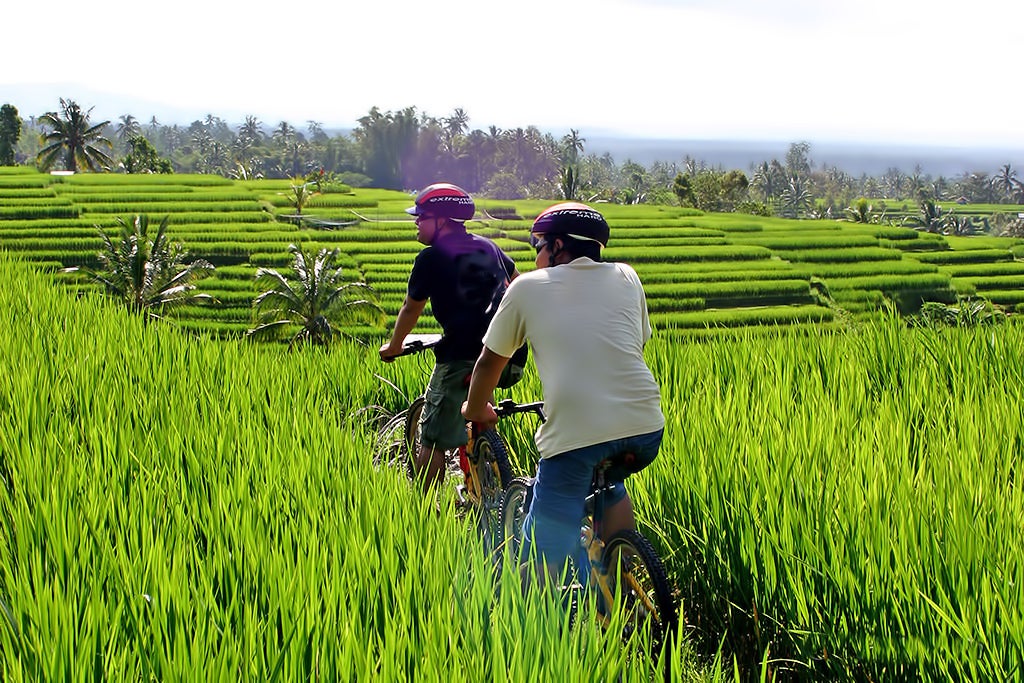 The agrarian village of Jatiluwih in the Tabanan regency is an excellent destination for cyclists looking for wide-open green sceneries for their ride. Guided cycling tours show you the region's vast expanses of rice fields, together with insights into the farming life of the Balinese. You can also ride past local plantations growing tropical fruits and coffee.
Location: Jalan Jatiluwih, Penebel, Tabanan, Bali 82152, Indonesia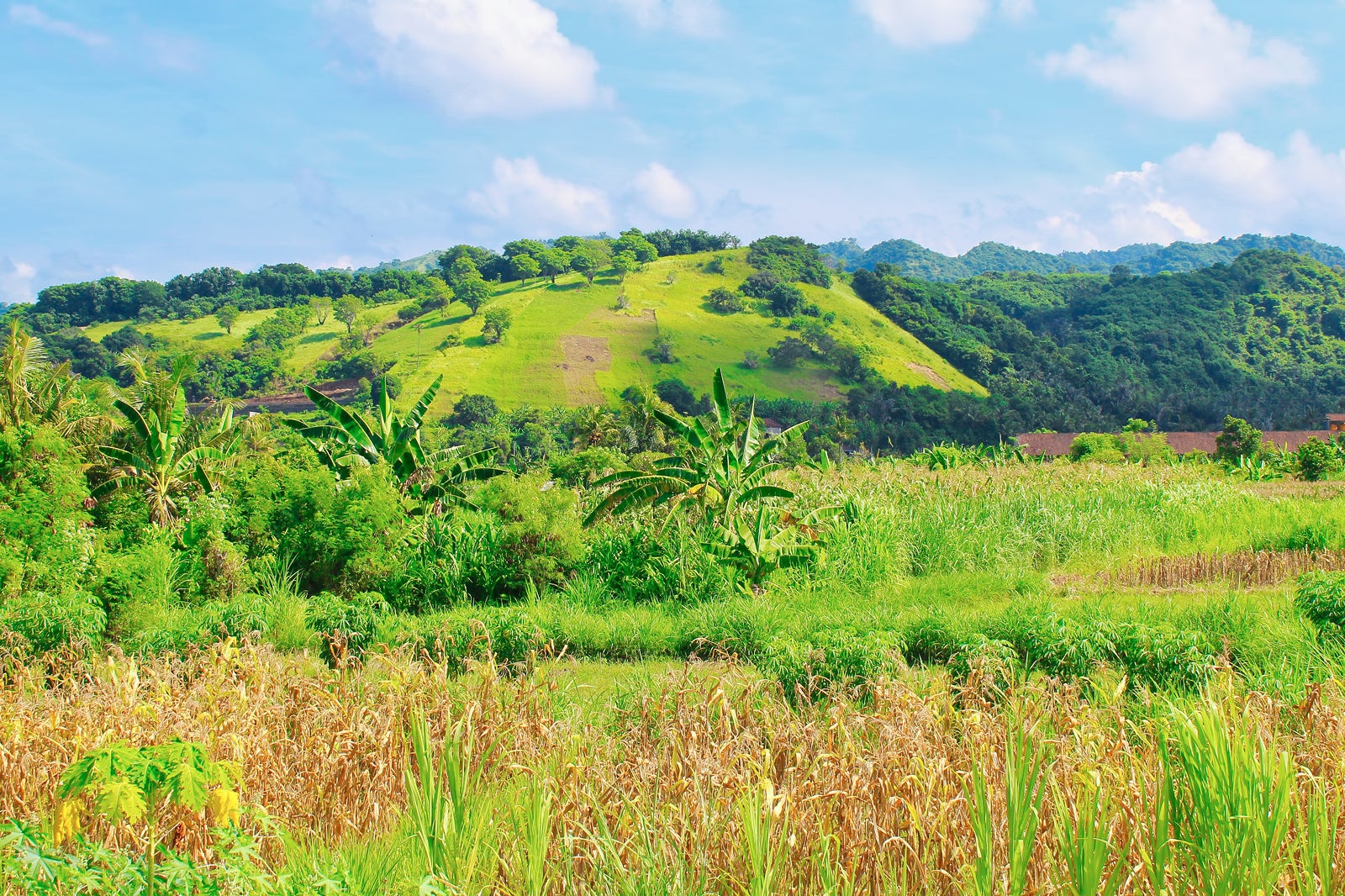 Putung Village is one of the most scenic places to go cycling in Bali's eastern region. The countryside landscape consists of rugged terrain with moderately downhill trails leading you across views of traditional houses, rice field terraces, and glimpses of the Indian Ocean. Nearing the coast, common cycling trails end at Pantai Perasi, a hidden beach with a shoreline that stretches across 2 huge hills in Karangasem.
Location: Putung, Selat, Karangasem, Bali 80871, Indonesia
photo by Af77533 (CC BY-SA 4.0) modified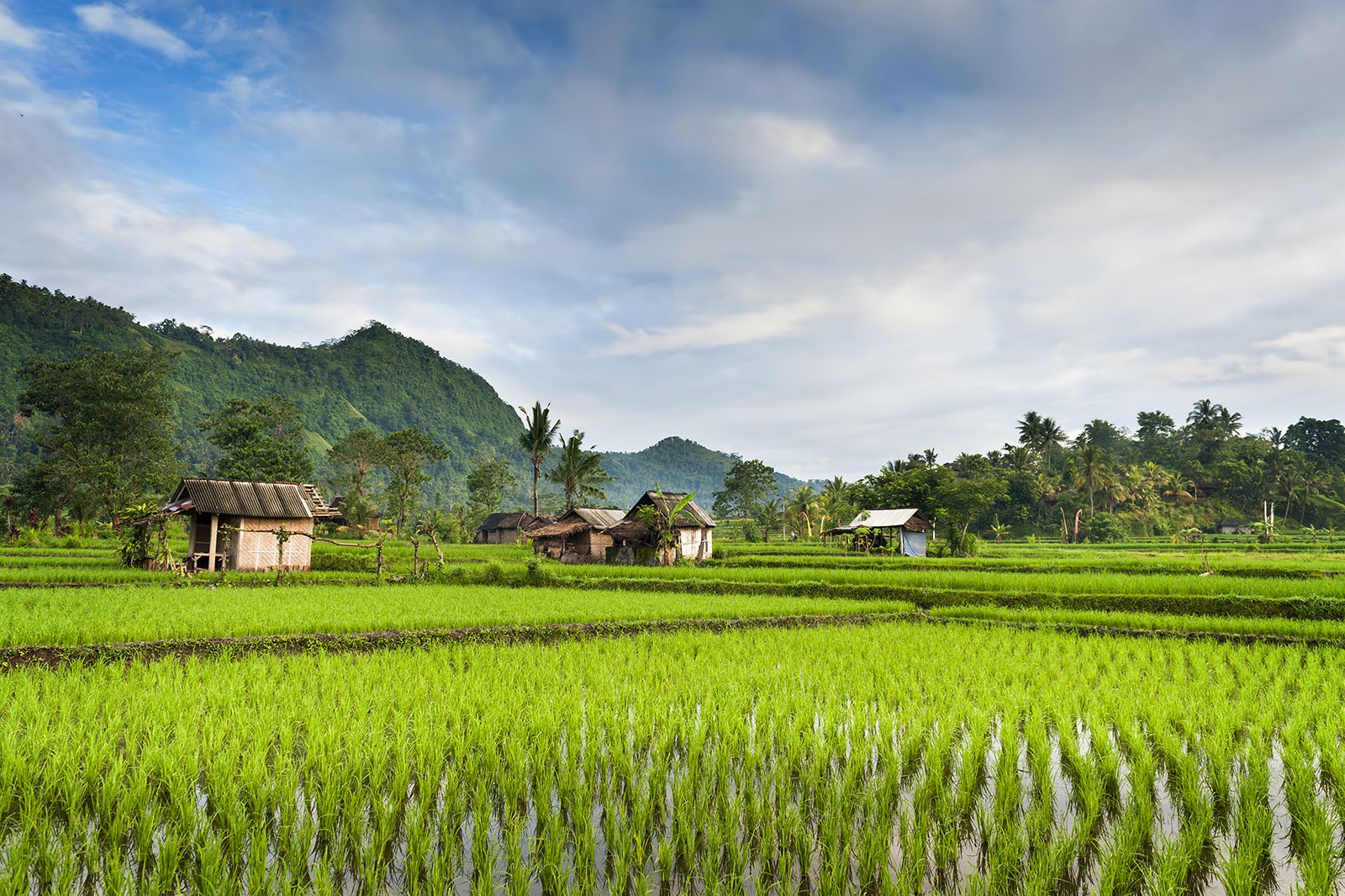 Sidemen Village is known for its rice terraces set against the silhouette of Bali's highest peak, Mount Agung. Most cycling tours stop at Besakih Temple and the former royal court of justice, Kerta Gosa in neighbouring Klungkung.
Full tours to usually take up to 9 hours, but there are shorter routes that pass through salak (snakeskin fruit) plantations, rice paddies, cacao and clove trees, as well as remote villages in East Bali.
Location: Sidemen, Seririt, Karangasem, Bali 80864, Indonesia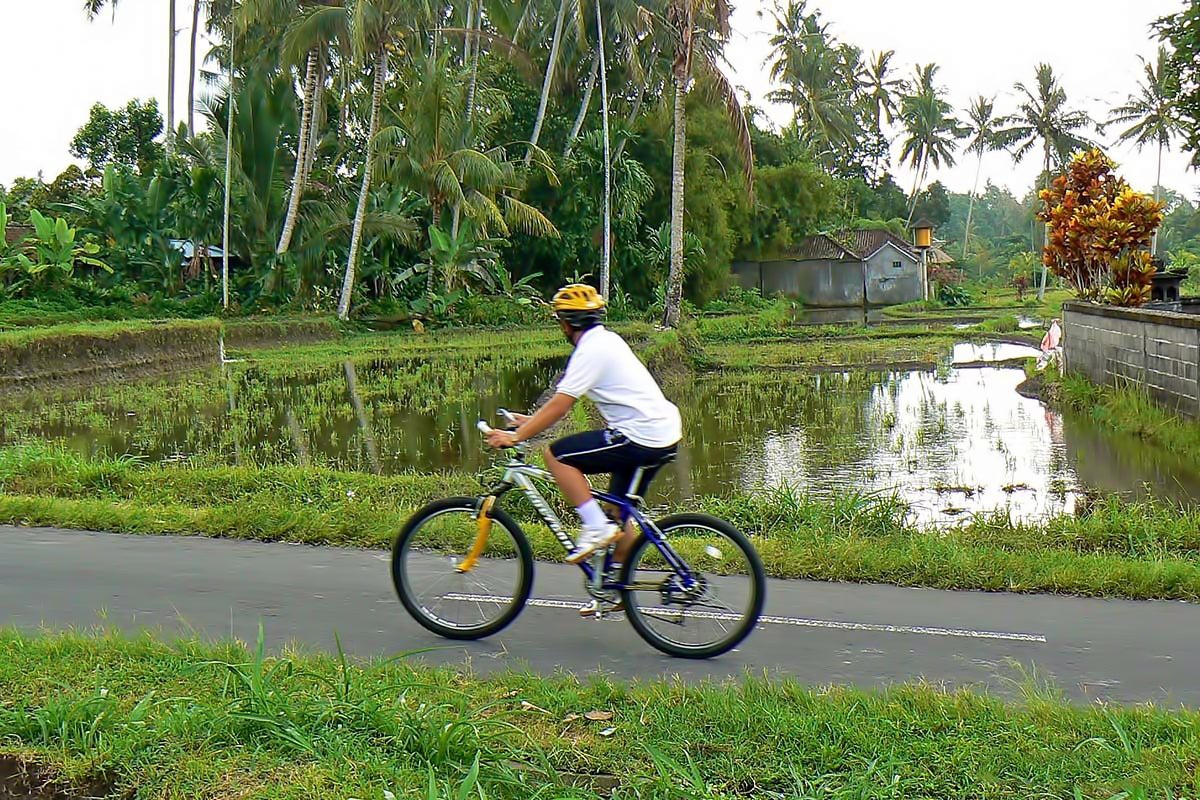 The slightly upland village area of Carangsari has well-paved trails that make for easy pedalling. The region offers rural village scenes with farming areas and stretches of rice paddies. Some old traditional houses and temples can be found along the way, which you can stop by to admire their architectural details.
Cycling routes usually lead up to Ubud, with brief stops at the famous landmarks and for lunch breaks before your trip back.
Location: Carangsari, Petang, Badung, Bali 80353, Indonesia
The cool area of Bongkasa on the outskirts of Ubud offers village trails dotted with temples and rice paddies. Most of the terrain is flat and easy, making it suitable for beginners.
Most cycling tours have informative guides, which allows for better understanding and insights on the local traditions, architecture, and know-hows of the farming area. Bongkasa Village is also popular for ATV rides and walking tours through its collection of rice fields.
Location: Bongkasa, Abiansemal, Badung, Bali 80352, Indonesia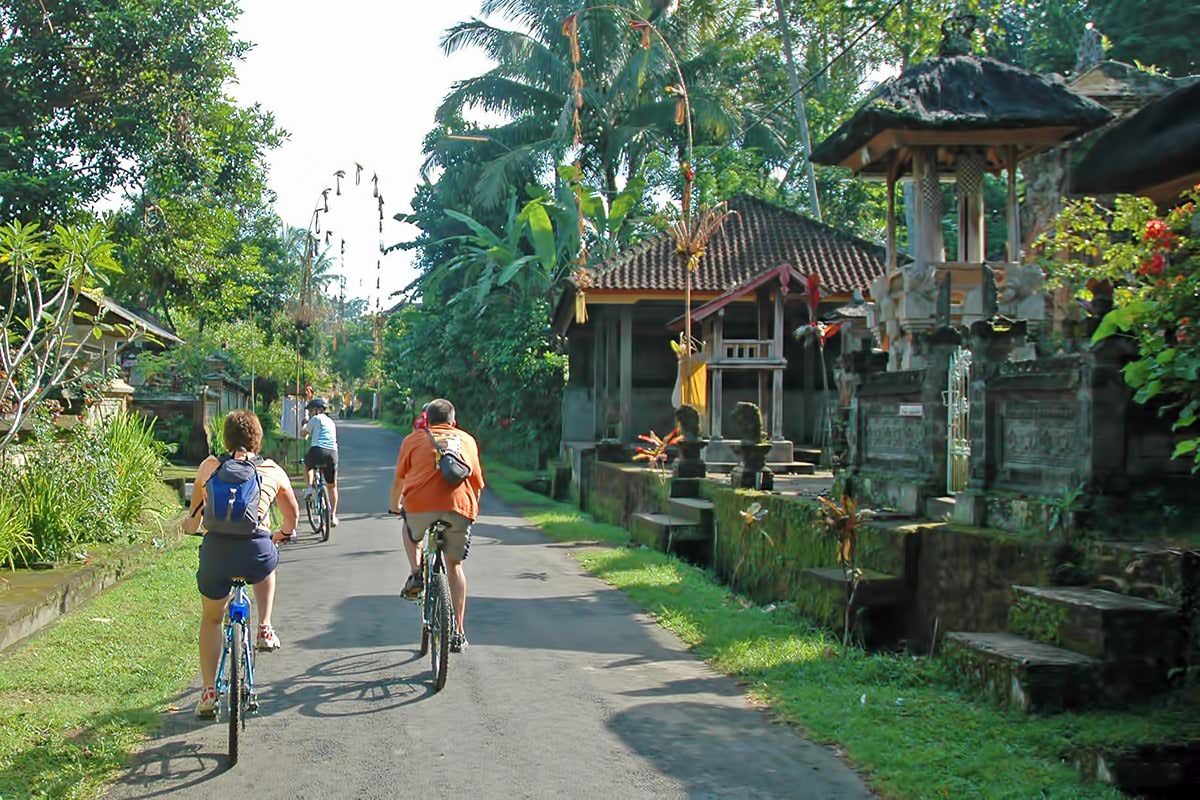 Mengwi is an excellent cycling destination close to Bali's provincial capital of Denpasar. A must-see during your cycling tour is Taman Ayun Temple, a central temple complex with Chinese architectural inspirations, towering tiers and a moat. The area has mostly flat paved roads with minimum climbs, making it an easy cycling route for all levels.
Location: Mengwi, Badung, Bali 80351, Indonesia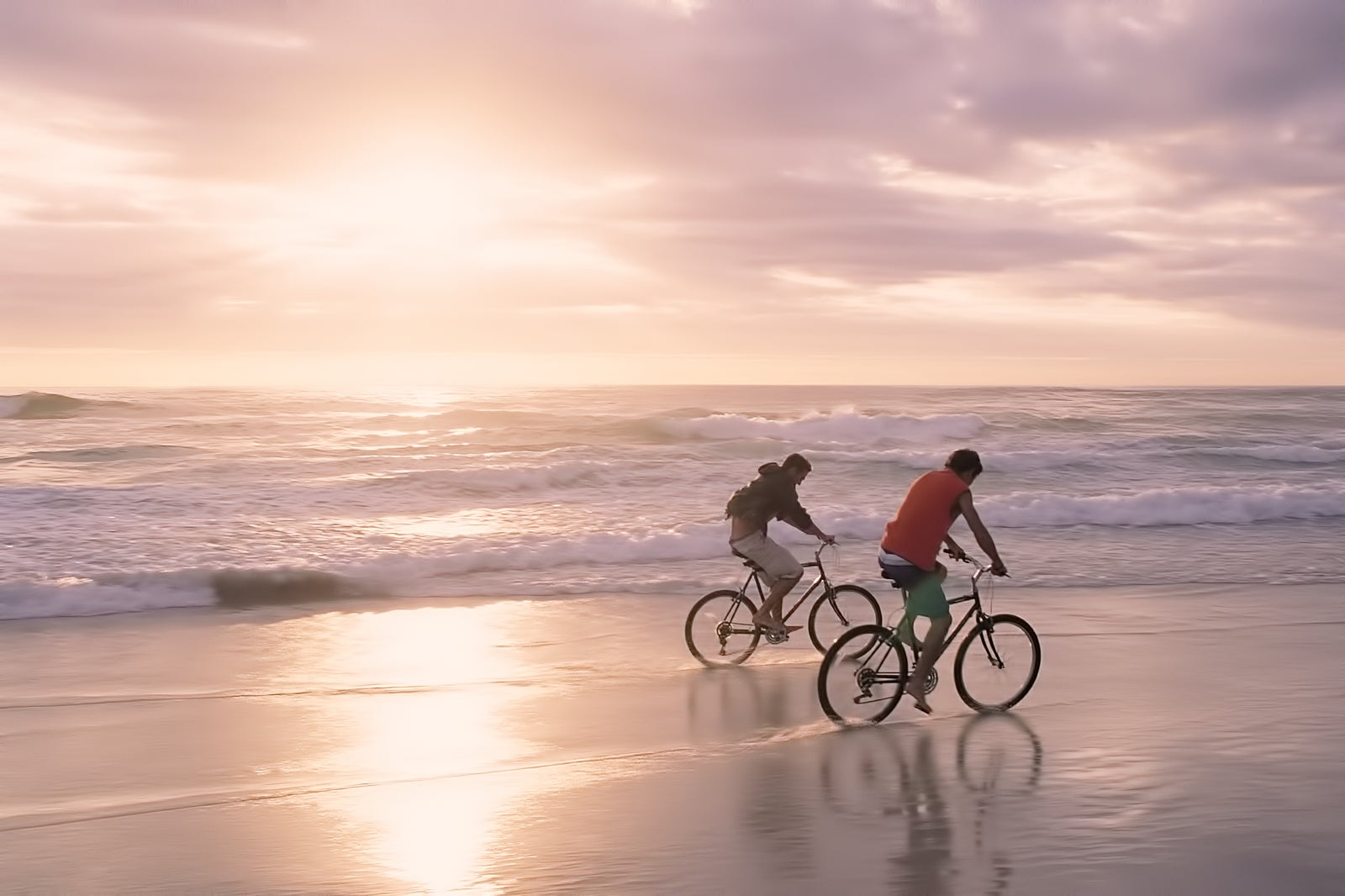 Candidasa and Taman Ujung Water Palace
Most hotels in Candidasa offer bicycles for rent or on a complimentary basis, with fairly flat roads along the main coastal area. There are guest activity packages that often include shuttle transfers from the hotel up to the hills, from where you can enjoy cycling with a local guide.
Ride downhill through village roads to the Taman Ujung Water Palace, a historical landmark in east Bali. The complex has various pools and impressive structures set against Mount Agung and the Indian Ocean.
Location: Candidasa, Sengkidu, Manggis, Karangasem, Bali 80871, Indonesia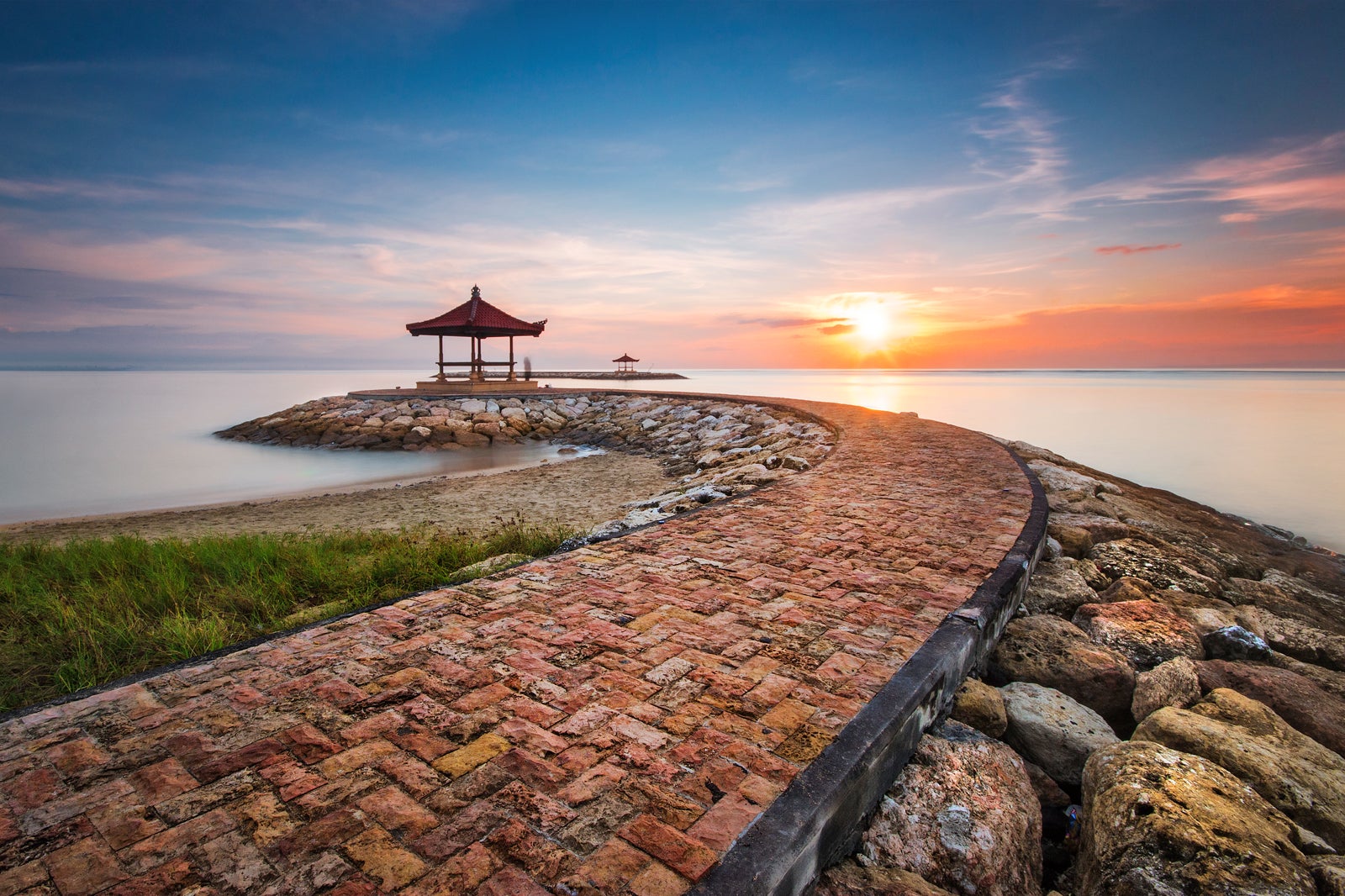 Sanur Beach has a long boardwalk that makes for pleasant walks and cycling in Bali. You can rent a bike from a warung (roadside stall). There are many types of bikes parked in front, so choose a good condition bike that suits your height.
You can cruise easily from Sanur's northern end of Sindhu Beach, past Segara Ayu Beach, down to the quieter end of Mertasari Beach, and back up again. It's a pleasant 2-kilometre ride accompanied by soothing seascapes.
Location: Sanur, Bali 80228, Indonesia