10 Best Beaches in Bali
Which Bali Beach is Right For You?
The most popular beaches in Bali attract travellers with their impressive landscape, clear waters, and a wide range of activities. There are rocky shores under towering limestone cliffs and long, palm-lined coastlines, as well as some more secluded bays. We've included the most popular beach resorts like Kuta, Nusa Dua and Sanur and remote coasts that are suitable for rest and relaxation.
Looking for a beach in Bali that provides you with all the action? Legian is a great choice. A beach dedicated to exciting water sports action? Tanjung Benoa is the answer. Honeymooners may prefer the calmer bay of Jimbaran or remote Candidasa in East Bali. Have a look at our list of the most popular Bali beaches to find one that suits you the best.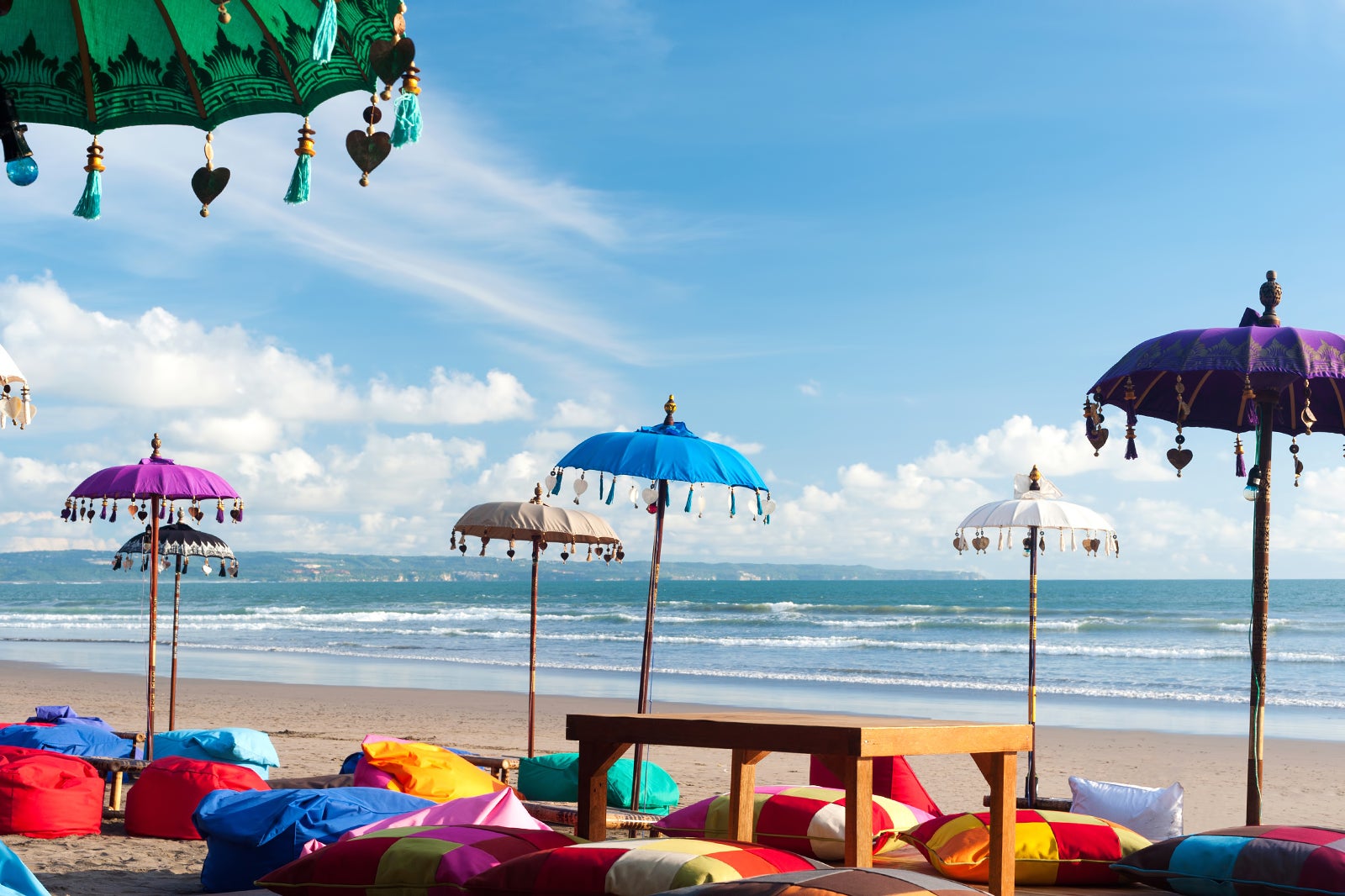 Couples
Families
Photo
Budget
Adventure
Kuta spans around 2.5 km of white and grey sand on Bali's western coast. Despite its rapid growth and frenzied traffic scene, its unique charm continues to attract both international and domestic visitors. Start at the main gate with the Balawista lifeguard tower in view, and stroll northwards along the shoreline.
You can find plenty of spots to sunbathe and enjoy a beach massage, paddle out from the shore, or take in the magical sunsets. Owing to its popularity, Kuta Beach has a small army of hawkers selling cold drinks, fresh fruits, towels, sarongs, and a host of other tacky trinkets.
Read more
Location: Pantai Kuta, Kuta, Badung, Bali, Indonesia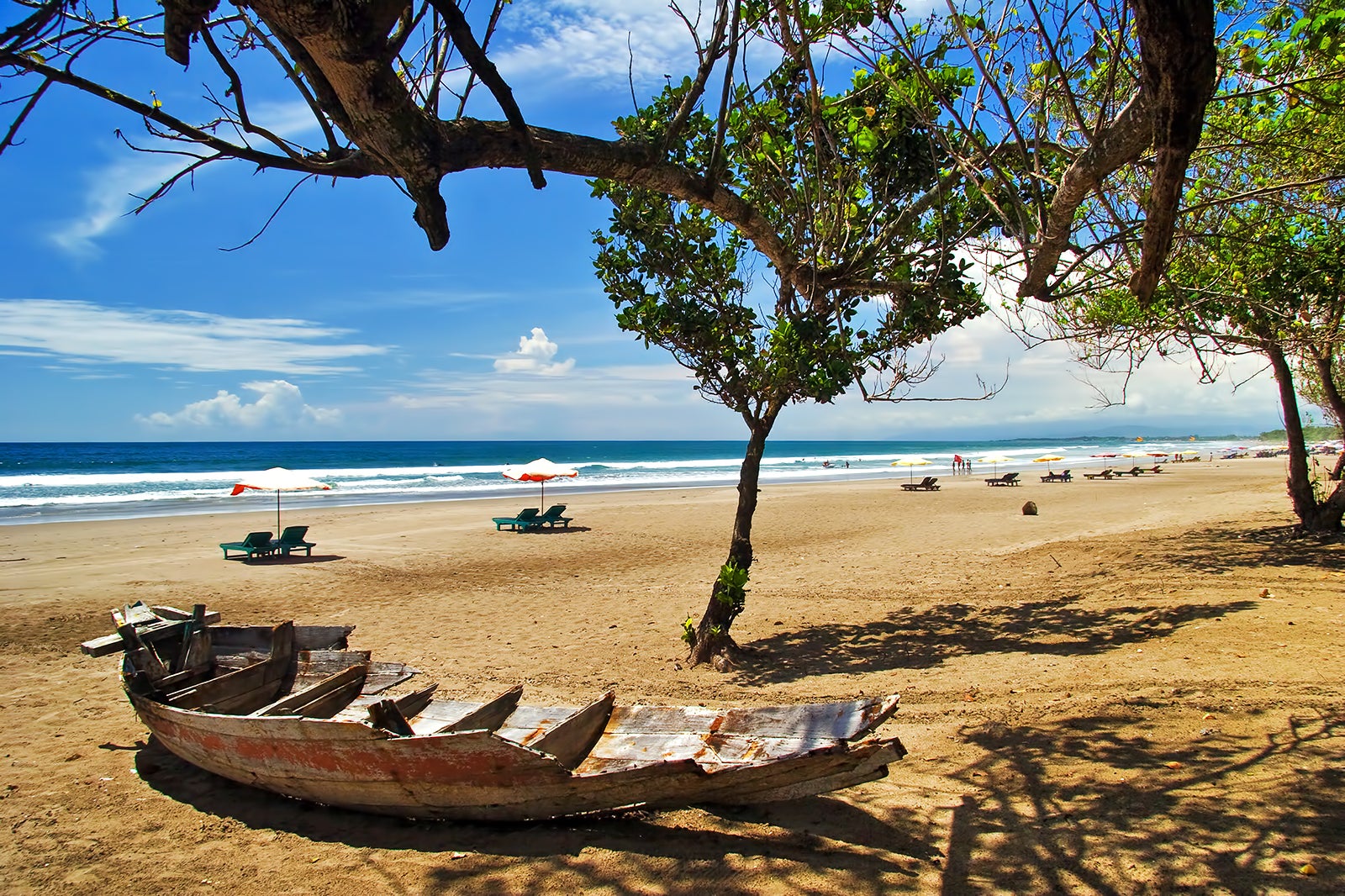 Couples
Families
Photo
Budget
Adventure
Legian Beach is right next to Kuta, and while it's rather challenging to define the borders of these beaches, they offer similar activities like surfing, partying, and shopping. Thanks to its sandy beach breaks, conditions are great for first-time wave riders. There are several popular surf schools here, too.
Catch a sunset at Legian's famous coastal strip, known as Double Six Beach (or Blue Ocean Beach), where you can expect beach bars coming to life with colourful beanbags laid out on the sand. For chic and stylish beach club experiences, Seminyak is just a short stroll north from Legian.
Read more
Location: Pantai Legian, Bali, Indonesia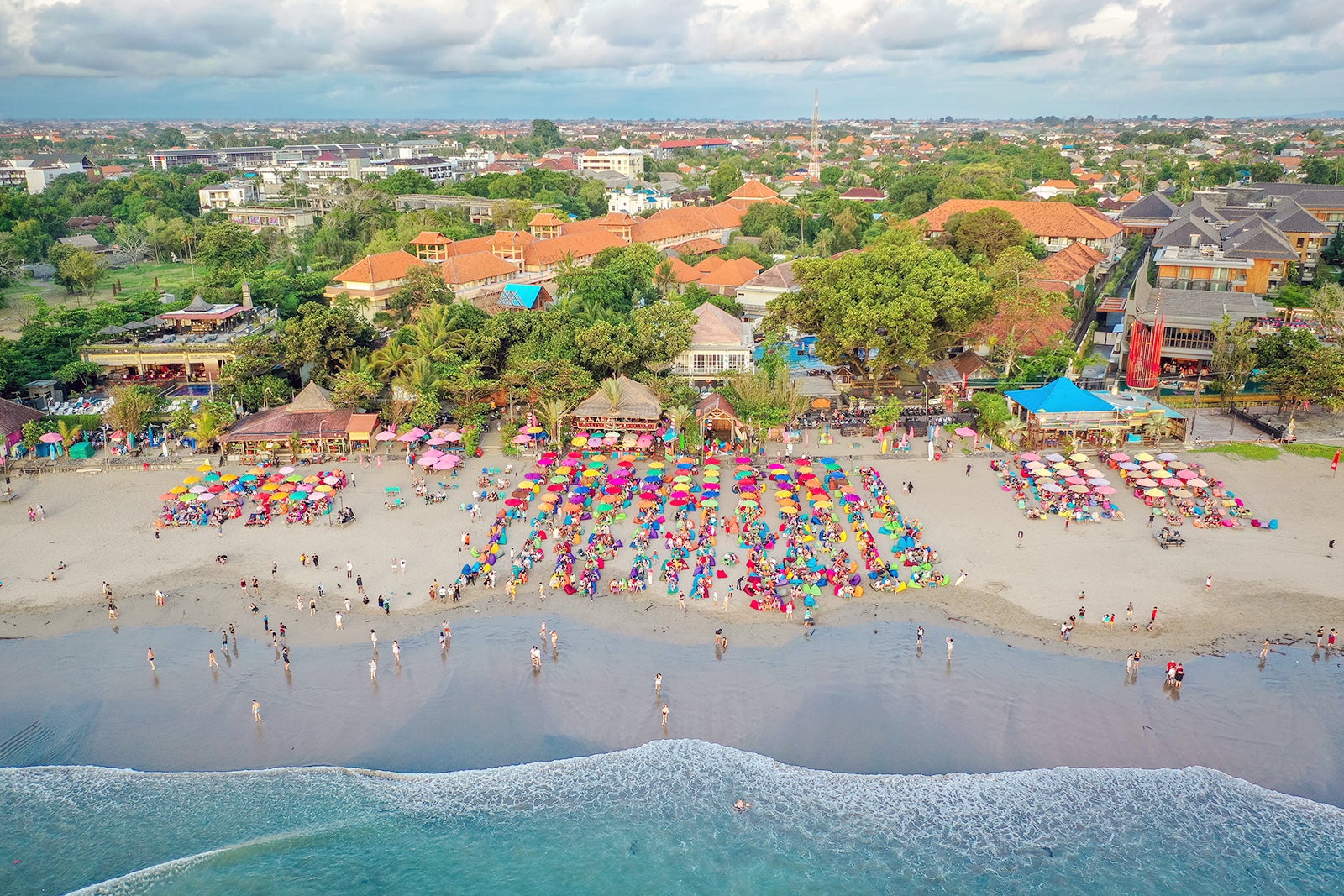 Couples
Families
Photo
Budget
Single
Group
Seminyak's beach scene is broken up into subsections, the best of which are Petitenget Beach and Double Six Beach. Some of Bali's best dining venues and world-renowned nightlife spots can be found in Seminyak.
Waves can be a bit rough with strong undercurrents – some areas are often marked by red, no-swimming flags. It makes it a great spot for advanced surfers but not so good if you just want a relaxing swim. The beach makes up for this with exotic scenery, with long and flat sand at low tide.
Read more
Location: Pantai Seminyak, Bali, Indonesia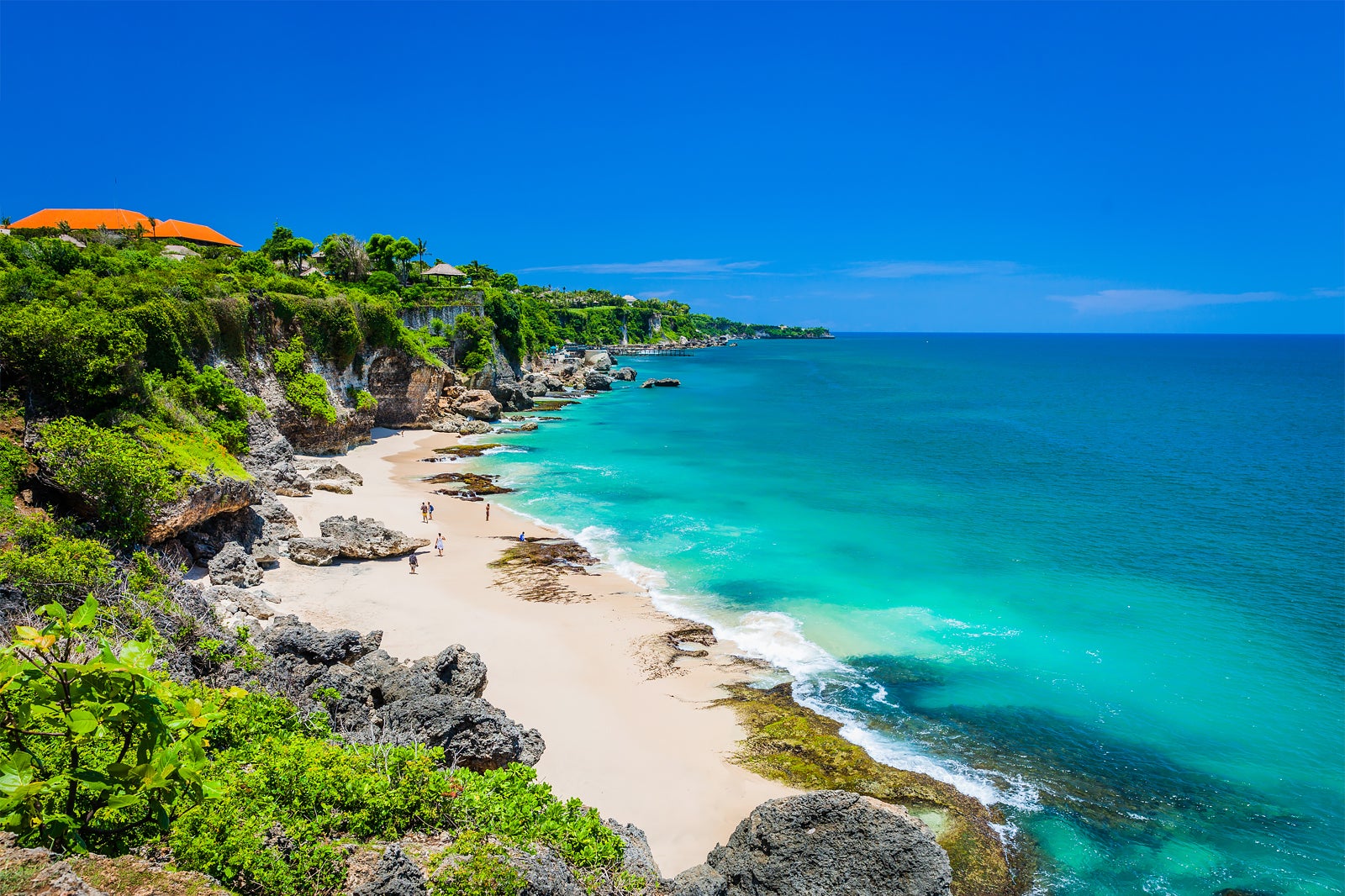 Couples
Families
Photo
Budget
Adventure
Jimbaran's main coastal stretch is the famous Jimbaran Bay, which serves as the beachfront of many luxurious 5-star resorts in Bali. There's a small beach within it called Muaya Beach, where you can enjoy memorable sunset dinners at Jimbaran's popular seafood restaurants. The entire length of Jimbaran Beach is quite tranquil, and the soft sand along the curving bay offers pleasant beach walks and photo opportunities.
Location: Pantai Jimbaran, Jimbaran, South Kuta, Badung, Bali, Indonesia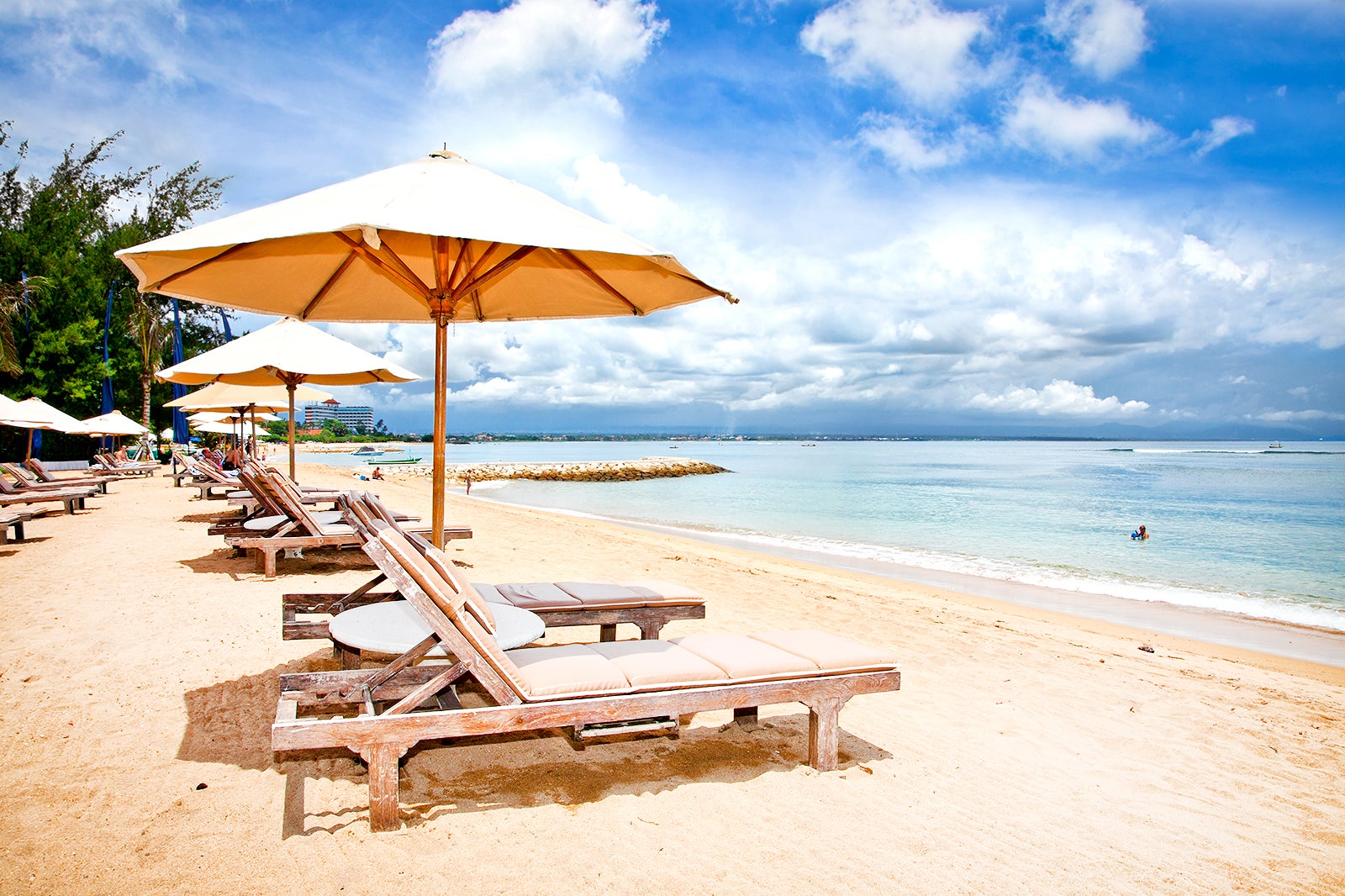 Sanur Beach has a quiet and rustic fishing village charm quite unlike most beaches in Bali. It's often recognised as the total opposite of Kuta, which is located on the opposite side of the island. The coastline has a mix of grainy and coarse coral sand. Much of it is protected by the Sanur Reef, and the resulting calm waves allow you to swim and enjoy snorkelling right off the beach. It's excellent for witnessing impressive sunrises, with outlines of Mount Agung and Nusa Penida Island on the far horizon.
Read more
Location: Sanur Beach, Sanur Kaja, Denpasar City, Bali, Indonesia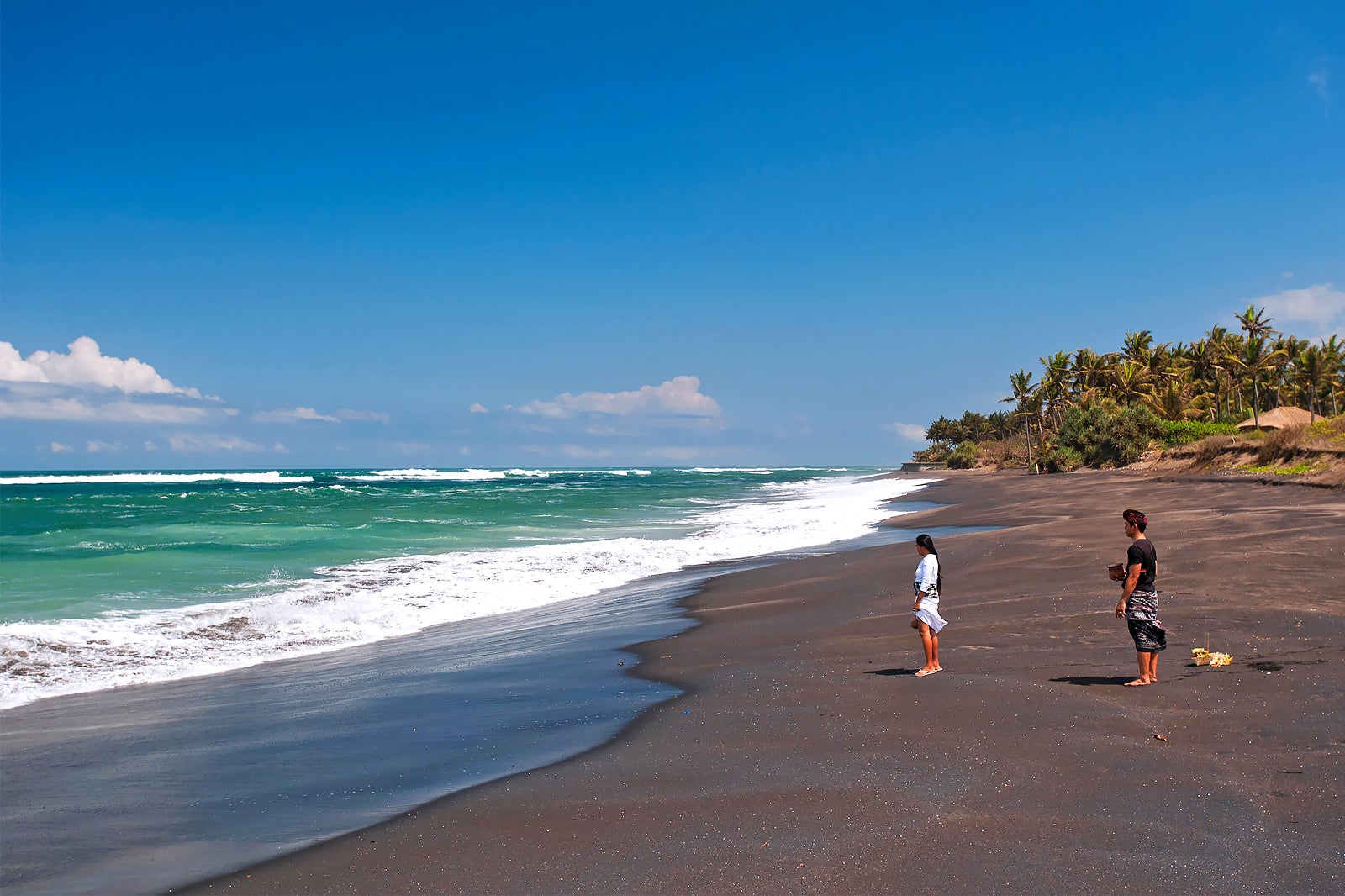 Couples
Families
Photo
Budget
Adventure
Canggu Beach is roughly between Seminyak and Tanah Lot. The beach offers a rugged coastal scene and challenging surfing. Most of Canggu's coastline has volcanic black sand, while its surf breaks have become popular with international surfers. Canggu's countryside of verdant rice fields adds to its appeal, with plenty of villas and hotels making good use of the view, as well as its close proximity to the beach.
Read more
Location: Pantai Canggu, Canggu, North Kuta, Badung, Bali, Indonesia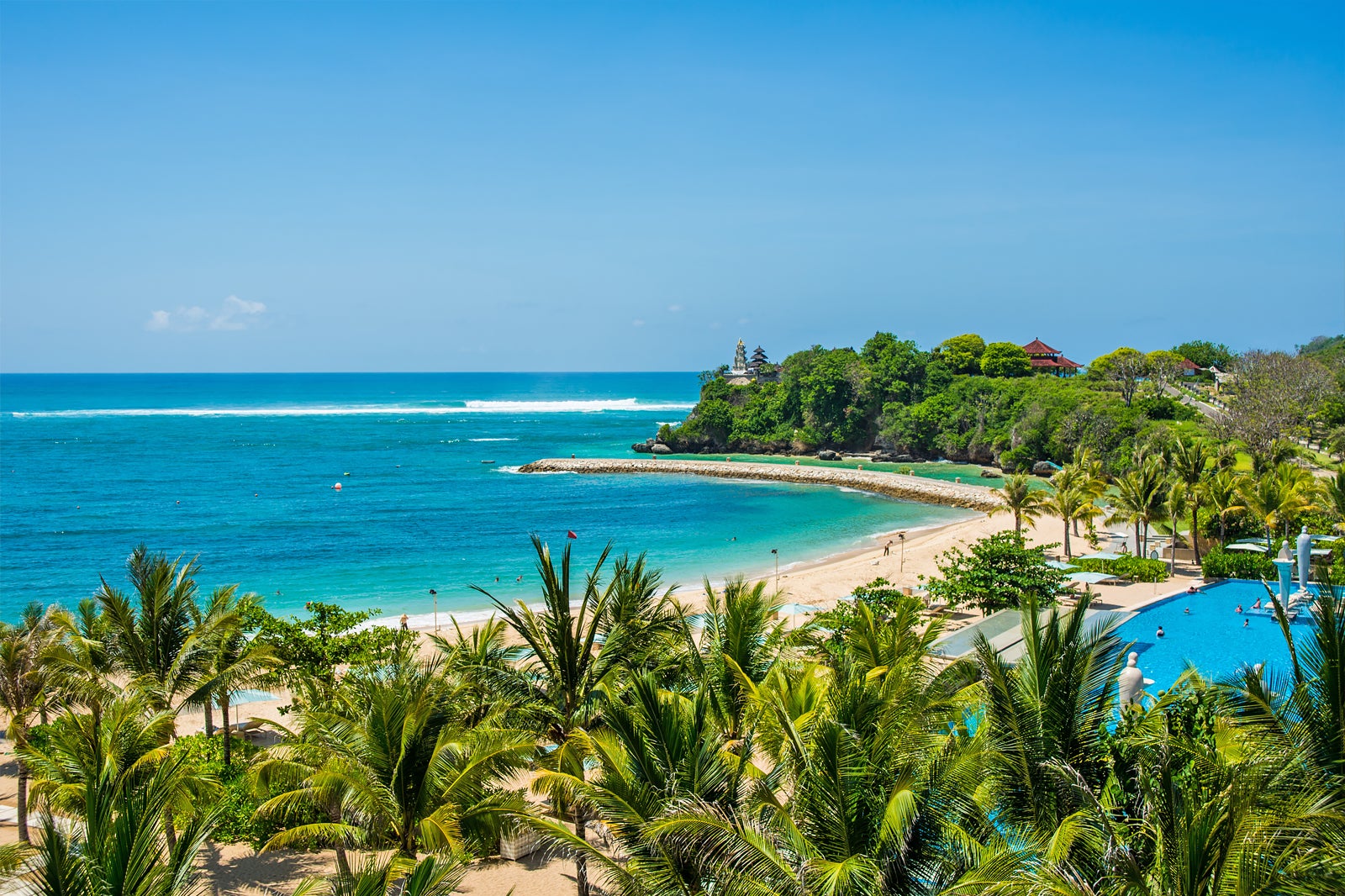 Couples
Families
Photo
Budget
Adventure
Nusa Dua is one of Bali's all-inclusive tourism complexes, where you can find luxury resorts and international chain hotels, upmarket shopping complex, superb facilities and manicured gardens that seamlessly blend in with a luxurious 18-hole golf course.
Such exclusivity means its beaches are secluded, clean and often uncrowded. One of Nusa Dua's most popular beaches is Geger Beach, located on the southern shores of Sawangan. It offers the unique backdrop of Geger Temple perched on a grassy limestone clifftop.
Location: Pantai Nusa Dua, Bali, Indonesia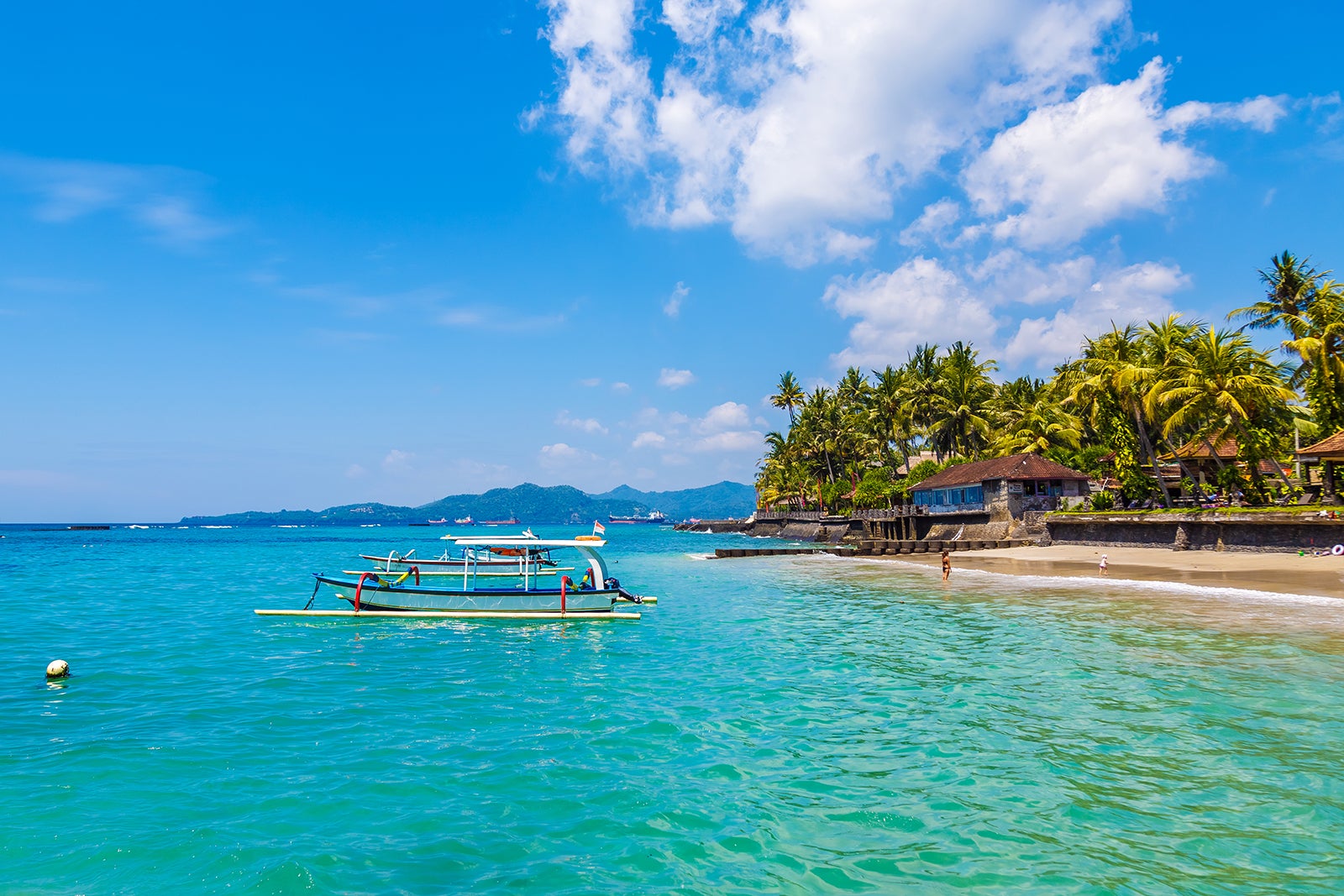 Couples
Families
Photo
Budget
Adventure
Candidasa serves as the main base for divers to explore underwater life in the surrounding waters. Its many beaches come in short stretches, some of which are secluded white sand bays bordered by hilltops.
You can get to famous dive spots not far from Candidasa Beach by boat. If you want to stay on the beach, enjoy a day of sightseeing at important historical sites, such as the Taman Ujung water palace and the Tirta Gangga royal water gardens.
Read more
Location: Pantai Candidasa, Bali, Indonesia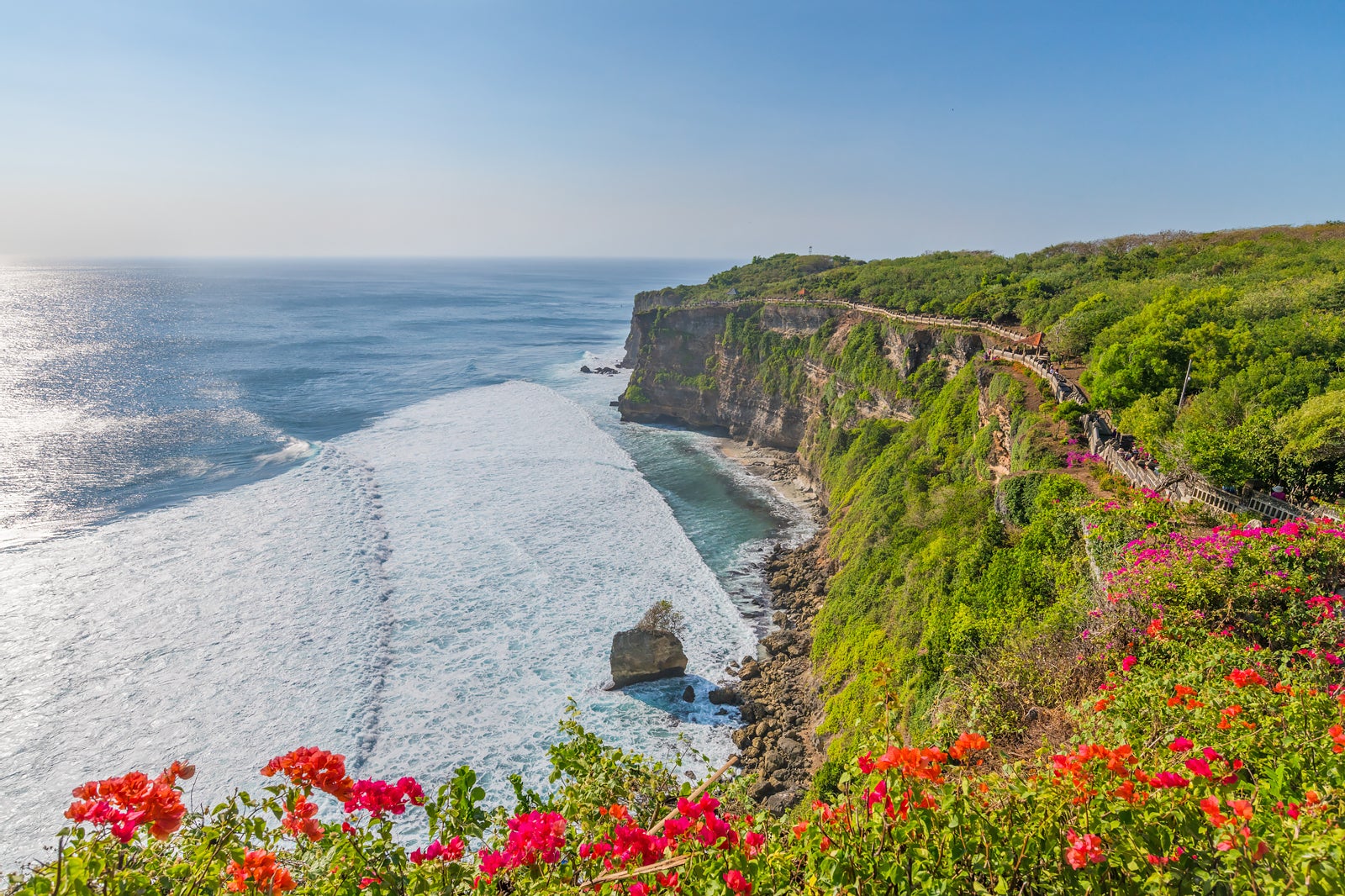 Uluwatu is home to some of Bali's most beautiful cliff-fringed coasts, many of which are known as the island's hidden beaches. World-class surf breaks are only a short paddle out from the sand. Most of the surf here is on reef breaks, reserved only for advanced wave riders. The sands here are mostly fine and soft, and most of its coastline reflects the region's rugged limestone topography. Beautiful rock pools emerge at low tide.
Read more
Location: Pecatu, South Kuta, Badung, Bali 80361, Indonesia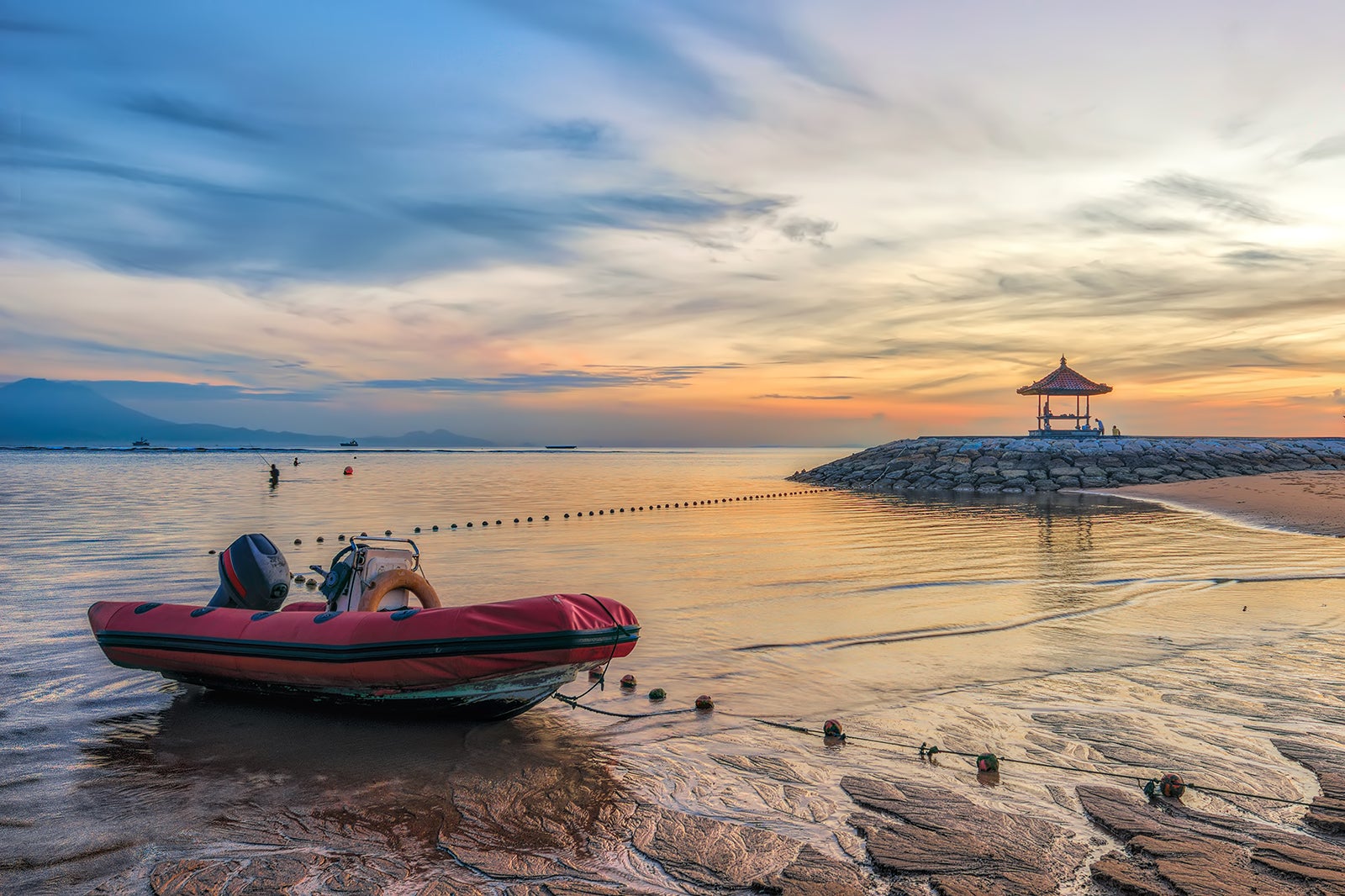 Couples
Families
Photo
Budget
Adventure
Tanjung Benoa is one of the best places in Bali for water sports. Parasailing, jet skiing and banana boat riding are provided by various operators along the coast. The beach is similar to the neighbouring Nusa Dua's coastline, with a mix of fine and coarse sand. Most are well-maintained beachfronts of resorts and hotels in Tanjung Benoa. For safety, swimming is limited to areas bordered by marker buoys.
Read more
Location: Benoa, South Kuta, Badung, Bali, Indonesia