11 Secret Beaches in Bali
Hidden and Unexplored Beaches of Bali
You might think that there are no secret beaches left in Bali as almost everyone heads for the beautiful coastline. However, there's so much more to the island than Kuta, Sanur and Nusa Dua. With a slight penchant for adventure, a set of wheels, and some hints to guide you, you can discover some of the island's lesser-known coastal gems that don't generally make it into most travel guides.
Whether you are looking for an isolated stretch of soft, white sand, secret coves directly under towering limestone cliffs or black sand beaches that point to the once-potent power of Bali's volcanic past, there is surely a secret beach for you in Bali.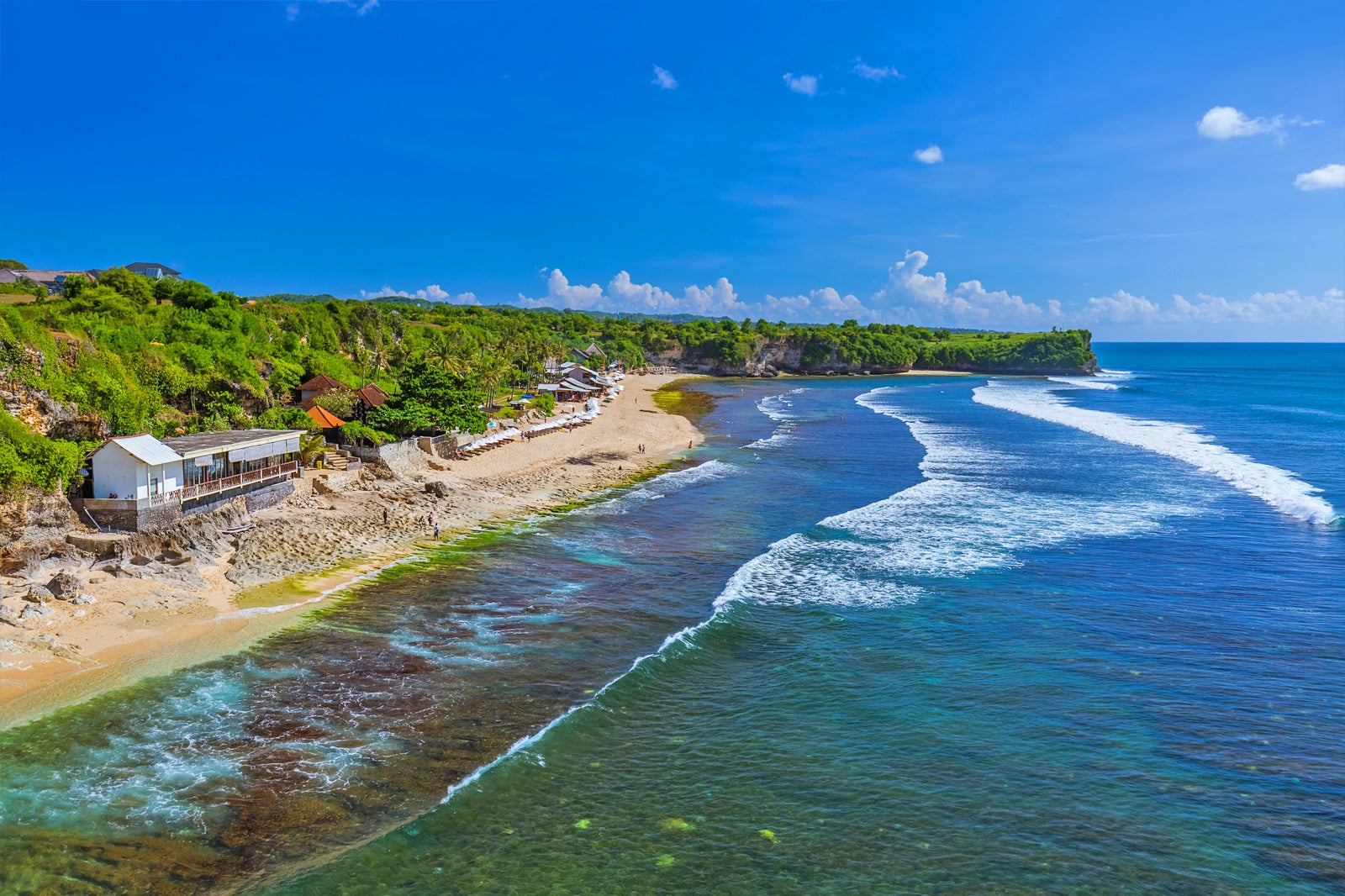 A favourite surf spot, Balangan is on the northern side of the cliff that forms the signature hole 15 of the New Kuta Golf course. The name 'Balangan' itself was thought to apply to the whole coastline, including Dreamland, before surfers nicknamed the specific shore area south of the cliff.
Accessing Balangan is easy, compared to other beaches along the Bukit peninsula's shoreline, with only a dozen steps down from the limestone hill. Several beach shacks serve simple local 'surfer meals', cold refreshments and beer.
Location: Jalan Pantai Balangan, Jimbaran, Badung, Bali 80361, Indonesia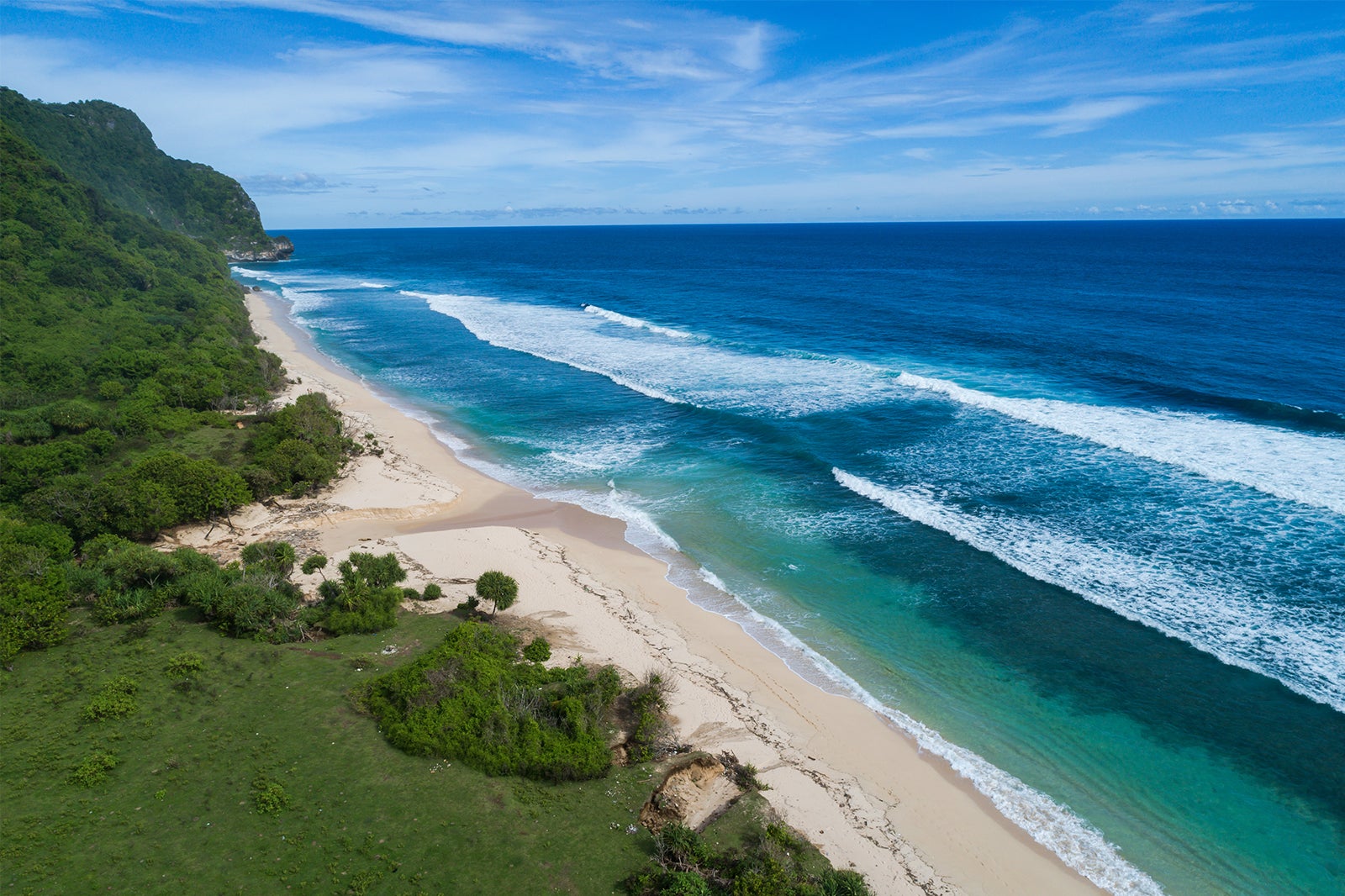 Suluban Beach is one of Bali's most unique, concealed by natural limestone formations and accessed via steps and log ramps through narrow gaps in the rock.
Shaded by a looming cliff face, this small beach may not be ideal for sunbathers, but makes a great base for pro surfers. They can paddle out and ride adjacent reef breaks, including around Uluwatu, just to the south. Most surfers refer to the beach as Blue Point. Access to Suluban is narrow and steep, down crags and rocky steps. When you arrive at the sand, the view is very rewarding.
Location: Jalan Mamo, Uluwatu, Pecatu, South Kuta, Badung, Bali 80361, Indonesia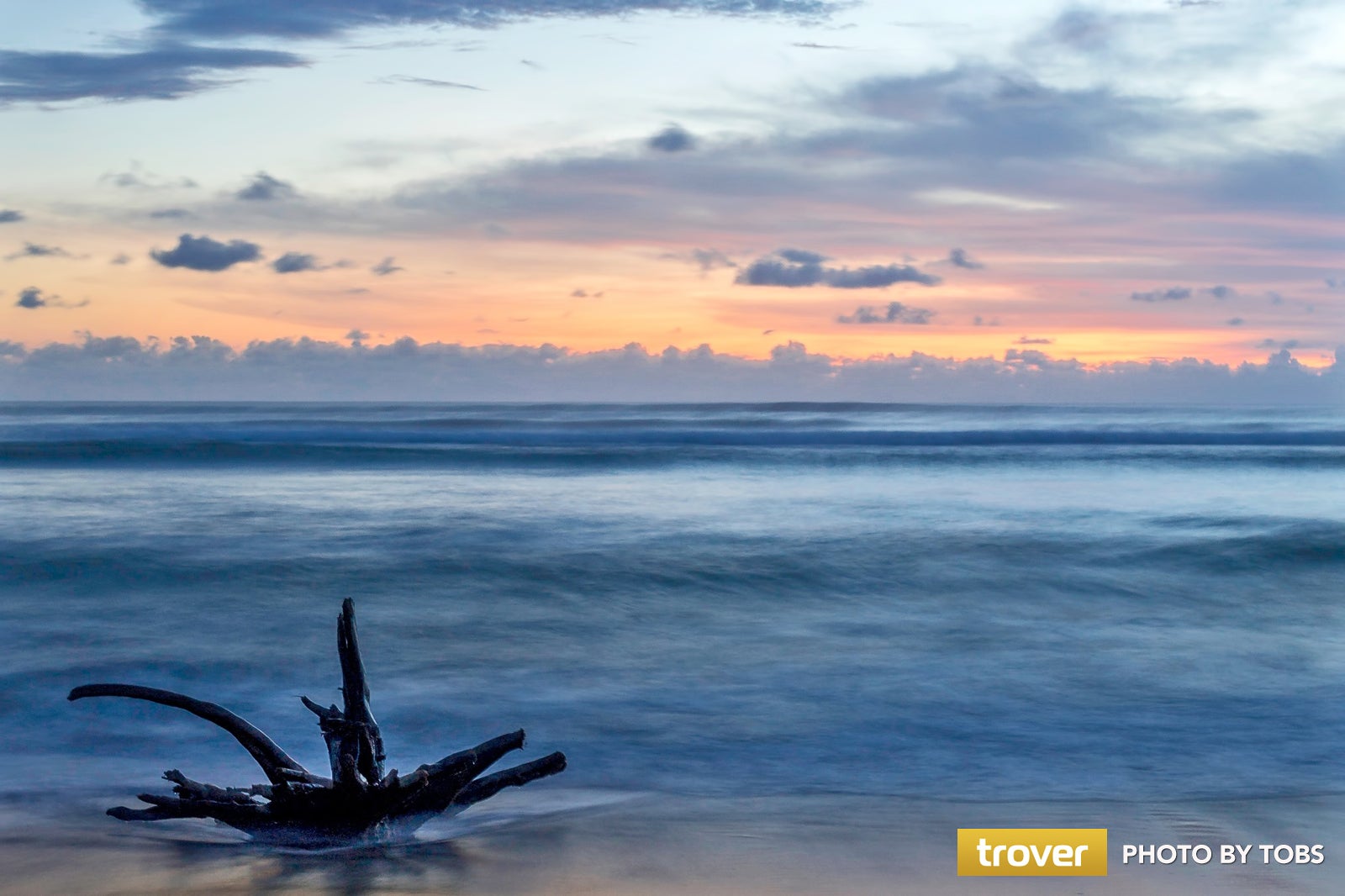 Padangbai and Blue Lagoon
Karangasem, East Bali
Better known for its main seaport in east Bali, Padangbai comprises a small collection of hidden beaches that are great for day-trippers, as well as diving and snorkelling. Blue Lagoon, a small bay northeast of the seaport, has a lovely but modest 60-metre stretch of white sand.
Another is Bias Tugel, a 130-metre-long strip southwest of the port, with calm, blue waters most times of the year. You can relax on the even sand here, or grab some shade from the parasols with beach loungers. The beach that shares the bay with the seaport is not so busy, especially on its eastern end, and you can also enjoy fairly good swimming here, too.
Couples
Families
Photo
Budget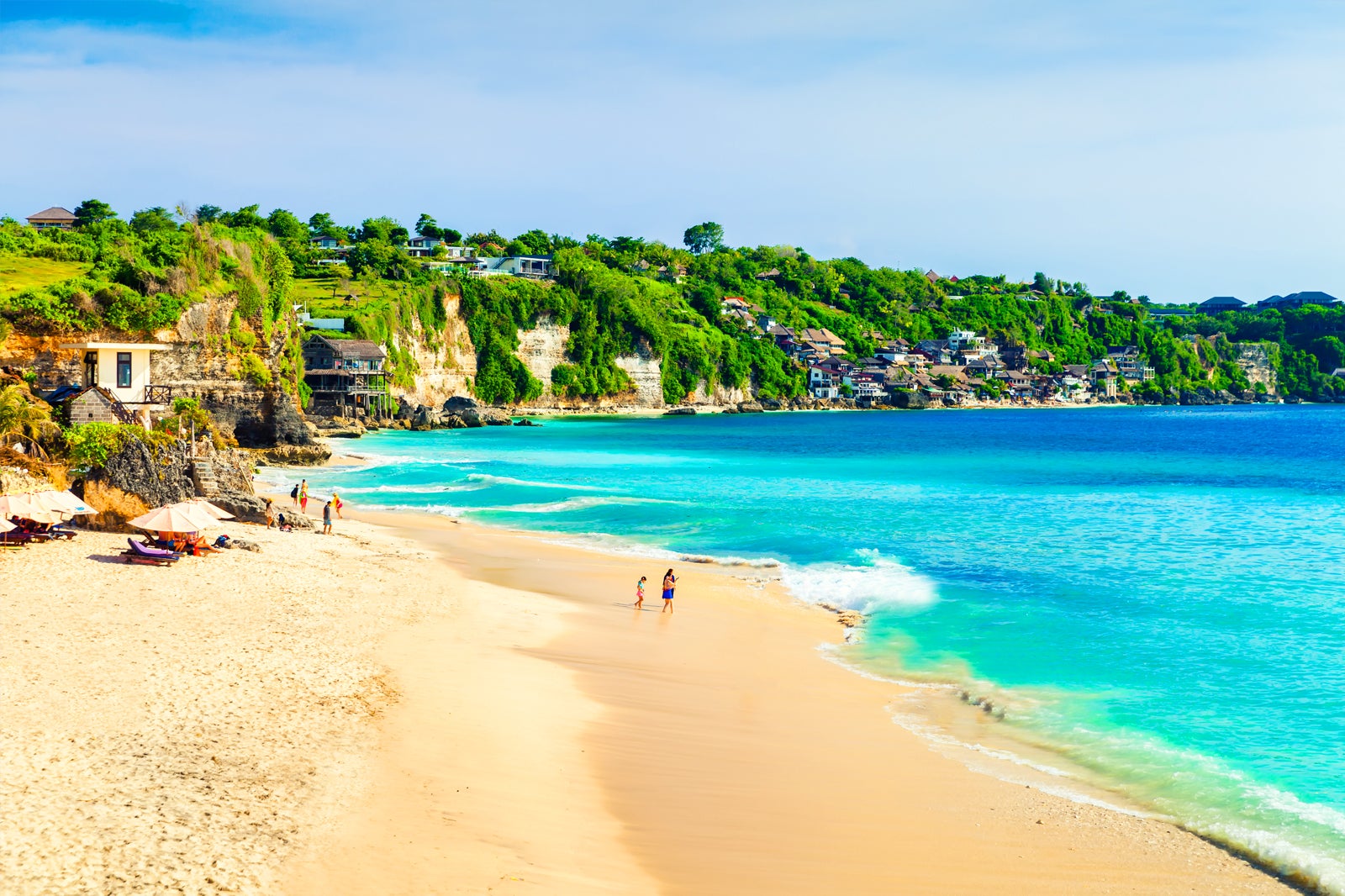 Dreamland Beach
Pecatu, Jimbaran
Dreamland might not be too much of a 'secret' anymore, but it's still pretty secluded by limestone cliffs. It has a beautiful stretch of white sand, bordered by the blue seascape of the Indian Ocean. You can find it by heading west down the main road of the Pecatu Indah Resort complex, past New Kuta Golf course.
Despite the major developments around its cliff sides, the beach retains much of its rugged charm on the sand, particularly for beachgoers, day-trippers and surfers who enjoy some of Bali's best reef breaks near the shore and close paddle-outs to the neighbouring world-class reef breaks of Balangan and Impossibles.
Location: Jalan Pecatu Indah Raya, Jimbaran, South Kuta, Badung, Bali 80361, Indonesia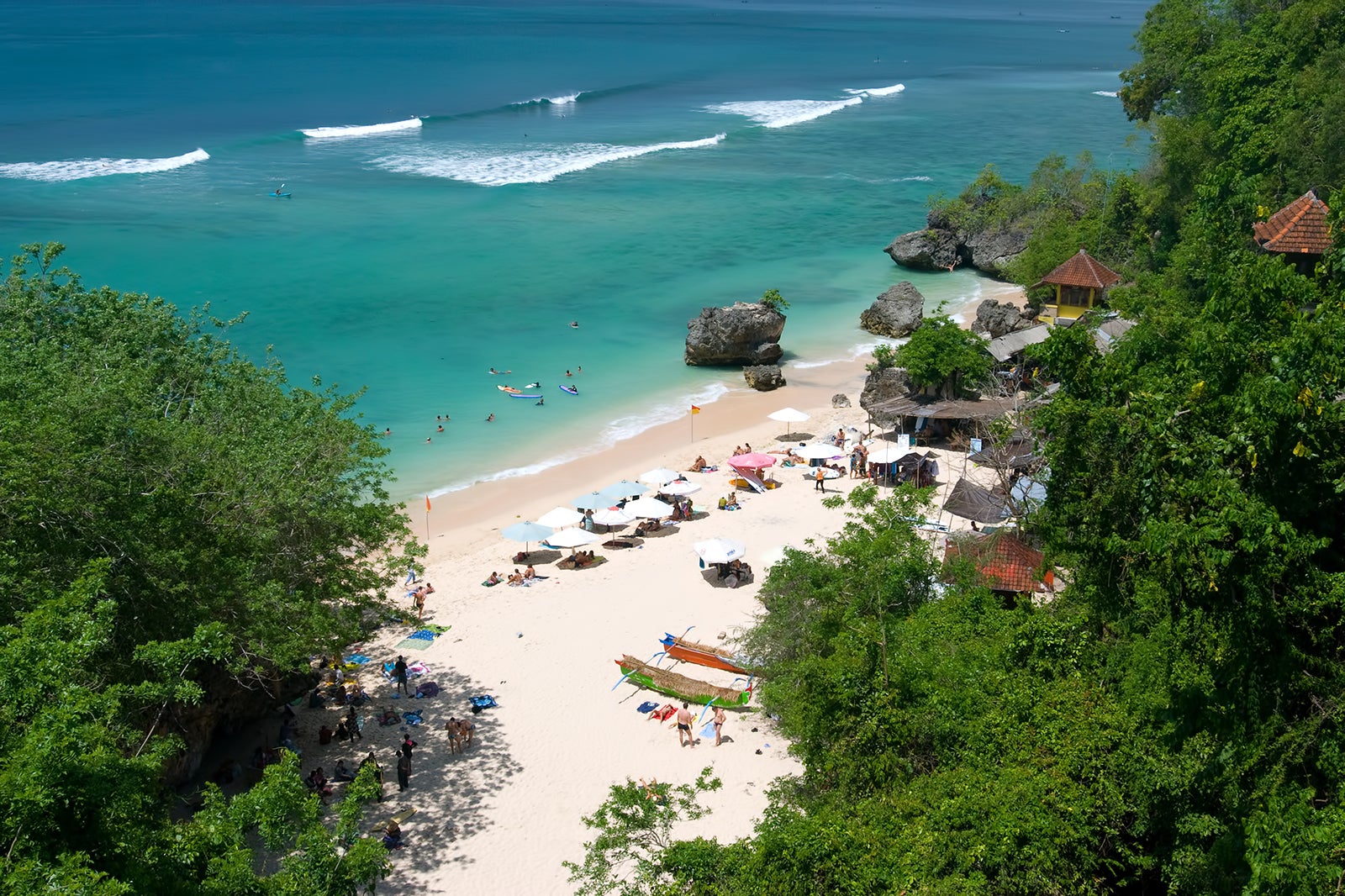 Padang Padang
Uluwatu, Jimbaran
Padang Padang Beach is accessible down a few flights of steps and through a limestone crevice beside a large, yellow-railed bridge. Across the road before the bridge, there's a spacious parking lot. Among the island's favourite big surf breaks, Padang Padang's white-sand beach offers a great view and a small sandy area for sunbathing.
Local seafood warung (food stalls) serve grilled fresh catches-of-the-day. It's a nice spot to relax if you're visiting the nearby Uluwatu Temple.
Location: Jalan Labuansait, Pecatu, Badung, Bali 80361, Indonesia
Couples
Families
Photo
Budget
Adventure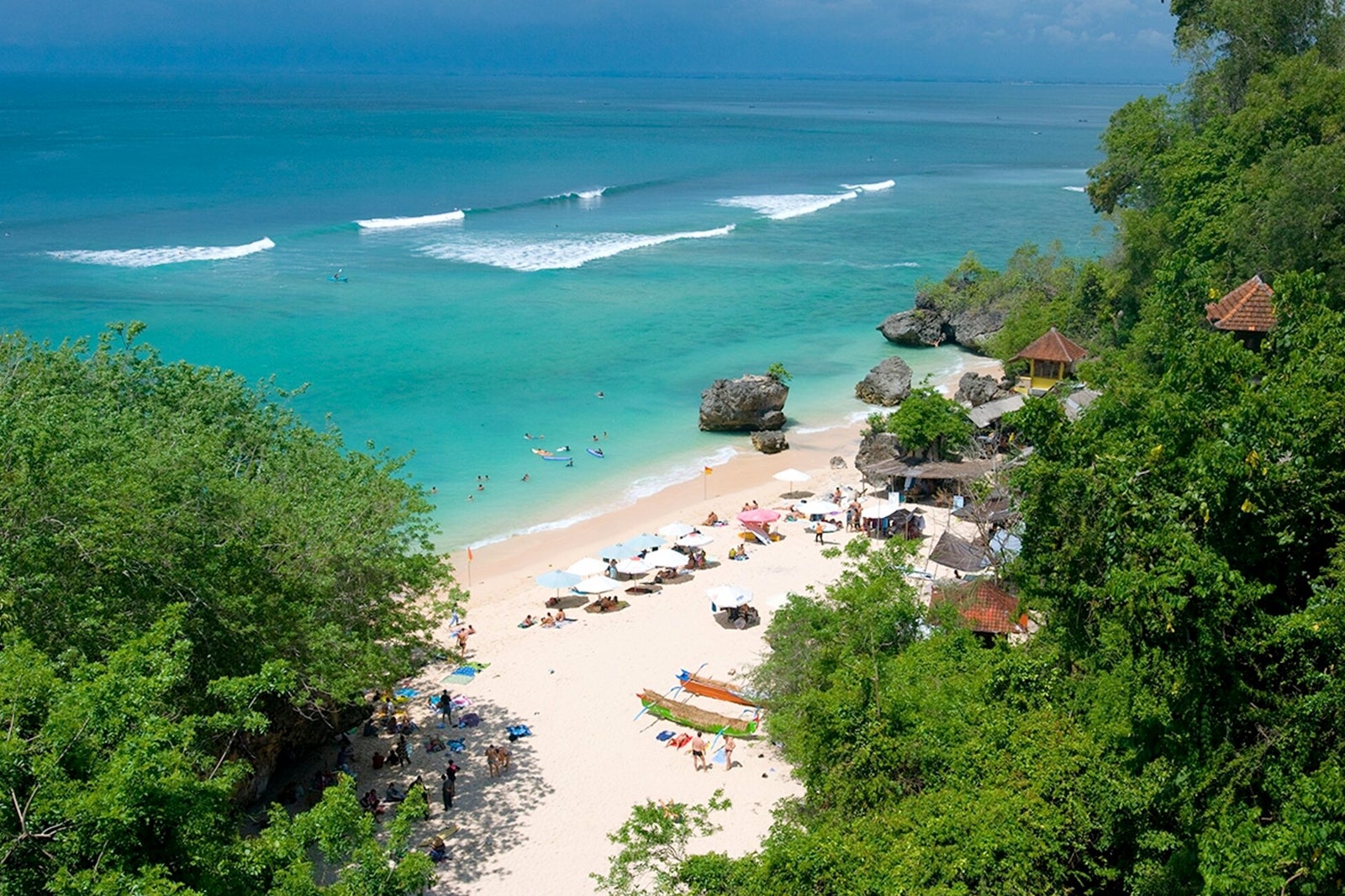 Karma Beach
Ungasan, South Bali
Karma Beach is reachable via a funicular ride down a sheer cliff. A stretch of clean white sand and the blue sea awaits on this private beach. The beach was formerly known as Nammos Beach but was renamed after the beach club at Karma Kandara Resort.
Expect a laidback tropical setting and 5-star services at Karma Beach. You get to sip signature cocktails and indulge in a Mediterranean-inspired menu. You'll have to pay an entrance fee that includes a cash voucher for food and drinks at Karma Kandara Beach Club.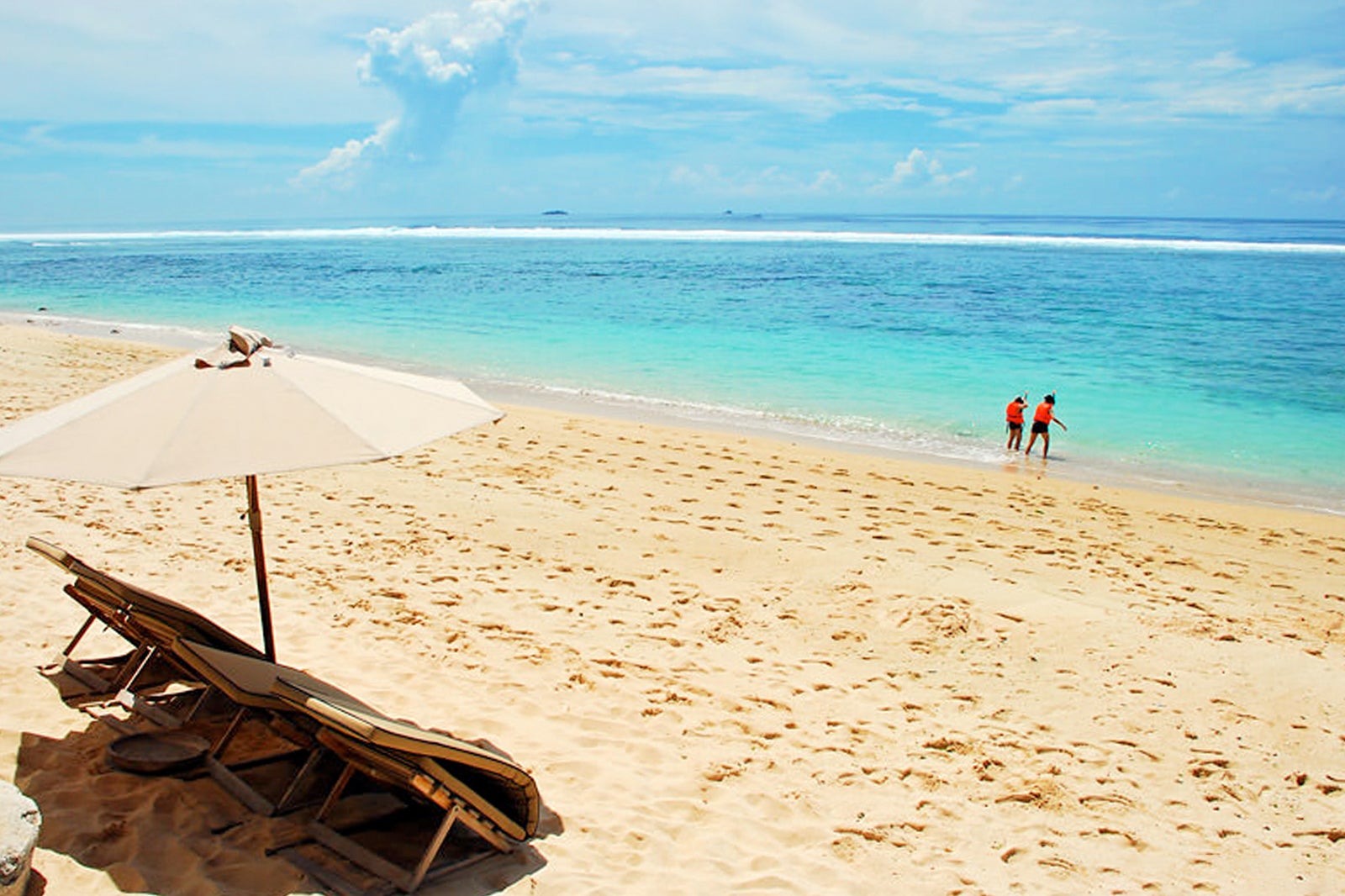 Sundays Beach
Ungasan, South Bali
Sundays Beach is a private spot that easily falls into the 'hidden' category. It's a 165-metre stretch of sand below The Ungasan Clifftop Resort (formerly Semara Uluwatu) in Ungasan, though the signs for the beach along Jalan Pantai Selatan Gau in Ungasan are more prominent than the signs for the resort. If you're not staying at the hotel, you'll need to make a minimum deposit of Rp 250,000, which you can spend on food and drinks.
You can reach the beach via a 2-minute funicular ride down between 2 cliff walls. The sea here is swimmable and crystal clear. Enjoy Mediterranean cuisine from the semi-open kitchen under breezy, thatched-roof shades with ocean views. The club's beach is a great option for a laidback day with fun beach activities to keep you busy.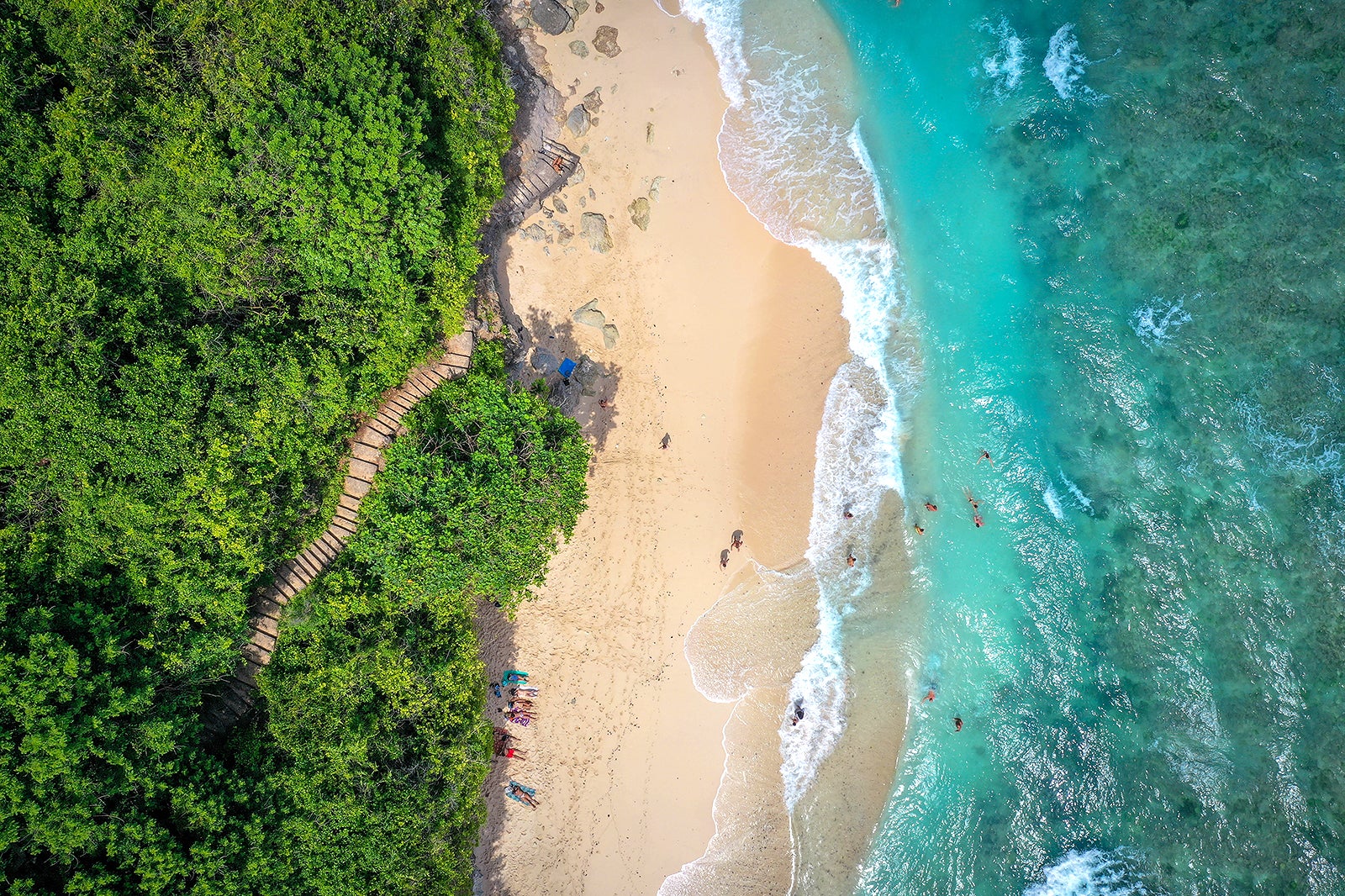 Green Bowl Beach
Ungasan, South Bali
Green Bowl Beach is found at the end of Jalan Bali Cliff and down hundreds of concrete steps, which gradually drop down the cliff face. Getting down is easy, but getting back up is a challenge, though a scenic bird's eye view keeps you going along the way. At the base are several bat caves.
There are a few variations in the story behind the name, with one inspired by the view of green seaweed and corals exposed at low tide and another taking the name of the company slated to develop a resort there. This hidden gem on the southern coast of Bali appeals to lovers of quiet and exotic shores.
Location: Jalan Bali Cliff, Ungasan, Badung, Bali 80361, Indonesia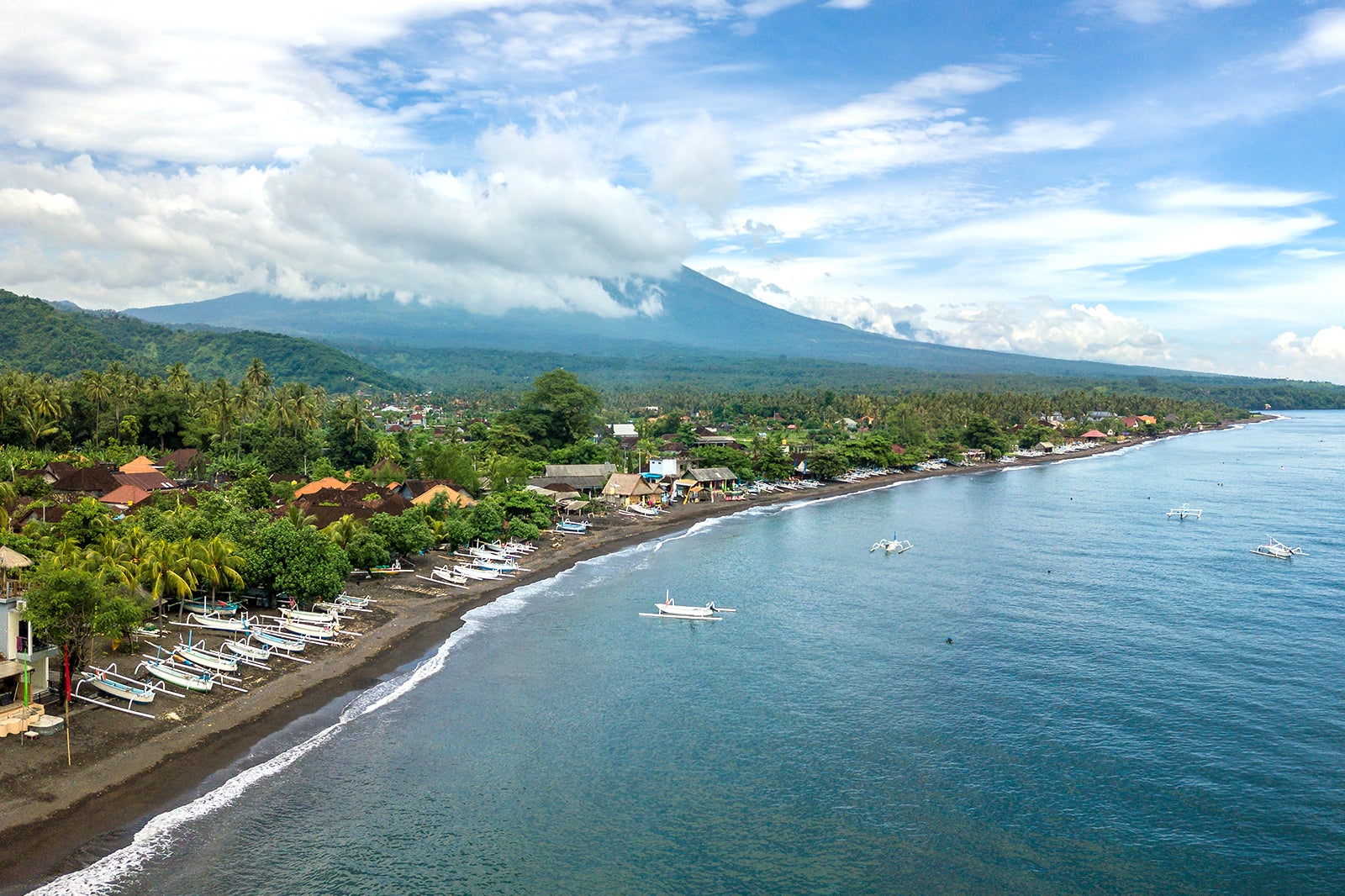 Amed
Karangasem, East Bali
Amed covers 7 different seaside villages: Amed, Jemeluk, Bunutan, Lipah, Selang, Banyuning and Aas. All are fishing villages – hence the classic scene of jukung (traditional outriggers) lining the coast. Famous as a dive spot, the quiet shores with their dramatic sunrises are a not-to-miss sight if you're staying here.
It's a long drive to reach this stretch of sand, though it's a straightforward one, passing the Klungkung and Karangasem entry points. Various road signs provide you with a fail-safe journey. Among the overland highlights that you can find on your way to Amed is traditional salt farming in the area of Purwakerti.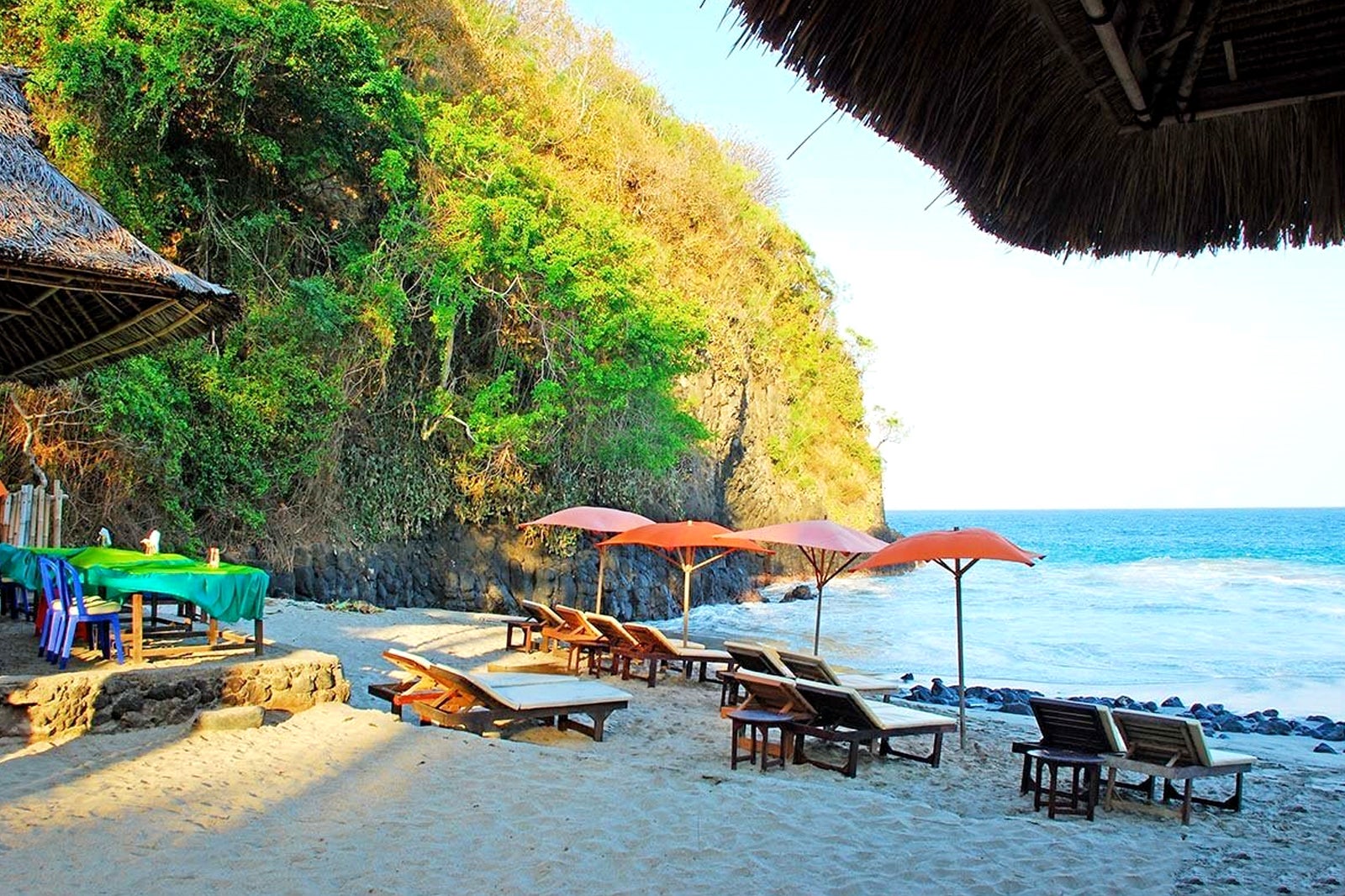 Perasi Beach (Pasir Putih)
Karangasem, East Bali
Perasi Beach is a secluded stretch of coast between 2 hills and the villages of Bugbug and Perasi. Both are in the Karangasem regency – approximately 4.5 km east of Candidasa. Parasols, sun loungers, and various local seafood restaurants line this hidden beach in East Bali.
You can get to Perasi from Candidasa via the Jalan Raya Candidasa-Bugbug main road. A dirt road opposite the village's Pura Bale Agung temple leads to the beach. Perasi also goes by various nicknames, such as Pasir Putih, White Sand Beach, Virgin Beach or Hidden Beach.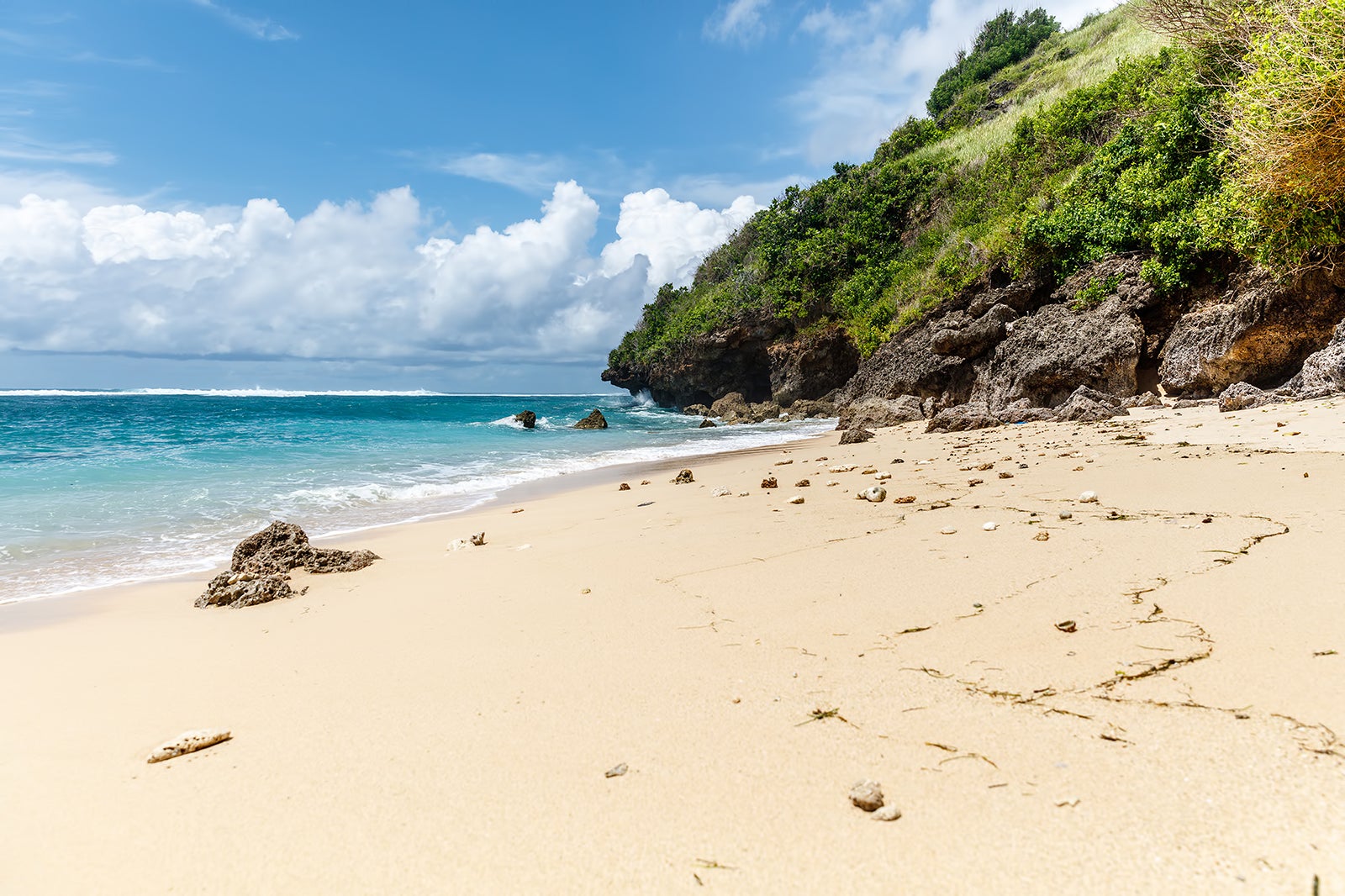 Gunung Payung Beach
Kutuh, South Bali
Gunung Payung Beach otherwise referred to locally as Pantai Gunung Payung, is one of the 'hidden beaches' on Bali's southern coast. It's where you can find a remote and quiet setting overlooking scenic seascapes. The location takes its name from a Balinese Hindu temple site of the same name (Pura Dhang Kahyangan Gunung Payung), which is high up on the cliff above the beach and overlooking the ocean.
Along the main Jalan Gunung Payung road, you'll encounter the landscaped greens of the 18-hole Bukit Pandawa Golf Club and rugged limestone terrain. Just outside the temple, catch glimpses of grey long-tailed macaques, which are more of the shyer kind compared to their notoriously cheeky counterparts in Uluwatu.