10 Places in Bali to Escape the Crowds
Remote Places in Bali to Visit
Newsflash! Bali is not only Kuta, Legian, Seminyak and the southern coast. Once you get out of these dense and touristy areas, there are places just waiting for adventurous souls to discover – some of them really off the beaten tracks, with pristine and unspoiled landscapes you won't find elsewhere on the island.
You'll certainly find your own piece of heaven if you look beyond Bali's main beach areas. Take a boat ride and escape the mainland to the Nusa islands, or venture to the central highlands for scenic treats and to be close with nature. Coincidentally, these are also popular places for backpackers in Bali. Here are some of our favourite places in Bali to escape the crowds.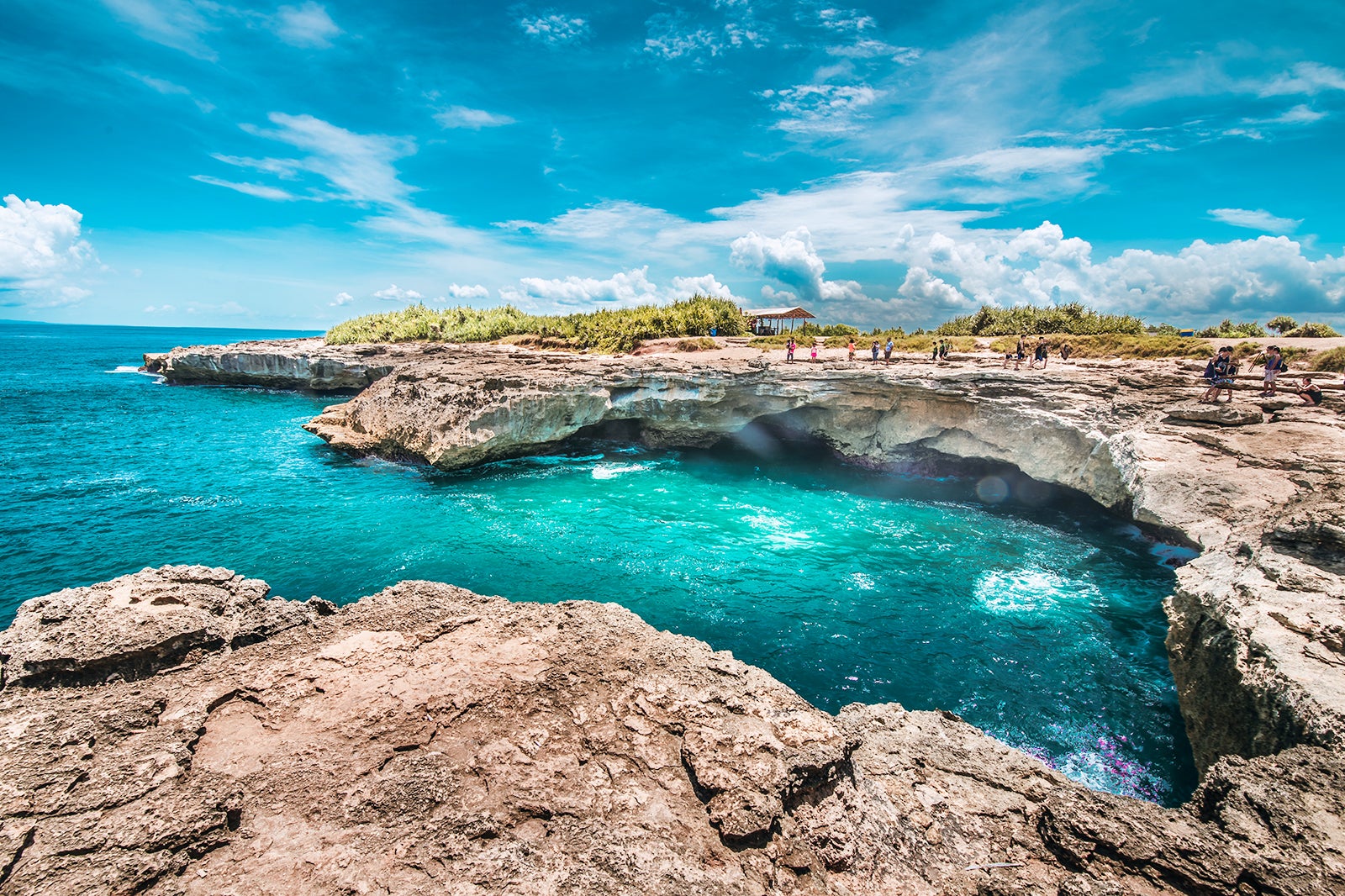 Nusa Lembongan
Offshore, southeast of Bali
Nusa Lembongan offers a great castaway experience, roughly a 45-minute fast boat ride southeast of the mainland. It's the most popular among the 3 Nusa islands, where you can enjoy diving, snorkelling, and surfing in its surrounding waters. Most of Lembongan's hotels and resorts line the southwestern coast, You'll want to explore the south and west coast, where beautiful beaches and cliffs make for a relaxing retreat.
Ceningan is a smaller island that's connected to Lembongan via a bridge. Its seascapes are dotted with traditional fishing boats and seaweed farms. You can also find mile upon mile of mangrove forests and turtle nesting beaches. Motorboats, fast boats, ferries, and charters depart for Lembongan from the coast of Sanur, Padang Bai and Benoa Harbour.
Location: Jungutbatu, Nusapenida, Klungkung, Bali, Indonesia
Couples
Families
Photo
Adventure
Single
Nusa Penida
Offshore, southeast of Bali
The largest among Bali's 3 Nusa islands, Nusa Penida offers a real 'unbeaten path' experience. It offers very limited tourism infrastructure but promises an exotic scene of natural beauty and cultural allure through its barren landscapes and mystical temples.
One of the most striking temples on Nusa Penida is Goa Giri Putri, also known as the Karangsari cave temple, It has limestone stalactites and stalagmites and meditational spaces. Nusa Penida is also a sanctuary for the endangered and endemic Bali Starling, initiated and overseen by the Friends of the National Park Foundation (FNPF). Most ferries and charters to Nusa Penida depart from Padang Bai Harbour in East Bali.
Location: Nusa Penida, Klungkung, Bali, Indonesia
Couples
Families
Photo
Adventure
Single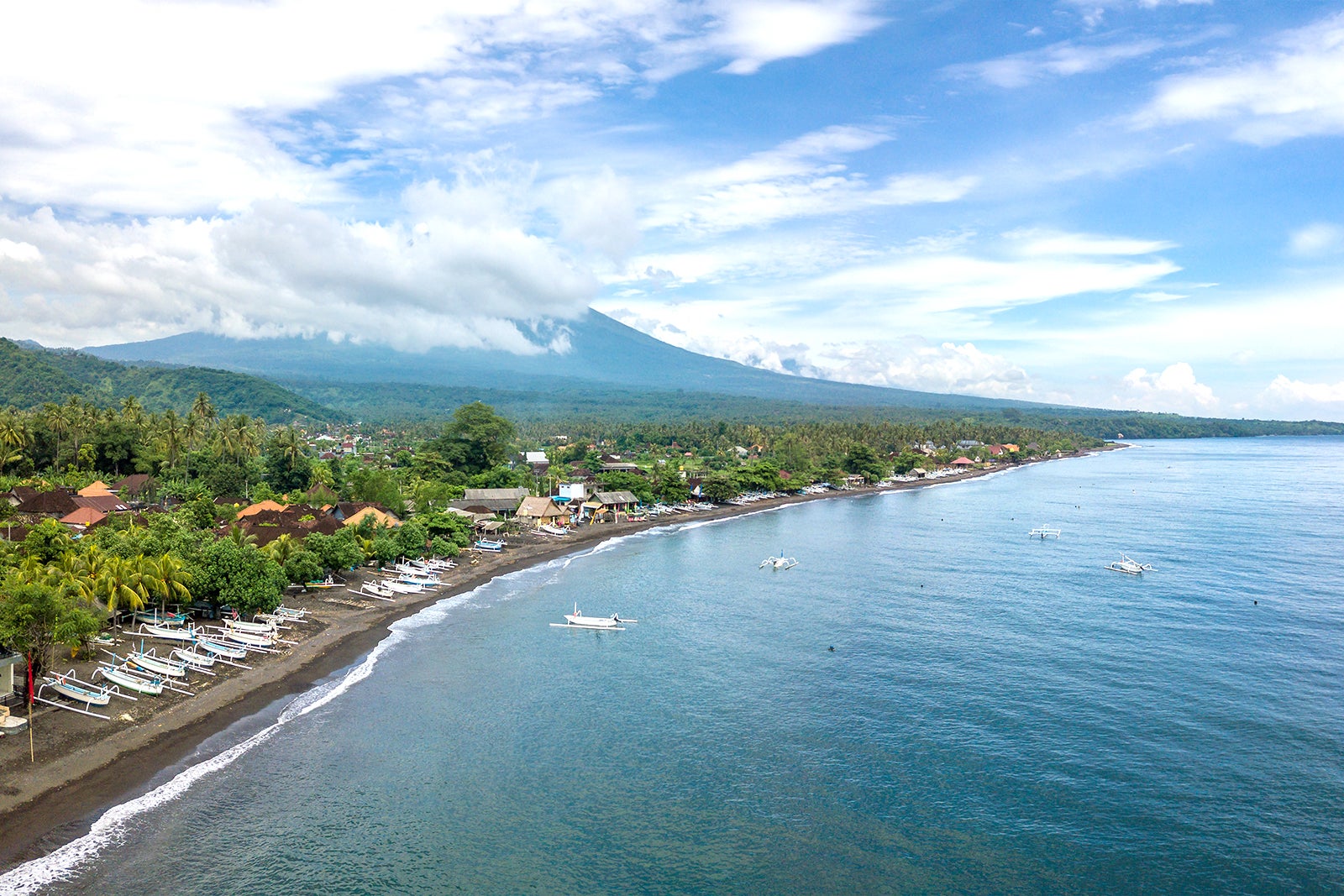 Amed and Tulamben
Karangasem, East Bali
Amed and Tulamben are remote coastal towns that share the barren topography of the easternmost region of Bali. Its underwater beauty is cherished by divers from all over the world. Both Amed and Tulamben are East Bali's main dive sites.
The outskirts offer beautiful coastal scenes, with quiet beaches and hilly bays lined with jukung (traditional fishing boats) parked in neat rows. Wake up early for the enchanting sunrises as the fishermen set out with their boats and fill the shimmering waters with their colourful sails. Both destinations are in the remote coastal area of East Bali, approximate an hour's drive north of the main Candidasa area.
Location: Karangasem, Bali, Indonesia
Couples
Families
Photo
Single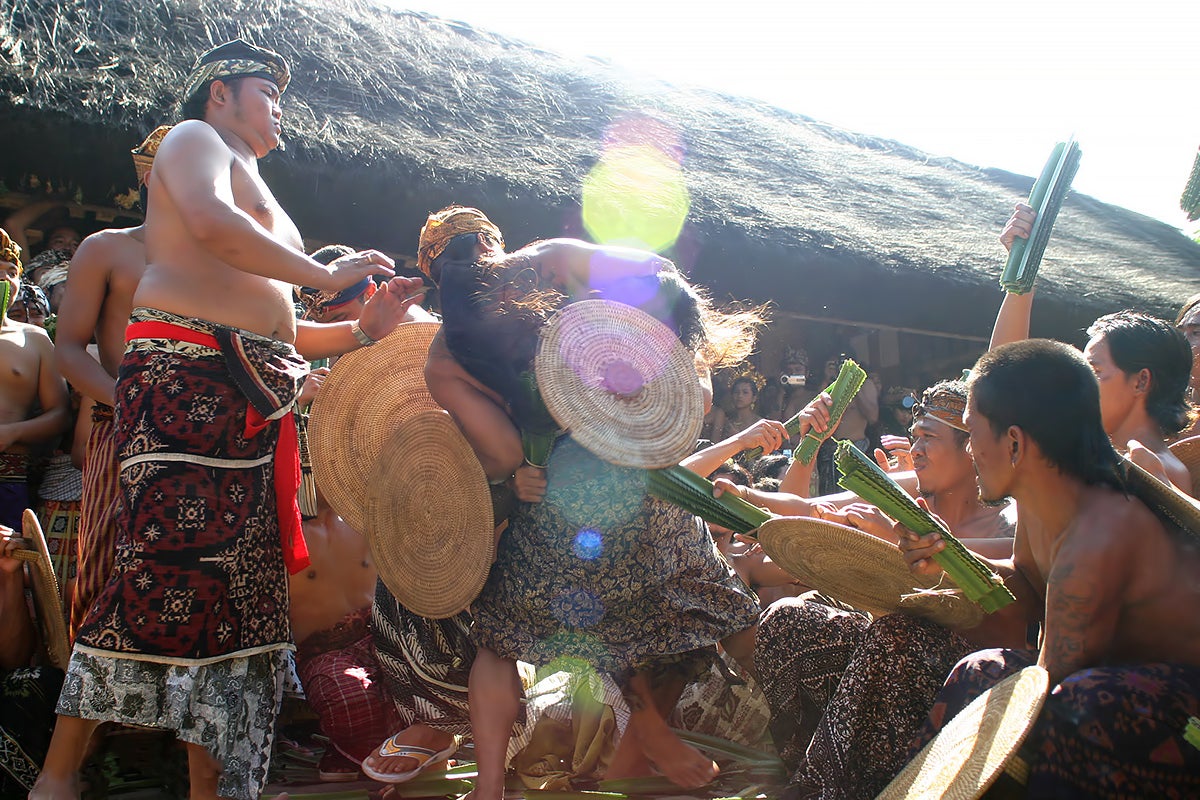 Tenganan Pegringsingan
Karangasem, East Bali
Tenganan Pegringsingan is one of the 3 main 'Bali Aga' (old Balinese) villages, which houses the indigenous people of Bali. The village is just several kilometres north of Candidasa. It is known as being the home to the rare geringsing (double-ikat weave cloth), produced only in this village and from which the village gets its name.
A major highlight here is the Perang Pandan or Mekare-kare, which coincides with a temple anniversary around June or July. The event sees village boys battle in friendly fights, using thorny pandan leaves as weapons. To get there, start at the Candidasa main area. Tenganan village is only a short drive up a hill.
Location: Tenganan, Manggis, Karangasem, Bali 80871, Indonesia
Couples
Families
History
Photo
Penglipuran Village
Bangli, East Bali
Penglipuran, one of Bali's iconic mountain villages, is known for its row of traditional Balinese houses that are laid out in a uniform row. The village is surrounded by dense bamboo forests and coffee plantations. Penglipuran is a Bali Aga village where the people uphold ancient traditional values and a set of strict moral codes.
Each family compound features a traditional split gateway. Old bricks still stand in their place, traditional kitchens are covered in soot from the billowing wood fire hearths, and the compounds are uniquely laid out, each following old Balinese spatial and architectural set of rules. Penglipuran is in the Bangli regency and is often included in tours to Besakih Temple.
Location: Jalan Penglipuran, Kubu, Bangli, Bali 80661, Indonesia
Couples
Families
History
Photo
Padangbai
Karangasem, East Bali
Padangbai is one of Bali's less-explored beaches on the eastern coast, mainly thanks to it being a transit point for travellers who go on ferry crossings to the neighbouring island of Lombok. Those who spare some time to explore the region are in for good treats, as there are some quite idyllic stretches of sand near the fishing village.
The waters around Padangbai are good for snorkelling and diving, and several hotels and lodgings here serve as great bases from where to explore East Bali. Padangbai is about 12 km west of central Candidasa.
Location: Manggis, Karangasem, Bali, Indonesia
Couples
Families
Photo
Budget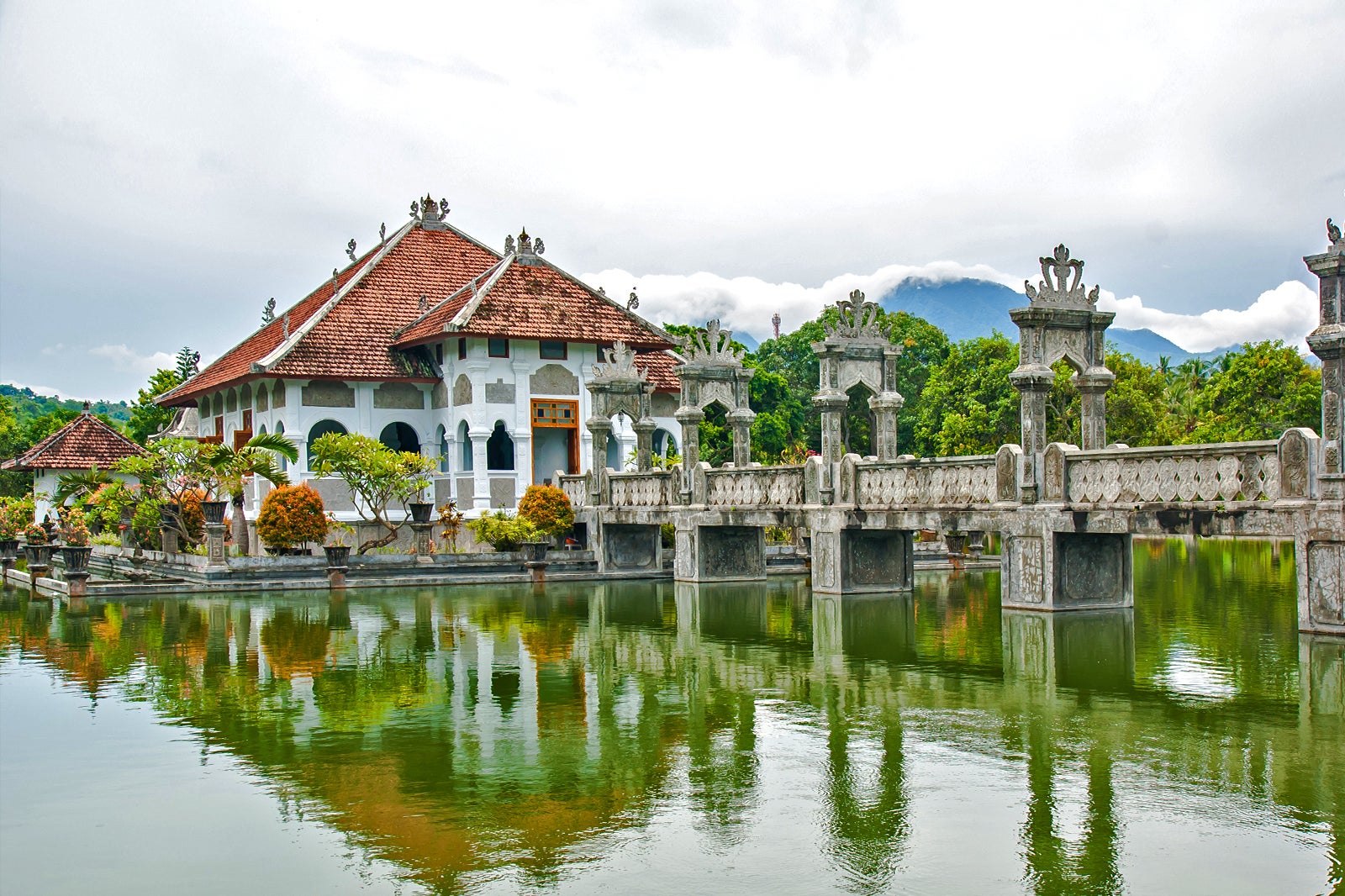 Tirta Gangga and Taman Ujung Water Palaces
Karangasem, East Bali
The majestic palaces of the Karangasem royal family include 2 of the island's famous water palaces and gardens, namely Tirta Gangga and Taman Ujung. Tirta Gangga was built in 1946 during the reign of the late king of Karangasem, Anak Agung Anglurah Ketut Karangasem (1887–1966). The former royal hillside retreat covers 1.2 hectares of mountain spring-fed pools, ponds and fountains among beautiful gardens lawns adorned with stepping stones, ornate statues and tropical gardens.
Taman Ujung is located near the south-eastern coastline. It has a water complex, along with Balinese and European architectural features surrounded by 3 large ponds and elegant bridges and pathways. Mount Agung and the Indian Ocean serve as backgrounds to this exotic site.
Location: Karangasem, Bali, Indonesia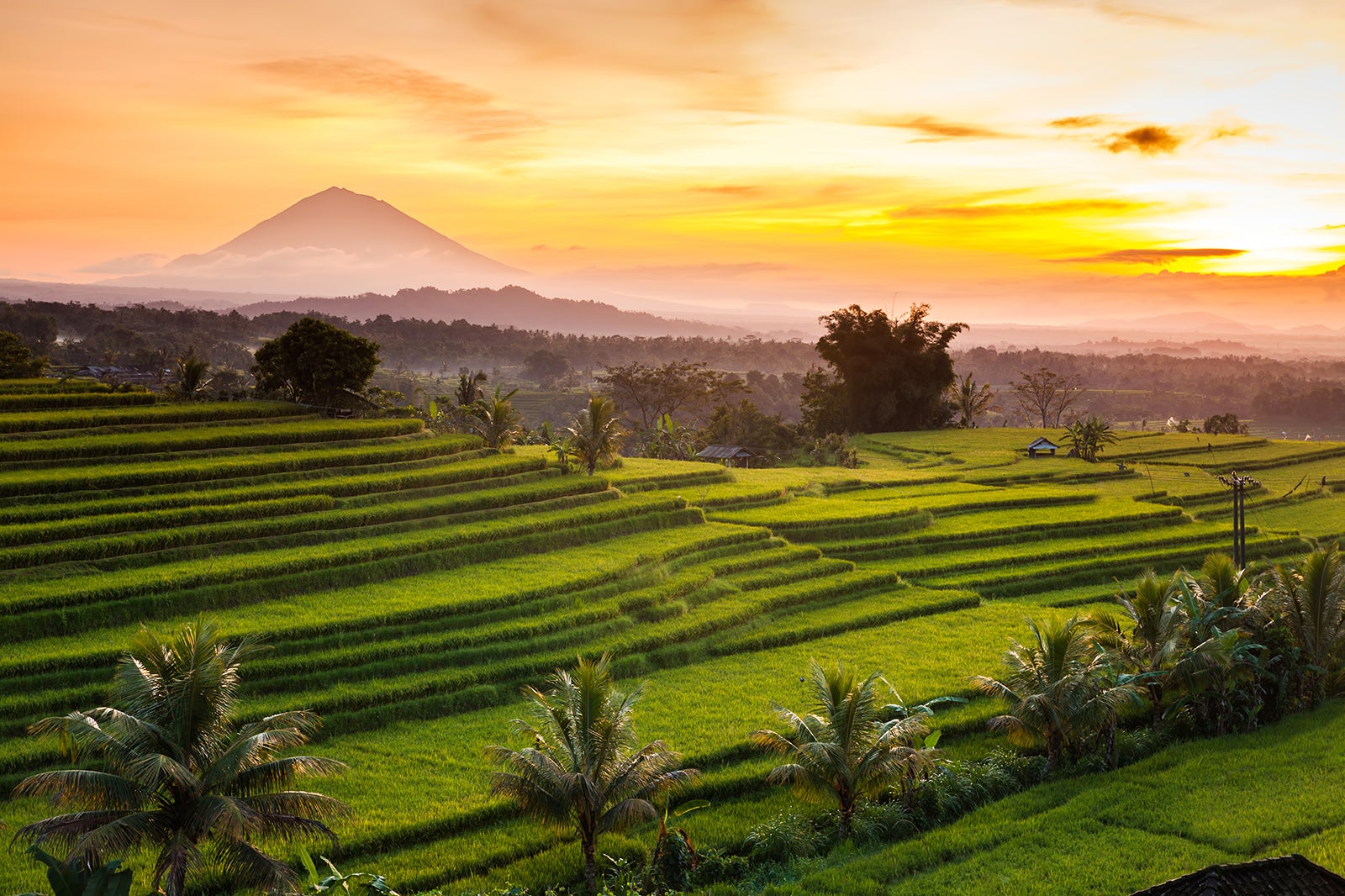 Jatiluwih
Tabanan, West Bali
The tranquil village of Jatiluwih lies at the foot of Mount Batukaru in the Tabanan regency, famous for its wonderful expanses of green rice terraces. These terraces pretty much cover the whole region, and the cool highlands and breathtaking scenery make for a soothing retreat with great photo opportunities, far away from the crowds.
The landscape was once a UNESCO Cultural Heritage Site candidate, well-maintained by subak, a traditional water management cooperative dating back to the 9th century. A few action-adventure operators in the area provide ATV rides and off-road tours through quiet village roads and river crossings.
Location: Penebel, Tabanan, Bali, Indonesia
Lovina
Singaraja, North Bali
Bali's northern coast of Lovina Beach offers a very low-key beach scene compared to its southern counterparts, with calmer waves, black-sand shores, and overland features worth seeing. Sunrises and sunsets in Lovina are equally magical. In the evening, traditional boats setting out for dolphin watching tours, which the area is also famous for.
Up in the hills nearby are tranquil vineyards growing Alphonse Lavallée grapes and the Brahmavihara-Arama Buddhist monastery with its mini Borobudur temple. Around 3 km west of this site lies the Banjar Hot Springs, which offers a great spot to soothe and unwind up in the forested hills.
Location: Jalan Raya Singaraja, Temukus, Kaliasem, Banjar, Buleleng, Bali 80117, Indonesia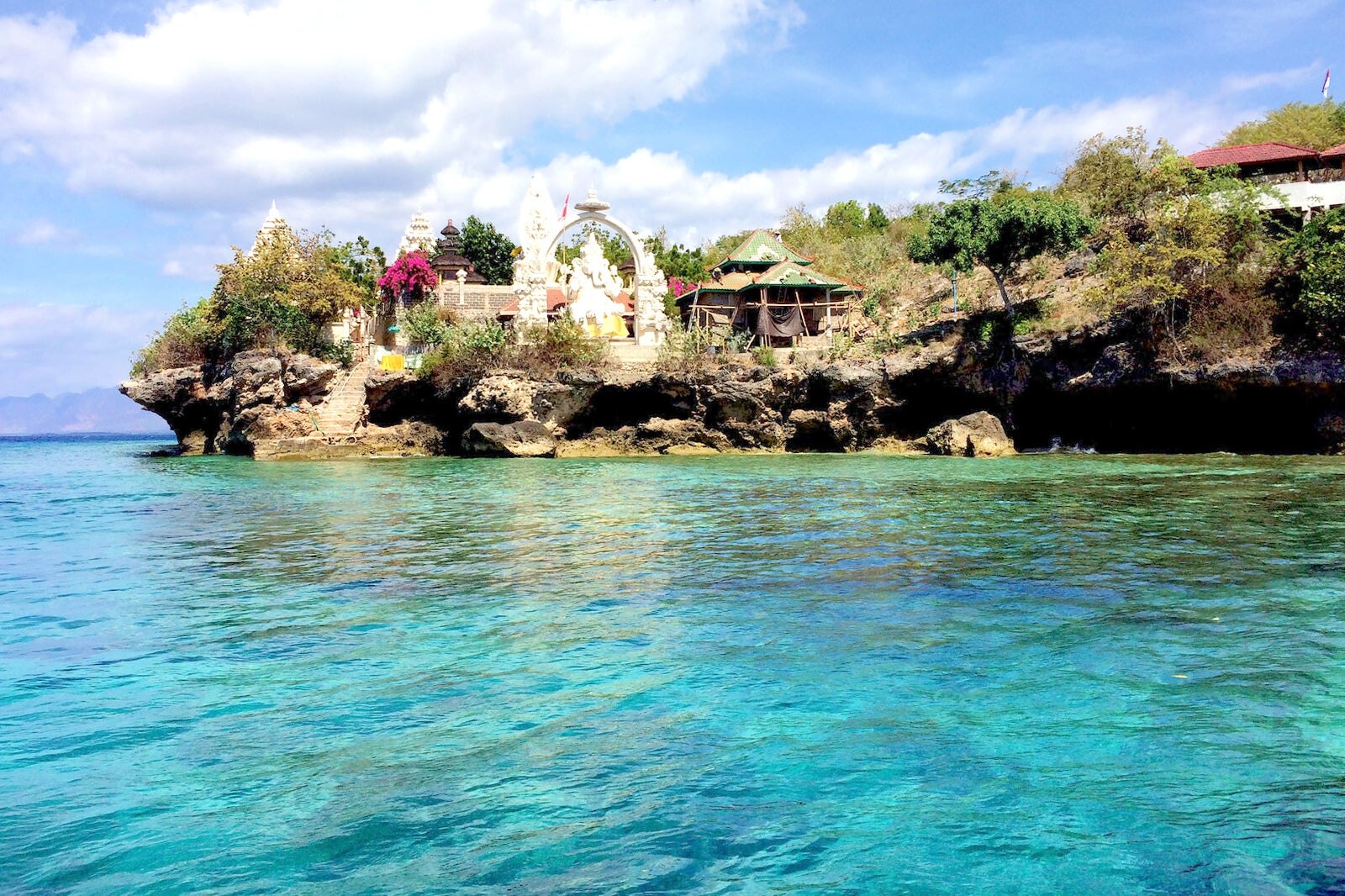 West Bali National Park
Jembrana, West Bali
The West Bali National Park covers most of the island's central-western region. This includes over 19,000 hectares of densely forested hills – the original habitat of the endemic Bali Starling. The park's northern coast consists of pristine coastal areas that include Menjangan Island, a favourite snorkelling and dive site with protected coral reef gardens. Another is Pemuteran, famous for its world coral restoration projects and pearl farms and mangroves.
Overland, you'll come across barren savannahs and forests home to over 300 different species of animals and birds. Menjangan Island itself is home to the Javan rusa deer. There are a few great resorts here, which allow you to escape the crowds and experience Bali's nature at its best.
Location: Jalan Denpasar-Gilimanuk, Cekik, Gilimanuk, Melaya, Jembrana, Bali 82252, Indonesia
Couples
Families
Photo
Adventure
photo by Lakshmi Sawitri (CC BY 2.0) modified