Here's how to rent a motorbike in Bali, with tips on renting those relatively small and nimble scooters that are everywhere in Southeast Asia that reign supreme over the traffic across the island. While renting a car in Bali and driving one yourself can be one of the best ways to explore Bali's many remote sites, riding a motorcycle in Bali lets you navigate even easier, as they enable you to access areas where 4 wheels can't go.
Avid surfers and those looking for adventure will find motorbikes a godsend. You can arrange for rentals for the entire duration of your stay, and at a fraction of the cost you would pay for renting a car and driver. There are some legal and safety guidelines to take heed of when renting a scooter or motorbike, so here's the lowdown for your Bali adventure on 2 wheels.
Renting a Motorbike in Bali - one of the highlights of Getting Around Bali (Read all about Bali here)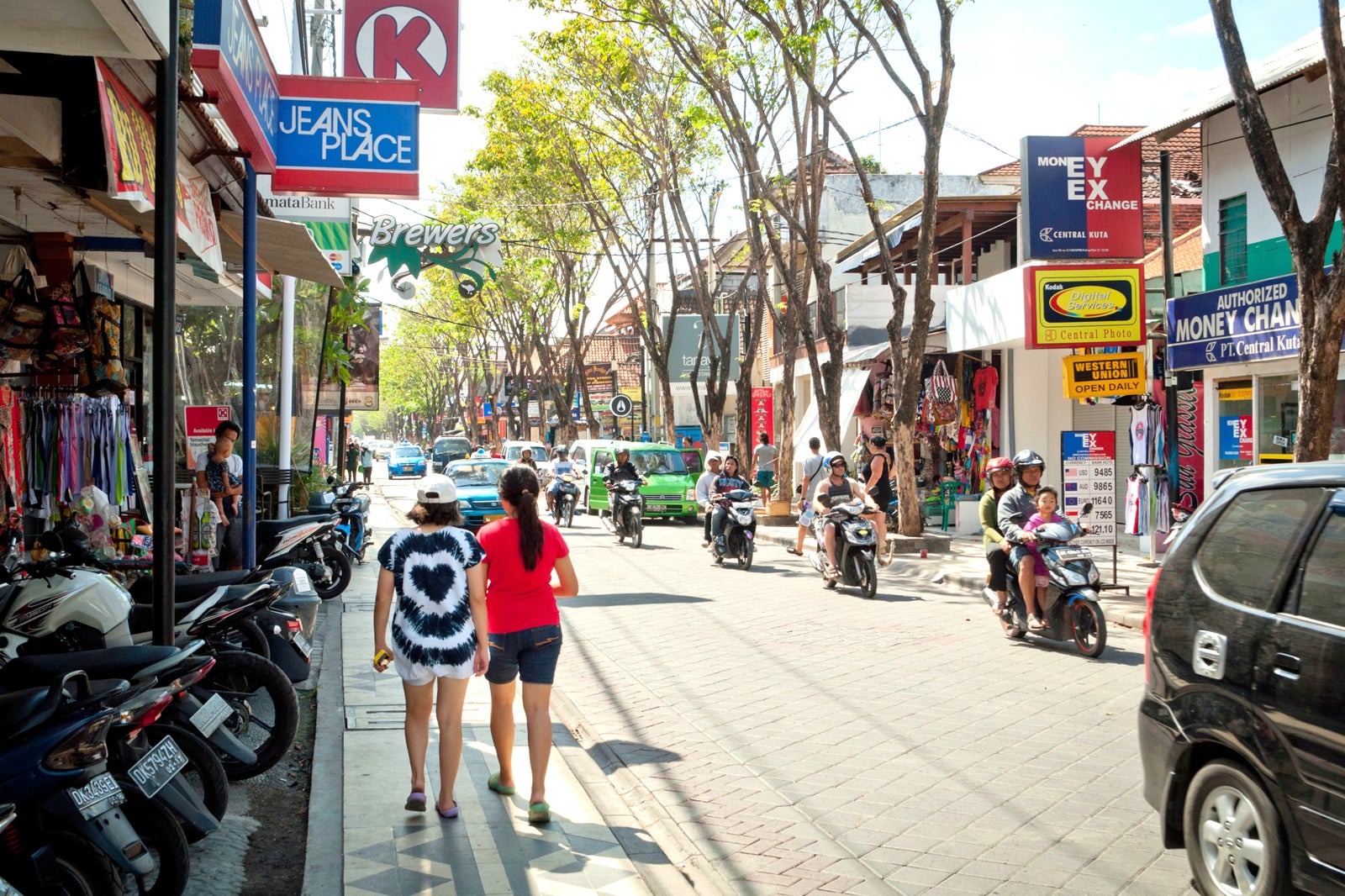 The majority of rented motorcycles in Bali are the 'underbone' and scooter type – mostly Hondas and Yamahas. The most popular models are Honda's user-friendly offerings with automatic gears, like the Vario, BeAT and Scoopy scooters. As most only have 110 or 125cc engines, they're lightweight and easy to control, especially in heavy traffic.
The major beach resort areas like Kuta, Sanur and Jimbaran all have rental stalls run and owned by locals, as do some of the more remote but interesting spots like Candidasa in East Bali. Look out for parked bikes with signs hung over their number plates or handlebars reading, "Motorbikes for Rent" or "Car and Motorcycle Rental", as most of these places offer both.
You can choose from daily rentals to an agreed upon return time and date, or even a convenient rendezvous drop off at your hotel. Hotels are usually able to arrange a bike through the concierge, or you can walk into a warung (local roadside cafe) offering rentals and ask.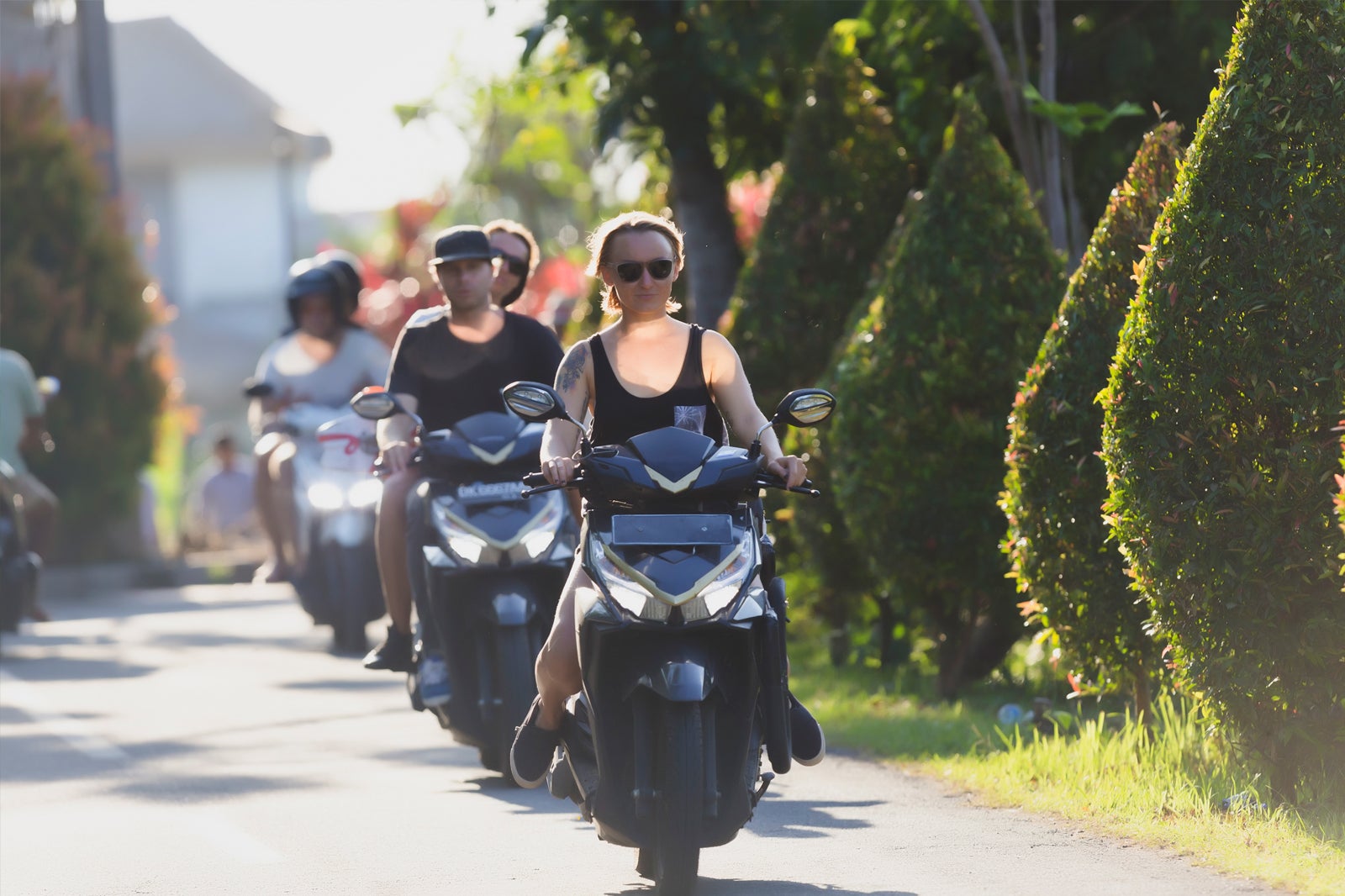 Do you need an international license to ride a motorbike in Bali?
An international motorcyclists' license is mandatory to ride a motorbike in Bali. If you haven't already arranged for one in your home country, rental shops can usually help you out for you for a fee.
You can apply for a temporary tourists' motorcyclist's license (with limited validity) at the international services of the Poltabes (city police headquarters) on Jalan Gunung Sanghyang in West Denpasar. You'll need to present you passport, photocopies of it, KITAS permit, and pay a fee of around Rp 250,000-300,000.
There's no better way to discover the island with a great sense of freedom and peace of mind – a simple document could save a lot of hassle with traffic police, who have gotten into the habit of stopping foreigners on bikes because they're almost guaranteed to be able to collect fines.
Do Bali motorbike rentals come with insurance?
As most motorbike rentals are small and locally run, don't expect many added bonuses with the rent of your bike. However, breakthrough western-managed bike rentals have sprung up, the likes of Bali Bike Rental, which noticed the demand and offers premium insurance options upon booking.
Traffic conditions in Bali are outright hazardous, but in case of incidents, it's a good thing you're covered and can enjoy a 100% trouble-free holiday experience. In all cases, personal travel insurance is also recommended.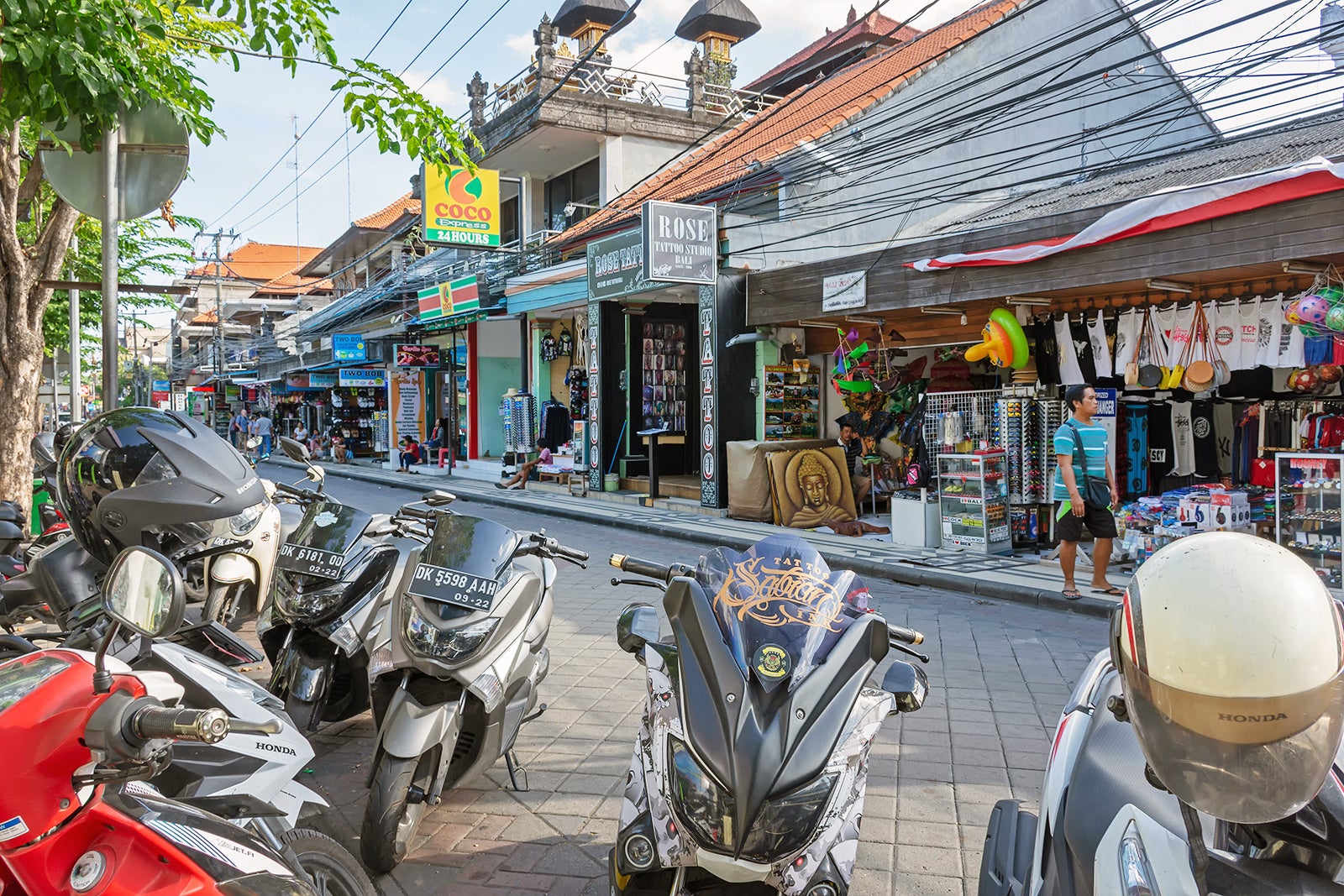 How much does it cost to rent a motorbike in Bali?
If they're all are in good condition, local rentals offer their Honda Varios from Rp 50,000 to 100,000 per day, and less for lower-powered bikes such as the Scoopy models. Bali Bike Rental guarantees fresh new bikes as they let go of those exceeding a certain mileage, with daily rentals starting from Rp 80,000.
What to check for...
Check your bike for any visible damage, including scratches – ensure the owner acknowledges them. Avoid being a victim of a scam where you are blamed for minor damages. Even consider snapping photos as proof.
Familiarise yourself with the bike and its controls. Examine the bike's safety: effective brakes, responsive throttle, working headlights switches, etc. Turn them all on, including revving the engine. Note that most rental bikes have automatic gears – referred to as 'matic' – with front and rear brakes being handle lever brakes. It's much safer to use them together at the same time, or applying the back brake before the front. Get a proper helmet with a strap that fits well.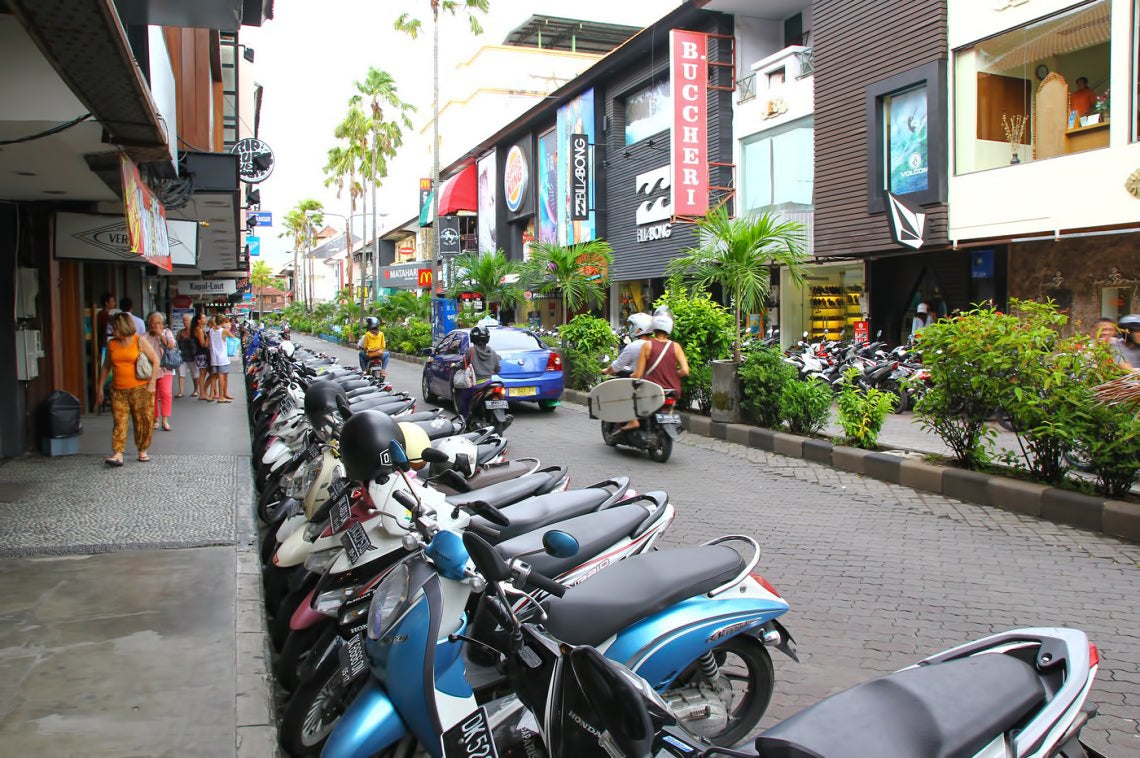 Tips and advice
Always wear a helmet and protective clothing. Riding a motorcycle gives you a freeing, wind-in-hair sensation, but don't ride around shirtless or without a helmet. Besides the obvious safety concerns, these actions actively invite police stops and contempt among local riders.
'Do as the locals do' doesn't fully apply to motorcycle riding in Bali. They commonly overtake or zigzag through dense traffic without using indicator lights, blast through red lights, and 'giving way' seems non-existent. For your own safety's sake, follow the signs and be a sensible rider at all times.
Riding with a GPS or GPS-enabled smartphone can be a great help when on the road in Bali. In case of a flat tyre, ask a local for help or directions to the nearest roadside repair stall (there are many in urban and satellite areas) to get it patched for around Rp 15,000.
Always check your fuel levels while on the road. Automatic gear scooters tend to drain faster than manual gear types. Most models have tanks that can hold about 4 litres, with the petrol type marketed in Indonesia as 'Pertamax', 'Premium' and 'Pertalite', depending on their octane levels. State-owned petrol stations (SPBU Pertamina) are virtually everywhere.
Back to top