7 Horseback Riding Centres in Bali
A Mini Guide to Bali Horse-Riding
Horseback riding in Bali is a fun and exciting way to enjoy the island's outback – from paddy trails to quiet stretches of sandy coastlines. There are notable stables near secluded beaches where horse-riding is most popular, including the black sand coasts of Berawa in Canggu. Further up north towards Pererenan Beach and Tanah Lot, you'll find a unique combination of rice fields and coastal views.
Popular horseback trails line the island's east, central and northern areas, where beginners are welcome to join scenic tours lasting up to 2 hours. You can ride local breeds of Bali pony or Sumba sandalwood crossbreeds and enjoy a sunset beach ride, which can be a highlight of your trip. Retreats up north offer horse-riding activities through mangroves and unspoiled wilderness. Here's where to experience horseback riding in Bali for your next equestrian joyride.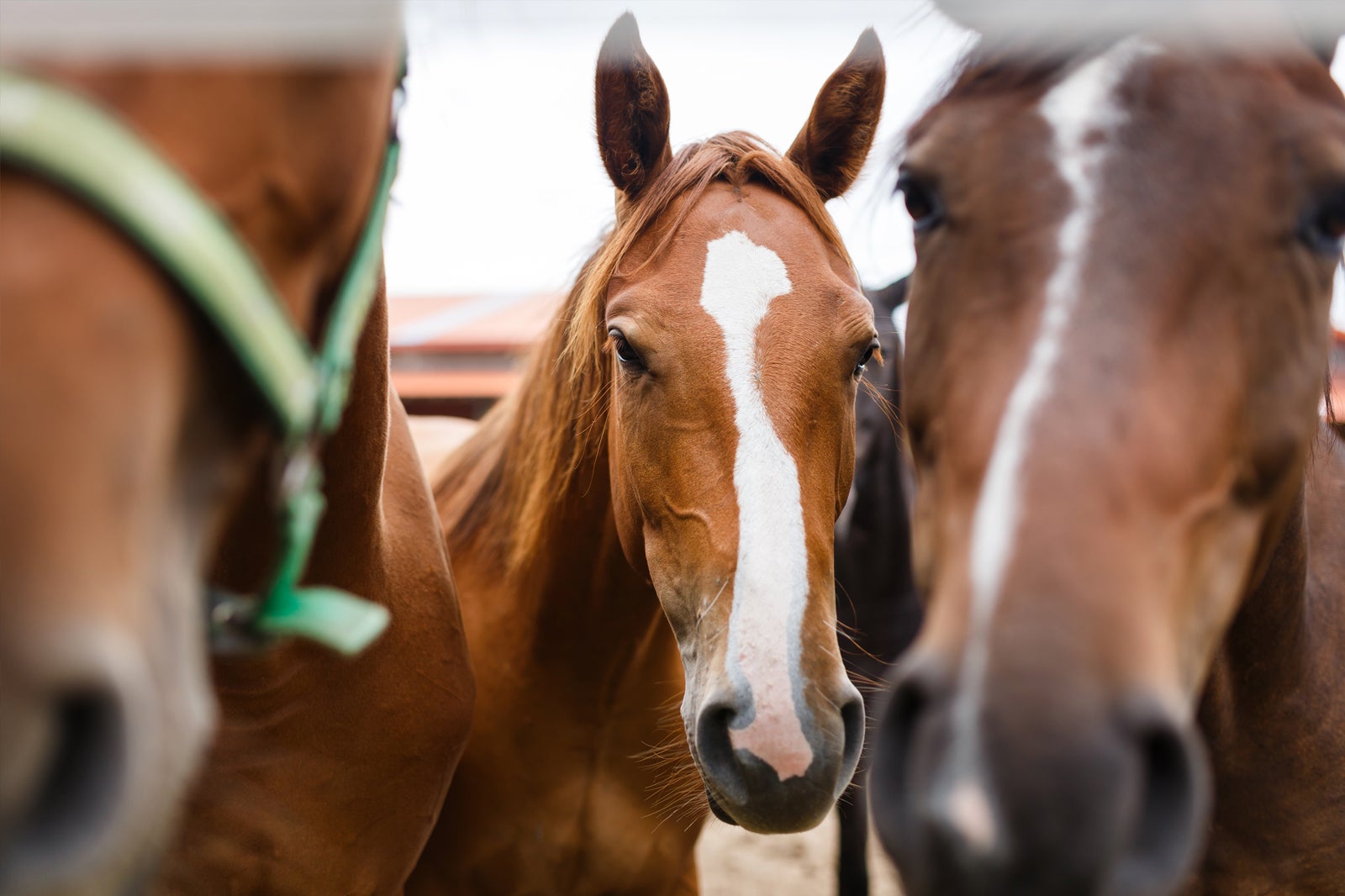 Bali Equestrian Centre is a 2.5-hectare facility in Canggu that's manned by certified international instructors. The stables are home to over 30 trained horses of local and imported breeds. The centre often attracts families with leisurely pony rides and day camps for kids.
If you've never ridden a horse before, Bali Equestrian Centre offers lessons for both adults and kids. Breakfast and lunch are served at the centre's onsite restaurant. You'll also find a swimming pool and playground that overlook the main riding arena.
Location: Perumahan Canggu Asri, Jalan Karang Suwung, Brawa, Canggu, Badung, Bali 80361, Indonesia
Open: Daily from 7.45am to 11.45am and from 2.45pm to 6.45pm
Phone: +62 (0)361 844 6541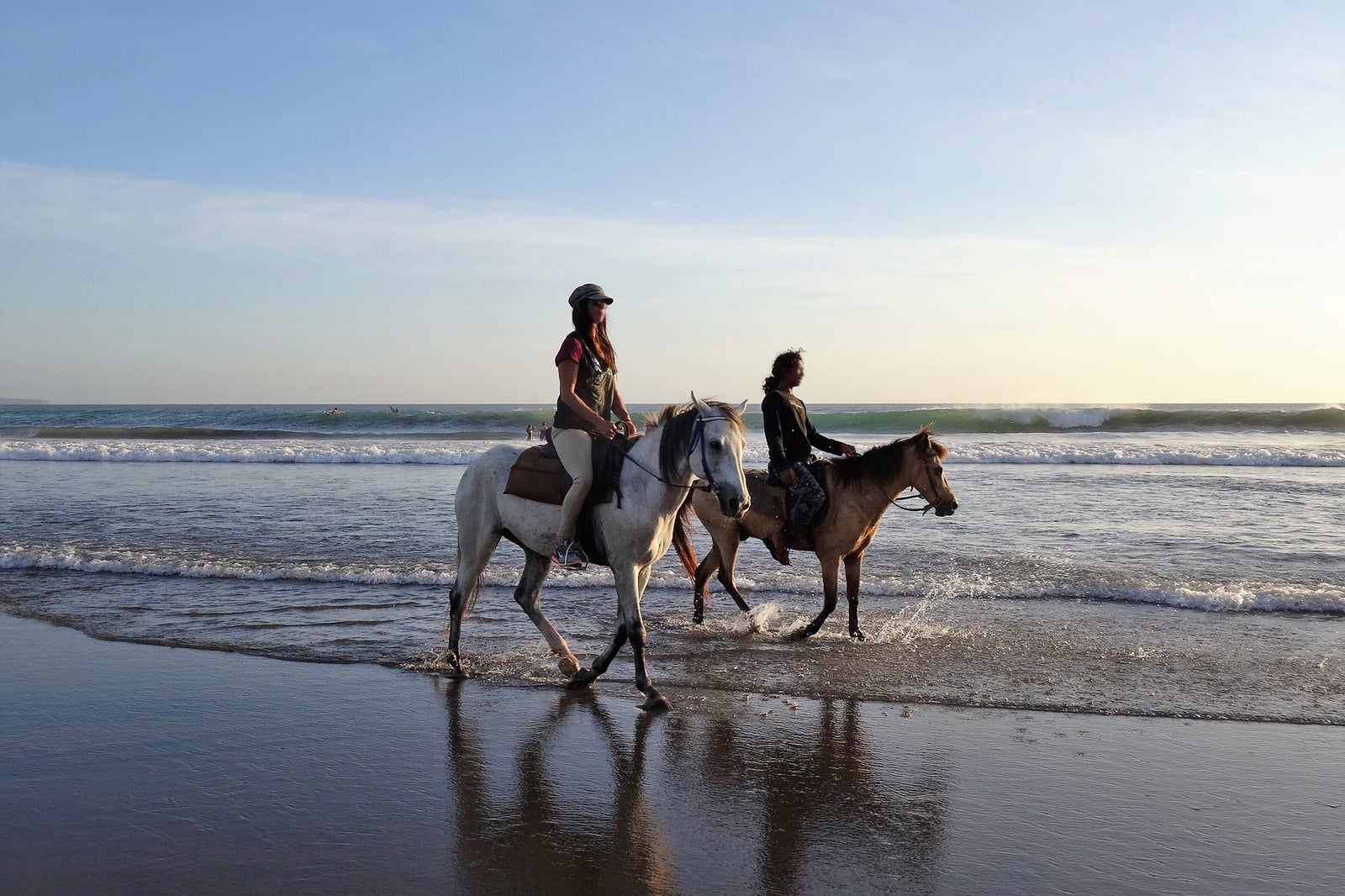 Bali Island Horse on Yeh Gangga Beach in Tabanan, West Bali, offers horseback riding tours to villages, local temples, rice fields and rivers, as well as a stopover at a bat cave. Located at the far northern end of the Canggu area, the stable works with one of Australia's leading equine nutritionists and feeds its horses with all-natural food.
The basic horseback riding tours take around 2 hours – book an evening tour so that you ride down the beach for impressive sunset views. Bali Island Horse also offers a full-day excursion, which includes a 2-hour horseback tour of Canggu, lunch at Tabanan Monkey Forest, a 2-hour ATV ride, and sunset viewing at Tanah Lot, Bali's iconic sea temple.
Location: Jalan Pantai Yeh Gangga II, Sudimara, Sudimara, Tabanan, Bali, Indonesia
Open: Monday–Saturday from 9am to 6pm (closed on Sundays)
Phone: +62 (0)361 846 9616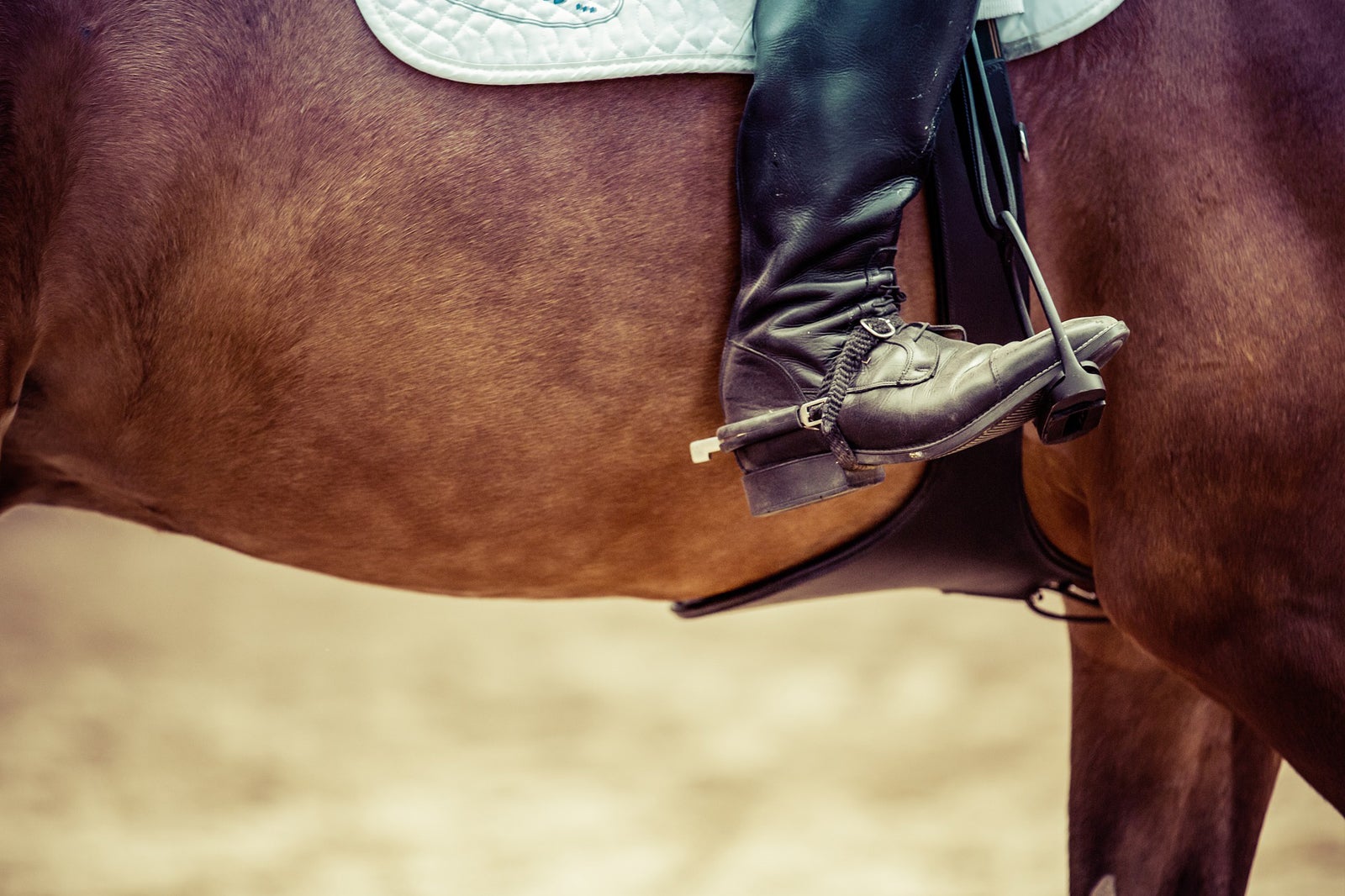 Kuda P Stables is an equestrian centre in Tabanan, West Bali, that has over 50 years of experience with horses in England, Australia and Indonesia. This Aussie-owned company has many well-trained and groomed horses that can take you for a leisurely ride through rice fields, local villages, and along Pererenan Beach. Kuda P Stables also offers therapeutic rides for the disabled. Kids below 6 years old can try out their pony rides, which takes about 30 minutes.
Location: Jalan Langudu, Desa Langudu No.516, Pangkung Tibah, Kediri, Tabanan, Bali 82115, Indonesia
Open: Monday–Saturday from 9am to 5pm (closed on Sundays)
Phone: +62 (0)811 393 9011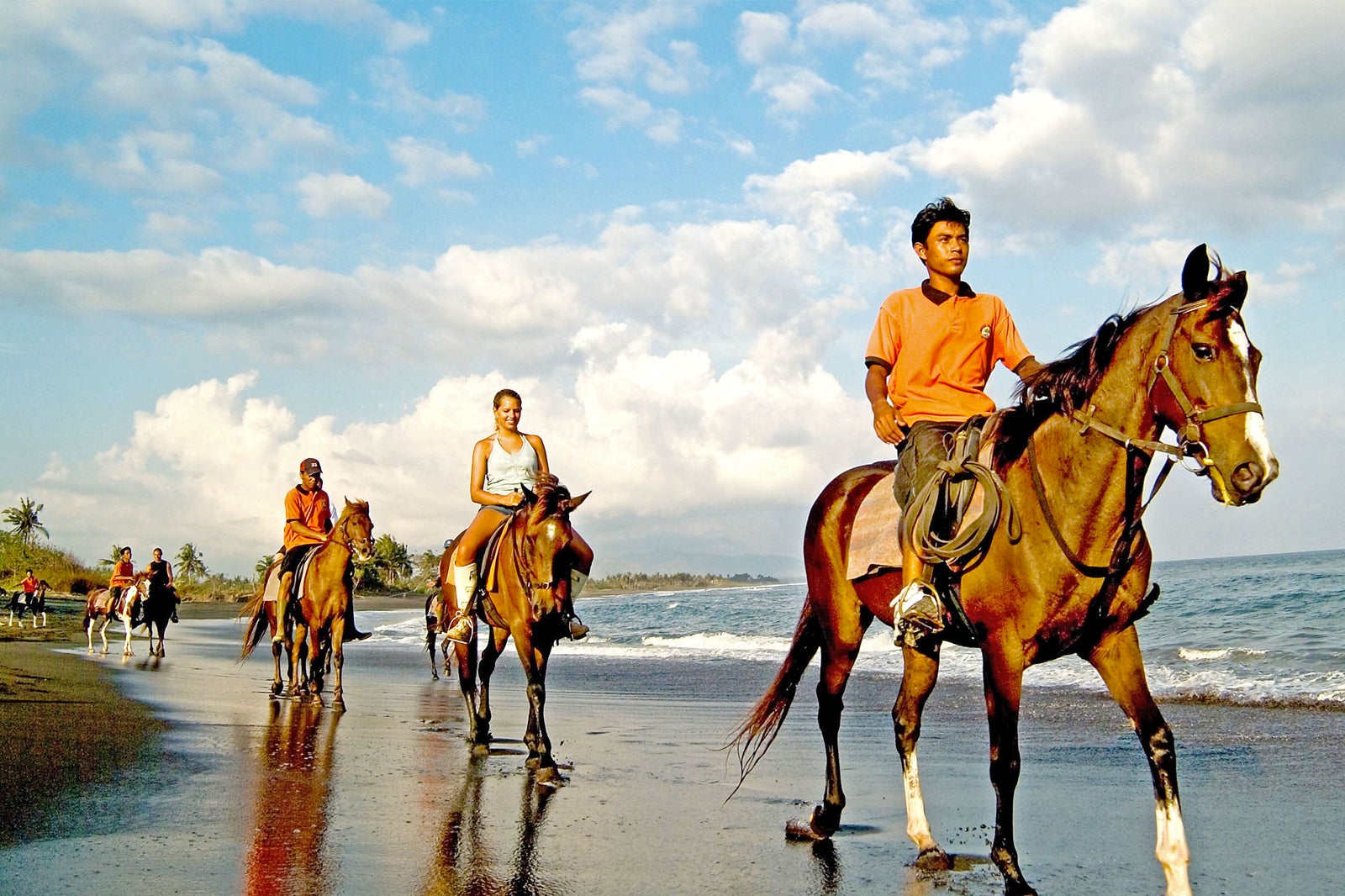 Bali Horse Riding has more than 20 horses, many of which are bred at their stables. A tour typically starts with a comprehensive safety briefing from professional guides, followed with a tour of Saba Bay on Bali's east coast. Trot through the grassy countryside toward the volcanic sand coast and splash through the waves, with the outlines of Nusa Penida Island and Mount Agung in the background.
Bali Horse Riding is part of True Bali Experience, an eco-tourism company that offers adventure tours like white water rafting, mountain cycling, and jungle trekking.
Location: Jalan Pantai Saba, Saba, Blahbatuh, Gianyar, Bali 80581 Indonesia
Open: Daily from 9am to 4pm
Phone: +62 (0)361 239 440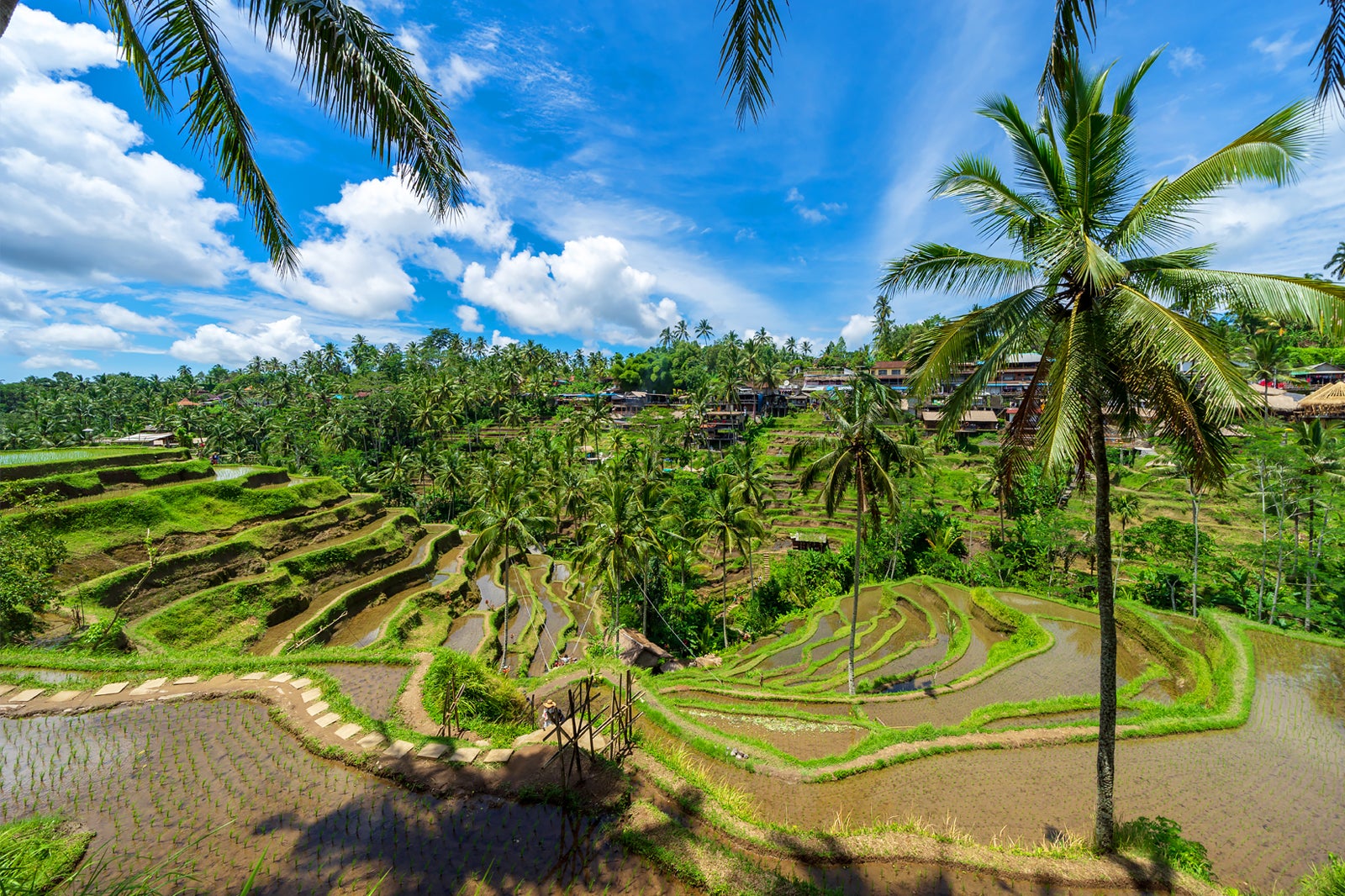 Ubud Horse Stables is an equestrian centre in the traditional village of Desa Pupuan, about 16 km north of central Ubud. Beginners can enjoy horseback riding tours of the highlands, forests and rivers, as well as the rice paddies of Tegallalang. Advanced riders can opt for the 2.5-hour-long tour that includes a visit to rice fields, a coffee plantation, and a trek down to a secret waterfall. Ubud Horse Stables also offers riding lessons and pony rides for children.
Location: Banjar Timbul Desa, Pupuan, Tegallalang, Gianyar, Bali 80561 Indonesia
Open: Daily from 6am to 5pm
Phone: +62 (0)813 3958 5666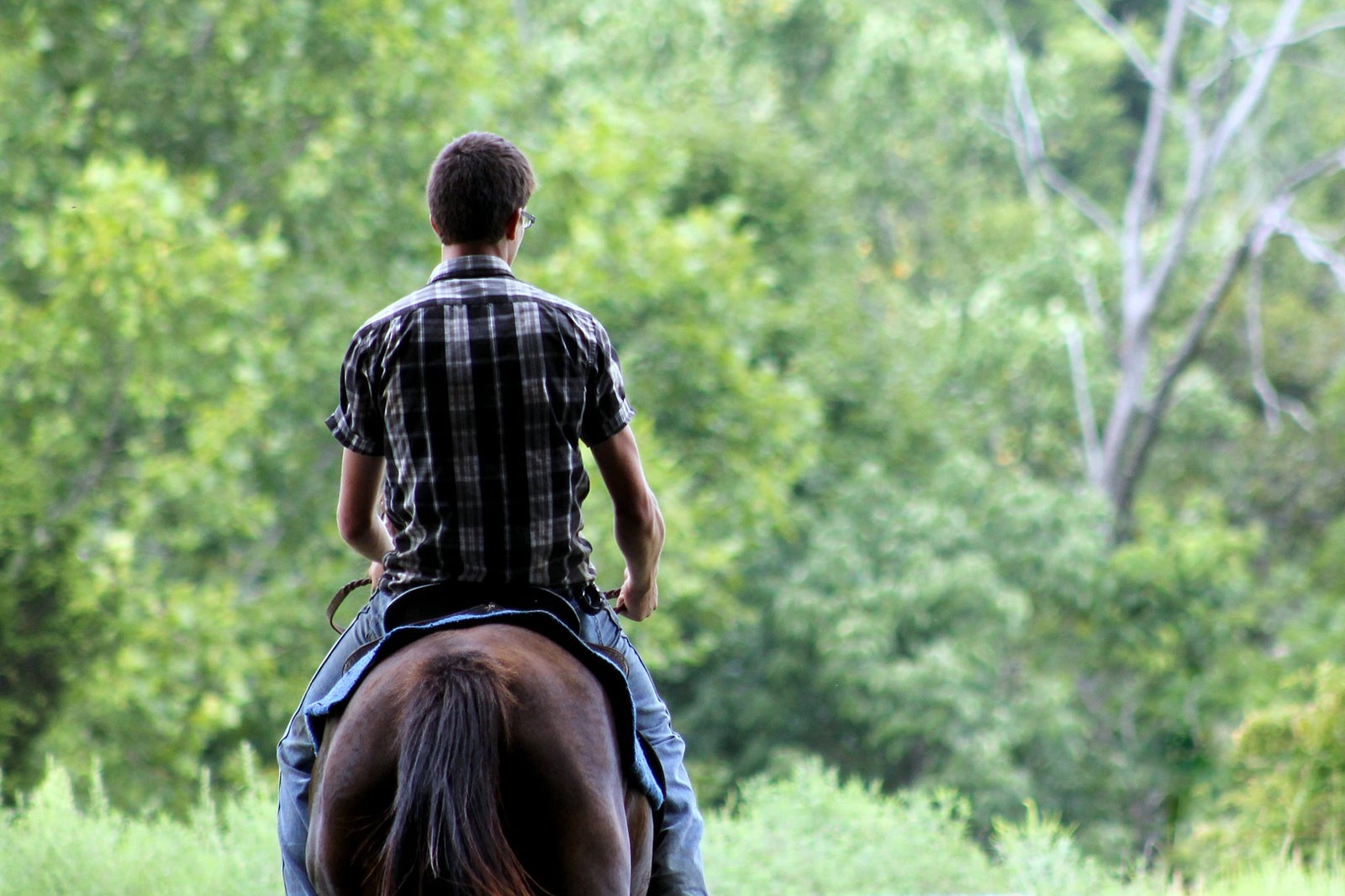 Ubud Horse Riding takes you on an adventurous journey through rice terraces and rainforests of the Bukian farming village in Payangan, on the northern outskirts of Ubud. During your ride, you'll witness traditional Balinese life at its best, with sightings of tropical birds and wildlife along the nature trails. One and 2-hour riding activities are available for both beginners and advanced riders.
Location: Banjar Amo, Bukian, Payangan, Gianyar, Bali, Indonesia
Phone: +62 (0)878 618 924 32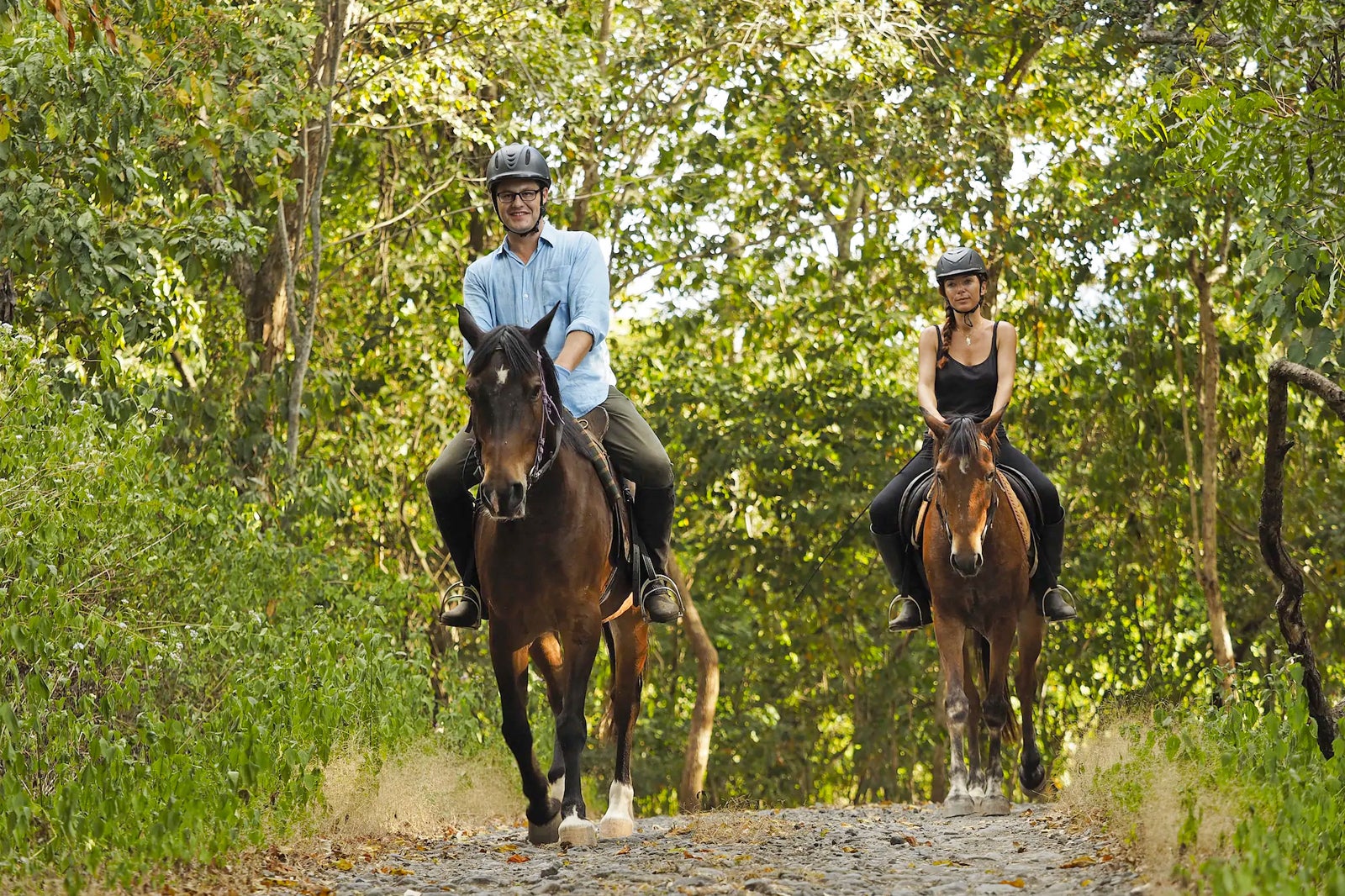 The Menjangan Bali Resort
The Menjangan Bali Resort offers a wide range of land and water activities in West Bali National Park. On horseback, you can enjoy a bit of both, riding past a mangrove forest with views over the calm waters and Menjangan Island on the horizon. Its stables are home to quality Australian horses, while experienced guides can tailor each trek to suit your riding ability. The best time to enjoy horseback riding tours is early morning or late afternoon.
Location: Jalan Raya Gilimanuk, Singaraja Km. 17, Pejarakan, Buleleng, Bali, Indonesia
Phone: +62 (0)362 94 700