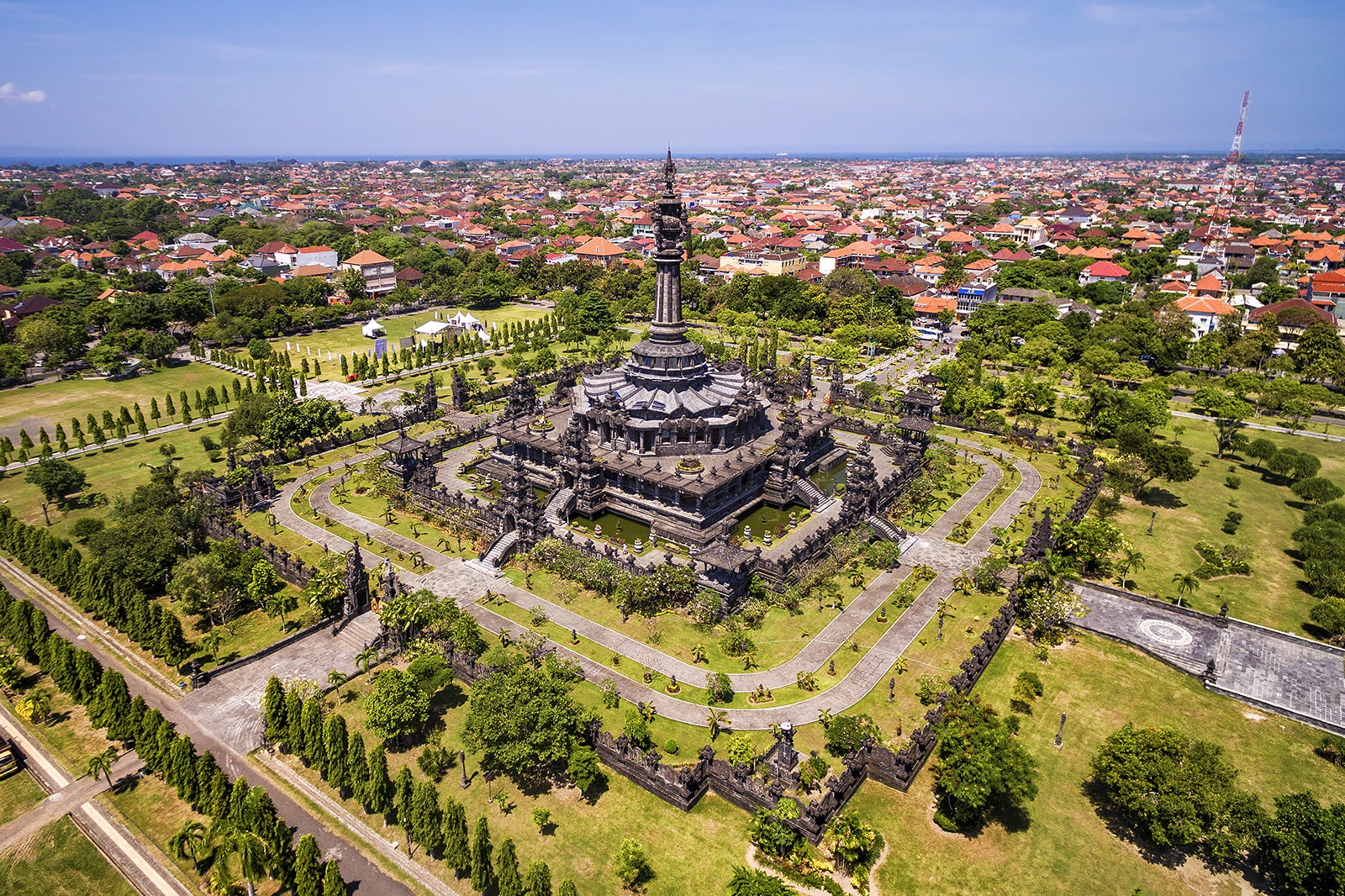 Bajra Sandhi Monument is a major landmark in Denpasar that looms over the green lawns in the centre of the Renon Square, otherwise locally referred to simply as 'Puputan Renon'. The site is adjacent the Bali Governor's office, and is hard to miss with its uniquely designed and towering grand structure.
The shape of Bajra Sandhi resembles that of a Balinese Hindu priest's praying bell or bajra. Inside the monument, you'll find a museum that displays various historical dioramas of the people's past struggle for independence from the Dutch. Also at the monument's base, you can find a modern 3D trick-eye museum catering to a younger generation.
Bajra Sandhi Monument in Bali - one of the highlights of 16 Best Things to Do in Denpasar (Read all about Bali here)
Features of Bajra Sandhi Monument
Bajra Sandhi Monument comprises 3 levels. The ground level lets you admire the typical Balinese architectural features that have been applied to the overall structure, while the second floor is where most of the diagrams and dioramas depicting Balinese pre-history and history are shown.
The final upper level provides you with soaring views over the green square and Denpasar's cityscape afield. In August 2016, the ground space was turned into the IAM Bali Interactive 3D trick-art museum space, full of fun murals where you can strike fun poses to add to your collection of holiday pics. Tickets apply for either museum.
The monument itself sits on a 4,900-square-metre plot within the vast 14.4-hectare grounds of flat green lawns, gardens and palms of the Renon Square. Denpasar residents frequent the square over the weekends, particularly during the 'car-free' Sundays that allows joggers and cyclists to enjoy the public space with ease. The Bajra Sandhi Monument is a popular itinerary that's almost always featured on Denpasar city tours.
Bajra Sandhi Monument in Bali
Location: Jalan Raya Puputan No.142, Renon, Denpasar, Bali 80234, Indonesia
Open: Monday–Saturday from 8am to 6pm, Sunday from 10am to 6pm
Phone: +62 (0)361 264517
Back to top