14 Best Things to Do in Kowloon
Kowloon Attractions
Kowloon is a sprawling area of land on the tip of mainland China that was ceded to Britain in 1860. As an extension of Hong Kong Island, there is a wide range of interesting things to see and do here. With multiple transport links, it's just as convenient to visit Kowloon's most fascinating sites as it is to get around Hong Kong Island.
Kowloon has plenty of culturally rich attractions such as galleries, museums and live performance venues, which are among the finest things to do in this part of town. Plus, this is where you will find the best shopping markets in all of Hong Kong. We have collected the best attractions in Kowloon and listed them below.
What are the best things to do in Kowloon?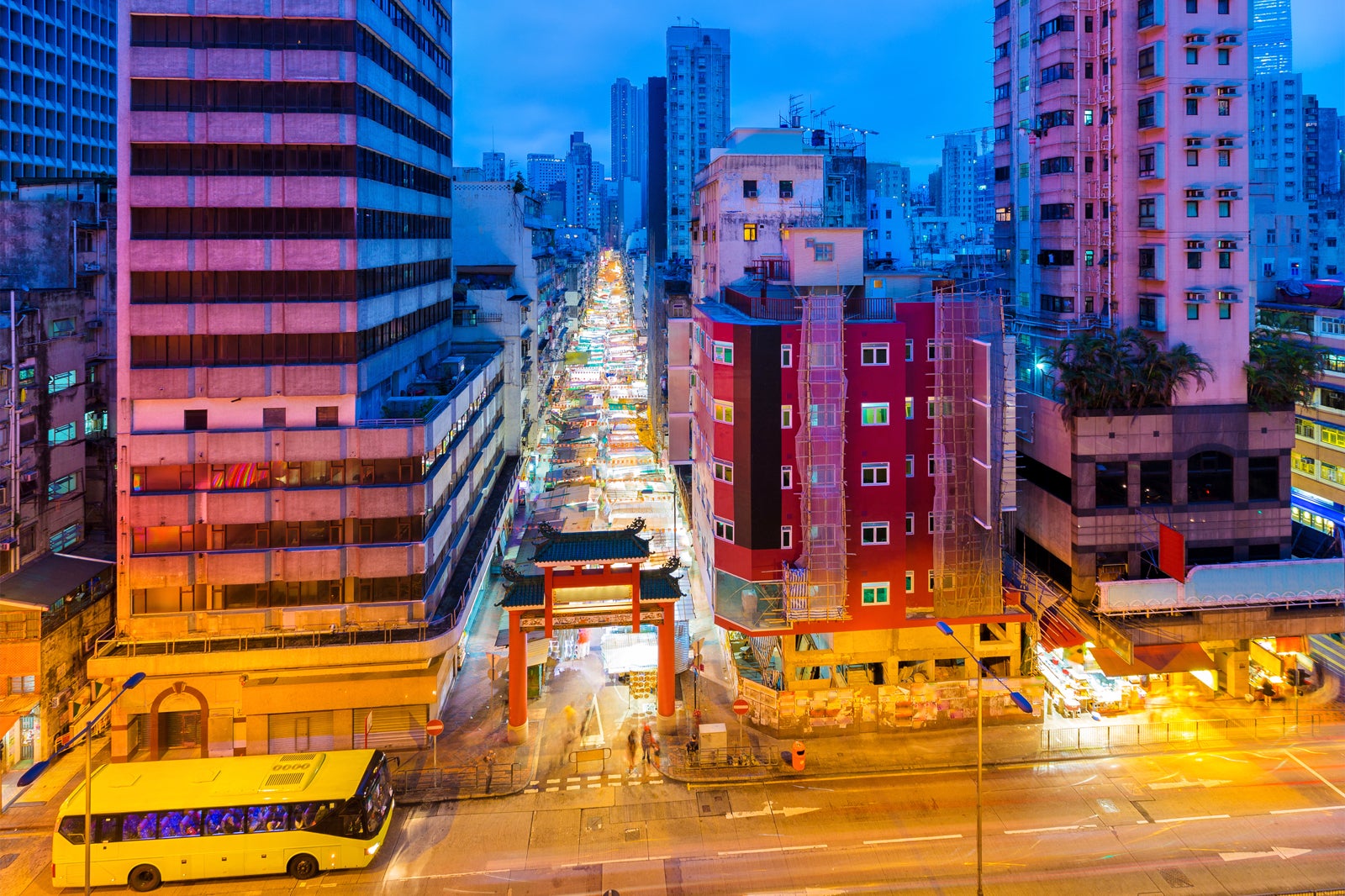 Temple Street Night Market
Temple Street Night Market is the largest market in Hong Kong so it's a firm fixture on the shopping itineraries of most visitors to Hong Kong. You'll find all sorts here: clothes, bags, shoes, watches, DVDs, home furnishings and plenty of souvenirs. It gets going around sunset and lasts until around 11pm. Never accept the first price as bargaining is all part of the fun at Temple Street Night Market.
Location: Temple St, Jordan, Hong Kong
Open: Daily from 5pm to 11pm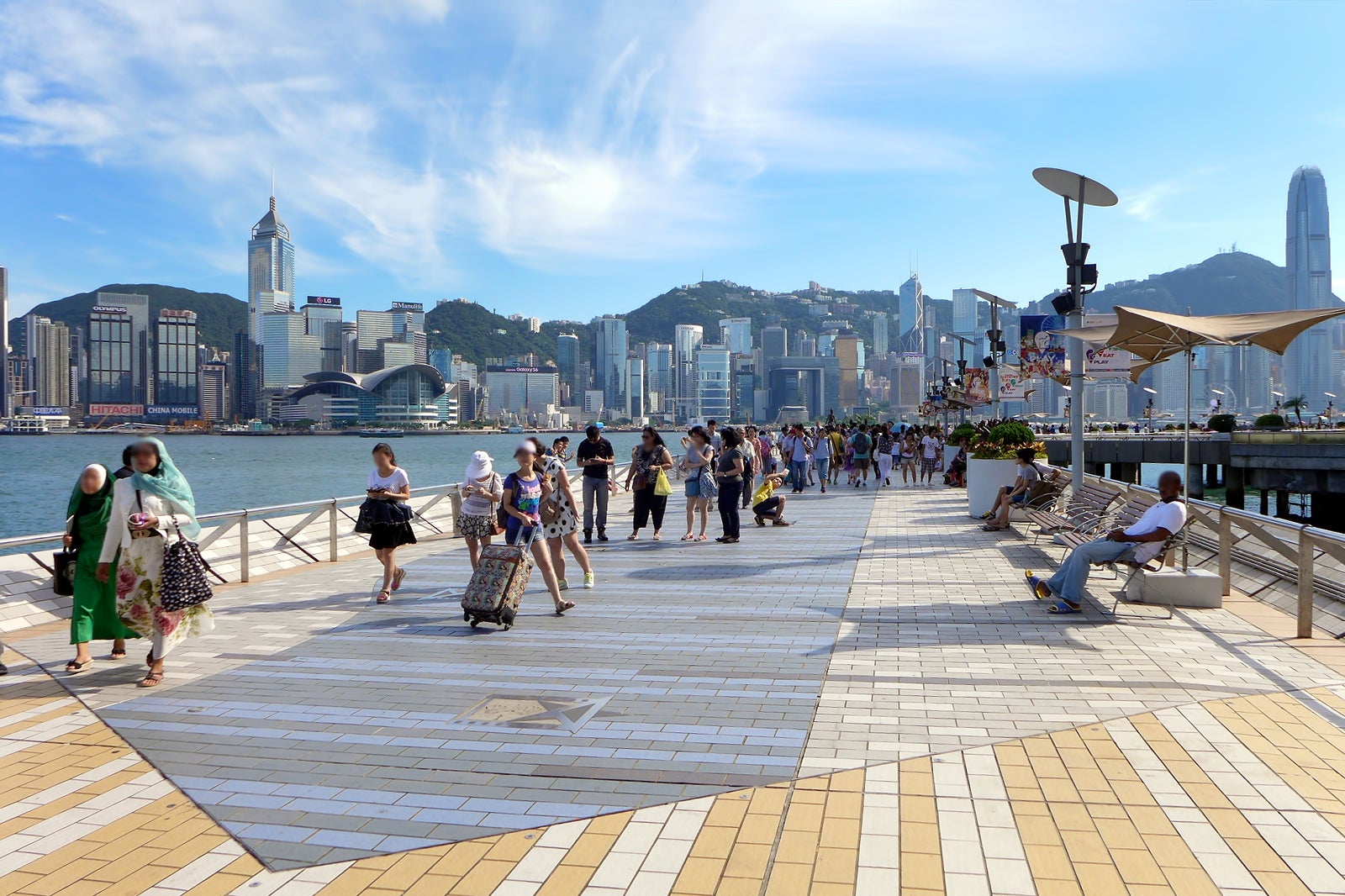 The Avenue of Stars is a promenade located along the waterfront in Tsim Sha Tsui, Hong Kong. Like the Hollywood Walk of Fame, it celebrates those who have made great contributions to the local film industry. Each of the 100 plaques has the handprint and autograph of the celebrity it represents. Special lights on the floor make the avenue sparkle at night. A series of film-related sculptures are ideal to take photos with, using Victoria Harbour as a glamorous background.
Location: Tsim Sha Tsui Promenade
Couples
Families
Photo
Budget
photo by Wing1990hk (CC BY 3.0) modified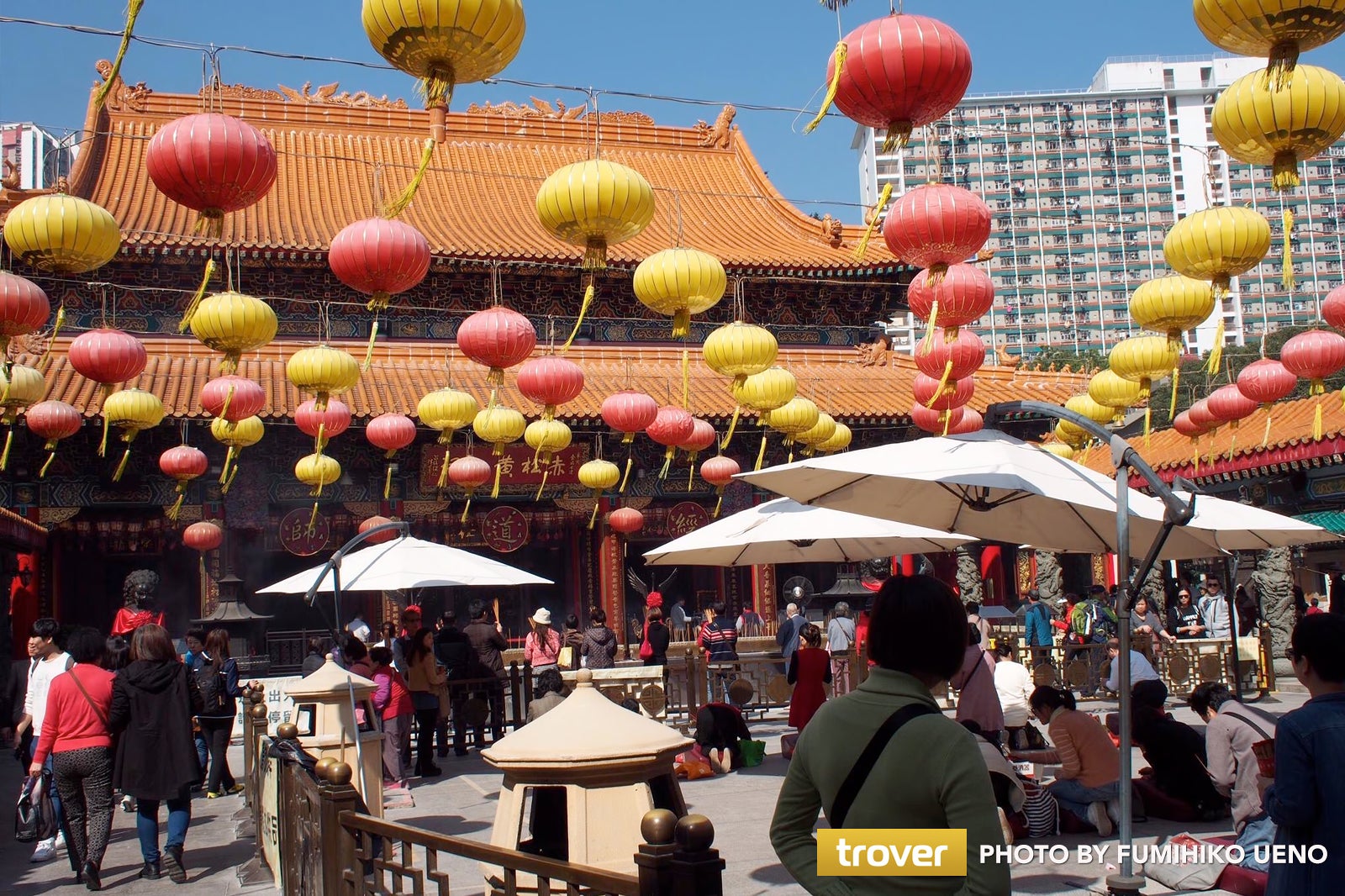 Wong Tai Sin Temple is a beautifully preserved complex in Kowloon. Peaceful and charming, the 18,000 sqm temple is located in Wong Tai Sin and is dedicated to the 3 major religions in China – Taoism, Confucianism and Buddhism.
Besides the grand hall, main attractions include Three-Saint Hall, the Taoist temple and the Nine Dragons Wall. Also, there are a lot of historical inscriptions inside. The main temple was built according to traditional Chinese architecture, which includes red pillars and a gold roof.
Location: 2 Chuk Yuen Village, Wong Tai Sin, Kowloon, Hong Kong
Open: Daily from 7am to 5.30pm
Phone: +852 2327 8141
Couples
Families
History
Photo
Budget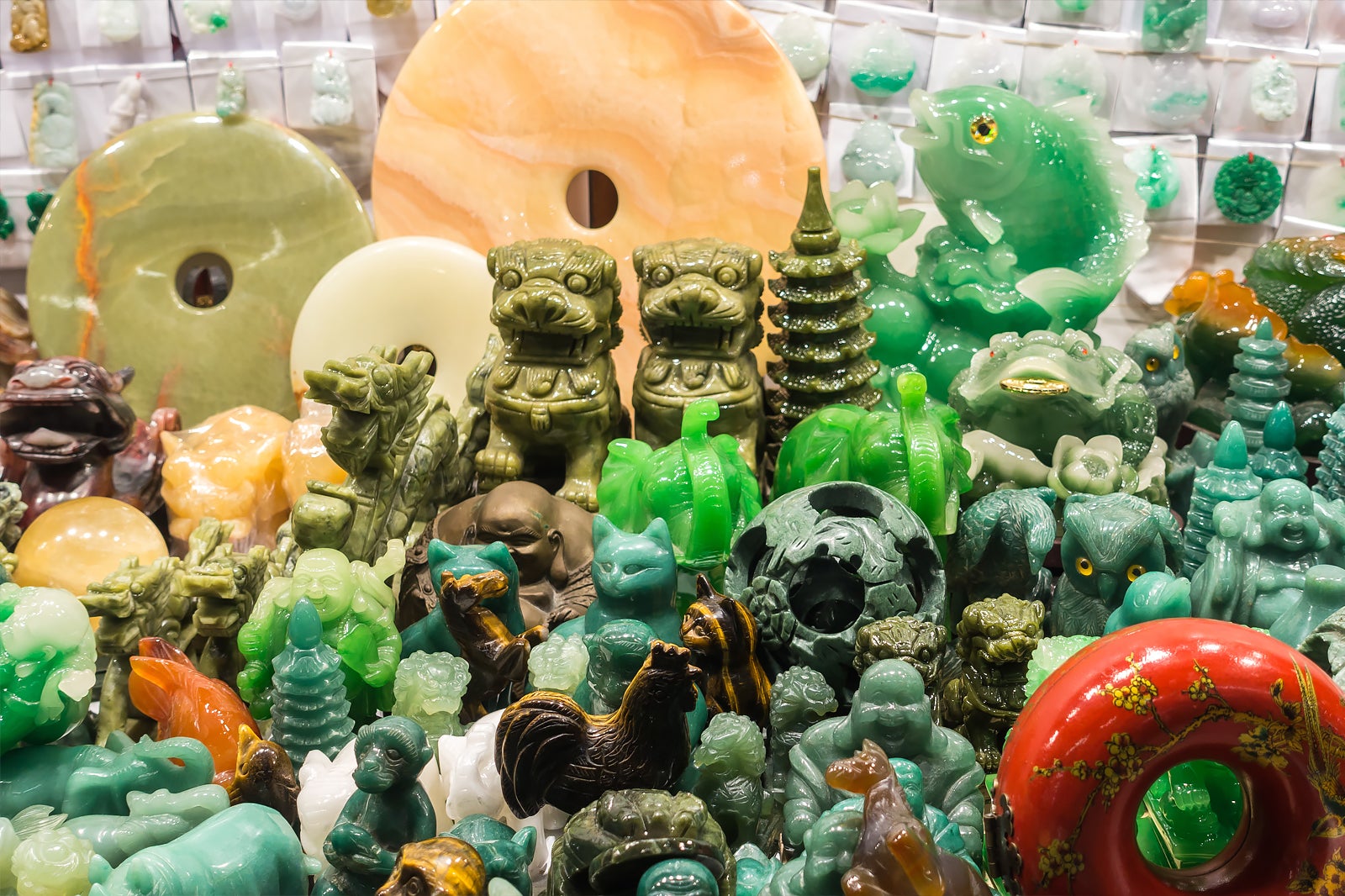 Jade Market and Jade Street
Jade Market is a collection of traders all dealing in fashion jewellery, ornaments, rings, pendants, anything made from the semi-precious stone jade, in fact. The street next to the undercover market houses a whole row of shops and traders dealing in jade and other precious stones.
The quality of the jade is usually reflected in the price, and although the purest green stones are very expensive, it's also possible to pick up some rather inexpensive items, typically yellow or brown jade. Jade Market is closest to MTR Yau Ma Tei Station.
Location: Jade St, Yau Ma Tei, Kowloon, Hong Kong
Open: Daily from 9am to 6pm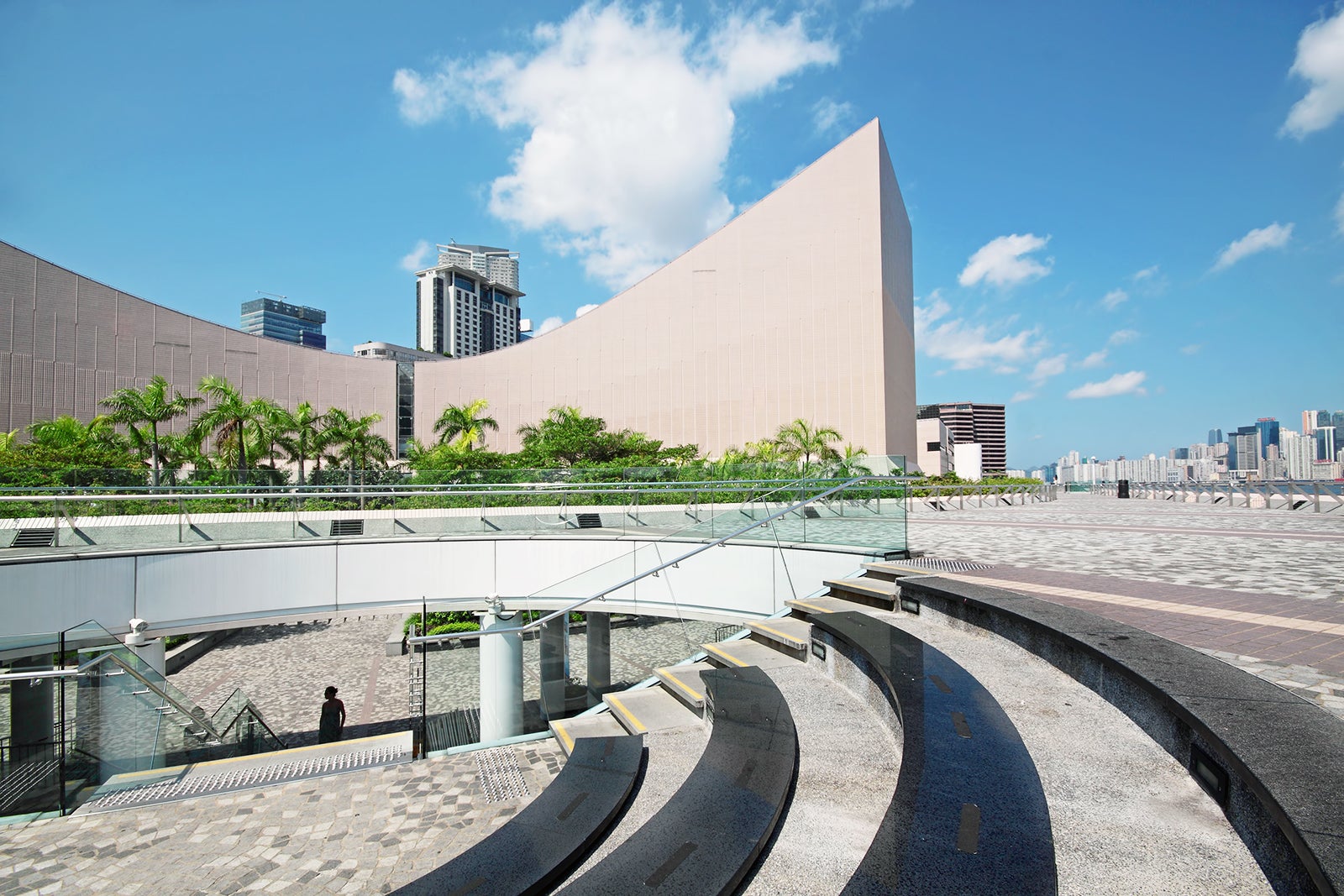 Hong Kong Cultural Centre
The Hong Kong Cultural Centre hosts a regular bill of performances, including music concerts, European and Chinese opera, ballet and theatre.
World-famous artists visiting Hong Kong will likely play here so it's worth checking which performances are coming up before you visit. Inside there is the main concert hall, 2 theatres, and an exhibition gallery. Some smaller performances are also free to enter, especially in the afternoon.
Location: 10 Salisbury Road, Tsim Sha Tsui, Kowloon, Hong Kong
Phone: +852 2734 2009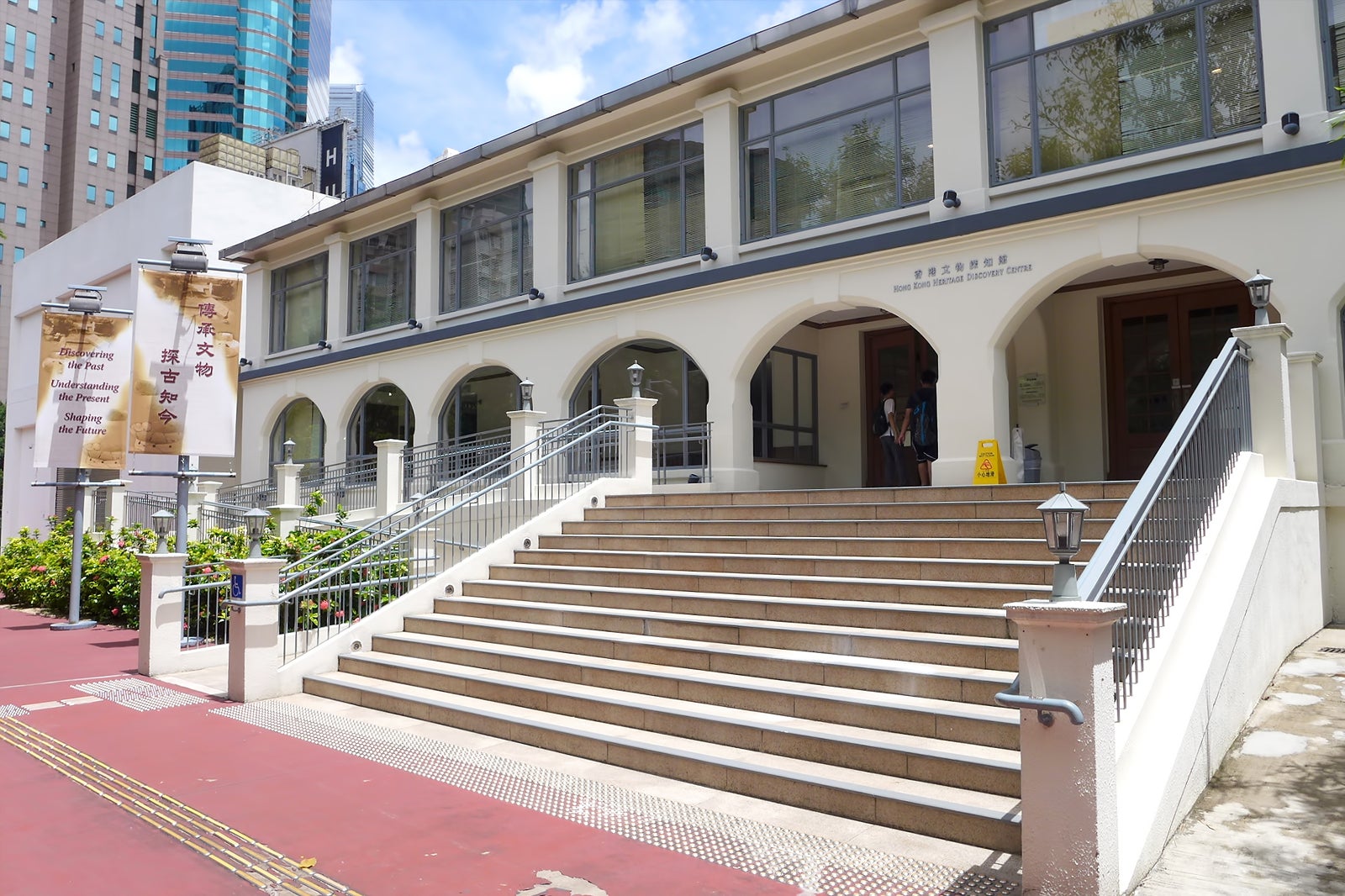 Hong Kong Heritage Discovery Centre
This is a cultural museum for fans of history, providing detailed information about Hong Kong's past. Exhibits look at the changing face of transport, work and prehistoric artefacts found on archaeological digs.
To accompany the exhibits there are documentaries and models. Located in Kowloon Park, visitors can have a walk around the green expanse before or after a tour through Hong Kong's history and culture. The museum is walking distance from MTR Tsim Sha Tsui. Entry is free.
Location: Kowloon Park, Haiphong Road, Tsim Sha Tsui, Kowloon
Open: Friday–Wednesday 10am to 6pm (open until 7pm on weekends)
Phone: +852 2208 4400
photo by Erika Calvert (CC BY-SA 4.0) modified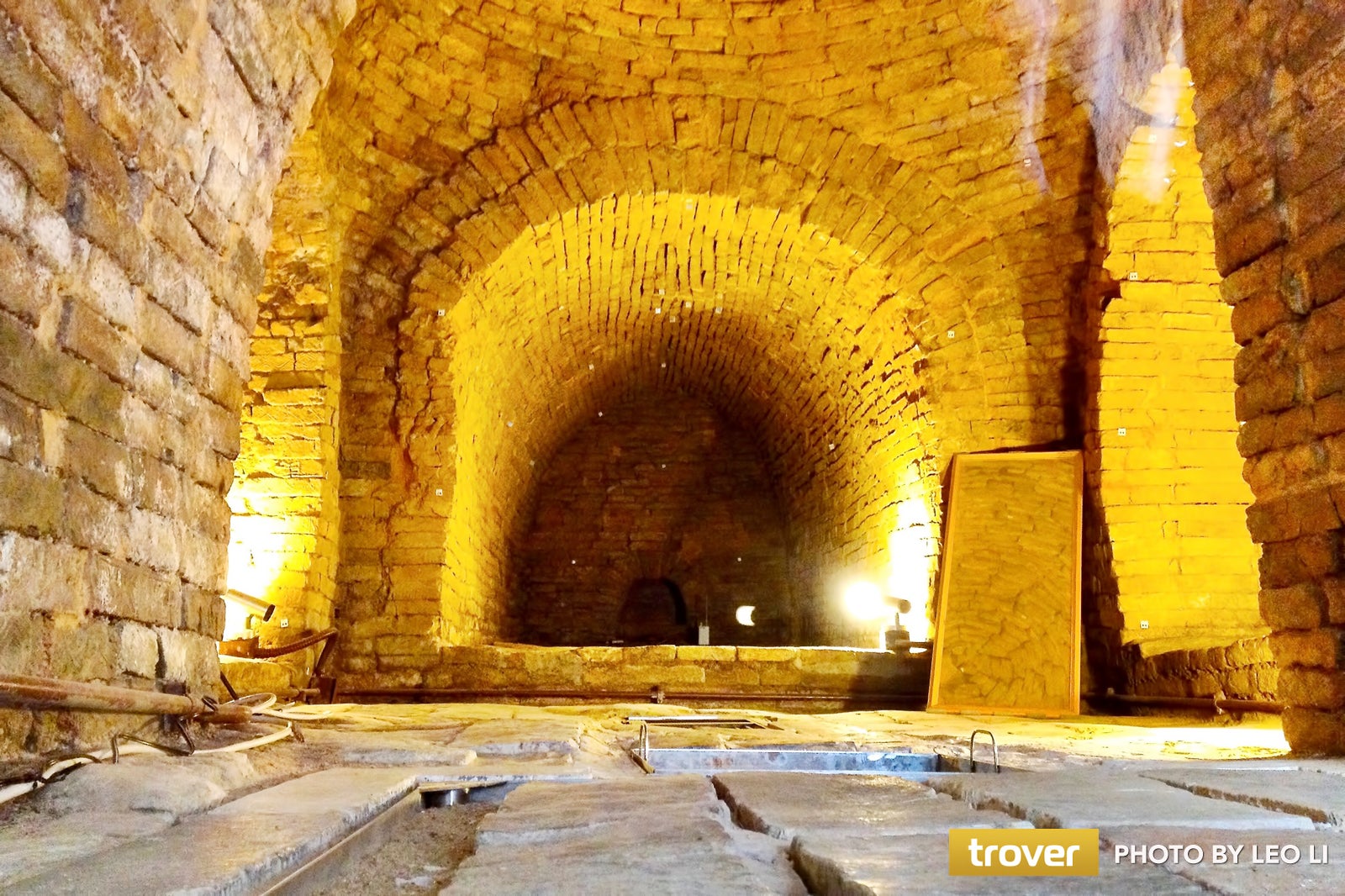 Lei Cheng Uk Han Tomb Museum
Lei Cheng Uk Han Tomb Museum is composed of an Eastern Han dynasty brick tomb and an exhibition gallery. The tomb was only discovered in 1955. According to the structure, calligraphy and content of the inscriptions on tomb bricks, it is believed that it was built in the Eastern Han dynasty (25 - 220 AD). The tomb was declared as a monument in 1988.
Lei Cheng Uk Han Tomb Museum is located on Tonkin Street, a short walk from the Cheung Sha Wan MTR Station. Though the actual tomb is closed to the public for conservation reasons, visitors can still glimpse the interior through the glass panel at the Entrance Passage. Entrance is free and will take around 20 minutes to walk through this modest museum.
Location: 41 Tonkin Street, Sham Shui Po, Kowloon, Hong Kong
Open: Monday–Wednesday and Friday–Sunday from 10am to 6pm
Phone: +852 2386 2863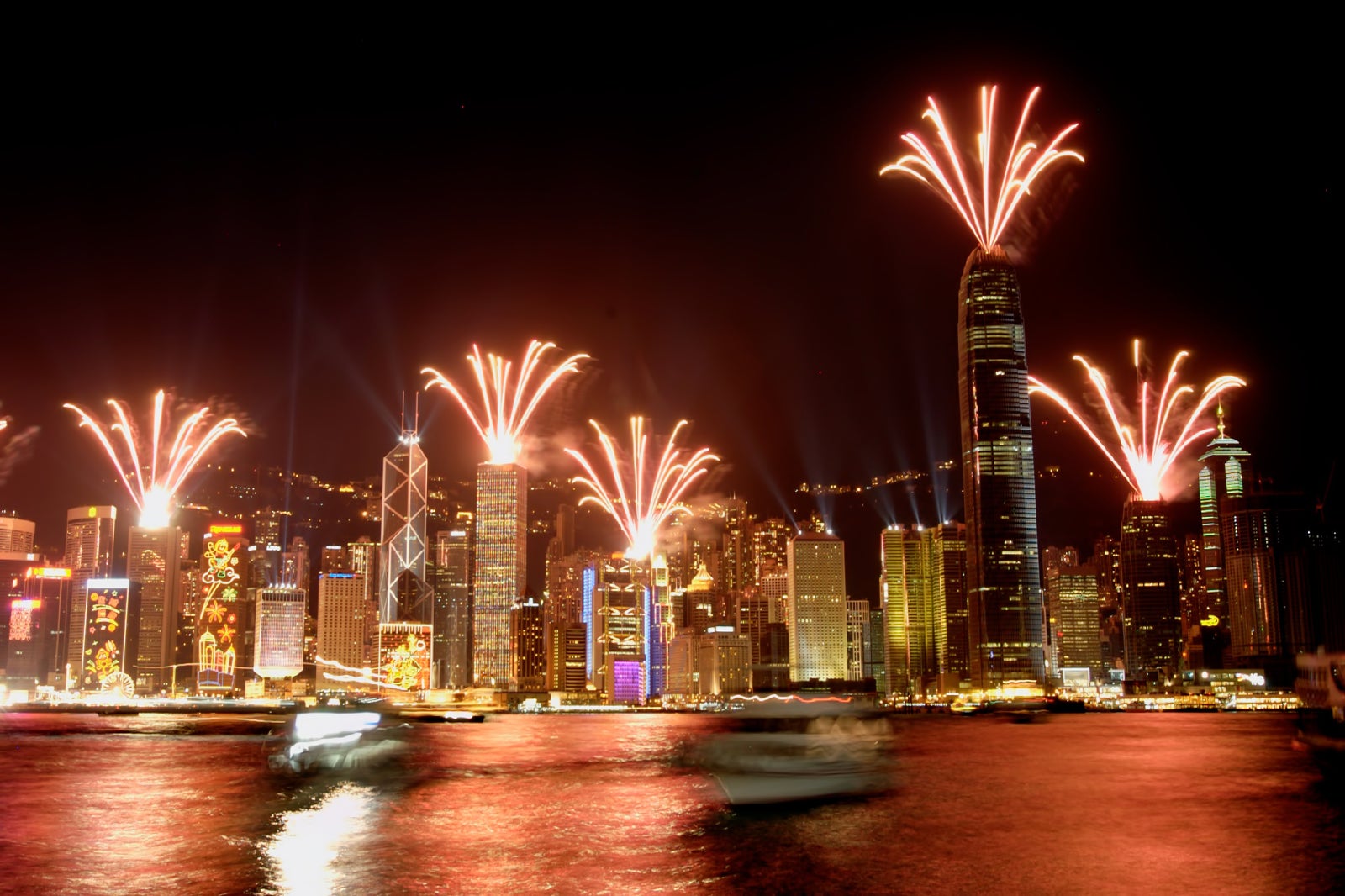 This nightly spectacle is a riot of colourful lasers synchronised with music and takes advantage of Hong Kong's wonderful cityscape. In total, 44 buildings are part of the 14-minute show, which takes place at 8pm every night. It's shamelessly touristic and if it's your first time in Hong Kong you will no doubt want to witness this most famous of skylines lit up with colour.
You can watch the show from the boardwalk on the water's edge, or go classy by finding a high vantage point at one of Kowloon's rooftop bars.
Couples
Families
Photo
Nightlife
Budget
photo by Kroot (CC BY-SA 3.0) modified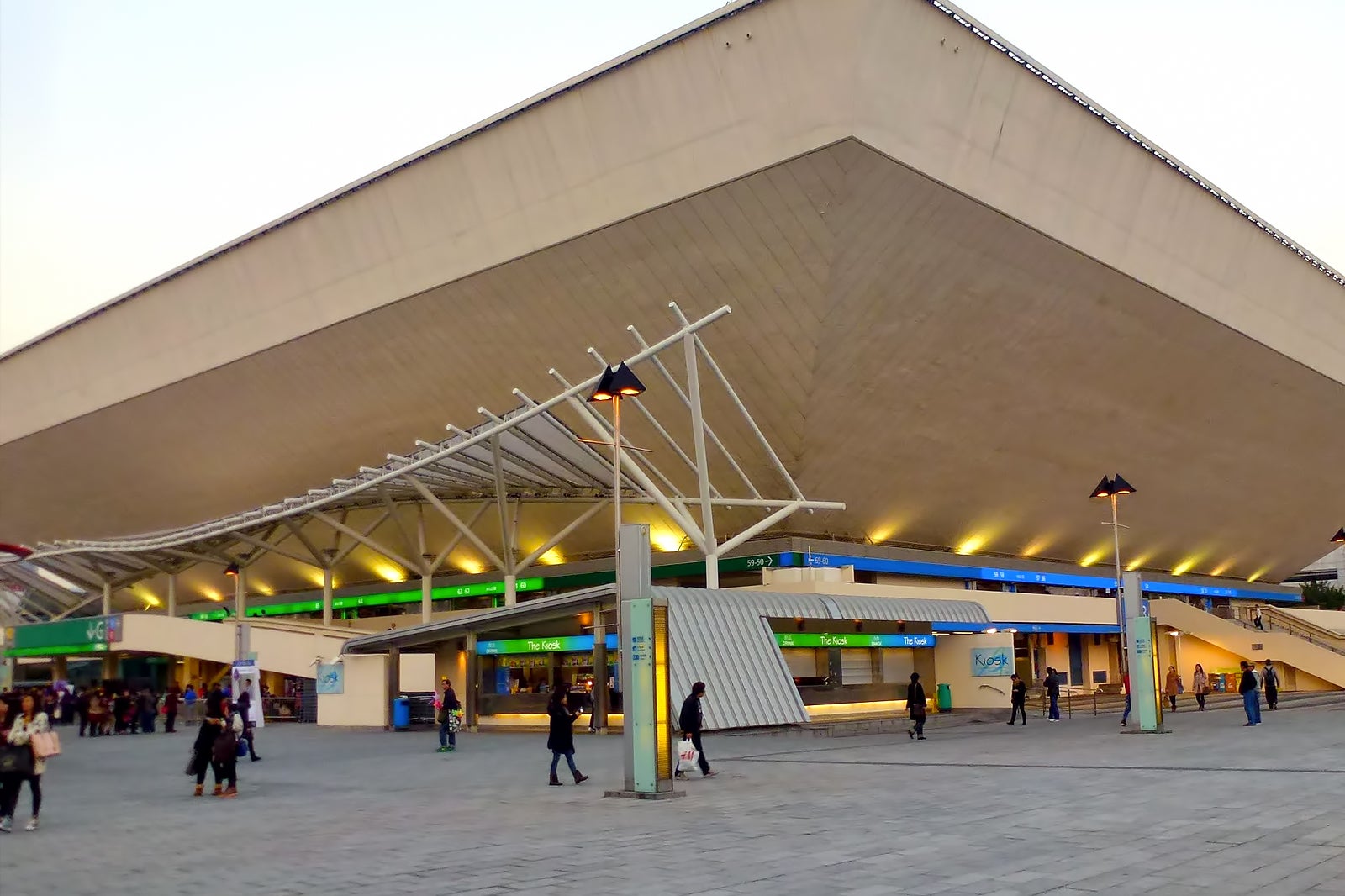 Hong Kong Coliseum (Hung Hom Coliseum)
Hong Kong Coliseum is one of the city's leading entertainment venues for sporting events and international music concerts. Locally known as Hung Hom Coliseum, you can reach the 12,500-capacity seater venue by taking the MTR to Hung Hom Station.
The iconic shape of Hong Kong Coliseum has been likened to an inverted pyramid, with a column-free central arena that spans 1,600 sqm. It's possible to get a good view in every area of the stadium and there are plenty of concessions kiosks beneath the stands, as well as function rooms and VIP lounges.
Location: 9 Cheong Wan Rd, Kowloon, Hong Kong
Phone: +852 2355 7234
photo by Николай Максимович (CC BY-SA 3.0) modified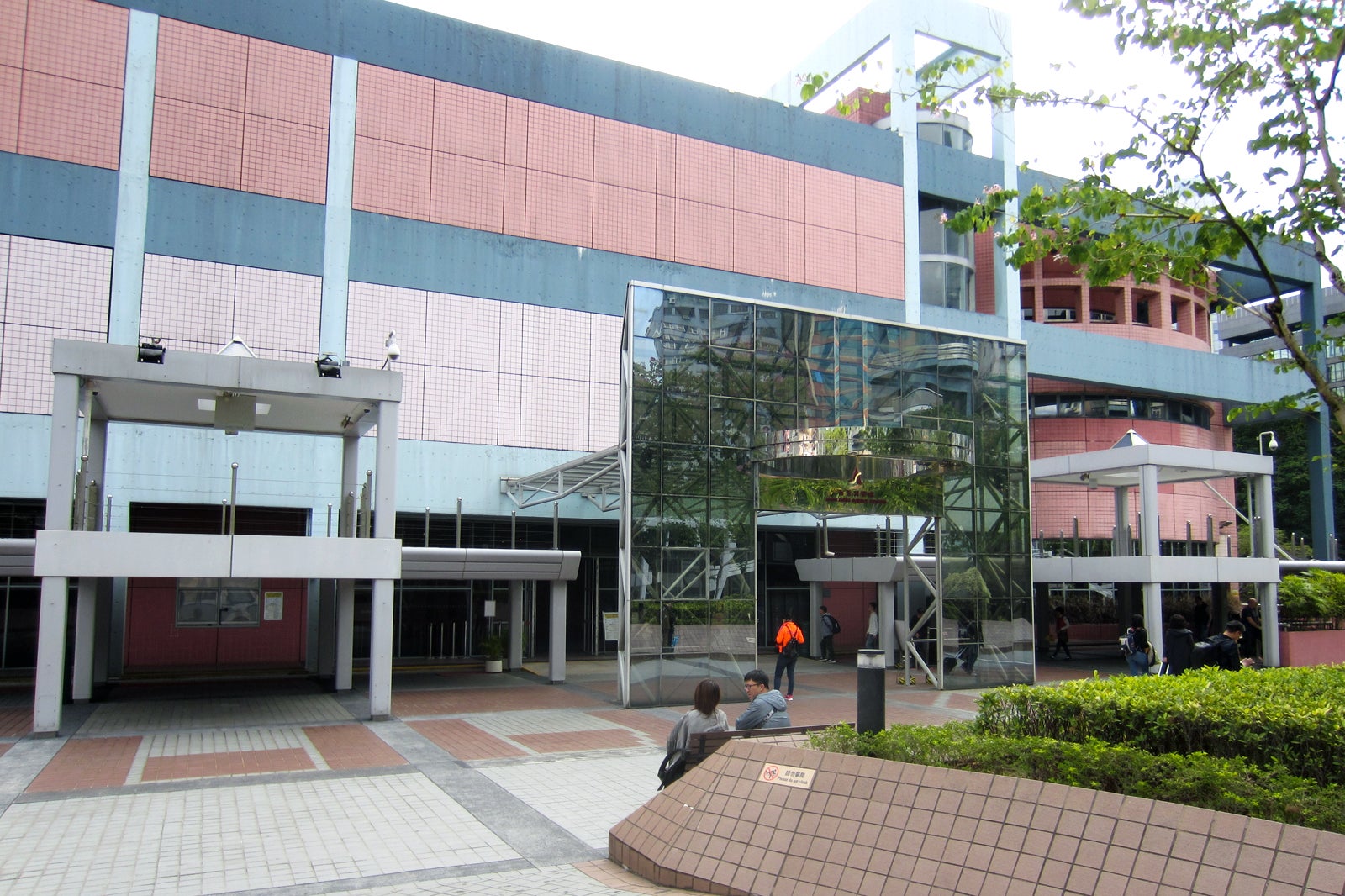 The Hong Kong Science Museum is a great example of a modern, interactive museum that is educational, enlightening and a lot of fun for all ages. As you enter you will see the impressive sight of a full-size DC3 aeroplane suspended from the ceiling but inside are plenty more ways to impress visitors. Lie on a bed of pins, see how renewable energy can charge your phone or see how our lives could be transformed by recycling plastics.
There is a total of 18 different sections or galleries to discover and the vast majority of the museum is very 'hands on'. You can even play a giant game of mouse trap! Dusty display cabinets and longwinded lectures have been thrown away and in its place are live demonstrations, experiments and computer exhibits which you can play and interact with.
Location: 2 Science Museum Road, Tsim Sha Tsui East, Kowloon, Hong Kong
Open: Monday–Wednesday and Friday from 10am to 7pm, Saturday–Sunday 10am to 9pm
Phone: +852 2732 3232
photo by Another Believer (CC BY-SA 4.0) modified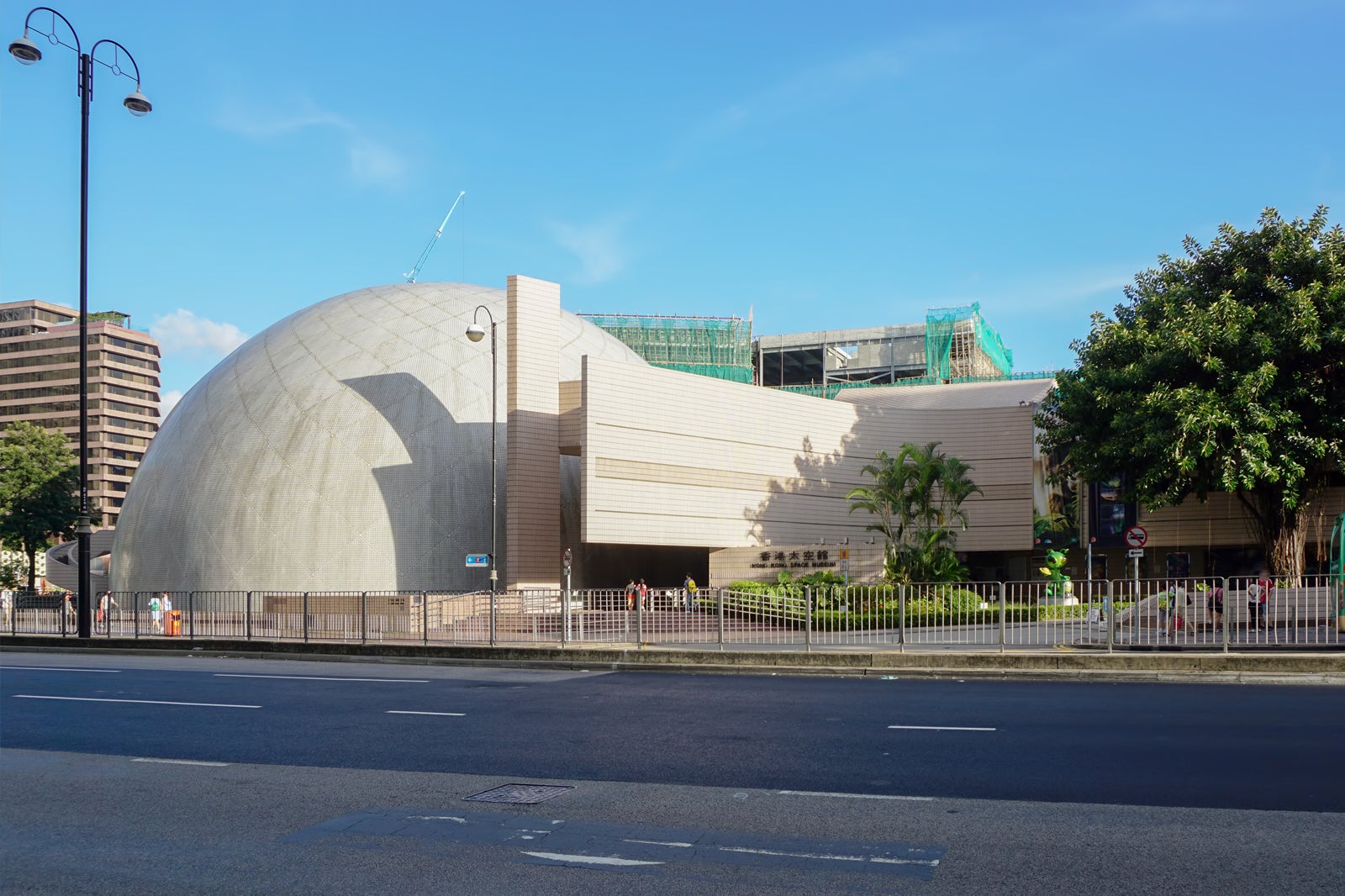 Popular with children and teenagers, this high-tech museum features one of the most advanced planetariums and interactive models in the world, explaining the basics of space exploration. You can even go weightless through a flywire exhibition and the Hall of Solar Science allows close observation of the sun.
The Space Museum also offers a number of interactive rides including a virtual paraglider and an actual multi-axis chair like the ones used to train astronauts. The Space Theatre shows 7 movies each day, highlighting space travel, the natural world, and even sports.
Location: 10 Salisbury Road, Tsim Sha Tsui, Kowloon, Hong Kong
Open: Monday and Wednesday–Friday from 1pm to 9pm, Saturday–Sunday from 10am to 9pm
Phone: +852 2721 0226
photo by Another Believer (CC BY-SA 4.0) modified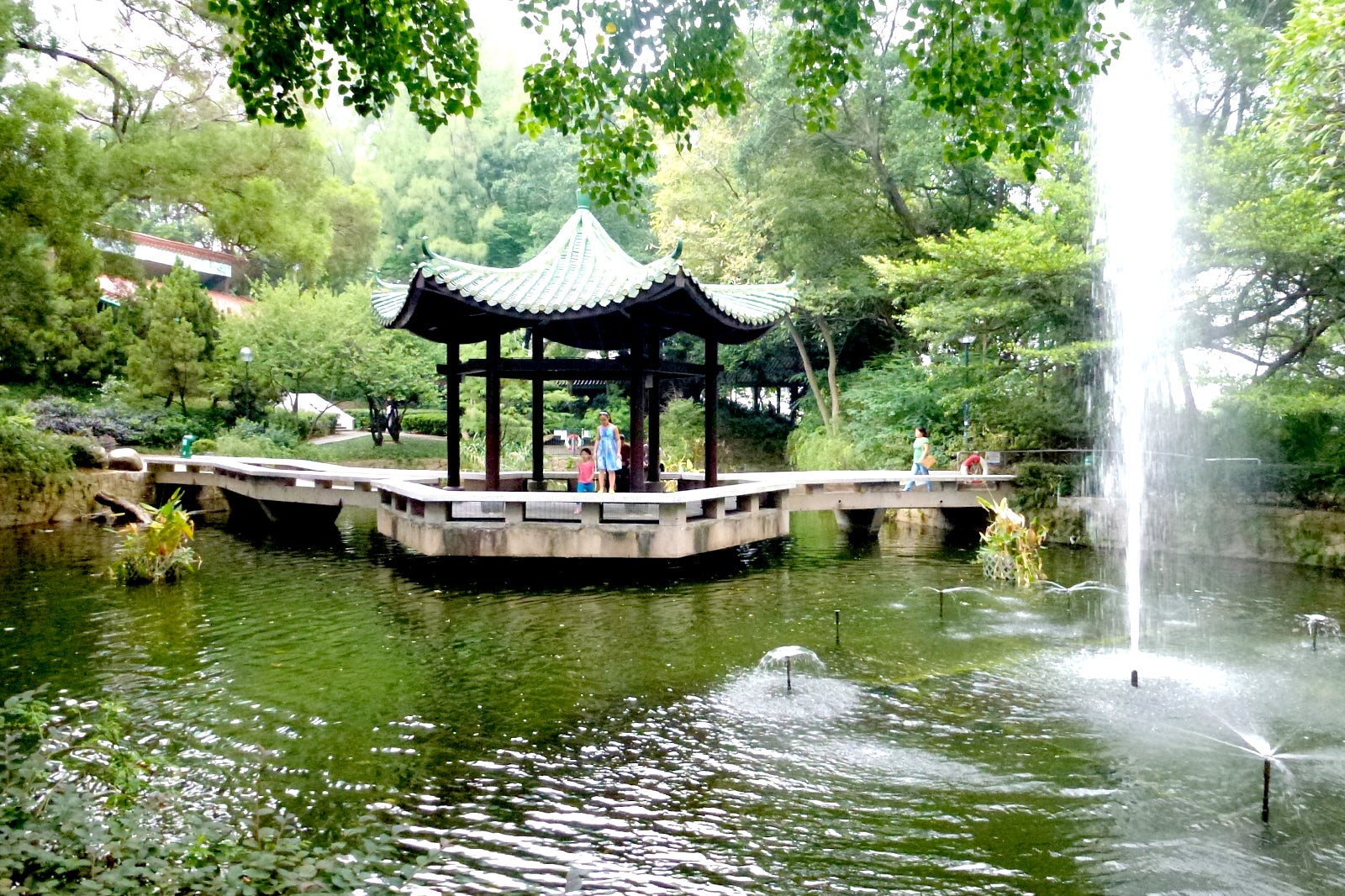 Kowloon is primarily an urban and built-up environment so it's odds on that you and your children will soon find yourself needing a bit of greenery. Kowloon Park, a beautiful green spot in the city, offers a wide selection of free activities for the kids to let off some steam, such as a swimming pool, a games area and an outdoor sculpture park.
There are plenty of paths for walking and lots of grassy spots for relaxing and taking things easy a little. The park also offers a lake, ponds, streams and classic Chinese gardens.
Location: 22 Austin Road, Tsim Sha Tsui, Kowloon, Hong Kong
Open: Daily from 5am to midnight
Couples
Families
Photo
Budget
photo by Hiroki Ogawa (CC BY 3.0) modified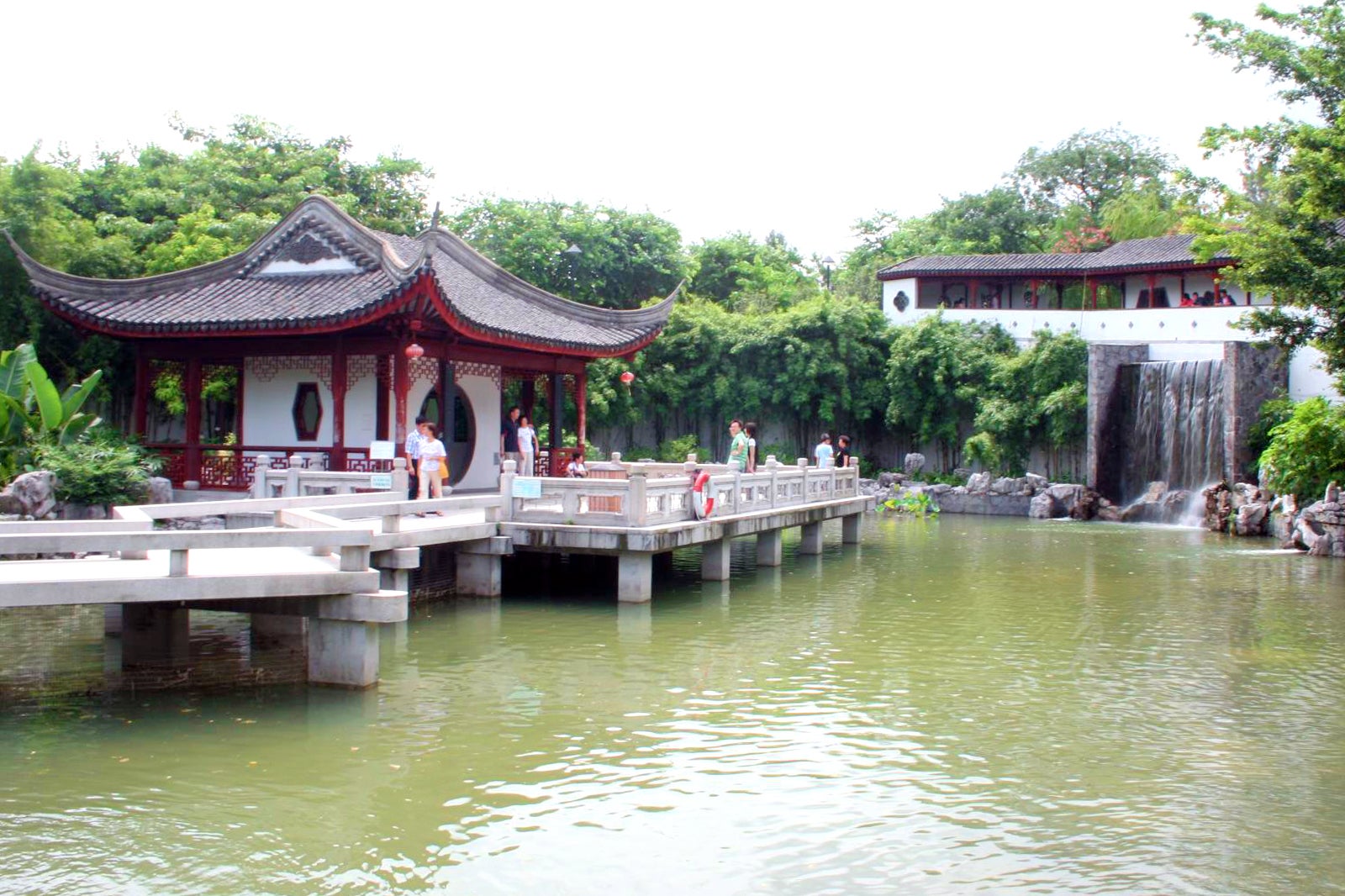 One of the original walled cities in Hong Kong, Kowloon Walled City Park area has been preserved as a city park, complete with wonderful gardens, pavilions, sculptures and plenty of walkways. Although only the Old South Gate remains from the fabled Walled City, you can get a sense of these first settlers and their enclosed fortresses.
Nowadays the Walled City Park is a welcome change from the once-squalid neighbourhood. The design of the park is based on the Jiangnan garden style of the early Qing Dynasty. It is divided into 8 landscape features, with the Yamen, a 3-hall structure fully restored in its Qing Dynasty appearance at its centre.
Location: Kowloon City, Hong Kong
Open: Daily from 6.30am to 11pm
Phone: +852 2716 9962
Couples
Families
History
Photo
Budget
photo by CPJoseph (CC BY-SA 3.0) modified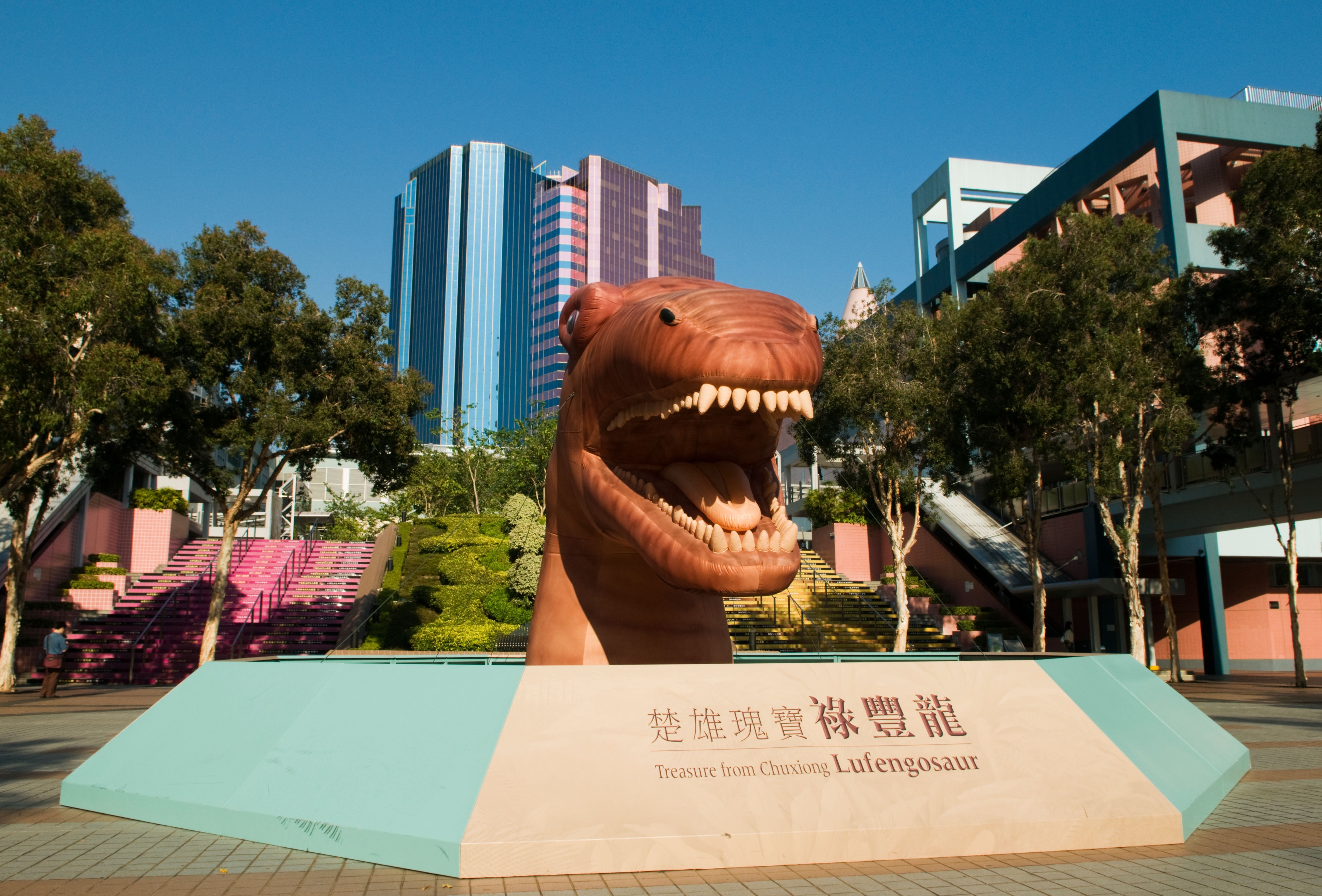 Hong Kong Museum of History
The Hong Kong Museum of History offers a fascinating insight into the metropolitan city-state. The museum's permanent exhibition consists of 8 galleries, which include immersive displays on Hong Kong's prehistoric ecosystem, reproductions of rock carvings found at Big Wave Bay, and artefacts of stone, pottery and bronze dating back to the Neolithic period.
The Hong Kong Story is a fascinating and free permanent exhibition, detailing the origins of the city-state, from its time as a fishing village, through colonialization, right up to becoming one of the world's largest centres of finance. The Hong Kong Museum of History also offers free interpretation guided tours and paper model-making workshops for visitors with visual and hearing impairments.
Location: 100 Chatham Road South, Tsim Sha Tsui East, Kowloon, Hong Kong
Open: Monday and Wednesday–Friday from 10am to 6pm, Saturday–Sunday from 10am to 7pm
Phone: +852 2724 9042