10 Best Things to Do in Skiathos
What is Skiathos Most Famous For?
You could be forgiven for believing that all of the best things to do in Skiathos revolve around the fact that it has some of the most magnificent white-sand beaches in the Aegean. However, the island also attracts foodies and history buffs with its fascinating museums and a plethora of welcoming tavernas. Explore ancient churches and monasteries for a glimpse of the island's intricate history, before fuelling up on fresh local seafood at waterfront restaurants.
Wander down winding lanes in the Old Town, spot rare birds in the nature reserve, or hike the island's peaks for killer views across the Mediterranean. Skiathos has more than 50 beaches for you to swim, surf, jet-ski, or just relax under the sun on. And at night, the town comes alive with chill jazz bars and thumping nightclub beats. Experience the best of this Greek Island with our list of things to do in Skiathos.
What are the best things to do in Skiathos?
1
Old Town Skiathos
Cafés, shops, bars and the town's oldest architectural monuments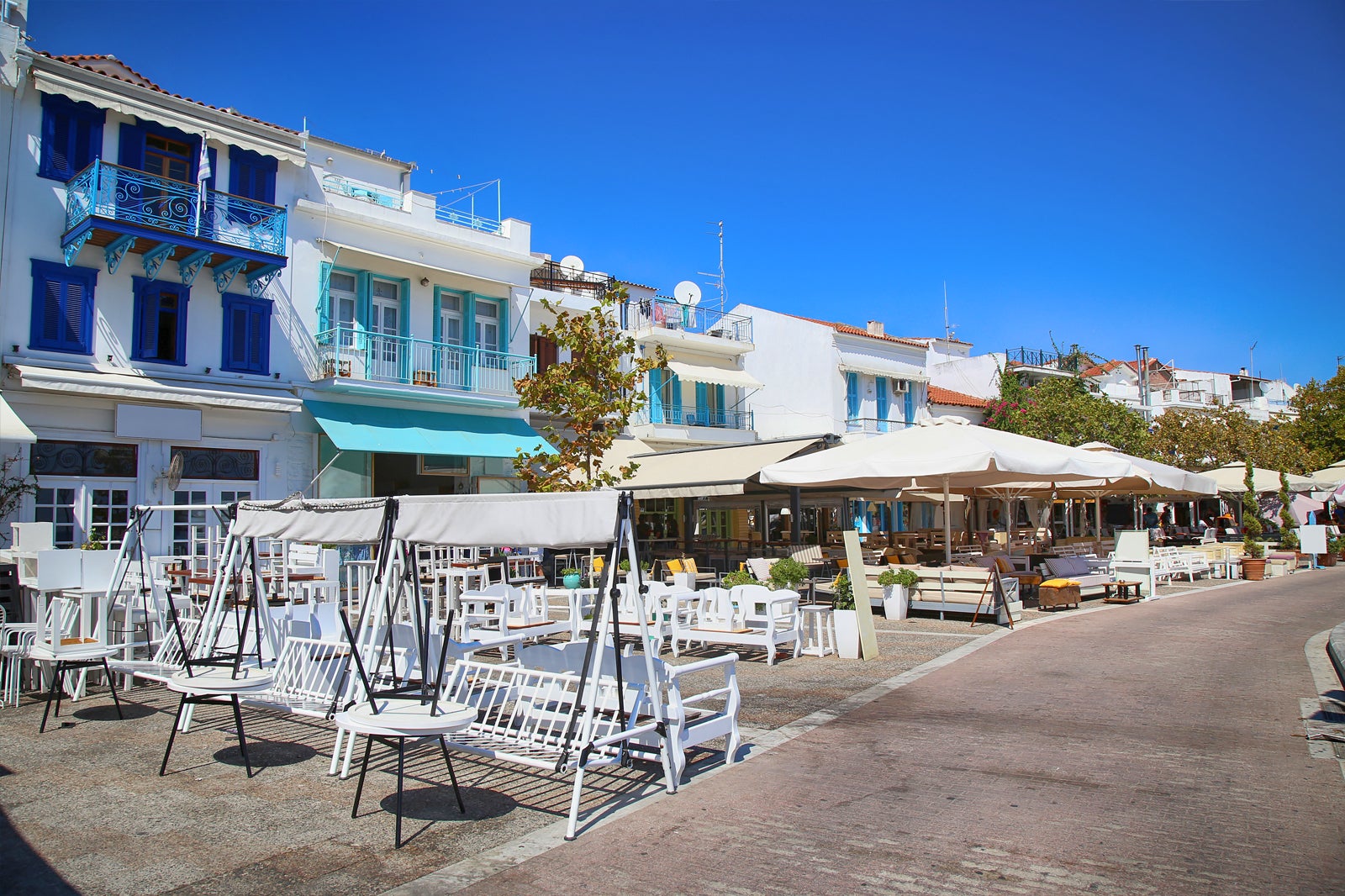 Brightly painted shutters and pots filled with blooming flowers make Old Town Skiathos a charming spot to start the day in. Stop at one of its many pavement cafés for coffee and a traditional Greek breakfast. Most have outdoor seating where you to spend a few leisurely hours in the sunshine.
The core of the Old Town dates to medieval times, and cars are banned from most of its narrow and pebbled streets. As you amble around, you'll see many fantastic examples of traditional Greek architecture, complete with whitewashed walls and red-tiled roofs.
2
Evangelistria Monastery
A tranquil historic monastery with a flower-filled courtyard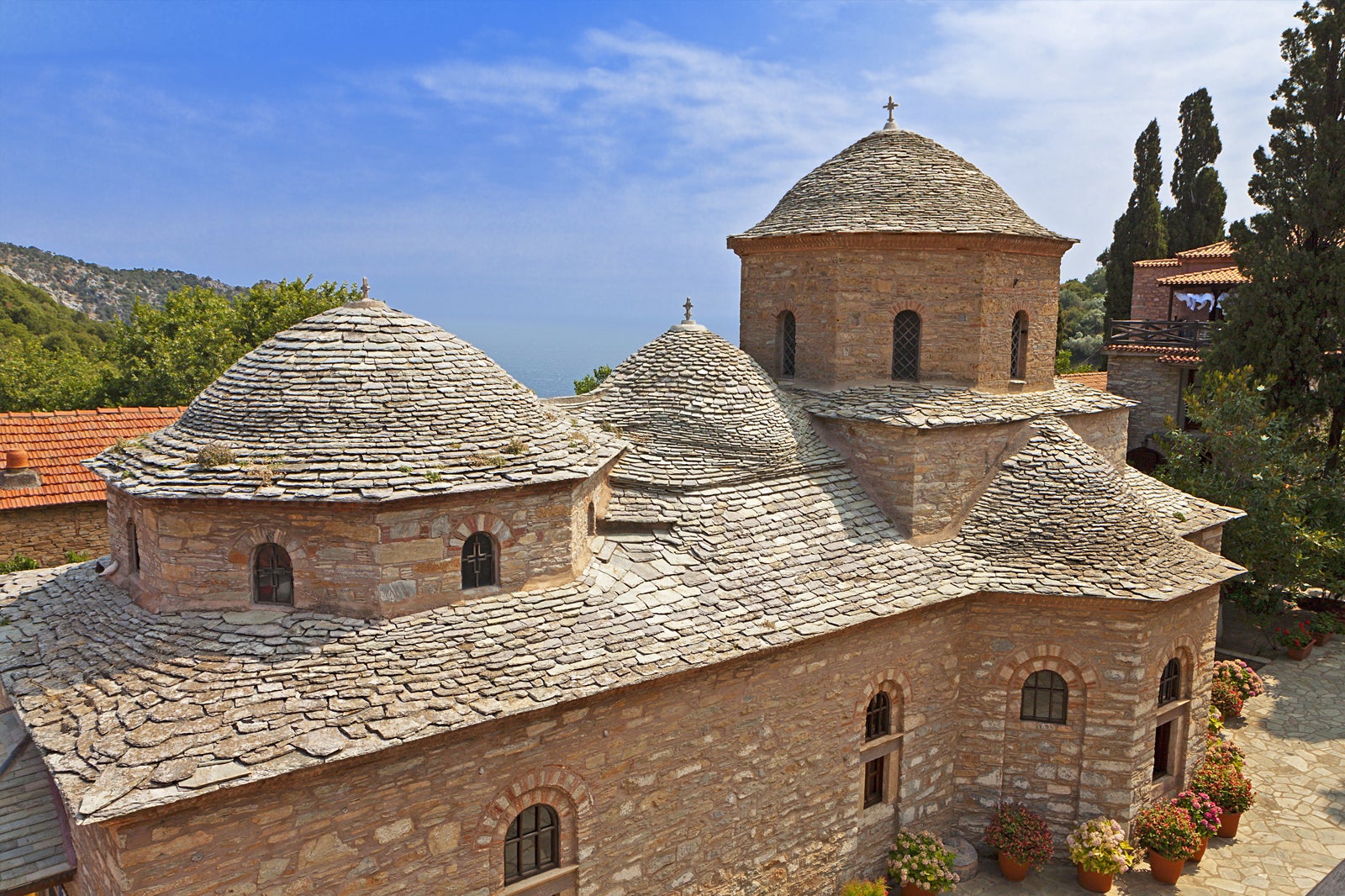 Evangelistria Monastery, founded in the 18th century, occupies a steep hillside some 5 km above Skiathos Town. Surrounded by pine forests, the building has several chapels filled with vivid and colourful frescoes. The building was a refuge for soldiers during the War of Independence and the very first Greek flag was flown here in 1807.
Inside the monastery, you can visit a fun little museum showcasing the history of musical instruments. There's also an impressive collection of 17th-century books, manuscripts and silver Byzantine icons. If you feel like taking away some tasty souvenirs, wine, olive oil and honey are made on-site by the monastery's resident monks.
Location: Moni Evaggelistrias, Skiathos 370 02, Greece
Open: Summer: daily from 9 am to sunset (winter hours may vary – call ahead for details)
Phone: +30 2427 022012
3
Koukounariés Beach
A bustling stretch of sand on the edge of a nature reserve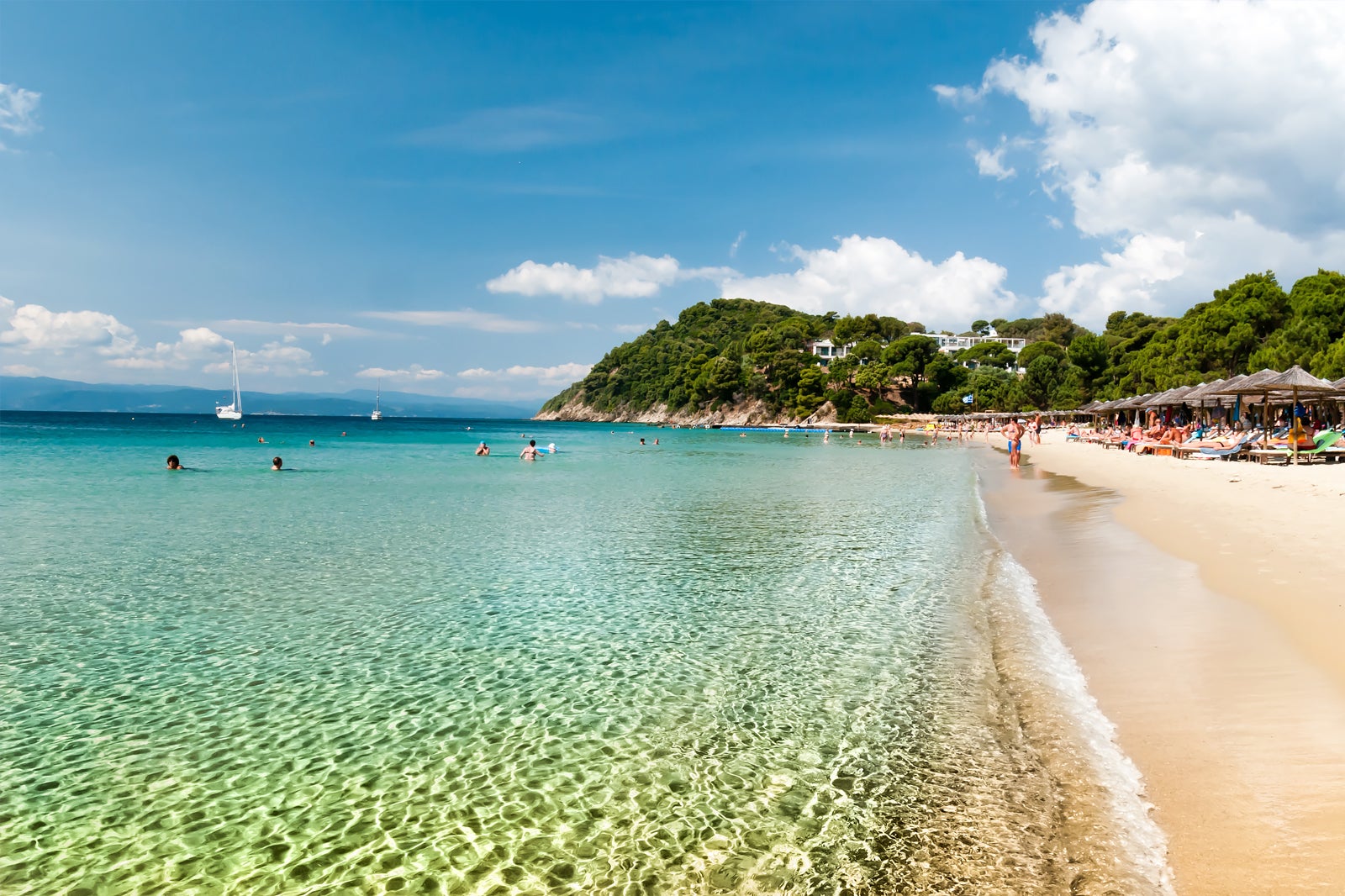 Koukounariés Beach is a protected nature reserve and there's very little development other than a few scattered beach bars. Rent a sunbed and umbrella, settle in, and enjoy views of the Aegean Sea. One of the most popular beaches in Skiathos, many travellers are drawn to its soft white sand and pine trees.
You can enjoy snorkelling, diving, and a range of water sports. Guided horseback-riding through the pine forests at the northern part of Koukounariés is also available. Behind the beach, you'll find a lagoon and wetland reserve offering protection to rare species of migratory birds, including swans, herons and ducks.
4
Skiathos hiking trails
25 different trails meander across the island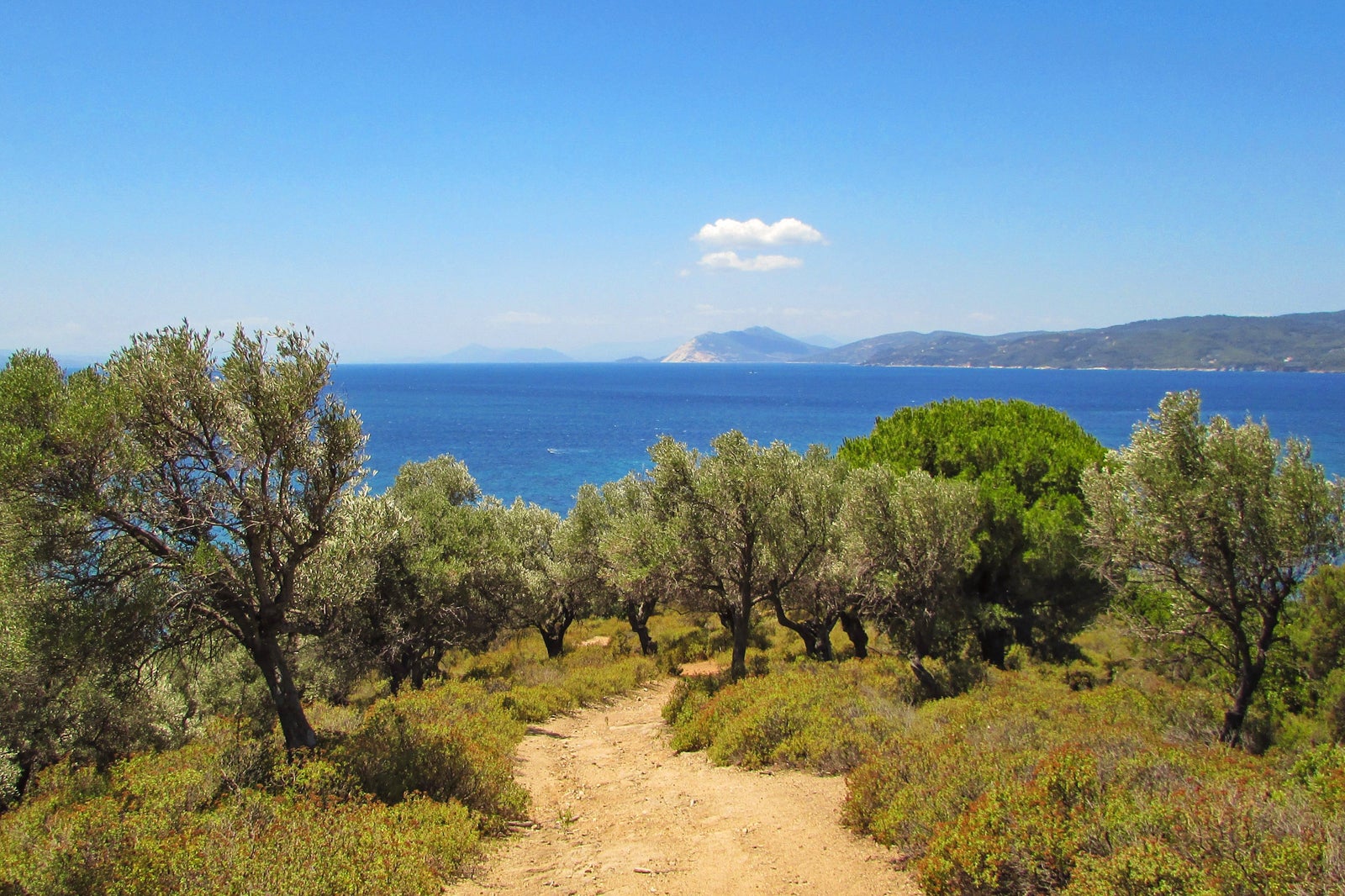 Nearly 200 km of hiking routes cover the entire island of Skiathos, which can take you up to the island's peaks, through fragrant pine forest, and along meandering streams. Trails are clearly marked and well-maintained, and range between 1 and 6 hours to complete.
There are guided group hikes covering just about everything, from the island's history to its unique ecosystem. One of Skiathos' most rewarding hiking trails highlights the medieval castle on Kástro, which was built to protect the island from pirates. Alternatively, you can take the path east of Skiathos Town that leads to Agios Georgios Beach, offering beautiful views of the coast.
5
Papadiamantis House Museum
An engaging museum filled with books, paintings and photographs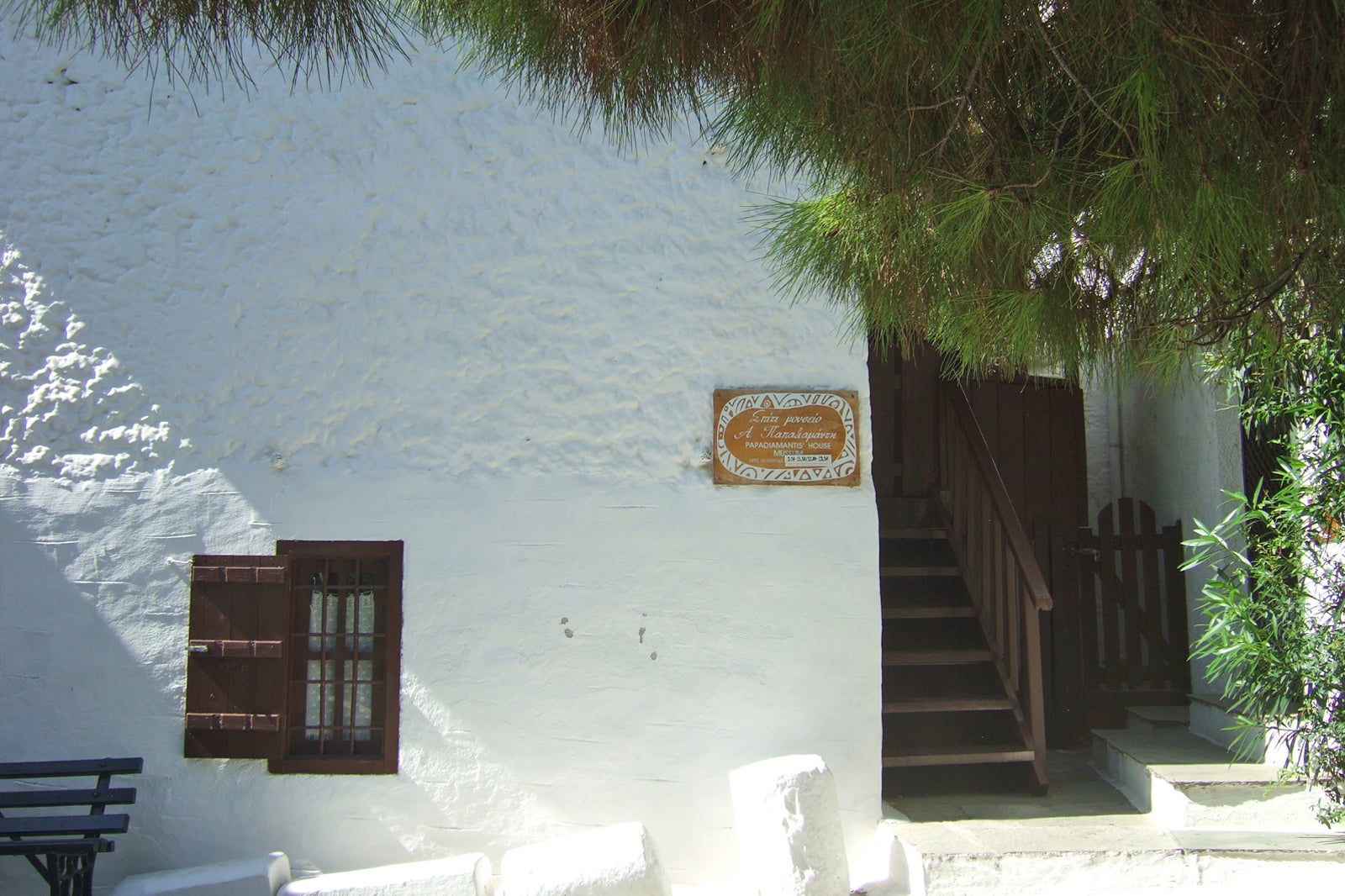 As Skiathos was the birthplace of the famous novelist and poet Alexandros Papadiamantis, many of his novels are set on the island. It's only fitting for his former home to become a museum that showcases his life and work. The house dates back to 1860, with austere rooms and a narrow wooden staircase that are typical of traditional Greek architecture.
Inside, the first floor is carefully preserved as it was during his lifetime, with original furniture and beautiful textiles. The ground floor is an exhibition space, which includes a comprehensive collection of the writer's books and manuscripts. There's also a small shop where you can buy translated copies of Papadiamantis' work.
Location: Papadiamanti 12, Skiathos 370 02, Greece
Open: Tuesday–Sunday from 9.30 am to 1.30 pm and from 5.15 pm to 8 pm (closed on Mondays)
Phone: +30 2427 023843
photo by Sergey Bostandzhyan (CC BY-SA 4.0) modified
6
Lalaria Beach
A scenic white beach with striking rock formations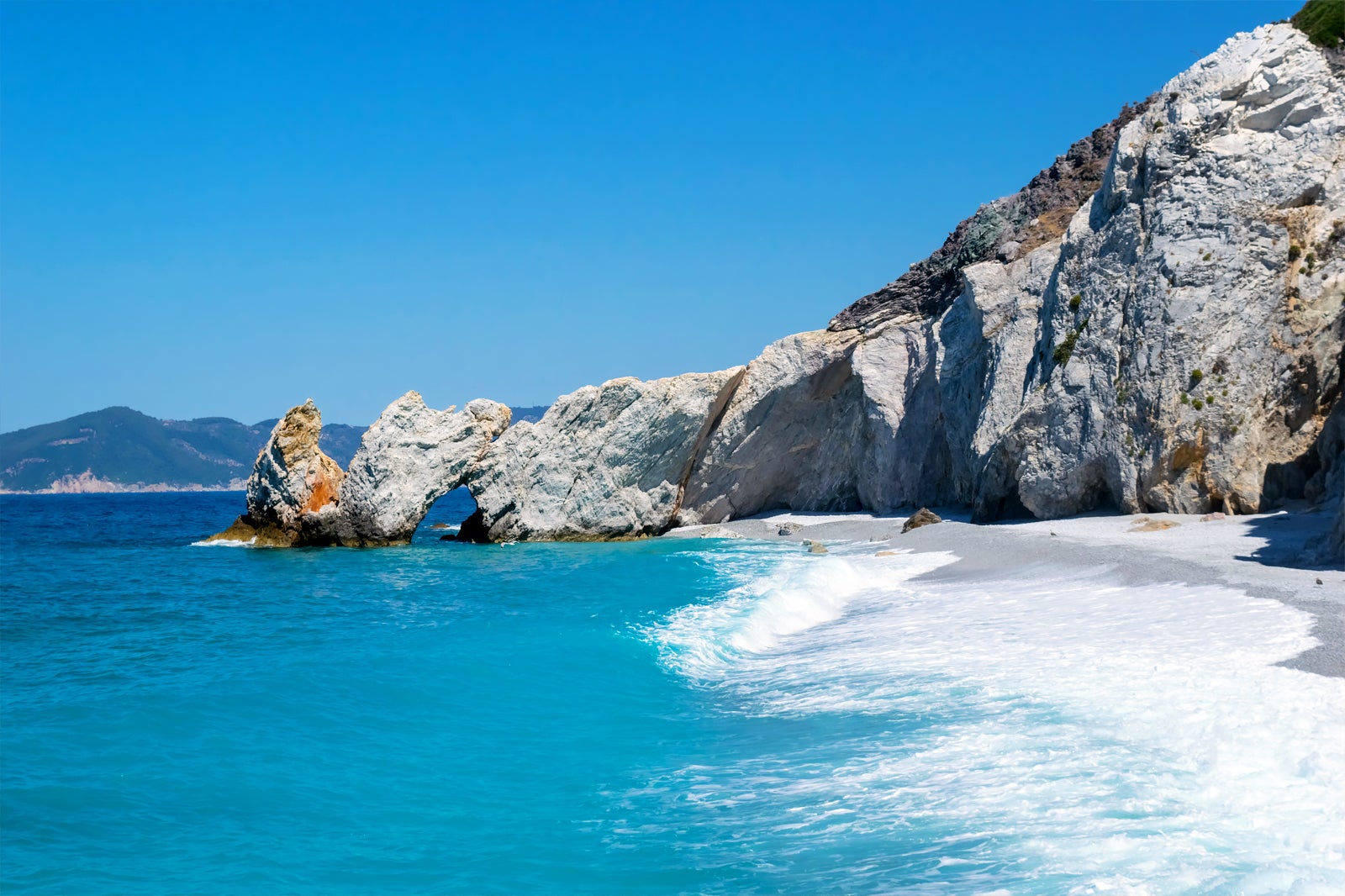 Lalaria is surrounded by sheer limestone cliffs and bordered by the clear turquoise waters of the Aegean. The spectacular natural arch rising out of the sea is an icon of Skiathos, making it a popular place to take photos. The beach itself is mostly fine pebble, dropping off quite steeply into the water.
One of Skiathos' more peaceful beaches, Lalaria is located on the northern coast and only accessible by boat. Excursions leave every day from Skiathos Old Port and usually include a stop in the bay for lunch and a swim. Many trips also stop near Kástro on the northern tip of the island, where you can see the remains of several old churches.
Location: Lalaria, Skiathos 370 02, Greece
7
Papadiamanti
Pleasant pedestrian street filled with diverse local products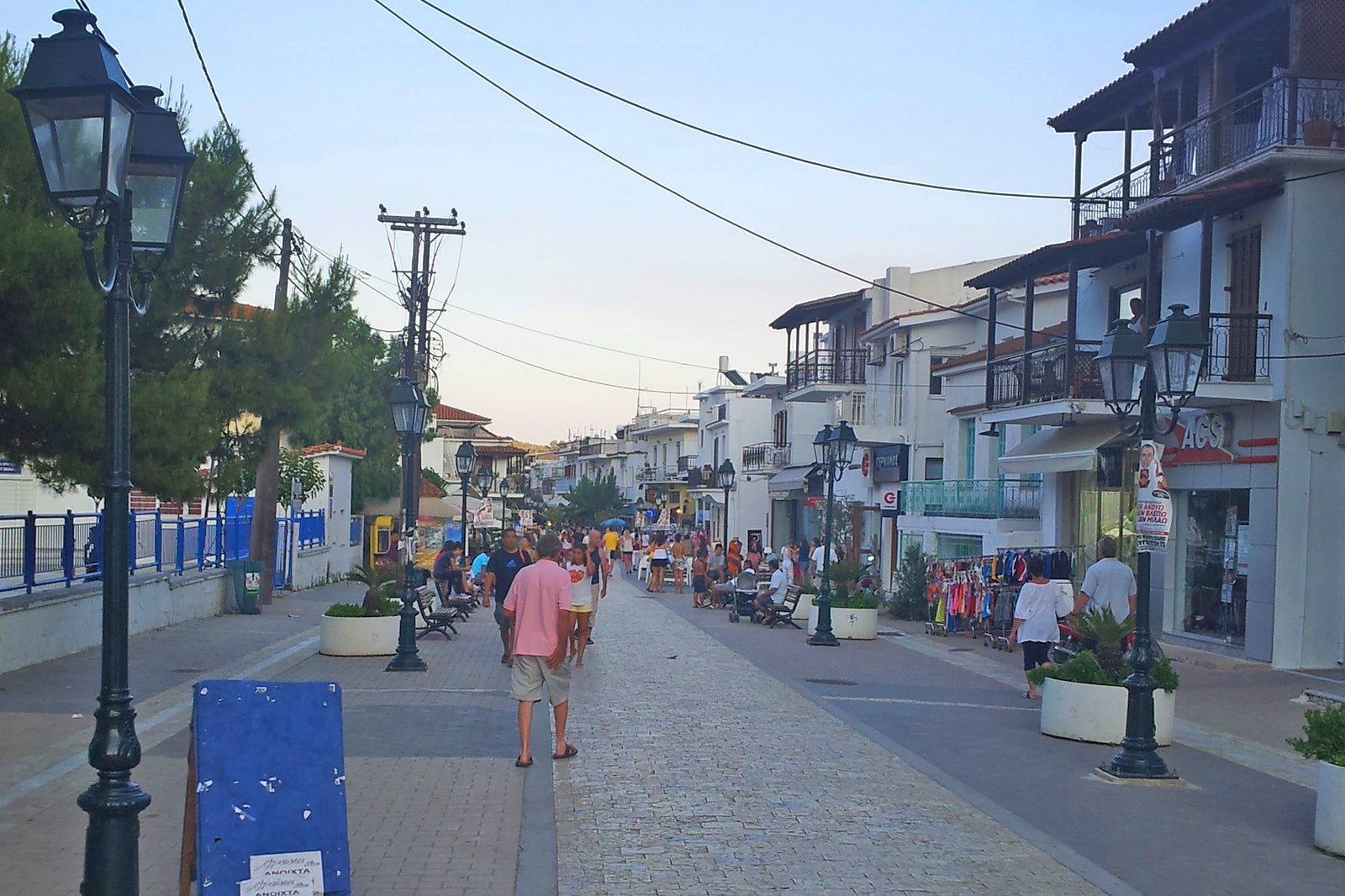 One of the best areas to shop in Skiathos is along the pedestrian street of Papdiamanti. Named after the famous Greek author, you'll find shops selling local food products, handcrafted tableware and boutique clothing. There's also a handful of interesting little art galleries and plenty of quaint cafés.
A trip to Galerie Varsakis is a must, even if you're not shopping, for a veritable Aladdin's cave of unusual antiques and curios. Achinos is the place to go for local pistachios and olive oil – they also stock a range of herbal teas from Mt Olympus. One of the most stylish boutiques in Papadiamanti, Efimeris is known for handmade jewellery and snug shawls.
Location: Papadiamanti, Skiathos 370 02, Greece
8
Skiathos Old Port
Well-stocked bars and eclectic music keep the party going all night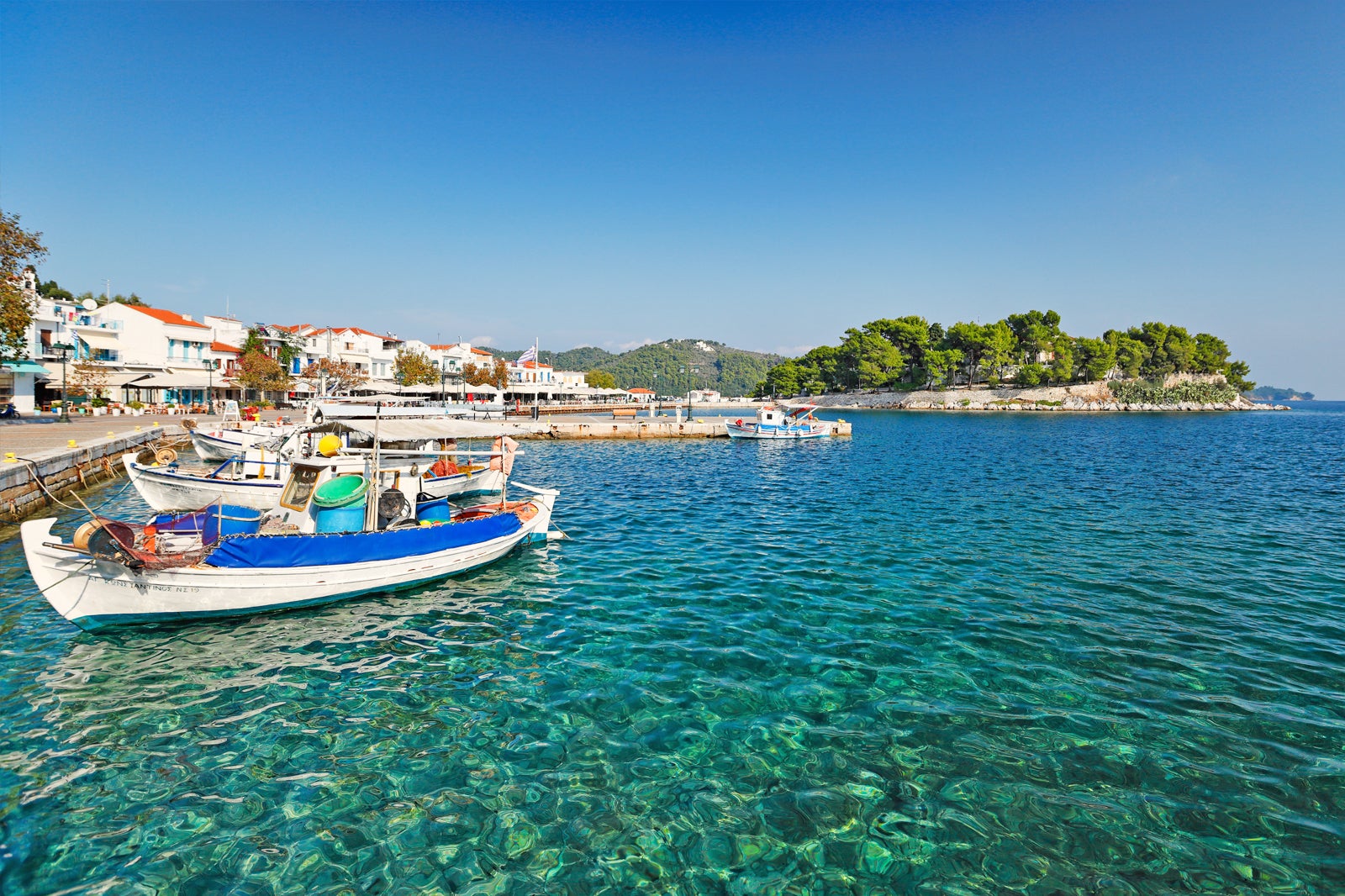 The hub of fashionable nightlife in Skiathos centres around the Old Port. Relaxed waterfront bars have enchanting views over the ocean while well-known DJs and partygoers pack into the clubs until the early hours of the morning.
The Rock'n'Roll Café is one of the coolest spots in town, with funky rock and Latin music, as well as comfortable outdoor seating lining the steps leading down to the harbour. Kentavros is a long-established jazz and blues bar with an Old Hollywood feel. Nightclubs usually open until 5am or 6am – must-visits include Apotheke Club on Evangelistrias Street and Jaguar at the waterfront.
9
Skiathos sea caves
Admire the remarkable natural beauty of these hidden grottoes
The spectacular Blue and Dark Caves are located on the north coast of Skiathos, near Lalaria Beach. The Dark Cave is about 20 metres deep with a narrow opening that only small boats can enter. The Blue Cave is incredibly beautiful on a sunny day when the sparkling light of the water reflects on the cave roof.
Swimming and snorkelling are popular activities in the Blue Cave. The sea caves can only be accessed by boat. Boat trips leave regularly from Skiathos Old Port, stopping at the caves and several difficult-to-access beaches along the northern coast.
10
Grilled octopus
A quintessential foodie experience in the Greek islands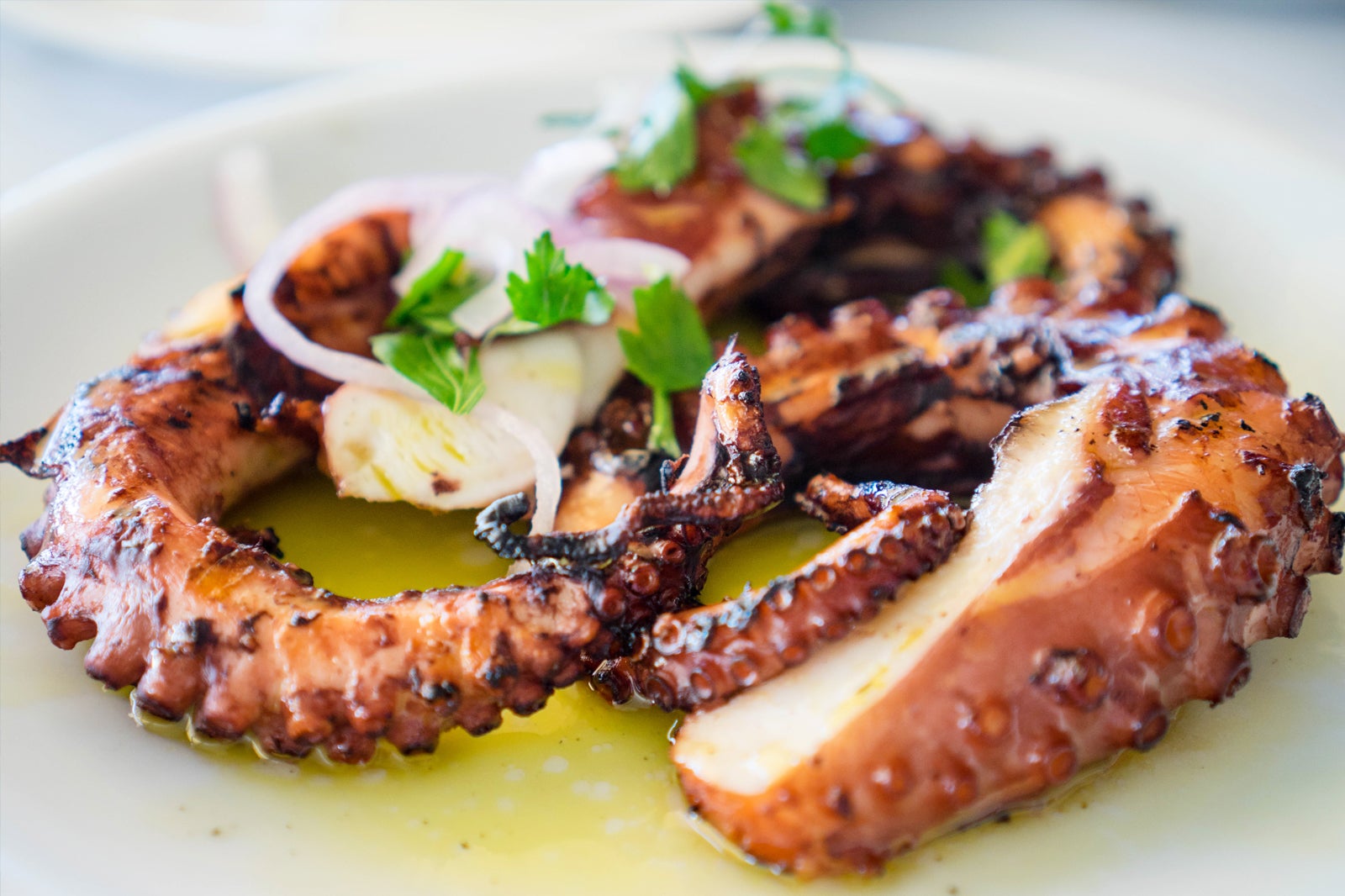 Seafood is delivered fresh out of the water by local fishermen to just about every taverna in Skiathos. Greek-style octopus comes marinated in white wine and lemon, with bay leaves as garnishes for a fresh, tangy taste. Pair with a glass of ouzo to complete this classic Greek meal.
There are plenty of great places to try grilled octopus in Skiathos. Marmita, on Evangelistrias Street, is a cosy traditional taverna that makes you feel like you're sharing a meal with family instead of eating in a restaurant. Basilikos, hidden down a quaint side street, serves hearty and locally-sourced Greek food. If you're interested in the town's trendiest cuisine, Agnadio is a slightly more upmarket spot with artfully-plated dishes.
Back to top