10 Best Things to Do in Malia
What is Malia Most Famous For?
There are plenty of things to do in Malia, a town blessed with a stretch of pristine white sand beaches and home to some of Europe's biggest clubs. Despite its reputation as a hard-partying destination, there is plenty to charm history and outdoor enthusiasts throughout their holiday.
You can sunbathe on the bustling Glozanie Beach, enjoy a day at Crete's largest water park, or hike through Crete's untamed wilderness. If you want to learn about Minoan history, the renowned Malia Palace is a must-see. Don't leave without experiencing Malia's electric nightlife scene – just follow the throngs of partygoers to Dimokratias Street.
What are the best things to do in Malia?
1
Glozanie Beach
Soak up the sun on Malia's main beach
Glozanie Beach is the beating heart of Malia, full of atmosphere and packed to the rafters with sun-seekers. Just a short 20-minute walk from Old Town, the days roll into one with never-ending parties. A wide-paved promenade connects the expansive 2-km stretch of white sand, which is lined with cafes and beach clubs. Each bar and resort along the strip offer a variety of umbrellas and loungers for rent.
Order a cocktail, relax on a sun lounger, and bask in the Mediterranean sun. For those looking to raise the heart rate, Glozanie Beach offers water sports such as jet-skiing, banana boating, wakeboarding, and parasailing. End the day with a swim to the picturesque island chapel of Afentis Christos (Lord Christ) and catch a spectacular sunset.
Location: Malia, Crete 700 07, Greece
2
Malia's beach clubs
Work on your tan and party the day away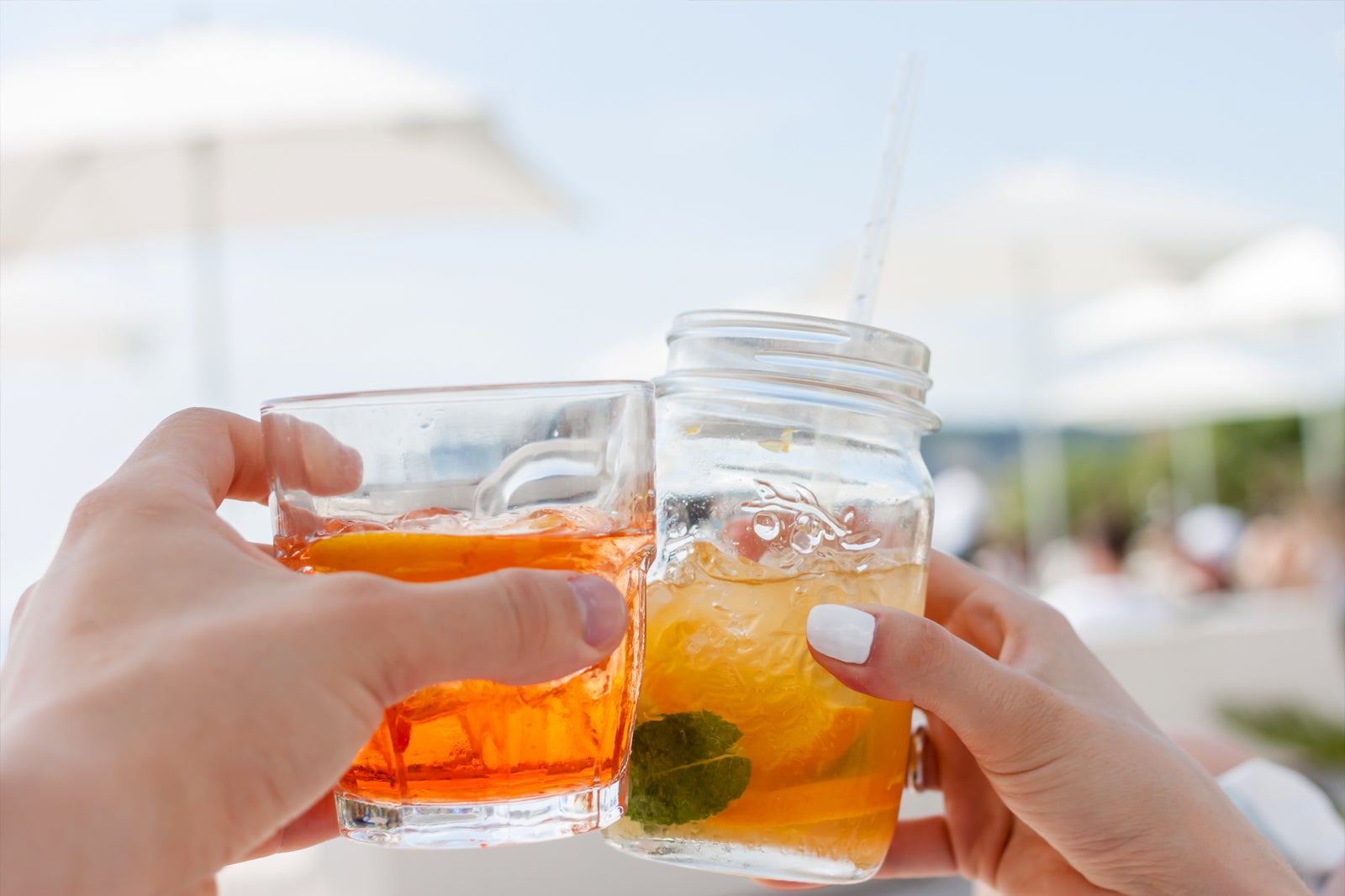 Couples
Nightlife
Single
Group
Vacationers often flock to Malia's beach clubs in search of sun and a good time. These lively venues line the town's nearly 5-km-long coastline, offering a buzzing party atmosphere with views of the Mediterranean Sea.
Spend a day at the popular Pleasure Beach Club, which has luxury sun loungers and restaurant service. Next door, Bikini Beach Bar offers a laidback Ibiza-inspired oasis with romantic sunset dining at affordable prices. A few blocks inland go full-party mode at Crystal Beach Club – expect world-renowned DJs spinning electronic music with foam-covered partygoers raving in Vegas-inspired pools.
3
Malia Palace
Revel in Minoan history among ancient ruins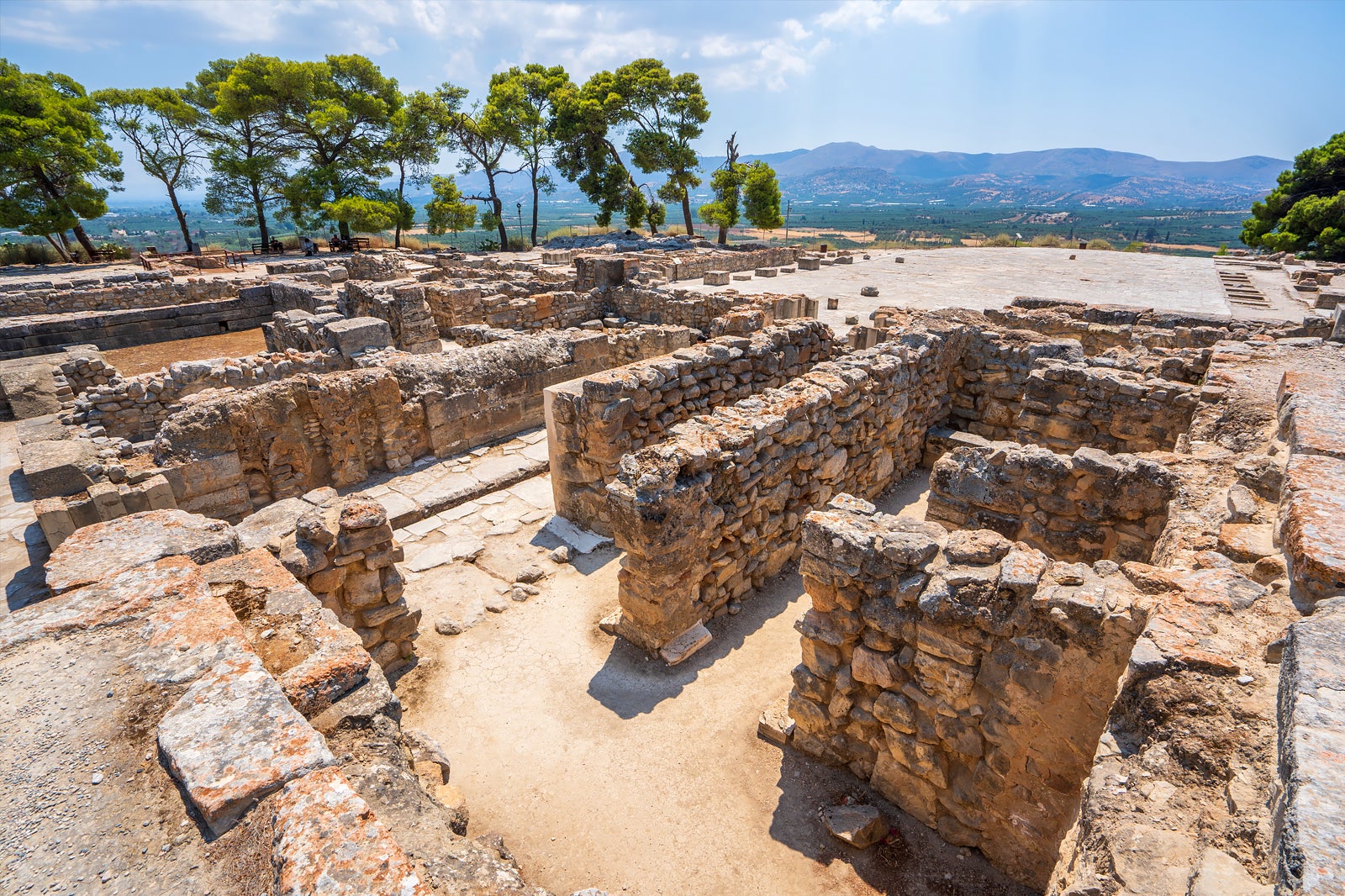 Located 3 km east of Old Town, Malia Palace is one of Crete's most important ancient archaeological sites. It offers a fascinating glimpse into Minoan life on the island. Excavations have yielded a wealth of Minoan artefacts, the most notable being the famous gold bee pendant, which now housed in the Heraklion Archaeological Museum. Other highlights include the Quarter Mu workshops, official apartments, and a vivid model reconstruction in the main foyer.
Due to scarce information boards, the extensive 5,000-year-old ruins are best explored with a tour guide. Entry to the palace is about €6 per person, and a direct bus runs every 15-30 minutes from the Old Town Bus Station.
Location: Malia, Crete 700 07, Greece
Open: May–November: Tuesday–Sunday from 8 am to 8 pm. December–April: Tuesday–Sunday from 8 am to 3 pm
Phone: +30 2897 031597
4
Monastery of St. George Selinari
A place of tranquillity and enchanting views of the Selinari canyon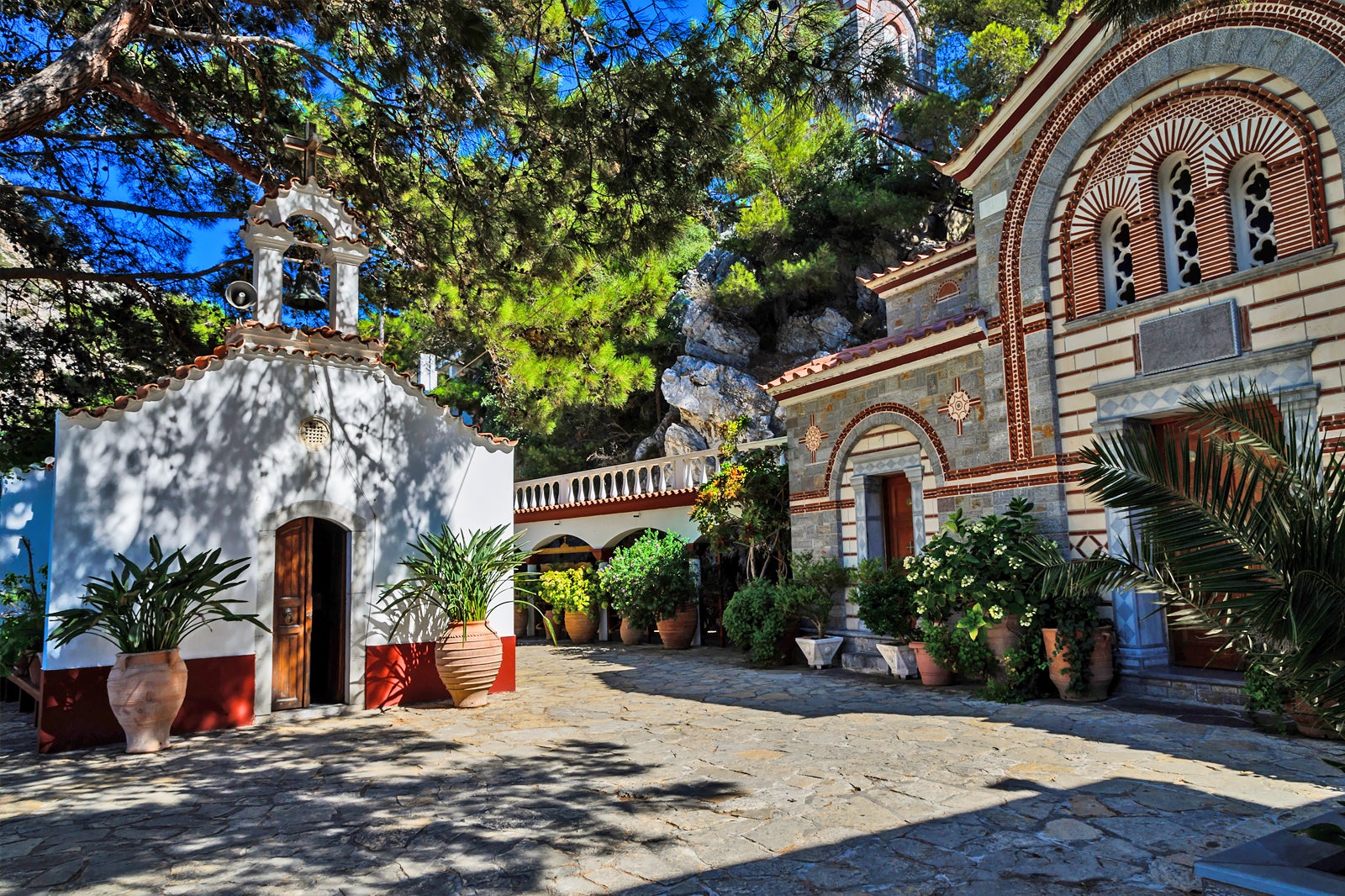 Built over 1,000 years ago, the Monastery of St. George Selinari is an important Cretan landmark. Locals travelling on the National Road consider it bad luck to traverse the canyon without visiting the monastery. The complex contains a main central church, the chapel of St. George and the mysterious Anvalohos Cave, which is the supposed resting place of the monastery's founder.
Keep an eye out for 3 bullet holes in the old icon of St. George – a local legend the friendly monks are more than willing to tell you about. Feel free to explore the monastery grounds, chapel and cave but be respectful as it is an active church in Selinari.
Location: Selinari, Crete 831 03, Greece
Open: Daily from 9 am to 6 pm
Phone: +30 28410 71438
5
Acqua Plus
Enjoy a fun-filled day at Crete's largest water park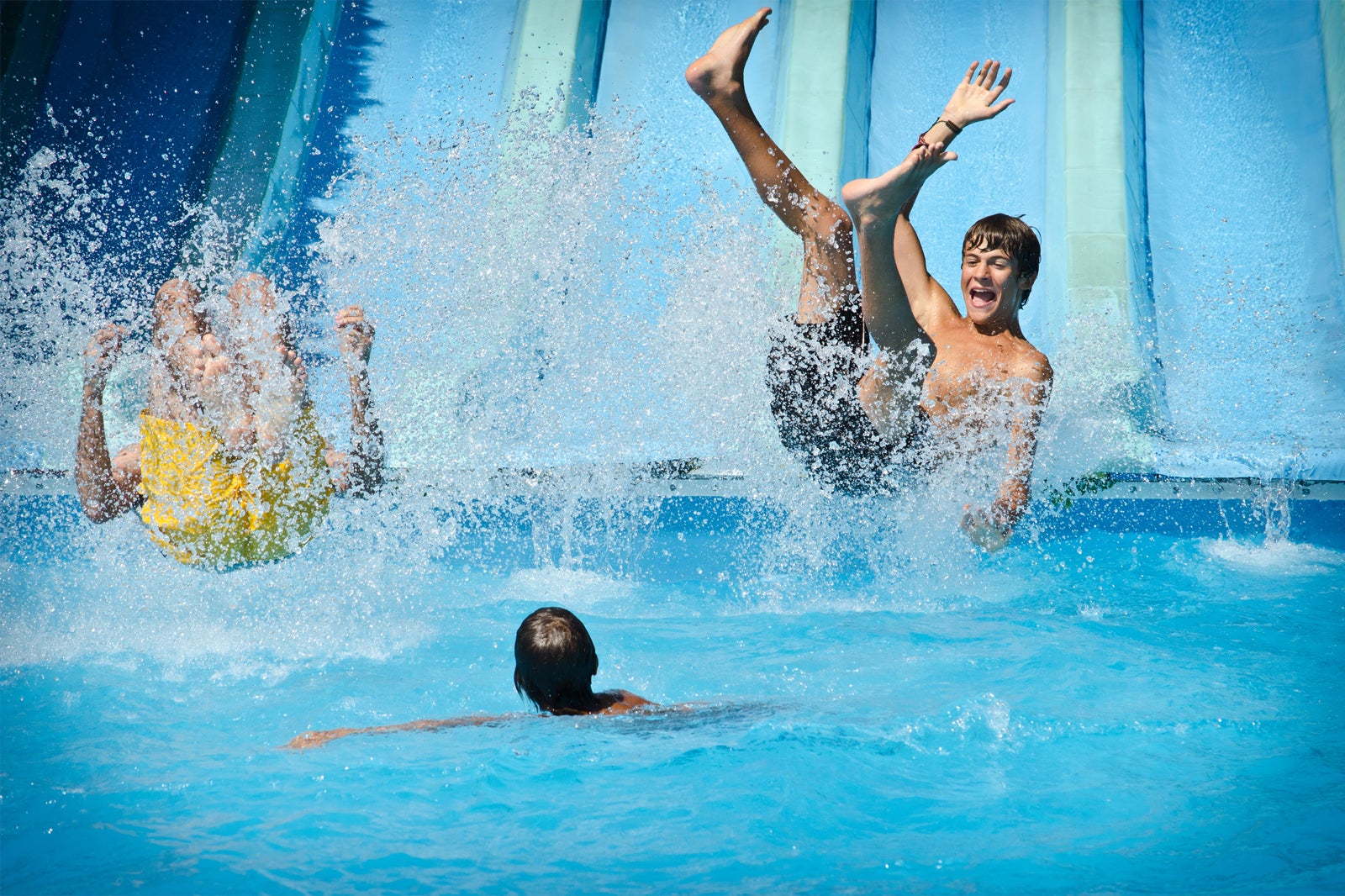 Take a break from the summer heat and spend a day at Acqua Plus, Eastern Europe's first water park. Accessible within a 20-minute drive west of Malia, the park satisfies thrill-seekers and families with over 50 waterslides, games, and activities.
For the adrenaline lovers, take a ride on Tsunami and Spacebowl for the biggest thrills. You can relax in a tube and float down the Lazy River while the kids ride the Tower Slides. Open from Mid-May to early October, Acqua Plus is especially crowded in the summer (July and August). You can book tickets online for discounted rates and to avoid long lines.
Location: Kastelli Road, Chersonisos 712 00, Greece
Open: May–mid-October: daily from 10 am to 6 pm
Phone: +30 694 400 0044
6
Lassithi Plateau
A sparse wilderness of apple orchards and mythical caves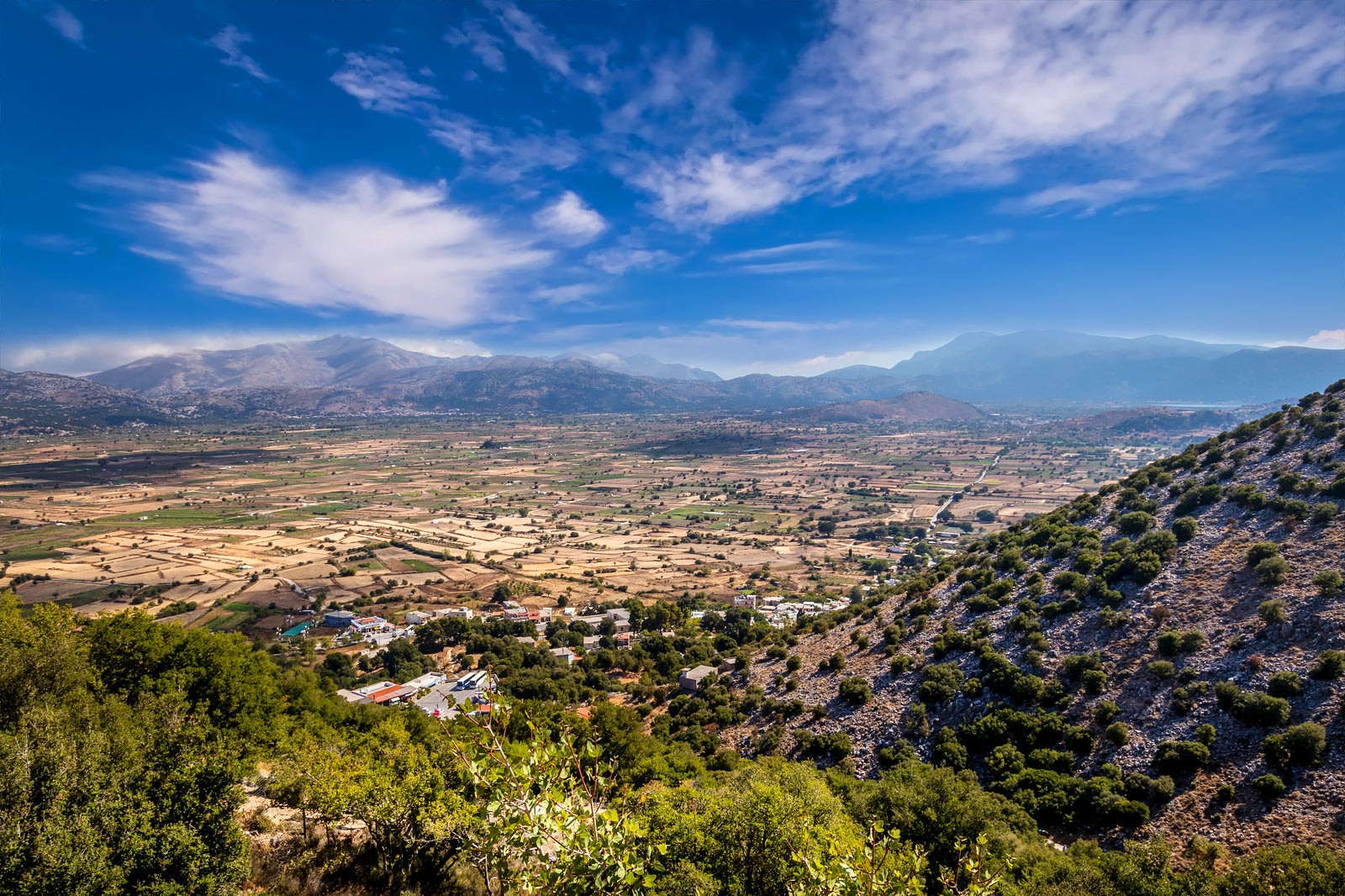 The Lassithi Plateau is a remote high mountain plain, famous for its iconic white-sailed windmill landscape. The highlight of the region is the mythical Psychro Cave, which is said to be the birthplace of Zeus.
The plateau is very expansive and best explored by joining a jeep safari tour, which is offered by many companies in Malia. Traversing the sprawling landscape of tiny villages, almond trees, and stone mausoleums offer you a real sense of rural Cretan life. Views from the top of Mount Spathi are a lovely bonus for those willing to hike the 6-hour summit trail. With an elevation that starts at 850 metres, the weather is chilly year-round. The Lassithi Plateau is within a 30-minute drive south of Malia.
7
Roza Gorge
A hidden gem of Crete's rugged interior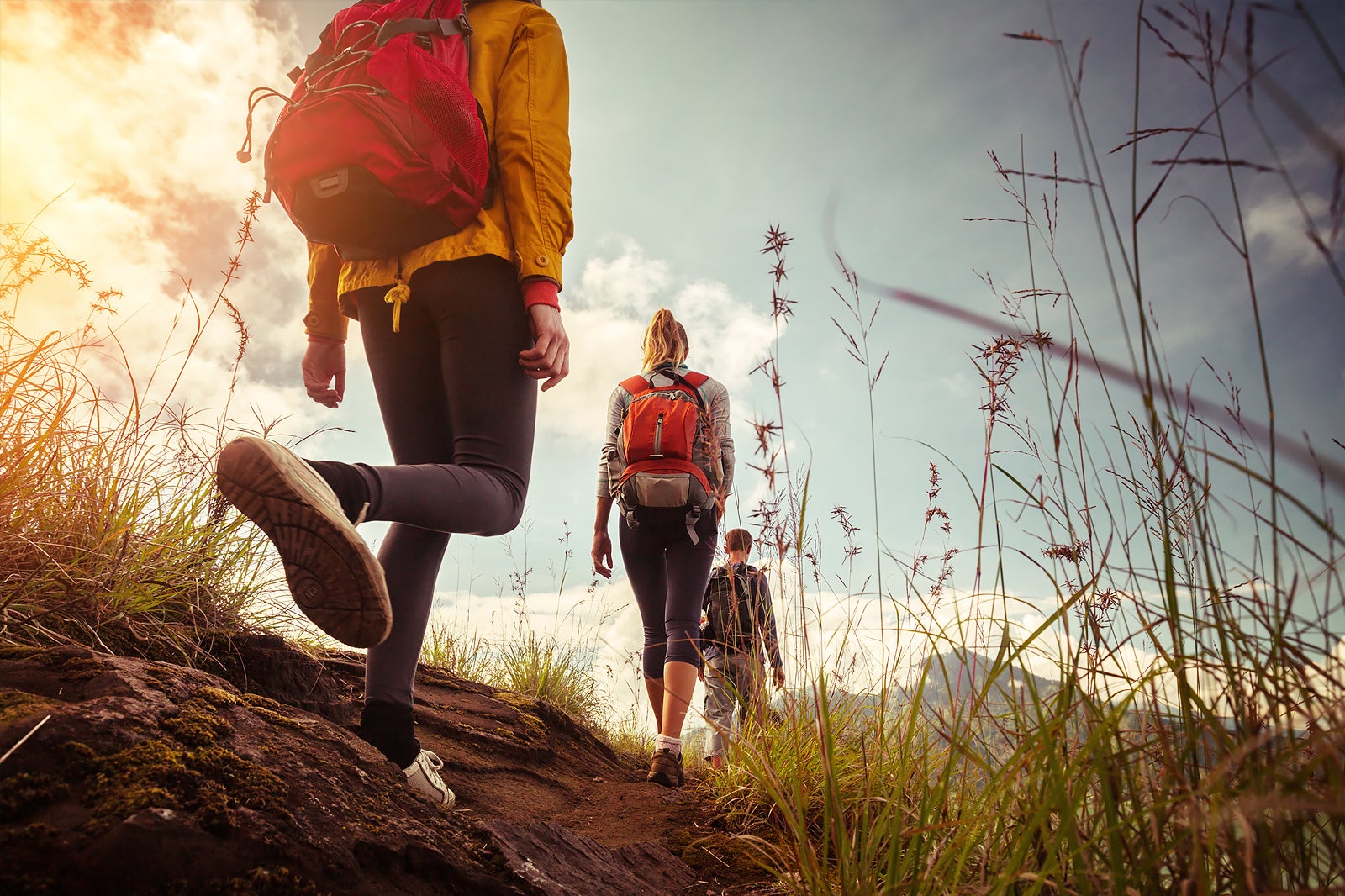 Roza Gorge is a relatively unknown hiking trail in Crete, but has views rivalling that of the famed Samaria Gorge. The 6.8-km-long gorge trail is named after the rose-coloured formations that wind between dramatic rock faces. The trail links the mountain villages of Kera and Gonies – you can start and end your hike in either village or challenge yourself with a round-trip.
Most hikers start just outside Kera, a 25-minute drive south of Malia, and hike downhill for 2 to 3 hours to reach Gonies. Hiking the trail in reverse requires an additional hour. If you're only walking one-way, make sure you've arranged transport for pickup before tackling the trailhead.
8
Eat kleftiko
Taste this Cretan delicacy in a local Malia taverna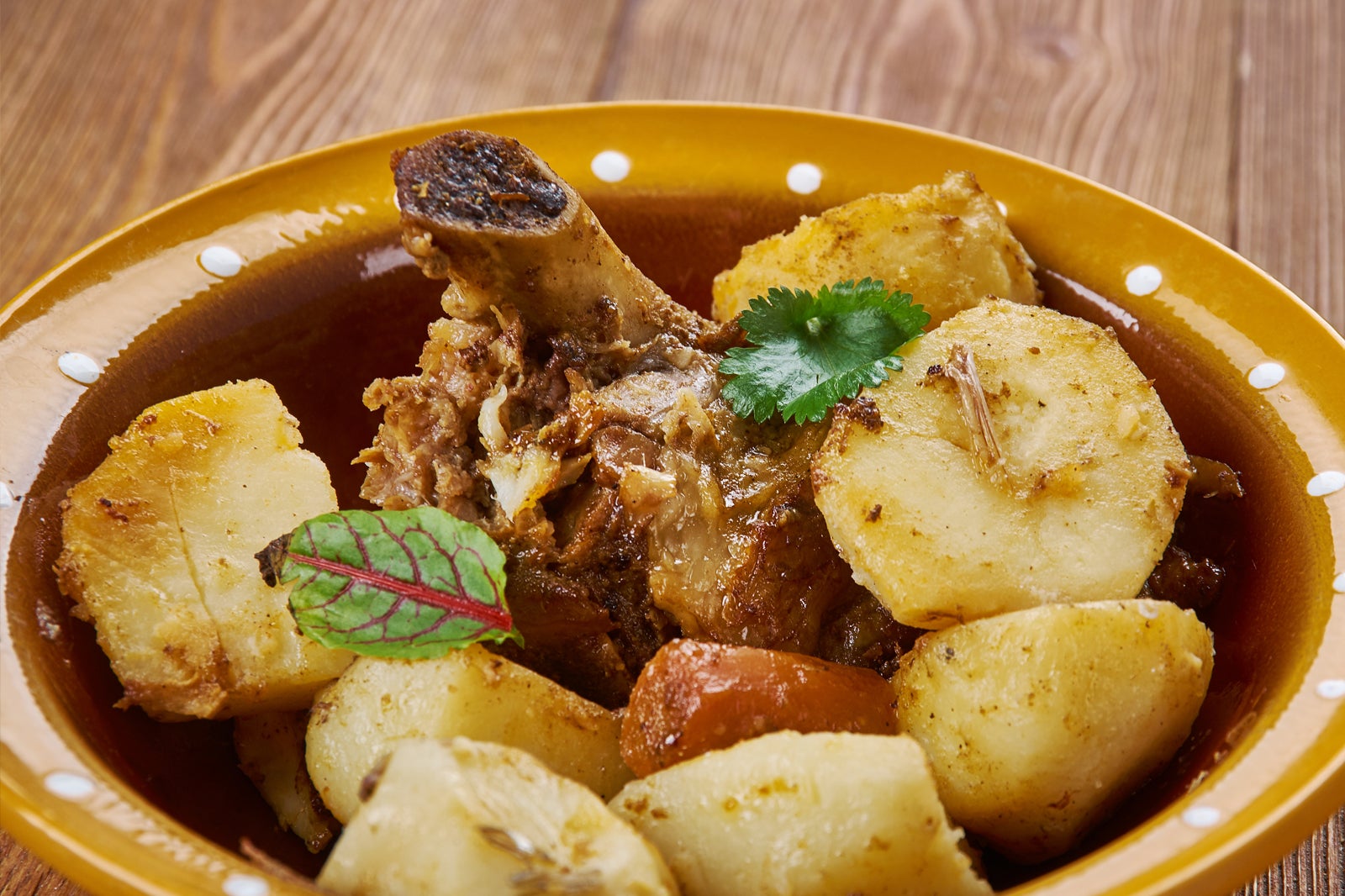 Kleftiko is a Cretan speciality, made with slow-cooked lamb marinated in garlic, copious amounts of olive oil, and served with potatoes. After a long day hiking gorges or hanging at the beach, this flavour-filled hearty meal will definitely hit the spot.
Taverna Eva, near Potamos Beach, is a family-run establishment that has been serving kleftiko for around 40 years. It has a stunning outdoor terrace, with lanterns and climbing vines. Indulge in its signature dish, which is topped with feta cheese, followed with some homemade baklava. You can enjoy a livelier dinner experience at San Giorgio Taverna in Old Town – pair your kleftiko with local raki (anise-flavoured liqueur) while listening to traditional music.
9
Krasi and Mochos
Traditional Cretan culture along cobblestoned streets
Take a day trip to the south of Malia, into the mountain villages of Krasi and Mochos. Both are known for their high-quality olive oil and jovial Cretan traditions of song and dance. Meander along the cobbled-stone streets of Krasi to the main square, smelling wafts of cheese pie (sarikopita) cooked in traditional wood ovens. Visit the Church of Metamorphosis Sotiros and admire the ornate frescoes and wooden carved temple.
Scenic medieval-inspired streets surrounded by olives, vineyards and fruit trees welcome travellers to Mochos. It's a good idea to visit in mid-August to experience the village's celebration for the Assumption of the Virgin Mary. Both villages are best explored by taking the Happy Train Tour, which departs from Malia Old Town on weekday mornings.
10
Dimokratias Street
Nightlife with Europe's unrivalled party atmosphere
Dimokratias Street, also known as Beach Road, is the epicentre of Malia's renowned nightlife scene. The street, which links Old Town Malia to Glozanie Beach, is where partygoers worldwide flock to for world-renowned DJs and nightly foam parties, which take place primarily at the strip's 4 main establishments.
Zig Zag Club is a house music favourite, which boasts a large dancefloor and one of the best club atmospheres in Europe. Apollo is a classy RnB club while Candy Club tailors to the mainstream by pumping out Top 100 dance hits. Warehouse is most notable for satisfying hardcore bass-lovers in Malia. Cover charges range from €5 to €50, depending on the event. Most clubs open around 9am and close as late as 7am the following day.
Location: Dimokratias Street, Malia 700 07, Greece
Back to top