10 Best Outdoor Adventures in Crete
Awesome Outdoor Things to Do in Crete
Outdoor adventures in Crete attract those seeking an active holiday, thanks to the island's rugged landscape of limestone caves and gorges, as well as the underwater scenery of the Mediterranean. There are ample opportunities for hiking, caving and snorkelling year-round, though summer and spring are arguably the best seasons to enjoy Crete's relatively mild climate.
The rugged terrain is suitable for off-road exploration on mountain bikes, jeeps, and even on foot. Many treks and trails lead to Crete's lush protected mountains, many of which are home to waterfalls and underground caves. Whether you're travelling solo, with a partner, or with active kids, our guide to awesome outdoor things to do in Crete will have something for you.
1
Samaria Gorge
A famous trekking spot in Crete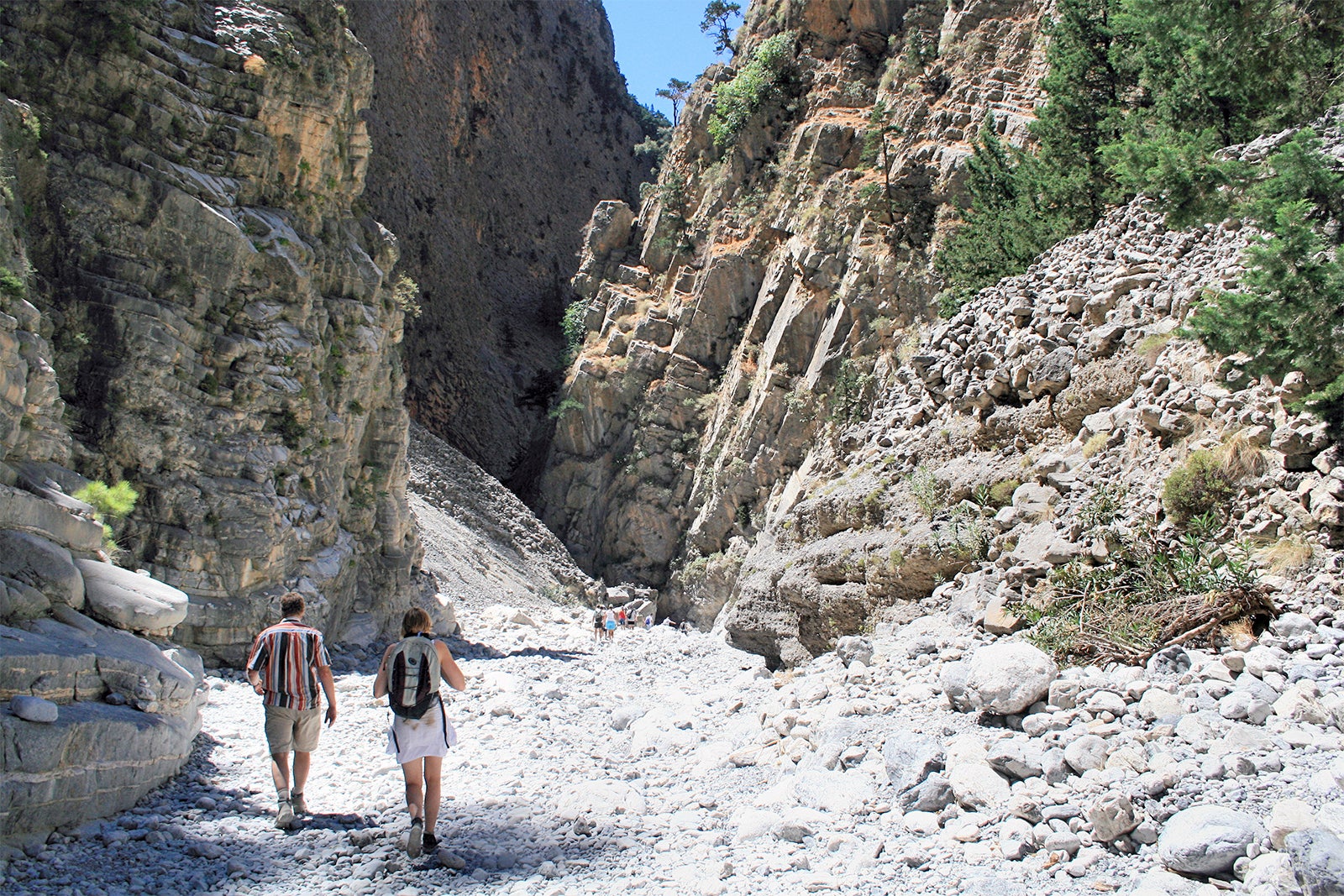 The Samaria Gorge is a National Park of Greece and part of Europe's famous E4 hiking trail. Every summer, thousands of hikers attempt to complete the 13-km-long trek, which runs between Xyloskalo and Agia Roumeli. Depending on your fitness level, the journey takes around 5 to 7 hours.
You can hike for another 1.5 km to reach the beaches of Agia Roumeli, where you can find sun loungers and umbrellas for hire. The Samaria Gorge is surrounded by smaller gorges that are more suitable for canyoning. A must-visit is Perdika Waterfall, which has waters cascading 220 metres into a natural pool.
Location: Samaria Gorge, Sfakia 730 11, Greece
photo by Lapplaender (CC BY-SA 3.0) modified
2
Snorkelling
Explore Crete's underwater scenery
Snorkelling in Crete can be enjoyed year-round, though the waters surrounding the island have the best visibility and temperature in September and October. You can spot unique marine creatures such as sea urchins and needlefish, which come close to the shallow shores to reproduce.
Almyrida is a fishing village that families with kids often visit for snorkelling and swimming. There's a small sandy beach with shallow water and a small reef that's home to tropical fish nearby. Many shops in the village offer snorkelling equipment for the little ones, as well as beachfront shacks selling refreshments throughout the day.
3
Paragliding
For adventurous travellers seeking a new perspective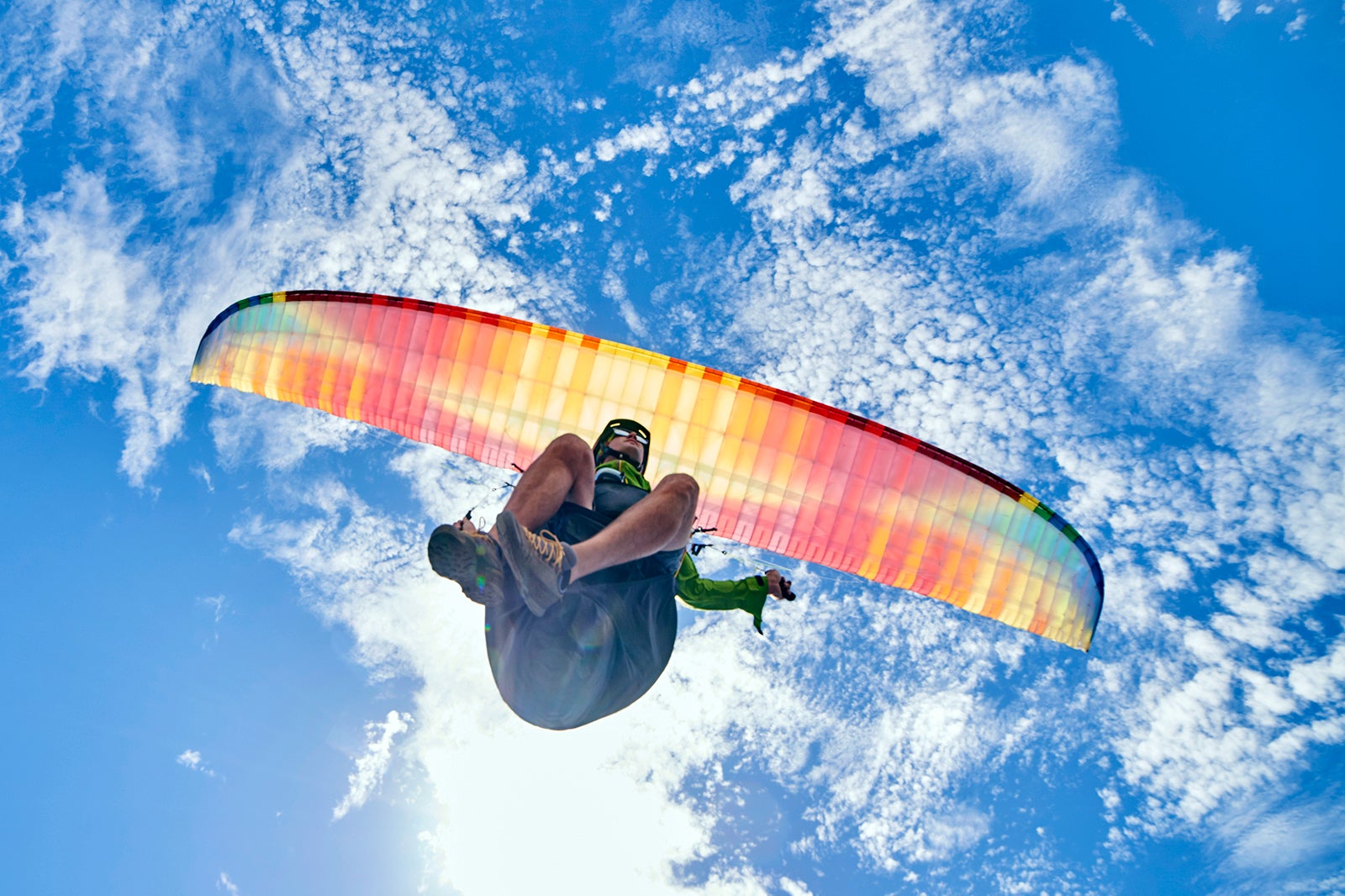 Paragliding in Crete is an excellent way for thrill-seekers looking to see the Greek island and the Med from high above. Falasarna is one of the most famous beaches for tandem paragliding – most trips take off from a 250-metre-high hill, hovering in the air (sometimes at 800 metres above sea level) for several minutes, before landing on the beach. Some can even go as far as Balos Beach, located around 18 km north of Falasarna.
Paragliding in Avdou is a must-do for those staying in Heraklion or Malia. It's possible to enjoy this sport year-round. Some paragliders have even reached at an altitude of 1,200 metres, with vultures flying together with them. The view is unsurprisingly incredible, overlooking the Aposelemis Dam Lake, Heraklion, Hersonissos, and even Santorini on clear days.
4
Imbros Gorge
A canyon between Chania and Hora Sfakion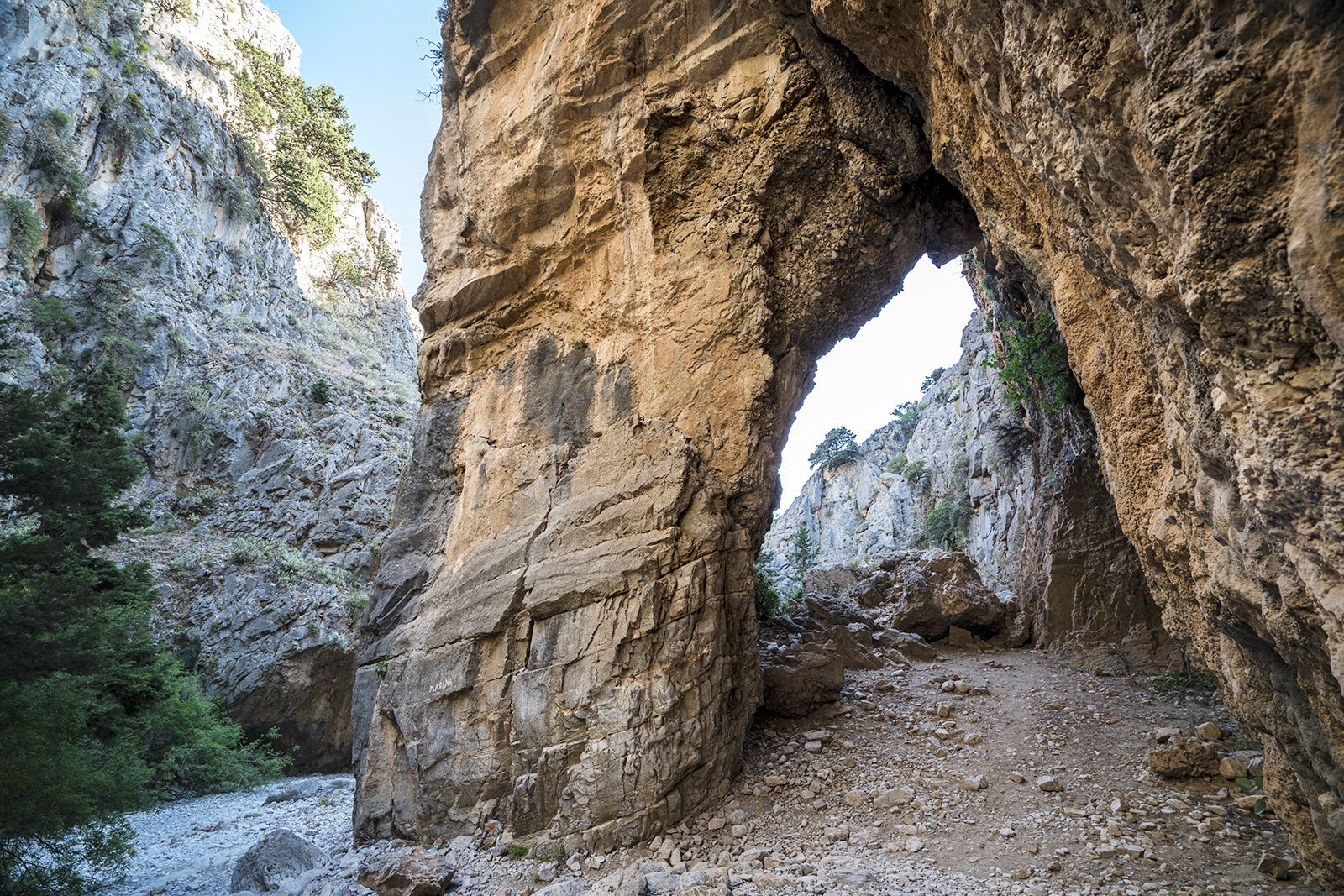 Imbros Gorge is part of the E4 European hiking trail that's around 8 km in length. It's quite popular for families as the hiking path is clearly marked and easy to access, making it safe for young children. It starts near the village of Imbros, where you can find cafés and tavernas to fuel up before your hike.
Depending on your fitness level, it takes around 2 to 3 hours to complete the route in Imbros Gorge. The end of the route is marked by a large stone arch on your right-hand side – you can choose to turn back to Imbros or walk another 15 minutes to get to Komitades, a small village with several tavernas offering Greek cuisine.
Location: Hora Sfakion 730 11, Greece
5
Rock climbing
Visit the climbing routes of Kapetaniana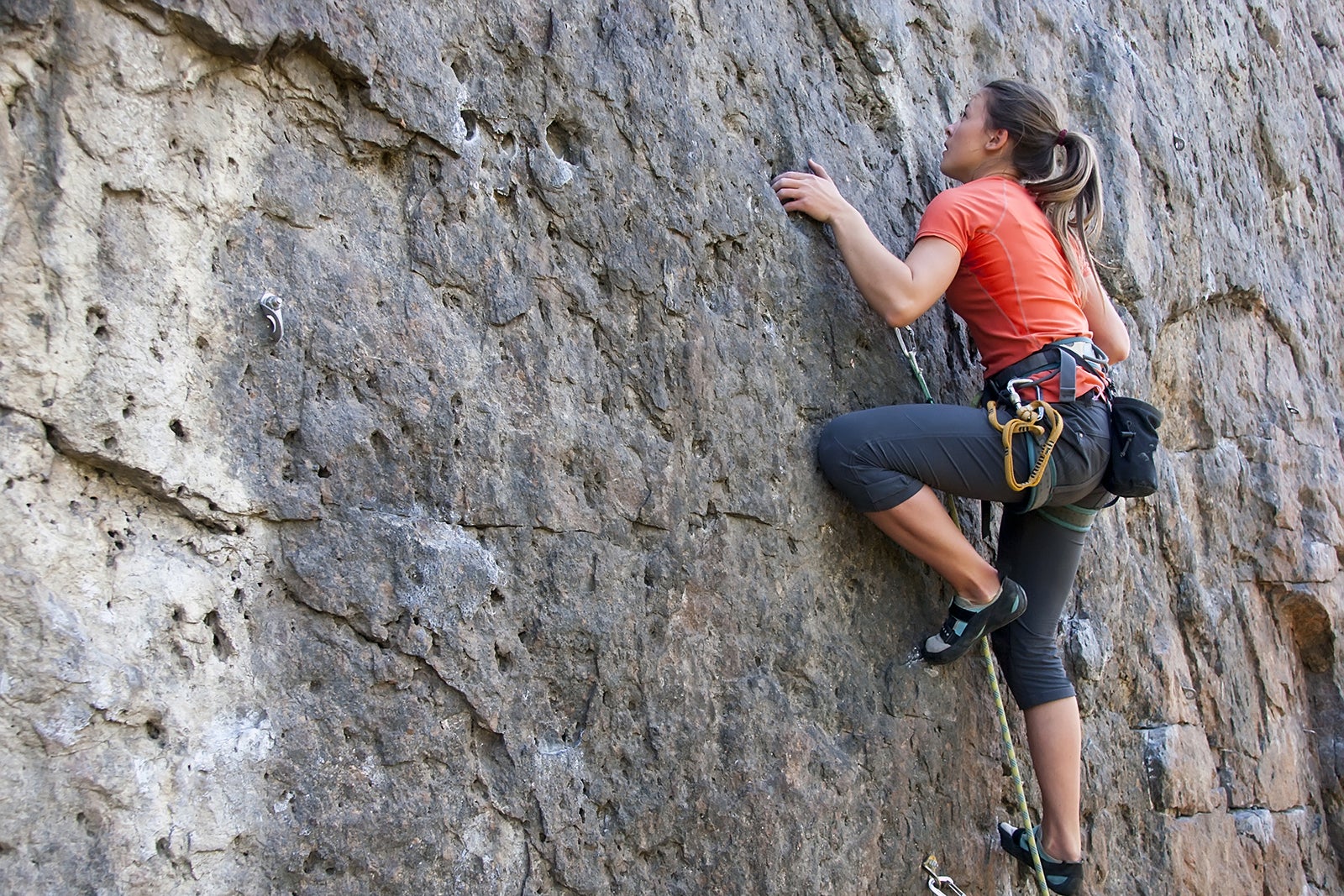 Rock-climbing excursions take you to some of Crete's most popular sites, including Mount Gigilos and Tersanas Cave. You'll be in safe hands, thanks to well-maintained equipment and certified instructors guiding you throughout your trip.
Experienced climbers often scale Mount Gigilos, located close to the Samaria Gorge National Park. Here, the generally trad routes range from 600 to 1,500 metres in length. Kapetaniana is also a prominent rock-climbing spot in Crete – it has an altitude of around 800 metres, making it excellent for outdoor adventures, even on scorching summer days.
6
Horseback riding
Ride a Cretan horse through the island's rugged terrains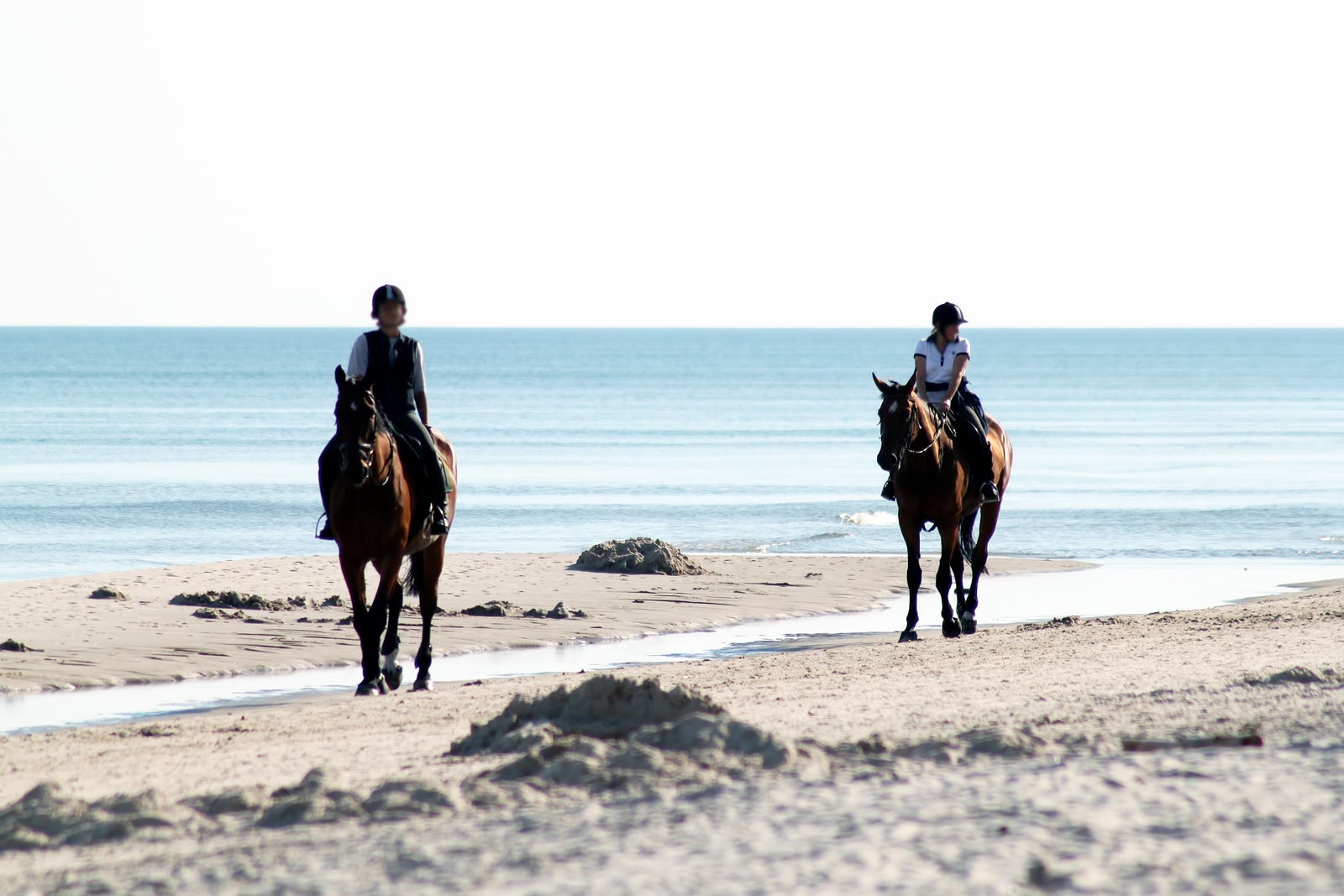 Horse-riding is one of the best ways to explore Crete's rugged landscape. Suitable for aspiring and experienced equestrians, a horse-riding excursion in Crete would take you through various locations such as hillsides and sandy beaches.
Animal lovers can feel at ease as these privately-owned stables are clean, with professional caretakers tending to their horses. Selected venues even provide petting zoos for younger visitors, which would make for an interesting activity if your little ones are a bit nervous about riding a horse.
7
Canyoning
A challenging but rewarding way of exploring Crete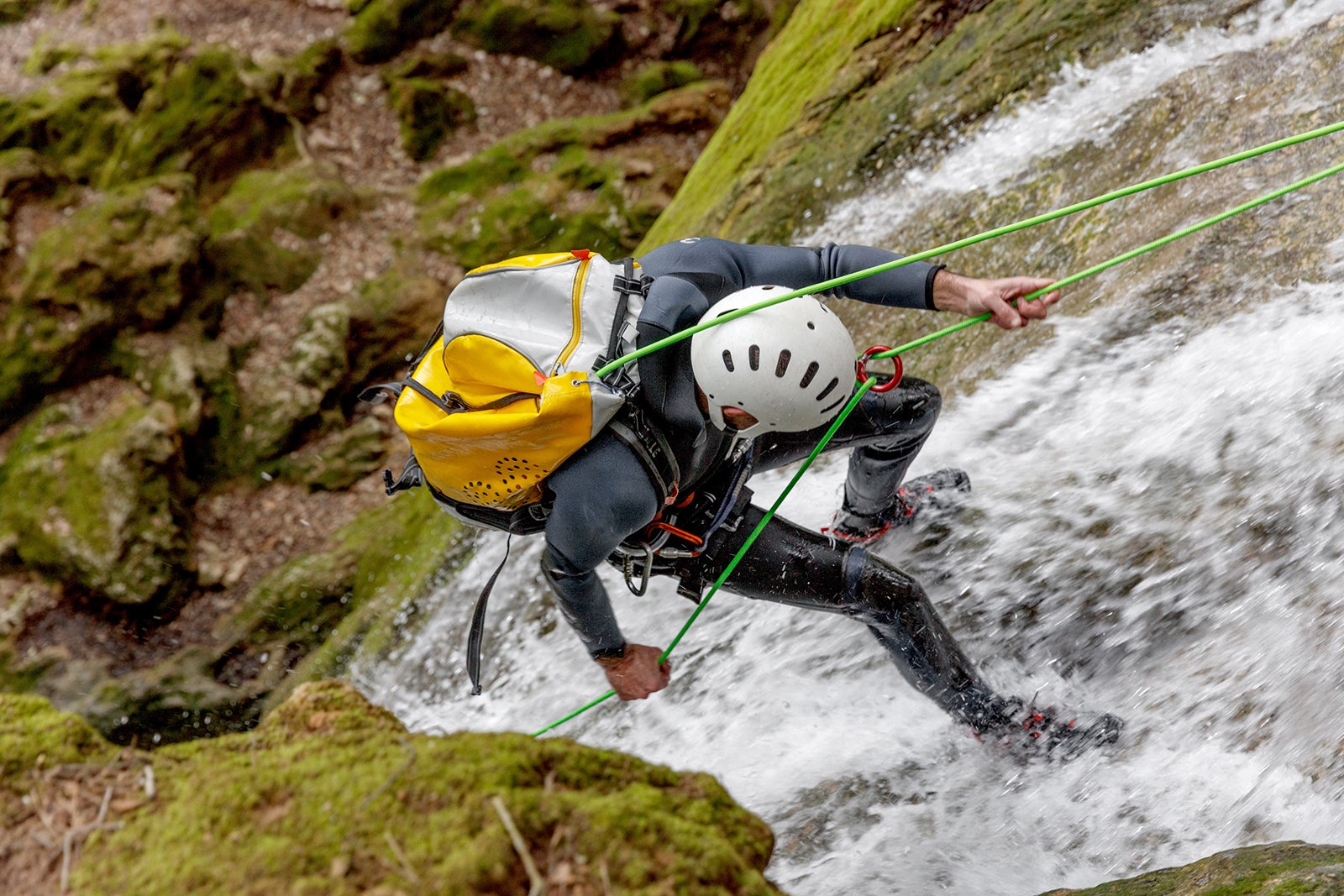 Canyoning tests your fitness and endurance with a combination of hiking, abseiling, and swimming through the gorges of Crete. Most tours offer trips to the southern part of Crete, where popular spots like Chondros, Ano Meros or Keratokampos are located.
A typical tour takes around 5 to 7 hours, with the option of wet or dry canyoning. You'll be trained and guided by an experienced instructor, making it a safe yet challenging way of exploring Crete's rugged terrain. Note that you must be at least 8 years old to enjoy canyoning on the island.
8
Jeep safari
Adventure for the whole family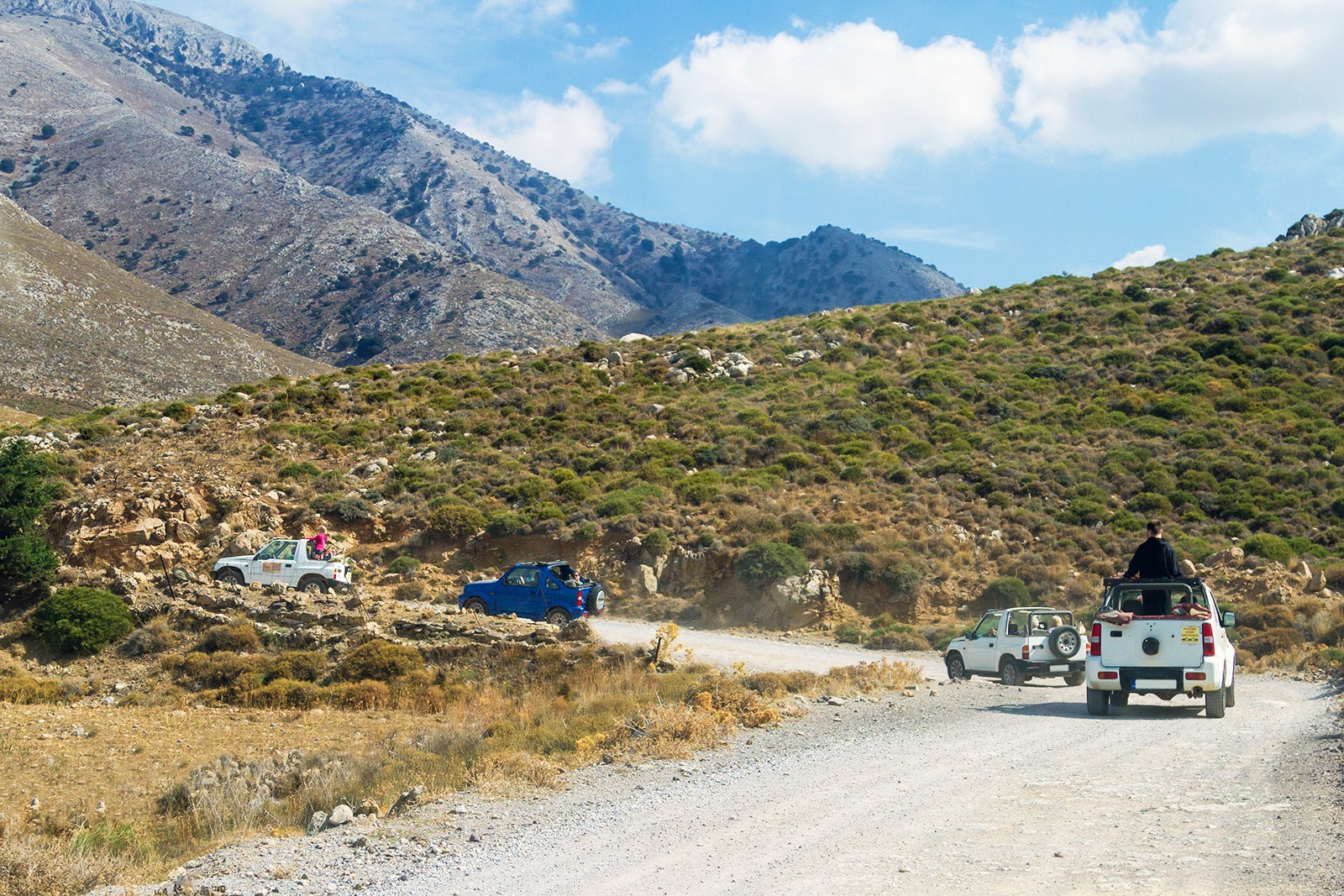 Jeep safari tours are popular options for families and those looking for an exciting yet safe off-road adventure. Crete's many towns have many tour companies offering 4x4 excursions to traditional villages, protected gorges and mountain ranges – popular spots include the White Mountains and Samaria Gorge, as well as the villages of Varipetros, Agia, Alikianos.
You'll be spending an entire day outdoors, so bring some sunscreen and wear light clothing, especially in the summer. Almost all Crete jeep safari tours include lunch, hotel pickup, and an experienced guide with local knowledge of the island.
9
Caving
Choose from over 4,500 caves across the island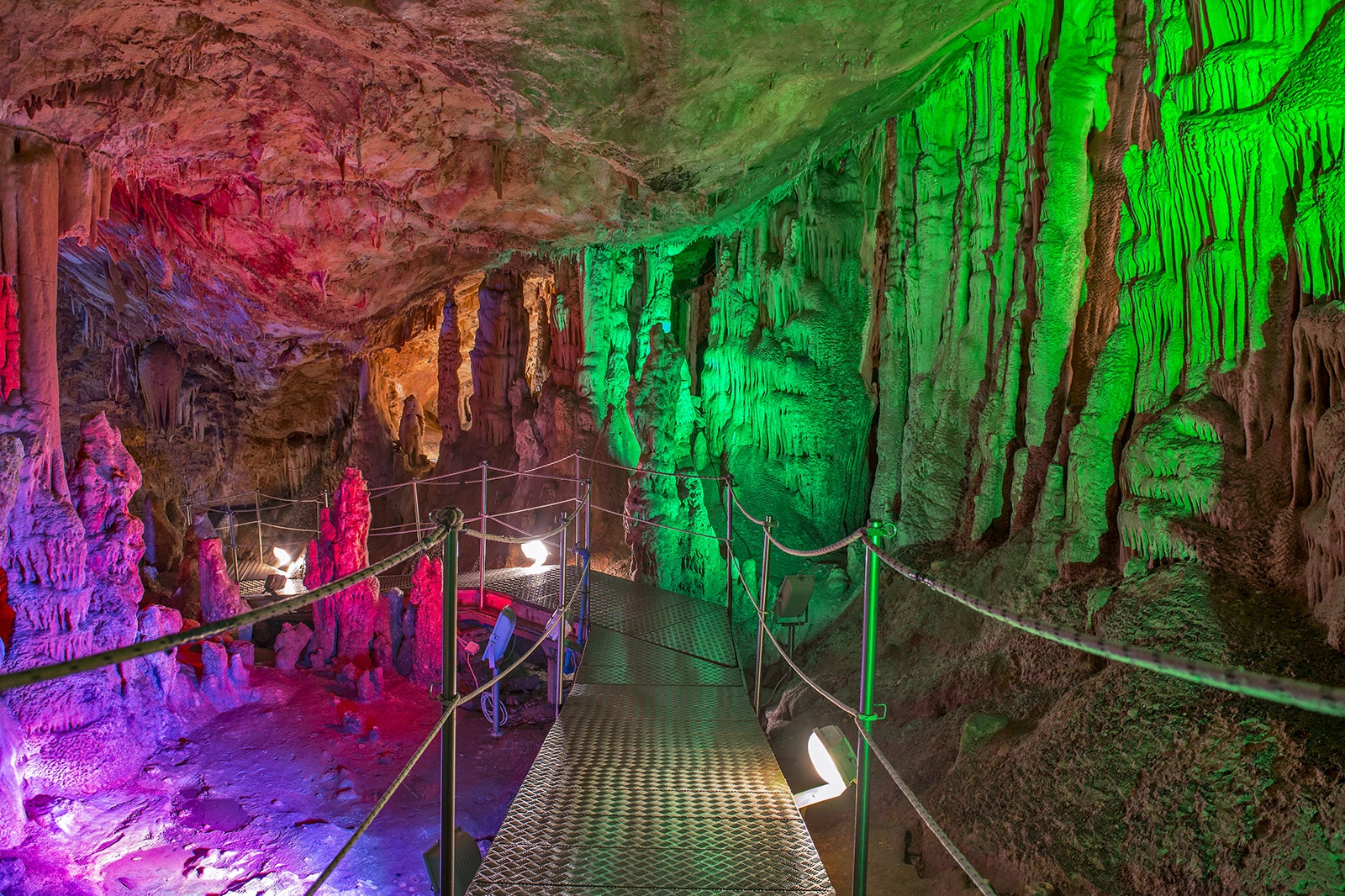 There are over 4,500 mapped caves across Crete, many of which offer excellent conditions for those interested in a day of spelunking during their holiday. Caves play an important role in Greek mythology – Between 3000 BC and 1100 BC, the Minoans are known to have placed shrines inside several caves on the island to worship their gods.
Some of the most popular areas for caving in Crete include Melidoni in Rethymno, Psiloritis in Mount Ida, and Mount Stroumboulas near Heraklion. If you're very experienced in spelunking, consider a trip to Gourgouthakas Cave, located in the Lefka Ori mountains. It has a depth of around 1,208 metres, making it the deepest cave in Greece.
10
Cycling
Peddle your way across the Rodhopou Peninsula – if you're fit enough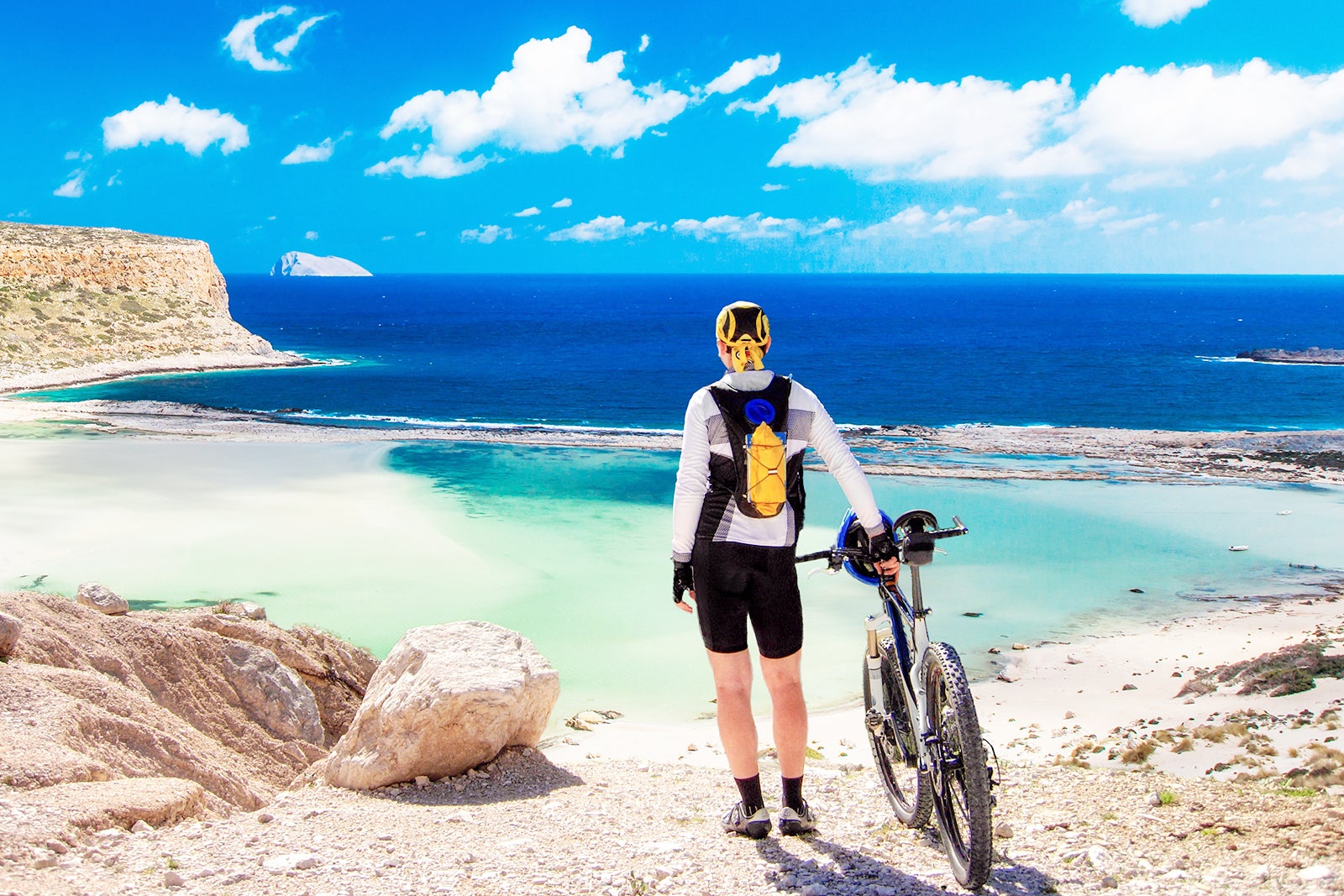 Cycling or mountain biking is excellent for those looking to explore Crete's hinterland at a leisurely pace. You can rent a bike from a shop in towns like Chania or Heraklion to embark on a self-guided trip or sign up for a group excursion to explore the island with a knowledgeable guide.
Cycling routes in Crete range from short and beginner-friendly paths through olive groves and traditional villages to multi-day endurance trips through lush mountains and remote beaches. For those with a good level of fitness, the Rodhopou Peninsula offers a 12-km-long (with 10 km of downhill roads) route that takes you past olive fields and mountain trails. You can enjoy views of Chania Bay and Gonia Monastery during your cycling tour.
Back to top