10 Epic Locations You Have to Visit in Germany
Germany's Amazing Landscapes
Germany has some of Europe's most impressive natural locations, most of which are accessible via cross-country trips and boating excursions on alpine lakes. With a diverse landscape that stretches from the Alps to the Baltic and North Seas, you can explore a variety of sights, including majestic mountains, forest reserves, and medieval towns.
From medieval villages with fairy-tale castles to snow-capped mountains, plan an adventure-filled road trip across Germany with this handy guide of epic locations you have to visit.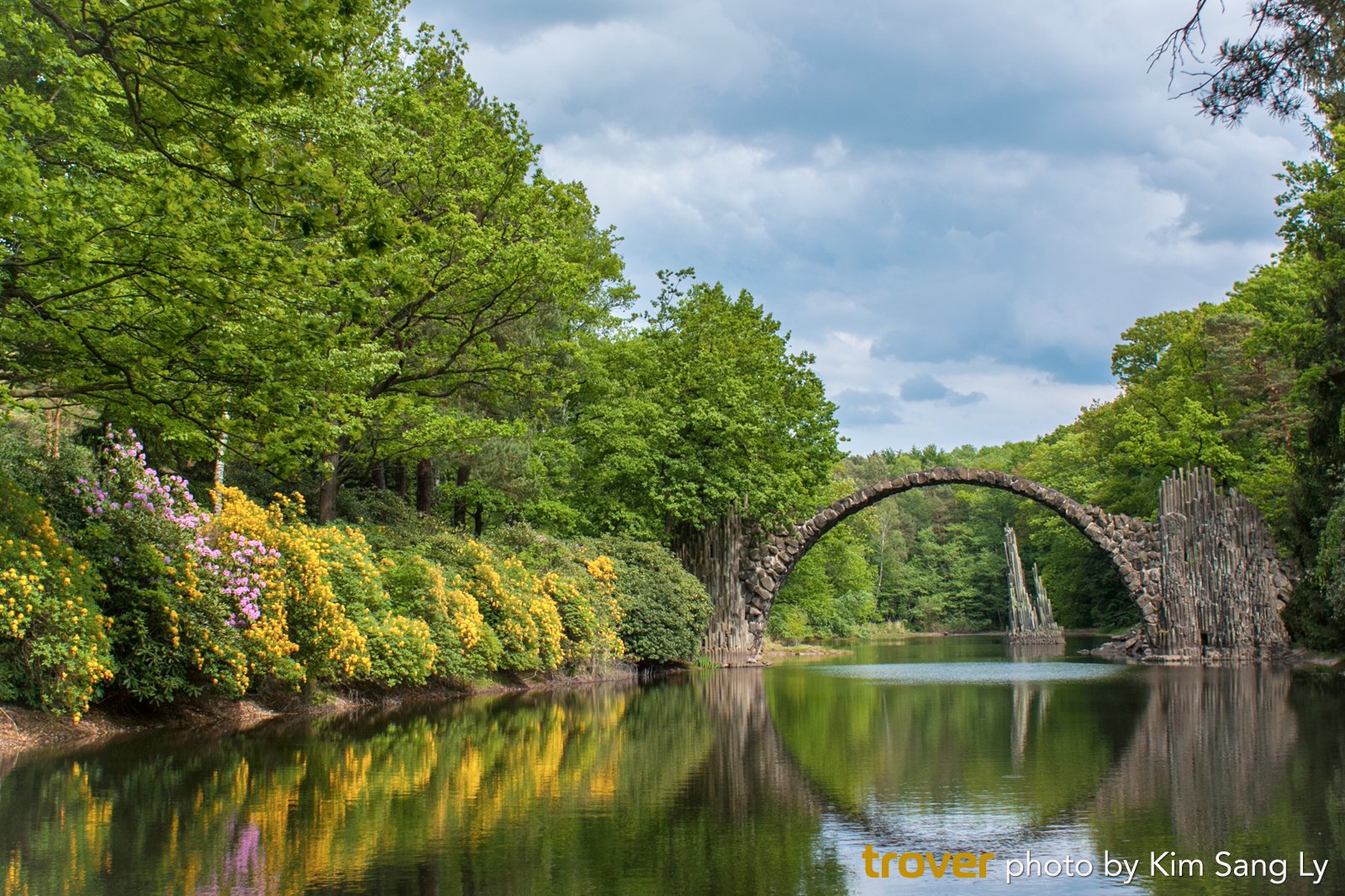 Rakotzbrücke
See the 19th-century Devil's bridge in Kromlau Park
Rakotzbrücke is a masonry bridge within Azalea and Rhododendron Park Kromlau. Built in 1860, it features a half-circled arch with jagged, rocky spires on both ends. When reflected against still water, the bridge gives the illusion of a perfect circle – a popular spot for landscape photography.
Home to Germany's largest rhododendron gardens, the park itself attracts nature lovers with its 200-acre landscape and outdoor activities such as picnics and strolls. Entrance to the park and Rakotzbrücke is free year-round.
Location: Azalea and Rhododendron Park Kromlau, Altes Schloß 11, 02953 Gablenz, Germany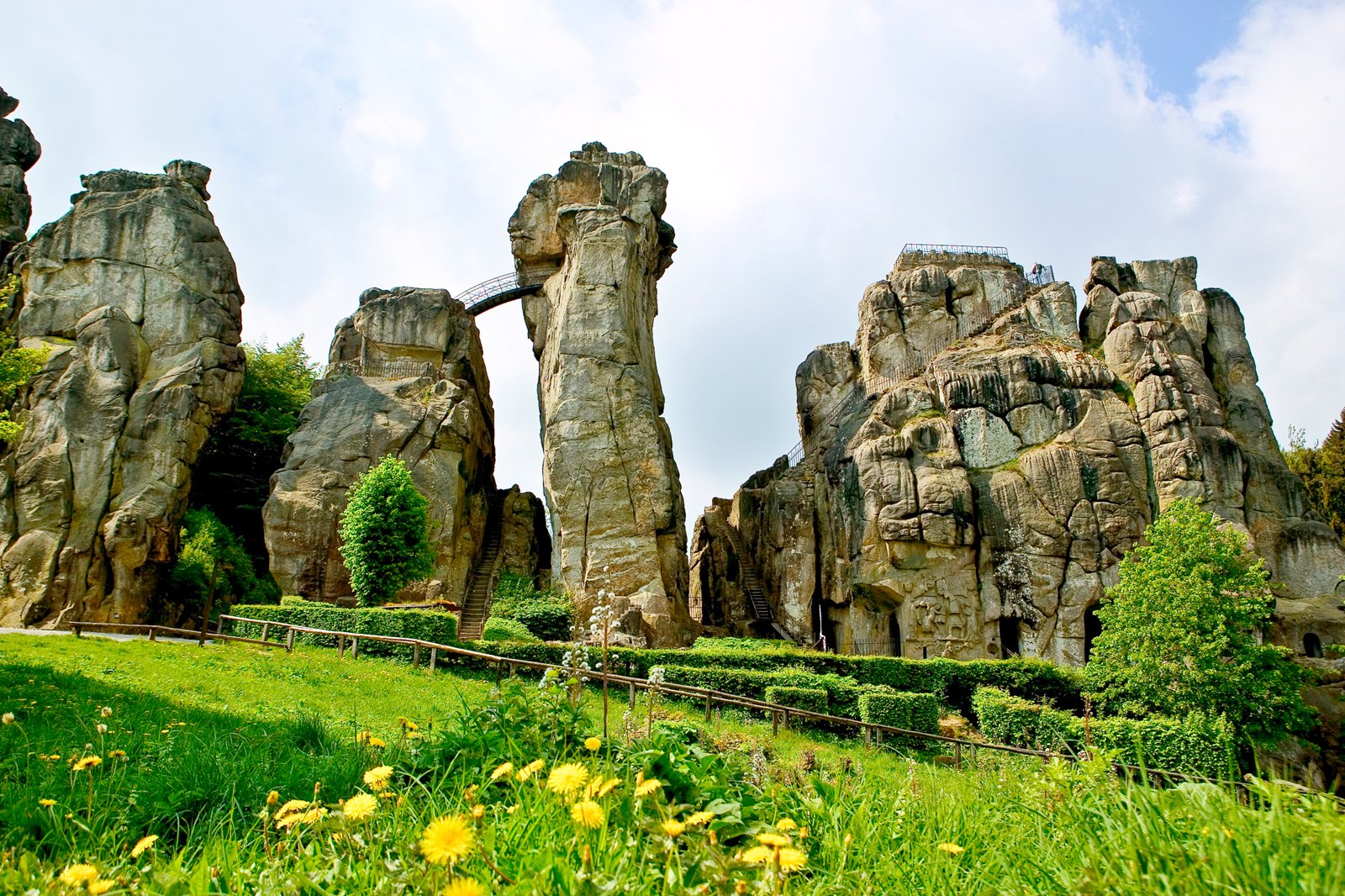 Externsteine
Unique sandstone formations in Teutoburg Forest
The Externsteine is a series of sandstone columns jutting out from Wiembecke, a natural pond within Teutoburg Forest. One of Germany's most impressive scenery, it dates back to the Ice Age, with several manmade structures added during the Middle Ages. Today, you can visit a grotto, a sarcophagus, and a relief depicting Christ's Descent from the Cross.
The jagged cliffs range between 13 and 40 metres in height, set against a picturesque backdrop of lush forests, moors, and lakes of Wiembecke Valley. Private gatherings and pagan celebrations often take place at Externsteine, especially during the summer solstice and Walpurgis Night.
Location: Infozentrum Externsteine, Externsteine Straße 35, Horn-Bad Meinberg, Germany
Open: Daily from 10am to 6pm (January–February: weekends from 10am to 4pm. March: Tuesday–Saturday from 10am to 6pm)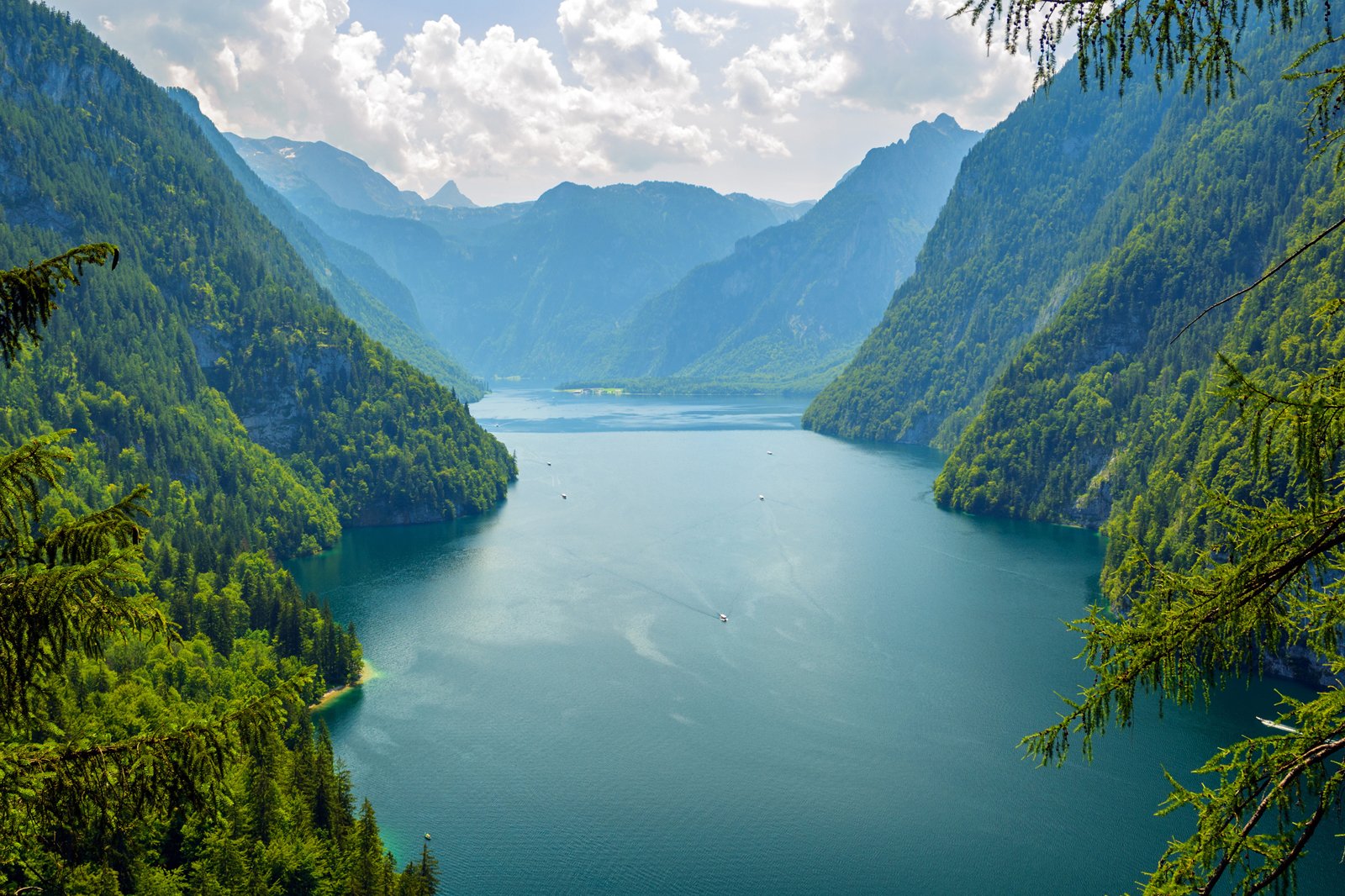 Obersee Lake
A fjord near the Austrian border
Obersee Lake is a pristine fjord in Berchtesgaden National Park, about 140 km southeast of Munich. Surrounded by alpine mountains and forests, its emerald waters are so clear you can even see the rocky bottoms.
You can reach Obersee Lake by boat – you'll enjoy an hour-long journey across Lake Königssee to Saletalm Pier. From there, it takes between 30 minutes and 1 hour of hiking on a forested pathway to Lake Obersee. The fjord is open to the public year-round, but the best time to visit is during the summer, when the waters are warm enough for a dip.
Location: Obersee, 83471 Schönau am Königssee, Germany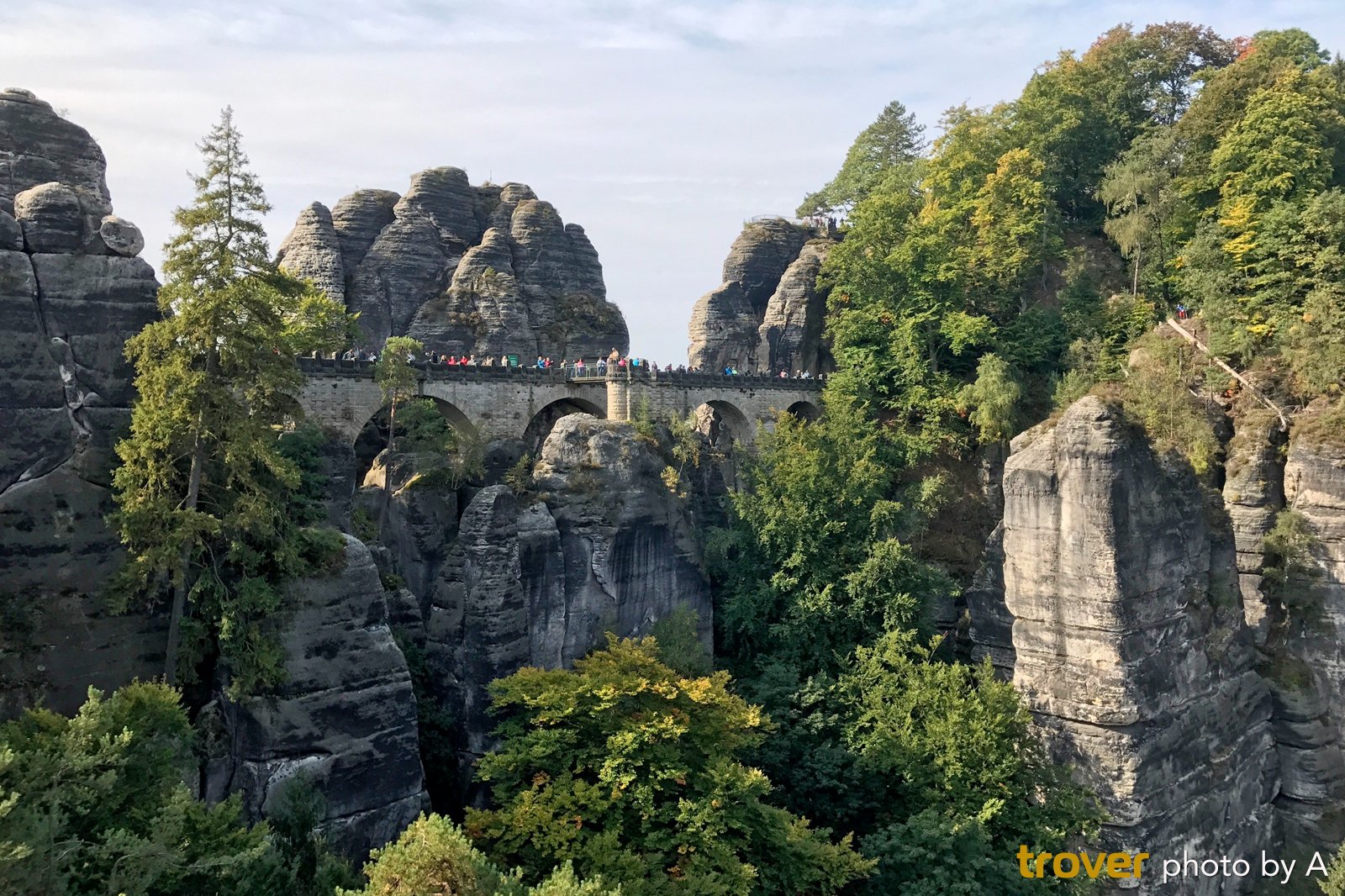 Basteibrücke
Enjoy views of Elbe River and Lilienstein Mountain
Basteibrücke (Bastion Bridge) is a medieval-era bridge in Saxon Switzerland National Park. Spanning 76.5 metres in length, it dates back to the mid-1800s and connects a cluster of jagged sandstone rocks above the Elbe River.
Basteibrücke stands over 182 metres tall, serving as a prominent lookout point in Saxon Switzerland – you can enjoy panoramic views of the surrounding rock formations, Elbe River, Lilienstein Mountain, and the fortress of Koenigstein.
Location: Bastei, 01824 Lohmen, Germany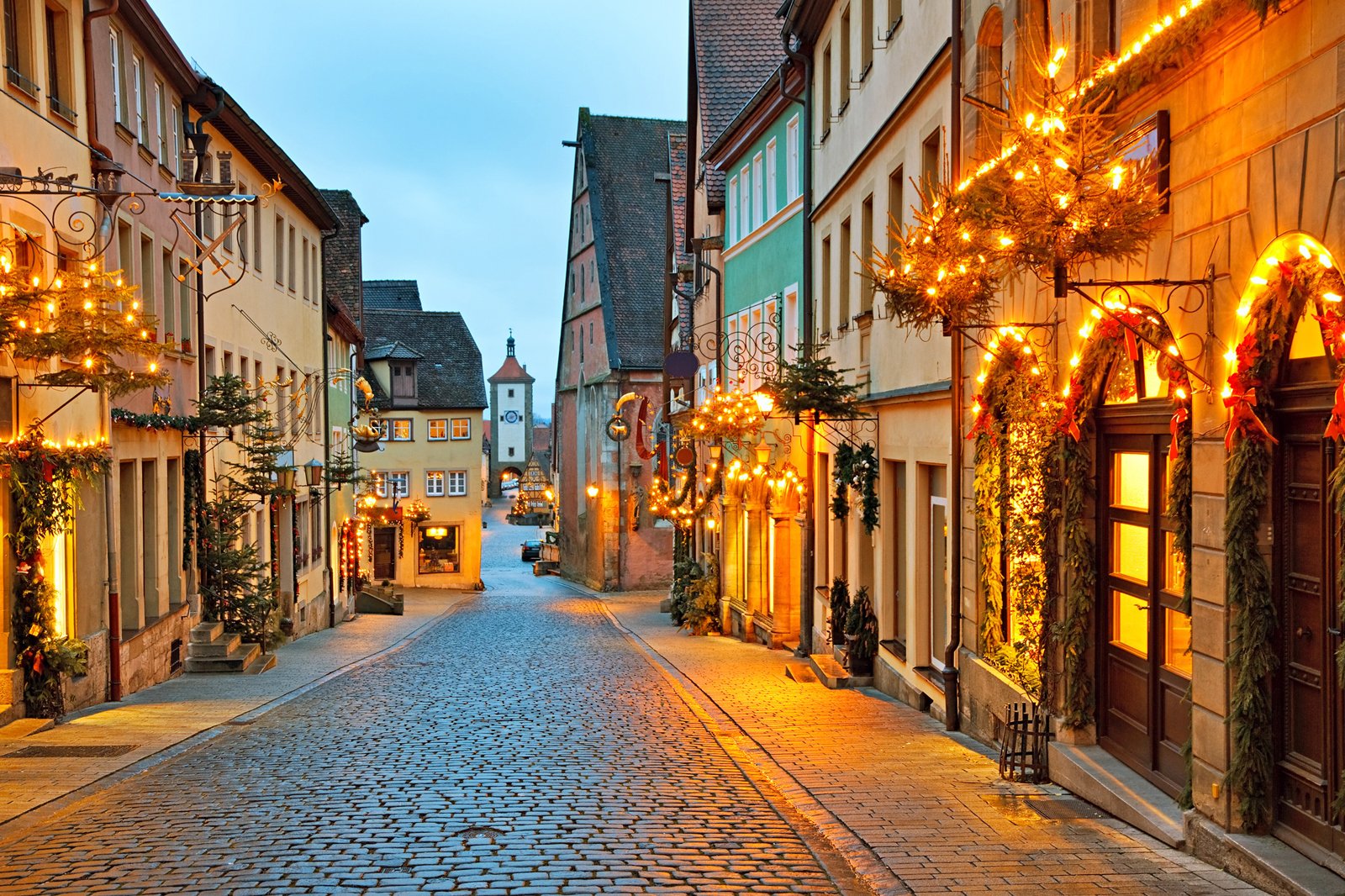 Romantic Road
Embark on a road trip from Würzburg to Füssen
Germany's Romantic Road covers around 350 km between Würzburg and Füssen, with plenty of natural and medieval sites dotting the southern region. You can start your journey from Munich, Frankfurt, or Nuremberg, and depending on how many stops you make, spend about 2 days to 1 week to explore the route.
Some of the most beautiful places you can visit on Romantic Road include Hohenschwangau's Neuschwanstein Castle, the medieval town of Rothenburg ob der Taube, and the Wieskirche Pilgrimage Church in Steingaden.
Location: 350 km between Würzburg and Füssen, Germany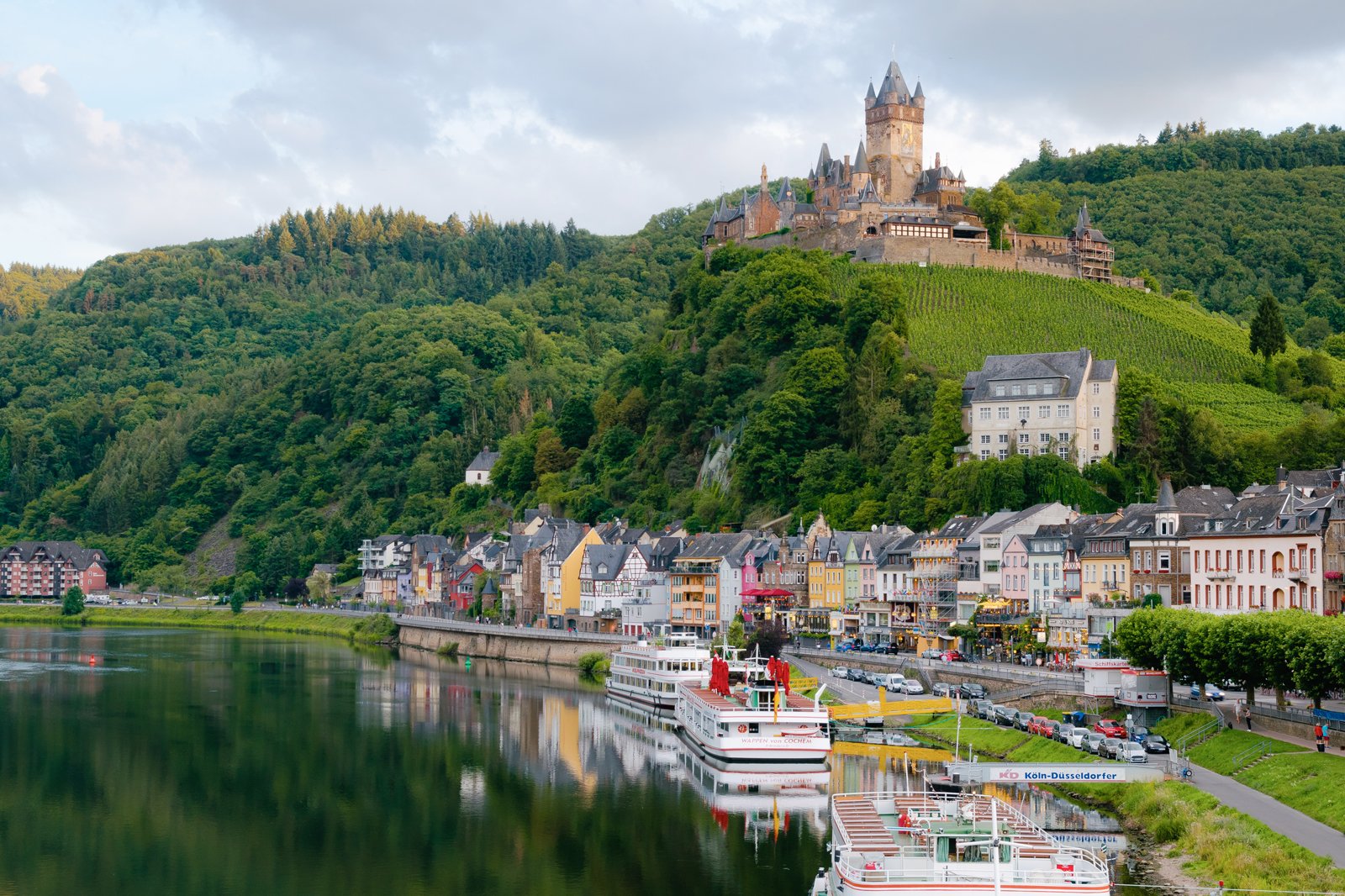 Moselle Valley
Visit fairy-tale castles and medieval villages
Moselle Valley covers some of Germany's most impressive sights, from terraced vineyards and rolling hills, to medieval villages and hilltop castles. The region is named after the 545-km-long River Mosel, which runs along the borders of southwestern Germany, north-eastern France, and eastern Luxembourg.
Plan a romantic trip through Moselle Valley to visit fairy-tale castles such as Cochem Castle, Stolzenfels Castle, and Burg Eltz. Moselle is also a thriving white wine-producing region – Trier, of Germany's oldest towns, is surrounded by vineyards producing the famous Moselle wines.
Location: 195 km between Trier and Koblenz, Germany
photo by Kai Pilger (CC BY-SA 4.0) modified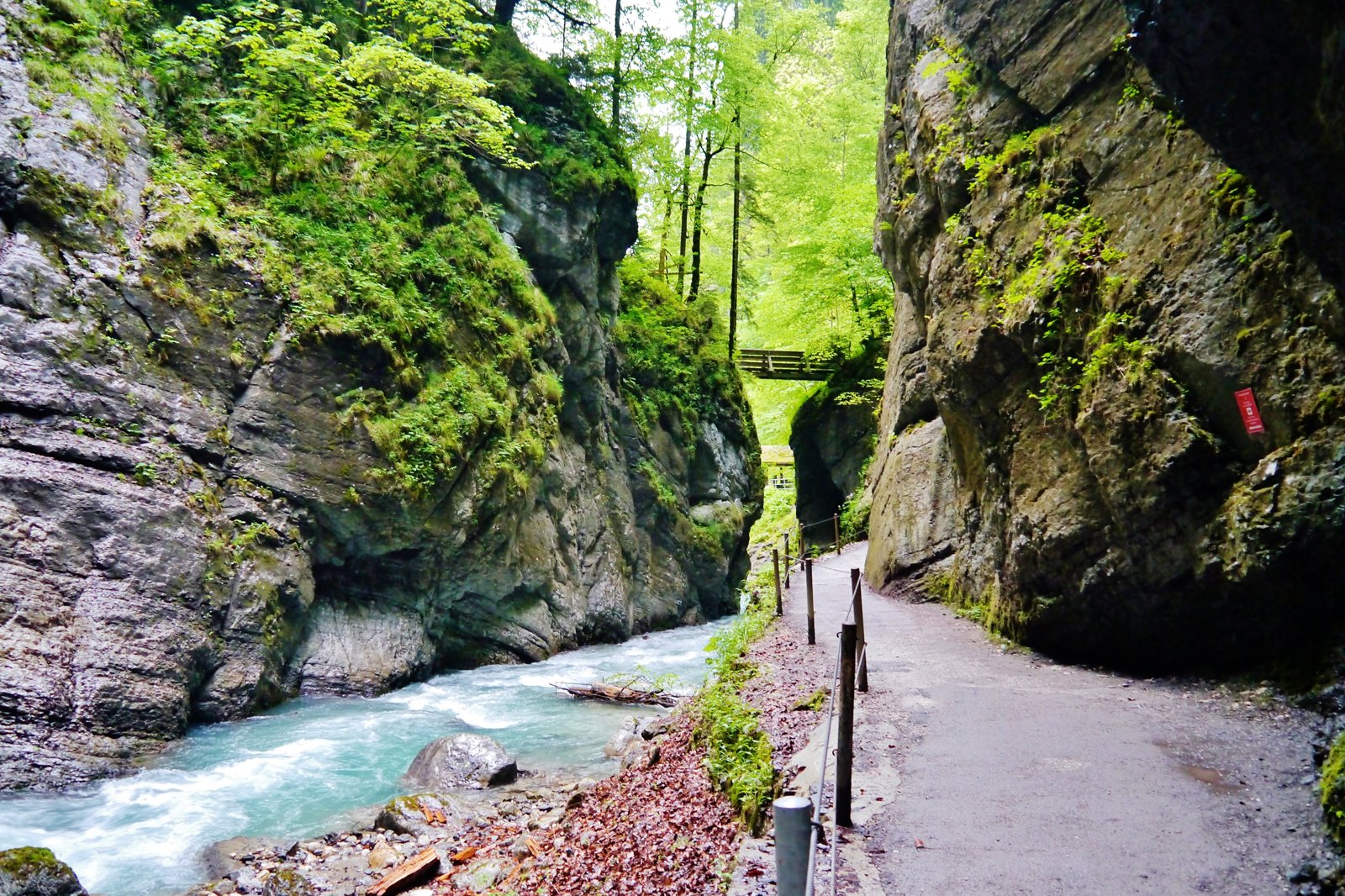 Partnach Gorge
A natural gorge popular for white-water rafting
Partnach Gorge attracts white-water rafters with thrilling water rapids and breathtaking waterfalls in Bavaria's alpine resort, Garmisch-Partenkirchen. The gorge is over 80 metres deep and accessible via hiking trails with views over Partnach River and surrounding alpine mountain ranges.
The best time to visit Partnach Gorge is in the summer, especially in July and August. Hiking to this natural formation may make feel you feel as if you're reliving a scene from Game of Thrones or The Lord of the Rings. If you're up for a challenge, experience another 9 hours of hiking to reach the Zugspitze Glacier.
Location: Partnach Gorge, 82467 Garmisch-Partenkirchen, Germany
photo by Zairon (CC BY-SA 4.0) modified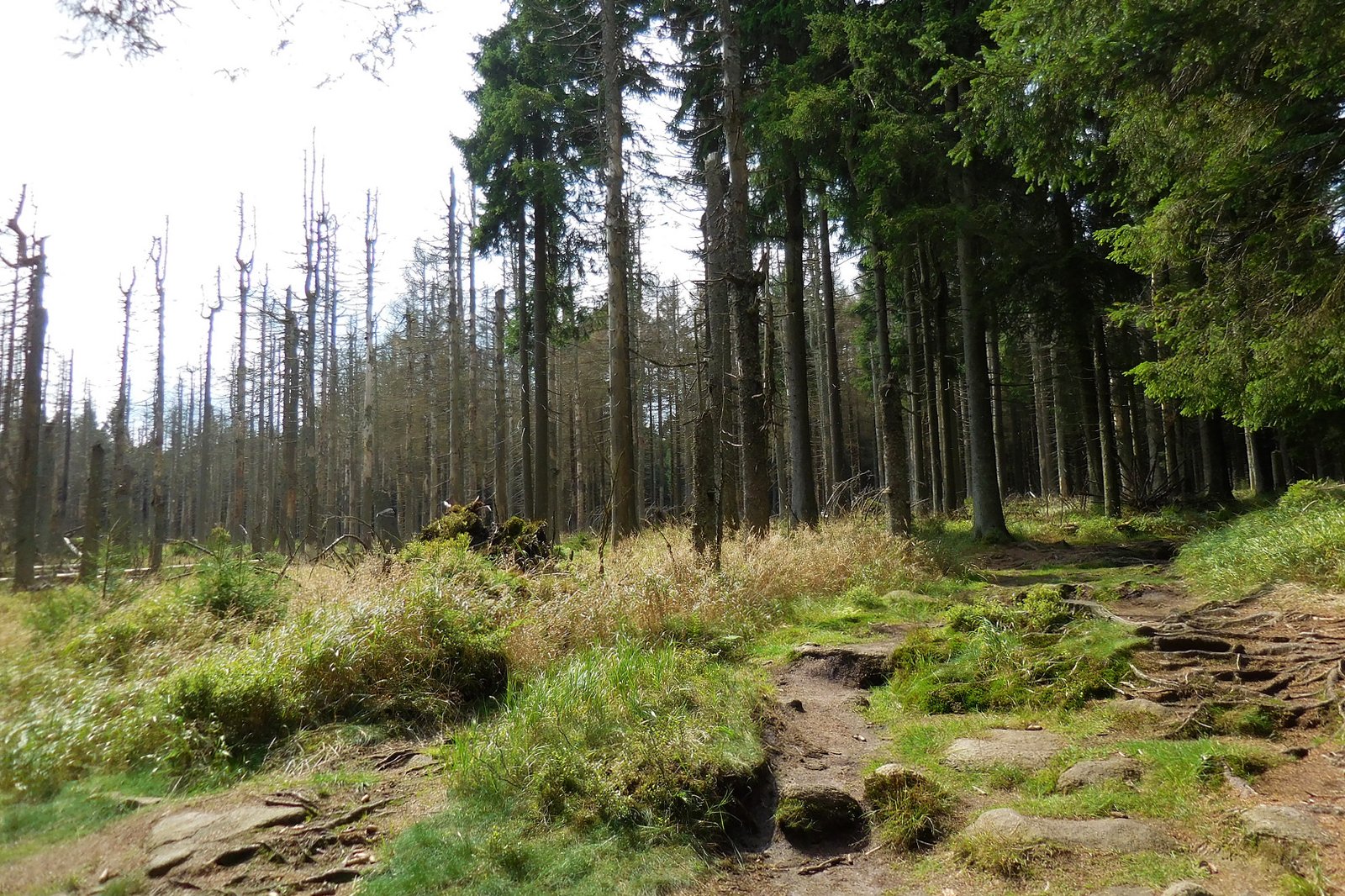 Harz National Park
Hike the Goethe Trail, also called the Harz Witches' Trail
Harz National Park covers 247 sq km of forests in Germany's of Lower Saxony and Saxony-Anhalt. The nature reserve is known for scenic hiking trails and wildlife such as lynx, wild cats, deer, and woodpeckers.
The park also has several routes that are suitable for mountain biking – Volksbank Arena Harz has 74 routes with a total length of 2,300 km. Along the way, there are 31 stops that offer bike servicing, racing events, bike parks, and guided tours.
Location: Nationalpark Harz, Germany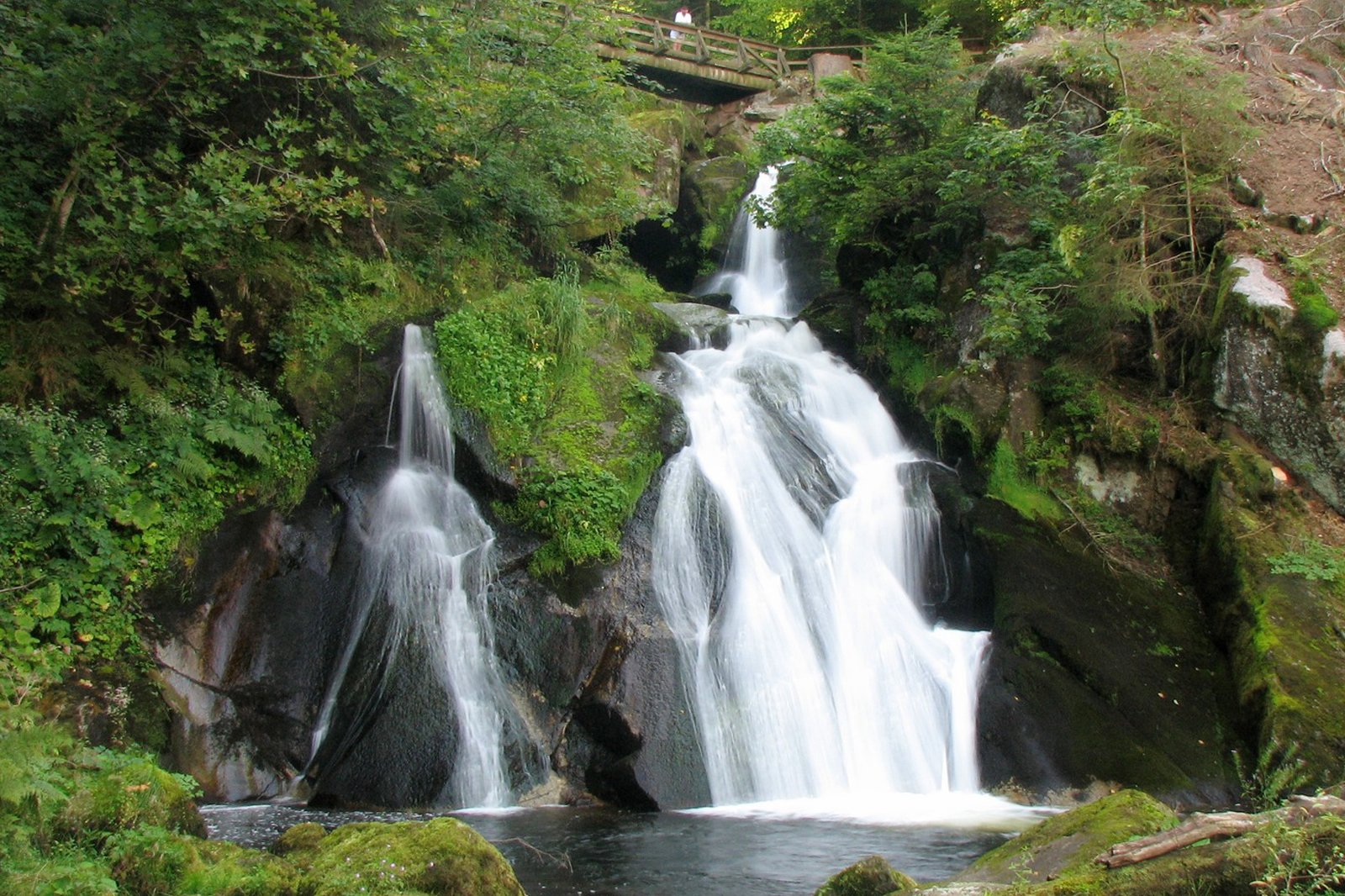 Black Forest
Visit Triberg Falls, Germany's highest waterfall
The Black Forest is more than just the home of the classical cuckoo clock and the setting of many Grimm fairy tales. The Schwarzwald, as the Germans call it, is famous for its scenic lakes and walks through pine forests.
Centrally located in the Black Forest is the Triberg Falls, widely known as the highest waterfall in Germany. You can reach this impressive landscape on a hike along a forest trail, uphill from the station at Triberg town. Water from the Gutach river cascades down the falls' 163-metre slope all year round – if you're there during wintertime, tread carefully as the icy viewing platform can get slippery.
Location: Black Forest, Todtnau, Germany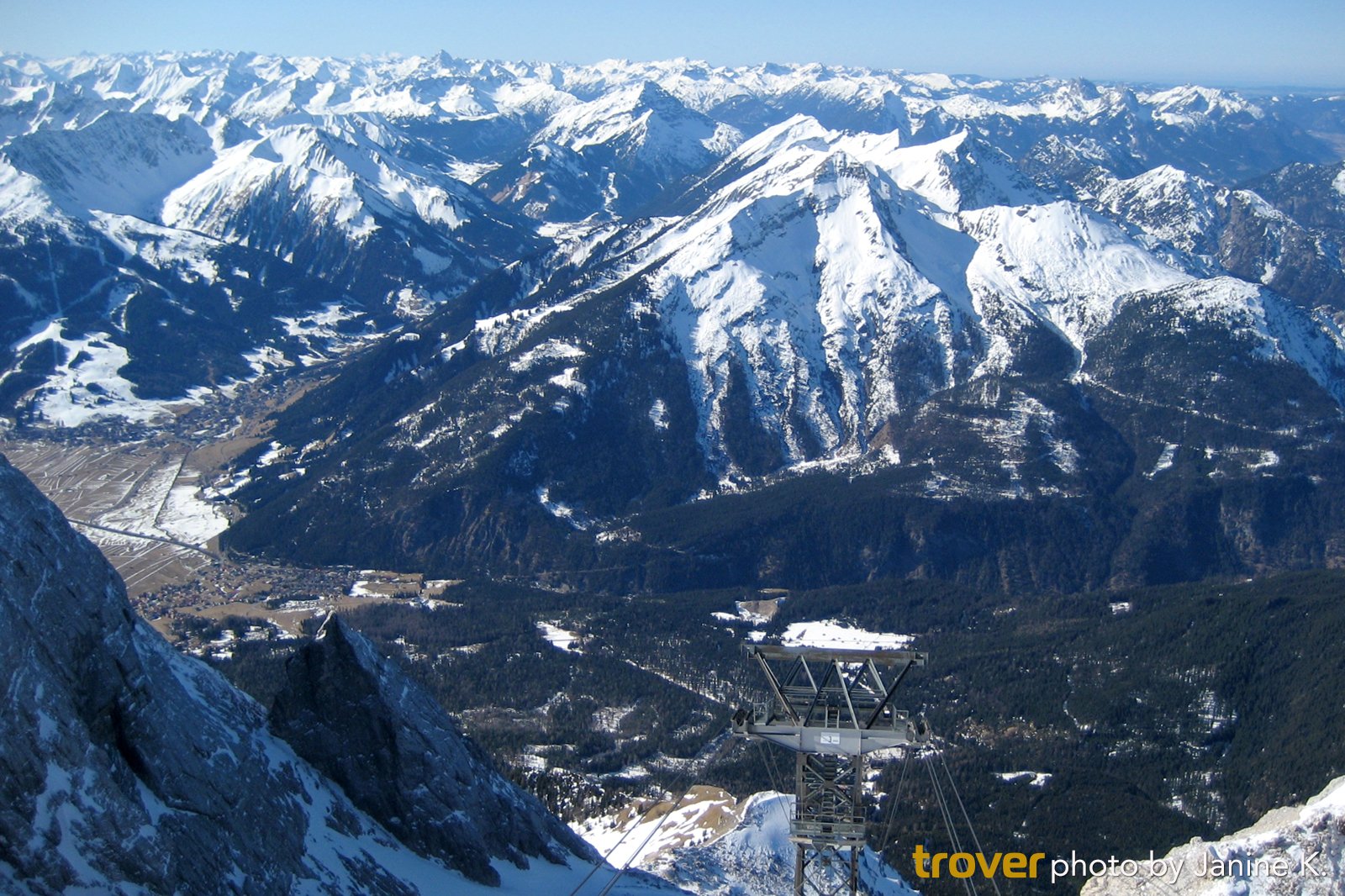 Zugspitze
Ride a cable car to Germany's highest mountain
Germany's highest summit, Zugspitze dominates the Wetterstein Mountains with an impressive height of 2,962 metres above sea level. There are several ways for you to reach the top of Zugspitze – you can choose from 5 hiking trails that take between 8 and 10 hours one way, or ride the Zugspitze and Gletscherbahn cable cars.
Thanks to its high vantage point, the summit offers panoramic views of 400 snow-capped peaks in Germany, Austria, Italy and Switzerland. Zugspitze has a ski resort, where you can enjoy sledding and skiing during the wintertime. There's also an igloo village made up of 20 snow houses, a bar, kitchen, and two whirlpools.
Location: Wetterstein Mountains, Garmisch-Partenkirche, Germany
Couples
Families
Adventure
Group