10 Best Things to Do in Bavaria
What is Bavaria Famous For?
Bavaria is one of Germany's most popular travel destinations thanks to its mix of impressive scenery, popular festivals, and distinctive local culture. Well known for its sausages, beer, and leather shorts, Germany's largest state has that and much more to offer visitors to the region.
Steeped in history and culture, you'll find several museums and historical landmarks that are well worth exploring in Bavaria. You'll also find ancient castles set amid stunning alpine scenery, as well as expansive lakes and snow-covered peaks. But, don't worry, you'll find plenty of beer, sausage, and lederhosen along the way too. Bavaria is undoubtedly one of Germany's most interesting areas to explore and you'll find this fact strongly reflected in our list of the best things to do in Bavaria.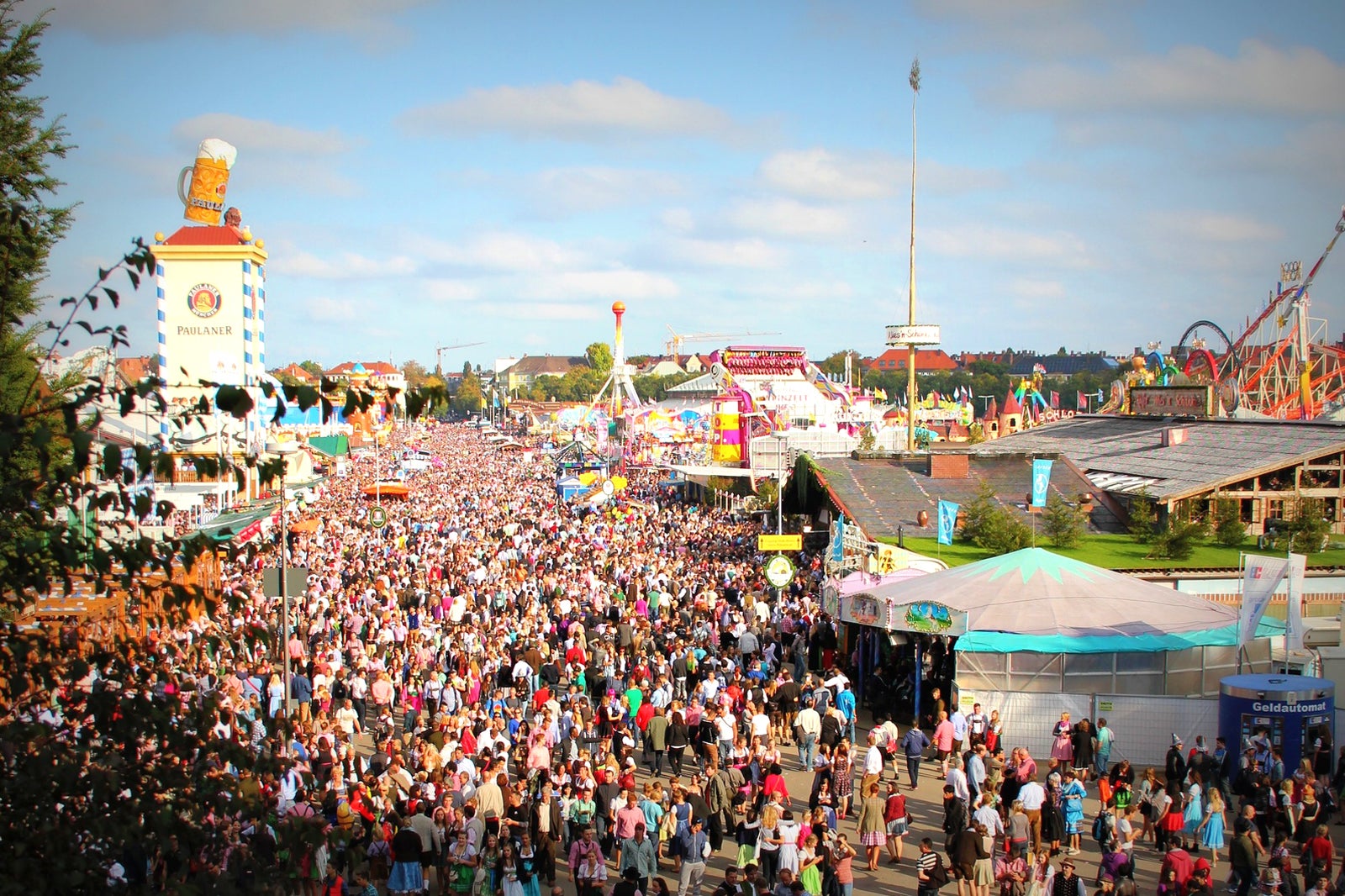 Oktoberfest festival in Munich
Enjoy fun, food, and frothy beers at this famous boozy festival
Held over a 16- to 18-day period in late September or early October, this is the largest Volksfest in the world. Oktoberfest attracts around 6 million visitors each year to indulge its beer-fuelled festivities. An important element of the Bavarian culture, this distinctive 200-year-old celebration has been exported around the world – from Rio de Janeiro to Shanghai – but Munich remains the festival's spiritual home and hosts the largest Oktoberfest celebration in the world.
But there's more to this festival than just overflowing steins of beer. Be sure to also check out the delicious regional delicacies, such as Käsespätzle, Weißwurst, pork knuckles, and candied almonds. Several of the tents play host to traditional dancing and musical performances during the festival. Things can get a little raucous at times, so if you prefer a more sedate atmosphere, then check out the Oide Wiesn area. Here, you'll find much of the fun and many of the traditions of the original Oktoberfest preserved.
Location: Munich, Germany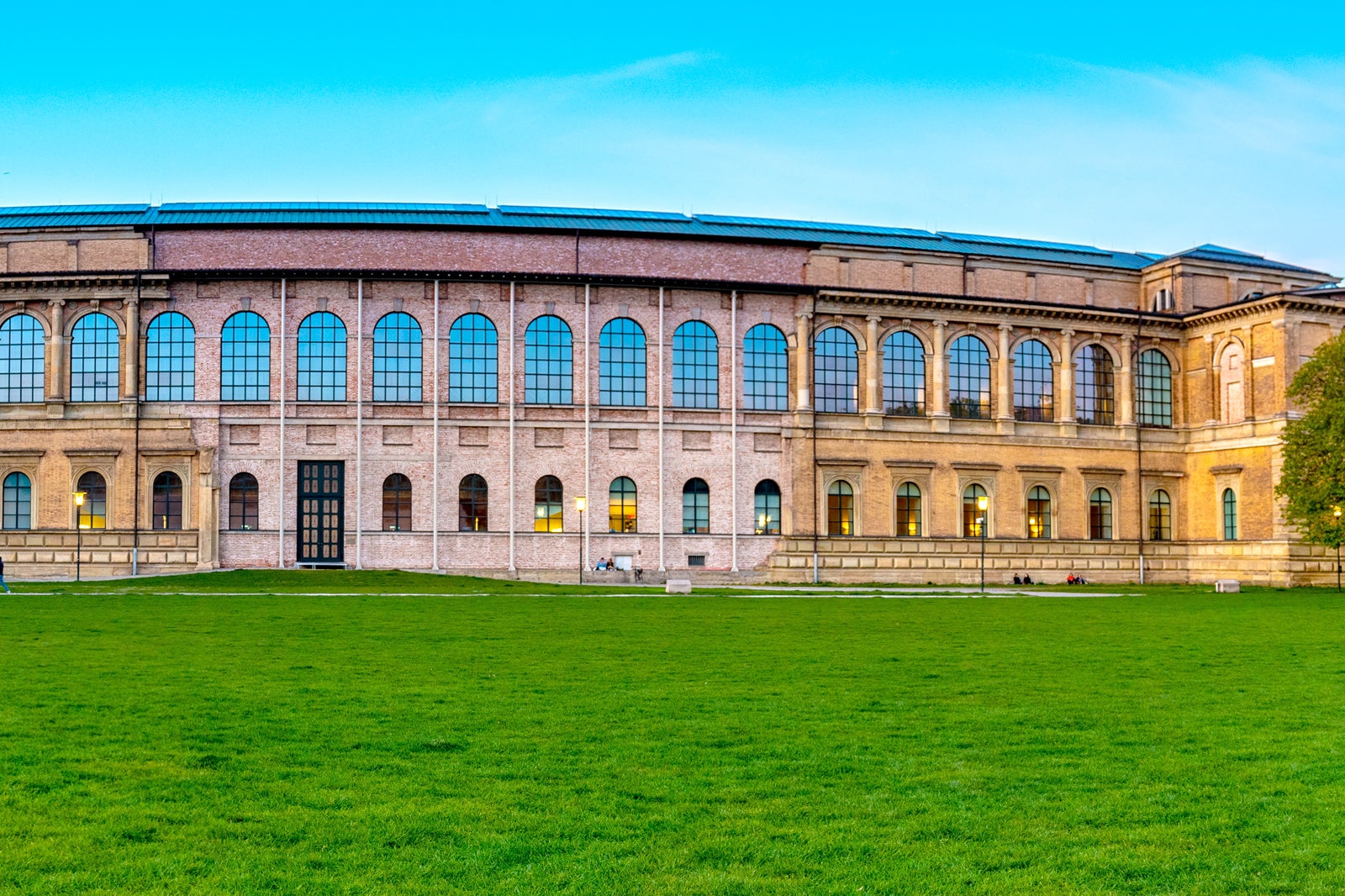 Alte Pinakothek in Munich
A rare opportunity to see the work of the Old Masters
One of the oldest art galleries in the world, Alte Pinakothek houses about 900 paintings at any one time. A significant number of these belong to a collection of Old Master paintings. The gallery's name refers to the time span from the 14th to the 18th century – the period when the paintings in the collection were produced.
Among the classic paintings on show here, you'll find the renowned Virgin and Child by Leonardo Da Vinci and Rembrandt's Self Portrait. The gallery has thousands of paintings in its possession, not all of which are on display at any given time, so there's always something new to uncover. Guided audio tours are available to help you navigate the permanent exhibitions, but do keep an eye out for interesting temporary exhibitions that may be on while you're in town.
Location: Barer Str. 27, 80333 Munich, Germany
Open: Tuesdays from 10am to 8pm, Wednesday–Sunday from 10am to 6pm (closed on Mondays)
Phone: +49 (0)89 23805216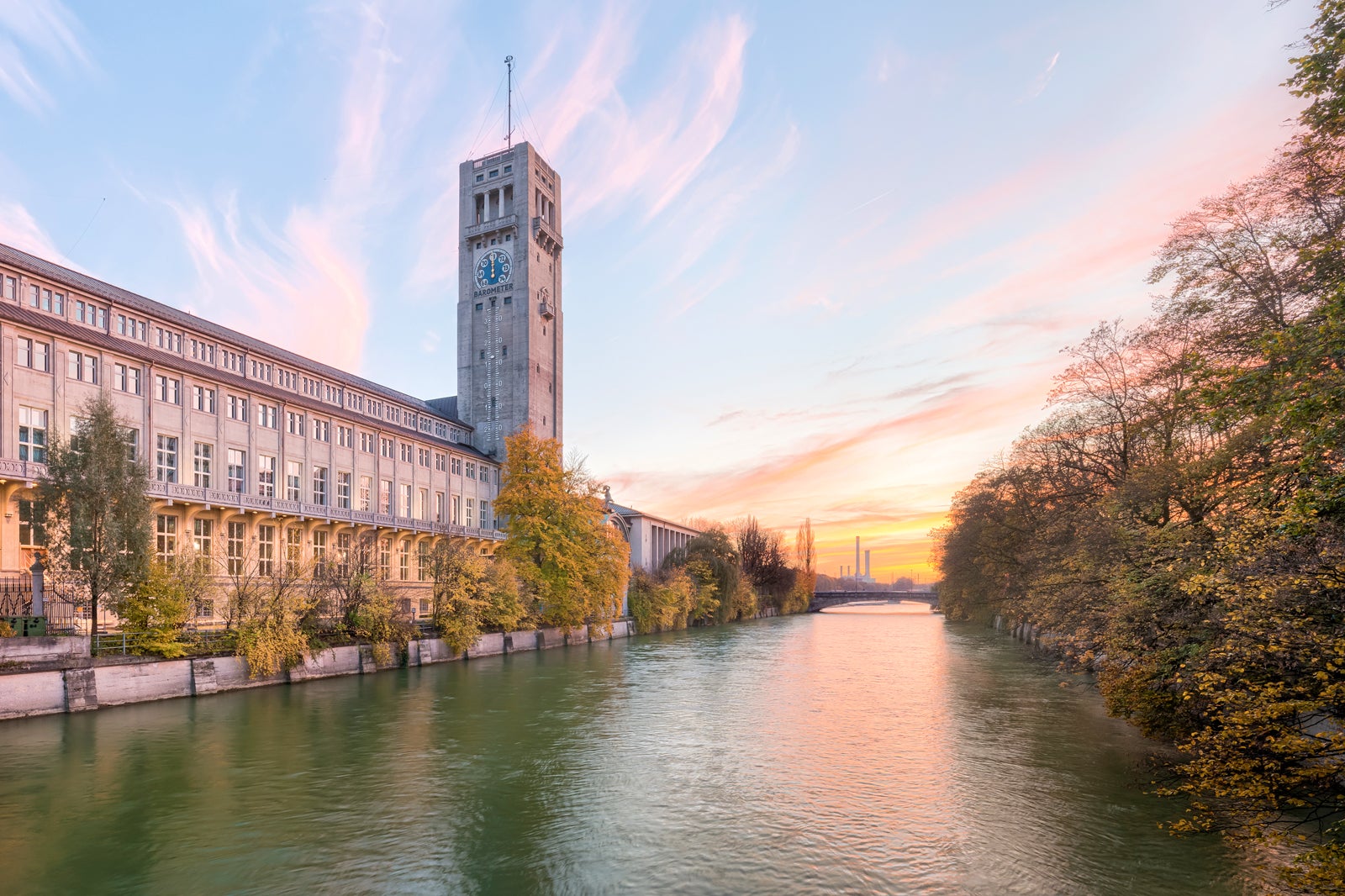 Deutsches Museum in Munich
Interactive learning at this massive museum of science
A science and technology museum that prides itself on being 'hands-on' in its approach to learning, Deutsches Museum covers everything from astronomy to marine biology across its range of exhibitions. The focus is strongly on interactivity here. The museum aims to engage all the senses through a variety of activities and demonstrations, making this a great spot to take the kids for a few hours – and it's educational too!
Deutsches Museum is open 7 days a week and discounts are available for Munich Card holders. The title placards for the exhibits here are in German and English, but some of the accompanying details are provided in German only.
Location: Museumsinsel 1, 80538 Munich, Germany
Open: Daily from 9am to 5pm
Phone: +49 (0)89 21791
photo by Julian Herzog (CC BY 4.0) modified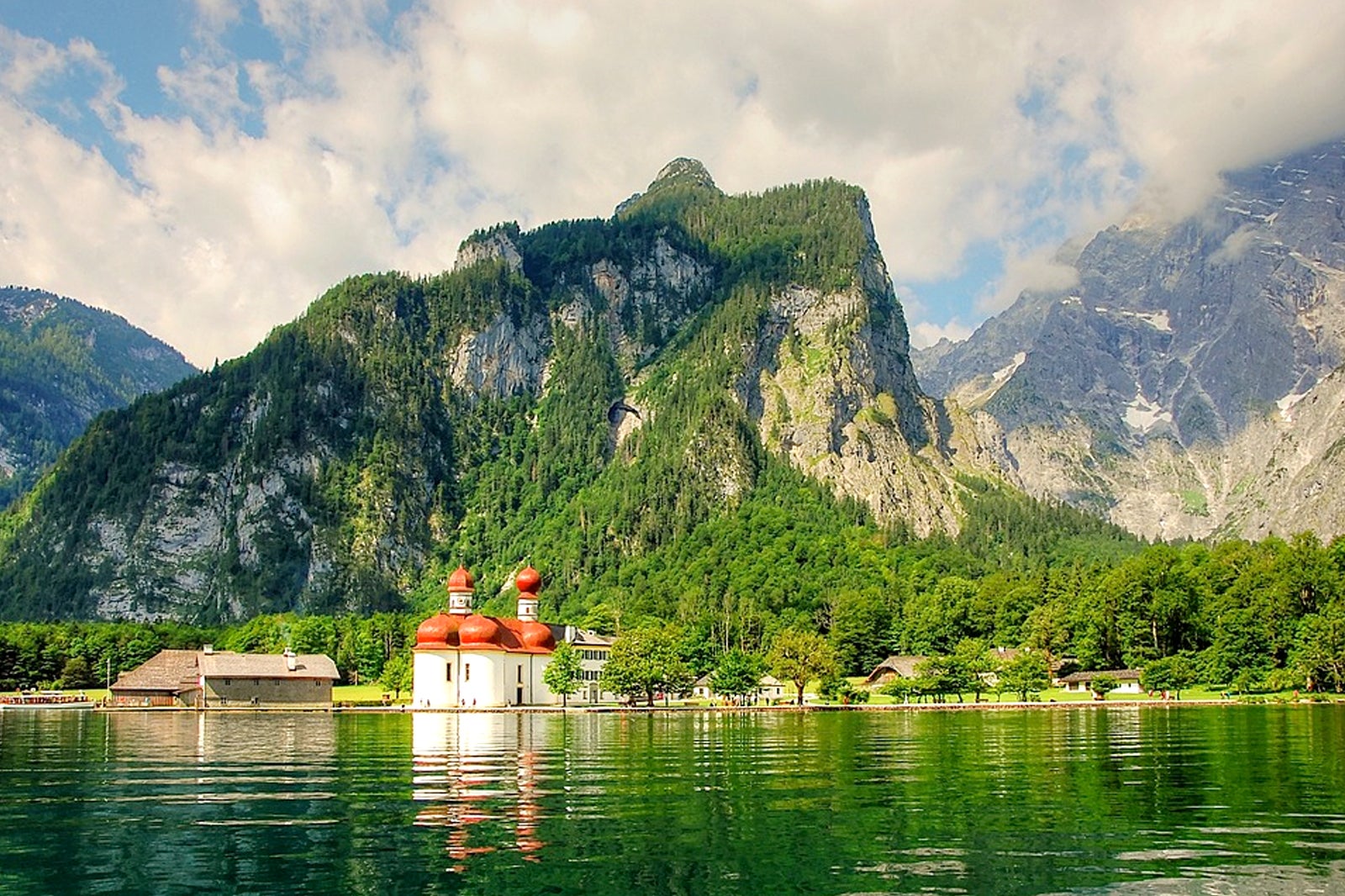 Königssee Lake in Berchtesgaden
Enjoy hiking and boating in stunning natural surroundings
Lake Königssee is often promoted as Germany's cleanest lake. This natural lake has the third deepest waters in the country and is located in the Berchtesgaden Alps, near the Austrian border. The crystal-clear alpine waters and picturesque surroundings have attracted many tourists and hikers over the years. To protect the serenity of the area, since 1909 only rowing, pedal- and electric-powered passenger boats are allowed on the lake.
Though the stunning natural surroundings are undoubtedly very peaceful, there's still quite a bit to keep you occupied here. The sheer cliff faces mean there's no path around the lake and the only way to explore is by boat. There are guided boat trips with a stop off at St. Bartholomä church, originally built in the 12th century, being particularly interesting. If you visit during summer you can enjoy the fresh trout and whitefish caught in the lake itself, though public fishing is not allowed.
Location: Schönau am Königssee, Bavaria, Germany
Couples
Families
Photo
Budget
Adventure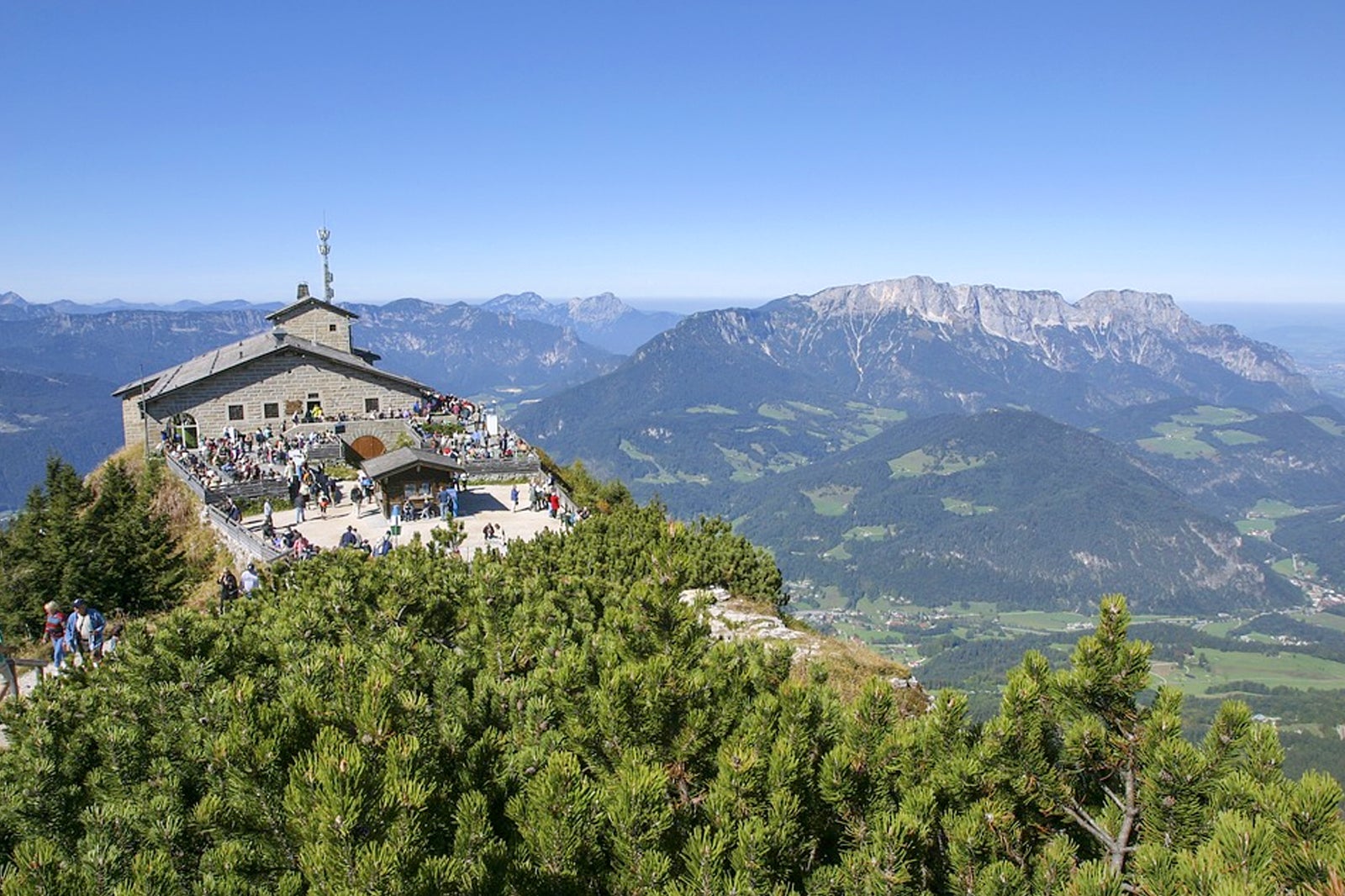 Eagle's Nest
Soak up the history and enjoy the views from this rocky outcrop
Known as Kehlsteinhaus in German, the Eagle's Nest was originally built to serve as a private meeting place for members of the Nazi party. These days it's a popular destination with a restaurant, beer garden, and tourist site.
Sitting high upon a rocky outcrop above the town of Berchtesgaden, the Eagle's Nest can be reached either by driving up to Documentation Center Obersalzberg car park followed by a 2-hour hike, or by taking a bus followed by an elevator to the top. It's said that Hitler wasn't so fond of this retreat due to his vertigo, but the elevation here does make for some stunning views over the surrounding landscape. Open from mid-May to the end of October, the nearby hotels can fill up fast during this time, so it's best to book well in advance if you wish to stay overnight in the area.
Location: Kehlsteinhaus, 83471 Berchtesgaden, Germany
Open: From mid-May to mid-October
Phone: +49 (0)8652 2969
History
Photo
Food
Adventure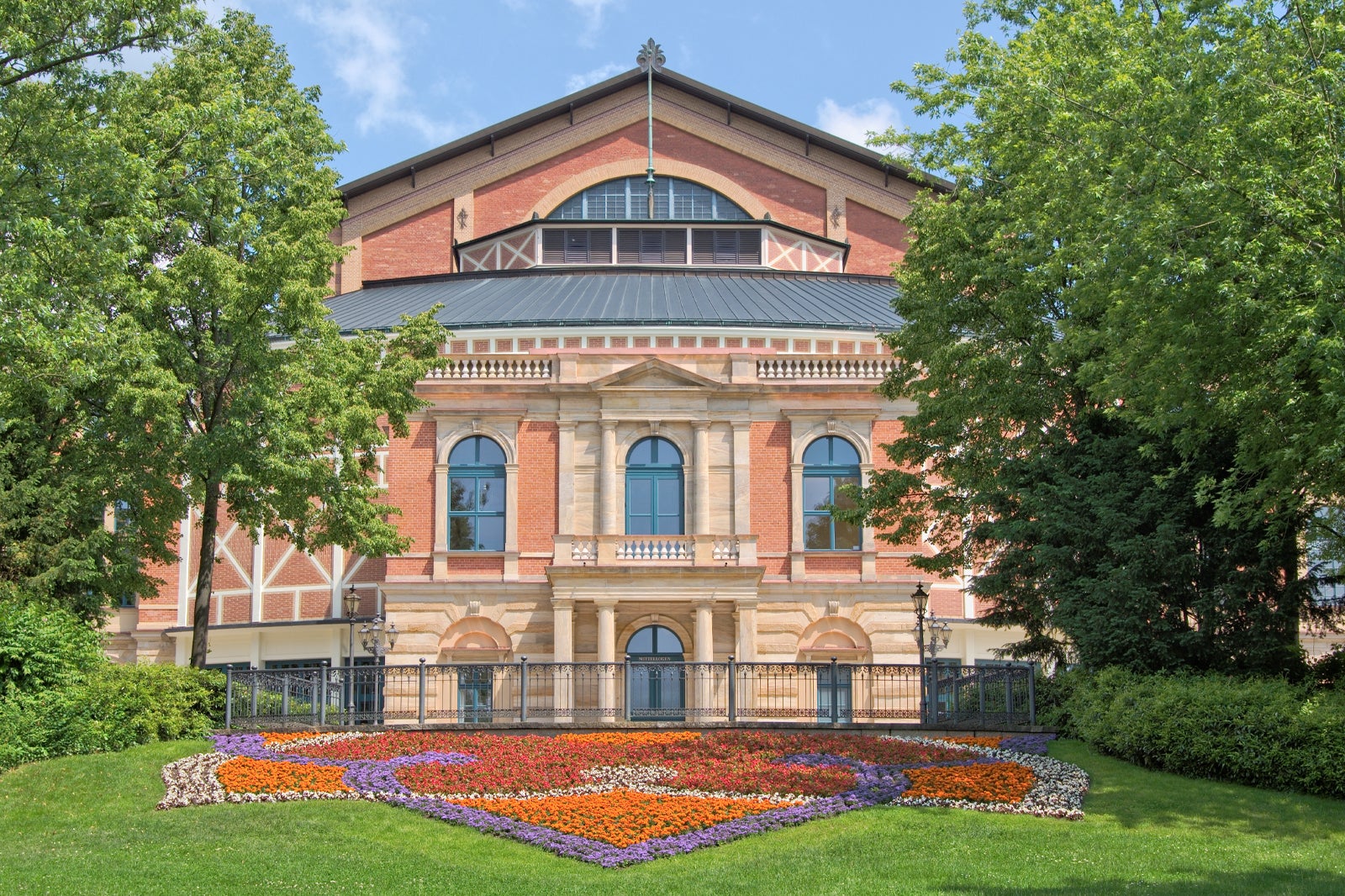 The Bayreuth Festival
An opera festival to celebrate an iconic German composer
The Bayreuth Festival, held annually, showcases the work of the 19th-century German composer, Richard Wagner. It was Wagner himself who first conceived the idea of holding a special festival of his operas. Performances take place in the purpose-built Bayreuth Festspielhaus or Festival House, and Wagner himself oversaw the building's construction. The theatre is built in the rococo style and is a pretty addition to the city's architecture.
Each summer, the month-long festival draws thousands of Wagner fans from around the world. Competition for hotel rooms can get fierce, as can competition for tickets themselves. Booking in advance is not only advised, it's essential. The waiting list for tickets to the performances within the Festival House can take years, but there have been live performances streamed to the city square in some previous years, as well as children's versions of the operas performed concurrently. It's best to check ahead for a schedule of events.
Open: Annually from July to August
photo by El Grafo (CC BY-SA 4.0) modified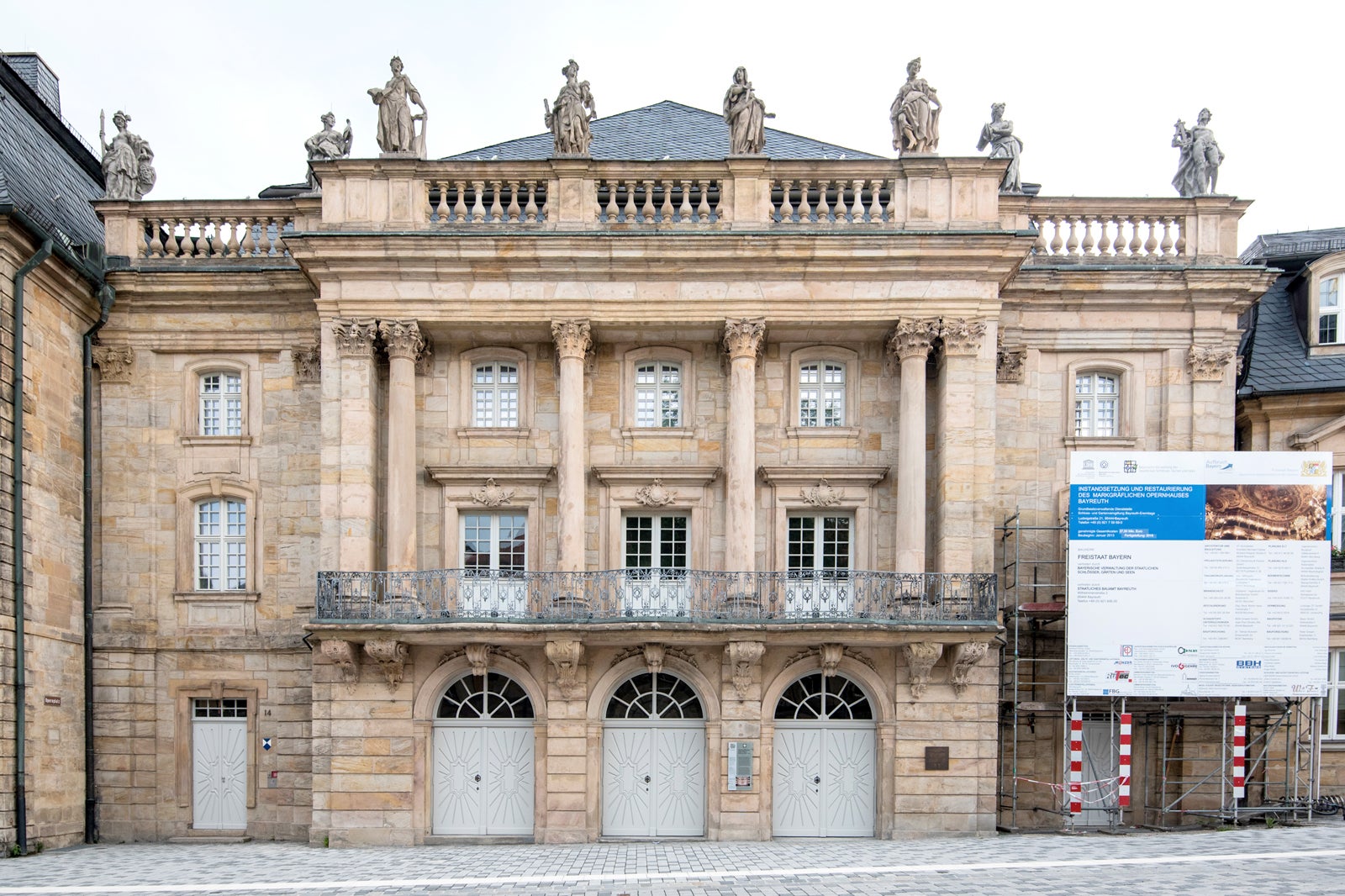 Margravial Opera House
A gorgeous UNESCO World Heritage listed Baroque opera house
Known in German as Markgräfliches Opernhaus, this Baroque opera house is on the UNESCO World Heritage list. Built between 1745 and 1750, it's one of the few surviving European theatres from this era.
Recently renovated and restored, the interior of this opera house is stunningly beautiful and well worth a visit if only to soak up the atmosphere. All visitors must join a guided tour while visiting. Guides are conducted exclusively in German, though a leaflet is provided in English covering the major points of interest. This is still a fully functioning theatre and best experienced by catching a performance when possible. Be sure to check ahead to see what's on while you are in town.
Location: Opernstraße 14, 95444 Bayreuth, Germany
Phone: +49 (0)921 7596922
photo by Tilman2007 (CC BY-SA 4.0) modified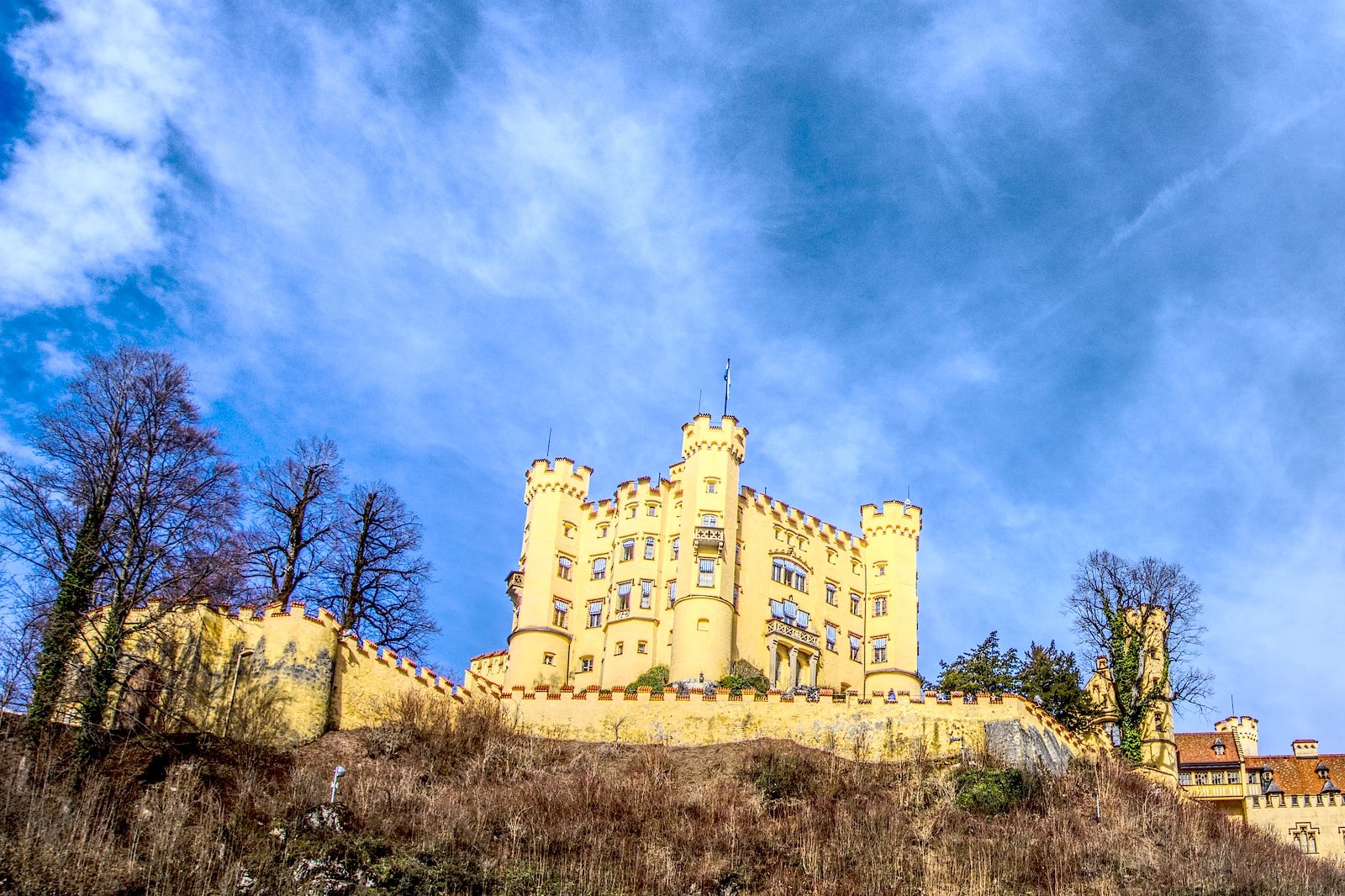 Hohenschwangau Castle in Fussen
Visit the childhood home of King Ludwig II of Bavaria
The 19th-century palace, known as Schloss Hohenschwangau in German, was the childhood home of King Ludwig II of Bavaria. Built by his father, King Maximilian II, the castle is situated in the small village of Hohenschwangau, not far from the Austrian border. It also gave Ludwig the inspiration to build the nearby fairytale-esque Neuschwanstein Castle.
The castle can be reached from the nearby village by shuttle bus or, interestingly, by a horse-drawn carriage service. A combo ticket can be bought allowing you to visit both Hohenschwangau and Neuschwanstein castles for a single fee. Hohenschwangau Castle will appeal more to those with an interest in the historic. If you're going to visit both, it may be best to stop by here first to get a sense of where Ludwig's flights of fancy stemmed from. Guided tours are also available.
Location: Alpseestraße 30, 87645 Schwangau, Germany
Open: Daily From 8.30pm to 5pm
Phone: +49 (0)8362 930830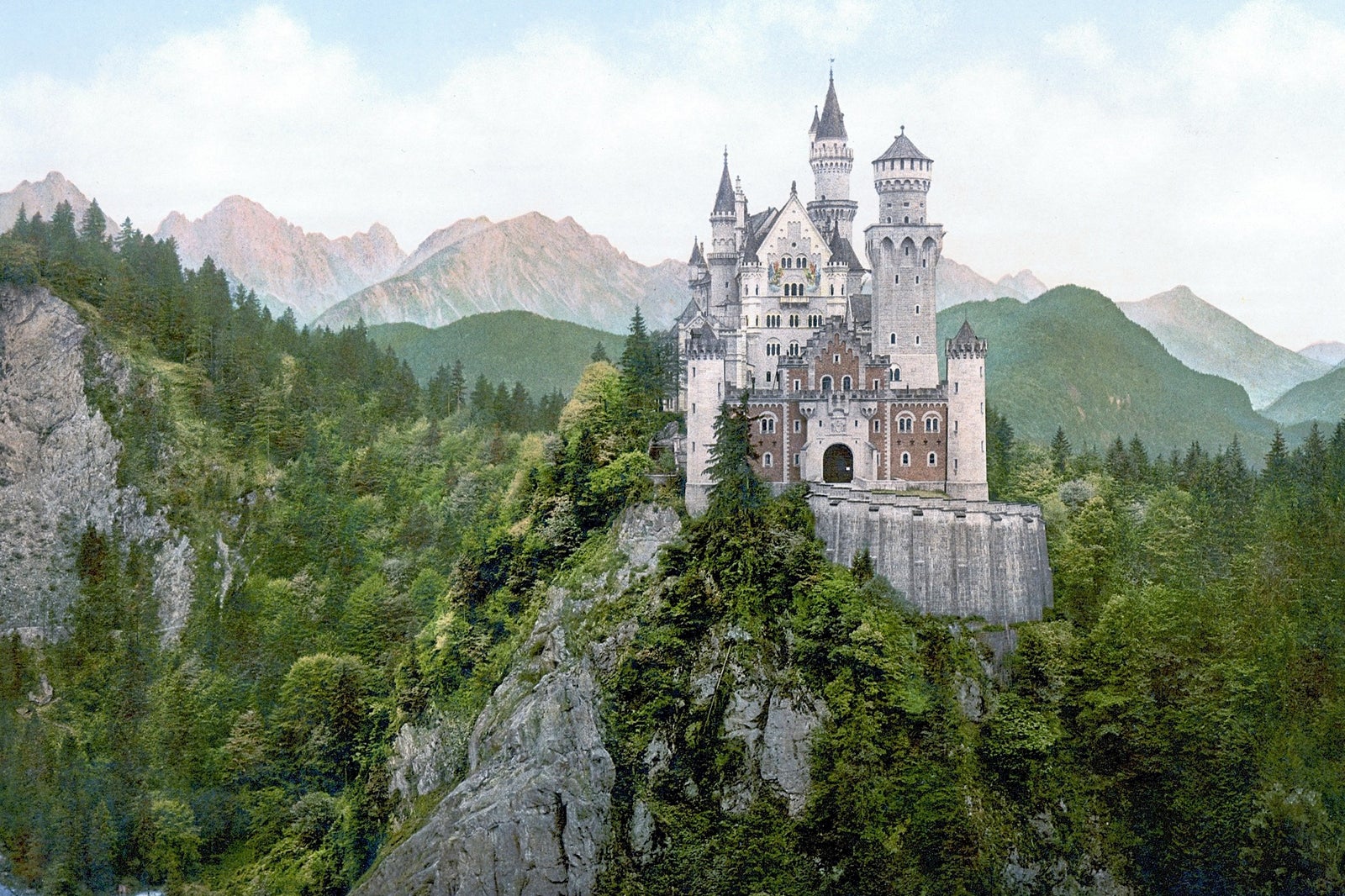 Neuschwanstein Castle
Visit the fairytale-esque inspiration for Disney's Magic Kingdom
Using his personal fortune and extensive borrowing, King Ludwig built Neuschwanstein Castle as both a retreat and in honour of the composer Richard Wagner. Many of the rooms inside draw their inspiration from Wagner's operas. The castle's exterior provided the inspiration for Disney's Magic Kingdom and its fantastic location makes for some impressive panoramic views over the surrounding landscape.
While the outside gives the appearance of a medieval palace, the castle's inside was kitted out with all the latest innovations of 19th-century technology, including a battery-powered bell system for summoning servants, as well as an early form of central heating. With around 1.5 million visitors a year, Neuschwanstein Castle is extremely popular with tourists. If visiting during the peak months of June, July, and August, be sure to arrange a reservation in advance to avoid long waiting times.
Location: Neuschwansteinstraße 20, 87645 Schwangau, Germany
Open: Daily 9am to 6pm
Couples
Families
History
Photo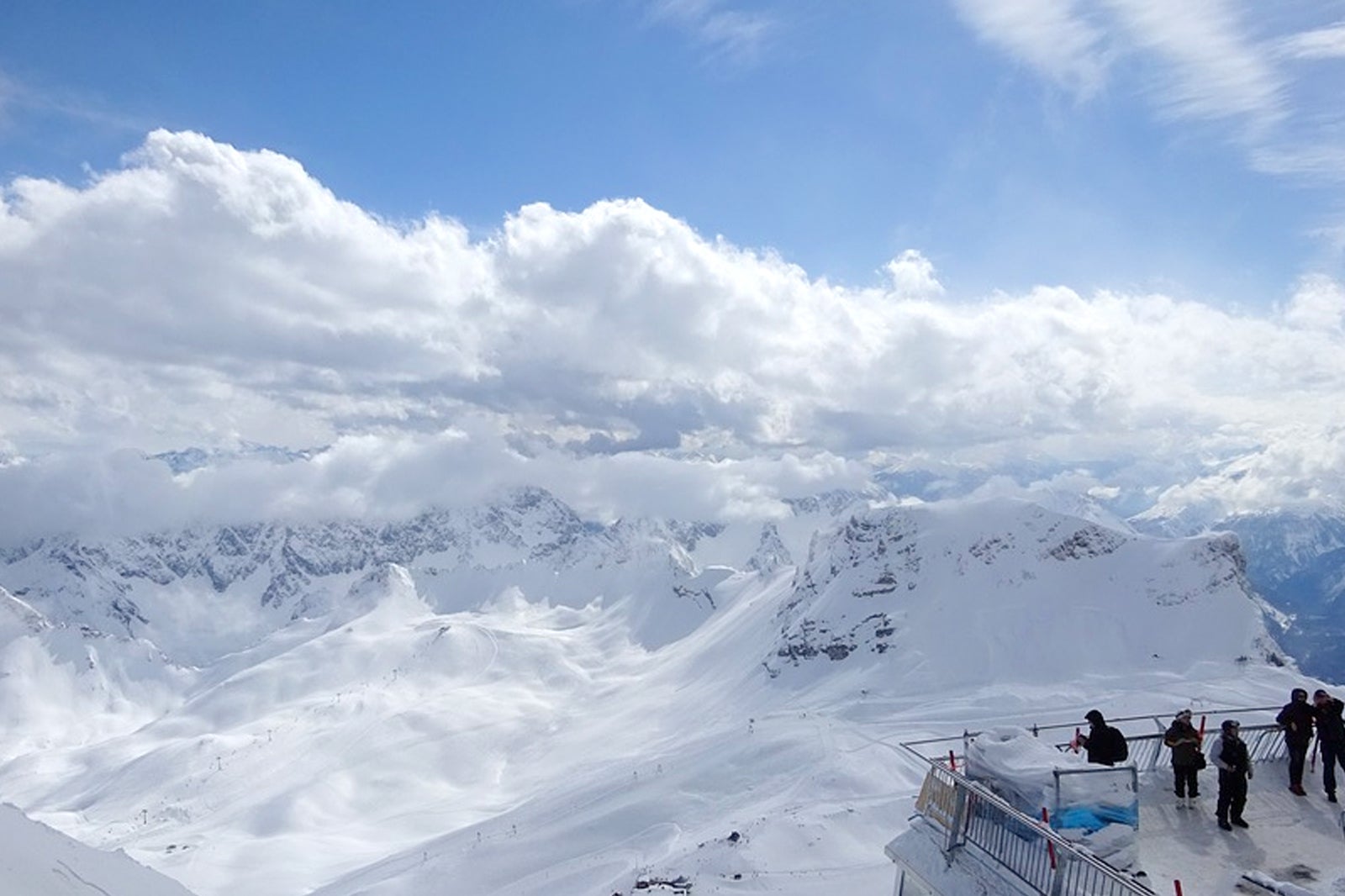 Winter sports in Zugspitze
A winter sports haven on Germany's highest mountain
At 2,920 metres above sea level, Zugspitze is the highest mountain in Germany. It's also home to the country's highest ski resort. With 20 km of pistes covered in natural snow for up to 6 months of the year, this is an extremely popular destination for fans of winter sports such as snowboarding, skiing, and tobogganing.
But snow-based sports aren't the only draw here. You'll also find Germany's highest church, an igloo village, several mountain restaurants and views of 3 of Germany's glaciers. For the adventurous, there's a variety of trails to the summit with food and lodging available along some of them. The hike up can take from a few hours to several days, depending on the trail chosen and the fitness of the hikers. But if all this sounds a little too daunting, there's also a cable car to take you to the top in comfort and style!