5 Free Things to Do in Lyon
Lyon for Budget Travellers
There's no need to shy away from the truth: Lyon, is not Paris. But all things considered, it is far better. Paris, you see, is a city you visit: museums, famous places, legendary streets, etc… Lyon, on the other hand, is a city you live.
The best way to enjoy the city is to take it like you own it. Is it that time of the morning where you're supposed to get out of the hotel and go enjoy the weekend outside? Well, I'd say the best place to start is by finding a sun-filled terrace (there are many) and breakfast with a café and some croissants orpain au chocolat. Cliché? Maybe. But for real, that's what we do. And to go Lyon style, go for some brioche aux pralines!
And when you live somewhere, well, you might not have any money left to visit this or that once you've spent your paycheck on that Ikea couch and the three pairs of shoes you didn't really need. Because travelers sometime have the same situation, and because it's always nice to do free things, here is my top 5 of the things to do for free in Lyon (plus, it saves money to splurge on the best meal of your life - come back for the Top 5 restaurant list!)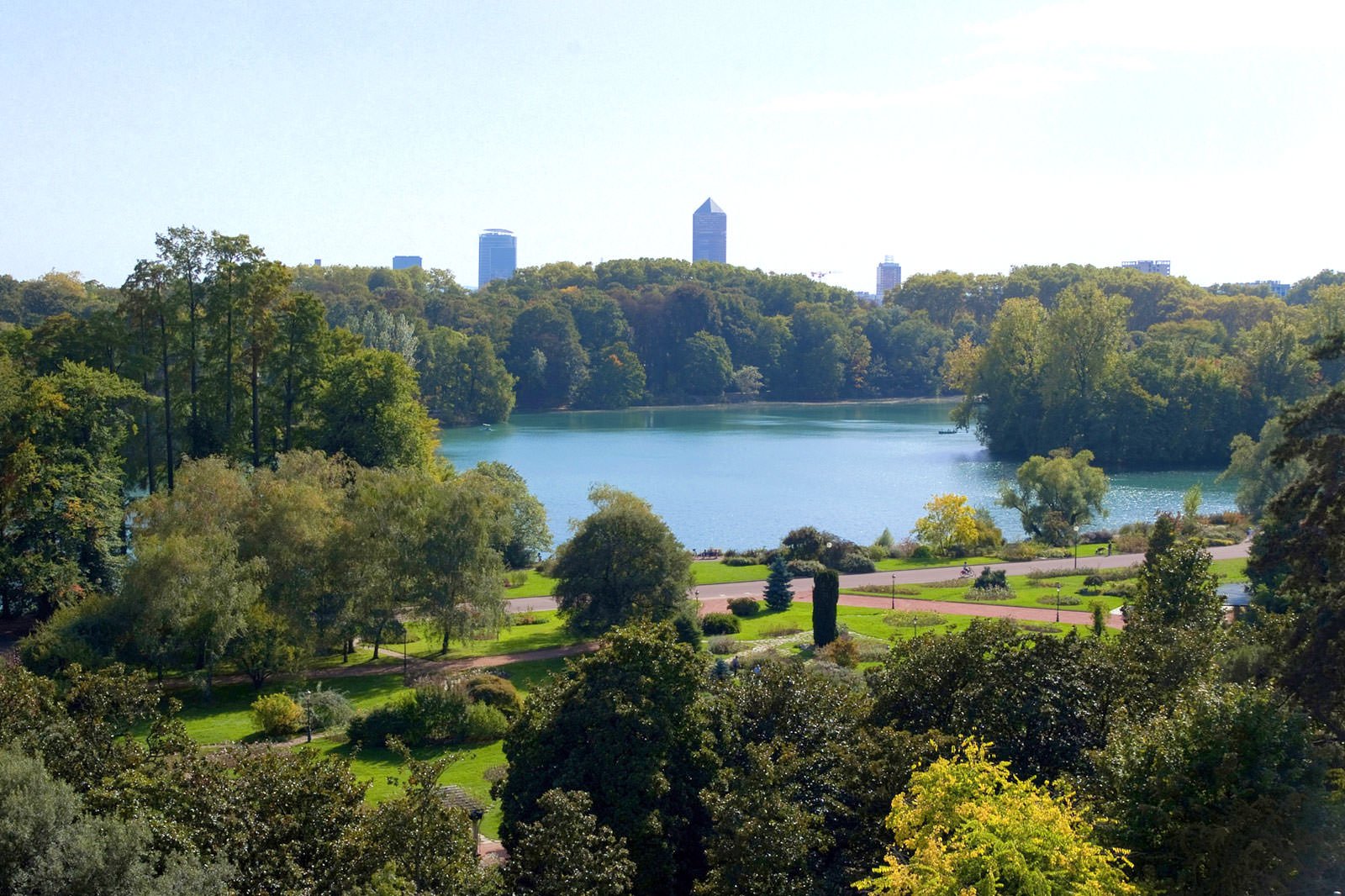 Stroll through the Zoo and Botanical garden of the Parc de la Tête d'Or
In the summer months as well as in any sunny week-end, the Parc de la Tête d'Or is filled with Lyonnais and their kids. It's the largest urban park in France, and it's really worth enjoying. While it's just like any other park in some aspects (you can lazily stroll through it alleys or sit down on the grass and picnic under the shade), it also features a very nice Zoo and a botanical garden, including a more than one rose garden.
The zoo has received a major face lift recently, and it is now looking like a full safari plain with giraffes, monkeys and crocodiles. Kids love it, and I gotta say I do too (don't forget to see the Bambis, you can feed them!). The Elephants still look a bit sad, but they're soon getting their own nip & tuck.
The Rose gardens, with a contest held each year, and the massive turn-of-the-century green houses are definitely worth seeing, too. And what's best, in the weekdays there are free guided tours of the botanical gardens.
Location: Place General Leclerc, 69006, Lyon, France
Open: Daily 6.30am - 10.30pm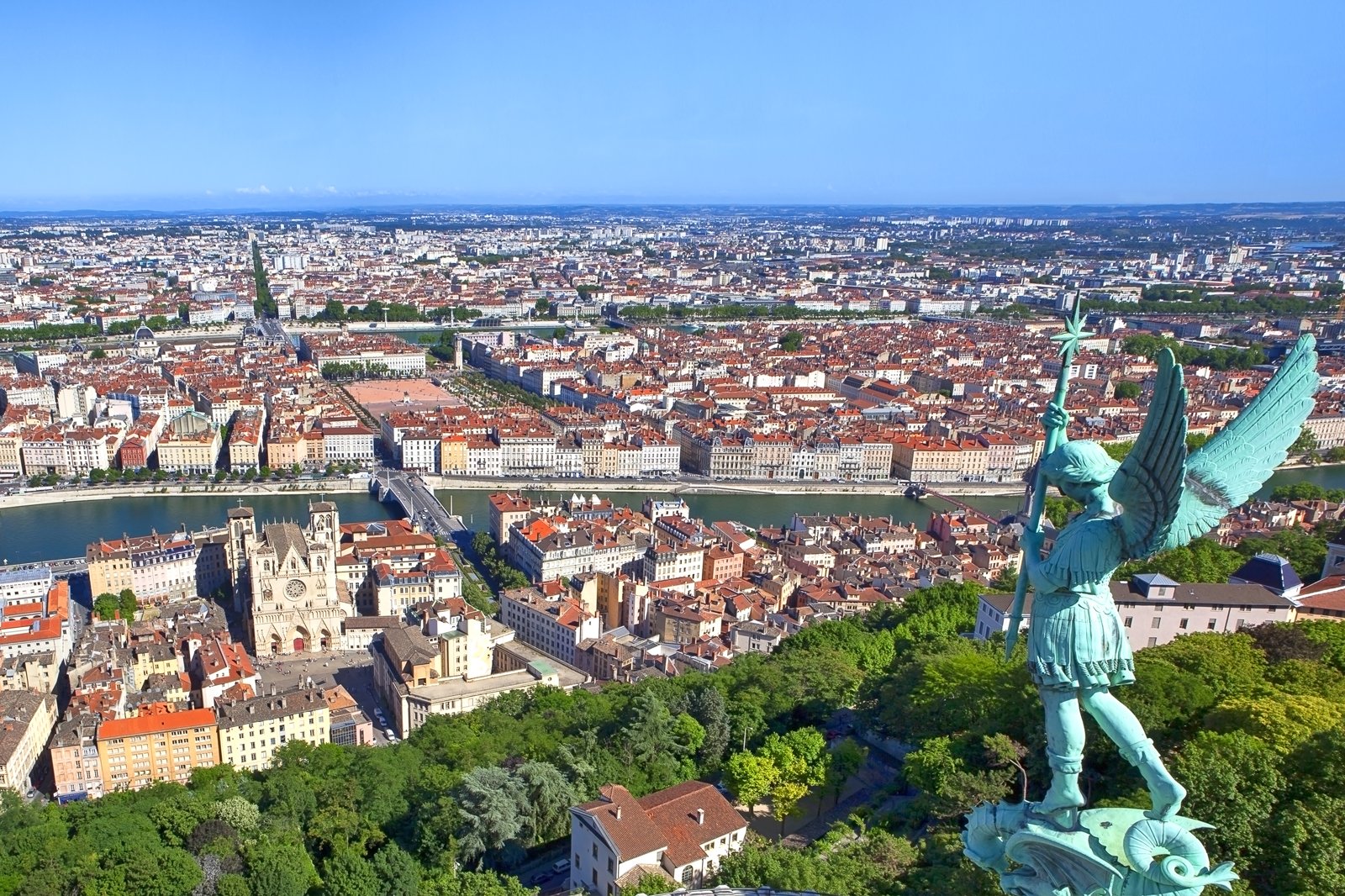 Climb to Fourvière and enjoy the view
You can see it from wherever you are in the city: Lyon is dominated by an impressive white church, the Basilica Notre-Dame de Fourvière, and a golden statue of Mary. Climbing up is hill is a necessary stop, and it requires nothing but a bit of leg power (incidentally you can take the cable car to go up, and walk down). The story of this Church is quite interesting, and any Lyonnais will enjoy sharing it. Once up there, the view over the city is simply amazing.
You should also take some time to visit the Church itself, which has a style of its own, and while you're up there, the roman ruins are nearby. In the summer months, the roman theater, still standing and used, is home to the Nuits de Fourvières, a music festival. While tickets for the biggest acts are quickly sold out (R.E.M, the Strokes, Air, Lou Reed or Keith Jarrett, there's something for everybody), you can just relax in the nearby ruins and take in the music just as if you'd paid for it.
Location: 8 Place de Fourvière, 69005 Lyon, France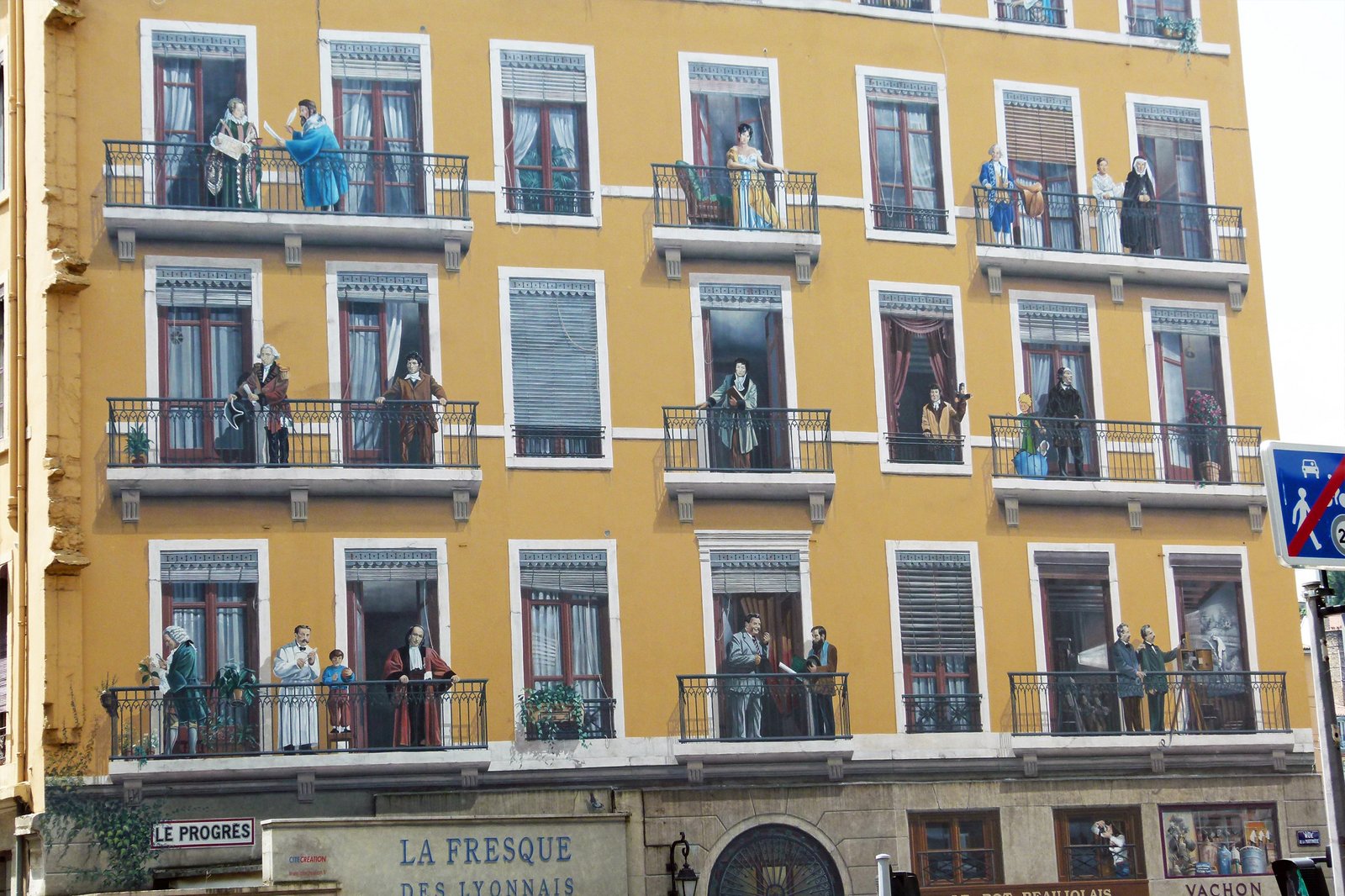 Sightseeing: painted walls, Art and Traboules
Sightseeing is, of course, always free. But one needs something interesting to see (besides window displays, that is). Lyon is quite famous for its trompe-l'oeils, or painted walls. My favorite is the Fresque des Lyonnais, a whole building where the most famous Lyonnais are represented.
In this area, around the Place des Terreaux (don't miss the fountain by Bartoldi), you should enter the garden of the Musée des Beaux Arts, an old cloisters transformed in a little patch of peace and quiet in the city. Among the sculptures on display in the garden is a truly beautiful Rodin. Nearby, and more recent, a sculpture by César is exposed Place Tolozan, near the Opéra (there's a whole legal debate about it, but I won't bore you with the details).
Finally, interesting sightseeing should take you through the traboules, passageways linking streets to streets through buildings and unique to Lyon. While there are many in Croix Rousse, there are particularly impressive in the Vieux Lyon, and one should push the door of 54, rue Saint Jean and travel through the longest traboule of them all, to exit in 27, rue du Boeuf.
photo by dierk schaefer (CC BY 2.0) modified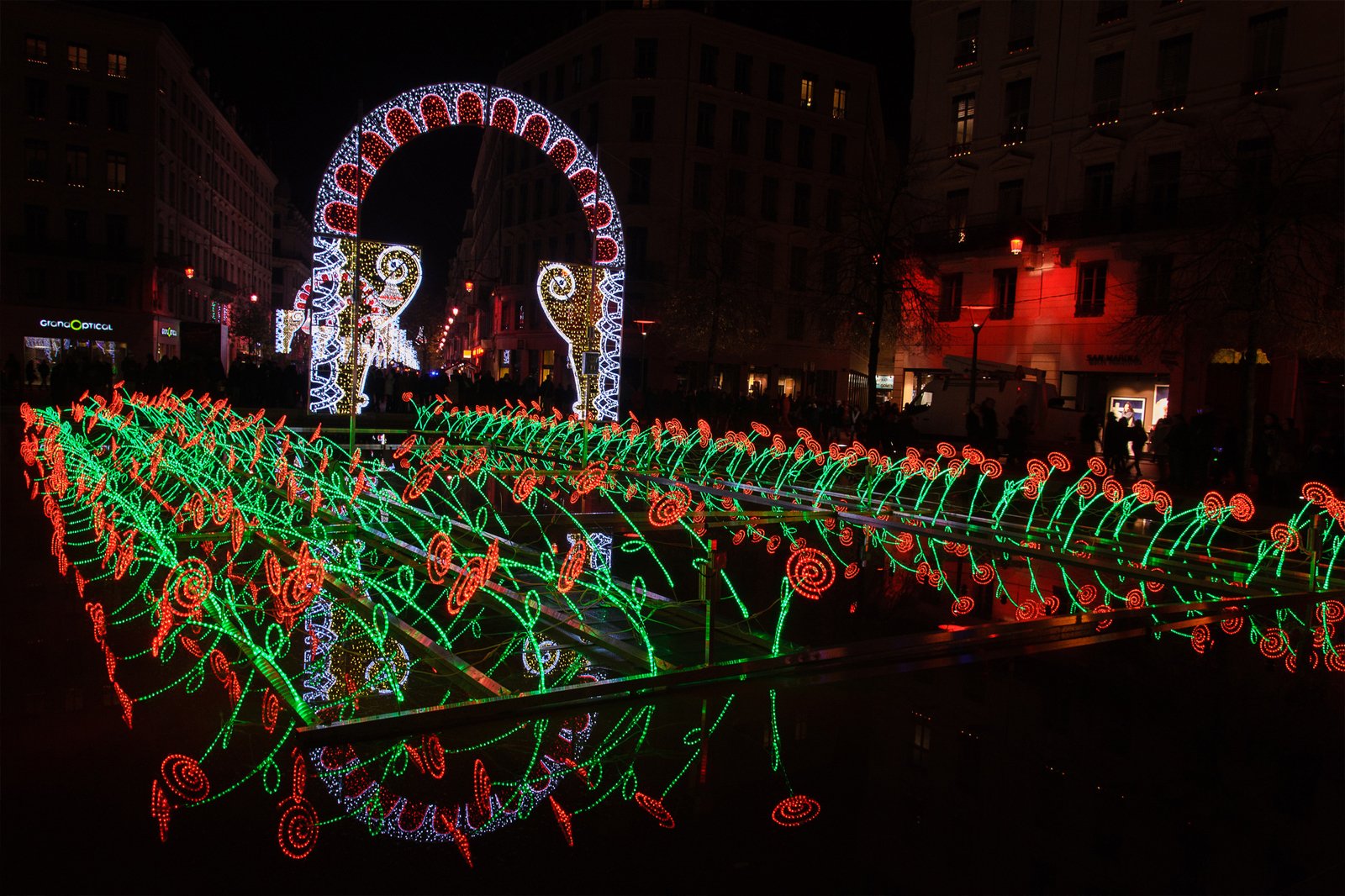 Now, if you happen to be in Lyon around December 8, you cannot miss la Fête des Lumières, the lights festival, where about 2 millions people wander the streets of the city at night to take in all the artful installations of lights. Everybody will tell you what it's about, and I can tell you that it's unmissable.
The festival usually lasts 3 to 4 days, and it tends to get bigger and bigger. After a few misses (2006 was particularly dire), the city seem to leave experimentation behind in favor of more straightforward spectacle, and so much the better.
photo by Fabrice Nicoletti (CC BY 2.0) modified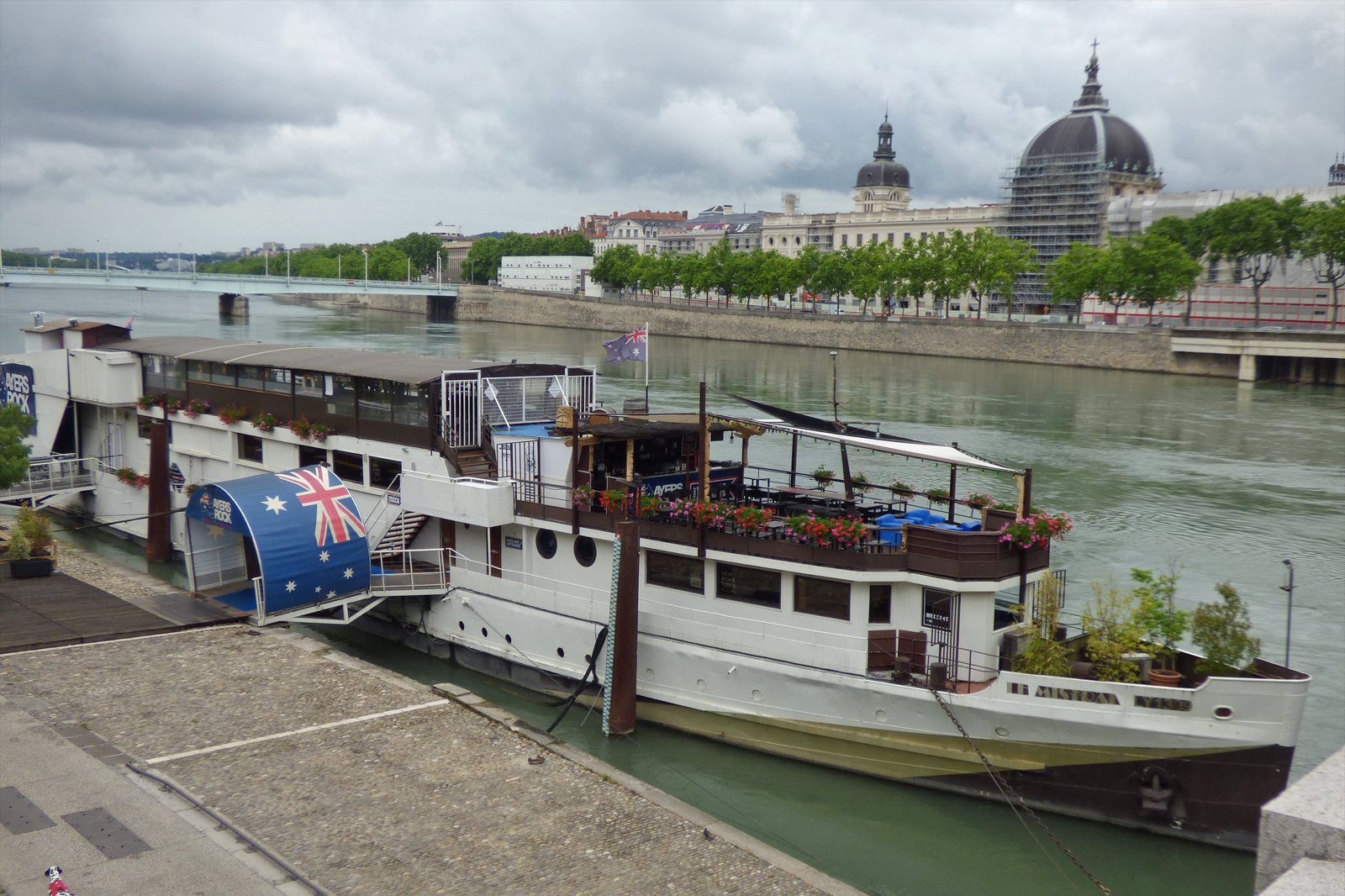 After all that living, sightseeing, walking, night has probably fallen, and if you're not at the Fête des Lumières, then it's certainly time to get the party going nonetheless.
While Lyon has many bars, pubs and nightclubs, none is more famous than the Ayer's Rock. It's mostly for the young and international crowd, but everybody can get in – for free. On Friday and Saturday it does get very, very busy, but it's always fun. I'd recommend you to find a spot on a table and dance on it, in case you wouldn't dare to do it at home.
Location: 21 Quai Victor Augagneur, 69003 Lyon, France
Open: Daily 5pm to 12am
Phone: +33 4 72 84 98 98
photo by Elliott Brown (CC BY-SA 2.0) modified